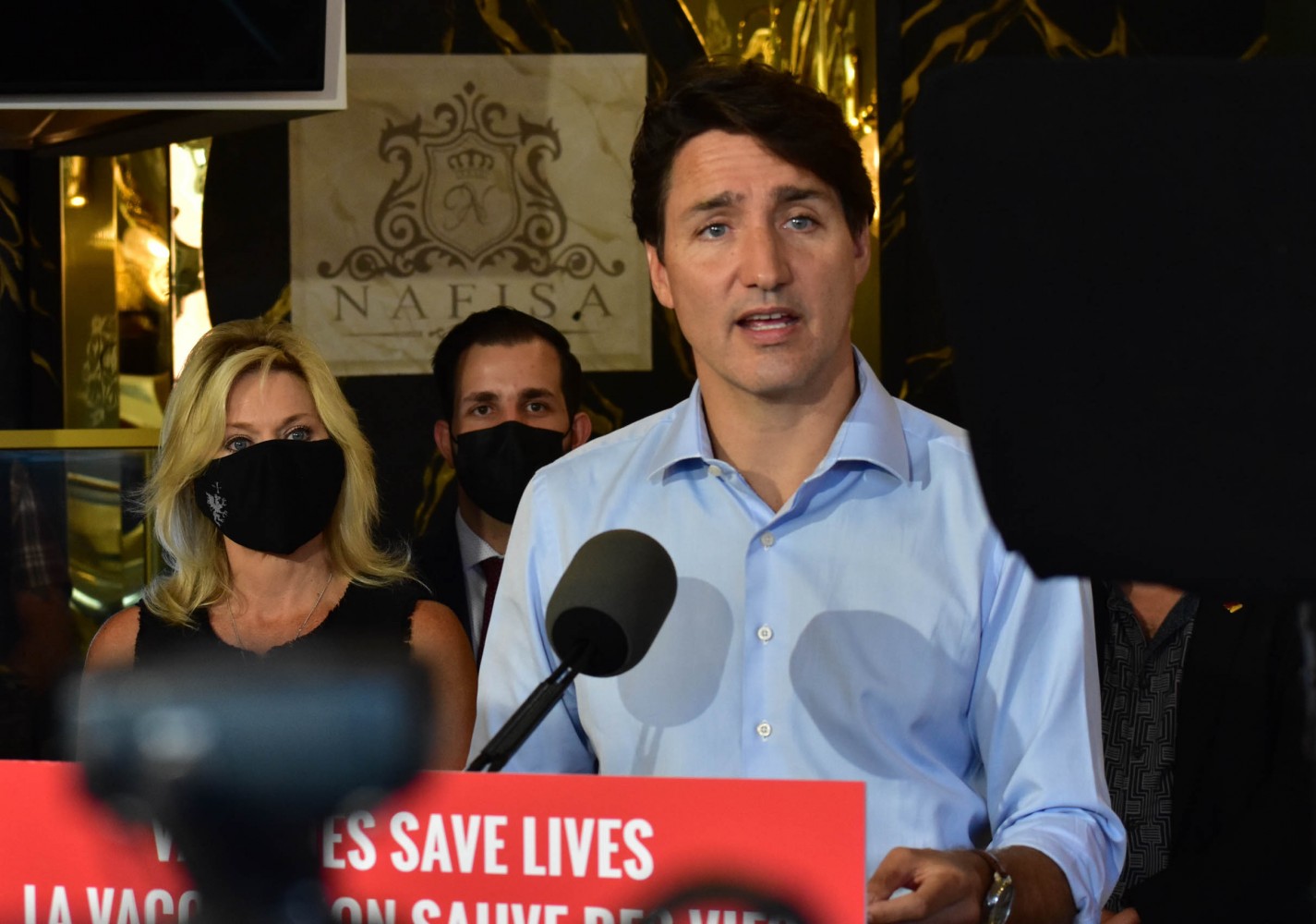 Images from Isaac Callan/The Pointer
Trudeau stops in Streetsville to promote Mississauga candidate but ignores questions about Mississauga
Justin Trudeau was in Streetsville Friday morning, announcing his party's plans to fund vaccine passports if Canadians deliver a Liberal government on September 20.
Visiting a business in Mississauga owned by Syrian-Canadians, Trudeau used the opportunity to promote his newly confirmed candidate. The Liberal campaign could have visited any small business in Canada for its vaccine passport announcement, but strategists picked Mississauga—Streetsville. The riding is where recently nominated Rechie Valdez faces what promises to be a heavily contested competition, with no incumbent in play.
Former Liberal MP Gagan Sikand represented Mississauga—Streetsville between 2015 and 2021, winning his seat twice.
In October 2020, he stopped voting or speaking in virtual parliamentary sessions and disappeared on an unexplained long-term medical leave. The MP refused to answer questions about his absence and did not proactively inform residents he was no longer offering them direct political representation on Parliament Hill. Sikand did not resign his seat to trigger a by-election either.
Eventually, after the federal election was called, Sikand confirmed he would not be seeking reelection. Valdez was nominated as his replacement, facing the unenviable task of convincing local residents to trust the Liberal Party to represent them after failing to do so for the past year.
Mississauga—Streetsville is being contested by Farina Hassan for the NDP, and Dr. Jasveen Rattan for the Conservatives. Sikand won reelection in 2019, beating Conservative candidate Ghada Melek by about 10,000 votes and 17 percentage points, in what was a clean sweep for the Liberals across the city.
The Liberal Leader was surrounded by supporters as he exited the staged Mississauga photo-op.
You wouldn't have known any of that watching Trudeau's announcement.
The Liberal Leader, who was joined by Mississauga Mayor Bonnie Crombie, praised the City's recently announced vaccination policy and offered warm words of encouragement to his newest candidate. He mentioned his personal relationship with Crombie, but did not raise any issues that could demonstrate a knowledge or interest in Mississauga's pressing needs.
"Mayor Crombie appeared at today's event with Mr. Trudeau because Mr. Trudeau was announcing that a Liberal government would provide funding to help provinces create a proof of vacation program," a spokesperson for Crombie told The Pointer. "Mayor Crombie has been vocal about the need for the Government of Ontario to create such a system."
The spokesperson added Crombie would appear alongside other federal leaders if she was invited and they offered policies to help her city.
Trudeau appeared at a local business in Mississauga—Streetsville to promote funding for vaccine passports.
The majority of Trudeau's press conference revolved around the announcement of a promised vaccination passport system, so public and private entities can verify the inoculation status of all Canadians who have been vaccinated, in an effort to keep communities safe. The event took place inside, with journalists, campaign organizers and restaurant staffers crowded together and with no way to maintain physical distancing.
During the media session that followed, Trudeau took questions from travelling national journalists, largely on the topics of vaccination and Afghanistan. He wrapped up his event without taking a single question from a local reporter. Several non-national journalists, including The Pointer, were in attendance at the event.
Advertised as an "open media availability", the Liberal campaign suggested national and local journalists would be able to question the leader. Local reporters were told to turn up no later than 8:15 a.m. for an event scheduled to begin at 9 a.m. that did not actually start until 9:30 a.m. A spokesperson for the Liberal campaign said questions were normally taken from local media and that the Mississauga event was the only availability of the day.
Staffers on the campaign said time constraints meant they could not take questions from local media. Trudeau was not made available for an interview and no opportunities were scheduled for questions at the three remaining GTA appearances he made Friday.
Local candidate Rechie Valdez was given a national television platform when she introduced Trudeau, raising the yet-to-be elected candidate's profile in a potentially tough local race.
After the event concluded, the Liberal Leader was met with support and opposition. Supporters chanted his name, while a scattering of vocal protestors shouted "traitor". Opponents of Trudeau focused their frustration on Afghanistan, COVID-19 lockdowns and his party's stance on vaccines.
The absence of local questions or specific announcements to help projects and other needs in Mississauga allowed Trudeau to focus the stop on his latest announcement while dramatically increasing the profile of Valdez in Mississauga—Streetsville. The local Liberal candidate opened the press conference, beamed live around Canada, as signs emblazoned with her name were held prominently in the background of photo shoots.
While local media were invited to take photos of the candidate and the party leader, effectively providing free advertising, they were kept silent when it came time to ask questions and challenge Trudeau.
Some protestors stood outside in Streetsville to vent their fury at Trudeau's response to the crisis in Afghanistan and his stance on vaccinations.
At midday on Friday, the Liberal campaign promised to provide written responses to questions The Pointer had planned to ask at the press conference. Answers, a spokesperson said, would be provided "ASAP".
The campaign did not respond to the two questions, asking why voters should trust another Liberal candidate in Streetsville, after the last MP left constituents without any direct representation in Ottawa over the past year.
Recent polling has shown a lead for the Liberal Party slipping. Individual polling at the riding-specific level is rare, meaning voters often have to guess how close their local race is using aggregators, national polling and by analyzing where national party leaders spend their time.
Poll aggregator 338Canada, which underestimated the Liberal lead in Mississauga—Streetsville two years ago, suggests the Liberals are polling at 43.8 percent (+/- 7 percent) in the riding, the Conservatives have 36.4 percent support (+/- 6.6 percent) and the NDP are at 13.4 percent (+/- 4.3 percent). The Pointer is publishing information from 338Canada, but cannot verify the accuracy of its aggregated polling projections, which have been outside its stated error margin in the past. The website uses various federal opinion polls, applying the proportional swing of public opinion to individual ridings and tying in some local demographic information to predict where local races lie during the federal election.
A Mainstreet Research poll published on August 23 for the GTA showed Liberal support in Peel at 40.7 percent, compared to 33.5 for the Conservative Party and 17.8 for the NDP.
At the national level, 338Canada currently has the Conservatives slightly ahead with 32.8 percent of support, compared to 32.5 percent for the Liberals and 19.7 percent for the NDP.
Trudeau waves to supporters in Mississauga.
Trudeau's dismissal of Mississauga in favour of a national conversation is in keeping with how the Party Leader has campaigned in Peel in the past. Friday was Trudeau's first visit to the region during the 2021 election campaign, after he made multiple stops in Mississauga and Brampton two years ago.
While Mayor Crombie was present, she did not speak, which was a surprise after her vocal stance on the recently revived Mississauga Matters local campaign. It was used during the past two provincial and federal elections, in 2018 and 2019, to highlight and advocate aggressively for specific funding badly needed in the city. Detailed affordable housing needs in one of Canada's fastest growing regions, public transit and other transportation pressures, a massive, multi-billion-dollar infrastructure deficit and support for local businesses reeling from the pandemic, are all part of Mississauga's election advocacy plan. But you would not have known it yesterday, as she and Trudeau remained completely silent on the specific needs of the city.
Mississauga has been grossly underfunded by the federal government, on a per capita basis, through its national infrastructure program, receiving less than ten percent of what it should have been given based on population during Trudeau's first term in office between 2015 and 2019, when he had a majority government.
City officials, led by Crombie, have a growing list of projects and crucial funding needs, including public safety and public health issues that the federal government can provide help with, while specific plans are completely dependent on Ottawa, but many are still waiting for approvals.
The election is the best opportunity to secure commitments for the city, but that didn't happen yesterday.
While Peel continues to welcome an outsized share of new immigrants who arrive in Canada under the progressive policies of the Liberals, the party has failed to support large immigrant communities such as Mississauga and Brampton, where a current affordable housing crisis illustrates how badly designed some of the Liberal platform has been.
Funding to support newcomers in desperate need of housing and other services has been an afterthought, while Liberal candidates often enjoy an association with a party that likes to play up its strong ties to immigrant communities.
None of these issues were raised Friday, as local media with the knowledge of these pressing backyard issues were shut out of the question and answer portion.
During several events in 2019, Trudeau failed to mention specific Peel issues, did not take local media questions and, when he did engage with questions focusing on the specific needs of the region, skirted around the details.
For residents in Mississauga—Streetsville, the whirlwind election campaign will continue to unfold. Topics, including Canada's response to the crisis in Afghanistan or the use of vaccination passports, are relevant to a campaign but local voters want to know about what's being promised to help them in their day-to-day lives, as they face pressures unique to the place where they live.
Even when the party leader spends the morning in their backyard, the complicated local issues in Mississauga—Streetsville continue to be ignored, while photo opportunities are beamed across the country.
---
Email: [email protected]
Twitter: @isaaccallan
Tel: 647 561-4879
---
COVID-19 is impacting all Canadians. At a time when vital public information is needed by everyone, The Pointer has taken down our paywall on all stories relating to the pandemic and those of public interest to ensure every resident of Brampton and Mississauga has access to the facts. For those who are able, we encourage you to consider a subscription. This will help us report on important public interest issues the community needs to know about now more than ever. You can register for a 30-day free trial HERE. Thereafter, The Pointer will charge $10 a month and you can cancel any time right on the website. Thank you
Submit a correction about this story