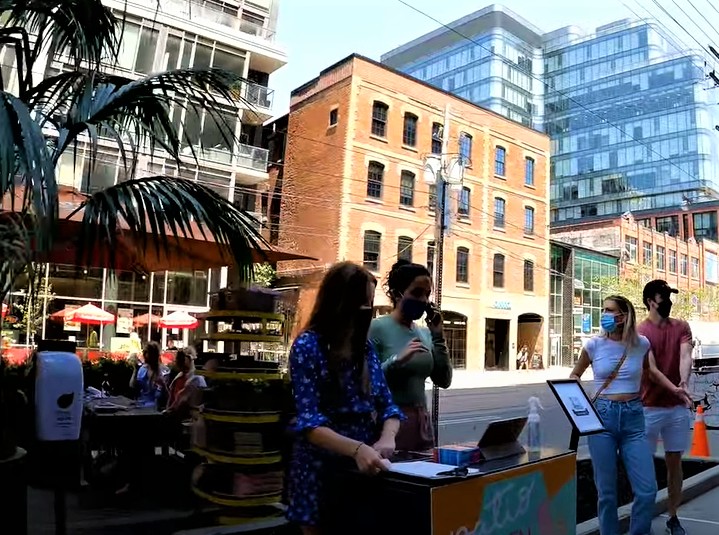 Screen grab from YouTube
Healthcare system prepares for fourth wave with minimal funding for backlog 
There is a sense of worry frontline healthcare workers just can't shake. As the pandemic restrictions are lifted, COVID case counts drop and much of Ontario rushes out to soak under the glorious sunshine, those working in hospitals are concerned about the changing of the seasons and the potential fourth wave it could bring.
Many have the luxury of a carefree summer, after missing out last year, with vaccination rates in the province providing a sense of confidence, but nurses and doctors in Ontario's battered hospitals are bracing for an uncertain future. The concern for many is the potential increase in younger COVID-19 patients by the fall.
Vicki McKenna, a registered nurse and president of the Ontario Nurses Association says many hospitals have a "handful of pediatric beds" and explained many don't even have ICUs for children.
The return to school — where the viruses that cause COVID-19 have already shown they can slip through the doors — coupled with flu season approaching and those 12 and under not eligible for the vaccine, has the potential to overburden hospitals not prepared to care for an influx of younger patients. Variants such as the Delta variety have shown they can impact younger cohorts more severely than the original novel coronavirus.
McKenna said the larger children's hospitals, like SickKids in Toronto, Children's Hospital of Eastern Ontario (CHEO) in Ottawa and the Children's Hospital at London Health Sciences Centre, have specific ICU units for kids, but many hospitals across Ontario do not.
"A lot of our big hospitals, as you might think that they would have a pediatric ICU, don't, because it's so specialized."
In Peel, Trillium Health Partners (THP) is the best bet for young patients in need of specialized care. According to a Trillium spokesperson, there is a 10-bed pediatric unit at Mississauga Hospital and a 12-bed unit at Credit Valley.
Those with ICU needs are transferred to another hospital, such as SickKids or McMaster Children's Hospital.
The William Osler Health System (WOH) has an inpatient child unit, but not a dedicated pediatric ICU, so children in need of high-level care are transferred elsewhere
Between March 2020 and August 2021, WOH cared for 37 pediatric patients who tested positive for COVID-19, 34 were treated in their inpatient child unit and three were in other units. WOH runs both Etobicoke General Hospital and Brampton Civic Hospital.
Despite some concerns about children returning to school, many parents have publicly voiced their desire to see students back in the classroom, and the Province continues to push forward with school reopening, possibly buoyed by the success of the vaccine rollout. The impact of placing thousands of unvaccinated students in close quarters, distancing measures aside, and the potential of a fourth wave remain unknown. This is particularly concerning for healthcare workers as new, more transmissible mutations of the virus that causes COVID-19, like the Delta variant, continue to emerge.
Cases of the Delta variant increased much later in the spring after being detected in Peel early April.
(Peel Public Health COVID-19 dashboard)
Delta was projected to be the dominant strain of COVID-19 by the end of June/early July in Peel Region and the province. It was first detected in early April in British Columbia and arrived in Peel shortly after. Cases rose dramatically over the third wave, but have been on the decline since July 17.
Most children have been able to avoid the variant with schools closed after the April break and many shutdown measures that were in place until near the end of July. But with shops, restaurants, sports and entertainment venues all opening up, August and September will mark the first time children under 12, who can not currently be vaccinated, will potentially be exposed to Delta on a larger scale.
Peel Public Health's epidemiological report for July 30 studied young people (under the age of 34) and the rate of hospitalization between January 31, 2020 and July 29, 2021. It found people without an underlying medical condition in this age group were the vast majority to be hospitalized, but few had cases severe enough to require ICU treatment.
For those between the ages of 36 and 64, those with no underlying health conditions were more likely to be hospitalized.
(Peel Public Health)
During the period of study, 61 people under the age of 18 were hospitalized with COVID and one died. Those 18 to 34 accounted for 272 cases in hospitals and five died.
PPH's report does not specify if those who died had underlying medical conditions or not.
Studies have shown, the best protection against the Delta variant is to get vaccinated. Research by Public Health England found vaccine effectiveness against the strain was low with one dose, but after two weeks with full double vaccination, Pfizer and AstraZeneca were shown to be 88 and 60 percent effective, respectively, against the Delta variant.
The number of people rolling up their sleeves for the shot in Peel is rising; as of July 25, 66.5 percent of the population was considered fully vaccinated.
Approximately a third of the population is not fully vaccinated, and remains particularly vulnerable to the Delta variant; many of these residents are below the age of 12, making school reopening worrisome for some.
The other worry is the flu could "raise its ugly head," McKenna told The Pointer.
For now, Canadians are enjoying the hotter months with low case counts. Many epidemiologists and health experts have been looking elsewhere to project what could be on the horizon for us, by the fall.
Looking at the United Kingdom, it enjoyed easing of restrictions much earlier, even when the Delta variant was spreading rapidly. Leaders faced widespread criticism from some quarters for opening up too soon, while large rallies and demonstrations were simultaneously held, with tens of thousands demanding an immediate return to normal. The country is now in its fourth wave of the pandemic, highlighting for other countries how easy it is for some variants to spread when restrictions are relaxed too soon in a population that has a significant cohort of unvaccinated residents. Over the last week, Canada had a rate of 13 new infections per 100,000 people, compared to the U.K.'s 279.5 cases per 100,000 people.
Looking at the trends in the U.K (top), Canada could learn what is potentially in store for the coming months.
(United Kingdom COVID-19 dashboard and Government of Canada)
The timing of waves in the UK, which has seen transmission trends about two months earlier than Canada, has been a good indicator for what we can expect to see in the coming months, and could serve as a good example of how Delta may spread here. The Ministry of Health said a fourth wave is likely this fall, making the need for vaccinations more urgent. As students head back to school, Ontario's Chief Medical Officer of health, Dr. Kieran Moore, stressed the need to be vigilant.
"We will need to maintain some level of public health measures within our schools for now," Dr. Moore said at Tuesday's press conference, where reopening measures for schools in September were detailed.
He said mask-wearing wil continue for Grades 1-12, and outdoor extracurricular activities will restart, along with sports, student clubs and other previously cancelled hallmarks of the school experience.
With the announcement, healthcare workers in hospitals are preparing to admit younger Ontarians, while also battling high rates of burnout. Stressed, overworked and dealing with many losses over the last 18 months has impacted many professionals both mentally and physically. They continue to tend to the cases in hospitals and chip away at the enormous backlog of surgeries and diagnostic procedures, all while keeping in mind a potential fourth wave could be on the horizon.
It's expected by September there will be a backlog of 419,196 surgeries and 2.5 million procedures altogether. While the vast majority of backlogged procedures do not involve life-threatening conditions, the longer something is left unchecked the potential for health complications increases.
In 2019, Ontario hospitals completed 649,300 elective surgeries and 4.3 million diagnostic procedures.
In 2021, the Financial Accountability Office of Ontario (FAO) estimates clearing the surgeries and procedures backlog created by the pandemic will cost $1.3 billion. Ontario allocated $610 million to address the backlog, but the report states a "funding shortfall" was created due to the timing of the budget which was rolled out before the April 2021 shutdown during the third wave.
Last week the Province announced an additional $324 million in new funding to help alleviate the backlog of procedures. The money will add more hours for MRIs, CT scans and will extend operating room hours into the evening. The funding will also go toward improving the use of electronic referrals, coaching from an expert team of surgeons and optimizing all hospitals that continue to face barriers in their operating rooms.
The Pointer reached out to the Ministry of Health to understand if this funding was a one-time boost or if it would be recurring over the next few years until the backlog becomes more manageable. A response was not received in time for publication.
According to the Province's press release, $216 million will allow for the completion of 4,300 of 76,994 orthopedic surgeries; 9,000 of 45,528 pediatric eye surgeries and 33,000 of 114,490 eye surgeries.
According to the FAO, the $216 million is part of the $516 million needed to clear the backlog for these procedure categories.
As part of the new provincial funding, $35 million will go toward adding over 75,000 extra hours for MRIs and 60,000 for CT scans. The FAO analysis measured the backlog in case numbers, not hours, making it difficult to determine how far this funding will go. The FAO reported $193 million is needed to clear the backlog for MRI and CT scan tests that need to be done.
Without these crucial diagnostic tools, patients waiting for a wide range of tests, from scans to show whether a tumour needs to be removed, to a potential diagnosis of Multiple Sclerosis, remain in limbo.
Previously, the Province allocated $1.2 million for cancer prevention and screening measures, the FAO report stated $48 million was needed to clear the waitlist of 1.5 million procedures.
It shows the wide gap between the problem created by the pandemic and the funding being allocated to address it.
"Ontario has developed a comprehensive surgical recovery plan to enable hospitals and community providers to operate at 110 to 115 per cent capacity," the press release from the Ministry of Health states.
Peel family physician, Dr. Sohal Goyal, told The Pointer last week many doctors and nurses have been working at 120 percent capacity, increasing their risk of burnout syndrome, a feeling of emotional exhaustion and a low sense of personal accomplishment.
"The backlog of procedures, whether it be MRIs, cataract surgery, knee operations, which then leads to patients being frustrated, but also in pain, right?" Dr. Goyal said.
How burnt-out staff will manage in a prolonged pandemic while tending to patients in a potential fourth wave, is unknown.
The healthcare sector in Canada has been facing large vacancy rates for a number of years; dire reports from hospitals in Manitoba and Quebec show the issue is getting worse.
In the first quarter of 2021, Statistics Canada reported the health care and social assistance sector experienced a larger year-over-year increase in job vacancies than any other industry. Total vacancies rose by 27,700 to 98,700 in all subsectors, led by hospitals and nursing and residential care facilities.
Vacancies for licensed practical nurse positions increased 94 percent from the beginning of 2020, while vacant registered and psychiatric nurse positions jumped 56.2 percent.
The money allocated by the Province did not specify funding for the hiring and training of additional healthcare professionals, leaving those on the frontlines already exhausted after a crippling marathon of intervention, facing a possible fourth wave while many Ontarians enjoy the summer sunshine.
---
Email: [email protected]
Twitter: taasha__15
---
COVID-19 is impacting all Canadians. At a time when vital public information is needed by everyone, The Pointer has taken down our paywall on all stories relating to the pandemic and those of public interest to ensure every resident of Brampton and Mississauga has access to the facts. For those who are able, we encourage you to consider a subscription. This will help us report on important public interest issues the community needs to know about now more than ever. You can register for a 30-day free trial HERE. Thereafter, The Pointer will charge $10 a month and you can cancel any time right on the website. Thank you.
Submit a correction about this story