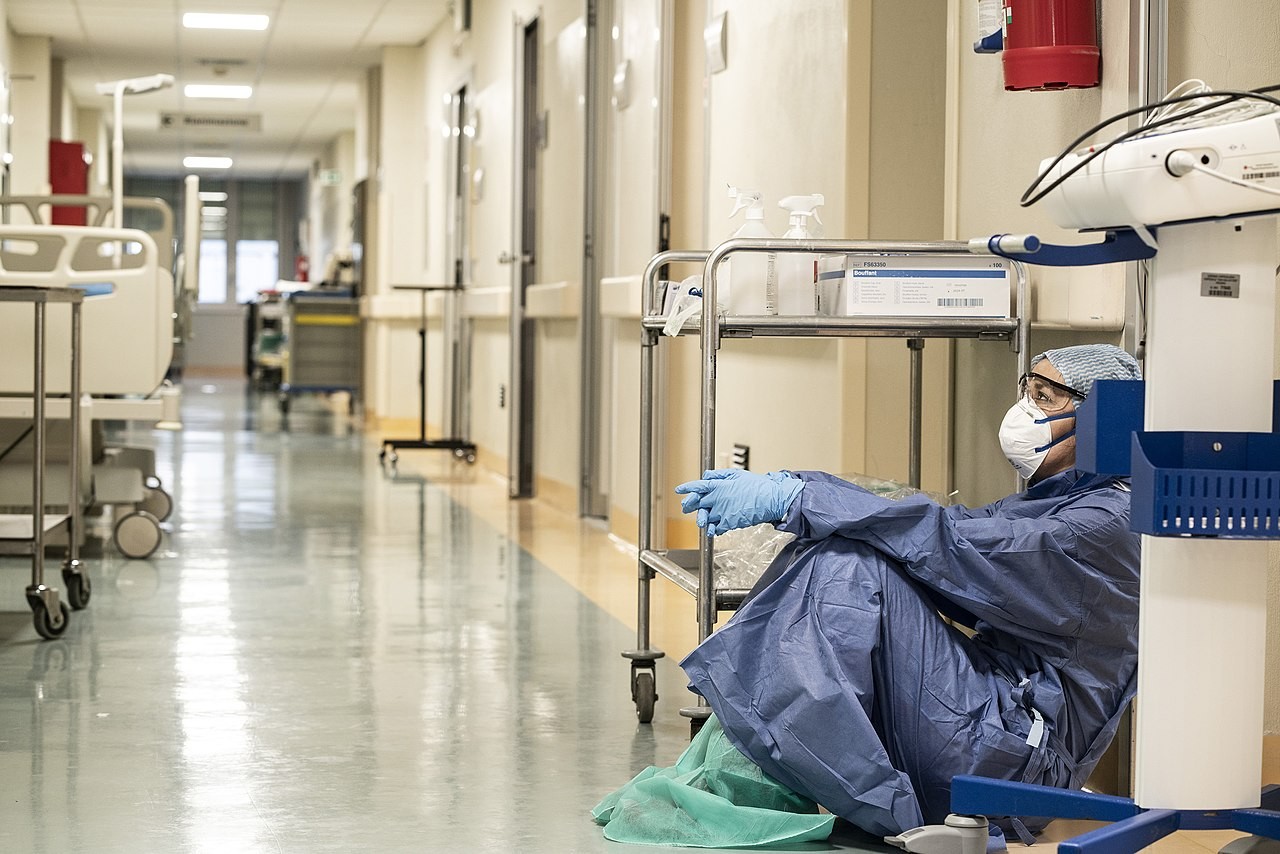 Feature image from Alberto Giuliani/Wikimedia Commons
Ontario's enormous 3.5-year surgical backlog falls on a burnt-out workforce 
"Someone said to me one day, 'You know, I feel like this is what it would be like on a battlefield where there are people all around you... and they're dying in front of your eyes'."
Vicki McKenna, a registered nurse and president of the Ontario Nurses Association, says she has been listening to the horrors endured by her colleagues for the last 18 months.
Nurses stepping into the role usually filled by family members and loved ones, holding a patient's hand as they take their last breath, or on the phone while children say their painful goodbyes in isolation from the mothers and fathers who raised them from birth. Constantly surrounded by the worst type of death — departing utterly alone — haunts nurses who have soldiered on the frontlines of the COVID-19 pandemic for almost two years.
They have borne a terrible burden for our society.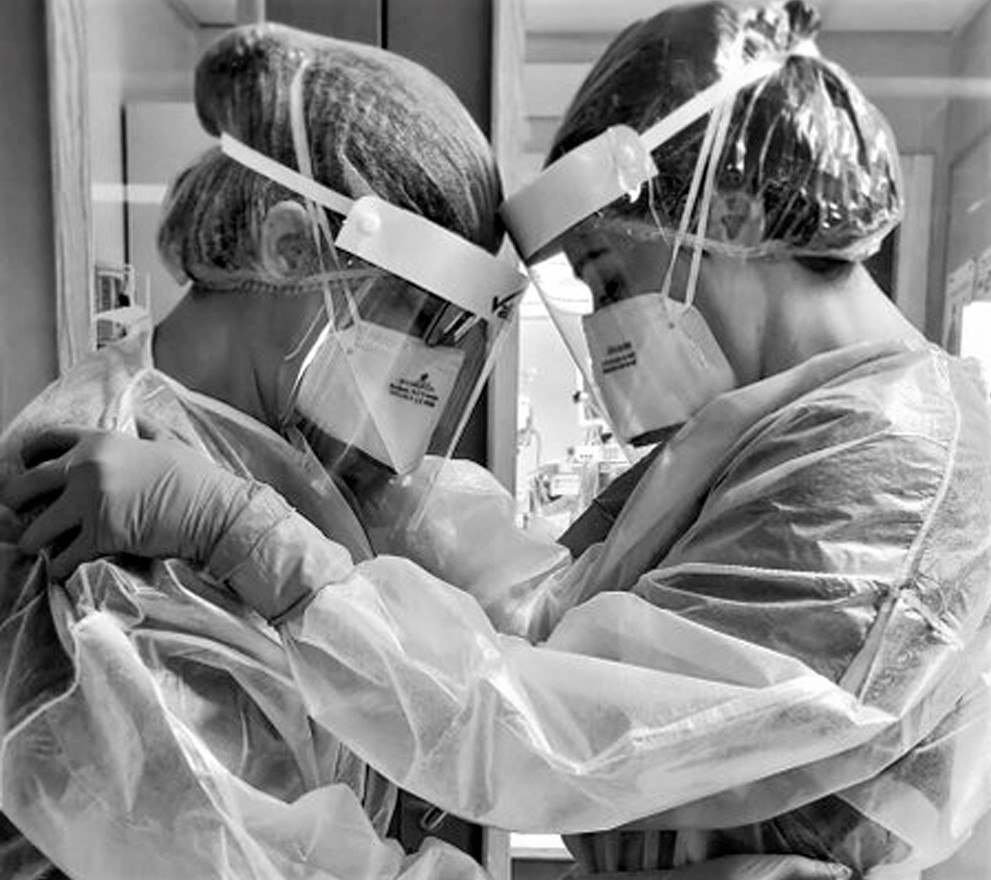 Medical staff were already under significant pressure before the global pandemic pushed the system to the brink of collapse.
(Image from Twitter)
While COVID-19 cases are receding in much of the province, the summer months will offer no reprieve for healthcare workers, who now must turn their attention to a significant backlog of surgeries created by COVID-19.
The pandemic halted many things taken for granted in life: celebrations, sports, school and socializing. What it did most of all, was increase the pressure on our already strained healthcare system and created a backlog of diagnostic procedures and surgeries that the government estimates will take nearly 4 years and billions of dollars to clear.
Want to get your fast growing cataract removed because of almost complete blindness in one eye?
According to Provincial data, the average wait time for patients with level two priorities (those with level one are seen immediately) are waiting double the amount of time for a simple surgery with an average of 81 days.
Between waves one and two in Ontario, certain elective surgeries resumed and hospitals were able to partially chip away at the 121,600 surgeries and 727,000 diagnostic procedures that had piled up during the pandemic's peak periods. This huge backlog was the result of nine weeks of delays. Despite the brief resumption during the summer months last year, many hospitals never made it back to pre-pandemic operation, meaning the waitlist has only grown.
This ever growing waitlist is now being handled by a cohort of medical staff on Ontario's frontlines who are absolutely exhausted.
Before the novel coronavirus spread across the world, critical care staff commonly experienced burnout syndrome (BOS). A study released by Critical Care Services Ontario (CCSO) in 2019 found 73 percent of staff reported feeling emotionally exhausted, 60 percent lacked a feeling of personal accomplishment and 48 percent noted a depersonalization in their care.
The report defines burnout as,"an occupational condition characterized by emotional exhaustion, depersonalization, and a low sense of personal accomplishment".
This feeling doesn't happen overnight, but occurs gradually over time with each layer of stress on the person. Being a nurse, surgeon or physician can be a difficult job normally, adding a worldwide pandemic and a sense of helplessness to those claimed by the virus, have led more healthcare workers to be burnt out or feel its symptoms.
These symptoms are often shown as "going into doing mode," according to the CCSO, and trying to increase the amount of control through power. Signs of bullying, making others fearful, micromanaging, blaming and dissociation of suffering are all indicators of a frontline worker just trying to get by.
Not only does BOS affect the care of patients it can also impact the retention of staff, which can be a significant problem for overburdened hospitals like Brampton Civic. The lone hospital in Brampton has the only 24/7 emergency room in the city and is constantly full. The term "hallway healthcare" derived from understaffed, underfunded institutions like Brampton Civic.
The 2019 CCSO survey polled participants from 74 critical care units across Ontario; 83 percent of respondents treated adults, 4 percent pediatrics and 13 percent neonatal. The majority of Ontario's care system is adults which is reflected in the study.
The majority of those who answered (73 percent) are bedside nurses, allied health professionals made up 9.8 percent and admin staff, three percent. The report also added physicians who were not a group of the 2019 survey, representing 3.7 percent of respondents.
Respondents were asked to rate their level of burnout on a scale of one to five.
In both 2019 and 2020 the vast majority of survey respondents in the medical community reported some degree of burn out symptoms.
(Critical Care Services Ontario)
The higher the rating, the higher the indication care staff are feeling an overwhelming sense of burnout across the province.
Ontario is divided into Local Health Integration Networks (LHIN), which coordinate care in a specific region, and each has a different set of patients, needs, and burnout levels.
The Ontatrio average for burnout was 2.83 — meaning staff across Ontario hover between being "under some stress" and experiencing "some burnout symptoms — with many of the LHINs meeting the provincial average. The North East and the Hamilton Niagara Haldimand Brant LHIN had the highest rates of burnout with 3.43 and 3.0 respectively.
Impacts of COVID were felt in all hospital settings at the height of the first wave, but had more impact on staff in environments with the highest number of cases. Peel Region became a hot spot early on, cases rose dramatically and Brampton Civic hospital operated on the brink of collapse.
The Mississauga Halton LHIN reported 23.5 percent of workers who felt "very much" burnt out.
Levels of burn out by Ontario LHINs
(Critical Care Services Ontario)
Family physician in Peel Region, Dr. Sohal Goyal, told The Pointer many physicians and nurses have been working at 120 percent capacity, increasing their risks of feeling BOS.
"The backlog of procedures, whether it be MRIs, cataract surgery, knee operations, which then leads to patients being frustrated, but also in pain, right?" Dr. Goyal said, "Who's gonna deal with that pain? Well, the family doctors on the frontline helping those patients navigate their frustrations, their anxiety around the waitlist."
On top of owning his own family practice, Dr. Goyal is the District 5 Chair at the Ontario Medical Association. Within his own practice, he noticed the growing levels of mental health issues in his patients, this directly leads to a feeling of helplessness among staff.
"We just don't have the resources. And it becomes a bit overwhelming for us as physicians, because we want to help our patients. And there's that lack of resources to actually be able to send them to a counselor or plug them into the system," Dr. Goyal said.
Associations and advocacy groups for frontline workers are asking for a three level tier government response for the future of the system. If many of them were already teetering on the brink of burnout, so many more have fallen into burnout over the pandemic.
In January, Dr. Goyal lost his father to COVID-19 complications, and three weeks ago he lost a cousin who was 41 years of age. Yet, everyday he continues to give his patients the best treatment. After working the day at his office he also assists with the vaccine rollout in Peel.
"I get a bit emotional talking about it in all honesty. But yeah, that drive does exist, when you see those patients, and you have that relationship with them, it goes beyond, I think, anything else because you see them, and you realize they really need you. So you respond to it," he said.
"As health professionals, sometimes we sacrifice our own well-being, which isn't necessarily the right thing to do. And so you have this drive, but it can't go on forever, right? It really can't. It's been a long, long, 18 months."
The emotional burden of caring for those sickest is a toll healthcare workers are expected to take on. Other burdens brought to the surface that increased stress was the risk of transmitting the virus to their families, emotional exhaustion and the constant changing of PPE protocols. The majority of respondents indicated time off from work would help alleviate the burnout symptoms.
While many Canadians can enjoy vacations with friends and family this summer, this is sadly not the case for all healthcare workers. The backlog of surgeries and procedures is escalating rapidly with every week.
In the third wave in April surgeries were halted again, and every week over 11,000 surgeries or procedures were added to the waitlist.
It's expected by September there will be a backlog of 419,196 surgeries and 2.5 million procedures. While nearly all the backlog items are not lifethreatning, the longer something is left unchecked the potential for health complications increase.
The projected backlog of surgeries will take years to clear.
(Financial Accountability Office of Ontario)
Ontario Public Health provides a website showcasing the wait times for surgeries, categorizing each level of need. There are four priority lists, those with highest priority, the most dire situations are seen immediately. Those with level four priorities are still seen in a timely manner, but wait times for levels two and three are increasing.
Priority two cancer patients who need a tumour removed who have a "high suspicion of cancer or biopsy is positive," are waiting six days longer than the targeted time of 14 days.
Under half (47 percent) of patients are currently having surgery done within the slotted time.
Another concern among the health community is the amount of time it will take for CT scans or MRIs to be done. These small but extremely valuable procedures can help detect complications early to better treat patients. The backlog could have adverse effects on the amount of people who receive an early diagnosis and start getting care before their situation worsens.
In 2021, Ontario allocated $610 million to address the backlog, the report states a "funding shortfall" due to the timing of the budget which occurred before the April 2021 halt. The Financial Accountability Office of Ontario (FAO) estimates clearing the surgeries and procedures backlog will cost $1.3 billion.
While more money is needed to put a dent in the situation, time is of the essence.
The FAO believes it will take about 3.5 years to clear the surgery backlog and over three years to clear diagnostic procedures. This estimate is based on the 2021 budget, which assumes hospitals operate at 11 percent above pre-pandemic volumes.
Trillium Health Partners (THP) are currently reporting an average wait time of 18 days for priority three cancer patients — a common priority three surgery is breast cancer — whereas William Osler Health System (WOH) reports 24 days. The provincial target time for group three surgeries is 28 days.
Neither health care system in Peel answered how large their surgery or procedure backlog is. WOH told The Pointer, "With COVID-19 admissions to Osler's hospitals reduced significantly, Osler is carefully and gradually resuming some priority non-urgent surgeries and procedures across our three hospital sites."
These workers, who have given everything they have and then more just so some can live another day or be able to go home to loved ones, are exhausted. They carry an emotional burden of seeing their own patients die because of the virus and a personal burden to continue to be strong and keep fighting.
"It's a very long road and it's emotionally draining because it's not only the physical toll, the mental toll and seeing our patients suffer...It becomes overwhelming, you may not show it directly to the patient, when you're dealing with it day in and day out," Dr. Goyal said.
WOH is hoping to return to full capacity in all areas impacted by September. THP did not respond in time for publication.
Both systems had to pivot to keep patient care operational during the pandemic. WOH said it has learned some new innovative ways to care for patients virtually.
"A silver lining of the pandemic is that it challenged us to think differently – to reimagine how we deliver quality, compassionate care," a spokesperson from WOH told The Pointer in an email. "There are many new initiatives and innovations that came from our COVID-19 experience – including virtual urgent care, virtual visits and at-home patient monitoring – that have benefited patients and that will continue as we move forward."
---
Email: [email protected]
Twitter: taasha__15
---
COVID-19 is impacting all Canadians. At a time when vital public information is needed by everyone, The Pointer has taken down our paywall on all stories relating to the pandemic and those of public interest to ensure every resident of Brampton and Mississauga has access to the facts. For those who are able, we encourage you to consider a subscription. This will help us report on important public interest issues the community needs to know about now more than ever. You can register for a 30-day free trial HERE. Thereafter, The Pointer will charge $10 a month and you can cancel any time right on the website. Thank you.
Submit a correction about this story