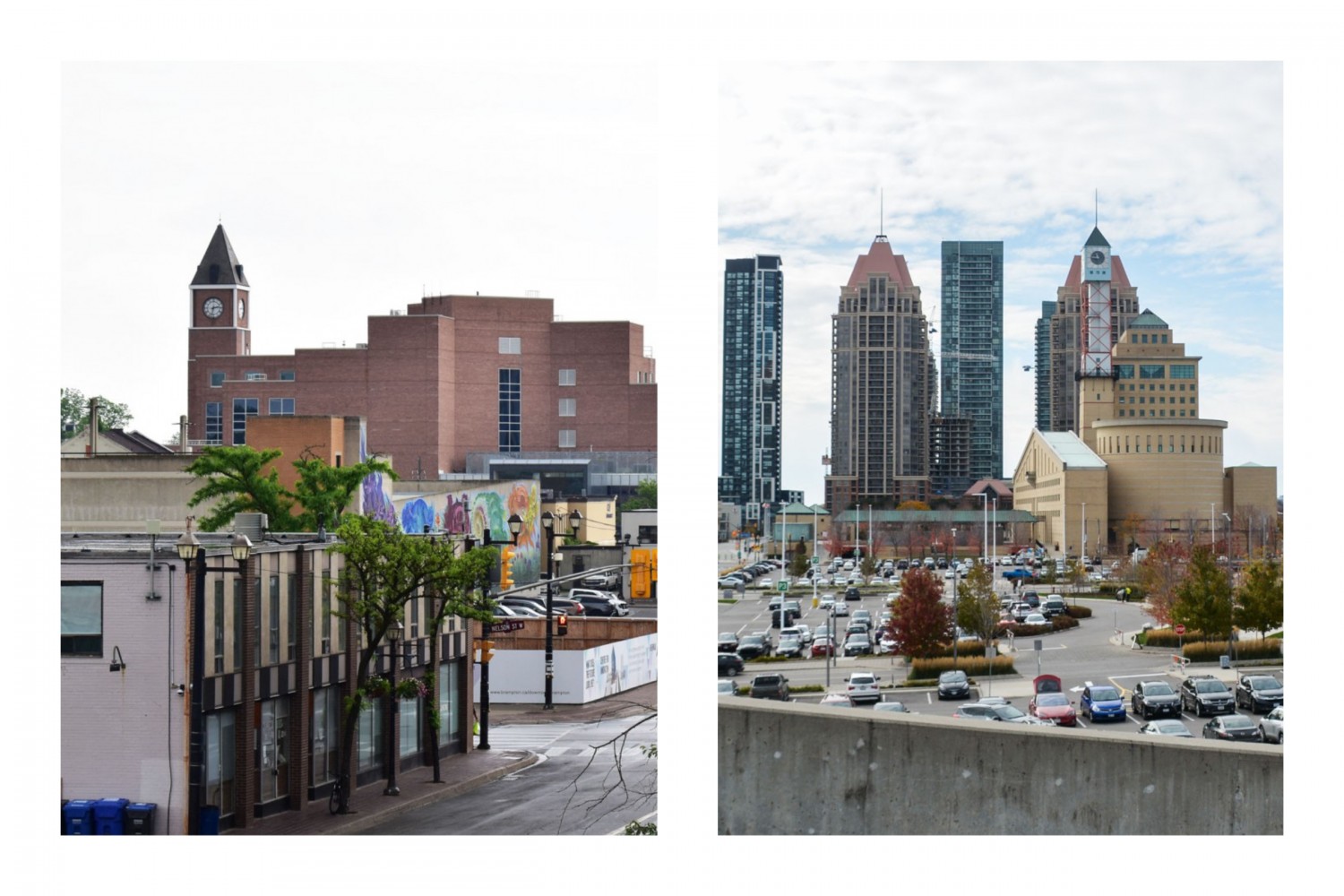 Feature images from Isaac Callan/Joel Wittnebel/The Pointer
Time for Mississauga and Brampton to shift activity into new 'downtown' locations
Mississauga and Brampton are the children of a dream born after the Second World War.
During the global rethink about almost everything civilization had evolved into, at the dawn of the second half of the 20th Century, many Canadian families yearned for more. They wanted a backyard carpeted with manicured emerald grass, space for a family car and even another spot on the wide driveway for a boat or second vehicle. Each child should enjoy their own room, and a dreamy kitchen was no longer a feature reserved just for restaurants.
Ambitious families knew the rapidly growing city centres couldn't accommodate all these needs and who wanted the clogged chaos of industrialized growth that made many city dwellers feel like ants in an anthill.
Just to the west of Toronto, endless farmland was calling.
Highways were built, cars were bought and Peel became the perfect escape.
Hundreds of thousands of detached family homes were built across what we now call the 905 and Toronto's suburbs became a multi-billion dollar industry.
For many who moved to Mississauga or Brampton, their priorities were different. Many still worked in Toronto, drove their cars to the office everyday and visited local plazas for their grocery and dining needs, while dropping off and picking up the dry cleaning.
Mississauga was founded as a bedroom community.
(Image from Isaac Callan/The Pointer)
In Mississauga, a 'downtown' emerged around the evolving consumer mindset that North American marketers were perfecting. Square One was built before many residents arrived, and as the City rapidly expanded, it accepted the notion of a city centre concept that took shape around a massive shopping mall, one of the biggest ever built, at the time.
Brampton, meanwhile, had an established "high street" area with the Four Corners at the centre, the intersection of Queen and Main Streets, where early commercial services sprouted in the 19th Century, but it quickly started to show signs of its age… and inability to keep up with the new suburban personality.
Now, both cities have ambitious plans to modernize and grow into the 21st Century. While the hangover of suburban planning designed around sprawling single-family homes still dominates Mississauga and Brampton, they have grown into the country's sixth and ninth largest cities, respectively.
Square One was still surrounded by farmland when it was built in the early '70s, before Mississauga even became a city.
(Image from City of Mississauga)
Their development has created certain characteristics. In particular, both cities have struggled to bring a sense of life to their downtown. It's no easy task, trying to create a vibrant city centre anywhere in North America. The suburbs have been dominated by sprawl and a consumer focus. Dynamic life in big metropolitan centres has been hollowed out by office towers and other vertical developments that don't create any place to go outside the 9 to 5 work day.
"The downtown originally was about business and a place where maybe the city hall was, where you had cultural institutions and public services; it was like a town centre," Matthew Siemiatycki, a geography and planning professor at the University of Toronto, says. "These areas are a function of the history, usually there was a train line or something, a road, some type of transportation. Basically the transportation of the day went through that area and things grew up around it. But that doesn't necessarily mean that is where all the focus needs to go in perpetuity."
Mississauga and Brampton consider the area immediately surrounding city hall to be downtown. Both are challenged by deep, complex planning, socio-economic and demographic issues that have hindered enthusiasm and limited a broader appeal.
Rendering of the proposed redevelopment of the Port Credit marina area. Should this be Mississauga's new downtown?
(Image from City of Mississauga)
For Mississauga this means cracked parking lots and fast roads the size or runways around one of North America's largest malls are the heart and soul of the city. And in Brampton, a crumbling historical district is synonymous with boarded up shop windows and other signs of urban decay.
Peel's leaders would say this is on the cusp of changing.
Oxford Properties, the owners of Square One, plan to turn the mall's parking lots into 38 towers, while M City's uniquely jagged condos are already rising from the ground in downtown Mississauga. The influx of condo development around the Burnhamthorpe and Hurontario area will continue to transform the downtown from a suburban desert to an urban forest over the next decade.
Whether this is enough to turn the area into a hub of business, social and cultural activity is not yet clear. Unlimited height restrictions mean the City has few options to compel developers to make dynamic, progressive planning decisions guided by what people want to experience in the centre of city life, rather than how to make the biggest immediate profit off the land.
If the Square One area remains entirely reliant on the car, navigating massive boulevards and 400-series highways to arrive at the sprawling parking lots that still dominate the streetscape, Mississauga's plan for a towering vertical downtown might accomplish what Toronto has, unfortunately. Walls of glass and concrete that empty out to ghostly effect, are hardly the types of features great cities use to create truly inspiring experiences.
We talk breathlessly about places like Mexico City, Mumbai and Rome because of the energy they create. There is little vitality in stacks of cubicles surrounded by concrete that empty workers onto hollow streets at 5 p.m. everyday to catch the GO Train out.
Or the new suburban centres that house these worker-bees in similar style buildings erected along transportation lines, so residents can wake up and do it all over again.
Over the past decade, staff inside Mississauga City Hall have fought an admirable battle to create their vision of downtown life. They have banned buildings smaller than three stories, to eliminate the low-slung suburban plaza-scape, attempted to create complete streets (with mixed results) and demanded at-grade retail must be limited to shops and businesses that will bring the streetscape to life. Pedestrian activity is being encouraged by a number of initiatives, from turning over previous parking spaces to more urban features and by investing heavily in transit around the downtown core, primarily the Hurontario LRT now under construction.
These slow transformations are dwarfed by the emptiness of Square One's gigantic parking lot (much of which is being replaced by condos and even downtown-style laneways to accommodate the types of independent shops that draw pedestrians). The changes could seem equally small if the horizontal sprawl is simply traded in for the uninspiring vertical variety.
In 2018, plans for a walkable and transit-oriented downtown were damaged by a provincial decision to limit the scope of the Hurontario LRT. A previously promised downtown loop for the light rail route was axed in favour of a bridge directly in and out of Square One.
A rendering of the LRT Flyover bridge in and out of Square One.
(Image from Metrolinx)
In the last decade, Celebration Square in front of the Civic Centre has been revamped into a regular festival venue.
Otherwise, there has been little investment or planning to create any real sense of a true city centre, other than whatever Square One does to attract shoppers, along with the necklace of chain restaurants and big-box retailers that surround the central shopping mall.
Celebration Square in Mississauga is a place for the community to gather, but it is an island in the downtown.
(Image from Isaac Callan/The Pointer)
Brampton's downtown is the opposite of Mississauga's. It's not a concrete garden sprouting steel and glass. Instead, once-charming brick buildings built more than a century ago stand on top of aging infrastructure on the brink of economic and structural ruin.
There are some basic similarities: Mississauga has the Living Arts Centre and Brampton has the Rose Theatre; both cities have community squares with large TV displays for festivals or public gatherings; both have iconic city hall buildings and a walk of fame in varying states of disrepair.
The future of Brampton's downtown is in limbo. The Region of Peel is on the verge of beginning critical infrastructure to replace aging utility infrastructure, as business owners brace for disruptive construction. Simultaneous work that was supposed to be done by the City of Brampton to beautify the area is on hold, after a string of political decisions has left the project unplanned and unfunded. Brampton's downtown also has a yet-to-be-resolved floodplain issue which limits future development in the area.
Brampton's downtown Walk of Fame has seen better days.
(Image from Isaac Callan/The Pointer)
With Mississauga's downtown owned by massive condo developers and Brampton's mired in a toxic political battle, is it time to move on?
The meteoric suburban rise of Brampton and Mississauga has only really occurred over the past five decades, when they grew up as bedroom communities. Downtown was an almost irrelevant concept in the post-war dream that saw the family home for everyone transformed into a private suburban oasis, complete with sprawling yards and fenced-in hideaways, to enjoy gated isolation, instead of community life in bustling central spaces.
If Brampton and Mississauga leaders and bureaucrats were so inclined they could simply move downtown. The current sites could be renamed the historical town and skyline district, respectively. Examples of cities deliberately moving their downtowns are rare. Huntsville in Texas recently proposed moving its city hall away from downtown, but not reclassifying the area itself.
"You see over time that these places evolve and there is some shift," Siemiatycki said. "You might even have a splitting of purpose: the residential part of downtown shifts a little bit but the business downtown function stays the same; or, in some cases, businesses start to shift and move elsewhere, that can happen. We have had experiences in various places where the city hall moves, in that case that's a policy decision."
Cracked asphalt still dominates Mississauga's downtown.
(Image from Isaac Callan/The Pointer)
Both Mississauga and Brampton have sites better suited to the transit-oriented, pro-business and cultural centres traditionally associated with downtown.
The Port Credit area of Mississauga boasts a stunning waterfront, iconic lighthouse, network of public parks and a vibrant community of established restaurants and small businesses. It is surrounded by some of Mississisauga's most exciting new mixed-use development projects and arguably the most connected part of the city.
The Lakeshore West GO line runs through Port Credit from Oshawa in the east to Hamilton in the west, with trains as regularly as every 15 minutes. The track, unlike the Kitchener or Milton GO lines, is owned by GO Transit, meaning more regular service and electric trains are a realistic target for the future.
The Port Credit GO station is undergoing a makeover to accommodate the Hurontario LRT, which will begin its journey north to Steeles Avenue on the edge of Lake Ontario. When the line is completed in 2024, Port Credit will have a north/south LRT route running roughly every seven-and-a-half minutes at peak and an east/west train every 15 minutes. It will make one of the most picturesque areas of the city accessible to all.
Where Square One is home to some of Canada's biggest chain retailers jostling for attention in a squat, air conditioned building, Port Credit boasts cafes, art galleries and a string of independent shops. Biking and walking trails lead directly in and out, along Lake Ontario from both sides and the Credit River which pours into the village's marina from the north. There may be more square-footage of retail in Mississauga's downtown, but the organic feeling of a town centre is much stronger in Port Credit.
Construction at Port Credit GO is being completed ahead of Mississauga's first LRT.
(Image from Isaac Callan/The Pointer)
In Brampton, Bramalea offers a downtown alternative for very different reasons to Port Credit. The area was developed as a planned community before the City of Brampton was incorporated, it was a major subdivision project led by a Toronto-based group in the '50s. It has ribbons of parkland through the middle, a central mall and is the headquarters for the Region of Peel.
The North American movement to 'reimagine the mall' and build housing in the parking lots surrounding town centres could be applied to Bramalea on a smaller scale than Mississauga's downtown. This would allow the Bramalea City Centre mall to anchor housing without having to dominate the area to the same extent as Mississauga's Square One.
Roughly three kilometres from Bramalea City Centre is the Bramalea GO station, an area oozing with untapped potential. Directly north of the GO tracks, a series of sprawling suburban transportation, logistics and processing businesses are located, sitting on land ripe for future growth beside one of the GO network's most ideally situated stations.
Top, Bramalea redevelopment as part of the City's 2040 Vision; bottom Bramalea GO is undergoing renovations this year.
(Top Image City of Brampton, bottom from Metrolinx)
Brampton's downtown is still waiting for reliable two-way, all-day GO service, something that ultimately sits in the hands of Canadian National Rail, which owns the track.
The rails between Toronto's Union Station and Bramalea, on the other hand, are owned and operated by GO Transit. The commuter train operator has ambitious plans for the route, which will feature electric trains at regular headways. They will stop at a series of new stations in Toronto, turning the heavy commuter rail line into an above-ground subway-style system.
Bramalea is also home to Chinguacousy Park, one of the city's most popular outdoor spaces. It is 40 hectares of urban greenspace, compared to the much smaller space offered by downtown Brampton's Gage Park.
Bramalea is also right next to the 410 Highway, making access to the rest of the 905 and Pearson Airport a potential draw for a downtown area that could feature hotels and convention centres to attract business investment.
Gage Park in Brampton's downtown is a fraction the size of Chinguacousy Park in Bramalea.
(Image from Isaac Callan/The Pointer)
Brampton's ambitious 2040 Vision highlights Bramalea as a major urban growth centre and it is also part of the Province's "urban growth corridor" area for Brampton. Its transportation corridors along with other urban infrastructure investments and features make Bramalea a compelling location to situate a true city centre area.
Reliable and regular transit to an area with development potential and established suburban homes near a sprawling park make an interesting argument for centring Brampton on Bramalea and pushing its nose to the future. Where Mississauga could benefit from embracing heritage and location instead of the limitations of its current downtown, Brampton may want to wipe the crumbling slate clean and try again.
Moving a downtown is drastic — perhaps it's not the solution.
But the idea is worth considering. Brampton has poured years of blood, sweat, tears and politics into its downtown without success. Mississauga has waged a slightly more successful campaign to reimagine its downtown, but there is no guarantee a forest of condo towers will create a true destination.
Perhaps a new generation of city hall politicians is needed before such a bold move is made, to truly turn these two suburbs into the cities they hope to become.
---
Email: [email protected]
Twitter: @isaaccallan
Tel: 647 561-4879
---
COVID-19 is impacting all Canadians. At a time when vital public information is needed by everyone, The Pointer has taken down our paywall on all stories relating to the pandemic and those of public interest to ensure every resident of Brampton and Mississauga has access to the facts. For those who are able, we encourage you to consider a subscription. This will help us report on important public interest issues the community needs to know about now more than ever. You can register for a 30-day free trial HERE. Thereafter, The Pointer will charge $10 a month and you can cancel any time right on the website. Thank you
Submit a correction about this story