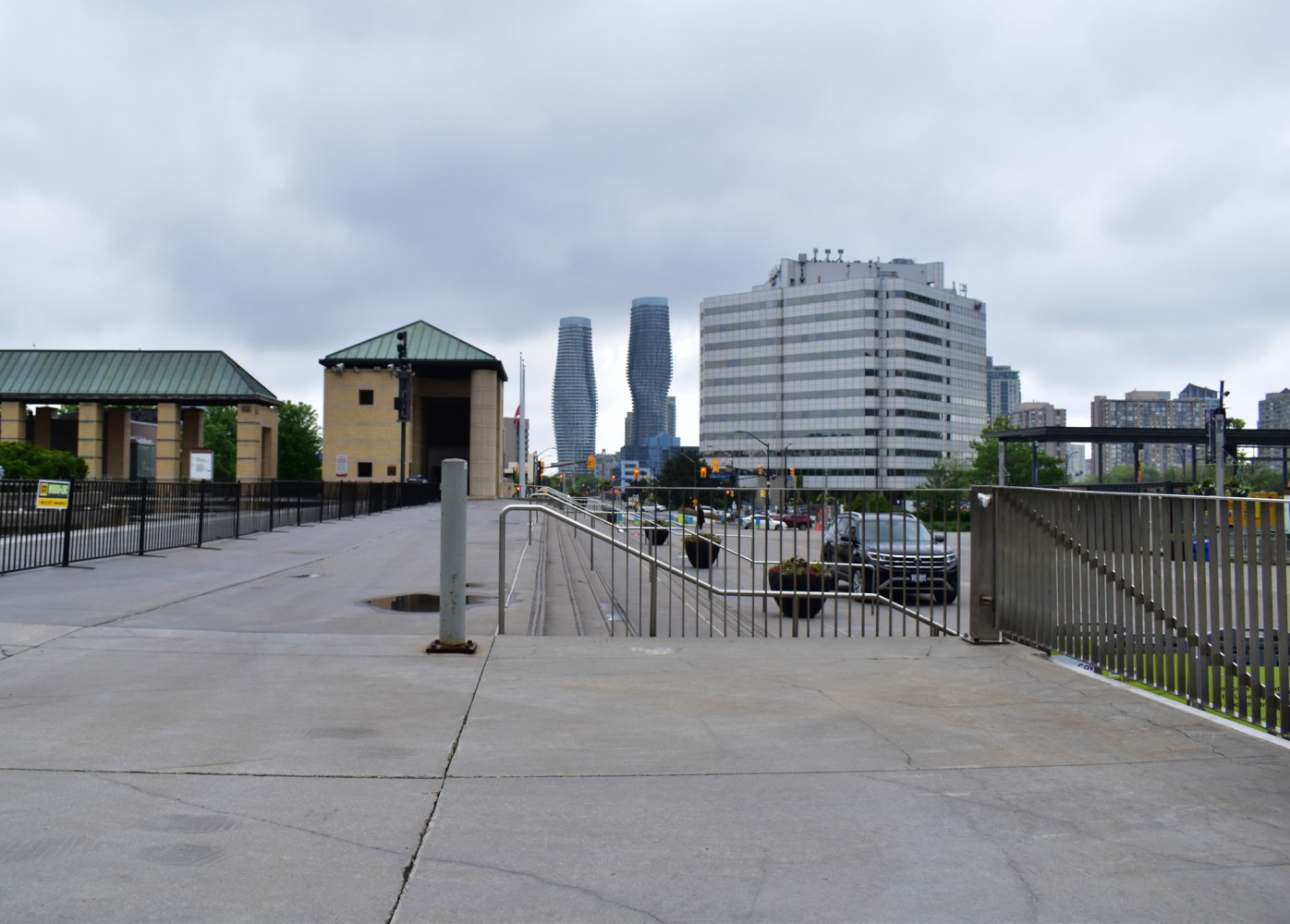 Feature image from Isaac Callan/The Pointer
Mississauga staff accomplish small victories in battle against developer-dominated downtown growth
In the early 1970s, the area now home to Mississauga's downtown was a hive of activity.
Construction workers erected walls and built roofs, installing industrial grade air conditioning units and glaring strip lighting. They poured acres of asphalt and carefully painted hundreds of yellow lines. The crews were creating an all inclusive resort for suburban adults — it was called the Square One shopping centre.
The project was a "developer-driven, idyllic 'modern' vision" of how a city centre should be built, the City of Mississauga's Downtown21 master plan concluded in 2010. At the time it fulfilled a vision of how the centre should be planned, one that has not aged well.
Roughly once every decade, Mississauga has sought to update and advance its plans for the downtown. In 2010, it produced Downtown21 laying out plans for a decade and next year it will release its Downtown Strategy, a refresh of what was written before.
Staff have notched up some successes along the way.
They have piloted improvements at street level, fought back against suburban retailers and banished drab storefronts from the ground floor of downtown buildings. These various changes mark small victories for City Hall in a city centre still searching for a sense of vibrancy. Square One's suburban beginnings hang heavy over the area, which is dominated by surface parking lots and flanked by six lane roads.
Downtown21 was created with a sense of urgency, underlining the need for immediate action. It said City Hall could attract residents and businesses through people-centred urban design and a cohesive sense of identity.
Construction activity dominates parts of Mississauga's downtown.
(Image from Isaac Callan/The Pointer)
"The best strategy to encourage office employers to locate in the Downtown is to create a 'downtown' — a true urban environment that is an urban alternative to suburban locations but with the advantages of competitive suburban rental rates," the plan explained, referencing Mississauga's desire to improve the number of offices located in its core. "This urban environment cannot wait another decade to occur... it has to be built now."
Since those words were written, the City has not welcomed a single new office to the downtown. Its efforts to create a plan for a pedestrian-centred downtown have fared better with some carefully crafted policies, but the lingering domination of surface parking lots means the impact of these changes may take longer to be felt.
Large parts of Mississauga's downtown are squarely in the hands of developers, just as they were in the 1970s.
At the beginning of 2020, the owners of Square One, Oxford Properties, announced a plan to build 37 towers in the parking lots surrounding the mall. The buildings will house roughly 18,000 people and join a forest of downtown skyscrapers, where Rogers' M-City projects are already pushing as high as 60 storeys.
Oxford Properties' plan comes with a host of modern improvements. It will eliminate the desert of surface parking spaces and increase the city centre's reliance on transit. It also promises to bring much needed rental units to the downtown and boost the area's density drastically.
Square One is surrounded by an asphalt moat.
(Image from Isaac Callan/The Pointer)
The benefits come as a byproduct of modern development trends in North American cities.
Developers once planned cities around the car, parking lot and the mall. In the 1970s, Square One and its asphalt wasteland were the perfect way to make money in an area that was about to build thousands of single-family homes in planned subdivisions. Now, as vacant land begins to run out and the value of housing drastically increases, it is beneficial for developers to push into the sky. New projects stack hundreds of residents on top of one another in vertical subdivisions — or condominiums.
Data from the 2016 Census suggests the demographics around Square One are well suited to this style of building. According to Statistics Canada, the downtown core had a population of roughly 30,000 with a median age of 34-years-old when the Census was completed, much younger than the city's median age of 40. In the downtown area, 98 percent of residents live in apartment buildings taller than five storeys and 44 percent of the population rent.
By 2031, the population is forecast to almost double to 61,200, jumping again to 70,500 in 2041.
Whether or not a downtown populated by towers is better for Mississauga than its current design, the City's options are limited. Oxford Properties is in the driver's seat when it comes to how locals will experience their downtown.
There are few detailed documents available chronicling Oxford Properties' vision, which is still developing. The company has released a slew of ambitious renderings, but more detailed proposals are limited.
In two short responses to The Pointer, a spokesperson for Oxford properties said the vision for the area would be contained in a master plan and would work to create walkable communities. "Oxford is proud to be working collaboratively with the City and its residents to build a truly world-class, sustainable and vibrant downtown community that supports the continued growth and aspirations of Mississauga for generations to come," they said.
An area south of Square One mall was selected as a design starting point for Downtown21.
(Image from City of Mississauga)
In its 2010 plan, Mississauga hoped to catalyze this vibrant downtown through the creation of a Main Street. The short boulevard was to run from the southern exit of Square One mall across City Centre Drive and then Burnhamthorpe Road. It was planned with all the hallmarks of a pedestrian street: local shops, a row of trees and slow traffic speeds.
Admitting the downtown was too large to tackle all at once, staff specifically identified the Main Street area as a focus to be "built out within the next eight to ten years". It was to act as a "centre of gravity" for the downtown, drawing together offices, the mall, City Hall and neighbourhoods just south of the downtown.
"The role of the Main Street is to provide the beating heart of the downtown or, in other words, to maximize social and economic exchange," Downtown21 explains. "The street succeeds in this role by providing pedestrian-oriented, smaller scale retail and entertainment opportunities; maximizing access and walkability; having engaging, inviting, and aesthetically pleasing buildings and being supported by higher order transit, public spaces, residences, and nearby educational, office and mall uses."
Walking along City Centre Drive in 2021, the eight to ten year timeline has not been achieved. The area earmarked for Main Street is a construction site and the southern parking lot for Square One is intact.
The area earmarked for Main Street is currently under construction.
(Image from Isaac Callan/The Pointer)
Despite the delay, City Hall says the project is progressing and work is currently underway. The project has been renamed as the Exchange District, but maintains the character outlined in Downtown21.
"It just takes time for landowners to get their heads around the concept," Marianne Cassin, manager of development and central planning for the City of Mississauga, told The Pointer. "Oxford being a pension fund (OMERS) moves very slowly and conservatively and they tend to not build until they have a tenant in mind."
Many aspects of the development process in downtown leave City Hall's hands tied. Provincial planning legislation governs the broad philosophies of what can be built, while a previous decision to allow unlimited height on all buildings in the downtown has taken away some negotiating power.
In 2013, the City introduced specific building standards developers had to adhere to.
The move came in response to the development of classically suburban big box stores in the area surrounding Square One. In order to keep the dream of a dynamic downtown alive, the building standards mandate a minimum height of three storeys for buildings to outlaw sprawling, driver oriented businesses, as well as specific rules around issues including how far balconies can extend from the side of a building.
These standards are one of the limited tools staff have to direct development in the downtown to fit with their vision. It's an important roster of policies to guide the development of an area used by residents across the city.
"It is a neighbourhood, but it is also a key piece for Mississauga as a whole," Mojan Jianfar, project lead on Mississauga's Downtown Strategy, told The Pointer. "We are engaging with those different demographics and trying to understand people's different needs and uses of the downtown core."
Celebration Square is an area of public land at the heart of Mississauga's downtown.
(Image from Isaac Callan/The Pointer)
Improving the City's street network in the downtown was a key focus of the 2010 master plan, which imagined leafier streets with more space for pedestrians and smaller blocks. The policies to design streets represent an area the City itself can control as the downtown develops and applications flood in.
The roads that run between Living Arts Drive and Confederation Parkway were earmarked to be flush streets. On these streets, the sidewalk and road would not be separated by a physical curb, instead the pedestrian and vehicular areas would melt into one another. This design lends itself well to pop-ups events such as street festivals or farmers markets.
This City has recorded some success on this front, but stopped short of its Downtown21 vision. "They were a bit of an experiment actually," Cassin said. "I think our City engineers were maybe a little reluctant to do the flush streets, they were worried about the capacity of those streets to carry trucks — fire trucks and other delivery trucks — and things like that. But they've been quite successful."
One of the planned flush streets has been closed to traffic and essentially absorbed into Celebration Square. The other, Square One Drive, has been a tentative success on the Sheridan College campus.
In 2019, a portion of Living Arts Drive beside City Hall was temporarily transformed for a month. Colourful paintings, picnic tables and potted plants narrowed the road to increase the options for pedestrians, an experiment which has not been repeated, but set a useful precedent for planners. "It's just sort of to demonstrate the world didn't end by narrowing the streets and creating a better pedestrian environment - that was really our goal," Cassin said.
City Centre Drive has had a line of trees planted along its sidewalk.
(Image from Isaac Callan/The Pointer)
The City has also pushed for better retail options at street-level for residents to browse.
Confronted by businesses such as dentists or fitness studios covering their storefronts, the City mandated that only retail, restaurants or financial institutions were allowed to operate on the ground floor. Other uses are still permitted in buildings, but ground floor options are geared towards the kind of businesses residents can pop into on a whim.
Despite hard work behind the scenes that has inched Mississauga forward and improved the options at street level for residents, there are undeniably still obstacles. Square One's parking area dominates the streetscape for now and examples like Burnhamthorpe Road are far from complete streets. The latter is the result of a decision Mississauga was unable to control.
In 2019, the provincial government scrapped plans for the Hurontario Street LRT to loop around Mississauga's downtown, cutting several stops. The move, attributed to cost overruns, meant that a light rail system no longer offered the opportunity to redesign one of the city centre's least pedestrian-friendly roads.
"We're still working on that," Cassin said, referencing tentative plans to run a MiWay bus along the route of the loop. "It's [Burnhamthorpe Road] a wide enough right of way to accommodate everything, but there are a lot of other things going on as well. There's a changing lanes study going on to look at the width of [the] right of way [for example]... it's still a bit of a work in progress."
---
In Downtown21 (top), staff compared Burnhamthorpe Road to a proposed boulevard that would accommodate the LRT. More than ten years later, the road (bottom) has barely changed.
(Images from City of Mississauga and Google Maps)
---
As part of the City's next downtown project, plans are currently being tossed around.
The opportunity to improve Mississauga's downtown has not passed and City staff has won small victories along the way. However, the role of private interests in this work will only increase.
With tens of thousands of new residents in buildings that tower above the ground, dynamic downtown spaces and parkland will be more vital in the future than ever before.
"One of the key things we do have to improve through the Downtown Strategy is some wayfinding and information sharing, making sure people do know these things exist," Jianfar said, pointing to the various victories staff have pushed through over the years which may not be immediately apparent to the uninitiated. "There's planning tools to kind of improve the downtown and there's also a lot of these cultural pieces to help fill out some of those vast parking spaces."
---
Email: isa[email protected]
Twitter: @isaaccallan
Tel: 647 561-4879
---
COVID-19 is impacting all Canadians. At a time when vital public information is needed by everyone, The Pointer has taken down our paywall on all stories relating to the pandemic and those of public interest to ensure every resident of Brampton and Mississauga has access to the facts. For those who are able, we encourage you to consider a subscription. This will help us report on important public interest issues the community needs to know about now more than ever. You can register for a 30-day free trial HERE. Thereafter, The Pointer will charge $10 a month and you can cancel any time right on the website. Thank you.
Submit a correction about this story