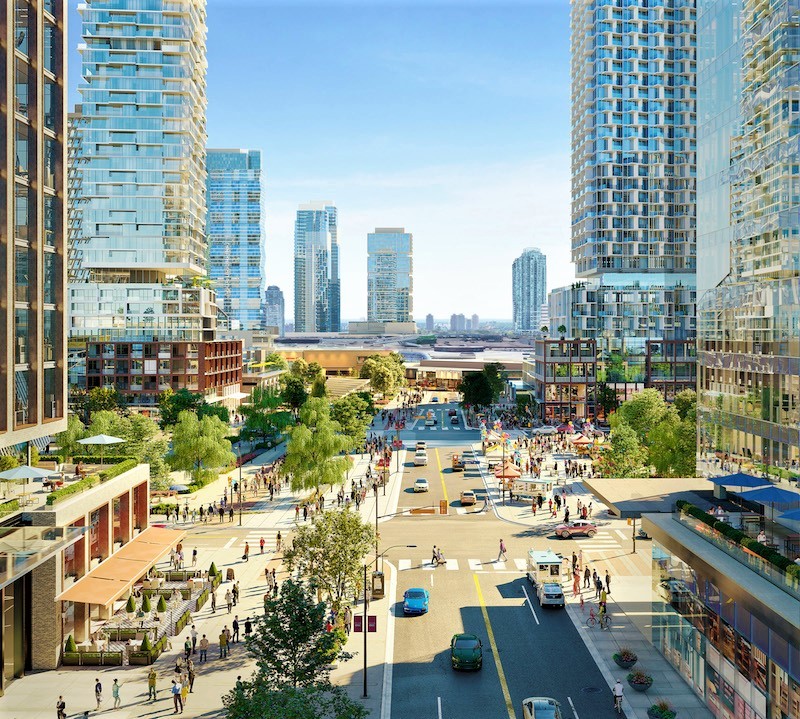 Rendering from Oxford Properties
Dead on arrival: Mississauga's dream of downtown office towers could already be over
The blare of an alarm seems like a nightmare. You crack open your eyes to see how late it is.
Stretching out like a cat, it's only 10 minutes before your first meeting. No need to panic.
You tuck a clean work shirt into your pandemic pajamas and head to the kitchen. The milk froths perfectly for your morning coffee.
A few steps around the corner, your office awaits. Plenty of time to spare.
Thousands of Peel residents fortunate enough to work from home have repeated a version of this morning routine. Without the dreaded commute around the Greater Toronto Area many have realized the benefits to working from home and productivity, for some, has even improved. Companies have taken notice.
Statistics Canada reported at the top of this year, 32 percent of Canadian employees aged 15 to 69 worked most of their hours from home, compared to 4 percent in 2016. StatsCan found 80 percent of recent teleworkers would like to continue working at least half their hours at home once the pandemic is over. High productivity rates, around 90 percent, could encourage employers to allow the temporary shift to become permanent.
This could spell trouble for the City of Mississauga.
For more than a decade, Mississauga was hurtling toward an office-oriented downtown that it has never had. A massive shopping mall and sprouting high-rise condos dominated the city centre. Now, in a little over a year, a microscopic virus has totally upended grand plans for white-collar office towers that would have completed the former suburb's transformation into a major urban destination.
A multi-billion-dollar light rail transit system is currently under construction along the city's main thoroughfare, Hurontario Street, and renderings of gleaming glass office towers built around the higher order transit line illustrated the city's dreams of reimagining its image as a Manhattan-like metropolis.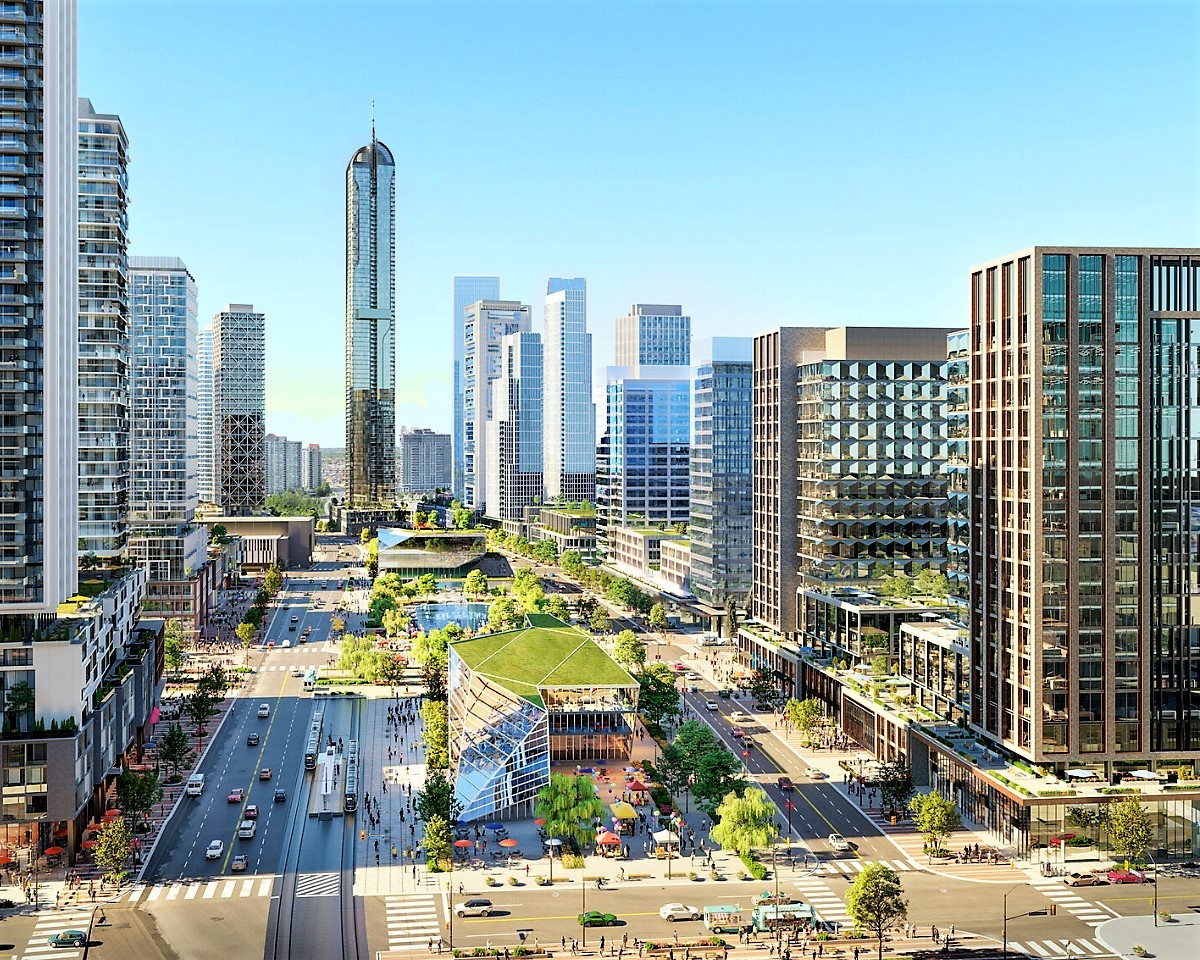 The vision for Oxford Properties in downtown Mississauga. (Rendering from Oxford Properties)
Now, the transformative plans could need a major rethink.
If more workers continue using their home offices, cities like Mississauga which have shaped their downtown planning around the promise of office and retail space will be forced to adapt their urban plans on the fly. Trends of working from home could wipe away what little foot traffic is seen in the core. Current office and small business vacancy rates might increase, in a vicious cycle.
The desolate sight of a deserted downtown, which drains a city's character, might become the picture of Mississauga's city centre, unless it can push through its outdated Downtown21 vision.
The Downtown21 master plan was first passed in the '90s and refreshed in 2010. Its first 15 years completely transformed what had been a flattened suburban outpost with Square One symbolizing the post-war idea of urban planning in satellite communities like Mississauga. It envisioned a downtown with a vibrant mix of retail, office space, shimmering condos and recreational features to offer residents community living in the heart of the city.
But the forest of towering condos that emerged around Square One weren't matched with many of the other promised features.
Fortune 500 companies were lured away to business parks and corporate campuses that were developed closer to the outskirts of the city.
The Downtown 21 plan envisioned pedestrian friendly streets around the sprawling mall, including the addition of Princess Royal Drive, Webb Drive, and the creation of a new road north of Centre View Drive.
Highlighted in red are the roadways the City wants to expand or create as part of the Downtown21 master plan. (Graphic from City of Mississauga)
Another feature of the plan that hasn't come to fruition, is the renovation of the City Centre terminal, a transit hub for Brampton buses, GO Transit and MiWay to connect.
According to the 2010 plan, the municipality would focus on beautifying and developing downtown office spaces as a key component of the vision. Of the nine districts in the downtown, four are meant to feature major office spaces.
Main Street, Rathburn, Hurontario and Sussex were the four districts set to be revitalized for office spaces in 2010. (Map from City of Mississauga Downtown21 Master Plan)
The Pointer asked the City how many office spaces have been developed since the vision was launched.
"We have not had any [new office spaces] since the Downtown21 Master Plan, we do have one application in the works now," a City spokesperson said.
The City followed up, explaining that work on the Downtown21 project, specifically efforts to expand the commercial footprint, has been delayed until early 2022.
"We are still researching the impacts of COVID-19 on the office market, and consulting on potential policy directions."
The Toronto Region Board of Trade (TRBOT) on June 9 released reports on how the pandemic has affected workplaces, the economy and everyday routines in the Greater Golden Horseshoe. Its study lays out economic shut downs and the road to recovery for the Regional Centres (RC) in the area.
Regional Centres are the downtowns of more suburban cities like Mississauga, Brampton and Oakville. (Source The Toronto Regional Board of Trade)
RCs are the hubs between work and home and are defined by the presence of government, institutional and retail services.
The TRBOT reports that prior to the pandemic the demand for office space in many centres like Mississauga was low compared to downtown Toronto, and it dropped off even further during the pandemic. Throughout 2020, Mississauga's office vacancy rates rose from 10.7 to 13.4 percent. In comparison, Brampton now has a lower office vacancy rate than Toronto, but with only 1-million square feet of office space, a tiny fraction of what's available in the provincial capital, this isn't surprising.
"For regional centres where office space is in large supply, planning for recovery may provide an opportunity to pilot new uses of space and office configurations," the TRBOT report states.
Creating stronger work-life neighbourhoods in regional centres can attract a more robust balance of office and retail spaces. Mixed use spaces can offer housing, retail and office space in one area, without the need to expand past existing urban boundaries.
Mississauga has been on the cusp of this since Oxford Properties, owner of Square One and the surrounding land, decided to transform large parcels of underused parking space in the city's core. The 130-acre area will be a mixed-use development with a booming transit hub, parks/green spaces and "forward-thinking office space," said a release by Oxford Properties in 2020.
Analysts in the TRBOT report say there will be an increase in demand from employers looking for satellite hub spaces in suburban areas. These new developments will offer close-to-home office spaces for employees who will want to cut their morning commute almost entirely. Already, some businesses in Mississauga are trying to fill this niche.
Venture X, a Mississauga-based office provider is using a new model to attract businesses to its upscale hubs. Located in the heart of suburbia, a mixed-use small industrial building can accommodate multiple office spaces.
Its new Mississauga facility at Matheson Boulevard features a physically distanced lounge for workers to collaborate, access to shared board rooms, meeting spaces and phone rooms. Giving companies the option of having people work from home some days and in group spaces, could be an ideal balance for companies looking to eliminate larger, expensive office buildings.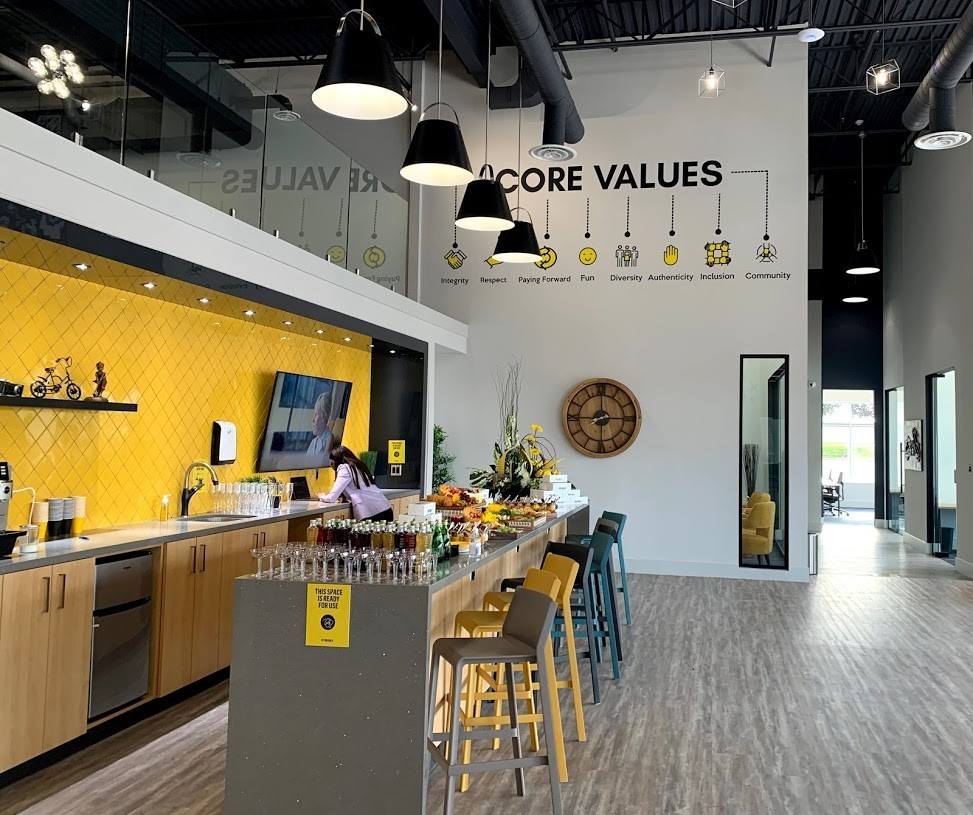 Venture X in Mississauga. (Photo from Venture X)
Downtown Mississauga and Brampton could be home to these diverse and thriving hubs pending coordination between business and government. To attract developers to invest in the city's core, planners need to create vibrant, livable, walkable and commuter-friendly spaces close to all the sought-after amenities of modern urban life.
To become a complete community, RCs need to include affordable housing or risk being passed over by many younger workers increasingly demanding properties that fit their lifestyles. They do not want to be house poor. If home prices continue to soar to unreasonable heights, many employees in healthcare, sales, the trades, education, and even some management and technology positions will look elsewhere for appealing, modern communities, TRBOT noted in previous studies.
"Without people to fill these jobs, businesses suffer, and the city becomes less livable for everyone," it said.
If affordable housing isn't part of the mix, downtown centres will become even more desolate.
Encouraging mixed use projects and higher density areas with pedestrian and bike-friendly spaces, could potentially create a decline in single-family housing prices if demand for these types of properties falls off. This would also help RCs become home to more than just office and retail spaces.
Attracting people back to in-person retail will be another hurdle many regional centres will have to overcome on the path to recovery. These RCs account for 9 percent of retail trade employment and 10 percent of retail businesses. If online shopping and other forms of e-commerce continue their meteoric growth, brick-and-mortar stores that create property tax revenues could be in trouble.
Mississauga generates $66 million in commercial and industrial property taxes, the most across all regional centres. The taxes are distributed to the Region of Peel, the City and the Province for education. More than half this amount is from retail and another $1.9 million is from mixed use office/retail space. Across all 17 of the RCs in the GTA, about 46 percent of industrial and commercial tax comes from retail properties.
Mississauga generates the largest amount of commercial and industrial property taxes than any other of the centres in the Golden Horseshoe. (Source: The Toronto Regional Board of Trade)
So what happens if in-person shopping becomes an idea of the past?
According to a real estate firm, CBRE, owners of retail centres are looking to build warehouse spaces because of the high demand for industrial capacity. This recognition across the Golden Horseshoe means large shopping malls could be spaces ripe for transformation.
The centres which generate the most property tax also have a higher concentration of office space. Approximately 47 percent of Mississauga's city centre footprint is allocated toward office/retail. The TRBOT notes rental incomes for malls hit rock bottom during the pandemic which could impact mall property values and their tax revenue with e-commerce in full swing. It says most RCs will need to cave into online shopping and adjust their plans accordingly for the future.
For Mississauga, building yesterday's city centre won't do and delays to the Downtown21 plan could be used as a time to rethink how urban spaces need to be designed in a post-pandemic world.
---
Email: [email protected]
Twitter: taasha__15
---
COVID-19 is impacting all Canadians. At a time when vital public information is needed by everyone, The Pointer has taken down our paywall on all stories relating to the pandemic and those of public interest to ensure every resident of Brampton and Mississauga has access to the facts. For those who are able, we encourage you to consider a subscription. This will help us report on important public interest issues the community needs to know about now more than ever. You can register for a 30-day free trial HERE. Thereafter, The Pointer will charge $10 a month and you can cancel any time right on the website. Thank you.
Submit a correction about this story