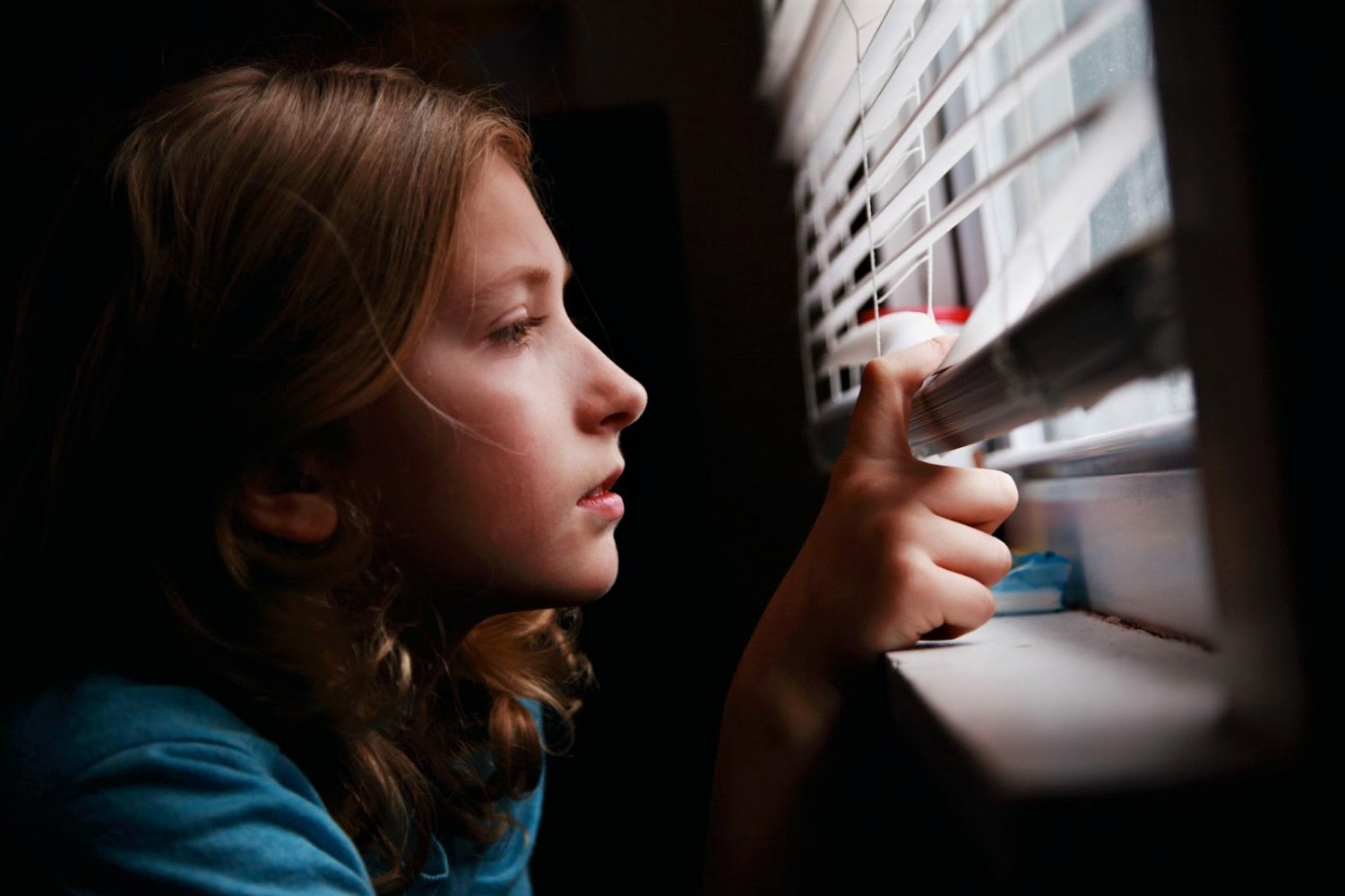 Photo by Sharon McCutcheon-Unsplash
Parents feel stuck as learning options for upcoming school year put them between 'rock and a hard place'
"My daughter's mental health has suffered so severely. Even when she was in school, she was disconnected from her peers."
Brampton parent Karyn Keith is one of many across Peel feeling a sense of déjà vu.
Health experts last summer said COVID-19 hadn't even hit its peak expecting the virus to rage on for a deadly second wave. Parents and teachers' unions were outraged at the lack of protection in classrooms and blamed the Ontario PC Government, calling for smaller class sizes, better personal protection measures, proper air filtration as well as more funding and a promise that, above all, students would be kept safe.
Many parents are faced with hard choices about how their children will learn come September. (Photo by Kelly Sikkema - Unsplash)
There was mass confusion on what fall 2020 would look like within the education ecosystem, while boards struggled with plans to satisfy frustrated parents and anxious teachers. The messaging from Queen's Park and the Ministry of Education was at best inconsistent and at worst, incoherent.
Many criticized Education Minister Stephen Lecce and Ontario Premier Doug Ford for their lack of action over the summer months leading up to the school year, ending in rushed decisions.
Now, despite an uplifting pandemic picture across the province and throughout hard-hit Peel, it seems fall 2020 is repeating itself.
Many parents are conflicted on whether schools will be safe enough to send their unvaccinated children to.
Keith, a Brampton resident, feels the decision is being pushed too quickly on parents as a lot of elements might change in six weeks, as we have seen before and judging by what's happening in other jurisdictions such as the UK, where infection rates have dramatically spiked in recent weeks.
She doesn't like the idea of being "locked in" to a decision.
Keith's daughter, Deborah, is in Grade 5 and attended Terry Fox Public School last year remotely. She has not been able to interact with any of her friends or peers face-to-face in more than a year.
She has watched her daughter's emotional health deteriorate, as children in particular need very specific types of social interaction to develop into healthy adolescents.
But she was caught on the horns of a dilemma many parents can relate to.
Keith's main concern about in-person education is the lack of protection and social distancing in schools, which was a reason she kept Deborah at home. She would like the opportunity to choose online education and if things improve, get her daughter back to in-person learning.
According to both of Peel's main public school boards, their reopening plans do not allow switching from online to in-person mid semester.
"I feel like I'm between a rock and a hard place, and it's like; I keep my kid home, and then everything's okay in September, and all her friends go back," Keith said, expressing the frustration of dealing with a system that doesn't seem to understand what many parents are trying to come to grips with.
Parents of kids under the age of 12 are contemplating the same issues. Will sending their children to school be safe? Will cases be low enough? Is not having vaccine protection something that will only lead to months of nervous anticipation?
Minister Lecce told school boards they must offer online learning for families who want the option for the 2021-2022 academic year. Boards were left to decide if they would plan for two schooling options, one online and one in-person, or if they would offer what is known as the hybrid version.
Peel District School Board (PDSB) will be offering a hybrid school model for their high school students this fall. Students who chose online learning will not have a designated online teacher. Instead, they will be going to a broadcasted class where the instructor will be teaching in-person students simultaneously.
PDSB high schools will have two classes a day for one whole week, and two different classes the next week. This model is called the modified semester approach. Students going to school will see teachers in their classrooms interacting with them as well as students who are learning at home.
All students will have one class for 150 minutes, then an hour lunch break, followed by their second class of 150 minutes. PDSB opted to switch from the quadmester approach because of its condensed timeline.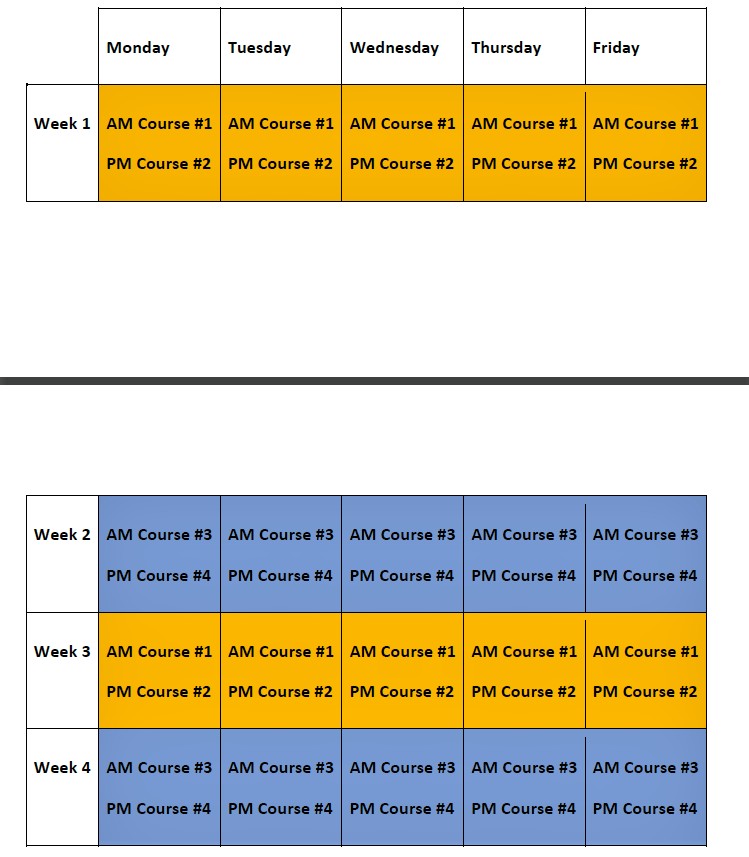 PDSB opted to change its quadmester approach because of how condensed the class timeline was. (PDSB)
"It was determined that there were pedagogical and health and safety reasons to change to the modified semester schedule," a frequently asked question and answers sheet from PDSB states.
Ryan Harper, President of the Ontario Secondary School Teachers' Federal (OSSTF) District 19, told The Pointer the modified semester plan would allow in-person students to have lunch together and doesn't have cohorting like the quadmester approach.
"PDSB has rebranded the term, they call it the community learning model, which means it's hybrid," Harper said. "They've just called it something else and branded it that [way] because they think it sounds better, but it's even more deceiving."
Decisions on cohorting haven't been set in stone for PDSB schools. The board's frequently asked questions and answer sheet states a benefit of the modified semester is that it, "limits student contact which helps reduce the spread of COVID-19."
The board sent out a survey from July 12 to 30 to determine how many PDSB students would choose online or in-person learning. The modified semester will run until January 2022. Once students or parents choose the model of learning, they are not allowed to switch. If a student chooses in-person they would physically go to school for the first half of the year unless directed by public health.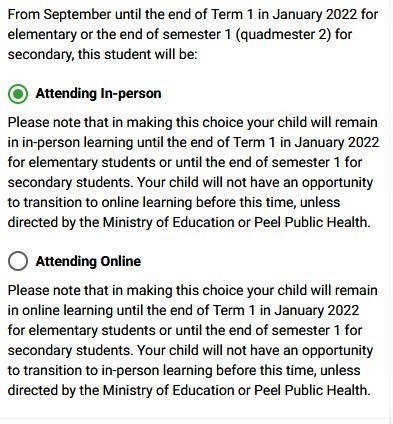 Once parents choose the model they want their child to follow, they will not have the choice to switch until the end of a quadmester or semester. (PDSB)
There is further confusion for PDSB parents because the board doesn't have the same model for both secondary and elementary schools.
Students in elementary school have the same option to learn online, the difference being they have a designated online teacher. The hybrid model doesn't exist for students in these schools as it does for high schoolers.
The Pointer reached out to PDSB and asked why it chose to have separate teachers designated for online versus in-school for elementary, but not secondary.
"This model has been offered in PDSB secondary schools since Nov. 18, 2020. For current secondary school students this means they will continue to have the option of learning in-person or online, while being taught by the same educator and remaining with their home school," Malon Edwards, PDSB's communication manager said.
Harper believes this tactic is a cost-saving measure, by not having to hire more online teachers. Despite secondary school teachers using this model since November, Harper is concerned prolonged implementation of the approach will have adverse effects on the educators and students. Having to teach a class both online and in-person while answering questions and keeping students engaged is exhausting, educators say.
"We really do need an in-class model, for everyone's mental health, we do know that isolation was very impactful for students as well as educators," Gail Bannister-Clarke, President of Peel's local Elementary Teachers' Federation of Ontario (ETFO) union said.
The special education programs have not confirmed with Bannister-Clarke if they will be doing a hybrid model in elementary schools.
PDSB isn't allowing families to switch from online to in-person until the end of the first term for elementary schools.
While the board has chosen to go forward with two separate models for elementary schools and a hybrid option for secondary, Dufferin-Peel Catholic District School Board (DPCDSB) chose to have a hybrid option for both primary and secondary learners.
All students attending DPCDSB schools this fall will have both in-person and online peers in their classroom learning environment. Their hybrid model will have teachers instructing students at home and in-class at the same time.
When asked by The Pointer why DPCDSB opted for hybrid classes a spokesperson said, "The adoption of the Hybrid Model ensured that students would continue to be associated with their classroom teacher and home school, as parents chose to pivot them from in-person to remote learning and vice versa."
At the high school level, students will continue the quadmester approach which sees two classes run every day for 10 weeks, then switch to two new classes in the latter part of the semester. These students would be able to switch from a remote class to an in-person class at the end of the quadmester.
Elementary school students are not allowed to switch from remote to in-person learning. The choice parents/students make this summer will have to be kept until June 2022.
Similar to the public board, DPCDSB will be surveying parents on their decisions for the upcoming school year.
Preliminary research done by Sick Kids showcases just how severe the impact of COVID-19 has been on younger children and teens. Of the 2,206 school-aged kids (six to 18) studied, the research concluded those who spent time online learning had heightened symptoms of depression and anxiety.
The third wave of COVID-19 (February to early April) when most of the Greater Toronto Area had already been shut down for months, had the greatest effect on children. The researchers found over half of 758 kids age eight to 12 and, 70 percent of 520 adolescents reported significant signs of depression.

Many adults and students alike have spent more time online than face-to-face in the past year and half. (Flickr)
It's clear those in school and learning from home need to be properly reunited with friends, extracurricular activities and their normal routines.
Concerns over safety which plagued parents heading into last fall made planning difficult for school boards. In one week 10,000 students switched from in-school learning to online, forcing PDSB to delay the start of the academic year.
Over the course of last year there were many cases and outbreaks in schools and classrooms. Merely weeks into September, Peel's two boards accounted for 40 percent of the Ontario cases in schools.
By the end of September, The Pointer reported five classrooms closed in Peel and 71 schools had cases of COVID. Of the five closed, three were PDSB and two DPCDSB. By late October, the situation continued to worsen, but Peel's Chief Medical Officer of Health Dr. Lawrence Loh, who has the authority to close schools, did not despite many having more than one active case. He faced widespread criticism from parents and educators, and falsely claimed he did not have certain authority under the Province's Section 22 clause which does indeed give local chief medical officers sweeping authority. Instead, only specific classrooms were closed while the schools remained open. The Pointer reported 27 percent of all schools in both schools boards in Peel had one active case.
But eventually, when the situation in Peel schools was clearly out of control, Loh did use his authority under Section 22 and ordered all schools shut down on April 5.
They did not reopen for in-class learning during the school year.
But there is one major difference between last year and this year: the vaccine.
Inoculation against the virus has been nothing short of a miracle with Peel reporting 17 new cases for July 19, compared to 1,137 on April 22, the largest single-day count in the region. Vaccines have been lowering cases in those above the age of 11, but children under 12 are still ineligible and can still become infected, with the possibility of spreading a virus that causes COVID-19 to their peers. The risk of transmission among children is still present and a significant concern of parents, unions and educators.
Data across all postal code-areas in Peel show many aged 12 to 29 are getting vaccinated. Key indicators that show the student-age population getting vaccinated will likely mean fewer cases than last fall in secondary schools.
For those under 12, including Grades 6 and 7 with a mix of students who are vaccine eligible and those who are not, the future infection picture is harder to predict.
The Province is continuing to give money to boards to assist with safety measures. The funding package includes money for additional staff, operation support, transportation, special education, mental health and re-engaging younger learners in literacy.
Bannister-Clarke is hoping PDSB will use its $20.4-million-share from the Province for additional staff to hire more nurses. Over the height of the third wave in April she was shocked to hear there were only two nurses for all schools in the Region.
"It's just, it's incredible," Bannister-Clarke expressed to The Pointer, "to think that we just had two nurses for how many thousands of students. I just think that the public really needs to be aware of the lack of funding, the lack of resources that are really being put in the Peel Region."
A major concern of many parents and educators is the need to improve air filtration in classrooms so they don't act as transmission hotspots for the virus.
In April, the federal and provincial governments made a joint announcement to address the need for better HVAC infrastructure in schools.
They committed $656.5 million in funding to provide critical infrastructure primarily for "ventilation projects that improve air quality in classrooms across the province."
HVAC renovations will "improve air quality" while the money will also also go toward "installing water bottle refilling stations to improve access to safe drinking water, investing in network and broadband infrastructure to support remote learning, and space reconfigurations such as new walls and doors to enhance physical distancing."
The federal government invested $525.2 million for these projects through the COVID-19 Resilience stream of the Investing in Canada Infrastructure Program. The provincial government gave about $131.3 for the work, and Lecce has said 95 percent of government funded schools are part of a plan to improve air filtration, with many schools already equipped with better purifying infrastructure to keep classroom environments cleaner.
PDSB will be receiving $28.5 million and DPCDSB will get $14.5 million for COVID protections over the 2021-2022 school year. Both totals do not include the amount boards can use from their own reserve funds, up to a maximum of two percent of the money in these accounts.
It will become clearer by late September if extra money and learning models will be enough to keep kids safe in school.
---
Email: [email protected]
Twitter: @taasha__15
---
COVID-19 is impacting all Canadians. At a time when vital public information is needed by everyone, The Pointer has taken down our paywall on all stories relating to the pandemic and those of public interest to ensure every resident of Brampton and Mississauga has access to the facts. For those who are able, we encourage you to consider a subscription. This will help us report on important public interest issues the community needs to know about now more than ever. You can register for a 30-day free trial HERE. Thereafter, The Pointer will charge $10 a month and you can cancel any time right on the website. Thank you.
Submit a correction about this story