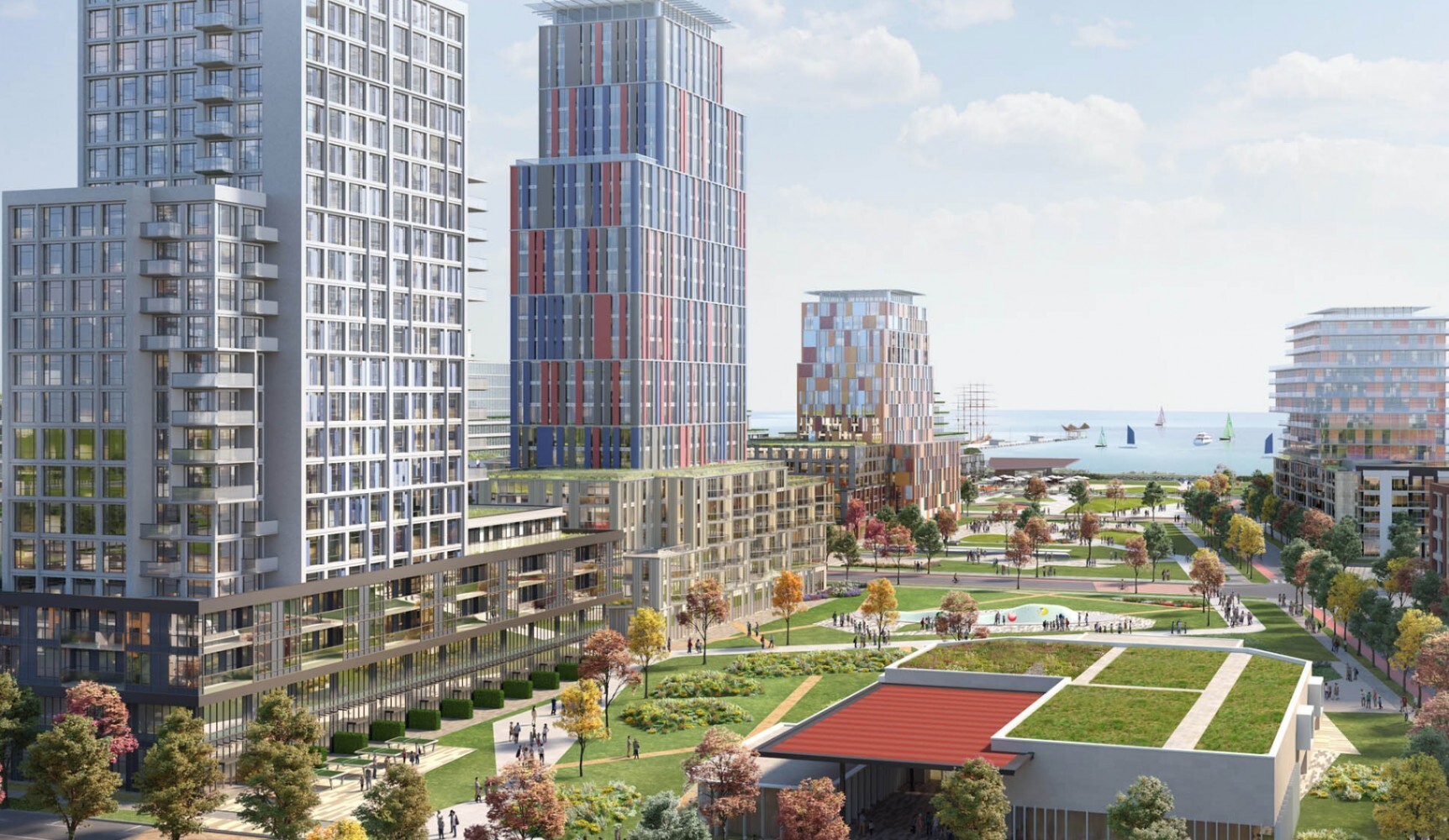 Rendering from Lakeview Community Partners
Lakeview developer backpedals on request for taxpayer subsidy, but offers peanuts for affordable housing
"The Lord giveth and the Lord taketh away."
The line from the Book of Job is often heard at funerals and is central to a Christian understanding of faith: death and life itself.
For those worshiping at the altar of municipal planning there is a strikingly similar mantra. The Developer giveth and the Developer taketh away.
In Mississauga, this cuts to the heart of the theology that rules local planning. Along the city's majestic waterfront near its border with Toronto, the protracted creation of a mixed-use community exemplifies the trend.
Lakeview Village began its existence miracuously. Local residents came together with the City of Mississauga to create a plan that encouraged medium density in their backyards. The late Jim Tovey, Mississauga councillor for Ward 1, pushed for development on the site of the Lakeview coal power plant. He convinced locals and government to scrap plans for a gas power generator and dedicate the land to housing, greenspace and cultural draws. Over several years, Tovey worked with the local community to create a tailor-made plan for locally approved height and density.
The project checked a lot of boxes for local residents. It allocated much of the area's population onto a single site, reducing the need to build density elsewhere. It also offered access to a waterfront stolen from them by poor planning decisions that allowed a dirty power plant to be constructed there in the first place.
Lakeview Village promises to catalyze Mississauga's waterfront.
(Image from Lakeview Community Partners)
The dream has been chipped away ever since, one promise taken away or changed after another.
In 2018, the lands were sold to Lakeview Community Partners, made up of Argo Development Corporation, TACC Construction Limited, Branthaven Homes, Greenpark Group and CCI Development Group of Companies. The 5,200 units originally suggested by the community rapidly increased to 8,050, the developer pushed the boundaries of its project to the edge of a local sewage treatment plant and asked for taxpayer funding to develop environmental programs.
In an update presented to local councillors at the Region of Peel Thursday, the developer made some concessions back to taxpayers. LCP dropped its request to have taxpayers fund ambitious environmental plans, instead outlining a limited contribution to Peel's push for affordable housing.
In September 2020, LCP came to the City of Mississauga with a bold request: submit an application for federal and provincial funding on our behalf to build a system of district energy and vacuum waste. The developer said it would reimburse Mississauga for its portion of the multi-governmental funding, but wanted federal and provincial taxpayers to shoulder the majority of costs associated with green technologies that would inevitably end up being included in shiny brochures used to sell private homes.
In total, LCP anticipated the district energy system could cost $35 million, of which the developer would cover $10.5 million on behalf of the City of Mississauga. The same arrangement and financials were suggested for vacuum waste costing $35 million, with the developer ready to pay $10.5 million.
A map of the Lakeview Village plans.
(Image from Lakeview Community Partners)
In the recent update, staff at the Region of Peel say LCP has walked back this request, citing the uncertainty of government funding.
In June 2021, LCP told the Region and City it was working with Enwave Energy Corporation to develop a district energy system for Lakeview Village. This news means the developers will source its own private sector solution but will still rely, at least in part, on the Region's GE Booth wastewater processing facility.
Plans for vacuum waste have gone private too. Instead of asking taxpayers to cough up to service a private development, LCP has engaged Miller Waste Systems Inc. to build a modern system for waste disposal. If the model proceeds, the Region would pay a fee to Miller Waste for hauling waste and organics, a service generally provided by the Region itself.
The change of direction comes from an extremely lucrative development. In 2018, Ontario Power Generation sold the Lakeview lands for just $275 million to LCP, which now estimates the project is worth $4.6 billion.
In contrast to the decision to fund its own district energy and vacuum waste systems, LCP has put forward an outline of its miserly affordable housing strategy. An affordable housing plan for the development submitted in April suggests between 4.2 and 5.7 percent of all units will be affordable or market rental, a misleading figure when you drill into the details.
Lakeview Village has suggested limited affordable housing options.
(Image from Region of Peel)
"While the purpose-built market rental units are desirable in providing rental tenure units at more affordable prices, the rental rate for market units would not meet the Regional definition of affordable housing," a Peel Region housing report states.
The housing statement includes a range of on-site and off-site affordable offerings. The developer is offering 140 to 230 affordable units within its own buildings and the funds to build a further 50 to 80 elsewhere. The projections for affordable housing also include units for artists and market rental units, which as the Region notes, are not affordable housing.
Removing the developers' mischaracterized suggestions for affordable housing — market rental, artist units and the funds to build affordable housing elsewhere — LCP has only offered the City and Region between 1.7 percent and 2.9 percent of the units it builds as affordable.
Affordable housing units are critical in Peel, where housing unaffordability threatens to overwhelm the Region's public housing provider. According to a June 2020 report from the Region, current ownership and housing rental rates are unaffordable for 80 percent of the region's households.
Peel's Home for All plan targets as many as 1,770 low or medium-income affordable housing units per year. Lakeview Village's plan would barely scratch the service of this annual number.
Lakeview Village will be a mixed-use community on the shores of Lake Ontario.
(Image from Lakeview Community Partners)
It remains to be seen if councillors and staff will accept this minimal offering. The area where Lakeview Village will be constructed is on the route of a recently funded bus rapid transit route, meaning that it could eventually be subject to an inclusionary zoning order.
The term refers to policies that force developers to include a certain percentage or square footage of affordable units in new projects. The option is relatively unique for being mandatory — attempts to force developers to create affordable housing are usually more carrot than stick.
Rather than listing all homes at whatever price the market can bear, inclusionary zoning could force a developer to, for example, offer 10 percent of its units at rates deemed affordable for low or medium income households. The policy guarantees a certain number of affordable units at a set price, but can have detrimental impacts on the market as a whole if too many are demanded and development is disincentivized.
Part of Bill 108 (More Homes, More Choice Act) restricted cities from issuing blanket inclusionary zoning policies within their borders; they can now only be applied around major transit stations.
This could make Lakeview Village — a major development in an affluent area beside a major transit station — a prime target for inclusionary zoning.
The final approvals for Lakeview Village are grinding slowly through the planning bureaucracy of local government, with plans for final approval before the end of 2021. LCP has already shown a tendency to ask for the world and offer the taxpayer few concessions; residents will wait to see how the final negotiation settles.
---
Email: [email protected]
Twitter: @isaaccallan
Tel: 647 561-4879
---
COVID-19 is impacting all Canadians. At a time when vital public information is needed by everyone, The Pointer has taken down our paywall on all stories relating to the pandemic and those of public interest to ensure every resident of Brampton and Mississauga has access to the facts. For those who are able, we encourage you to consider a subscription. This will help us report on important public interest issues the community needs to know about now more than ever. You can register for a 30-day free trial HERE. Thereafter, The Pointer will charge $10 a month and you can cancel any time right on the website. Thank you.
Submit a correction about this story