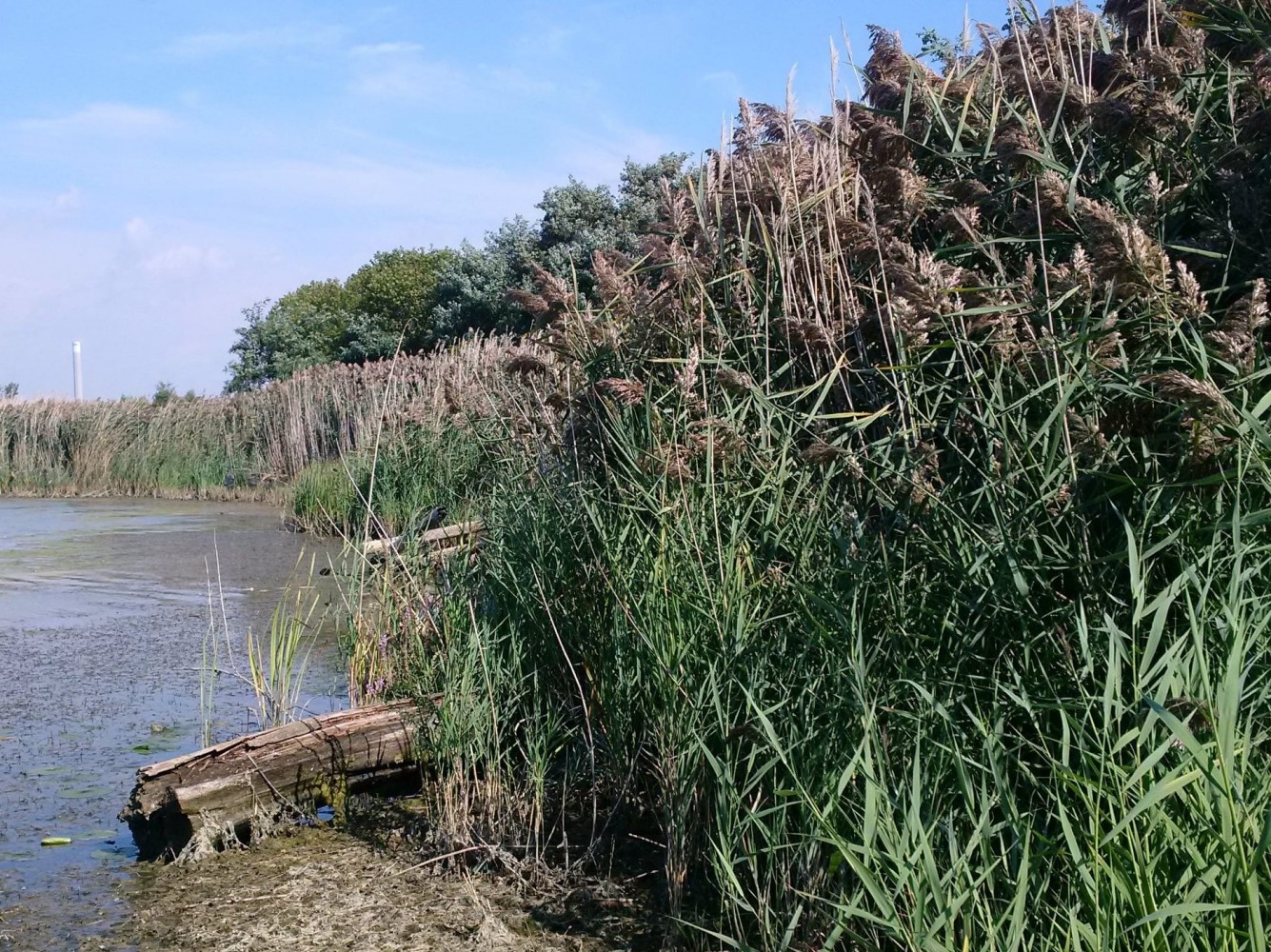 Feature image from TRCA
City fails to take lasting action as invasive species threatens Professor's Lake 
Professor's Lake lies amid a maze of residential units in Brampton. It's an unexpected sight; a beautiful break in a sea of brown brick buildings. John Frim, the treasurer of the Professor's Lake Residents Association, told The Pointer people frequently use the walkway that wraps around the lake, taking in the views of the large body of water and the wildlife it attracts.
Over the last couple years it's become harder to do this because of the explosive growth of phragmites. According to a report from City staff, 10 locations across Professor's Lake have been identified as having stands of phragmites, an invasive species of reed that chokes the surrounding natural ecosystem of life.
Professor's Lake is surrounded by native and non-native species of plants. Native phragmites have smaller seed heads and can break down easier. Invasive phragmites can grow up to five meters in length, have tan coloured stems, blue-green leaves, and large heads of seeds. They're typically found along bodies of water, and can also be seen in ditches and on the sides of highways.
A map outlining the area with problematic phragmites growth at Professor's Lake.
(Image from City of Brampton/ Google Maps)
"[People] want to walk around and be able to see the water and if you're walking along with these weeds growing beside you, tall grasses, you might as well be taking a walk in the woods somewhere," Frim said.
Phragmites aren't limited to Professor's Lake, or Brampton alone. The Nature Conservancy Canada (NCC) labels phragmites as the worst invasive species in Ontario. They have increased by 30 percent between 2010 and 2017. "Virtually every region of Ontario has been impacted by the steady advance of this plant" the NCC states.
As a non-native species to North America, it's not clear how it arrived on the continent, but it has spread widely and threatens the balance of any ecosystem the seeds happen to fall into.
The Invasive Species Center explains on its website the plant releases toxins into the soil through its roots, hindering, or completely killing, the growth of surrounding native species. This leads to a poor habitat and food supplies for species dependent on the area.
A study by the Ontario Ministry of Natural Resources and Forestry, released in 2015, showed 25 percent of at risk species in Ontario would be further harmed by phragmites.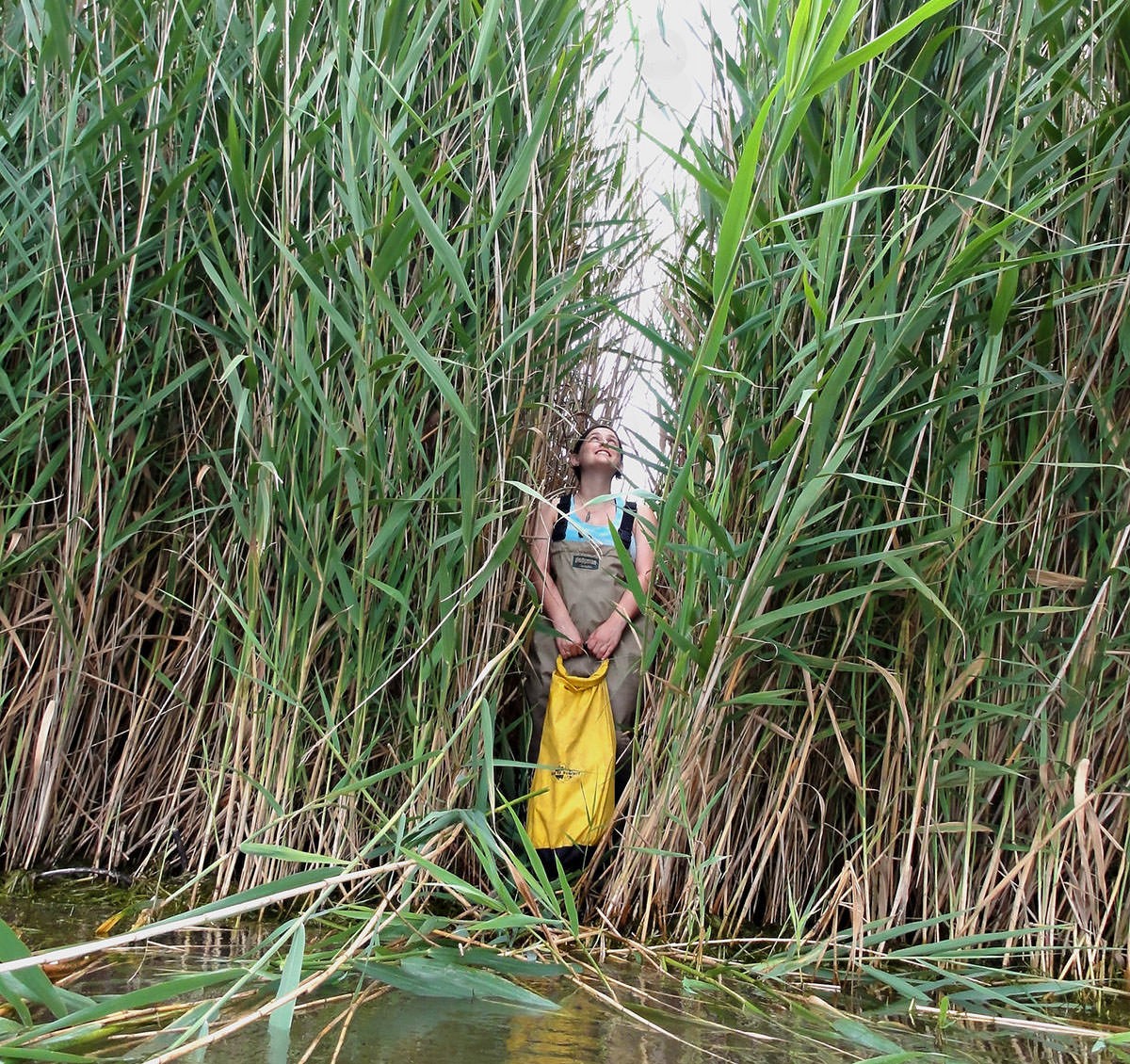 Once phragmites take root in an area, the invasive species can completely take over.
(Photo from NASA Goddard Space Flight Centre)
Recently released research from the Ontario Invasive Plant Council lists dozens of species threatened by phragmites. Included on the list is the Black Tern, a bird found in marshes, that has its habitat disturbed by the invasive species. "The rigid and tough stalks of phragmites do not allow wildlife to easily navigate through or nest," the Ontario Phragmites Working Group (OPWG) says. It's not uncommon for small animals like birds and turtles to get stuck in the stalks and die.
The Fowler's toad is another species that's impacted. Found across the shore of Lake Erie, it sometimes uses ponds with sandy bottoms as a breeding ground. The growth of phragmites underground, up to a depth of three-feet, makes reproduction impossible.
Each phragmites plant has multiple stocks with multiple heads full of seeds. Each head can produce up to 2,000 seeds a year and can travel through bodies of water, air, animals, or human movement (including boats and trucks), allowing for the plants to spring up almost anywhere, according to research by OPWG. Its fast spreading nature leads to a higher consumption of water and nutrients, compared to the native species.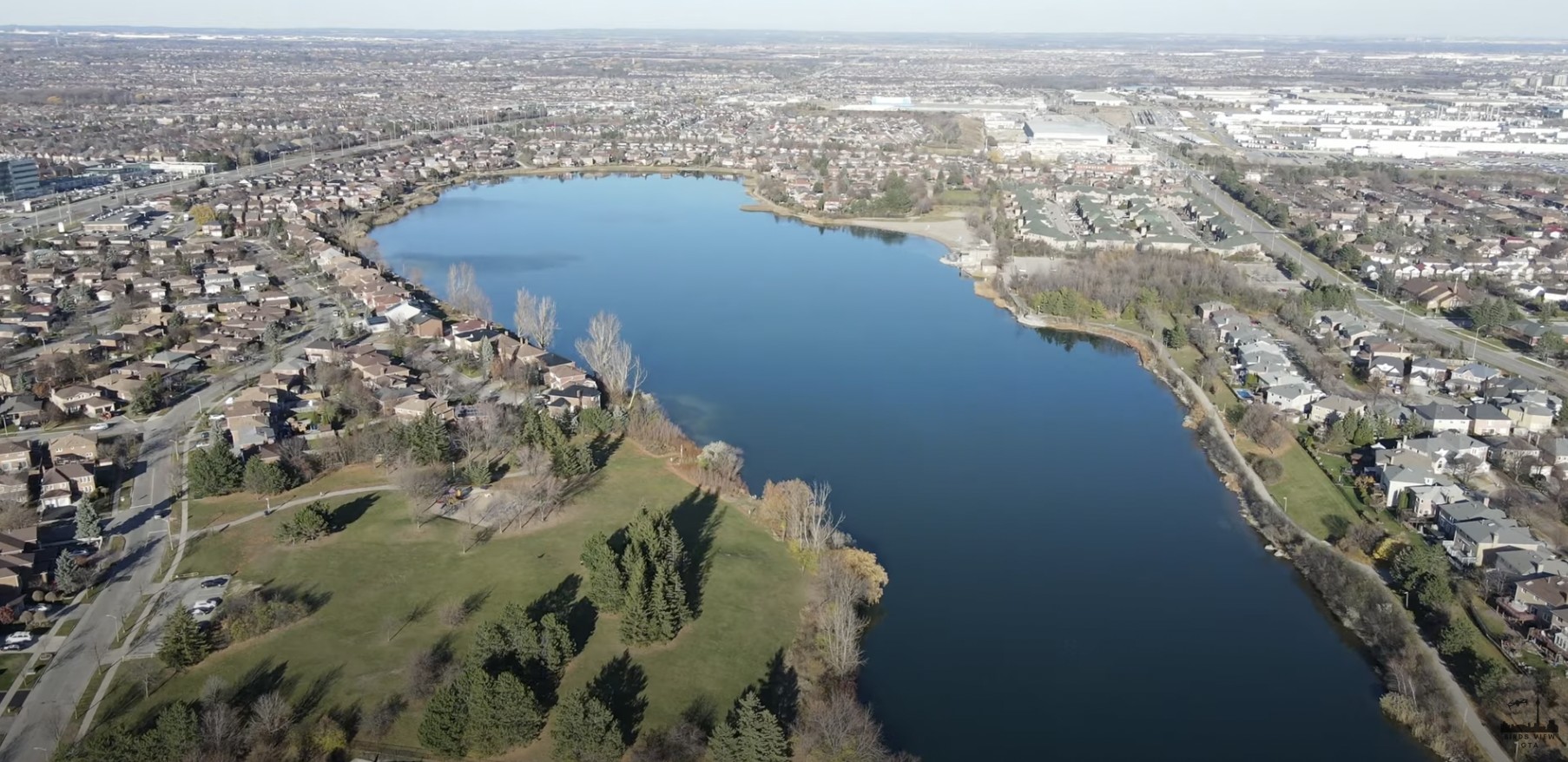 Professor's Lake in Brampton.
(Image from YouTube/Birdsviewgta)
At this time, the City of Brampton is largely focusing on eliminating the species in Professor's Lake alone, a fight that has taken years.
In an email Frim sent to Mayor Patrick Brown on behalf of the association, City officials have been asked to speak on the explosive growth of phragmites at their annual meetings for the past three years with no success. Instead, they're repeatedly told a solution is being studied. The email is publicly available under the correspondence section of the June 16 City Council agenda. "I've had a number of community members express concerns regarding this problem," Brown said, asking for an interim solution. Ed Fagan, acting director parks maintenance and forestry, explained there are no short term solutions.
Fagan said City staff will be meeting with industry experts over the next couple of weeks to find a solution and measures will be put in place in the next six to eight weeks.
One option, according to a report that will be presented on July 7, is to use a product containing the herbicide imazapyr to help get rid of weeds and brush. A second option is to manually cut stalks below the water line to let the plant drown. Using a truxor machine that manually removes weeds from underwater is also on the list, along with the option to burn the plants during the winter months. The report specifies this is only successful when the lake is completely frozen.
Cost estimates for each option are not included in the report. The 2021 budget does not allocate funds to this specific invasive species making it difficult to determine how much these invasive plants are costing Brampton taxpayers. The City has not shared a specific plan to deal with the growth at this time.
Brampton's Natural Heritage Restoration Program lists phragmites as one of the "main targets for the City's invasive species management program." A plan to develop an "invasive species management strategy" was referenced in the original version of Brampton's Grow Green Environmental Master Plan approved in 2014. The need for the same strategy is also listed in the updated master plan, released last year. It's not clear why the program has not made any progress. It sits with a number of other critical initiatives initially listed as priorities in the environmental master plan that have been ignored by city officials and councillors since 2014.
With the warming climate, the invasive species is only expected to grow further if intervention isn't taken soon.
Researchers Franziska Eller, Carla Lambertini, Loc Xuan Nguyen, and Hans Brix collected the invasive species from the Mississippi River to examine how it would hold up with increased CO2 levels and higher temperatures. Previous research already suggested the invasive species would benefit from CO2 levels doubling by the end of the century and the 2014 study further confirmed this. Increased temperatures from higher CO2 levels "induced a faster rate of vegetative spreading."
Fagan said the City did try "mechanical cutting" a number of years ago and they intended to burn the invasive species at the start of the year. It's not clear if this was completed. He acknowledged it will take several years to mitigate the growth and there's no "short term fix."
---
Email: [email protected]
Twitter: @nida_zafar
Tel: 416-890-7643
---
COVID-19 is impacting all Canadians. At a time when vital public information is needed by everyone, The Pointer has taken down our paywall on all stories relating to the pandemic and those of public interest to ensure every resident of Brampton and Mississauga has access to the facts. For those who are able, we encourage you to consider a subscription. This will help us report on important public interest issues the community needs to know about now more than ever. You can register for a 30-day free trial HERE. Thereafter, The Pointer will charge $10 a month and you can cancel any time right on the website. Thank you.
Submit a correction about this story