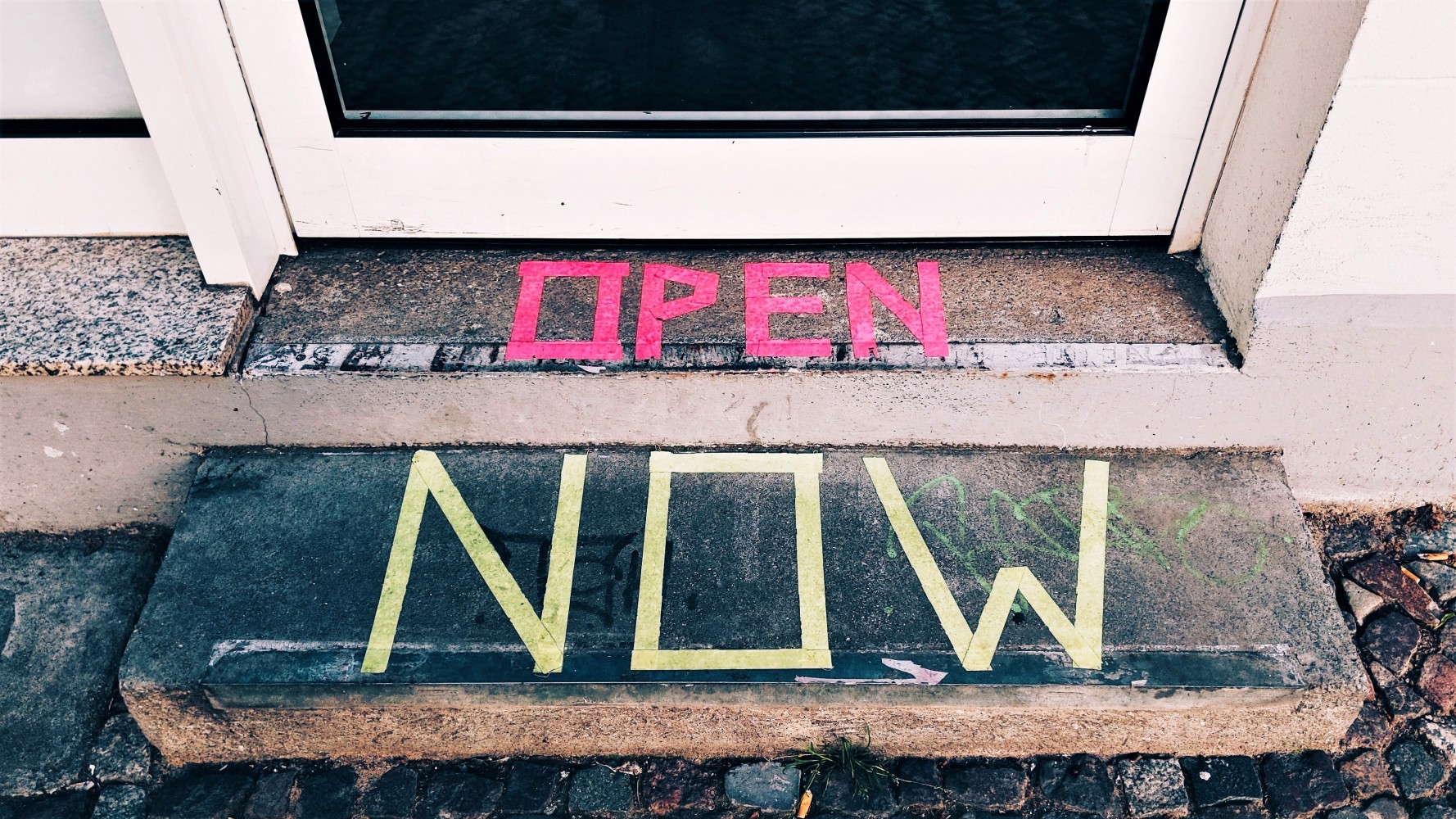 Unsplash-Danziger straße 12
Salons in Peel finally opening but owners say it's the start of a new struggle
Andrea Rego remembers the panicked pre-lockdown rush back in November.
The stylist at the Brampton-based personal care business, Salon 247, was pulling 13-hour shifts to accommodate customers trying to squeeze in haircuts and esthetic services before details of a lockdown, looming on the horizon, were announced by Premier Doug Ford.
Seven months later, Rego doesn't expect things to be any different.
Wednesday marks the first day salons and other businesses in the personal care sector will be allowed to open their doors across Ontario. The wait has been particularly long in Peel and Toronto, two designated hotspots that were banned from offering these services under the Province's previous, colour-coded framework, since November.
Rego told The Pointer she feels excited to start doing what she loves again after such a long wait, but there's an overwhelming feeling that's hard to escape.
A small glimmer of hope offered to these businesses in late March was quickly taken away. The Ford government had initially announced the two regions could open these services in the next month, before COVID numbers spiked and an "emergency break" put the entire province under lockdown.
Rego said she lost hope as the prospect of shutting down for seven months seemed too much to overcome. "I honestly didn't expect we would be back."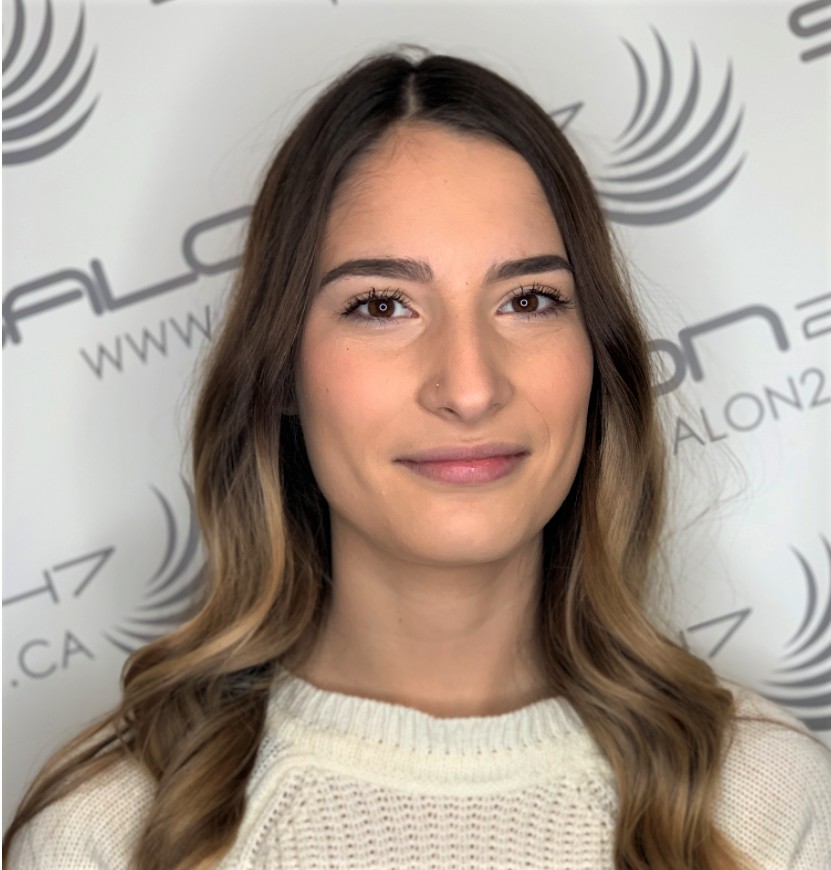 Andrea Rego is a stylist and makeup artist at Brampton's Salon 247. (Image: Salon 247)
Ontario was entering a third wave of COVID-19 and case numbers in Peel were rising. On April 3, the first day of the emergency break, Peel reported 615 COVID cases, beginning a climb to the Region's highest number of new infections reported in a single day, 1137 on April 22. Peel Public Health's (PPH) April 9 epidemiological update showed hospitalizations in the region were increasing rapidly, averaging 12 new admissions a day.
Research published on a dashboard created by ICES, an Ontario-based health research organization, showed PPH's test positivity rate was 18.44 percent on April 11, the highest in the province at the time.
Then, the vaccine roll out began ramping up after a slow start and numbers began to drop like a stone.
There were only 16 new infections reported in Peel this morning (June 30) by the Ministry of Health, less than 1.5 percent of the figure from April 22, at the peak of the third wave. And on June 23, ICES reported test positivity of 2.67 percent, indicating viral spread in Peel is finally under control, after raging across the region since the late summer of last year.
Dropping case numbers have also allowed relief at Peel's overburdened hospitals and the resumption of elective surgeries that were paused numerous times throughout the past 16 months.
In mid-April, Trillium Health Partners (THP) said 132 patients with COVID were being treated at its two Mississauga hospitals. At William Osler, 170 COVID patients were being cared for across two facilities, Brampton Civic and Etobicoke General Hospital in Toronto.
As of June 29, nine patients are being treated across Osler's two facilities, five of them at Brampton Civic, Catalina Guran, a spokesperson for William Osler, told The Pointer. In Mississauga, 14 patients are being treated; 9 at the Mississauga Hospital and 5 at Credit Valley, Amit Shilton, a spokesperson for THP, told The Pointer.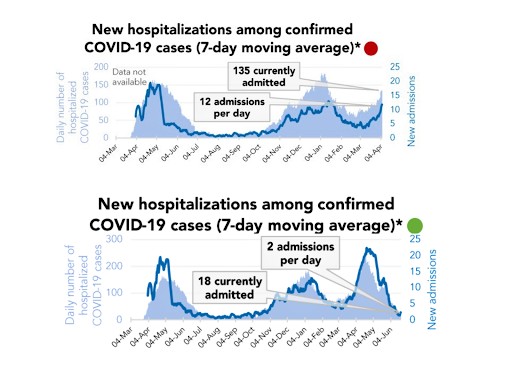 Hospitalization numbers from Peel Public Health's April 9 epidemiological update (top) compared to the June 25 update (bottom). (Images from Peel Public Health)
Guran said the goal is to return to "full capacity", meaning all hospital areas, including non-urgent surgeries, will be able to fully accommodate demand for services under normal conditions by September. "Osler's primary goal during the summer months is to get back to normal operations while also supporting our staff and physicians in strengthening their health and wellbeing," she wrote in an email.
Things are faring better in Mississauga, where elective surgeries at both of the city's hospitals resumed June 21, Shilton said. Efforts to reschedule all past canceled surgeries are continuing.
A rise in vaccinations in Peel, and the rest of the country, have played a huge role in the remarkable pandemic recovery since the early spring, when Canada's slow inoculation campaign had a number of snags.
According to Our World in Data, an organization that operates with support from the UK's Oxford University, which collects data on health conditions across the world, 68 percent of Canadians had at least one dose of a COVID-19 vaccination as of June 29, the highest rate for all countries recording such data. The administration rate was 97.44 vaccine doses for every 100 people, behind only Israel and the United Kingdom, which is currently being hit hard by another wave caused by the Delta variant.
According to COVID-19 Tracker Canada, a database that collects vaccination figures for the country, Ontario has administered 100,054.4 doses of the vaccine for every 100,000 residents, only behind Yukon and the Northwest Territories.
Public Health Ontario also reports 1.02 million Peel residents had received at least one dose as of June 23. In total, 330,133 Peel residents were fully vaccinated as of last week.
The numbers mean Ontario residents are among the most well vaccinated of any jurisdiction in the world, a remarkable turnaround from the early spring when Ottawa was having trouble procuring vaccinations and the roll out effort faced a number of glitches.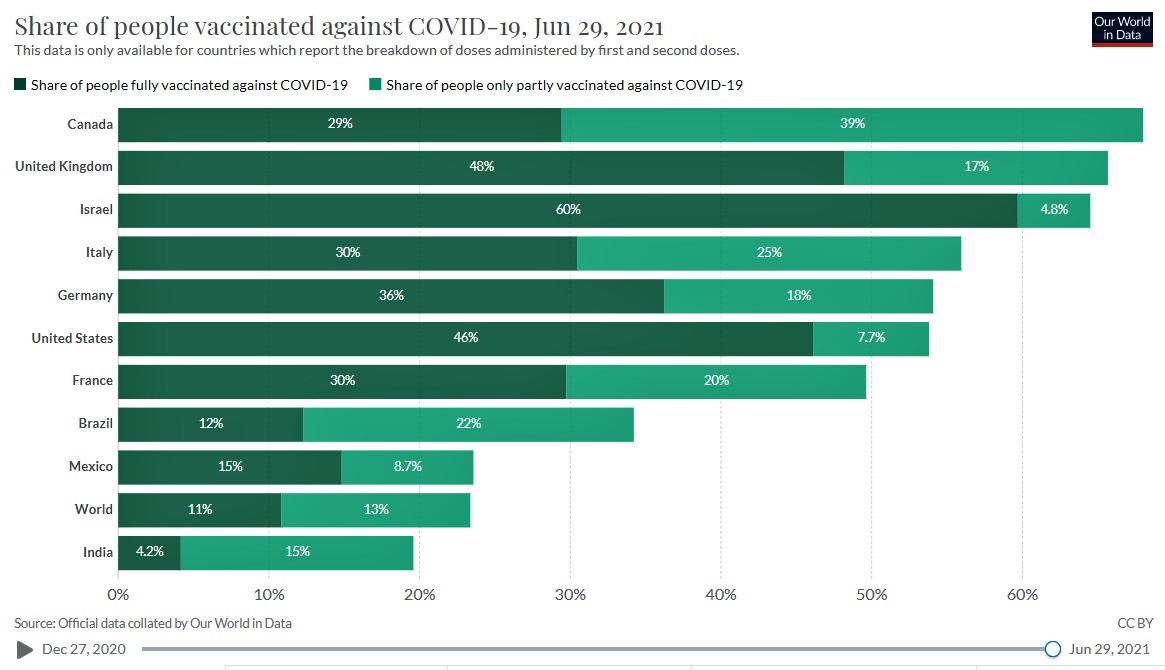 (Our World in Data)
The Province's booking portal has faced massive volumes of traffic, as close to 100,000 residents were in the queue Monday morning, trying to secure an appointment when second-dose bookings were opened up to all residents over the age of 18 at 8 a.m. Monday. Though many have had to wait sometimes up to a week, or even longer depending on how often residents try to book an appointment, data show the system is working very well and there are hundreds of thousands of Ontarians who have been able to bump up their second-dose appointments by months.
Peel Public Health has undertaken a number of initiatives to help secure vaccinations and appointments for those in hotspot postal code areas, many of whom do not have access to information in their language of choice, proper transportation and internet access.
These efforts along with educational initiatives and community outreach to allay vaccination concerns have helped close the gap in inoculation rates across the region, between postal code areas with higher and lower income levels.
As of June 6, according to ICES, the postal code area in Peel with the lowest single-dose vaccination level had a take-up rate of about 57 percent and the highest was about 71 percent. Almost every one of the other 28 postal code areas were between 60 and 70 percent for at least a single-dose of vaccination coverage among residents, indicating there is not much of a disparity in Peel based on the average income level of an area.
One thing those receiving a second dose should be aware of is the higher likelihood of stronger side effects, which actually means your body is adjusting well to the vaccine and is preparing itself to better fight potential infection.
The Centers for Disease Control and Prevention explains when germs enter the human body, they multiply quickly, and different types of white blood cells work to fight the infection. When a vaccine is administered, the body is left with white blood cells that remember how to fight the virus.
"It typically takes a few weeks after vaccination for the body to produce T-lymphocytes and B-lymphocytes."
An article from the University of Virginia further explains a first dose of a vaccine prepares the immune system for any oncoming illness. A second dose allows the immune system to increase antibodies to fight the virus. This process can sometimes lead to an initial immune response to the second dose that causes some flu-like side effects (just like a fever which we use as a way to heat up the body and kill viruses and bacteria) as the body's defence system kicks into gear in response to the vaccination, which should not cause any concern in the vast majority of cases.
While the ongoing rapid drop in case numbers and opening of personal care businesses is a cause for celebration, many feel it's only the beginning of a new struggle.
For Rob Rutledge, owner of Al's Barber Shop on Queen Street West in Brampton, it's "bitter sweet."
"There's a lot of question marks in my head," he told The Pointer. The closure has lasted so long that his passion has been taken away. "Part of me doesn't even want to open."
Having been closed for the past seven months, many Peel residents may be in desperate need of a haircut. But Rutledge questions what will happen when the initial rush dies down. When salons were allowed to reopen after being shut for months last summer, the initial rush of desperate customers looking for a haircut reduced to a trickle.
Rutledge said he's had meetings with MPP Prabmeet Sarkaria (Brampton South) while he was the associate minister of small business (his position has since changed) and Mayor Patrick Brown but believes not enough is being done to support small businesses.
Rutledge said he wants to see a business plan from the City. "They've got to start making people feel confident about coming back to the barber shop."
He emphasized those in his industry go to school and are professionally trained; sanitary practices are one of the first things students are taught. His attempts to make government officials understand this didn't lead to much, and now he wants them to take action. "I'm not sure what the government had against us, per se, because we, you know, we were one of the hardest hit."
Without this help, it's possible more businesses offering personal care services could close. Only allowing these businesses to open at 25 percent capacity also doesn't help. Rego said some stylists will work part-time or have their schedule reduced to mirror the number of people they can serve.
Owners want governments to understand the prolonged closure has impacted the livelihood of many people and, like employees in many other industries, mental health is a continuing issue.
For salons, it's unclear how much of their previous business will return, as home care products are now being pushed heavily by companies capitalizing on concerns many have about going to a salon.
Some owners have said a lot of business in the informal, unregulated market that was pushed into people's private residences, might not return to fully licenced establishments.
Meanwhile, some landlords and property owners might look to recoup lost revenues by increasing rents.
Others say certain types of appointments, including for lucrative services, might not be booked as often. Everything is up in the air.
Rutledge recalled a recent meeting he had with others in his industry where the impacts of depression, anxiety and other mental health issues stemming from the closures were clear to him.
He hopes things will change and all small businesses, regardless of industry, will receive assistance. "The small guys are the ones who again paid a huge price."
---
Email: [email protected]
Twitter: @nida_zafar
Tel: 416 890-7643
---
COVID-19 is impacting all Canadians. At a time when vital public information is needed by everyone, The Pointer has taken down our paywall on all stories relating to the pandemic and those of public interest to ensure every resident of Brampton and Mississauga has access to the facts. For those who are able, we encourage you to consider a subscription. This will help us report on important public interest issues the community needs to know about now more than ever. You can register for a 30-day free trial HERE. Thereafter, The Pointer will charge $10 a month and you can cancel any time right on the website. Thank you.
Submit a correction about this story