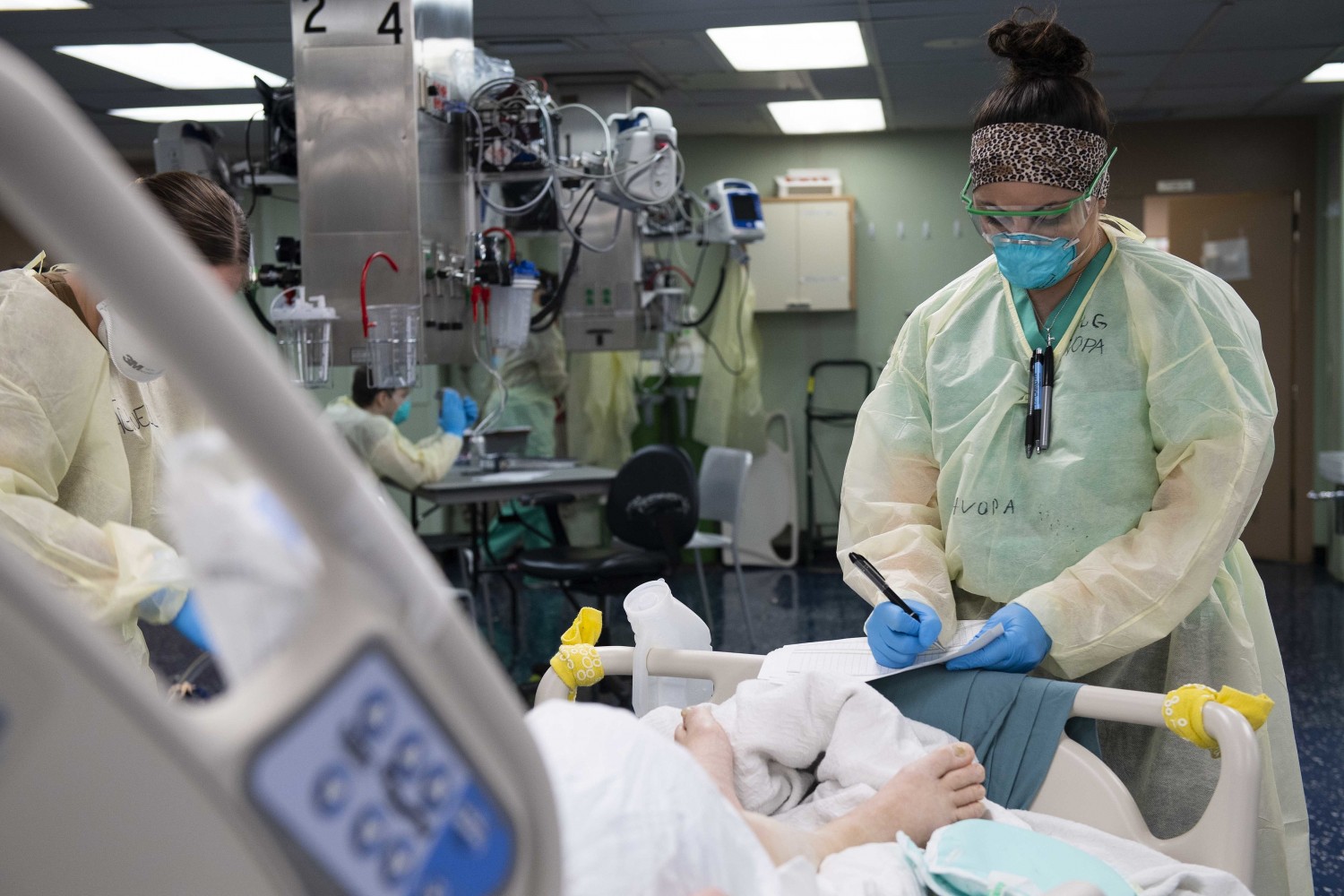 Photos from Trillium Health Partners/Region of Peel/Twitter/US Navy Medicine
Infection surge creates a dangerous backlog of suffering patients in need of life-saving surgery 
People suffering through each hour with unmanageable pain as they wait for knee or hip replacements and some residents battling cancer, awaiting surgery that could cut the disease from their body are once again being pushed aside as COVID-19 patients struggling to breathe fill ICUs to capacity.
The pandemic's third wave has created a dire situation in hospitals across the province, and to free up staff to care for those infected with the novel coronavirus and its deadly variants, hospitals have once again hit the pause button on elective procedures. The continued delays threaten to create a backlog that could take months to clear.
For Peel residents, the Province's announcement of a 14-day pause to elective surgeries as of April 9, is another blow to a healthcare system that has been rated one of the worst in Ontario, and has left residents dealing with significant delays and compromised care for years. But now areas across the province are struggling with long wait times.
"Ramping down elective surgeries will have a significant long-term impact on thousands of patients waiting for care, as elective surgeries include life-saving surgeries and those that dramatically enhance quality of life," Anthony Dale, president and CEO of the Ontario Hospital Association (OHA), wrote in a press release. "These are not trade-offs any of us wanted to make, but they are necessary now to save lives."
While the initial order to delay elective surgeries only lasts for 14 days, if case numbers continue in the wrong direction, it is likely to be extended. The Province is expected to announce further measures to combat the virus today (Friday) after a PC Cabinet meeting stretched late into the evening yesterday.
On April 15, Peel logged 983 new cases of the novel coronavirus, the highest single-day total the region has seen during the pandemic. There were 4,736 new cases yesterday in the province, which was also the high mark since the start of the public health crisis. Another disturbing figure was reported Wednesday, when 29 people in Ontario died due to COVID-19. As of Thursday, 659 patients were in the ICU due to COVID, a number not seen since the start of the pandemic; 442 of those in critical care required a ventilator to breathe.
In Mississauga, 132 people were hospitalized due to COVID-19 at Trillium Health Partners (THP) hospitals, with 21 of them in critical care. In William Osler hospitals, 170 patients were being cared for due to the virus, with 25 of them in critical care, while another 68 patients who are suspected of having the disease were hospitalized as of Thursday. Osler does not break down its numbers between Etobicoke General Hospital and Brampton Civic so it's unclear how many hospitalized patients there are in the city.
The third wave of the novel coronavirus is quickly surpassing the second wave.
"These are the highest numbers we have seen in our community since the pandemic began in spring 2020 – our hospitals are bracing for disaster," said Peel's medical officer of health, Dr. Lawrence Loh, during Brampton's weekly press conference Wednesday. "All surgeries and pediatric admissions have been cancelled. There are now call-outs for health care providers – I myself received one of them – to support the significant demands for care that are occurring in the hospital, in ICU, and in non-traditional places such as repurposed outpatient clinics."
While the word "elective" suggests a degree of choice when it comes to surgeries, this is not always the case. Elective surgeries can range from cosmetic wart removals to quality of life improvements such as the repairing of a hernia (which is caused when part of an organ protrudes through the wall of the cavity containing it), hip replacements, heart procedures and some cancer surgeries.
Last year's forced reduction of elective surgeries took place from March 19 to May 26, and resulted in a significant reduction in procedures compared to 2019 levels.
According to numbers from Ontario Health, from when hospitals began ramping down procedures in mid-March, to the end of April 2020, there were 2,039 fewer adult cancer surgeries, a reduction of 34 percent from the same period in 2019, 1,033 fewer adult vascular surgeries (a 73 percent reduction), 609 fewer cardiac surgeries (44 percent reduction); in total 62,614 fewer adult non-oncology surgeries and 6,097 fewer paediatric surgeries (a 93 percent reduction in both categories). It remains unclear how large the backlog has grown since then.
According to a study in the Canadian Medical Association Journal, it could take 19 months to clear the surgical backlog. This study, published in September, only took into account the backlog created between March 15 and June 13, 2020.
"The magnitude of the surgical backlog from COVID-19 raises serious implications for the recovery phase in Ontario," the study states. "Without any increases in resources to support surge activity, incoming new cases will lead to a subsequent backlog."
When the second wave hit near the end of last summer, hospitals were still in the process of recovering from the backlog created during the first wave of the pandemic. Both hospital partners in hard-hit Peel and Toronto didn't start resuming elective surgeries until late June. Even in the peak of the second wave of the pandemic, THP was prioritizing emergency and timely surgeries only.
The Ontario COVID-19 Science Advisory Table showed during their April 1 update that there was a backlog of at least 245,367 elective surgeries since COVID first shuttered much of the province in March of 2020.
"The backlog will take many months to clear and patients who wait too long risk seeing their conditions worsen," read an excerpt from OHA's Understanding the Impact of COVID-19 on Ontario Hospital Finances report published in September, before the third wave. With many more months of delays the situation has only grown worse for many patients who are suffering. "In addition to the difficulty this poses for patients, this places further demands on hospitals as they see increasing numbers of patients with higher, more intensive needs. Throughout the pandemic, physicians have been in a challenging position of deciding how to prioritize treatment of patients with non-emergency but serious conditions and balancing care for planned and unplanned care."
The Province previously explained that when elective procedures were allowed to begin after the first wave, priority for which surgeries moved forward was based on a number of criteria, including: patient factors (their condition, comorbidities which are underlying medical problems exacerbating their particular situation); disease factors (are there non-operative treatment options, risk of surgery delay); procedure factors (inpatient vs. outpatient or day procedures, operating room time, length of stay, anticipated blood loss, intubation probability); use of resources (PPE, medications, ICU and other postoperative care needs); and COVID-19 exposure/virus transmission risk. It's unclear what framework is in place to resume elective surgeries after the third wave.
"These are challenging times for all Ontarians, and we understand that deferring scheduled surgeries and other procedures will have an impact on patients, their families and on caregivers," Matthew Anderson, CEO of Ontario Health, stated in a press release. "We are monitoring the situation and will work to resume as soon and as safely as possible these deferred services and procedures."
Ontario's Patients' Bill of Rights entitles residents to timely, accessible healthcare in a manner that recognizes individual dignity and promotes individual autonomy. However, when hospitals are unable to keep up with demand for care and ICUs become full, the triage protocol, a last resort for doctors that allows them to give life-saving care dependent on a ranking system of who will most likely survive treatment after a certain timeframe, will be instituted.
Many healthcare practitioners and experts say the third wave was foreseen weeks prior to its arrival and could have been prevented with proper measures, such as paid sick days and scaling up asymptomatic and rapid testing. Instead, regions moved ahead with the colour-coded framework and new directives to open up patio dining and personal care services followed. Targeted vaccinations, with a focus on hotspots and essential workers, were also not implemented by the Province during most of the first phase of the inoculation plan.
The COVID-19 Modelling Collaborative, a group of scientists and clinicians from the University of Toronto, University Health Network and Sunnybrook Hospital, showed Ontario was on track to reach over 600 patients in ICUs and over 4,000 daily COVID cases, which became a reality this month. Doctors like Naheed Dosani say the government's lack of proactive planning is largely to blame.
Despite months and months of restrictions, Peel and Toronto, still the biggest hotspot regions in the province and among the worst hit in the country, and have not seen anything but lockdown status since November. It has raised concerns that measures are not working and the only thing that will prevent a complete breakdown in the healthcare system is inoculation.
THP and William Osler are both working to create additional care capacity during the third wave. THP is transferring all paediatric patients to SickKids in Toronto. At the start of the pandemic, THP confirmed it had 1,538 beds across all three of its sites. In preparation for the third wave, on March 25, THP began admitting patients into their pandemic response unit at Mississauga Hospital, which can house 50 stable patients. As of March 22, Osler hospitals had deployed more than 650 employees to understaffed areas, including coronavirus vaccine and testing clinics.
Both hospitals are unable to provide a timeframe for when they can expect elective surgeries to continue.
Along with the postponement of surgeries was the activation of two other emergency orders. Under the Emergency Management and Civil Protection Act (EMCPA), health care professionals and other workers working in Ontario Health and Home and Community Care Support Services can be redeployed to hospitals in need of extra staff; and hospitals have been given the ability to transfer patients without their approval to alternate hospital sites when a hospital's resources are at significant and immediate risk of becoming overwhelmed. These efforts, according to the Province, are expected to increase ICU capacity by up to 1,000 beds.
---
Email: [email protected]
Twitter: @vanessabalintec
---
COVID-19 is impacting all Canadians. At a time when vital public information is needed by everyone, The Pointer has taken down our paywall on all stories relating to the pandemic and those of public interest to ensure every resident of Brampton and Mississauga has access to the facts. For those who are able, we encourage you to consider a subscription. This will help us report on important public interest issues the community needs to know about now more than ever. You can register for a 30-day free trial HERE. Thereafter, The Pointer will charge $10 a month and you can cancel any time right on the website. Thank you.
Submit a correction about this story