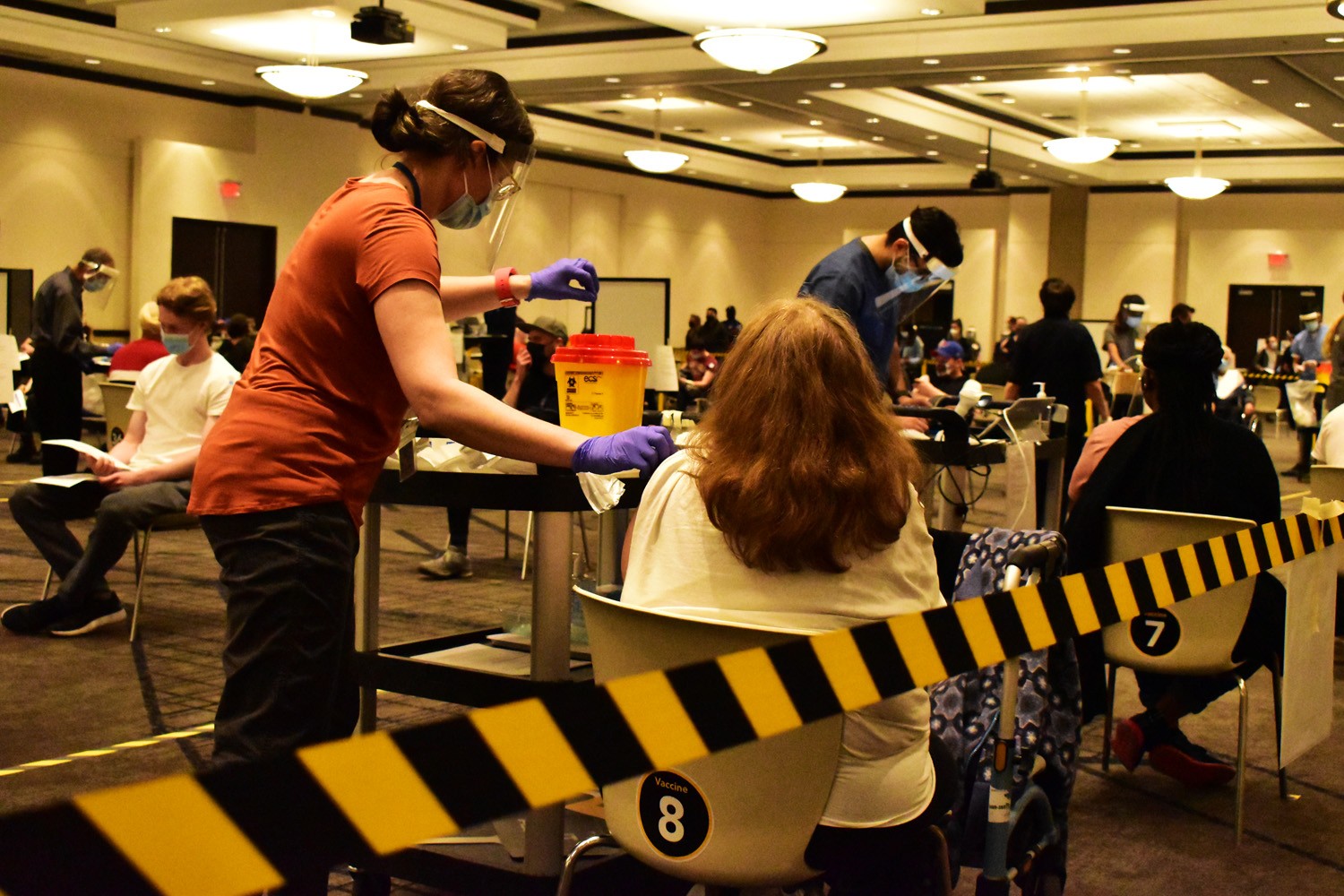 Feature image: Isaac Callan/The Pointer
Vaccine eligibility expands in Peel as infection spread continues to slow  
After 18 months of drudgery, the good news in Peel is beginning to outweigh the bad.
Friday saw the lifting of a protracted lockdown in Brampton, Mississauga and Caledon and the reopening of outdoor drinking and dining. For the first time in months, families, friends and couples were able to enjoy one another's company outside against a backdrop of… life.
After Peel's third wave reached its peak in mid-April, daily case counts have tumbled. Each recent morning has brought better news and the promise of more freedom.
On April 23, Peel Public Health recorded 1,232 new cases of COVID-19, its daily record. By May 23, that number was just 326. Figures today (June 14) are even lower with just 61 new cases, a fraction of what was seen two months ago.
Despite lingering concerns about the delta variant, first detected in India, cases have fallen. As overall case counts plummet, the delta variant has become the main cause of concern in Peel and officials suspect it will be the dominant strain "in the coming weeks", according to Peel Public Health.
The region's ongoing data collection offers some reassurance that there are "no notable differences" in hospitalizations as a result of the delta variant, which has also not spiked in particular age groups or areas.
The delta variant is on track to become the dominant COVID-19 strain in Peel, but overall cases are still falling. (Image from Peel Public Health)
Peel's tentatively rosy picture owes much to its successful vaccination campaign. Almost 75 percent of the region's residents aged 18-plus have had at least one dose of a COVID-19 vaccination, and 11 percent have had both doses.
Weeks of positive vaccine news did hit a bump Monday morning, as the Province rapidly expanded eligibility for second doses in the region. In order to reduce the spread of the delta variant, all Peel residents who received their first shot before May 9 became eligible to book a second-dose appointment from 8 a.m. on June 14.
Despite dramatically expanding the eligibility criteria for second doses in Peel, Queen's Park is yet to send more doses to the region. "Additional allocations to Delta hot spot regions are being confirmed by our provincial partners," a spokesperson for Peel Public Health told The Pointer.
The Ministry of Health did not explain why vaccine allocation to Peel appears to have fallen short of the demand created Monday by the expanded eligibility for second doses.
The lack of coordination meant many in Mississauga and Brampton were left disappointed, after hoping to book a second dose earlier than originally anticipated. Some were offered appointments outside the region and others told spots had run out entirely. Peel Public Health has told residents more second-dose appointments will be available soon.
"Our Peel Public Health fixed clinics are currently fully booked," the public health unit wrote in a statement Monday morning. "Additional appointments are being opened today and throughout this week, so residents are encouraged to check back at a later time as more availability is anticipated. Residents can also look into other opportunities for vaccination through hospital clinics, participating pharmacies and primary care providers."
This week, Peel Public Health clinics have already booked 63,000 appointments. More will be released through the week.
A range of COVID-19 vaccine clinics in Peel have delivered high overall vaccination rates. (Image from Isaac Callan/The Pointer)
For Simran Ghuman, the difficult experience yielded contrasting results.
The 25-year-old from Brampton logged into the provincial booking system using her smartphone and laptop early Monday morning to secure second dose appointments for herself and her parents. After refreshing the page several times, she booked her parents a coveted appointment, but her own efforts to speed up a second-dose appointment were not successful.
"I woke up super early and I got in the line… but when I actually got through, filled in all my information and then did that search by postal code for the closest vaccine clinic, it said, 'There are currently no appointments available near you.' That happened no matter how many times I refreshed [the page]."
Vaccination rates vary across Peel, but the majority of residents in every postcode have received at least one shot. (Data from ICES)
Like many tech-savvy Ontarians, Ghuman has been relying on the volunteer Twitter group Vaccine Hunters to find herself an appointment. The account, with almost 300,000 followers, has become a key resource for many to navigate sometimes confusing vaccine announcements.
"That Twitter that everyone uses — Vaccine Hunters," Ghuman added, "I've had the notifications on for like two months."
Despite the annoyance for some on Monday, the overall vaccination picture in Peel and across much of Canada is cause for optimism. Most who could not get a bumped up appointment already have one scheduled later in the summer and public health officials said there's a good chance residents who keep trying will be able to find an earlier slot.
Across the Region of Peel, vaccination rates are strong. A two-week period in May when the Province sent 50 percent of its vaccines to COVID-19 hotspot postal-code areas, many in Brampton and Mississauga, dramatically boosted overall rates.
Even in a region like Peel with healthy vaccine coverage, some areas have higher uptake than others. Navigating an online vaccine booking portal that requires residents to wait in a line or sign up at certain times means postcode-areas where a number of factors are present have not seen vaccination rates as high as others: higher proportions of essential workers; language barriers; a lack of access to transportation; and poor access to communication platforms to book appointments have led to disparities.
The two postcodes in Peel with the highest and lowest rates of full vaccination demonstrate this.
In Peel, all postal-code areas have a first-dose vaccination rate comfortably above 50 percent and only one area (L5W, Meadowvale in Mississauga) has a rate below 65 percent, according to data from non-profit ICES. Data for second doses in Peel show uneven uptake, with some areas significantly ahead in the race to inoculate as many as possible.
Two-dose vaccination rates vary between neighbourhoods. (Data from ICES)
As of June 7, L5H (Lorne Park, Mississauga) had the highest rate of two-dose vaccination at 9.4 percent; L4T (Malton, Mississauga) had the lowest at 3.6 percent. Data from the 2016 Census suggest language, income levels and occupational barriers likely play a part in this.
In Lorne Park, 67 percent of residents spoke English as their mother tongue, 66 percent were born in Canada and 20 percent of all locals worked in a management role. By contrast, just 45 percent of Malton residents spoke English as their mother tongue, 37 percent were born in Canada and 27 percent worked in sales and service, 11 percent in manufacturing and just five percent in management positions.
Peel Public Health has worked with a number of community groups to bridge language barriers and ensure residents have all the information they need to navigate the vaccination infrastructure.
Adeptly utilizing Ontario's vaccination system is still simpler for those who speak English as a first language. Residents working in management positions and other white-collar jobs are also more likely to be able to book an appointment online as they work from home. Those working in sales, transportation, manufacturing and food processing may not be available to snag an appointment during the day.
"Areas with lower uptake may face barriers to access as well as less vaccine confidence that reflects our community's socioeconomic, cultural, and employment diversity," Peel Public Health told The Pointer, noting efforts are being undertaken to maximize vaccination rates.
Critics have said officials in the region should have implemented better language, transportation and booking access earlier in the inoculation plan, but recent data indicate vaccine equity has improved significantly in Peel.
First dose vaccination coverage around the world on a per-capita basis
In the face of concerns about an equitable vaccine rollout, there are indicators to be celebrated.
The effective reproduction rate of the virus is 0.8 in Peel, meaning everyone who catches the virus that causes COVID-19 will pass it on to fewer than one person. Contact tracing efforts are getting back on track and Peel Public Health is able to contact 94 percent of all positive cases within a day of their result. After soaring well above 20 percent during the third wave in some parts of Peel, the test positivity rate for the region as a whole is down to 6.2 percent.
On the global stage, Canadians can also take heart, after a slow initial roll out, as we now have the best rate of overall residents who have received at least one vaccine dose.
---
Email: [email protected]
Twitter: @isaaccallan
Tel: 647 561-4879
---
COVID-19 is impacting all Canadians. At a time when vital public information is needed by everyone, The Pointer has taken down our paywall on all stories relating to the pandemic and those of public interest to ensure every resident of Brampton and Mississauga has access to the facts. For those who are able, we encourage you to consider a subscription. This will help us report on important public interest issues the community needs to know about now more than ever. You can register for a 30-day free trial HERE. Thereafter, The Pointer will charge $10 a month and you can cancel any time right on the website. Thank you.


Submit a correction about this story