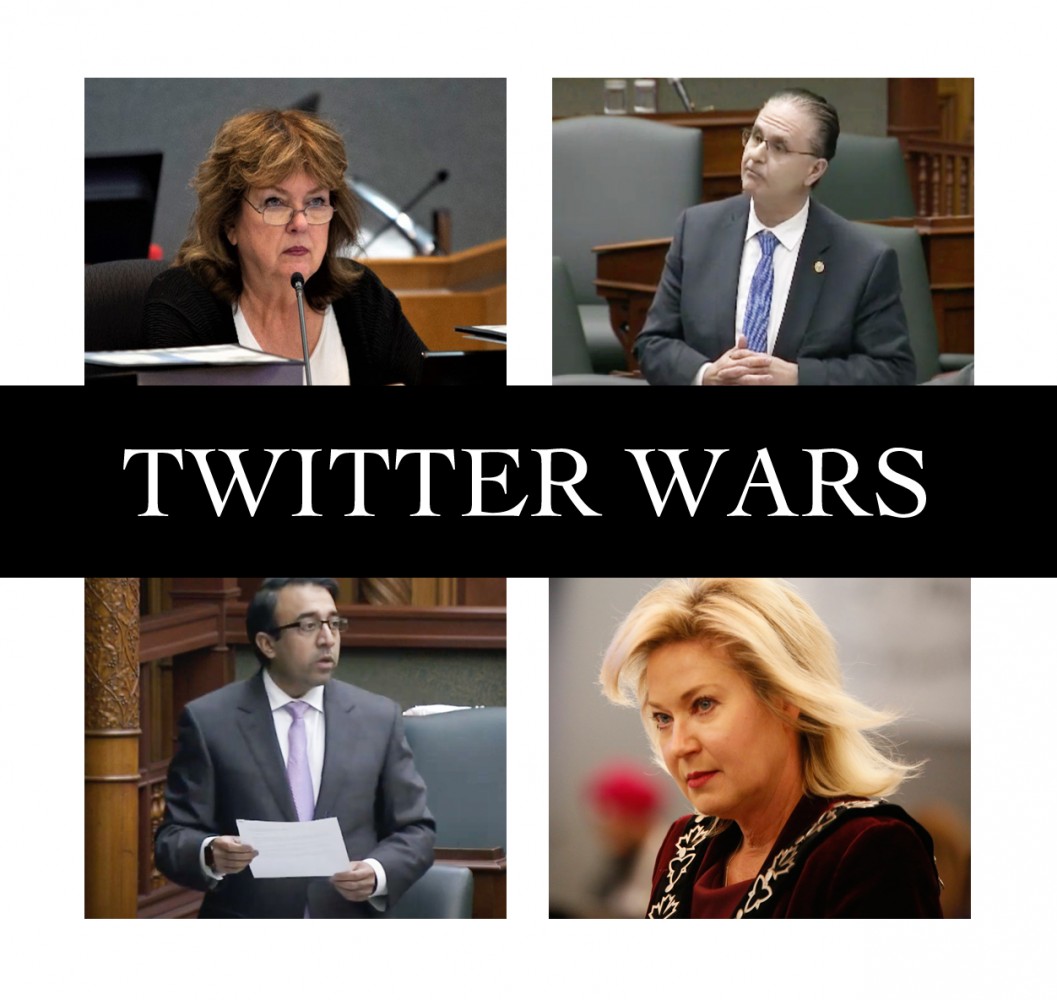 Feature graphic from The Pointer
Mississauga politicians fall into the trap of social media
The Pointer's Social Media Monitor is a weekly look at how elected officials and other public civil servants or organizations are using their taxpayer-funded resources to shape digital communication aimed at constituents. We feature one public figure or topic each week.
---
"We serve the public conversation."
That is the promise Twitter has emblazoned across its information page. It proclaims to be a space for debates that drive real change.
It's a bold claim for a platform that also struggles with misinformation and chaotic feuds.
Partly thanks to its linear design, Twitter is the social media of choice for many politicians and journalists. It's where major stories and policy announcements are broken fastest, but it rarely moves the needle forward.
Over the last few months, the site has been a petty battle ground for politicians representing Mississauga at different levels of government. Relations appear to be particularly sour between the city's six Progressive Conservative members of provincial parliament and Mississauga's council members.
Twitter boasts its ability to host important conversations that serve society. (Screenshot from about.twitter.com)
Ill-feeling between the two groups can be traced back to a meeting for councillors, MPs and MPPs in March. Officially an education session, the virtual meeting was designed to push forward Mississauga's advocacy points and ask other levels of government for help on key municipal files.
It coincided with the early buildup of Ontario's deadly third wave of COVID-19. As a result, provincial representatives found themselves the focus of council frustration. Local leaders directed angry barbs at MPPs complaining about vaccine allocation (Peel was receiving less than its per capita share of vaccines) and paid sick days (the Province had not yet offered its own program); MPPs shared pre-prepared answers and political talking points.
Very little was achieved publicly during the meeting.
"This isn't just an information meeting, it's a partnership meeting," Ward 6 Councillor Ron Starr said during the meeting. "What is your position? What is the local position? … Don't hide behind the party."
Since the virtual event, the ill-feeling and repetition of party lines appear to have spilled onto Twitter. Far from adding to the discourse and informing residents, the messages appear to show personality clashes impeding policy that could serve the public.
Councillors regularly complain about the Province leaving their hotspot city behind. Mississauga MPPs share a blizzard of talking points that appear to have been prepared by PC HQ.
ICYMI! Ontario has administered over 9M doses of #COVID19 vaccine! We are celebrating this significant progress with our 550 fully vaccinated health care workers to attend tonight's @MapleLeafs game. Thank you @fordnation @MLSEFoundation @ScotiabankArena #GoLeafsGo #LeafsForever pic.twitter.com/U7E8xxAoLN

— Deepak Anand (@DeepakAnandMPP) May 31, 2021
Mississauga-Malton MPP Deepak Anand with one example of a tweet sharing centralized messaging
A recent exchange between Ward 5 Councillor Carolyn Parrish and Rudy Cuzzetto, MPP for Mississauga-Lakeshore, epitomized the dialogue. Retweeting a message from Parrish suggesting he was "temporarily my MPP", Cuzzetto asked if she would move to Ward 5, the area she represents as a councillor but does not live in. It's common for municipal council members to not live in the ward they represent and it's well documented that Parrish spends almost all her working hours in Ward 5 or at City Hall.
A fruitless exchange ensued, where both politicians peacocked their respective achievements. Parrish highlighted her push for a model Avro Arrow to be built in Ward 5 and her ambitious plans for a Malton Youth hub, Cuzzetto reiterated a variety of provincial announcements, including a $2 billion Mississauga Hospital rebuild that has been on the horizon since 2014. The conversation was politicians claiming bragging rights for who had governed their respective portfolios better.
Are you planning to move to the ward you represent? https://t.co/QUoPzzpT5a

— Rudy Cuzzetto, MPP (@RudyCuzzetto) June 2, 2021
Rudy Cuzzetto responded to criticism from Carolyn Parrish, before both engaged in a fruitless debate.
"I find him to be a hard core party liner who immediately flings insults rather than pursues debates. He brings out the smartass in me but I really should ignore him," Parrish told The Pointer, noting she has "great relations" with Mississauga-Streetsville MPP Nina Tangri and Mississauga East-Cooksville MPP Kaleed Rasheed. "Not much can be achieved by banter on Twitter. That's why I terminated our last sparring match with the assistance of Mark Twain and will avoid future ones. It's undignified. Or like a wise colleague of mine pointed out: Never wrestle with a pig. You both get dirty but the pig likes it."
Cuzzetto told The Pointer relations had not broken down between MPPs and councillors, describing Parrish as "an unfortunate exception".
"I've worked together professionally and constructively with the four councillors in Mississauga-Lakeshore (and with much of the rest of council) on several issues," he said. "We do communicate in private, and have met many times, both in-person (when possible) and virtually."
Dear Rudy Cuzzetto: I am a great admirer of Samuel Langhorne Clemens, also known as Mark Twain. He lived by the philosophy: "Never argue with stupid people. They'll drag you down to their level and beat you with experience." Accordingly, our communications are over.

— Carolyn Parrish (@carolynhparrish) June 2, 2021
Parrish signed off the argument with a quote from writer Mark Twain. She has resolved not to battle Cuzzetto on Twitter again.
Direct and personal Twitter spats are not the only form of oppositional politics taking place online in Mississauga. Others are also using the platform to demand political statements.
For months, as the third wave of COVID-19 crashed across Ontario, the provincial government has been trying to shift responsibility to Ottawa for its border controls. The PCs argue the prevalence of new variants of COVID-19, which were discovered in other countries around the world, is evidence border controls are failing Canada and have led to unavoidable cases. They suggest this, and not poorly timed or communicated public health measures, are to blame for wave three.
According to Peel Public Health data from June 4, just 2.8 percent of COVID-19 cases have been directly related to travel since the beginning of the pandemic. This compares to 44.6 percent through household transmission and 25.8 percent from the community.
MPP Rasheed has been using his Twitter account to demand Mississauga councillors ask the federal government for stronger border measures.
Retweeting a post from Mississauga Mayor Bonnie Crombie asking the provincial government to prioritize Peel for second vaccine doses, Rasheed asked if the City of Mississauga would call for stricter border measures. It is unclear which measures he thinks should be tightened or how Mississauga could effect change.
Borders are a federal responsibility that municipal councils do not control. Time spent debating a symbolic motion could be used on other council matters and seems unlikely to sway the federal government.
By retweeting Crombie's post, Rasheed demonstrated he had read her request for vaccine priority to beat the COVID-19 delta variant in Peel. The MPP did not make any commitments on the front where he has the legislated power to make changes, focusing instead on areas outside his portfolio.
"The Mayor doesn't necessarily believe that cooperative relations between the City and local MPPs have broken down during the pandemic – rather, she simply believes that Mississauga MPPs have failed in advocating for the residents they were elected to serve," Daniel Bitonti, Crombie's spokesperson, told The Pointer. "During the COVID-19 pandemic, the Mayor has continually urged the Ontario Government to employ tactics to combat the virus that are based in science – tactics that doctors, science experts and Ontario's Science Advisory Table have [been] calling for. Unfortunately, Mississauga MPPs, who have the power to directly influence provincial policy, have remained virtually silent in advocating for these tactics."
Bitonti singled out vaccine allocation and paid sick days as areas that local MPPs had let the City down.
"The Mayor has not mentioned the tweets to MPP Rasheed and the issue has not been discussed," he added. "MPP Rasheed has Mayor Crombie's contact info and she is willing and ready to discuss the issue at any time."
Rasheed did not respond to a list of questions.
Ontario is rolling out second dose availability ahead of schedule, visit https://t.co/Fx38mcObwn for 2nd dose bookings for everyone 70+. Meanwhile, Madam Mayor, will you and your council join us in calling for border security to prevent a deadly fourth wave? #CDNpoli #ONpoli https://t.co/aUAHEyDzhH

— Kaleed Rasheed, MPP (@krasheedmpp) June 4, 2021
Kaleed Rasheed has called on Mississauga to pass a symbolic motion calling for stronger border measures.
These exchanges, where politicians fight over their achievements with taxpayer dollars or scream policy demands into the void, suggest Twitter is not contributing to the conversation. Few meaningful exchanges, compromises and discussions seem to be taking place.
MPPs and councillors are both subject to codes of conduct, neither of which deal extensively with social media or explicitly bar them from publicly feuding with other politicians.
A short line in the provincial Members' Integrity Act states, "Nothing in this Act prevents members of the Assembly from having one or more social media accounts in their individual names." It does not comment on how MPPs should conduct themselves on social media.
Elected officials in Mississauga are subject to slightly more specific advice. A commentary section of their code of conduct explains, "In a world where a transitory comment can become part of the permanent record, Members should exercise restraint in reacting too quickly, or promoting the social media posts of others whose views may be disparaging of Council's decisions or another Member's perspectives."
While there is nothing that stops elected officials from debating talking points with one another on social media, or trying to apply political pressure, it offers little of value for residents. The time spent by politicians lobbing social media grenades at one another is time not being spent serving constituents, drafting policy or working to better their city. It also does not instill faith in those residents watching from the digital sidelines that their elected officials are working collaboratively for the betterment of the municipality.
Few residents will confuse 280 furious characters with substantive action or change.
"I believe social media —when the discourse is fact-based, passionate advocacy and supportable — to be a valuable platform to advocate for Mississauga especially when it is widely supported with followers in the hundreds," Parrish said. "Politicians on all levels pay attention to numbers and huge numbers prompt them to take messages to their leaders. The you-said, I-said back and forth tiffs are, generally speaking, a waste of time and a distraction."
---
Email: [email protected]
Twitter: @isaaccallan
---
COVID-19 is impacting all Canadians. At a time when vital public information is needed by everyone, The Pointer has taken down our paywall on all stories relating to the pandemic and those of public interest to ensure every resident of Brampton and Mississauga has access to the facts. For those who are able, we encourage you to consider a subscription. This will help us report on important public interest issues the community needs to know about now more than ever. You can register for a 30-day free trial HERE. Thereafter, The Pointer will charge $10 a month and you can cancel any time right on the website. Thank you.
Submit a correction about this story