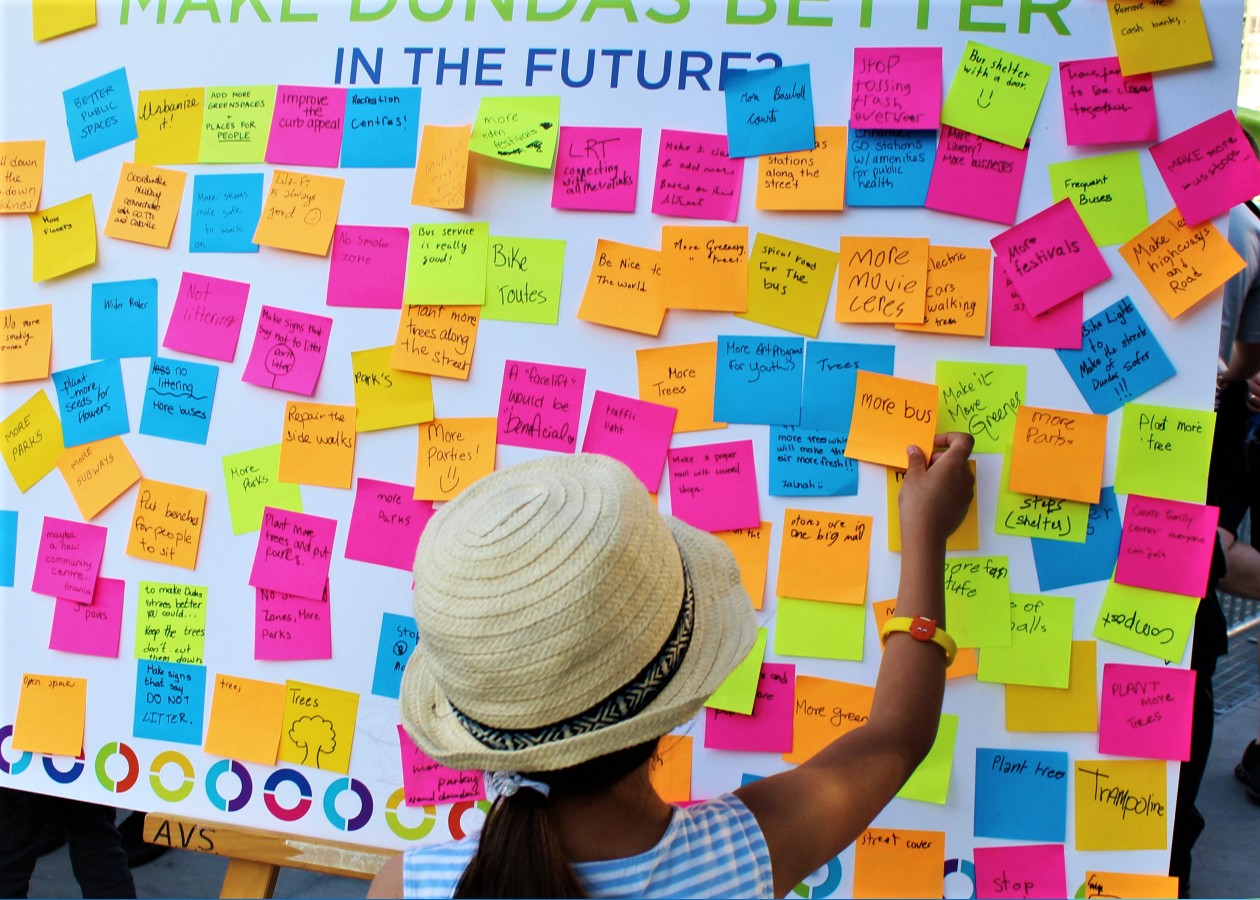 Photos City of Mississauga/The Pointer files/Charts City of Mississauga/Region of Peel
How will civic engagement look in a post-pandemic Peel?
After more than a year in the pandemic and months shuttered inside homes, Peel residents have grown even more disenchanted by the bureaucracy of government. In a region that has shown consistently low voter turnout, locals are wondering if it's worth getting involved if systemic barriers to participation, on top of those that already existed, continue and poor communication turns off residents.
In Peel, home to two of the fastest growing cities in the country and a rural township, barriers to resident participation in government have been common. Before the pandemic, council and committee meetings largely took place during the day, making it difficult for many residents to attend, especially those who work multiple jobs, on top of childcare responsibilities.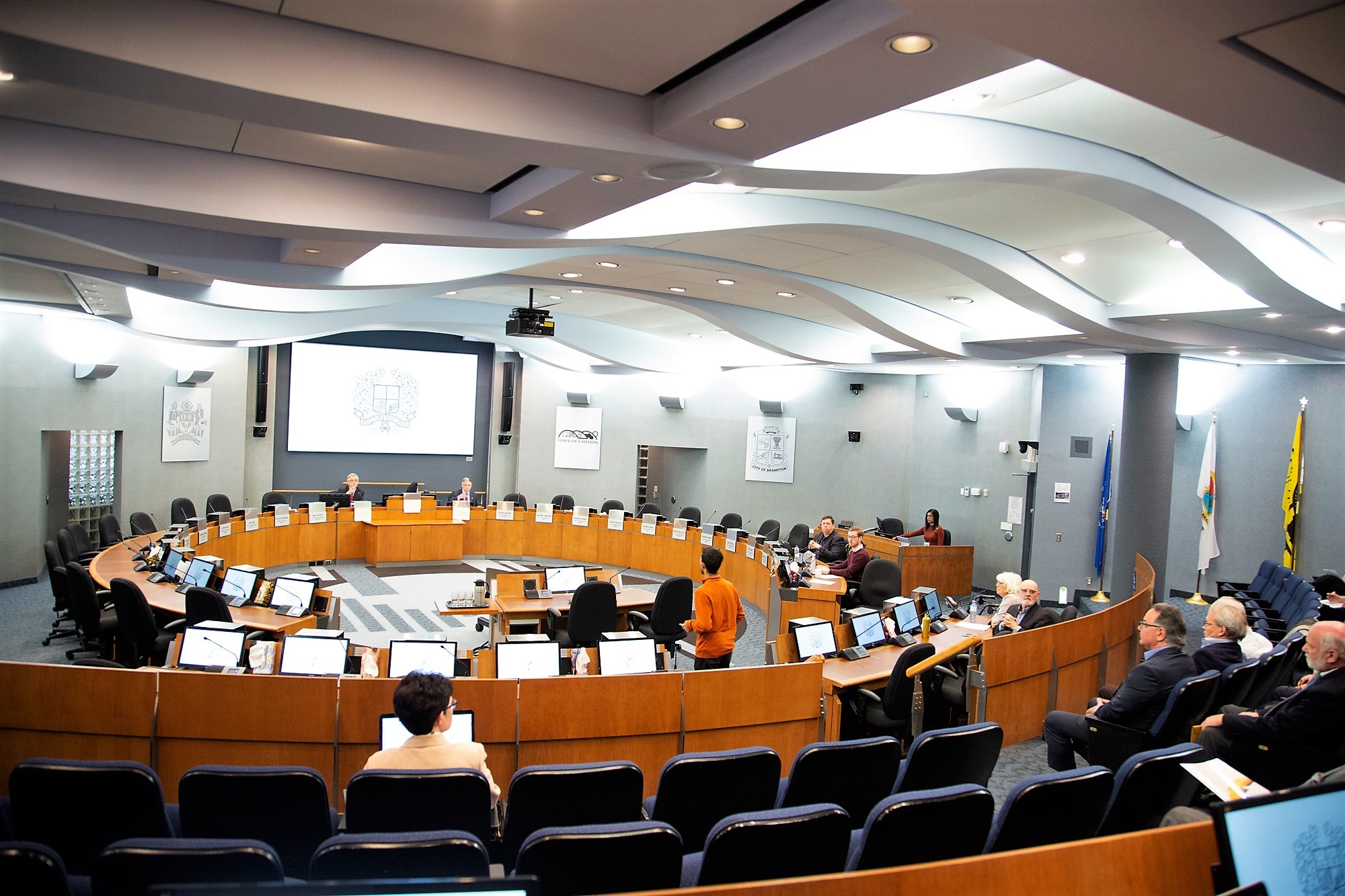 Regional Council meetings, like those in Brampton and Mississauga, take place during the day, with few members of the public joining the small numbers of staff who attend.
Accessibility to city hall was difficult for those with limited transportation options and schedules that don't accommodate the nine-to-five structure of local government.
The pandemic has forced local governments to utilize digital alternatives, with virtual participation in public meetings and constant online public messaging. Is this engaging many of those residents who had previously been cut off from the process of democratic participation?
"If we want to watch media conferences, we can watch them now. If we want to see the modeling, we can watch it. We don't have to have the media interpret what people say, but we can hear from the horse's mouth, and so I think it's much easier at this time to be engaged and to be informed about what's going on," Jonathan Giggs, a longstanding Mississauga resident and community advocate, said to The Pointer. "These are the positives of the pandemic – I'm concerned that going forward, we may decide to go back to business-as-usual, and make it harder for people to remain engaged."
In 2018, Brampton's voter turnout was about 34 percent and in Mississauga voter participation was even more disturbing. About 43,000 fewer ballots were cast compared to 2014, when only 36.5 percent of eligible voters turned out, as the numbers fell to a little more than 119,000 from about 162,600.
The figures illustrate a local system that simply does not represent constituents and seems disinterested in any meaningful engagement to create truly representative government.
Will the pandemic change this?
In Peel, the positives of the pandemic's shift to virtual civic engagement are correlated with broader communication between government and the public, particularly on social media, where many residents flock to get the latest updates on COVID-19 vaccine eligibility and updated provincial pandemic news.
"The Region of Peel's social channels continue to showcase incredible growth, and we are hearing from more residents than ever before," Amie Miles, the Region's manager of strategic client communications, wrote to The Pointer. "We generated more than 9,000 mentions on Twitter in April, with thousands of comments and direct messages coming through Instagram (up by 116 percent in April) and Facebook (9,000 in 2021) channels. With questions about vaccine availability and confidence to waste cart repairs and road damage, our residents can continue to expect a high level of service."
Although the surge of sustained interest that has carried on, and even increased, for over a year has been inspiring to residents who have been waiting for a reckoning to motivate long-lasting change, even members of passionate advocacy groups can't shake the jaded feeling that has seeped its way into Peel.
"I would suggest that the municipalities haven't been very good at doing any sort of public engagement, ever," said Giggs, who is affiliated with Engage Peel and has been involved with other Mississauga-based community groups for years. Despite his community work, Giggs believes one resident voice should be enough to call on government change. "I think they've often had meetings where nobody shows up to – and that was before the pandemic. I would think that there might be other issues at play."
It's unclear if pandemic-related engagement will carry over into a broader strategy for Peel residents to get engaged with all the other important issues that directly impact their day-to-day lives. And it remains unclear if anything is being done inside city hall to ensure the 2022 election will feature a respectable level of engagement. Voter turnout in the low 30 percentages makes one wonder if there's any point in holding elections in Mississauga and Brampton, where incumbents can easily cruise to victory with all their massive advantages, and so few turning out to challenge them.
The surge in public participation over the past 14 months has prompted some officials to learn more about how residents would prefer to engage, and to inform public consultation in the future. In June and July of 2020, Mississauga conducted an open survey for residents to gain insight on how they prefer to get involved with local government during a time of social distancing.
Out of 132 responses, with the majority in the 35-44 and 55-65 age groups, most residents indicated they want to participate despite extenuating circumstances caused by the pandemic. The response bias obviously skewed the results.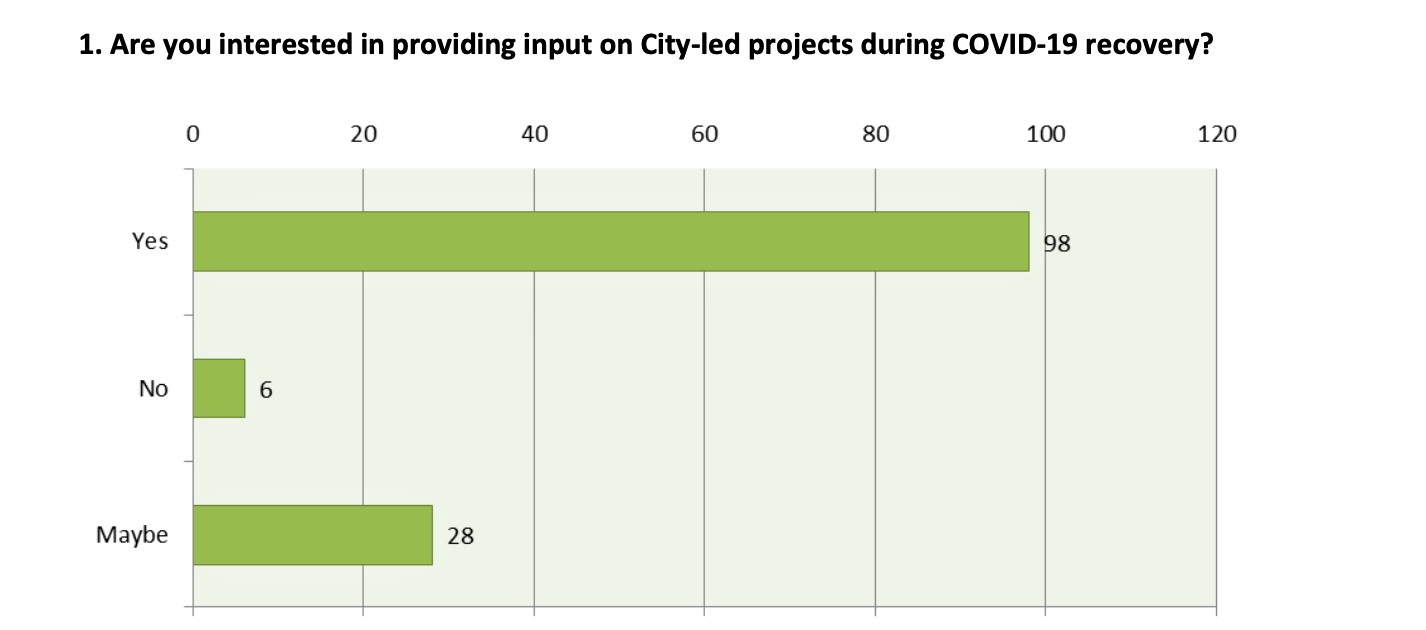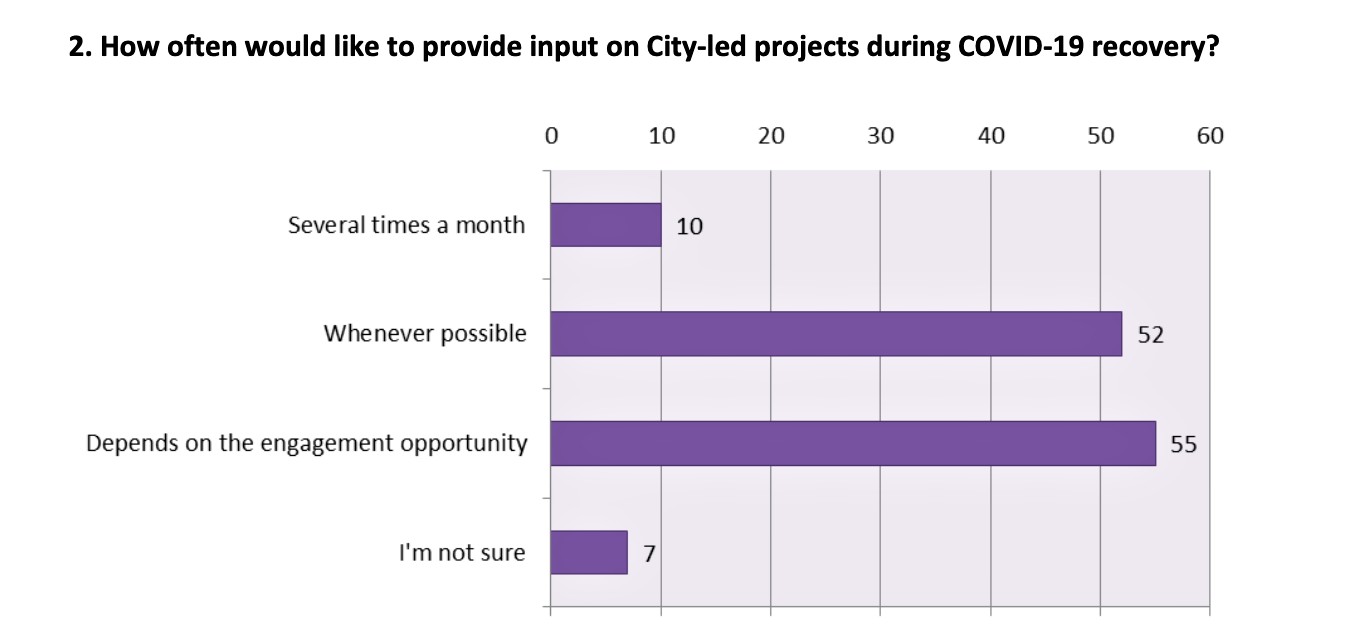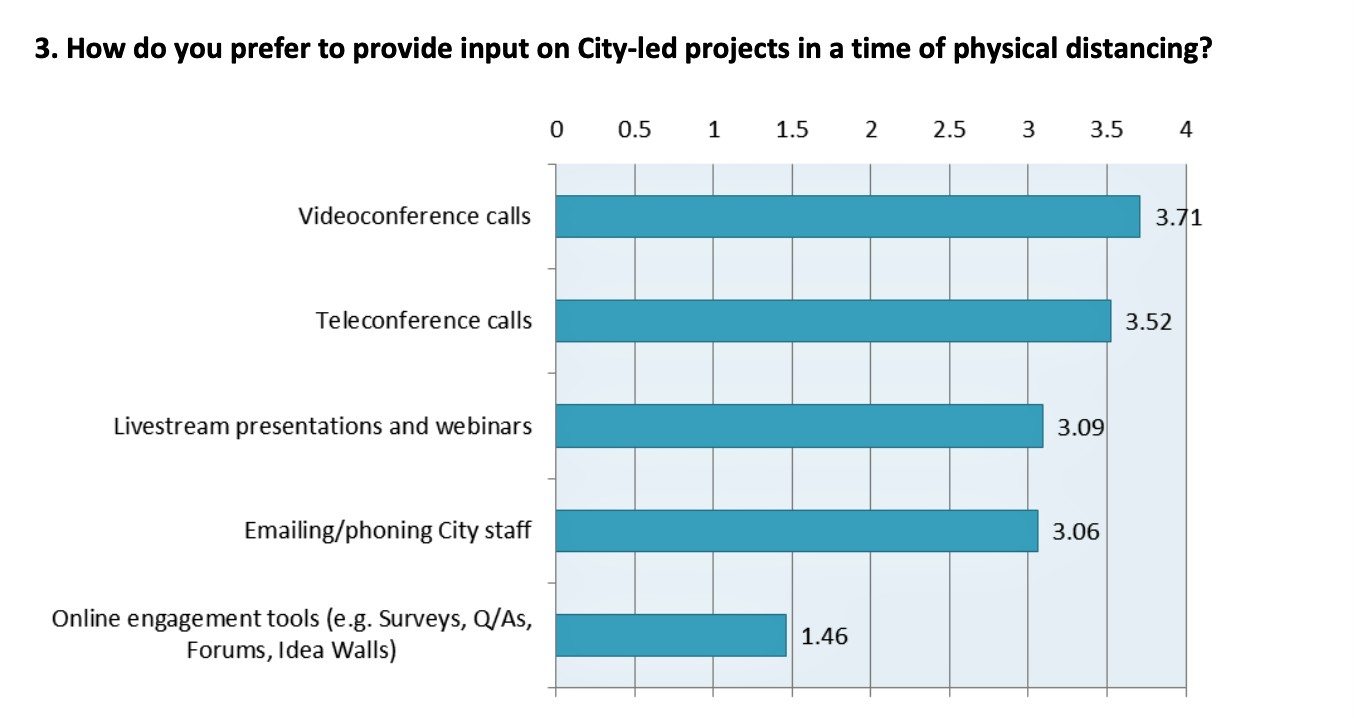 Residents of Mississauga have largely benefited from a local government that has had little scandal in comparison to its neighbouring city Brampton. Despite this, public consultation has been difficult to predict, with some projects garnering massive amounts of controversy and criticism such as the demolition of the Burnhamthorpe Outdoor Rink, while others quietly carry on without so much as a word from concerned citizens.
In Brampton, residents have shown that use for the online streaming of council and committee meetings isn't as in-demand as residents groups have hoped, despite the ease of access they present. For many people, everyday life gets in the way of advocating for better governance.
"If I go and ask my community, 'Why don't you get involved?' they'll ask me, 'Well, why should we?'" Tejas Aivalli, a Mississauga resident and a member of community group Engage Peel, which deals with Brampton issues as well, told The Pointer. "And if I say 'Well, but what about oversight, integrity and corruption?', the answer is, 'Well, there's corruption everywhere all the time'."
In Brampton, specifically, City Hall has been mired by evidence and allegations of corruption for more than a decade, and advocates like Aivalli suggest many residents simply become alienated from the entire process of local government when they feel it does not work for them.
Mississauga has a whole site, Have Your Say, dedicated to public consultation based on its 2017 Community Engagement Strategy. In Brampton, a separate page is laid out for residents to see what consultations are open at any given time, in line with the City's strategic communications objectives outlined in the 2020 Operating and Capital Budgets report. Caledon has its own engagement site dedicated to surveys, reports, discussion papers and active consultation initiatives.
The Region has an active list of public notices on issues regional council will consider, and has recently completed 2020 consultations on the Region of Peel's 2041+ official plan review. According to Regional data, across the seven focus areas there were a total of 928 views, a 40 percent open rate on the email notice 2.5 weeks in advance of the live sessions, and the average watch time on the website for the intro video was just under 4 minutes.
In an area that houses more than 1.5 million residents, the Region considers these metrics a success.
Beyond surface-level interactions such as likes and shares on social media platforms, deeper participation is more difficult to garner. In the form of delegations in front of council and committees, written and oral submissions during public meetings, and emails and phone call queries about events, vaccine appointments and other matters of city business, metrics point toward a desire among residents to get involved in their community.

Within the past six years, delegations, which are presentations by residents to members of council or a committee, have stayed relatively consistent, according to Region of Peel data. However, last year saw a record amount of oral and written submissions, which may have been prompted by residents wanting to have a say in how the Region handles the COVID-19 pandemic.
Engagement and participation is measured in a myriad of ways, many of which are misleading. Brampton Mayor Patrick Brown, a populist leader who spends significant taxpayer resources on his own self-promoting media and communications campaigns, likes to claim thousands of residents participate in his telephone town halls.
At the expense of the city's taxpayers, these townhall robocalls, managed by a private company hired by the City, go out to more than 100,000 landlines and cellphones in the vendor's database.
Brown has used heavily exaggerated participation numbers, but when drilling down into the actual figures the reality is quite different.
The numbers he uses represent every resident who picks up the call, even though the vast majority hang up immediately or don't listen to much of Brown's events before they drop off the call.
His use of communication raises concern that some politicians are taking advantage of the pandemic as little more than a campaign exercise, an opportunity to constantly get in front of the public, turning off many who are looking for meaningful civic engagement, not PR spin being paid for by the taxpayers.
All local governments in the region have held dozens of public consultation events on issues ranging from development applications and official plan reviews to ward boundary reviews and COVID-19 public forums. But the number of events hosted last year was drastically down from regular numbers. In Mississauga, 96 in-person and virtual engagements were hosted by the City, 67 fewer than the previous year. But concern over COVID-19 has prompted almost unprecedented interest in certain city affairs, keeping residents engaged like never before.
In 2020 alone, Brampton has hosted 28 COVID-19 Tele-Halls in partnership with Peel Public Health, Peel Regional Police, Peel Paramedics and William Osler.
But some citizens are concerned that meaningful and impactful consultation is not taking place, and that momentum won't continue after the pandemic.
"Official plans that are being based on growth targets that are 30 years out, are really concerning because these choices and decisions are being made at a time when everyone is completely absorbed in their health and their safety and keeping the lights on," said Caledon resident Jenni Le Forestier, who has delegated numerous times before Caledon Council and the Region of Peel on environmental issues surrounding the GTA West Highway. "This is not the time to be making decisions that are going to impact the next generation, and it's really unfair that there's this drive to put these things through before the next election."
With a looming municipal election next year, groups like Engage Peel, which has a core leadership of about 10 residents, have formed to help hold public officials accountable and debate and engage with residents. Despite the havoc COVID-19 has wreaked throughout the region, the group believes the pandemic represents a tangible opportunity to demand change.
"We have created the worst possible system – going to City Hall should be no different than going to Walmart," Harminder Dhillon, a lawyer based in Mississauga and a member of Engage Peel, said. "It should be no different than going to any other shop. There should be people to help you, they should be happy to see you – whether online or in person. I have not been to other city halls, I'm sure there are some good ones somewhere, but the [ones in] Brampton and Mississauga, they have nice branding, but they're dead spaces."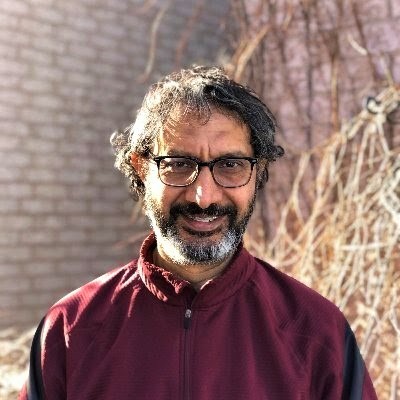 Long-time Mississauga resident Harminder Dhillon has been a key member of Engage Peel. Formed last year to bring ranked ballots to Peel, Dhillon is working with members to engage with similar community groups in other regions.
The Town of Caledon, different from its neighbouring cities, thrives on its sense of community and close-knit population. In contrast to Peel's two large cities, in pre-pandemic times, Caledon saw a core group of community members attend council meetings regularly to provide local input on development and community issues.
"Although connectivity and bandwidth is a concern in areas of the Town, I can tell you that since introducing a virtual platform to host Council and Committee meetings, we are experiencing an increase in participation of those watching our livestream versus those that would have traditionally attended in person," Catherine McLean, director of customer service and communications, told The Pointer.
Despite this, Caledon is uniquely vulnerable to digital gaps. Sparsely located throughout almost 400-square-kilometres where stable internet connection isn't a guarantee, many residents find themselves unable to navigate online websites, video streams, call-in functions due to technological bugs, illiteracy and accessibility issues.
"I know that I'm often kicked off council meetings because the connection dies, and it's four or five times to get back in," Le Forestier says. "Several of my neighbours, they're calling in and can't get connected, or they call in and the meeting hasn't started yet, so then they think that there's something happening. They give up."
Despite the challenges, Engage Peel believes in the importance of continuing to stream and archive video meetings after the pandemic, making council meetings accessible to the general public, and making city websites easier to navigate remains key to keeping engagement numbers high.
"It's telling to know that the average person can tell you so much about a celebrity who they know nothing about, and has no relevance in their lives whatsoever, yet they don't know who their city councillor is, they don't know what motion has just been passed, and they don't even know a tip number or an email to get in touch with someone if they have a problem," said Julia Kole, an Engage Peel member. "I think if cities can just be more personable, and really show that it is fun and worthwhile, and there's a valued intrinsic value of people looking more local... then you're going to get more engagement. But if people just can't relate to what's happening, if people just have no emotional ties to that, then we're not going to get anywhere."
Moving forward, all municipalities and the Region have confirmed to The Pointer that online streaming of council and committee meetings, with additional plans from Mississauga and the Region to archive videos of council and committee meetings, will continue after the pandemic. But in a post-pandemic world, little can be known if the decision-making done today, live streamed or not, is suited for the uncertainty that lies ahead.
"I think planning during a pandemic must be very problematic because who knows how the world is going to be once we get out of this," Giggs says. "I think we're going to be in a different economy, we're going to have a whole different way of living. We just don't know what it is yet."
---
Twitter: @vanessabalintec
---
COVID-19 is impacting all Canadians. At a time when vital public information is needed by everyone, The Pointer has taken down our paywall on all stories relating to the pandemic and those of public interest to ensure every resident of Brampton and Mississauga has access to the facts. For those who are able, we encourage you to consider a subscription. This will help us report on important public interest issues the community needs to know about now more than ever. You can register for a 30-day free trial HERE. Thereafter, The Pointer will charge $10 a month and you can cancel any time right on the website. Thank you.
Submit a correction about this story