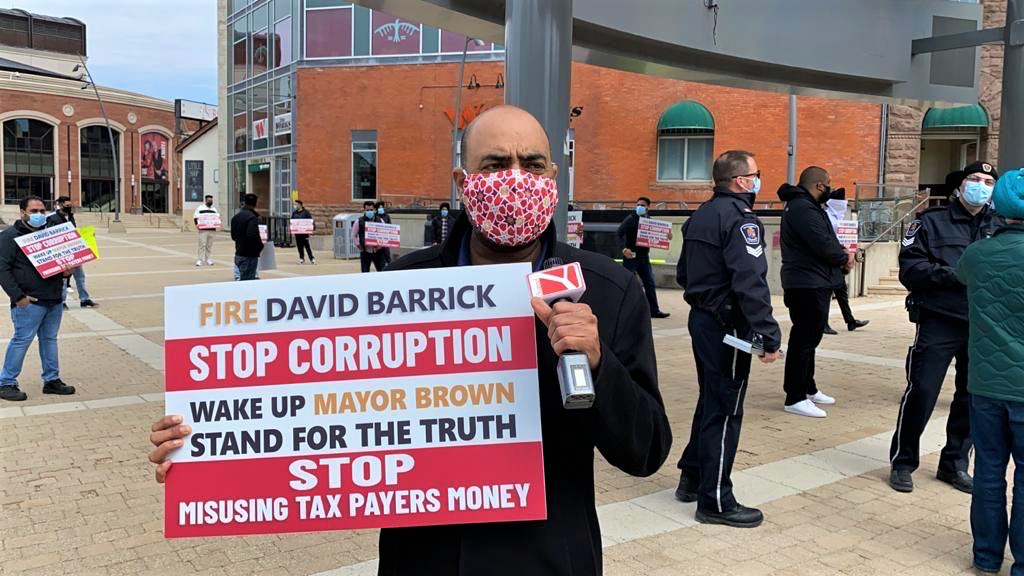 The Pointer file photos/City of Brampton/Canadian Sath TV
'Fire David Barrick': Brampton residents call for CAO's removal, demand independent third-party investigation
Brampton residents are calling for the removal of the City's Chief Administrative Officer, David Barrick, after a former employee shared explosive allegations of corruption against the man responsible for running the ninth largest city in Canada.
Holding signs emblazoned with the words "Fire David Barrick" in bold, black letters, protestors stood scattered outside the Rose Theatre Monday afternoon, in plain view of any employee working at City Hall across the street.
The protest came four days after former senior staffer Gurdeep (Nikki) Kaur shared the accusations, also naming other senior staff members accused of racism, nepotism, bullying and misuse of public funds.
Mayor Patrick Brown was also named in Kaur's allegations for misusing City resources, and his name appeared on the large placards protestors held during the public display of outrage. "WAKE UP MAYOR BROWN STAND FOR THE TRUTH STOP MISUSING TAXPAYERS MONEY," the signs read.
Brown was responsible for Barrick's hiring, chairing the committee that recommended him, and the mayor has defended the man who he shares a number of Conservative political ties with. Barrick was fired after his disturbing conduct around a Niagara Region CAO hiring process was revealed and he has no previous City Hall experience. He is a former Port Colborne councillor who has worked closely with a number of Niagara-area Conservative figures, including former MP Rick Dykstra, who served with Brown as a Conservative backbencher in Ottawa, and then became Ontario PC Party president while Brown was the leader, working hand-in-hand during the 2018 provincial campaign.
Both men stepped down around the same time ahead of the election while facing allegations of sexual misconduct. They both deny the accusations.
Barrick was one of a circle of Conservative politicians who along with Dykstra pushed their agenda in Niagara. At least one of them, a former Grimsby councillor named Tony Quirk, who served with Barrrick on Niagara Region council, was handed a lucrative contract by the Brampton CAO. Without council's knowledge, Barrick quietly paid his former ally $218,000 for "consulting" work, including $110,000 paid out to Quirk within four months of Barrick's arrival in Brampton.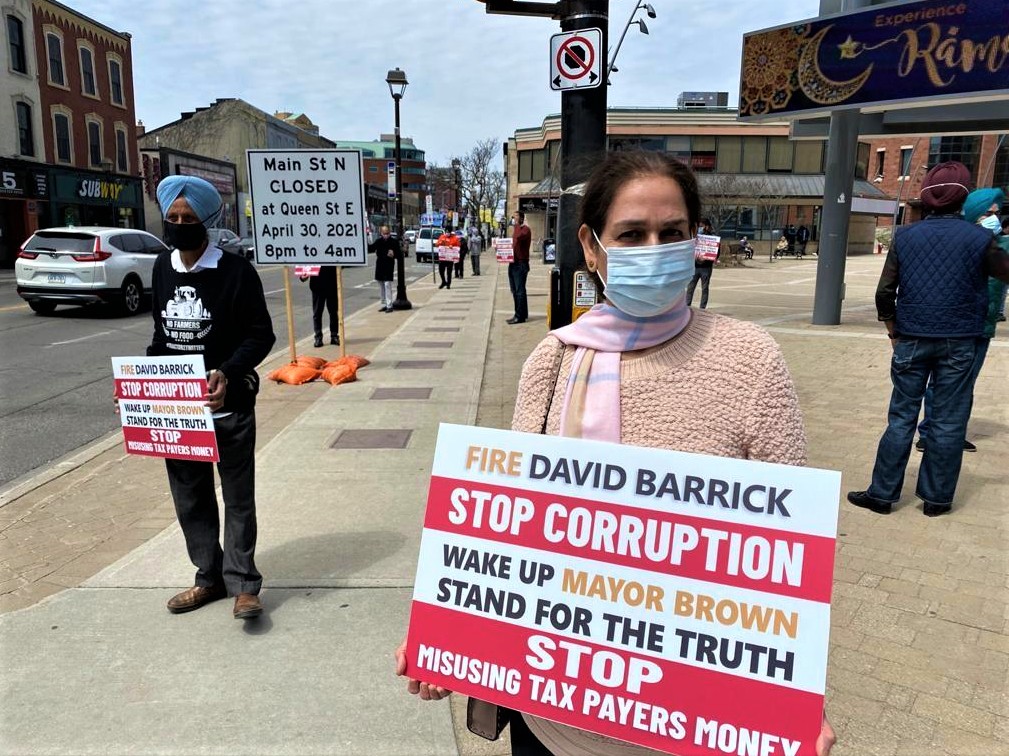 Images from Canadian Sath TV of the protest show signs calling for Barrick's firing.
Kaur alleges Barrick quickly created a negative culture inside Brampton City Hall, and she provided evidence to The Pointer of his manipulation of hiring, orders to hand another large consulting contract to one of Patrick Brown's Conservative associates and the mayor's direction for senior staff, including Kaur, to work on former federal Conservative Party leadership candidate Peter MacKay's unsuccessful campaign last year, while City Hall was trying to deal with Brampton's devastating public health crisis.
Hours after emailing the claims to members of council, City Hall employees, and some media outlets on Thursday, Kaur told The Pointer she was fired by Barrick, the man at the centre of her damning allegations.
The Pointer has been unable to confirm if Kaur was fired because of the accusations she made earlier the same day.
The City of Brampton has a corporate fraud prevention policy that states it "will not tolerate any form of retaliation against Whistleblowers who, in good faith, provide information concerning Fraud."
For the past year-and-a-half, residents sat front row as Barrick, who was fired from his previous job in Niagara after multiple controversies, including a widely reported hiring scandal, recruited his former colleagues and associates, while bending key council-led accountability and transparency processes, placing them under his authority.
"I find it quite shocking, frustrating and deplorable that we have a bunch of bureaucrats who have infiltrated City Hall from Niagara Region, as well as, those closely affiliated with the Conservative party engaging in controversial hires, fraudulent procurement practices and questionable ethics," Chris Bejnar, co-founder of Citizens For a Better Brampton, told The Pointer.
Robert D'Amboise is one of the senior staffers named in Kaur's allegation. He was implicated with Barrick in the 2019 "Inside Job" investigation report by Ontario's Ombudsman. Probing how Niagara Region's former CAO Carmen D'Angelo was hired, the Ombudsman found Barrick tried to pressure staff to hire his boss at the time, who ran the conservation agency Barrick worked at, and D'Amboise, who worked for the Region, provided D'Angelo with interview questions and answers.
D'Amboise left Niagara after his behaviour was exposed and was hired to work in the CAO's office months after Barrick started.
Around the same time, the City was working with the Menes Company (MenesCo) to draft a proposal for a Municipal Development Corporation (MDC) that oversaw the City's large real estate portfolio. The project was budgeted for $300,000.
Brett Bell is the director of the firm, and a close associate of Patrick Brown with ties going back two decades through the Progressive Conservative Party, previously led by Brown.
Kaur alleges Barrick only told her to contact Bell for the job, and provided text messages from her former boss showing his instructions on January 7, 2020.
Bell didn't have his firm incorporated at the time and only did so two days after City Hall contacted him about the $300,000 contract which was handed to him.
These types of consulting contracts often require a business to be active for five years before qualifying for such work.
Council was never told Bell was given the deal or that he and Brown have a close connection. Questions to the City asking how Bell received the contract and how many others were asked to bid on the project have never been answered.
"They all need to be sent packing (without severance) back to where they came from just like Niagara Region did a few years ago," Bejnar said, questioning how Barrick was even considered qualified for the job.
Prior to working in Brampton, Barrick was mired in controversy as a councillor for Niagara, representing Port Colborne, which had a population of 18,000 in 2016. He was hired without the proper experience by his Conservative associates at the Niagara Peninsula Conservation Authority (NPCA) and the Ontario Auditor General later stated Barrick's hiring there was inappropriate.
He now leads the ninth largest city in Canada, runs a corporation with more than 5,000 employees, and receives a salary of more than $300,000.
Brown has refused to acknowledge Barrick's behaviour and has wrongly stated publicly that he was not implicated in the Ombud's 2019 "Inside Job" Niagara investigation report.
Residents are growing increasingly frustrated.
"Despite my support and voting for him, I was the first to openly and publicly admit I made a grave mistake in supporting Patrick Brown," resident Peter Bailey told The Pointer Monday. "Myself and thousands like me were duped big time. Brown is as slick as they come."
The long-time advocate and City Hall watcher says Brampton is now stuck in a serious hole, and fears private investors and higher levels of government will stay away as long as Brown is in charge and Barrick is running City Hall.
"This is do or die for Brampton. If this is left unchecked, our goose is cooked, and there is no turning back the clock. We will be finished as a community," Bailey said. "This is where my wife and I live. We know a lot of people here. A lot of good , decent and hardworking people. In the past we have faced a lot of political controversy and challenges but delt with them honestly and effectively as a caring and honest community. We can and will do it again."
Bejnar puts much of the blame at Brown's feet and also questions what some of the other council members are doing.
"How is our Council accepting this breach of public trust and taxpayers' funds, something all of them were elected to protect?"
City Councillor Jeff Bowman agrees, telling The Pointer council is accountable for all decisions made.
At an emergency meeting last Friday, council voted to hire a third-party investigator to probe Kaur's claims after discussing the issue for more than four hours. The resolution did not say Barrick would be put on administrative leave while the allegations are investigated. It's unclear how this will ensure the practice is completed fairly and without interference from the man who oversees all staff, controls the IT department and all the documents that might reveal what has been going on.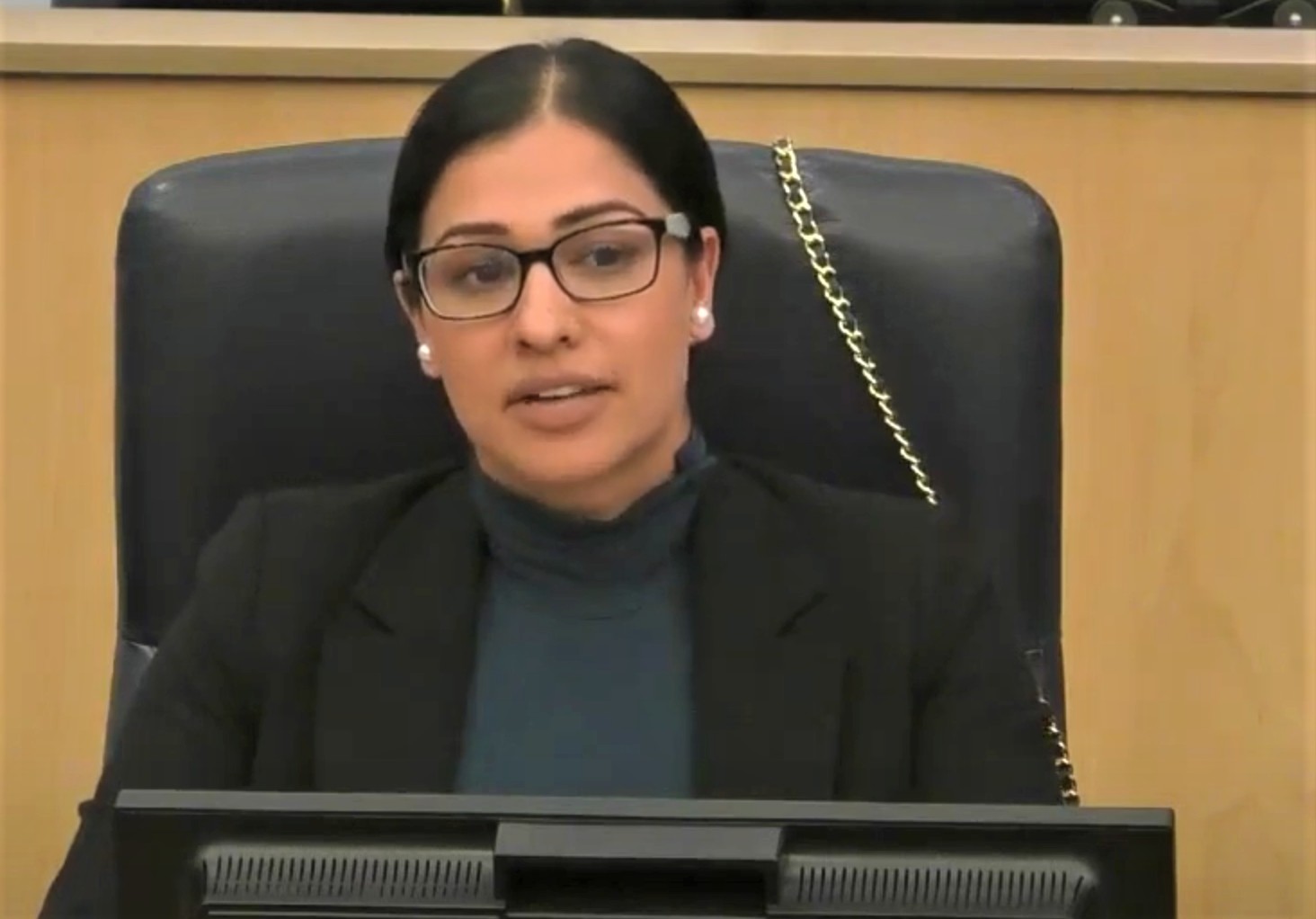 Nikki Kaur was fired hours after she shared her allegations.
This remains a concern for residents and councillors alike. Brampton resident Cody Vatcher said there should be a fair investigation and some senior staff members, including Barrick, should be suspended while the probe is ongoing, citing previous inaction. "They heard about this and they swept it under the carpet," he said, referring to past allegations shared by anonymous whistleblowers.
During the city's last audit committee meeting, Barrick acknowledged there's a gap in the type of complaints that can be investigated through the City's corporate fraud prevention hotline. He never explained how the dozens of complaints listed under fraud were resolved.
After the lengthy meeting, Bowman said when similar allegations came up in the past, "a few council members" tried unsuccessfully to discuss them publicly because calls for change never lead to a majority of council support. Allegations similar to Kaur's have been shared since December through anonymous emails sent to staff, council, and the media.
Regional Councillor Martin Medeiros believes some members of council refuse to uphold their required accountability role, casting votes in in-camera sessions (that aren't open to the public). "That tells me there are councilors who are hiding… behind the process because they can't be named."
When Barrick illegally moved the FOI function from the City Clerk's office to his own, only a handful of Council members voiced clear displeasure, before they restored it to its proper place under the City clerk reporting directly to council. On Friday, Medeiros said if that happened in any other municipality, Barrick would have been fired. In Brampton, some members of council, including the mayor, didn't even address it as an issue when it was discussed publicly.
It's been the same whenever Barrick's disturbing behaviour has been exposed, either by staff, councillors or the media. When he quietly tried to move the independent internal audit function under his authority, away from council, Brown and Councillor Rowena Santos along with Councillor Harkirat Singh, remained silent, following their pattern of inactivity as more and more allegations have come forward.
Vatcher said what happened last week was "a shame and a disgrace." Every person he talked to over the weekend about Kaur's allegations couldn't understand why "council would spend so much political goodwill" to protect employees, specifically Barrick and HR director Sandeep Aujla, who is named throughout Kaur's allegations.
The Pointer sent extensive questions to the City and each staff member named in the accusation by the former director.
Only a generic response was provided, claiming no misconduct has occurred. Barrick controls all communication out of City Hall.
Kaur alleges Aujla made racist remarks about members of the Black community while she was being interviewed for her current job. Kaur sat on the hiring panel, and said the comment "Black people are dumb" was made by the woman now running the City's HR department. She said Barrick is aware of the remark. Aujla and Barrick did not respond to questions.
Brown continues to defend his CAO.
After The Pointer published an article Friday detailing Kaur's allegations with her supporting evidence, Brown took to Facebook to dispute the claims. "Council heard two opposing stories and allegations of senior staff making complaints against each other. We unanimously voted to send to an independent 3rd party to investigate reporting back to Council directly. If there is any wrong doing these staff will be terminated," he wrote on a post from the Brampton Beats Facebook Page, a community forum Brown often comments on.
Some residents have started to take note of Brown's unwillingness to hold the CAO to account.
"Democracy is way more than what happens at election time," Vatcher said. "It's about what happens in between elections and residents have rights. They have the right to demand the mayor and council do the right thing."
Like Kaur's allegations, the protest Monday outside the Rose Theatre sent the City scrambling. The Pointer was told there were attempts to get bylaw to shut down the demonstrators.
In a livestream by Canadian Sath TV, the protest was sent out on Youtube. Their reporter was asked by bylaw officers who the organizer of the event was. After being told there wasn't a specific organizer and this was the public voicing their concern, one officer said restrictions under Ontario's stay-at-home-order ban outdoor gatherings. "As a result, you can't be here. You're going to have to go," the officer can be heard saying in the video.
When asked if the City was attempting to stop the protests from taking place, the question was not directly answered.
"The City recognizes that its residents have a right to freedom of peaceful assembly and association. Public safety is crucial, and during the COVID-19 pandemic, outdoor gatherings, protests, and peaceful assemblies must follow existing provincial and City by-laws.
"When the City is notified of a large protest or gathering, it works closely with its law enforcement partners to ensure compliance and educate the organizers about the provincial regulation and by-laws, such as for physical distancing and masks. Peel Regional Police is the lead agency when responding to protests or large gatherings, and the City's Security and Enforcement personnel provide support as required," spokesperson Megan Ball wrote in a statement.
---
Email: [email protected]
Twitter: @nida_zafar
Tel: 416-890-7643
---
COVID-19 is impacting all Canadians. At a time when vital public information is needed by everyone, The Pointer has taken down our paywall on all stories relating to the pandemic and those of public interest to ensure every resident of Brampton and Mississauga has access to the facts. For those who are able, we encourage you to consider a subscription. This will help us report on important public interest issues the community needs to know about now more than ever. You can register for a 30-day free trial HERE. Thereafter, The Pointer will charge $10 a month and you can cancel any time right on the website. Thank you.
Submit a correction about this story