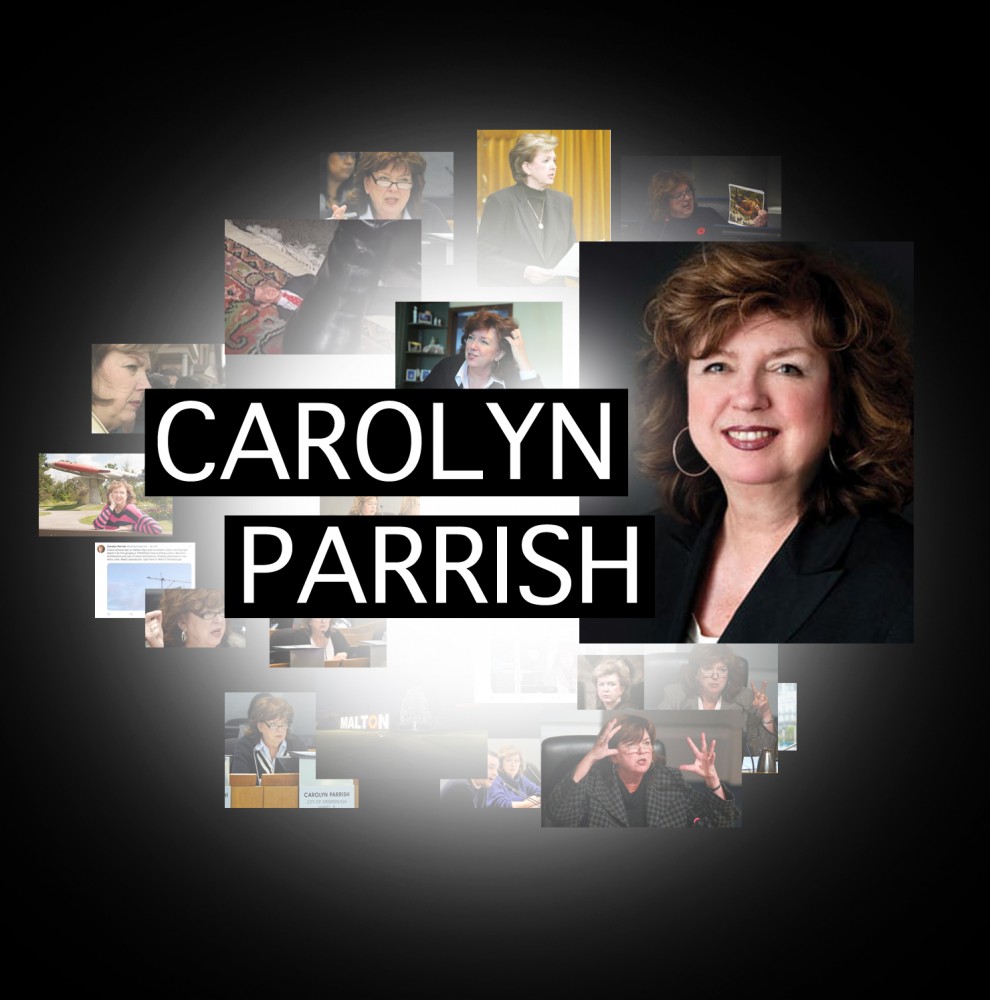 Photo illustration from The Pointer/Graphics from Twitter
Mississauga's Carolyn Parrish: what you see is what you get
The Pointer's Social Media Monitor is a weekly look at how elected officials and other public civil servants are using their taxpayer-funded resources to shape digital communication aimed at constituents. We feature one public figure each week.
---
"I only gave up a BlackBerry Bold about six months ago," Carolyn Parrish, Mississauga's councillor for Ward 5, tells The Pointer. "I loved it, and I still miss it. I want to get it framed in one of those shadow box frames on my office wall – if I ever get back in there."
For a politician admittedly challenged by technology, she knows what she doesn't know. Parrish doesn't know how to properly link an article to a Twitter post, or how to navigate Facebook with its constant interface updates. In fact, she's done away with other platforms except for Twitter, entirely, concentrating on learning the ins and outs to the best of her ability, so she can better connect with residents, advocate for issues she cares about, and, well, speak her mind.
"I sort of built up – not on purpose – a reputation around me that I'm a straight shooter," said Parrish. "I'm not really much afraid of anybody anymore. After 35 years in the business, being thrown out of the Liberal caucus and calling Americans bastards, there's not much left for them to chastise me for."
For Parrish, unlike many politicians these days, calling out higher-ups who fall short of her expectations, is as natural as breathing. On March 5, she singled out all six Mississauga PC MPPs attending a virtual education session on pressing city matters for their subpar responses to hard-hitting questions on the poor vaccine delivery in Peel. She had pulled the session out from its planned in camera setting to an open session meeting so the public could also hold their elected officials accountable.
"They're all very much party-liners," Parrish says. "I made that point to them – I've been there, so I understand. You know that you've got to toe your party line to a certain extent because you're part of the team. But when you've got six elected reps from the governing party in [Mississauga and] we've got 10 out of 12 [in Peel], and they can't move an agenda forward that helps our people, you're justified in questioning it."
Parrish ignited a heated debate between herself and Mississauga MPPs Rudy Cuzzetto and Natalia Kusendova. During the meeting, MPPs alluded to an imminent announcement on vaccine supply in the region that promised to lift spirits – hours later, it did the exact opposite.
Social media seems like the perfect platform for the bold leader.
Parrish has been chastised throughout her political career for her outspoken personality. In 2003 and 2004, she drew national attention for her "American-bashing", which marked out her reputation as someone unconcerned about layering on a political veneer, which was soon followed by the infamous This Hour Has 22 Minutes' George Bush-boot slamming incident. She was, and still is, steadfast in her choice to defend her criticism and free speech, going so far as rejecting any notion of loyalty to the Liberal Party, admitting she's not one to be controlled. Her fierce independence ultimately got her kicked out of the party, which eventually segued her career into municipal politics.
Although the break from the federal government offered an opportunity to start anew as the councillor for Ward 6, the honeymoon was short-lived. In Mississauga, Parrish slowly rose as the key adversary to mayor Hazel McCallion, rallying council support to launch an investigation into McCallion's role in her son's failed $1.6 billion downtown hotel-convention centre development scheme, which revealed the mayor's alarming behind-the-scenes behaviour to get the deal done.
It knocked the iconic mayor on her back and once again showed Parrish's unwillingness to back down. McCallion, who governed with little opposition till then, walked away from politics shortly after.
It probably cost Parrish her council seat in the next election.
"It was the best thing that ever happened to me," Parrish says. "I was a Ward six councillor then, because that was part of my federal riding and I lived there. Then when I came back, the ward that was vacant was five. Six is pretty Steady Freddy, nothing crazy goes on there. But if you look at ward five, it's like every time you turn around, there's something to do. I'm an activity monster, so I'm really happy with that."
Twitter has allowed her to showcase all the work to advocate for Malton, which makes up a large part of her ward.
Throughout her current term, Parrish has been working to bring more funding into the Malton and Britannia area, which, for a number of reasons, has faced economic challenges.
Social media has been instrumental in connecting with the community.
A long time in the works, Parrish has helped greenlight a community and youth hub at the decommissioned Lincoln M. Alexander Secondary School pool in Malton. She thinks constituents are happy with her brazen approach, unwillingness to hold back criticism and the fights she mounts to get things done – both online and during council meetings.
"They're quite happy with me," she says. "They're feisty up there. I love Malton – a lot of new immigrants, a lot of people that don't have a lot of money, a lot of people struggling to [get] on their feet. And when they get somebody that struggles along with them on various issues, they're quite happy."
Although many of her constituents stand by Parrish, she still attracts many critical opinions online from residents both within and outside Peel. She chooses when to engage with those who challenge her, to ensure an open exchange of ideas, and welcomes a good digital dust up.
"Twitter – I love it, but it's a very limited medium," she says. "It's kind of a rule of thumb from all the media gurus to [not] engage with negative people, [but] depending on the subject, sometimes I just ignore them, and sometimes I'm fascinated by what made them draw that conclusion. Then I engage to find out because it's an education process for me. Did I tweet that in an obtuse way and they missed my point? Are they really adamantly opposed? Or are they party people that you couldn't convince, no matter what?"
Parrish is quick to defend her position, but is capable of recognizing when she falls short. Bringing more vaccines into Peel, demanding paid sick days and advocating for the planned Highway 413 to be scrapped are some of the many issues Parrish tweets about almost every day.
However, when old controversies resurface and inevitably end up on her timeline, Parrish tends to keep the trouble buried, choosing not to stoke flames that refuse to die. Arguably the councillor's biggest scandal, Parrish was docked pay and sent to sensitivity training when texts she sent, citing the "black female" who is "awful," in reference to previous Peel deputy chief Ingrid Berkeley-Brown, came to light. Parrish apologized and it was clear from the context of the issue that race had nothing to do with her comments. But the incident is something Parrish admits is the "only sentence she deeply regrets."
Partly because of the remarks, her message to protesters during the summer, after Ejaz Choudry's death following an altercation with police in Malton, caused some to bring back her previous comments. It illustrated one of the many perils of our social media ecosystem.
People were offended when Parrish called on protestors in Malton, who had been allowed to peacefully demonstrate for an extended period, to end their show of support so people could access services such as the pharmacy. Despite her respectful tone, some invoked her previous remarks, highlighting the trouble with communicating on a platform that can be used selectively, or by some unwilling to bend.
"The protests had gone on for some time and were gradually shifting from huge community support to residents trying to access the mall for prescriptions getting frustrated, transit being rerouted and general diminishment of what was initially strong community support for one of their own," said Parrish, who, at the time of the protests, was unable to attend due to a broken foot. "The spontaneous large display by locals was being reduced to a small cluster – some of whom were not locals. The police were reporting regularly and purposely giving them a wide berth not to inspire any incidents. It was a bit of a balancing act. [There was] huge support for mourning and lawful protest, versus diminishing support and growing opposition to what deserved to be a solemn tribute to the death of a long-term member of the community. It was a judgement call in response to some senior Muslim leaders who were concerned that multi-source support was turning negative, defeating the purpose of the demonstrations."
This type of explanation and reasoning is often difficult on Twitter, especially for a well known politician who can provoke dozens of responses instantly.
It's been a constant learning curve since she took to the social media site in December of 2011, after being urged by a journalist to build an online platform so she could voice her thoughts and connect with residents directly. Since then, Parrish has learned to use the platform and the direct message function as a means of raising awareness, speaking directly to constituents and garnering support on issues that matter to Mississauga and Peel residents.

Parrish's recent support for the protection of the farmland, forests, wetlands and a portion of the Greenbelt that the GTA West Highway would destroy, has garnered significant backing from environmental groups who, according to Parrish, have been working collaboratively with her to help get the message out.
Parrish says her Twitter, which currently has 4,086 followers, is managed solely by her. The photos of her dogs and grandsons are often next to her latest tweet calling for more vaccines at worksites or advocating for a safe but fair reopening.
A self-professed Twitter addict, Parrish is always online, keen to find out what people are talking about. When engaging with her, many followers are aware they need to be careful with what they say – she won't hesitate to call them out if they're wrong.
"If you listen to me long enough, you'll know I know nothing about social media," said Parrish. "All I really do is Twitter because it's fast. I've got lots of followers. I say what I want to say and I pay for it myself on my private internet at home. The City can't control it, nor would they even try – I've never had anybody in the City mandate to me anything about what I put on Twitter."
---
Email: [email protected]
Twitter: @vanessabalintec
---
COVID-19 is impacting all Canadians. At a time when vital public information is needed by everyone, The Pointer has taken down our paywall on all stories relating to the pandemic and those of public interest to ensure every resident of Brampton and Mississauga has access to the facts. For those who are able, we encourage you to consider a subscription. This will help us report on important public interest issues the community needs to know about now more than ever. You can register for a 30-day free trial HERE. Thereafter, The Pointer will charge $10 a month and you can cancel any time right on the website. Thank you.
Submit a correction about this story