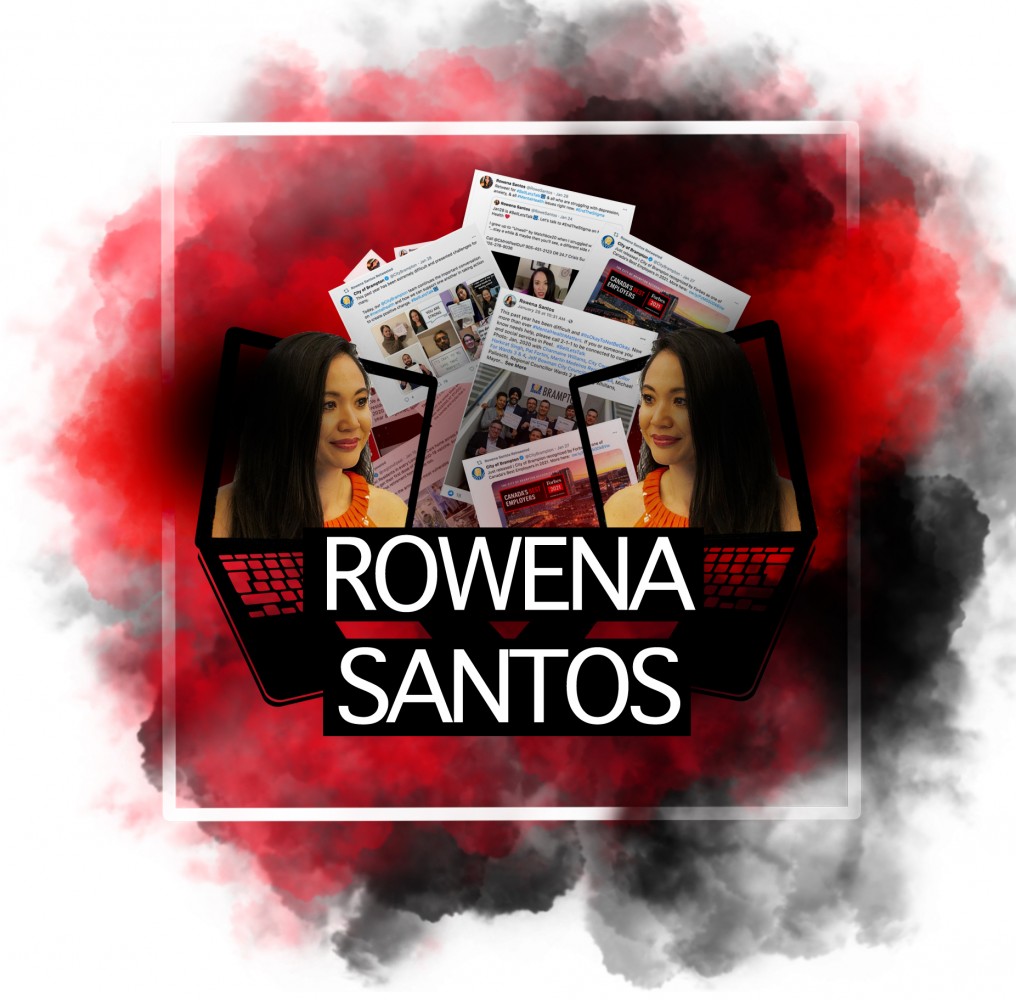 Graphics from The Pointer/Photos from Twitter
The online impersonation of local councillor Rowena Santos
The Pointer's Social Media Monitor is a weekly look at how elected officials and other public civil servants are using their taxpayer-funded resources to shape digital communication aimed at constituents. We feature one public figure each week.
---
From the outside looking in, Rowena Santos, councillor for Brampton's Wards 1 & 5, appears to be a dutiful and attentive elected official. Attending community events then promoting them shows she knows a little bit about a lot that's happening in Brampton.
With a closer look one can summarize her societal goals and personal interests: an avid lover of nature with an affliction for music, a community and family-loving mother and a self-proclaimed grassroots organizer and youth mentor.
Her online presence reflects these priorities.
Her work as a legislator to set the future course of Brampton Council is not as clearly reflected in Santos's social media. It's featured on a surface level.
Councillor Santos is often pictured at community events. Her social media timeline, filled with different public gatherings and promotions, often include active transportation, youth events and causes around diversity.
Does the familiarity and personal connection Santos tries to cultivate with her constituents through her social media make her an ideal target for hackers and impersonators?
Santos, one of two recent council targets of an impersonation scheme that resulted in attempts to defraud residents, may unknowingly be playing right into the hands of attackers by blurring the line between personal and city business.
Her social media accounts, although not officially verified, are often used to promote City events and affairs like many other councillors. The City doesn't take direct ownership of personal accounts used to conduct corporate business, opting to leave them in a grey area, which is the case for many elected officials generally. Her accounts showcase the latest recipe she's making, kid-friendly activities with her son, music and her latest #supportlocalbrampton feature – the highly personal nature of her posts makes impersonating Santos all the more easier. Her efforts to connect with the public so intimately on this level, to create more of a following than a political discourse, could leave those users won over by her efforts to connect vulnerable to abuse by others.
Her use of social media as a vehicle for democratic representation to effectively engage with residents as a legislator, leaves room to be desired.
Santos does provide updates about council activities, but rarely in the form of personal actions or to get decision-making input from members of the public who often provide the salient contributions that shape policy. Over her first term, Santos has occasionally addressed intimate partner violence in Peel and advocated for solutions to confront this increasingly common crime. However, she rarely provides any indication of work she is spearheading to actually combat this deeply troubling trend. For example, on January 25, she tweeted an image of herself virtually meeting with Take a Stand, a youth group in Brampton, where she discussed "policy to address Domestic Violence & Youth Unemployment & other topics." It's not clear what those policies discussed are or if she is aggressively pushing for them as a legislator.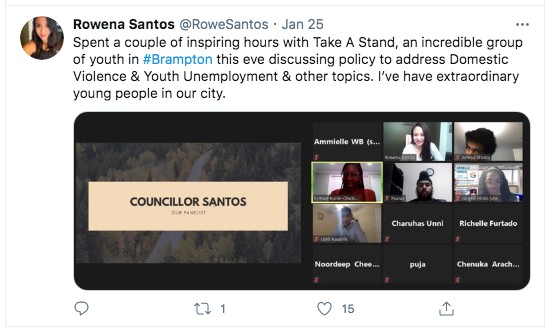 Councillor Santos has also been a vocal proponent of reducing human contributions to climate change. In 2019, she introduced the motion at Brampton council to declare a climate change emergency in the city. Aside from retweets of city talking points, which does include reference to the $1.5 million the City is putting into its energy and emissions reduction plan, there is little indication of the councillor's own efforts to further this cause with her constituents through social media.
Photos she posts on a bike, using one of the new designated cycling lanes, provide information about how people can use active transportation, but that's about the extent of her online engagement. It's a similar story when she tweets out or publishes on Facebook about climate-related events. For someone who could actually devise local policies that reduce emissions and work to implement them, there is very little of this energy on her social media.
Her effort to stop the widening of a major arterial road in the city, in support of more active transportation, included no mention on social media of a broader initiative or grassroots campaign to get Bramptonians out of their cars.
She could take a page out of the playbook of Congresswoman Alexandria Ocasio-Cortez, the rising superstar of the Democratic Party in the U.S. who uses social media as a powerful engagement tool and grassroots weapon to win major policy victories inside the House of Representatives, and help those constituents who drive much of her work.
A tech savvy politician, Santos utilizes hashtags, emojis and the retweet feature like it's second-nature. Opting to stay home for most events, nowadays she can be seen pictured through a Zoom webinar screen. A member of over 30 lists on Twitter, she keeps informed when it comes to Ontario affairs and NDP politics after her previous work with the party at the provincial level. Like many other politicians, Santos uses social media selectively when it comes to responding to resident questions and concerns, equating to a low engagement rate and little overall meaningful dialogue.
An analysis of Santos' past 1000 tweets since time of writing shows she has a reply rate of 12 percent, a retweet rate of 63 percent and a quote rate of approximately 10 percent. Much of her content on Twitter isn't original.
According to the account analysis tool on Twitter, Santos's timeline consists overwhelmingly of retweeted posts, much of which contributes to the circulation of the City of Brampton promotional material throughout the platform. Despite her active online presence, from the time of writing, Santos had a cumulative count of 5,593 followers. Although that may seem low as a councillor for a city of 650,000 residents, Santos is actually more followed online than her other local council counterparts, who have an average of 2,447 followers on Twitter.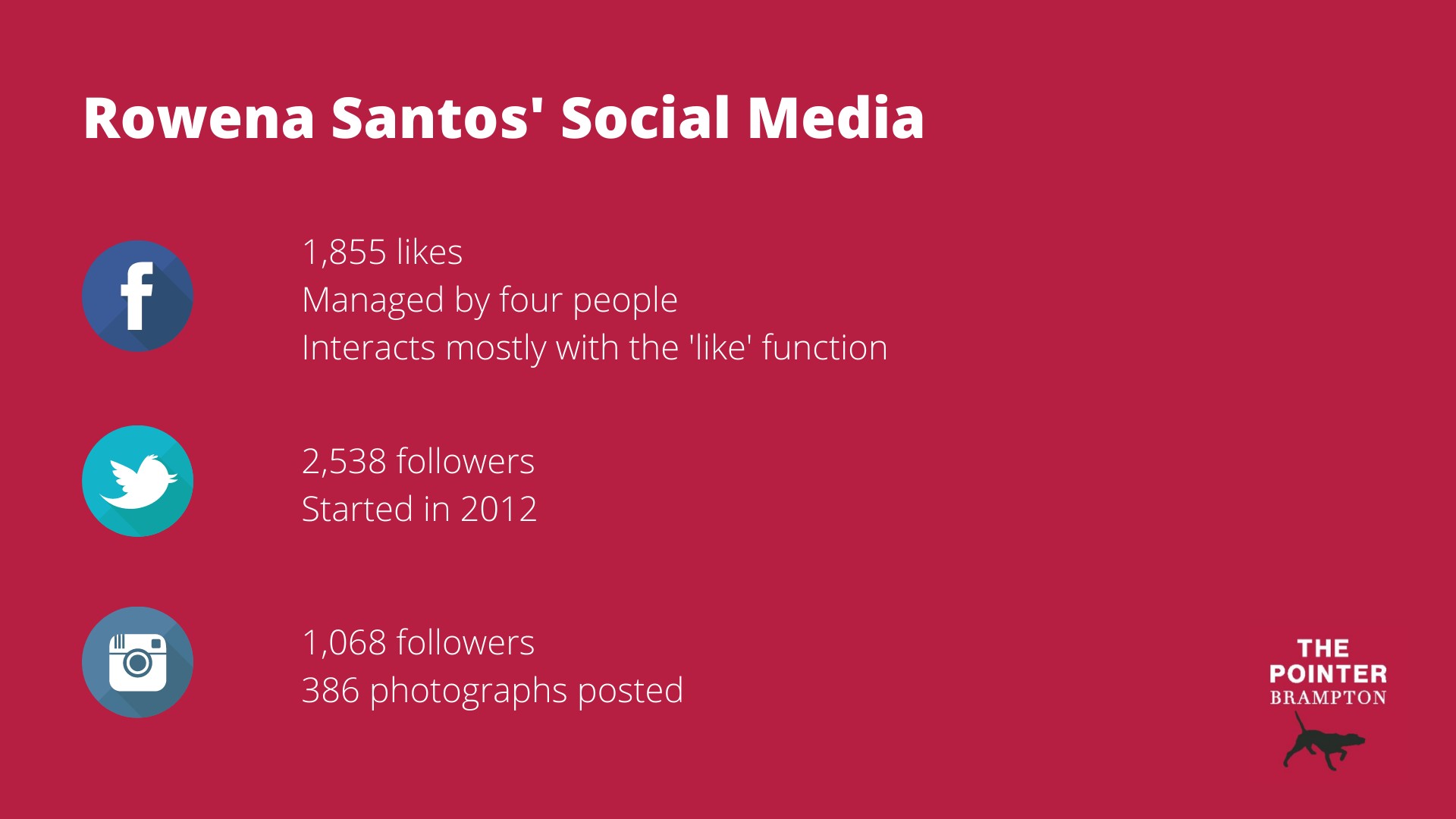 With a strong online following and a charming, intimate digital presence, Santos became a target for impersonation. Brampton Mayor Patrick Brown, who has almost 50,000 cumulative followers, was the other target of the similar fraud, which is currently being investigated by police.
Her Instagram is where her homelife is put at the forefront and her latest whereabouts are routinely uploaded. Twitter is where most of her political expression takes place; beyond the basic promotion of an event, you can see Santos denouncing the U.S. Capitol riots or calling on Premier Doug Ford to implement paid sick days. It's her Facebook that comes across as the most polished, and with little surprise – according to Facebook's page transparency feature – Santos has four people who run her official but unverified page.
When asked by The Pointer if she dedicated any staff or other taxpayer resources to her social media, Santos did not answer. She did not answer questions about her online civic engagement during the pandemic and whether she writes and creates her own social media posts herself.
It's a sign of a rookie politician. Like her selective use of social media as a representation of her public responsibilities, she rarely answers critical questions on behalf of the public about a range of decisions she has taken through her votes, and controversial topics she has been pressed on by The Pointer, are almost always avoided.
In this regard, her social media reflects a surface-level politician who doesn't seem to understand she is accountable to the public.
Her Facebook page, which can be confused with two Facebook accounts that share the same name and profile picture of Santos, was the social media platform that was used by impersonators to solicit money from residents. It's not clear if either of the accounts are genuine.

This display of entitlement can be seen in her social media, which contains numerous examples of her one-way exchange with the followers who pay her sizable salary.
In the realm of cybersecurity, which is becoming larger and a more pressing concern with the speed of technological innovation, privacy on social media is paramount to protecting one's identity. But in the public realm, what constitutes over or under-sharing? The underlying question remains: is Santos's social media the type of approach that attracts little meaningful civic engagement, but plenty of personal interest, which hackers are drawn to?
Many elected officials have been hacked or impersonated to some extent over the course of their careers.
According to the Canadian Centre for Cyber Security, impersonation of government officials has been on the rise. Imitation is impossible to stop, but having verified social media accounts and promoting them through email signature blocks and official websites can help reduce confusion and successful attempts of fraud – features that, at the time of writing, Santos doesn't employ.
She was adamant on employing secure and safe technology that can help protect constituents by detecting fraudulent accounts of local councillors. To help combat impersonation attacks, Santos said during last week's City Council meeting that an opt-in pilot project is being initiated to ensure constituents are not put at risk by efforts to impersonate councillors. A third-party service will scan the internet for possible fraudulent activity under councillor accounts using the individual councillor's expense budget, with the possibility to extend this service to the rest of the City's official social media accounts.
She might also want to think about how she uses these platforms, and whether or not her activity fits the expectations of those looking for leadership, not friendship.
---
Email: [email protected]
Twitter: @vanessabalintec
---
COVID-19 is impacting all Canadians. At a time when vital public information is needed by everyone, The Pointer has taken down our paywall on all stories relating to the pandemic and those of public interest to ensure every resident of Brampton and Mississauga has access to the facts. For those who are able, we encourage you to consider a subscription. This will help us report on important public interest issues the community needs to know about now more than ever. You can register for a 30-day free trial HERE. Thereafter, The Pointer will charge $10 a month and you can cancel any time right on the website. Thank you.
Submit a correction about this story