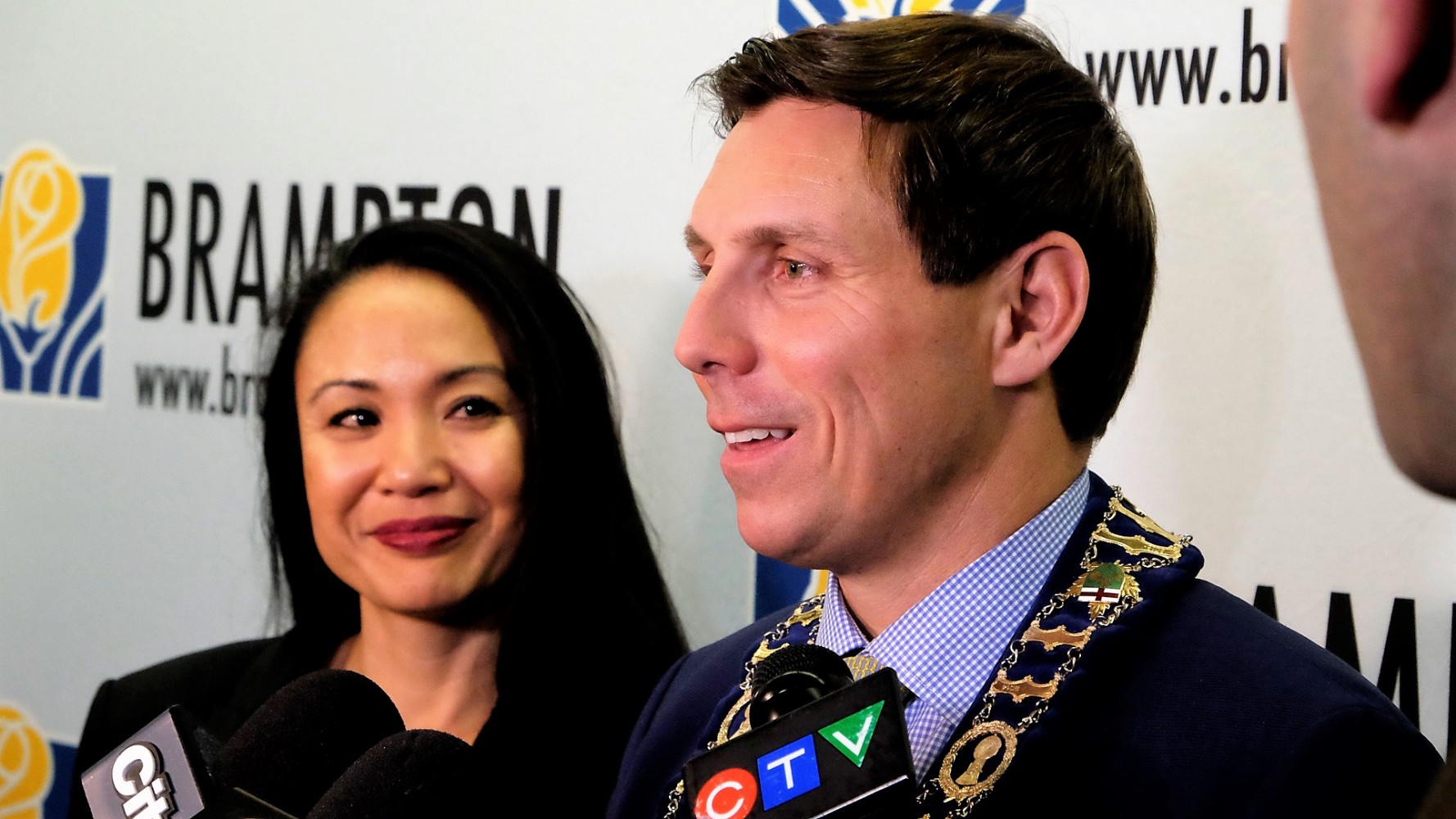 Photos from The Pointer files/Twitter/Wikimedia Commons-Kevin Leconte
Brampton staff didn't tell councillors about social media surveillance plan now raising concern over free speech
Brampton councillors want to know more about an internal City Hall email regarding a staff-initiated plan for the hiring of a private firm, without council approval, to perform social media surveillance to ensure council members are protected from potential criminal activity.
It was learned Wednesday during a Committee of Council meeting that social media accounts were set up to look like they belonged to Councillor Rowena Santos and Mayor Patrick Brown and were then allegedly used to attempt to defraud unsuspecting residents.
Peel police are now investigating the matter.
According to information, a third-party imitated their accounts and was reaching out to users, soliciting money for a processing fee to access a COVID-19 grant. Brown and Santos learned of the activity after contacts reached out to them to confirm the messages. Staff said the matter is now under police investigation but it's unclear if any charges have been laid.
Councillors are now trying to find out why senior City Hall staff, without consulting Council, decided to hire a private surveillance firm to monitor social media use.
Regional Councillor Martin Medeiros says this is a problem, given the ongoing concern about how contracts are being handed out and consultants are being hired under CAO David Barrick, who came to Brampton with a checkered past.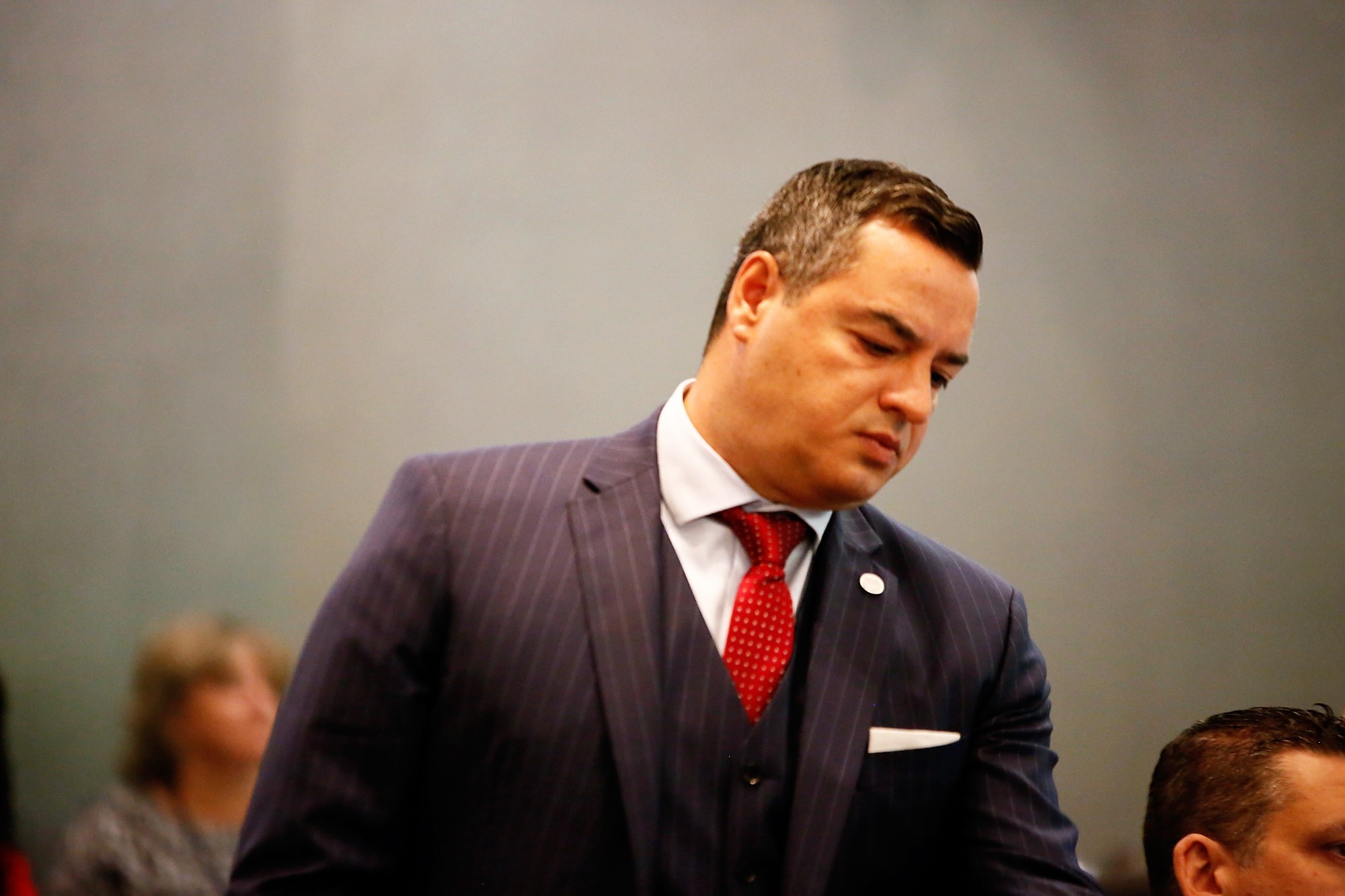 Brampton councillor Martin Medeiros
Medeiros says staff should have come to council and he doesn't even understand why this was initiated by bureaucrats since it was council members who were impacted. "What they can do and what they should do are two different things," he told The Pointer, referring to the ability of staff to engage outside firms under certain conditions and as long as the cost is below the allowable threshold that triggers the need for council approval to use public funds.
Staff said a procurement process is underway to get a contract signed, and a spokesperson told The Pointer the company being considered is an "existing and approved vendor". A name was not provided and staff did not explain how the company was chosen.
The plan was paused yesterday and, after councillors found out about it, they will now consider the staff move next week.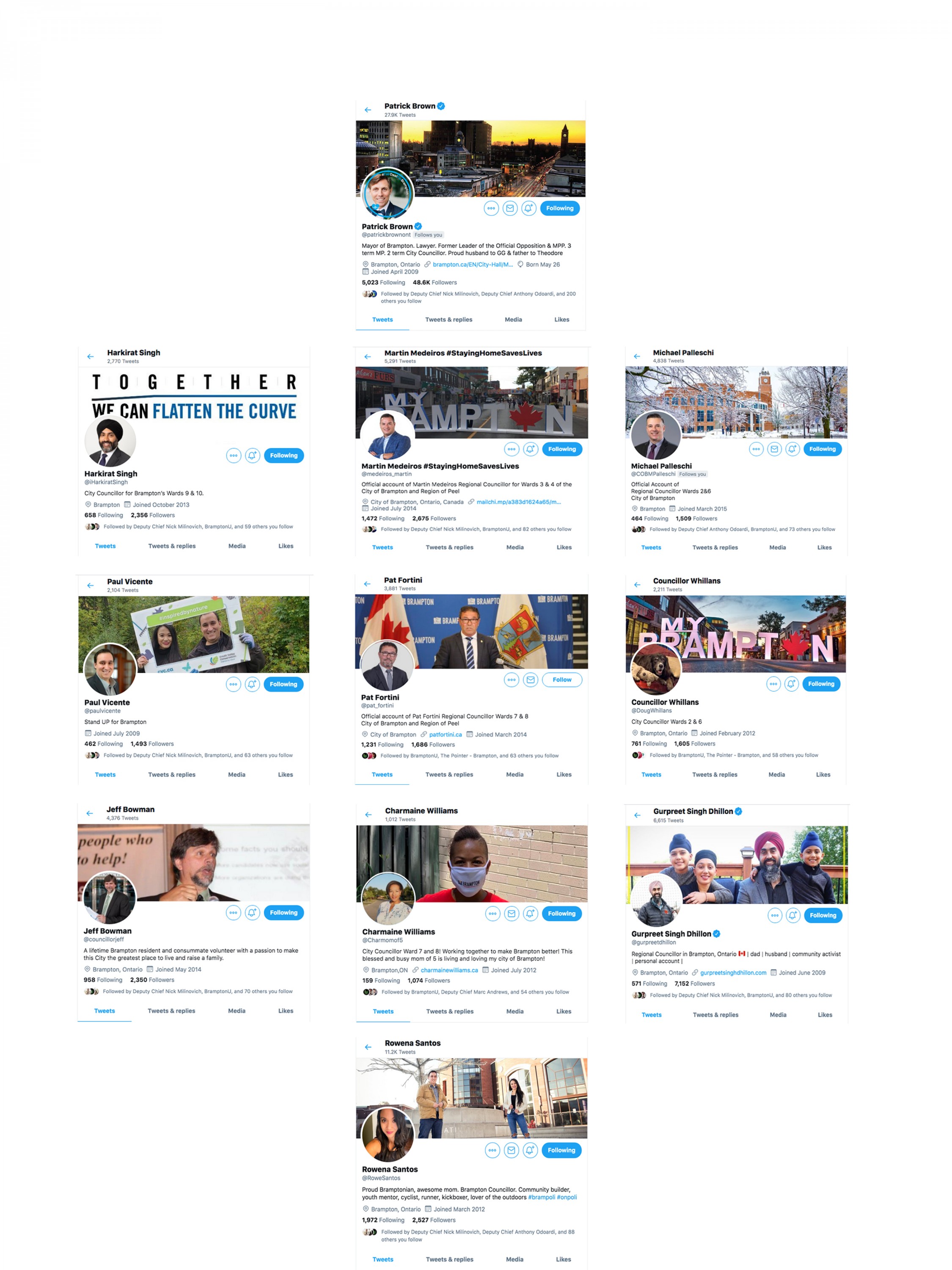 After fake social media accounts imitated real ones, shown above, and tried to appear as accounts belonging to Mayor Patrick Brown and Councillor Rowena Santos, City of Brampton staff moved to hire a firm to monitor social media for similar activity, without telling council.
Medeiros said he doesn't have a lot of confidence in what he's hearing from staff. "It seems now, everything that I hear from staff, I have to double check, investigate, question. There isn't that confidence there."
The decision to hire an external firm was made without council knowledge. Under the City's purchasing by-law, staff have the ability to enter such an agreement without council approval if the final cost is under $25,000. The surveillance contract has an $11,000 price tag. "For services that are specialized and time-intensive, it may be deemed prudent to seek a qualified third party vendor to provide," a spokesperson said.
"This is a misuse of tax money," Councillor Gurpreet Dhillon told The Pointer. He said public money should not be used to monitor the personal social media accounts of politicians.
The parameters of the surveillance the firm was set to do are unclear, it's also unclear why such work to prevent possible criminal activity wouldn't be left to police authorities such as the OPP, the RCMP or Peel police.
On top of concerns that such surveillance could create a chilling effect and curtail free speech, there is uncertainty about how a private firm might use information it gathers while conducting surveillance.
Duff Conacher, co-founder of Democracy Watch, told The Pointer it's easy for anybody to do this sort of surveillance since access to such technology isn't associated with security agencies; anyone can buy it. Even if a contract stipulates free speech rights and other constitutional protections are not to be violated, it doesn't mean they won't be, since it's done in secret. "It's something that can never be stopped, unfortunately."
The Ottawa-based group advocates for transparency and accountability in all levels of government.
Social media activity is often unethical, but Canada's Charter of Rights guarantees the protection of free speech.
The morality of online behaviour by some might be questionable but social media accounts attacking politicians are common and there's nothing illegal about them, Conacher said. "Criticism is entirely legal under the Charter, especially of public officials."
Conacher, a lawyer and former University of Toronto professor of law who specializes in good governance and the defence of democratic principles, also questioned why this wasn't discussed in the public eye and with full transparency, especially since the planned surveillance would use public funds. "They can spend money on this kind of thing if they want to, but it seems to be that they have undemocratic intent, and it's definitely a waste of the taxpayers' money."
Conacher says that if the purpose is to simply find out what accounts are out there and what is being said about members of council through such accounts, then surveillance won't impact free speech.
Ottawa-based Lawyer Paul Champ, who specializes in human rights and constitutional law, echoes this point. He argues that if the purpose of imitative accounts is to fool people into thinking they're authentic, and are misleading people on important public issues, then he believes it's appropriate for councillors to see what they can do to stop it. Anything beyond this, such as trying to get accounts shut down, will censor free speech.
Both Conacher and Champ told The Pointer they have never heard of a municipality doing this kind of surveillance.
Conacher views any attempt to chill free speech as a "wrongful" action and silencing critics is something public officials should not be doing. "Criticism is not only entirely legal and constitutionally protected, but it's also healthy and needed if you want to have democratic government." Social media platforms shouldn't be shutting down pages unless the messaging turns to hate speech, libel, or defamation, he said.
The fear is that, even if the focus of the external surveillance is to prevent criminal activity (even though this should be handled by police authorities) such work could bleed into violations of people's rights.
The Pointer asked City staff if they considered the potential impact on free speech before they engaged the private firm to do the surveillance. "The measures being considered to combat impersonation and enhance the City's cybersecurity do not infringe free speech," the City wrote in an email.
It's unclear why the plan would "enhance the City's cybersecurity" since it was politicians who were allegedly the focus of the activity now being investigated by police.
Councillors raised concern during Wednesday's committee meeting over the use of public dollars to monitor social media activity aimed at politicians, and questioned why staff, not councillors, would act on this.
Councillor Dhillon put forward a motion Wednesday for staff to work with social media platforms to verify all councillor accounts, but said it's not the responsibility of the municipal government to monitor accounts in the way staff were planning, unless those accounts are owned by the City of Brampton.
The motion received full support but Brown argued in certain instances, such as through Facebook Messenger for example, verification doesn't matter. With technology, anything can be replicated, he said. It's not clear if the mayor was referring to his own personal experience in the matter under investigation. Brown's personal Facebook account, which he uses often, is not verified. It's not clear if this was the account impacted by the imitation.
Politicians may not like it, but creating parody accounts to criticize their behaviour is perfectly legal.
Champ said it would be problematic if the surveillance staff has planned is used to monitor parody accounts that say negative things about a member of council, then information about these people was collected and used against them in the future.
If there's concern about people following the possibly criminal instructions of an account not actually associated with council members, Conacher said the way around this would be to get the accounts in question verified. The practice adds a small blue check mark next to a username, showing people the account is authentic.
Each platform has its own way of verifying accounts. Facebook, for example, asks for government-issued photo identification. Twitter, on the other hand, asks users to verify their identity with a phone number and email address.
Critics of online monitoring to protect politicians have voiced concern that to the public, these actions send a message that anything being said about elected officials might be watched and that criticism is not welcome.
Brampton staff have not explained what they mean, in justifying the surveillance plan, by concern that profiles are being imitated. In many instances, these types of social media accounts are created for the purpose of parody or criticism.
Politicians such as Ottawa Mayor Jim Watson have been criticized for blocking users who used social media to question and challenge them.
Conacher said getting an account verified is important because it can assist with ongoing issues. If members of council don't understand the significance of the little blue mark, it raises concerns for him.
Councillor Jeff Bowman also believes there are other ways to deal with legitimate concerns over social media abuse, such as setting up Google alerts on your name. Notifications are sent every time the name is used, allowing any individual to keep track of what's being said about them online.
His biggest concern is protecting the people who follow him.
Councillors, after intervening Wednesday, will address the surveillance plan at next week's full council meeting. Before then, staff will meet with each member of council individually to discuss what accounts, if any, they would like to have monitored, assuming the plan goes forward.
Members told The Pointer they were disappointed staff didn't do this in the first place, before hatching the plan and selecting a company to carry it out, without their approval.
---
Email: [email protected]
Twitter: @nida_zafar
Tel: 416 890-7643
---
COVID-19 is impacting all Canadians. At a time when vital public information is needed by everyone, The Pointer has taken down our paywall on all stories relating to the pandemic and those of public interest to ensure every resident of Brampton and Mississauga has access to the facts. For those who are able, we encourage you to consider a subscription. This will help us report on important public interest issues the community needs to know about now more than ever. You can register for a 30-day free trial HERE. Thereafter, The Pointer will charge $10 a month and you can cancel any time right on the website. Thank you.
Submit a correction about this story