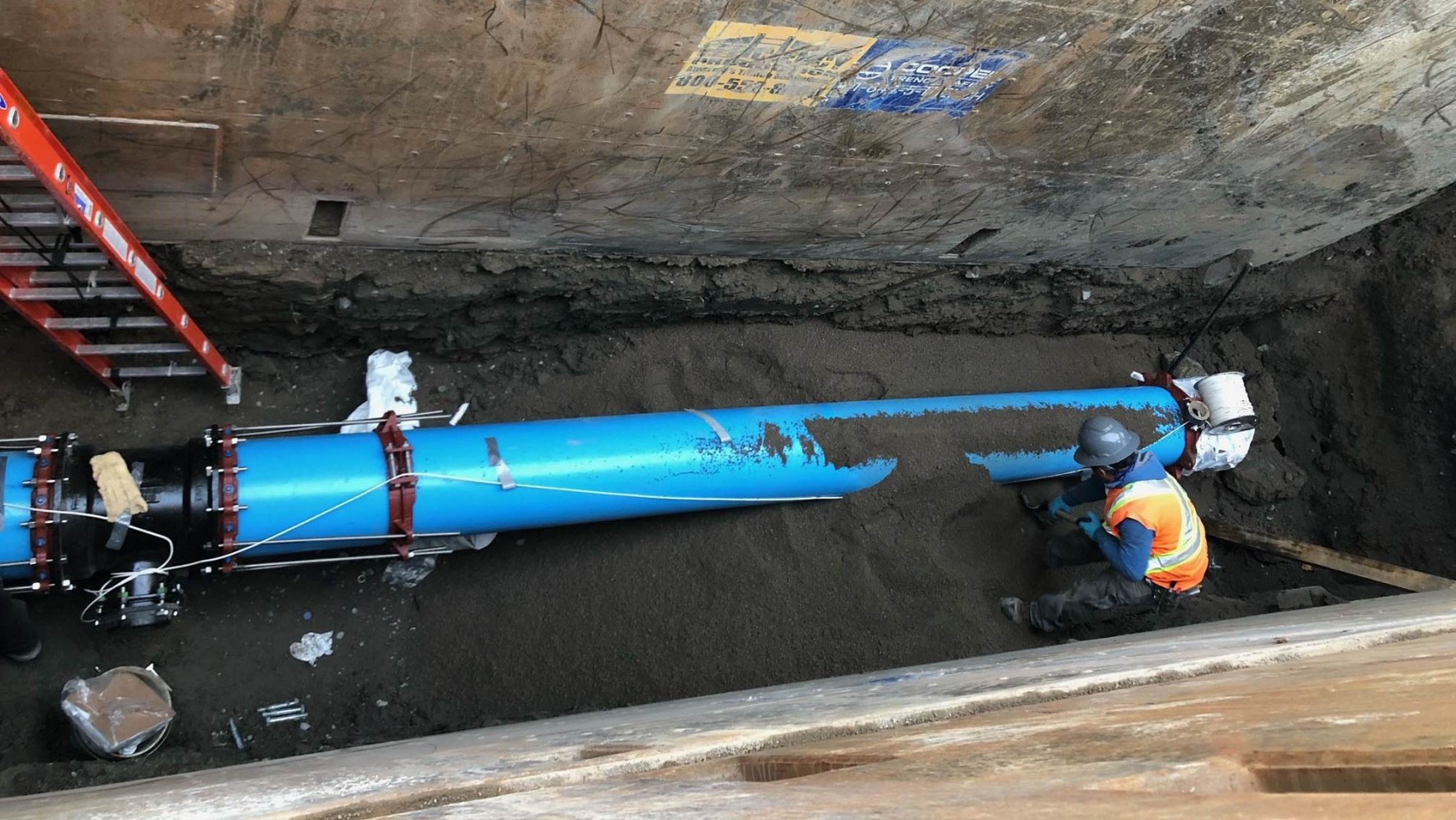 Photos from Hurontario LRT/Graphics from Region of Peel
Skyrocketing utility bills in Peel underscore how low-income residents are hit hardest by region's budgeting 
Along Hurontario Street, men and women in reflective jackets are at work. They're in the process of removing medians from Mississauga's spine route and installing new water mains that will work with the city's new light-rail-transit system, which is under construction.
It's one of the costs residents don't realize they're paying when they shower, turn on the tap or flush the toilet. According to the Region of Peel's 2021 budget, water-main work on Hurontario Street, Highway 401 and the QEW will combine to cost $37 million this year, funded by the fees residents pay when water flows. Of the total, the Region will "seek to recover" $14 million from the Province, for the project work.
Utility work underway along the route of the Hurontario LRT.
The road improvement-related costs involve many projects in Brampton, Caledon and Mississauga that draw their funds from the utility rate. Over the next decade, examples include $1.6 billion to expand sewage plants and pumping stations, almost $1 billion to expand sewers for new service growth and $62 million to expand other water facilities.
Items under this section of the budget are not funded by the property tax. Instead, a combination of user fees and development charges pay for these projects, among the most expensive the Region manages.
Fees collected from water and wastewater functions in Peel support a wide array of capital projects in the region.
For years, the utility rate in the Region of Peel has fluctuated unpredictably, oblivious to the Ontario rate of inflation. Where the property tax has stayed relatively stable, changes to the utility rate have been anything but.
As The Pointer previously reported, the cost of utilities in Peel more than doubled over the course of a decade. A $100 bill from 2010, would have cost $207 in 2020 and, with a proposed increase of 5.5 percent this year, will rise to just over $217.
In tandem, slow and steady property tax increases have been ensured by councillors keen to offer good news to residents on their re-election brochures. The skyrocketing utility hikes, which often absorb some of the property tax-supported costs, are almost never mentioned by the politicians who approve these unsustainable increases every year.
Those who can least afford these punishing utility increases are hit hardest, and many don't even own property.
During the 2020 budget process, council decisions actually pushed the utility rate higher to keep taxes low, with staff scrambling to fulfill a motion by Brampton Mayor Patrick Brown and Mississauga Ward 7 Councillor Dipika Damerla (Damerla has already announced she has been nominated to run provincially again in 2022 after losing her seat in 2018; low taxes make both more appealing to voters). They demanded the 2020 tax increase for the Region be limited to 1.5 percent. To achieve this political request, staff reduced a property tax subsidy of the utility rate, increasing the price of every drop of water on the utility bill to lower the property bill by a few cents.
So wealthy property owners were effectively subsidized by those who rent and have to pay for utility costs, including some of the most vulnerable residents in Peel.
Including 2011, the utility rate in Peel has risen annually over the last decade by staggering percentages: 9.1, 6, 7, 7, 7, 9, 5, 6.5, 6.5, 7.2 and 5.5 (if the 2021 budget is passed in its current form).
In consideration of the impacts of the pandemic, the Region says it has made every effort to reduce the utility rate increase in 2021. Rather than the 7.3 percent hike it had predicted last year, the rate is set to increase at 5.5 percent, still about three times the rate of inflation in Ontario.
"Peel's utility rate increases over the past three years have been fairly steady averaging 6.7 percent," Amie Miles, a spokesperson for the Region, told The Pointer in response to questions about the spiking costs. "Peel's 2021 proposed increase of 5.5 percent recognizes the current challenges of the community so everything has been done to lower the rate [of increase] as much as possible including offsetting part of the increase with a reserve draw."
The slight respite will be short lived, as the Region plans to hike utilities 7.6 percent next year. It is important to remember, each year's spike is not the rate, but a further increase. Five percent is better than 7, but does not negate the wild increases (and hikes far beyond the inflation rate) over the past decade. A long-term plan to smooth the choppy increases and add some predictability, originally considered for 2022, will not be brought into place until 2024.
In order to close Peel's water infrastructure gap, a 5 percent increase is baked into the 2021, 2022 and 2023 utility rate increases, regardless of other factors.

The Region of Peel also expects to see large utility rate increases in 2022 and 2023.
"We need to get a better handle on smoothing those utilities rate increases going forward … we just have not been really consistent," Mississauga Ward 9 Councillor Pat Saito said in 2019, before approving a 2020 budget that did the complete opposite. Mississauga Ward 2 Councillor Karen Ras and Ward 3 Councillor Chris Fonseca echoed Saito's sentiment, asking for a fixed or more stable variable utility-rate increase to be put in place for future years.
Their comments preceded the removal of a $2.4 million property tax-supported utility subsidy, pushing the increase from 6.3 percent to 7.2 percent. The same trick has been employed voluntarily by regional staff in 2021, finding tax savings by removing $1.6 million from a property tax subsidy for the utility rate.
The decision to remove this subsidy makes up one third of all base pressures causing the 5.5 percent utility rate increase. In total, $1.8 million in pressures comes from inflation, another $1.7 from changes at the Ontario Clean Water Agency, with the final $1.6 million an entirely self-inflicted charge that comes as a result of looking after property owners before those who pay utilities (many do both, but plenty of landlords pass the water bill to tenants).
It means more funding will be shifted from a relatively progressive tax base to the regressive utility rate. The amount of property tax paid by residents in Peel is determined by the value of that property. Renters don't pay property tax rates (with rental increases capped by the Province) and those with less valuable assets pay less. The system isn't perfect, small business owners and seniors on fixed incomes are two categories of residents who would take issue with it, as property owners who pay more tax are handsomely rewarded by the increased asset value of homes, largely due to the desirability of areas funded by property taxes. Across Peel, home prices, and therefore the amount of equity created for owners, has far out-paced property tax increases over the past decade. So the rich get richer.
According to real estate site Zola, for the four weeks ending January 25, the average sale price of a three-bedroom home in Mississauga was about $1.3 million, a 26 percent increase from the same period a year ago. The overall property tax increase from 2020 to 2021 will be around 2 percent.
Utility rates, regardless of income and personal assets, are paid by residents based on their water use and those who rent are often forced by landlords to cover this cost on the bill, instead of having it factored into annual rental increases, which are also paid.
There are few parallels for this system. Transit companies offer concessions for low-income or school-age passengers, while essential groceries are exempt from the harmonized sales tax. But the rate paid for water — a fundamental human right recognized by the United Nations — is unflinching.
To make the situation even harder for many residents to swallow, the budget the utility rate contributes to is vast. It doesn't just fund the costs of getting water into your taps on a given day, it takes into account the long-term costs of every piece of infrastructure associated with delivering and disposing of water.
In total, the utility rate supported capital budget for 2021 is $590 million, compared to a property tax supported capital budget of $345 million. The trend remains similar into the future, with 36 percent of the capital budget in the tax-supported category and 58 percent (or $6 billion) under the utility-rate supported category across the next decade. A network of rapidly aging water and wastewater pipes that crisscross the region are at the heart of the costs, meaning current water users are now paying to replace pipes developers paid for decades ago as cities were being built.
Utility fees will support more than half of the Region's planned capital projects over the next decade.
The fluctuation in utility rates over the past few decades bears significant responsibility for this. If rates had been left relatively even, and not reduced in good years or pushed erratically upward in bad ones, rainy day funding and state-of-good-repair reserves would be healthier, meaning current residents would pay mainly for the resources they use, not to plaster over old mistakes when replacement and repair costs were not responsibly budgeted for.
It is unclear why significant portions of this aging infrastructure would not be supported by the property tax's more progressive assessment formula which should force those residents whose property values increase the most, to pay the most for all the services and features their assets benefit from. The Region appears to be heading in the opposite direction with its $1.6 million reduction to the tax-supported subsidy which will now be added onto the utility bill.
Responding to questions, the Region says its utility costs are the lowest in the GTA. But it's unclear, from their figures, what the unit cost comparison would be and if a range of socio-economic factors were considered, such as how much the average utility-bill payer in Peel waters a garden and lawn, compared to one in Halton, for example.
Nonetheless, staff are clearly proud of the numbers they used, featuring them several times in the 2021 budget document.
While it might be comforting to read, the comparison does not negate the wild fluctuations residents have seen in their water bills over the past decade or the inequity supporting billions of dollars worth of infrastructure through the utility rate can cause. And if increases continue at recent rates, the Region might not want to show the comparison in the future.
"Peel Region residents can be assured that their property tax will remain affordable and utility rates will remain the lowest in the Greater Toronto Area," the budget document reads.
A look at Peel's utility cost compared to surrounding municipalities.
"The utility rate bill supports both the operations and capital intensive nature of the water and wastewater services," Miles explained. "The utility bill supports the annual reserve contributions to fund the 20-year Capital Plan. It also funds the resources to operate the program which would include system maintenance, electricity and chemical costs, staffing costs to operate the plants/ facilities and to ensure that changing regulations are met including updating operations."
It was not included in the Region's response, but $16 million from the utility bill will also go toward conservation authorities in 2021. This is another cost that could be shifted to the property tax bill, if there was the political will to do it. The utility rate is almost never mentioned in election campaigns, but the property tax rate is often the biggest issue.
Away from the issue of fairness, there are other potential pitfalls related to an over reliance on user fees. With advances in water-saving technology, more efficient building practises and increased environmental awareness, the amount of water being used per household is dropping.
In 2017, residents embraced water saving strategies, significantly reducing consumption. This good news was tarnished by a fear within the region that falling usage could drastically reduce revenues and lead to either a property tax impact or a further rise in the utility rates.
Compared to the property tax base, utility rates are an unpredictable way to raise funds.
"Peel's utility rate costs are primarily fixed (80 percent) as the service is infrastructure intensive so there is little ability to reduce operating costs when billed volumes decline," the budget explains. "Consumption is reviewed each year and adjustments are made when necessary to Peel's budgeted flows."
With days of discussion scheduled for the 2021 budget and low-income residents in Peel most vulnerable during the COVID-19 pandemic, councillors will have an opportunity to address the inequitable trend. Each will be given a chance to ask staff if safeguards can be put in place for vulnerable residents or if there are long-term infrastructure plans that could be based on a more reliable strategy.
If they choose not to, Brampton, Caledon and Mississauga locals will have to wait until at least 2024 to see any guarantee of stability brought into their utility bills.
---
Email: [email protected]
Twitter: @isaaccallan
Tel: 647 561-4879
---
COVID-19 is impacting all Canadians. At a time when vital public information is needed by everyone, The Pointer has taken down our paywall on all stories relating to the pandemic and those of public interest to ensure every resident of Brampton and Mississauga has access to the facts. For those who are able, we encourage you to consider a subscription. This will help us report on important public interest issues the community needs to know about now more than ever. You can register for a 30-day free trial HERE. Thereafter, The Pointer will charge $10 a month and you can cancel any time right on the website. Thank you.
Submit a correction about this story