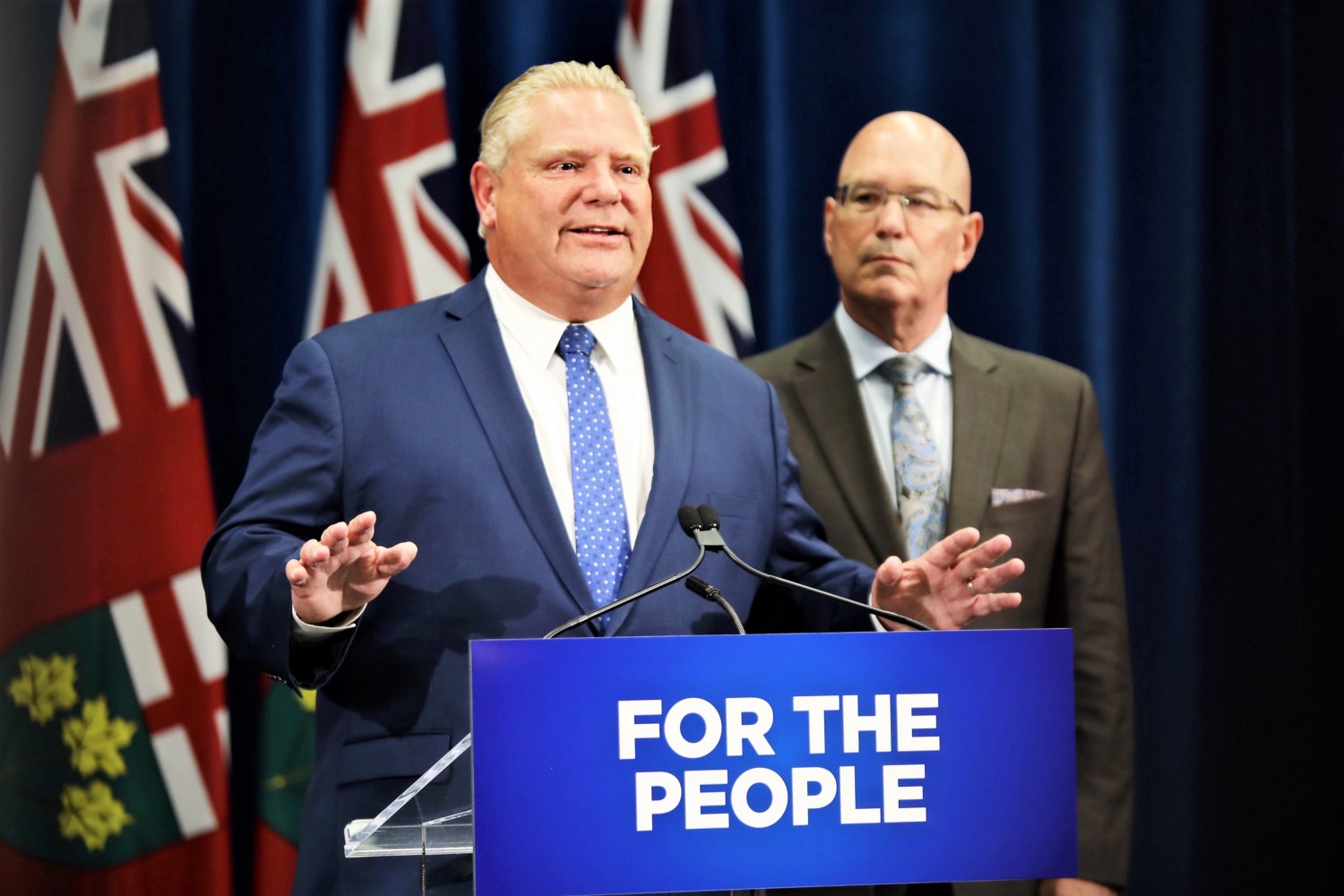 Photos Fiat Chrysler/Twitter-Government of Ontario/Screengrab Twitter-Andrea Horwath
Ford's refusal to guarantee paid sick days for essential workers harming Peel's vulnerable labour force
Returning to work after layoffs in the first wave of the pandemic was daunting for Brampton resident Nathan Aitken. Between managing his asthma and fibromyalgia, and having just welcomed a newborn at home, COVID-19 was a significant risk due to his serious underlying conditions.
As a welder, Aitken said there was some peace of mind in knowing his mechanic-grade respirator and uniform provided an added layer of protection at the Milton auto-industry plant where he works.
"I'm just very diligent about…how I do my job, cleaning and everything else, but it's definitely something I worry about all day," Aitken said. In the building, floor markings indicate the pathways for workers to follow to promote safe distancing, and staff are also asked to sanitize their stations every four hours.
Despite the protocols, Aitken said he's concerned about the diligence of individual workers, especially those like him with no paid sick days. "I've never gotten that. If I call in sick, I don't get paid," he said.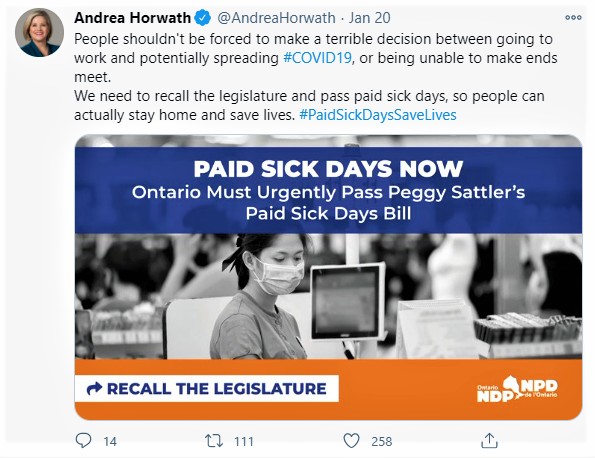 Toronto's medical officer of health, Dr. Eileen de Villa, has joined the Opposition NDP, labour unions and other increasingly frustrated voices across the province calling for paid sick days. She characterized them as "essential" protection during the pandemic in a report two weeks ago and called for the ruling PCs under Premier Doug Ford to legislate five permanent paid sick days, and 10 during a pandemic like the one causing the current public health crisis.
Ford continues to ignore the pleas, claiming there's "no reason" for sick days. He has said the Canada Recovery Sickness Benefit program, and its $500 weekly payout (with a maximum of two weeks) to sick workers is enough for Ontario's frontline employees. He has repeatedly said he would do anything to support these heroic residents who have kept the province running throughout the pandemic.
From the early second-wave public health restrictions to the current stay-at-home order, little has changed for essential workers who continue to show up on the frontline, said Tim Deelstra, a spokesperson for the United Food and Commercial Workers (UFCW) Locals 175 and 633, which represent about 70,000 members in the province.
Data included in the 2016 Census provide a picture of Peel's labour force that shows why the region has been particularly hard-hit by viral spread among the essential work force.
The sector that employs more Peel residents than any other is manufacturing, including jobs that are deemed essential to keep supply chains running and the flow of needed products uninterrupted.
Some 90,000 Peel residents worked in the sector, according to the Census figures. Other job categories that also include large numbers of essential workers are also heavily represented in the region's labour force: There were 69,920 residents working in transportation and warehousing; 59,270 in healthcare and social assistance; 44,755 in construction; and 42,205 in accommodation and food services.
Labour unions like UFCW have been calling on the government to implement more robust protections to mitigate the spread of the novel coronavirus at essential workplaces, including paid sick days as part of the Employment Standards Act and priority vaccine access for those workers most at risk. For many who may be experiencing minor symptoms, the risk of losing pay or even their job, is enough to keep them going to work, potentially putting their colleagues at risk.
"Even before the pandemic, we were very critical of the Ford government, that one of the first things they did upon getting elected was removing the two paid sick days" from the Act, Deelstra said. He points to former Progressive Conservative party leaders, Toronto Mayor John Tory and Brampton Mayor Patrick Brown, as being vocal supporters for sick leave. "They're now seeing the need for their constituents," he said.
Mayor Brown is spearheading a campaign and motion – endorsed by Mississauga Mayor Bonnie Crombie – at the Large Urban Mayors Caucus of Ontario and GTHA Mayors group to advocate for higher levels of government to support better sick-day policies. He told Brampton city council on Wednesday the provincial and federal governments would be discussing the issue in a conference call this week. "I hope that there's going to be a mechanism that can be found to bring this to the table," he said.
Some of Peel's largest employers include Maple Lodge Farms, Fiat Chrysler, and PepsiCo Foods Canada, as well as airport-related warehouses and businesses, including airline food catering company Gate Gourmet Group Inc., in Mississauga.
In April, Maple Lodge Farms suspended operations at its Brampton poultry plant after three cases of the novel coronavirus were identified in the facility. At that time, there were about 2,864 confirmed and probable cases of infected residents throughout the Region, with about one-fifth of them in long-term care homes.
Now, there have been almost 53,000 confirmed and probable cases in Peel since the start of the pandemic, along with 204 outbreaks, according to the Region's January 22 epidemiological summary and its most recent data. In the 14 days up to January 21, 232 cases were reported as being linked to a workplace outbreak. The region's test positivity rate fell to 11.9 percent for the week that ended January 16, down from 13.8 percent the previous week. Anything above 2.5 percent in a jurisdiction suggests viral spread is not under control.
Peel's weekly incidence rate, which has consistently been the highest of all Ontario regions since early in the pandemic, decreased slightly to 247 positive cases per 100,000 residents for the week that ended January 16, compared to 262 the previous week.
Once the current emergency order is lifted, to be moved down through the grey-lockdown and red-control categories and into the Province's orange-restrict category, under Ontario's COVID-19 reopening framework, a region's incidence rate has to be below 40 cases per 100,000 residents.
Of the federal government's $19-billion Safe Restart Agreement, about $1.1 billion is dedicated for helping workers through the Canada Recovery Sickness Benefit. It has been criticized by some advocates who say that narrow eligibility criteria, including the requirement of an at least 50 percent reduction in income in the prescribed period, while only $500 per week is offered for a maximum of two weeks, leaves many without proper support.
"Paid sick days are necessary. Continuing to lob things off to the federal government is not acceptable. We need people to know that they can immediately take time off, make the right decision, and not have to worry that their next pay packet is going to be short," Ontario NDP Leader Andrea Horwath said at a media conference Tuesday. She urged the premier to call Ontario MPPs back to the legislature to advance a private member's bill introduced last month by Peggy Sattler, opposition critic for employment standards. Following the current winter break, Queen's Park is set to resume business in mid-February.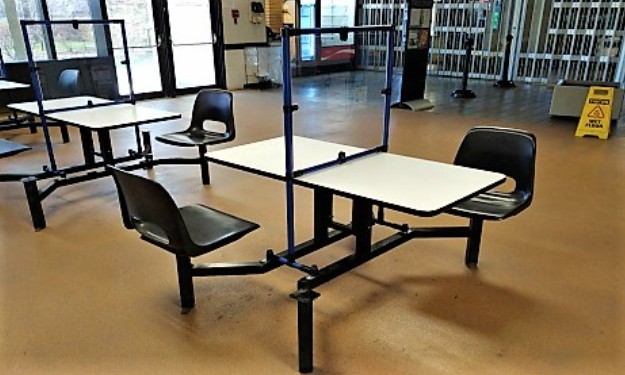 Factories such as Brampton's Fiat Chrysler assembly plant, above, have installed safety measures for workers, but the PCs have failed to provide guaranteed paid sick days to protect them.
Among proposed amendments to the Employment Standards Act in Bill 239 (the Stay Home If You Are Sick Act) the NDP are tabling the requirement of 14 paid sick days instead of "unpaid leave in situations related to declared emergencies and infectious disease emergencies."
In Brampton, in addition to the risks facing essential workers in the City's prominent manufacturing, transportation and food processing sectors, non-unionized workers face even more precarious conditions.
"They should be confident enough that if I'm feeling any symptoms, right away, I go [get] tested, and I sit at home…I don't have to worry about three or four days that I lose or how I eat, or how I will pay my bills. That should not be the thing to worry right now," said Gurbaaz Sra, a community advocate and team member of Humans in Brampton, a social media campaign calling attention to the plight of essential workers.
Sra, a mechanical engineer, has heard dozens of stories from members of the South Asian-Canadian community in Brampton who also fear professional reprisal for speaking out, and share their experiences anonymously with Humans in Brampton via their Instagram and Twitter. Despite the reach of social media, Sra said digital literacy among new immigrants remains a barrier for accessing updates about the local COVID-19 picture and public health guidance.
"The information is changing rapidly…so that needs to be understood," he said. "To capture that, they need to make sure that the messaging reaches everyone."
Language barriers can also affect workers who are trying to advocate with their employer for further protections.
"In certain cases…they are not really able to express their demands fully because a lot of workers in the warehousing industry are new immigrants to this country," said Gagandeep Kaur, a postal worker and an organizer at the Brampton-based Warehouse Workers Centre for Peel.
Social distancing concerns within warehouses is another common concern, said Kaur, who has worked in warehouses for the last 12 years and with the Centre when it launched last January.
"Employers are not doing enough to protect the workers, we know with this new variant of COVID-19 that spreads like crazy…people are scared," she said.
In Mississauga, a recent outbreak at the International Mail Processing Centre, also known as the Gateway Postal Facility located at Eglinton Avenue and Dixie Road, resulted in a total 182 postal employees testing positive for the novel coronavirus as of January 1, Canada Post confirmed in a statement to The Pointer. Rapid tests were used on-site to identify new cases.
Responding to The Pointer at a Mississauga press conference on Wednesday, Peel's Medical Officer of Health, Dr. Lawrence Loh, explained how rapid tests have been deployed in the community but did not detail where, specifically, this has been done.
"The idea would be to try to deploy things in a bit of a concentric circle, around the cases and clusters that have been initially identified," he said.
For Nathan Aitken, the option of on-site rapid testing at his auto-sector plant, complemented by an app-based pre-screening protocol to pass through the security checkpoint, and frequent temperature checks, are "good standards and practises to keep things safe, and keep people safe," he said.
While the advocacy around paid sick days continues in Peel, Aitken is facing work precarity on another front, in his role as a hip-hop and R&B emcee and producer under the moniker TempoMental. He previously toured Ontario and did a small project in Japan right before the pandemic, relying on show and merchandise revenue to fund his art. He is holding back his latest music to release it when touring will be possible, but did one show when some venues could reopen, between the first and second waves.
Aitken appeared behind a large plastic screen, with a barricade between the stage and audience, with masks mandatory inside the venue, likening the show to a jazz club experience.
"I'm a hip-hop dude so everybody usually crowds the stage and jumps around, and we really can't do that now," he said.
---
Email: [email protected]
Twitter: @LaVjosa
---
COVID-19 is impacting all Canadians. At a time when vital public information is needed by everyone, The Pointer has taken down our paywall on all stories relating to the pandemic and those of public interest to ensure every resident of Brampton and Mississauga has access to the facts. For those who are able, we encourage you to consider a subscription. This will help us report on important public interest issues the community needs to know about now more than ever. You can register for a 30-day free trial HERE. Thereafter, The Pointer will charge $10 a month and you can cancel any time right on the website. Thank you.
Submit a correction about this story