Photos from The Pointer files/Unifor Local 1285/CD Howe/Flickr-Marcin Wichary/City of Brampton
Care for our essential workers is less than adequate as Peel's COVID numbers skyrocket
Sunday morning, Ontario's Health Minister tweeted out the latest COVID-19 daily infection counts, and the figure for Peel was shocking: 289 new cases.
That's by far the highest daily number for the region yet, and is part of an alarming recent trend in an area that's one of Canada's worst hotspots.
By comparison, on the same day, Toronto, with double the population as Peel, had 309 new cases.
As the crippling disease becomes a worse threat than ever, are officials doing enough to keep essential workers, who prevent our society from spiraling completely out of control, safe?
Peel's labour force lost more than 86,000 service sector positions in the second quarter of 2020. The drop was led by job losses in food services and trade and were impacted because of the spread of the novel coronavirus.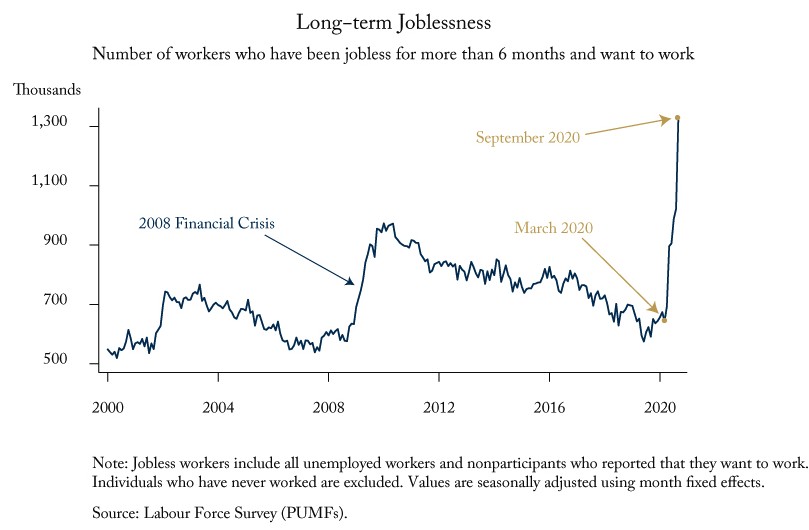 The COVID-19 pandemic has led to an unprecedented number of people out of work, surpassing even the 2008 financial crisis.
The loss is far greater than in previous years, but thousands of Peel residents still work in the service-producing sector, deemed essential since the onset of the pandemic. A large concentration of these businesses exist in Mississauga and Brampton.
People filling such positions are required to be on the floor. While thousands of employees set up a workstation at home, many others labour in situations where the spread of the virus is a major concern. To keep workers safe, many companies have taken strict health measures. But outbreaks still occur.
Public knowledge on how many cases and outbreaks occur in these workplaces is unclear and it's possible this information will never be shared. Workplace outbreaks will only be identified if there is a risk to the public, Dr. Lawrence Loh, Peel's medical officer of health, has explained on numerous occasions.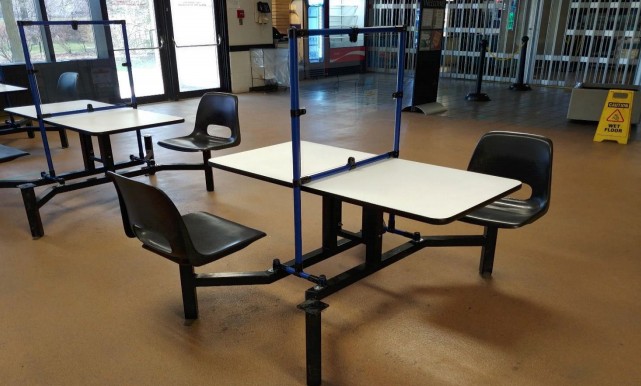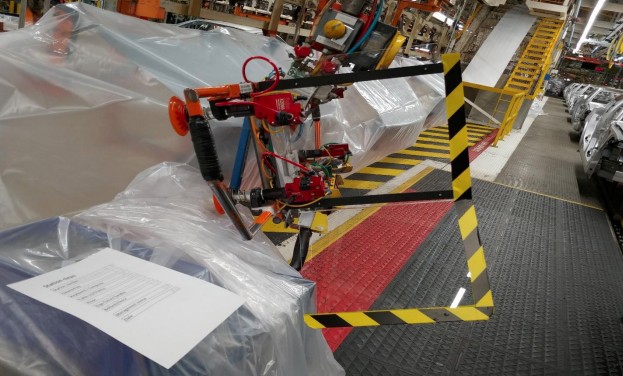 Many companies, including Brampton's Fiat/Chrysler assembly plant (above), have installed safety dividers to try and limit the spread of the novel coronavirus and protect employees.
Dr. Monica Hau, the Region's associate medical officer of health, said not naming businesses publically is partially done to ensure Peel Public Health (PPH) gets the cooperation of businesses when investigating outbreaks.
"Unfortunately, in our past experiences, some employers have been reluctant… to cooperate with us because they are concerned that their workplace might be closed and that their business might suffer as a result," she said at a September 10 Regional Council meeting.
So far, PPH has remained tight-lipped, despite numerous instances of outbreaks. One of the most recent, and perhaps largest, occurred at a Mississauga manufacturing facility in September, when there were 60 confirmed cases; a majority of them were Brampton residents.
Provincial guidelines state the public does not need to be informed if a workplace outbreak occurs. It states: "Declaration of the outbreak for public health and surveillance purposes, including issuing a public health alert to other PHUs, does not necessitate public reporting/communication of the outbreak."
The prevalence of such outbreaks raises questions about how PPH can ensure no case acquired in a workplace makes it back to an employee's home, where it has the opportunity to spread further, and even out in the broader community.
According to Peel's latest weekly epidemiological update, these two categories are leading the case count with household or close-contact settings accounting for 57 percent of all cases in the region and community spread accounting for 22.7 percent.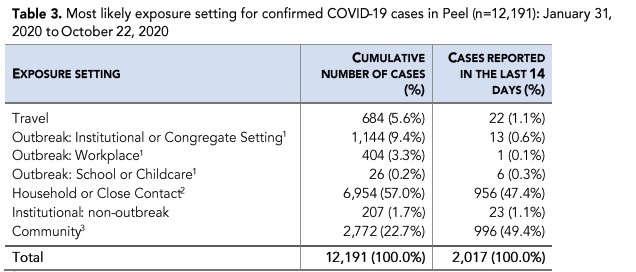 At an October 21 press conference, Dr. Loh praised the work of the region's contact tracing team in piecing together where an infected individual has been for the last two weeks. If they determine a case from a workplace did not lead to public exposure, it will be kept confidential among officials, the infected individual and their workplace.
In most cases, contract tracers are relying on human memory, and because of that, Dr. Loh said he cannot guarantee cases from workplaces haven't led to spread in other settings.
"As our investigations rely heavily on the memory and recollection of residents being assisted, around their comings and goings over two weeks, absolute certainty is not a possibility."
At the press conference held two weeks prior, Loh said employment in the region can be a concern for the spread. "Employment also drives disparity for many of our residents who often work in large places that are not open to the public, and where if precautions are not taken, these jobs that cannot be done from home, can lead to spread."
Peel's chief medical officer of health, Dr. Lawrence Loh.
One of the only workplace outbreaks that has been publicly identified occurred at Maple Lodge Farms in Brampton. Reported in May, 28 employees were impacted and one person died, Tim Deelstra, a spokesperson for United Food and Commercial Workers Union Locals 175 and 633, told The Pointer. The union represents people in retail, grocery and healthcare sectors in Ontario, including employees at Maple Lodge Farms.
Given the nature of the work environment at the processing plant, people have to operate very close together, Deelstra said. The union is continuing to advocate that line speeds be slowed down and people separated, while also ensuring other protective steps be taken, and personal protective equipment be offered to all employees.
Deelstra believes the union and this specific employer have a "good working relationship," and added, they're "fairly transparent" when cases occur. Maple Lodge has worked with the union to protect employees and avoid outbreaks from occurring.
But it's unclear what's being done to support companies across the region and other parts of the GTA where Peel residents do essential work.
Loh has pointed out that cases among Peel residents include those that were contracted outside the region, possibly leading to community spread here.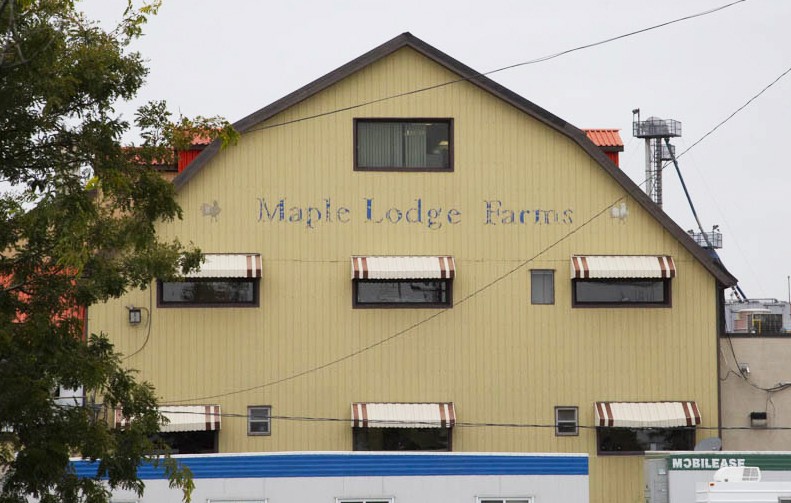 The union representing employees at Brampton's Maple Lodge Farms processing facility has advocated for multiple measures to try and protect workers including slower line speeds and proper PPE for all employees.
As COVID numbers in Peel have jumped dramatically over the past week, controlling the virus will demand that essential workers be protected. Along with the 289 cases Health Minister Christine Elliott reported in the region yesterday, on Saturday she announced Peel had 170 cases, and on Friday she reported 186 Covid-19 cases in the region.
This is by far the highest three-day total since the pandemic began.
Deelstra believes more should be done to protect workers and prevent viral spread, including providing pandemic pay. Some companies took steps at the beginning of the pandemic to make sure employees have enough money to keep themselves safe, but many, like Loblaws, have since pulled that pay. This has left him frustrated, because the virus is only picking up momentum in its second wave, which is pushing hospitals to capacity and wreaking havoc on local businesses. The Province is currently responding to the second wave, and Peel is one of a handful of hotspots in Ontario currently in a modified return to Stage 2, which has shutdown all indoor dining, among other restrictions.
"We all need to eat. So the work that people like the folks at Maple Lodge Farms or a Loblaws store or a Metro store do is very important to us as a society. We need these folks. We do believe that should be recognized on a go forward basis by these employers," said Deelstra.
At Maple Lodge Farms, an incentive program was in the form of items, such as gift cards or food products up to the value of $50, with the incentive changing every week. Employees with children were also offered $40 per child, per week, to help with child care costs. The incentives started when emergency orders were declared, and ended in June.
The union is now pushing for a direct wage increase. When asked, Deelstra didn't offer a specific amount, noting the potential increases might be different between industries.
In recent weeks, new cases at the Brampton Maple Lodge plant have been detected. One occurred in September and two cases were reported October 22. Deelstra could not confirm if the cases came from the workplace.
An agreement with the company allows employees who are impacted by the virus and need to isolate access to the short-term disability plan. While some large companies have offered their employees testing, this is not the case with the Brampton food processor, and testing has to be done on an employee's time.
Before the Province changed regulations earlier this month requiring testing through online bookings, long lines at screening centres were the norm. This has been a major problem in Brampton which only has one assessment site, at South Fletcher's Sportsplex. While testing is also offered at the Cold and Flu Clinic at Peel Memorial, it's only open for those who have moderate flu symptoms. The clinic opened its doors two-weeks before the Province implemented testing changes at its official assessment facilities, which are currently only screening those with COVID-19 symptoms (or others with special considerations).
Residents who do not have symptoms can book a test at one of the 17 private pharmacies in Brampton and Mississauga offering the service under a deal with the Province to bring more screening to hotspots.
At another large employment space in Brampton, Amazon offers employees diagnosed with COVID-19 up to two-weeks paid time off to isolate. This is in addition to other time off options, such as vacation days. A spokesperson was not able to provide details on how many employees have been impacted by the virus in total, but The Pointer learned cases have been confirmed at two Amazon fulfillment centres in Peel. The location at 6363 Millcreek Drive in Mississauga last had infected individuals on site October 12. The facility at 8050 Heritage Road in Brampton had cases October 2. The spokesperson said COVID tests are being piloted "at many of our sites," but none of them are in Canada.
Questions were also sent to Fiat Chrysler in relation to its massive Brampton plant on Williams Parkway where almost 4,000 workers are employed. A response was not received ahead of publication, but the company's website outlines a number of safety measures, including daily cleaning and temperature checks for employees.
While some of these larger companies have guidelines for their employees and other perqs, many smaller businesses in Peel do not.
---
Email: [email protected]
Twitter: @nida_zafar
Tel: 416 890-7643
---
COVID-19 is impacting all Canadians. At a time when vital public information is needed by everyone, The Pointer has taken down our paywall on all stories relating to the pandemic and those of public interest to ensure every resident of Brampton and Mississauga has access to the facts. For those who are able, we encourage you to consider a subscription. This will help us report on important public interest issues the community needs to know about now more than ever. You can register for a 30-day free trial HERE. Thereafter, The Pointer will charge $10 a month and you can cancel any time right on the website. Thank you.
Submit a correction about this story