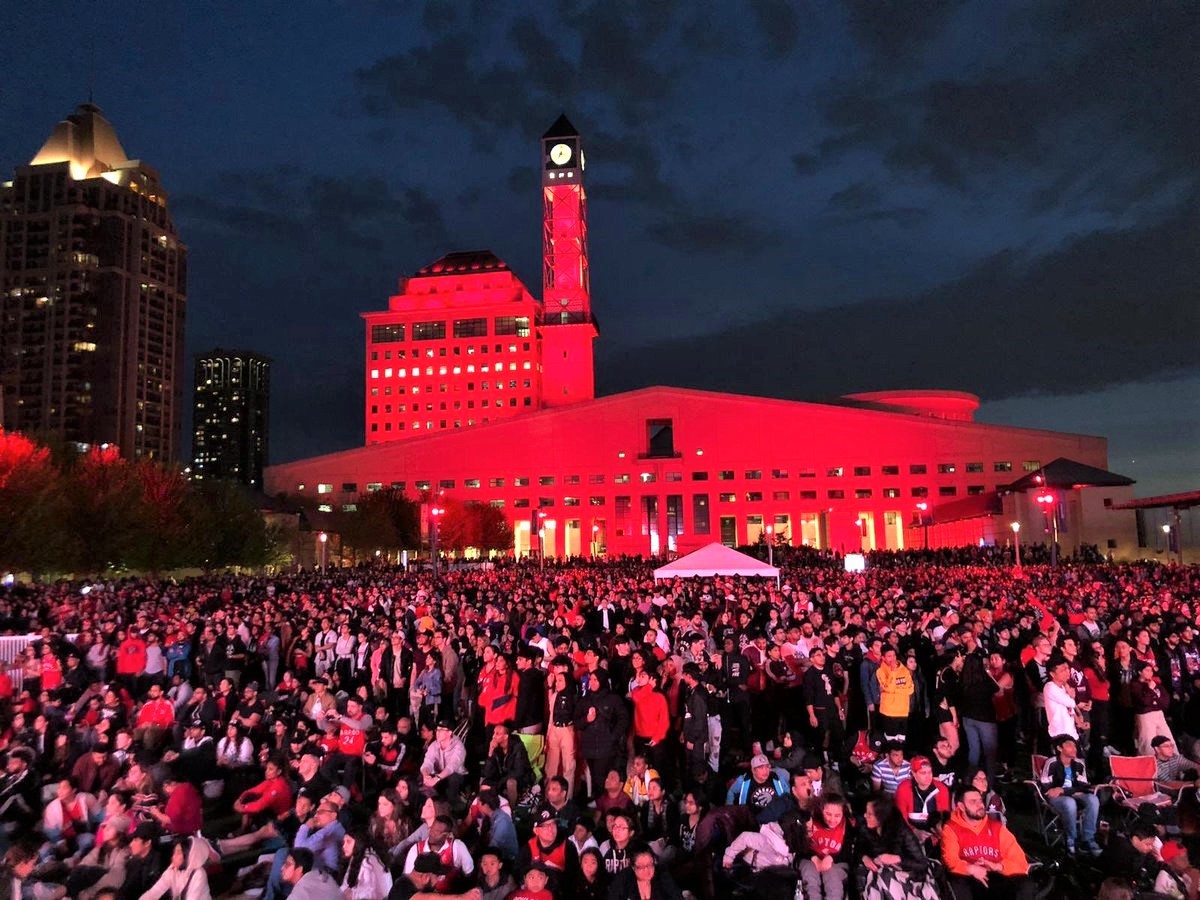 The Pointer file photos/Twitter/Mississauga Steelheads/GT20
Swing and a miss: What's the future of sports in Peel?
All cities have instant identifiers, those totems that separate one community from another. Sometimes it's a building, a museum, a body of water or a unique downtown.
It's quite often a sports franchise.
What would the tiny hamlet of Green Bay (pop. 100,000) be without its legendary Packers, the only community owned team in the NFL? How bare might Toronto be without its Raptors, Leafs or Jays?
At the next level are smaller cities like Sydney, Nova Scotia or Brandon, Manitoba, where the WHL's Wheat Kings are deeply ingrained in the city's cultural identity.
Mississauga and Brampton are tweeners, major cities with minor-league teams.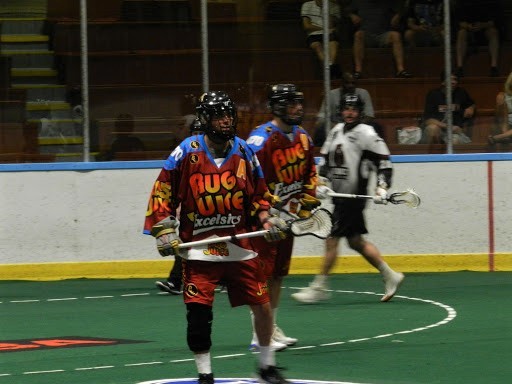 The Brampton Excelsiors are leaving the city after almost 150 years.
The latter is home to the fabled Senior A Excelsiors, a lacrosse franchise holding the title as longest-running amateur community-owned sports franchise in Canada – perhaps North America.
At least it was, until taken over by American businessman Joe Norton. This slow transfer from local to foreign ownership began in 2017 and culminated in a recent announcement that he – with the blessing of the team's board of directors – will move the team to Owen Sound whenever the league re-starts – now on hold during the pandemic.
This has infuriated the team's fan base, which took to social media to shout out its displeasure. Brampton Mayor Patrick Brown has also threatened legal action to block the move (it's unclear if he has a case). This has been the discussion de jour on the website, 'In Lacrosse We Trust (ILWT)' which covers the pro and amateur side of the sport across North America.
It recently published stories concerning two dynamics, one explaining the board's approval of Norton's reasons for the move (lack of money and community support), and Brown's response (we were blindsided and given no chance to respond).

An Excelsiors ticket from the 1880s.
The fans' disgust is being channeled through comments from former Brampton councillor John Sanderson, a long-time Excelsiors executive, and president of the team in 1992 and '93 when it won back-to-back Mann Cup titles – top prize for senior men's box lacrosse in Canada.
He told The Pointer, the team "means so much to so many in this community, and it's a shame that this was allowed to happen."
Sanderson vows to remain on a committee to celebrate the club's 150th anniversary, even if it does relocate to Owen Sound – with the approval of the Ontario Lacrosse Association (OLA).
Meanwhile, in Mississauga, the Ontario Hockey League's (OHL) Steelheads are also in distress, and forced to skate in circles by the pandemic. Their home, the city-owned Paramount Fine Foods Centre, remains closed to fans and players.
When the pandemic struck in mid-March, the OHL cancelled the 2020 season, with plans to start an abbreviated 2020-21 one in early February, subject to provincial approvals.
What we know is this: when the season resumes, it will be without fans, which seems a fatal blow since revenues are tied to fans in the seats and sponsorships from its business partners – also being assaulted by government restrictions.
The team was preceded by the IceDogs, founded in 1998, and has stickhandled past multiple ownership groups (Mississauga St. Michael's Majors and Steelheads) and is now owned by Elliott Kerr, president of Mississauga-based Landmark Sports Group.
The team's fortunes are dire because subsidies given through favourable rental rates at the City-owned rink have been choked off.
"The City has been amazingly supportive of this team for many years, but they seemed to have decided that there will be no more assistance," Kerr told The Pointer recently.
He remains resolute in icing a team in 2021, even if it operates fan-free, and produces zero revenues. "We are determined to do whatever it takes to keep our team running and our players and fans safe," he said.
The Steelheads had the third lowest attendance in the OHL in 2018-19 out of 20 teams.
He estimates the team lost $3 million since he purchased it from former owner Eugene Melnyk, now owner of the NHL's Ottawa Senators. Covid is just the latest challenge to a team whose per-game draw can fluctuate from less than a thousand to over 2,500 fans in the 5,600-seat Paramount Centre. It relies heavily on its partnership with the City and other sponsors.
There are no studies signifying the economic benefit of an OHL franchise in Mississauga, but in 2011, under Melnyk, the St. Michael's Majors, hosted the Canadian Hockey League's (CHL) Memorial Cup, the tournament that determines junior hockey supremacy.
The Cup featured teams from the OHL (including the Majors), Quebec (QMJHL) and Western Canada (WHL). Media partners like Rogers Sportsnet and Quebec-based RDS helped mark it as the first GTA-based team to host the event since it changed to a multi-team format in 1972. In the build-up, the team's vice president Rick Radovski said the Cup was a "tremendous opportunity" for the team to "catapult" itself into hearts and minds and pocketbooks of hockey fans in Mississauga. "It [Memorial Cup] will be remembered for years to come," he predicted.
Not so much.
The tournament didn't inspire new fans, or deep-pocketed sponsors, and when Kerr re-purchased the club (he was one of its original owners), the Cup spin-offs never materialized.
This only reinforced a notion that junior hockey is an easier sell in smaller, more homogenous, one-sport communities like Owen Sound, Saint John or Kootenay, the other three teams competing that year for the cup.
This treatise was further reinforced when, in 2013, the Brampton Battalion, the nearby OHL franchise that co-entered the league at the same time as the IceDogs, fled to North Bay, where it is now a vital part of the community.
The team's local owner, Scott Abbott, grew frustrated by a light dusting of fans attracted to each Brampton home game. The lack of community buy-in produced millions in losses which were paid out of his own pocket. It provided proof that Peel Region's almost 1.5 million residents were not hockey crazed, as believed by the OHL's expansion committee. Mississauga and Brampton's changing demographic (nearly 70 percent visible minorities) meant hockey might be a tougher sell.
North Bay lured the Battalion by pumping $16 million into the city-owned Memorial Gardens. The upgrades included new seating, large video board and expanded vendor offerings. Capacity hit over 4,200, and although it remains one of the smaller cities in the OHL, hockey is very much THE sport in town. The team was quickly stitched into the city's fabric.
Kerr said the Steelheads are a $2 million per year business, and the pandemic has stripped away many of its staff. The Mississauga father of two with an MBA from Queen's University in Kingston, remembers studying crisis management, and now defies anyone who could have predicted that a worldwide pandemic should be part of anyone's 2020 business plan. He admits the team, like others in the OHL, was caught "flat-footed" by COVID-19.
OHL commissioner David Branch puts the planned opening of the 2020-21 regular season at February 4, and a 40-game schedule runs through to May 8. The 2021 Memorial Cup is set to start June 17 in either Oshawa or Sault Ste. Marie. This, of course, is all predicated on no further restrictions because of the novel coronavirus.
The WHL and QMJHL start a month earlier. After the Quebec league started then stopped in October, the provincial government promised $12 million in funding for the league, as part of a $70-million package for sports and leisure federations – divided among the 12 QMJHL teams. Each would get $1 million. Kerr can only dream of that kind of support from the provincial government of Doug Ford.
The demise of the Excelsiors caused shock waves because it looked to be achieved by stealth. The negative social media attacks produced a mid-November response from its board. It wanted to counter some of the "misinformation and assumptions which have sadly played out on social media recently." It explained that pre-2012, the team was financially flush due to a major corporate sponsor, smaller sponsors, and a generous annual contribution from the City of Brampton. That quickly dried up, and executives charge this was all politically motivated. It blamed the new mayor at the time, Linda Jeffrey, for eliminating an annual $30,000 stipend from the City in late 2014. It stated that between 2012 and 2017 "sponsorships and grants decreased by $80,000 year-over-year."
Facing a decision to fold the team or continue struggling fiscally, it chose to listen to the entreaties from Norton, who was interested in acquiring the club. Legal counsel completed the transfer to him, and the board letter states this for the record: "While we are all disappointed at the relocation of a storied team, which many of us have been part of for generations, we hope everyone can recognize the difficulty in realizing we could no longer sustain our Major program."
Sanderson and Ron Evans, a local businessman and long-time Excelsiors fan and executive, teamed up to plan for the team's 150th anniversary. Both met with The Pointer last year to discuss their plans – which came long before Norton officially decided to move the team.
There's a poetic tie between the city and the team. The franchise was named after a poem by Henry Wadsworth Longfellow, which translates from Latin to mean, "onward and upward." The franchise won Mann Cups in 1930, '31, '42, '80, '92, '93, '98, '02, '08, '09, and '11.
The team's motto remains: "Never ever give up."
Its first game was played in 1871, and its initial win came in June of that year against the Second Twelve of the Ontario Club at the Fair Grounds of the Peel Agricultural Society in Brampton (where the current Lorne Scots building stands on Chapel Street).
Still, Senior A lacrosse, circa 2020, is now a niche sport.
The Steelheads operate in a developmental league that feeds the National Hockey League and other minor pro leagues with young talent. It's subject to the vagaries of the ever-changing tastes of the marketplace, and susceptible when a pandemic produces economic chaos.
COVID-19 continues to bite other local sports franchises as well. Raptors 905, the NBA team's top farm team in the G League, shares a home with the Steelheads. The team has helped produced many of the current stars on the NBA parent team, including allstar forward Pascal Siakam and heady guard Fred VanVleet.
The G League is eyeing a schedule for 2021, under a bubble format in Orlando, with opening night on February 8, and a dramatically shortened season.
One team officially bowing out for 2020-21 season is the Brampton Beast, one of the few Canadian franchises in the ECHL.
On Nov. 18, its website said six teams in the North Division will suspend operations. The team said it will return in 2021-22. "This has been a very disappointing decision," said president and general manager Cary Kaplan. "We just couldn't see a path forward to playing this season. In addition to the dramatic fan restrictions, we also still operate in an environment with a closed US border."
In January, 2014, the team approached the City with two requests: to cover operating losses ranging from $750,000 to $1.5 million; and to negotiate a better lease agreement at the city's Powerade Centre (now the CAA centre).
Eight councillors voted to advance $1.5 million to the privately-owned hockey team for three years, which drew another cryptic response from Jeffrey, who was recently voted into office when the decision was made. She penned an open letter and told residents: "I believe it is wrong for taxpayers to cover the losses of a privately owned commercial company, especially one owned by a millionaire, Gregg Rosen." Others agreed, and words like "disappointing, perplexing," and "appalling" soon hit the op/ed pages. One headline dubbed it, "A Beast of a Deal" and the Brampton Board of Trade called the City's decision "mystifying".
Abbott, who personally bankrolled millions in Battalion losses, wondered why the City didn't assist his team before it took flight to North Bay?
COVID-19 is a double-whammy for Kerr's Landmark Sports Group, founders and operators of the annual Mississauga Marathon, which began in 2004 and is a qualifier for the Boston Marathon. The race, which attracts upward of 10,000 runners and takes place in May, was cancelled in 2020, and awaits word on '21. The run has become a major cultural feature, and a selling-tool for the city's Economic Development office.
Sports is one of those stray elements that help define Canadians. Author Hugh MacLennan once wrote it "gives the release that strong liquor gives to a repressed man. It is the counterpoint of the Canadian self-restraint."
That, by definition, is what high-end hockey and senior box lacrosse is all about, a mixture of ballet and mayhem. One game, a season, a long playoff run, or a championship win, can ignite a flame of passion in its fan base. Sanderson argues that when a sports team and a community connects as one, the rhythm and flow creates a unique cadence that helps bond a community to its team forever. This is why, he said, the Excelsiors remain part of the city's DNA.
He remembers distinctly its Mann Cup win at Memorial Arena in the summer of '92. The week-long event created a unique "buzz" in the city as the team won another Canadian title. As president, Sanderson recalls the winning game when nearly 1,500 were shoe-horned into Memorial Arena, many of them "literally sitting in the rafters and in the aisles."
Brampton Fire Department officials entered the building as the game wound down to its conclusion, and the team president half-expected them to stop the contest and empty out the building which was dangerously overcrowded. Instead, they simply wanted to sit and celebrate.
The team executive rented a flat-bed truck afterward, loaded it up with players, drove it down Main Street with a police escort, and fans and team members partied long into the night.
Those kinds of uplifting sporting moments unite a community, explained Sanderson, and this spirit seems sadly lacking in modern-day Brampton.
That inextricable bond between team and city, creates a oneness, and will over time, become a psychological sealant. The stratification of hyper-growth cities like Brampton and Mississauga, makes this more difficult, but not impossible. Brampton Mayor Patrick Brown, a self-described "rink rat" and unapologetic sports participant and fan, promised to make the support of sport one of his regime's priorities upon election in 2018. He set a game plan in his inaugural address in mid-December of 2018. Some of those promises included…
A STADIUM: "I will lead the effort to create a public-private partnership that will build a world class, cricket/multi-dimensional sports stadium right here in Brampton. In addition to cricket, this state-of-the-art facility will be designed to accommodate a multitude of sports at the highest levels, including kabaddi, soccer, lacrosse and field hockey."
NEW INITIATIVES AND FUNDRAISERS: "I will host major fundraisers to support local charities and help underprivileged youth afford sporting equipment." Those would include a Hockey, Baseball, and Basketball Night in Brampton, and an inaugural Half-Marathon.
Despite that, the Battalion are now long gone, a comfy fit in North Bay.
The Excelsiors are is the process of exiting, and the Beast simply lives up to its description as a low-minor-league affiliate.
Kerr and company are fraying at the edges, but hope springs eternal that they can outlast the pandemic because a vaccine is coming and fans will soon take their rink-side seats, and runners will toe the start line at the Mississauga Marathon. The Raptors 905 remain the most fluid franchise in Peel, able to feed off the largess of its rich ownership group, Maple Leaf Sports & Entertainment, and the incredible five-year run by the Raptors, including the dizzying 2019 NBA championship. Who will ever forget the two-to-three million fanatics who packed Toronto's downtown streets for one of the greatest sports celebrations in history.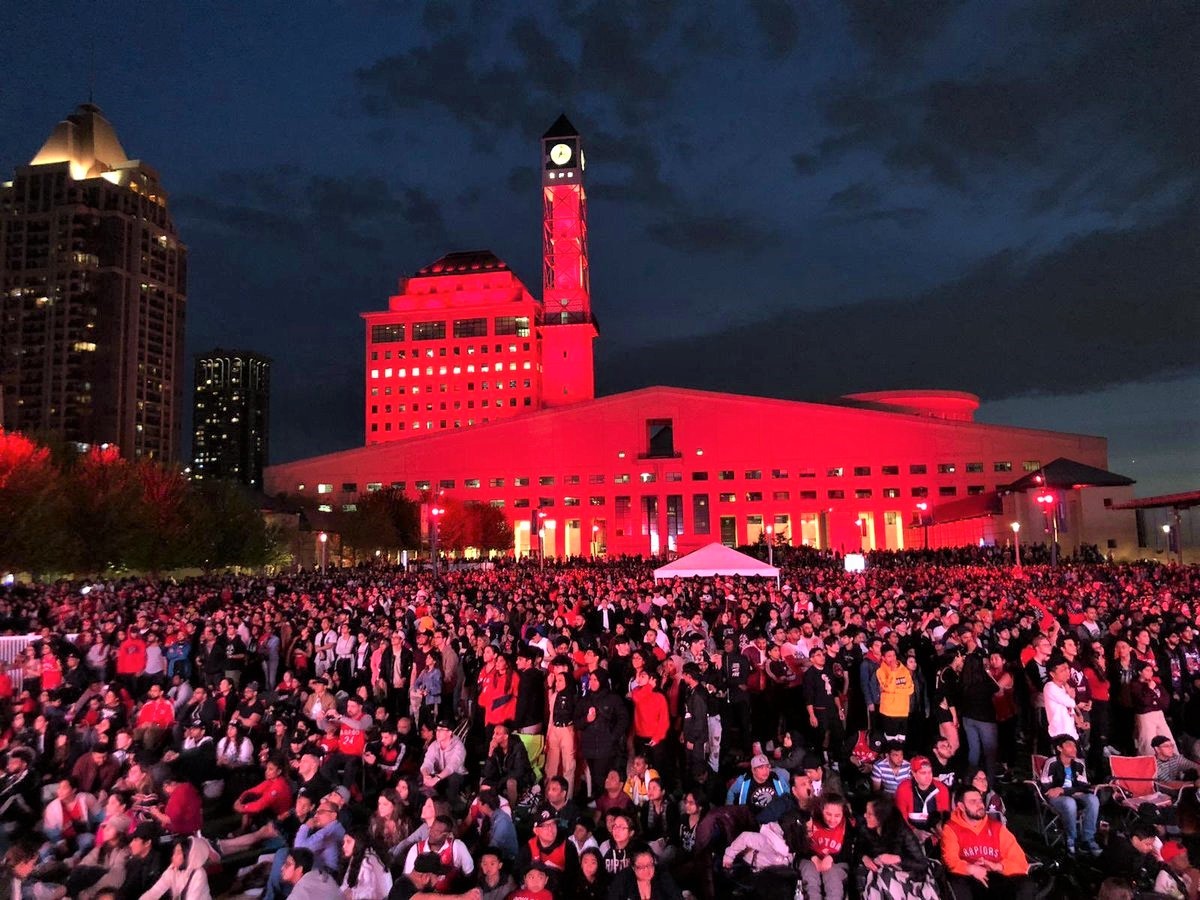 20,000 fans packed Mississauga's Celebration Square to watch the Raptors' historic 2019 run to the NBA championship.
The remarkable spring showed the promise of sport in both Mississauga and Brampton: Celebration Square and Garden Square were packed each night during the playoff fever, with Mississauga often featured on national broadcasts as some 20,000 rabid sports fans cheered on the beloved franchise, which includes its G League team in the GTA's second largest city.
While basketball across Canada continues its ascent, what's clear is that hockey and lacrosse don't have the same pull in Mississauga and Brampton as they do in small-town Canada.
There are too many ways to split the entertainment dollar, and too many powerful professional teams in Toronto, only a short drive or a GO Train away.
Some argue the two Peel powerhouses are major-league cities with minor league mentalities.
Last year's GT20 cricket tournament hosted by Brampton, pulled in good crowds at the CAA Centre, and was broadcast to fans right around the world. Was this a sign that the sports scene in Brampton is morphing into something more reflective of its present-day demographic?
Cricket fans packed the stadium erected at Brampton's CAA Centre in 2019 for the GT20 world tournament.
A recent announcement that a beloved outdoor hockey rink in Mississauga will soon close, is another indication that the sports scene is re-defining itself there, too.
Will hockey and lacrosse soon become niche sports, products of a bygone era, overwhelmed by cheaper and more accessible sports like soccer and basketball and cricket?
Sanderson hasn't given up on hockey or lacrosse just yet. He believes short-sighted decisions by Brampton and Mississauga city halls doomed both the Battalion and the Steelheads.
Their home rinks were built too far afield, just off the 403, with limited access by transit, and that forever limited their fan bases.
As for his beloved Senior A Excelsiors, Sanderson thinks their fate might be sealed, but like all good sports fans, he simply chalks it up to the numbers.
No matter how you score it, he said, 150 years was a pretty good run.
---
---
COVID-19 is impacting all Canadians. At a time when vital public information is needed by everyone, The Pointer has taken down our paywall on all stories relating to the pandemic and those of public interest to ensure every resident of Brampton and Mississauga has access to the facts. For those who are able, we encourage you to consider a subscription. This will help us report on important public interest issues the community needs to know about now more than ever. You can register for a 30-day free trial HERE. Thereafter, The Pointer will charge $10 a month and you can cancel any time right on the website. Thank you.
Submit a correction about this story