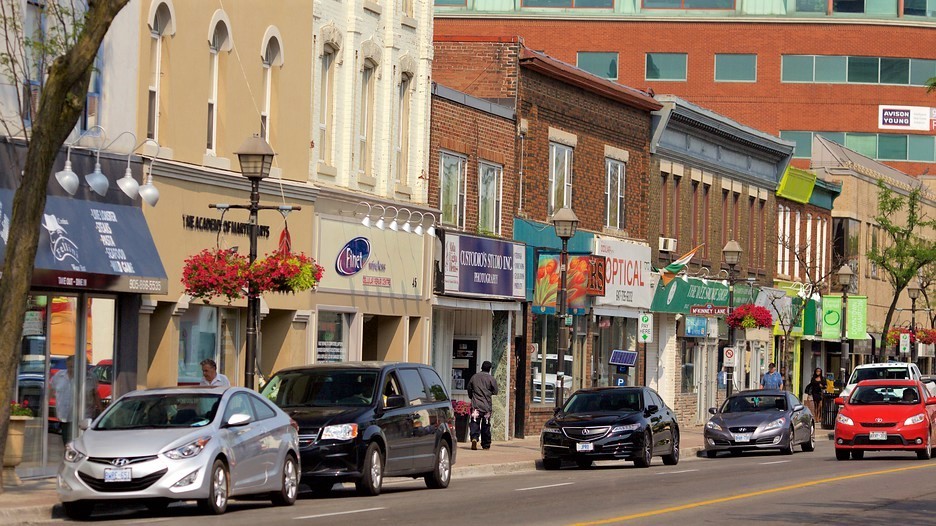 The Pointer file photos/City of Mississauga/OBIAA
Part 2: The Digital Main Street dilemma
The author of Moneyball, The Big Short, The New New Thing: A Silicon Valley Story, and NEXT: The Future Just Happened, said it seems archaic to those who once invested half a lifetime in acquiring knowledge by doing research in dusty libraries, to now get any information instantaneously via a Google or Wikipedia search from a device held in the palm of your hands.
Former Wall Street bond salesman Michael Lewis says there's good reason why we're so enthralled by geek-chic.
Change has always been the one constant in the business world, but it gained real momentum in 2020 during the darkest days of COVID-19. City centres across the globe suddenly faced an unthinkable reality: while businesses were forced to shut down, the prospects of losing in-store customers for good loomed large – would work-from-home and the need for germ-free commerce spell the end of Main Street?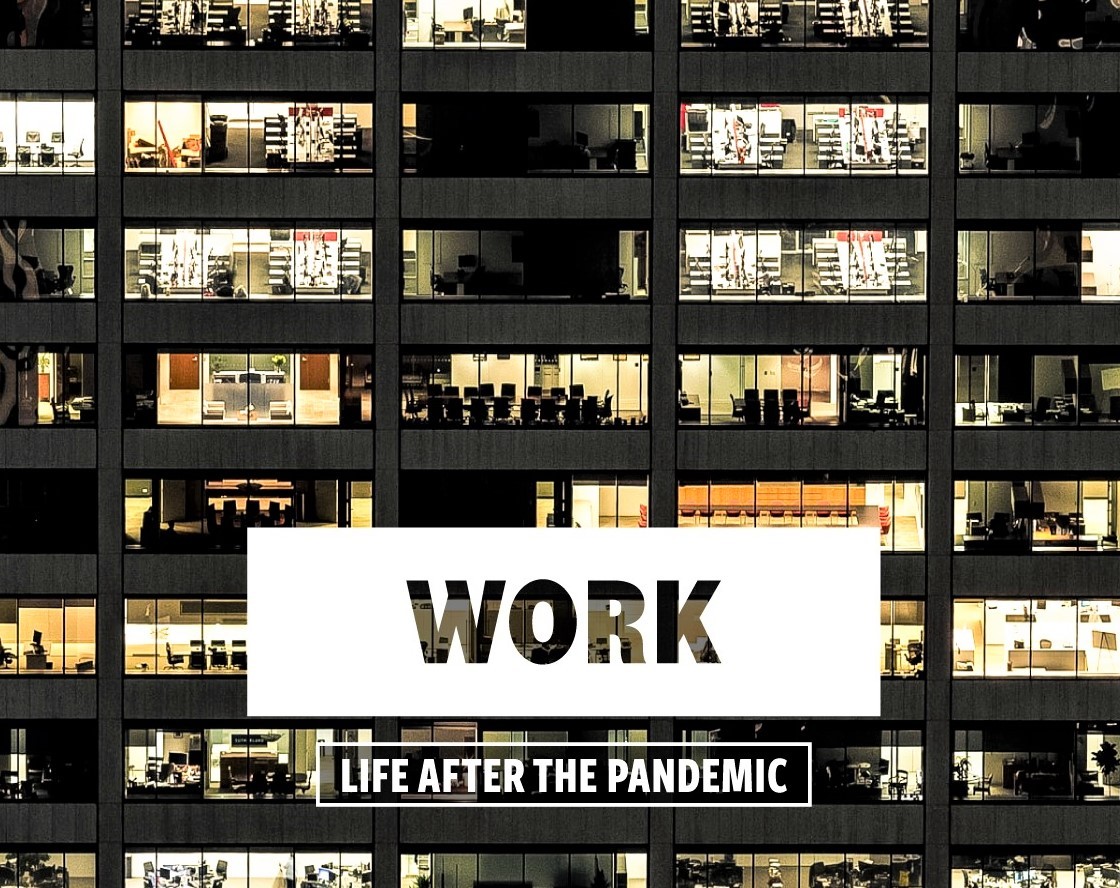 The future of work will have a huge impact on where and how we shop and buy.
In Part 1 of The Pointer's two-part series on the expansion of the federal government's Digital Main Street (DMS) program across Ontario, we pointed out how a corporation like Blockbuster Video was once an entertainment sector superstar – until it wasn't. It was doomed because providers like Netflix plugged into the latest technology and could do what Blockbuster once did – only better, cheaper, faster and more conveniently.
The turnaround time to becoming archaic is shortening by the day.
Success or failure teeters on the brink as businesses decide whether to embrace or ignore the new, new thing. Realities such as the increased demand for more productivity mean many who once enjoyed the release or intoxication of in-person shopping, will be too squeezed for time and drawn to new forms of commerce that don't sap hours of valuable opportunities to get even more work done.
Let's now drill down to Mississauga and Brampton and see how each has responded to the Ministry of Economic Development's FedDev Ontario Digital Main Street program.
In a word, positively.
But will this be enough?
The answer (spoiler alert): probably not!
Mississauga Mayor Bonnie Crombie brought a motion to Peel Region council in late November to support Main Street entrepreneurs, to stop the big box retailers like Wal-Mart and Costco from selling non-essential goods. This, she reasoned, put in peril the fortunes of smaller competitors, now making up 98 percent of our entire local business community.
Why has Queen's Park positioned many of them as little shops of horror – the ultimate super-spreaders?
It was rather symbolic that Ontario's province-wide lockdown began on Boxing Day, but while all non-essential stores were closed, larger retailers could justify remaining open if they sell essentials, while the big players also enjoy outsized gains from online shopping, utilizing sophisticated e-commerce platforms.
Many mom-and-pops and other independent retailers now face a double-whammy.
In a recorded video, Crombie said she and her council are trying to help small retailers that are now under strict orders to end in-store shopping. The motion before Region of Peel council asked its medical officer of health to order large stores to sell only essentials, too. Crombie wants to "level the playing field for our smaller retailers." She asks: why should big box stores be allowed to sell non-essentials like televisions, sports equipment, or home décor? "They do not need to have any further competitive advantage," she exhorted.
Even Hudson's Bay, which fits nicely inside the definition of large retailer, agrees with the Mississauga mayor. An HBC location in Toronto remained open recently, and said it was selling essential goods. Queen's Park rejected that notion and also ignored Crombie's complaint.
Kay Matthews, executive director of the Ontario BIA (OBIAA) which through its network of Business Improvement Areas works with more than 100,000 companies across the province, oversees many elements of DMS, told The Pointer in Part 1, the response to closures has been "uneven" and "inequitable" and not holistic – "especially if you look at all the physical and public health concerns."
This has only deepened divides, pitting business sectors against each other, retailers against government, and communities against communities. Instead of playing the blame game, shouldn't the focus be on helping all survive the economic carnage caused by the virus?
Crombie said Mississauga has been actively working to make life better and safer in its smaller business sector, especially for retailers. On May 29th, the city began pushing the ShopHERE portion of the DMS program, providing independent businesses and artists the resources to develop and launch online stores at no cost. This came with an added bonus: support from local (tech-savvy) post-secondary students.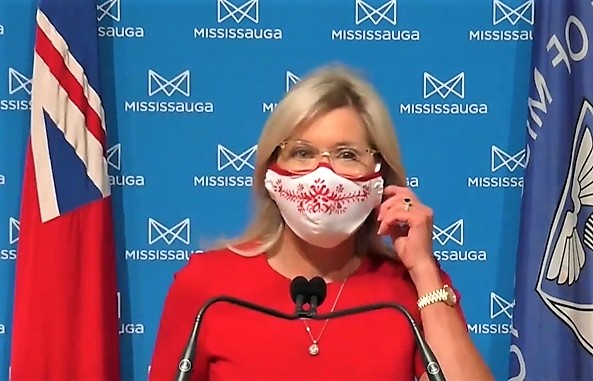 Mississauga Mayor Bonnie Crombie believes small businesses in her city have suffered from extra disadvantages.
"The vast majority of businesses in our city are small businesses and their survival will be key in our efforts to reignite the economy. COVID-19 has highlighted the importance of e-commerce and having a digital presence, especially for our local independent businesses," said the mayor.
She urged people to buy local, but wants to see changes quickly. Thanks to DMS, and partners like Google, Shopify, Mastercard, Microsoft and Magnet, the movement to re-do old models is well underway. The goal of ShopHERE is to build 50,000 online stores by the end of 2020. Mississauga would leverage the infrastructure created by DMS and cover a portion of the student costs to get the program up and running. Local businesses and artists qualifying for digitalmainstreet.ca/shophere get their online stores rebuilt at zero cost. The program provided independent businesses and artists with:
• choice of an online store customized with their information, branding, logo etc;
• hands-on assistance setting up and launching their online store;
• training to support their online store, including topics such as digital marketing, shipping and inventory management; and
• access to free tools to help support the launch of their online stores.
This program isn't available to franchises.
"We have heard firsthand through roundtable discussions with local businesses about the impact COVID-19 has had on our small business community. We remain committed to offering support and solutions to address the hardships of our local businesses," said Bonnie Brown, the City's director of economic development, which oversees the local DMS program.
Brampton's roll-out, on the other hand, is being run through its Downtown BIA office.
OBIAA's head office is located at 92 Lakeshore Road in Port Credit, and operates under Matthews and a small office stuff, plus 14 temporary DMS employees. It will work in concert with Mississauga's five BIA offices: Port Credit, Streetsville, Malton, Clarkson, and the newest one in Cooksville.
Through Phase-1 of DMS, business owners benefited from free assessments, counsel and access to the resources to equip them with the knowledge and skills to prosper in an increasingly digitized world. Hundreds applied for and received a Digital Transformation Grant of $2,500 to assist with specific projects, such as relaunching a website with e-commerce capability, designing better online payment platforms and/or making more effective use of social media marketing.
In June, with an infusion of $42 million from the Province, DMS entered Phase 2, and the renewal came as a relief for many struggling to adapt to our new-world order. Through DMS, municipalities and BIAs can apply for grants to staff-up and deploy Digital Service Squads, which assist as frontline ambassadors in the sign-up phase. They also offer free assessments and other services, and make sure the grant applications are done in full, and on time.
Michelle Browne, a manager in the City's Economic Development Office, and her colleagues at Mississauga's Business Enterprise Centre (MBEC), are focused on how DMS fits into its mandate to support local business and drive prosperity. David Soo, an information technology specialist and member of Browne's team, served as project manager for Mississauga's Digital Service Squad in a catchment area that included some 2,400 small businesses – spanning all five local BIAs. Soo's four-person team had its hands full pounding the pavement to build awareness. "We found that digital literacy was a mixed bag, but that was something we expected," he said.
It seems counter-intuitive, that business owners and managers wouldn't be on top of every advantage to help their operation. But such a fundamental shift away from the entire brick-and-mortar model that has been carefully thought out for decades, and the need to eschew the only way they have ever known, is a stretch for many entrepreneurs. Some who love the face-to-face interaction simply don't want to operate in a digital environment.
For others, 'innovate or die' is the stark reality of their lives.
Growing a digital presence wasn't limited to any demographic, but tech-literacy is a widespread challenge, added Soo. "You would presume that if you spoke to a certain age demographic, that person would have a certain level of digital literacy, but that could not be relied on. Owners are entrepreneurs, and they are often so engulfed in the day-to-day operations of their business, they don't make the effort to build their digital knowledge."
Mississauga's original Digital Service Squad program wrapped up at the end of 2019, but Browne's office, like others across Ontario, found ways to continue offering support through the first half of 2020. That included webinars, an important resource for businesses lost and searching for solutions in a pandemic. The Phase-2 grant assists more, and Browne's office was fielding calls even weeks before it was launched. Businesses were now coming to the city, instead of it seeking them out as a first point of contact. Browne stated: "Businesses have to be innovative and use outside-the-box thinking to be resilient and understand how they can grow globally."
Part 1 of this series listed many of the giant retailers that expired in 2020. These giants once dominated famed shopping districts like NYC's 5th Avenue, Chicago's Miracle Mile, Toronto's Yonge Street, the storefronts in Streetsville and Port Credit, plus Brampton's once vibrant Main Street district. The list of digital dawdlers is now long, and most sit on the scrapheap of history.
Kay Matthews is working feverishly to help more than 100,000 Ontario businesses adapt to e-commerce.
The fundamental difference between Mississauga and Brampton's DMS programs is that the latter is run by its Downtown BIA, and because of this, is more limited in scope. While a second BIA might soon arise in Bramalea, Matthews said most of the interest in DMS is from the more than 300 small businesses in the city centre.
Some receiving the $2,500 grant include Scented L'air, BACI Gifts, Dolcezza, Brampton Denture & Wellness Centre, and Segovia Coffee. Suzy Godefroy, the BIA's executive director, said DMS has earned plenty of street cred since a mass infusion of cash from the Province and FedDev Ontario this summer. The final totals of businesses granted start-up funding wasn't available before the December 15th deadline.
The city used a $30,000 grant from the OBIAA to sign up a small, but tech-savvy downtown firm to help small retailers sign up for grants. But Godefroy admits the program won't be "a silver bullet" for what retailers need, although sign-up numbers look strong. Many of them will soon sport new websites, a digital marketing strategy and might even dip a toe into e-commerce.
The partnership with the OBIAA and the Province on this new grants program, was rolled out on October 15 at Shopify's head office in Ottawa. This Canadian tech giant is a key player in assisting small firms jump into the online e-commerce pool. The ramp-up coincided with Small Business Month, which seemed most appropriate.
The digital transformation grants ($2,500 per business) and digital service squad grants allow experts to act like the cavalry and bring much needed help in a range of transformative work that allows entrepreneurs to shift some or all their operations to accommodate whatever consumers demand. (Find out more at digitalmainstreet.ca/ontario.)
Saving retail in Brampton's downtown has been an ongoing and tumultuous battle as stores have fled over time to the outskirts – into malls like Shoppers World and Bramalea City Centre, while local customers also flood into Square One and the Toronto Premium Outlets, in Halton, to name just two.
Brampton's 2040 Vision hoped the City and Region would step up and solve its underground water problems and other outdated infrastructure issues along Main Street, but Mayor Patrick Brown doesn't like to spend money, preferring politically popular tax freezes instead, which are hurting local businesses that would gladly pay a couple hundred dollars in extra taxes, in return for the lifeblood features needed to succeed.
Federal money to expand the Riverwalk program in the downtown catchment area, and lift the entire business profile of downtown will only be part of a successful effort if City Council finally invests in an environment where commerce can flourish. It's hard for these entrepreneurs to even imagine a digital future when they can't even get help to keep their ventures afloat.
Godefroy said creating a "sense of place" downtown is ongoing, and to many retailers, DMS will up the ante and increase a retailer's online options. The BIA offered a free delivery service to those shopping local before the holidays, but since most businesses remain closed, or lack an online presence, the limitations to it, were self-evident. We have "to stick to one plan" for the downtown, said Godefroy, "because one year can quickly turn into five years without anything being done to put Brampton's downtown on a par with others around the GTA."
For one Brampton-based small tech-driven firm located in the downtown (1 Nelson Street), DMS has been a godsend, especially the $30,000 from the OBIAA.
Winged Whale Media's talented team of tech experts is designated to help firms sign up so they can create new marketing tools and perhaps start an e-commerce platform.
Winged Whale was once a vendor in the program, eager to do the nuts and bolts revamping of a client's website, but soon found it could be of more use by simply recruiting businesses to apply, then helped them work through the qualification process. To that end, it reached out to the over 300 downtown businesses through Zoom or phone conversations.
We all know whales don't have wings and can't fly, but in a one-on-one interview with The Pointer recently, Jason Palmer, one of the firm's founders and its creative director, explained how it used a little whimsy and a name-change to remake its own business model, and in turn, help others.
Palmer and his team are mostly local residents, and tech natives. They specialize in virtual reality and 3D modeling, and the 10-year-old company is now partnering with Engage EHS in Ireland, which specializes in environment, health and safety technology. The Whalers have contracts with Brampton, Caledon and Vaughan.
These business-to-business partnerships are one of the drivers of the DMS program.
---
---
Winged Whale was formerly called PGP Studios, a name Palmer and the company thought pedestrian, while Winged Whale gives it a sense of whimsy and better captures the firm's focus on creativity. "We figured, if we can make a whale fly, we can do anything for our clients," said Palmer with a chuckle.
Helping firms digitize isn't as easy a sell as it looks. "Many," said Palmer, "were simply caught flat-footed by the pandemic," meaning: "Most were overly reliant on point-of-sale customers."
The big worry is that only the tech titans will survive the pandemic. This would gut most downtowns, and make cities feel more desolate and less singular. By all levels of government offering a hand-up, DMS has proven to be a popular first step. Still, it is slated to end in February, and that irks Matthews who believes it needs "a lot more runway."
While a vaccine might return the world to some semblance of normal, Michael Lewis contends that many companies – big and small – simply don't have the will, the way, or the dollars to change their course.
DMS is a quick and relatively inexpensive way for small businesses, especially retail, to tweak their entire model, and "if" (a very big word these day) they do, they might survive and thrive in a post-pandemic era.
The good news for the smallest retailers is big box stores seem to have run their course, and those sprawling malls that arose in the post-war period have been in trouble for years, and stories now abound about "the death of the mall." Turning them into complete communities with more housing and less retail has gained traction over the past five years. Plans are in place to re-do many malls in Mississauga and Brampton. For small retailers it marks an opportunity to fill the space being vacated, not physically, but digitally.
Both of Peel's cities are working at the local government level to grow their crucial commercial base.
The pandemic has exposed what had been known for a while, that the convenience of e-commerce is seductive, and at-home delivery further shifts the old retail model out of orbit, especially at the street level. For cities, this tectonic upheaval represents much more than the simple transacting of products and services. If brick-and-mortar doesn't adapt, to perhaps become a support for broader platforms for the exchange of ideas, products and services, what will happen to all these spaces? Will the physical future of cities include only residential and dining/entertainment features? Or will innovators step in to create the types of real life retail spaces that will serve an even brighter future for in-person retail?
A feature on the "retail apocalypse" ran during the summer in The Pointer, and the dynamics explored have given the big boys like Wal-Mart the impetus to lower the boom on all its competitors, due its size and digital dominance.
Change has been the hallmark of business since market stalls were first erected in city states arising on the Mesopotamian plains over 7,000 years ago. The French centuries ago derided the British as nothing but a nation of shopkeepers. But that small shopkeeper model was replicated across its empire. It became the ruling passion behind city-building in a bygone era. And just like the rise and fall of that empire, new ones have taken over while the look of business continues to evolve, shaped by the patterns and habits and priorities of a constantly adapting species.
The worry is that pandemic fatigue has set in, and so have the buying habits of millions who now reject the in-store model. The boxes delivered to houses and piled high at the front porches during this holiday buying season are testament to a massive shift in our consumer habits – some COVID related, some not.
Many might be hard-pressed to return to the local mom and pop-type shops that once dotted our downtown streets. Will our buy in-store urges give way just like our pathological need to go "malling"?
Shopify's president Harley Finkelstein said there's an inevitability about all this, and the strategy for retailers going forward must be to provide customers with multiple choices, including e-commerce and home delivery, and in-person.
The Doug Ford government's lockdown of the whole province yesterday was a double whammy for Mississauga and Brampton businesses because it came during the most lucrative time in the business cycle, the holiday season. What we need to know once the pandemic is behind us is if our businesses – big or small – will suffer the same fate as Blockbuster Video, which never saw a company named Netflix coming?
As Michael Lewis argues time and again, there is always a Netflix coming.
---
---
COVID-19 is impacting all Canadians. At a time when vital public information is needed by everyone, The Pointer has taken down our paywall on all stories relating to the pandemic and those of public interest to ensure every resident of Brampton and Mississauga has access to the facts. For those who are able, we encourage you to consider a subscription. This will help us report on important public interest issues the community needs to know about now more than ever. You can register for a 30-day free trial HERE. Thereafter, The Pointer will charge $10 a month and you can cancel any time right on the website. Thank you.
Submit a correction about this story