Screengrabs YouTube/CBC/Photos courtesy Paula Tookey
As SIU charges another former Peel police officer with sexual assault Kevin Dickman's friends wait for an apology
"It's a Wonderful Life" is the feel-good movie of all time – beloved by viewers across eras and of many faiths. That's because of its enduring message: "Each man's life touches so many other lives. When he isn't around, he leaves an awful hole."
That noble sentiment makes for great moviemaking, but in real life, the opposite can also be true. Some lives touch others, and destroys them in the process.
Kevin Dickman isn't around anymore. His death last year left a hole in the hearts of those who knew him best, the children who lived in the Peel Village area of small-town Brampton over 50 years ago. In the end, he didn't have a wonderful life, or even a respectful death. He was repeatedly abused by a pedophile from 1967 to 1972, beginning when he was 10. The civilizing forces that society puts into place to protect our kids, didn't help him.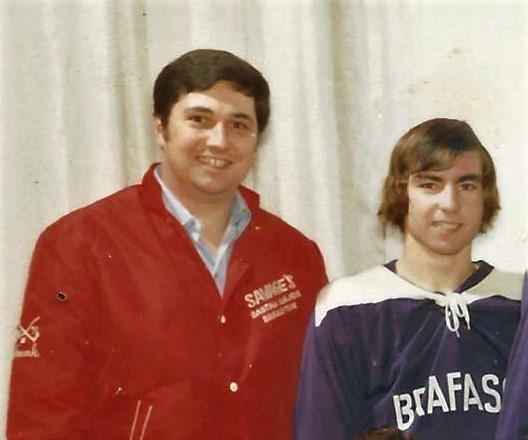 Former Brampton police officer Frank Kohler, left, coached Kevin Dickman, right, in the early '70s
It might also be argued that the contamination of a public institution like the Peel Regional police force, was signed and sealed upon its inception in 1974. That's when the police allowed Kevin's abuser, Frank Kohler, to skirt justice. Despite admitting his horrific crimes to police investigators, the former officer walked away into the proverbial sunset, scot-free.
This created a deadly conundrum: the abuser was given the gift of a new life, while the abused got the death penalty.
Now, almost 50 years after one former Peel police officer was aided and abetted by the force, another is facing a similar charge. This time it's unlikely justice will be so casually ignored. Former staff sergeant and detective Paul Chisholm, who was employed by Peel Regional Police from 1977 to 2008, has been charged with one count of sexual assault. The alleged incident reportedly took place in Barrie in the summer of 1992.
On August 25, after news about Kohler and his repeated abuse of Kevin Dickman circulated on social media, a woman contacted Peel police alleging she had been sexually assaulted by Chisholm almost 30 years ago. The force, under the leadership of Chief Nishan Duraiappah, hired last year by the board to turn the troubled department around, contacted the SIU the day it was contacted by the woman.
The provincial police oversight body, which deals with allegations against officers, moved quickly and Chisholm is set to appear before the Ontario Court of Justice in Barrie on January 11.
In the '90s, Chisholm was implicated in a judicial inquiry into the conduct of a former justice of the peace. He was exonerated but the case revealed that while the officer was employed by Peel police he introduced a "known criminal" with a "series of convictions" and "extensive criminal record" to the justice of the peace.
The charge now laid against a second former Peel police officer decades after the alleged assault occurred raises questions about the justice system and whether it's a system of justice at all, when sworn officers are implicated in criminal acts.
In Kevin Dickman's case, allegations almost 50 years ago by the local Big Brothers organization that one of its own members was a serial molester, led to an investigation by detectives into one of their own. But an admission of guilt by the abuser failed to produce one single charge. Five decades later, as permissive attitudes around sexual abuse have been replaced by fierce advocacy, mostly by women, police misconduct is being confronted across North America and questions are being raised about horrific injustices swept away by the passing of time.
Last year, decades after Kohler had finished with Kevin, the homeless man's limp body was fished out of the putrid waters of the Don River. He was buried in a pauper's grave in Pickering, far from his hometown. There was no headstone because he was penniless. Like the fictional Eleanor Rigby, he was buried along with his name.
Kevin's tragic life and woeful death was documented in an August 29th story in The Pointer.
Our conclusion then, is the same one now: sometimes the clues to a book's ending, are found in its first few pages. Kevin was fated to live and die as a street urchin. He suffered mental health issues, and got run in and out of hospitals, halfway houses and detox centres. Abuse ruined his childhood and left him angry and unmoored as an adult. His long-time counsellor said her client was consumed by grief and self-loathing – his psyche bruised beyond repair. Imagine being raped of all hope before you reach high school?
No wonder Kevin consumed drugs, committed petty crimes, and lived most of his adult life on the streets. He wandered aimlessly, and slept in any place he could find – doorways, parks, over subway grates and in cheap rooming houses where he would rest his troubled soul on grease-stained mattresses.
There was no Capraesque ending here, no rallying of family and friends to the hero's side, or a final tear-jerking toast to George Bailey, "the richest man in town."
After his death served as a picture of unthinkable isolation before this pandemic taught so many others how devastatingly lonely it is for loved ones to silently say goodbye, Kevin's friends had to do more.
In the end Kevin was utterly alone. Those who knew him best (childhood friends from Peel Village) were heartsick when a newspaper article came out last year reporting his death. It talked about his discordant life, and the reasons for his apparent suicide. Most of those who lost track of him were shocked by what they read. They vowed to honour his name, and give him in death, the justice our system denied him in life.
We know from a Pointer interview conducted recently with his trusted counsellor of 30 years, how soul-destroyed he was just days before his death. Paula Tookey still finds difficulty in grasping his desolation, and still wonders how he had the fortitude to extend his life past age 60. He beat the ominous numbers that Statistics Canada released recently about the life expectancy of homeless women (35) and men (55).
The optimist's credo that everything will work out in the end, gives a joyousness to It's a Wonderful Life, that could never be applied to any movie about Kevin Dickman.
His death stirred up many to form a 'Friends of Kevin' group, which spilled out into an ad-hoc sidepiece called 'Justice for Kevin'.
But first came a Go Fund Me campaign to raise money for his headstone. They will eventually plant a tree in a park near Roberts Crescent, located kitty-corner to his childhood home in old Brampton. There will be a nameplate at its base.
The justice team soon discovered that Kevin's life and death wasn't a symbol of his failures, but more indicative of a corrupt system. Kevin didn't fall through a crack; it was as wide as a six-lane highway.
Two members of this justice team, Phil Anderson and Pam Hand, realized just how badly the system had failed Kevin. Yes, everyone was in a way complicit: the police, the courts and the Big Brothers (BB) organization.
To be fair, the local BB administrators didn't know Frank Kohler was a sexual predator, at first. They did know Kevin Dickman was acting up at home and becoming a handful for his mom. He was vulnerable and retreating into himself because his father had died suddenly after an unexpected medical emergency. What better role model for him than a young policeman? According to agreed-to testimony read out in a Brampton courtroom on December 10th, Kohler waited a year before he began the sexual assaults on his little brother.
They went on for years, and included fondling and masturbation (30 times), which even took place (on two occasions) at Kohler's parents' home in Nova Scotia. Apparently, the young officer enjoyed taking his little brother on trips, including a three-week vacation in Europe. Then, in 1974, an anonymous tip led Big Brothers to brand Kohler "a dangerous predator". Peel police stepped in to investigate. It was the first year of this newly amalgamated force, which would dutifully follow the 9 principles set forth by its namesake, Sir Robert Peel, the father of modern-day policing.
Kohler told police investigators he repeatedly abused Kevin, which would prove problematical because he was one of their own. Kohler's confession led to a most startling decision: he would resign from his job, and leave the province. He would remain unnamed, and most importantly, uncharged.
Repeat: There were no charges!
Kohler fled to Nova Scotia and started a new life, and eventually he emerged in a new guise, a pastor!
Repeat: The predator was now a pastor!
Pam Hand registered her disgust this past week when she found out how police investigators back then allowed a self-confessed pedophile to escape justice. She oozed contempt, and said: "I just hope that the officers that interviewed him, and found out that he was abused, and then they did nothing. I hope that they're still alive to read that, and realize what harm they caused to him."
The force says there's little it can do, as records no longer exist and almost 50 years has passed. It's unlikely justice will ever touch the officers complicit in the case. It's equally likely the decision to let a predator walk free to possibly prey on other children probably involved the higher ranks of Peel police. We will never know how high the rot went.
Hand's outrage was understandable. She was a Peel Villager kid who was acquainted with Kevin, but lost touch later on. She was more gutted than most because for 30 years, she was a member of the Peel police force until a recent retirement. She also worked in the sex crimes unit, and with the sex offender registry.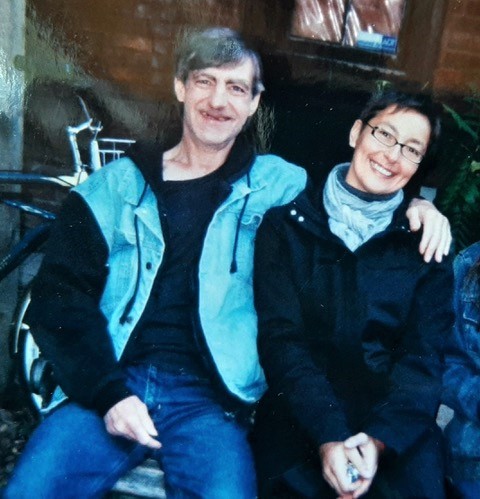 Kevin Dickman and his friend and counsellor Paula Tookey
She and Anderson drove the Justice for Kevin movement. After his death, they mounted their own investigation. This led in a perfect line to the recent court case and conviction. Kohler, now 74, pleaded guilty to two counts each of indecent assault (the old term for sexual assault) and gross indecency.
And yet… there's a terrible sense that Kevin didn't get the justice owed him. Recriminations turned back on a system that didn't serve and protect a child, but did protect one of its own. Kohler was allowed to abuse with impunity and when caught, escaped justice because his employer decided this is the way it would be.
Sara Singh, the Brampton Centre MPP and deputy leader of the Ontario NDP, asked for a probe into how Kohler evaded charges after admitting he sexually abused a child. How could he resign without recourse? What mechanisms were in place to make people accountable? She had plenty of questions.
It's also interesting to consider the curiosities that emerged from the trial:
• Kevin's name was not mentioned once by Crown attorney Roger Shallow, as if he never existed.
• The virtual trial allowed Kohler to remain in Nova Scotia because of restrictions due to the pandemic. This collision of circumstances denied Kevin's friends from attending so they could eye-up his molester, or watch him march out of court in handcuffs.
• After the trial, a Peel police spokesperson said the service's retention period for documents associated with retired or resigned officers had long since expired. In other words, there was zero police evidence to be put on the record. Thankfully, the Justice for Kevin team had done enough leg work. Kohler also confessed his crimes and pleaded guilty.
The problem with all this? He nearly escaped justice again.
We don't know if anyone but Kohler was interviewed back in '74. Did the police talk to Kevin? Was a search ever conducted to find physical evidence: clothing, pictures, hotel rooms, or trip receipts? Were other officers interviewed? And who decided it would be a good idea to allow one of their own, also a serial pedophile, to resign his post and slip quietly to Nova Scotia. Was it an investigator, a team of investigators, or someone much higher?
After Kohler confessed his sordid acts, he was free to bury his lies and take his impeccable CV – cop, Big Brother, etc. – to Nova Scotia. Were authorities there informed he had been identified as a dangerous pedophile? Was a warning sent out because he might be working around children? Did he get to continue his abuse after he became a pastor?
Does anyone know, and does anyone care?
Is this one of the worst examples of the slipshod policing that has infested the Peel force since its inception? No wonder Kevin raged against this system failure for most of his 62 years.
One of those friends of Kevin who contributed money to buy his headstone, and remembered him fondly as a classmate at Brampton Centennial, told The Pointer this week: "I hope Kevin knows that he is not forgotten and that people care."
Anderson was Kevin's best friend. The teens talked when they were 15 and Kevin told him about Kohler's sex assaults. When he read about his shocking death a year ago, Anderson took all he knew to the Special Investigations Unit (located in Mississauga). He filled out a form, and thought he was wasting his time because a statute of limitations on prosecution must have kicked in on all this. It hadn't.
Meanwhile, Hand used the skills acquired as a sex-crimes investigator to hunt down Kohler. She will never forget the day she reached him over the phone in Nova Scotia. She burned with rage, but forced herself to stay focused, and act professionally. Finally, she asked him straight out: Did you abuse him? Kohler admitted he had lived a foul life in his 20s, but once he moved east, he found God. All that black bile that had built up, was magically released. It was as if a sump pump had emptied out a septic tank. Everything that felt wrong, was righted. Praise be the lord.
Hand knew how to interview sex abusers; it had a lot to do with interpreting content and tone. Near the end of her call, she couldn't hold back her feelings any longer. You wrecked Kevin's life, she said. You sullied your police uniform. She noted that he never denied the abuse. She recorded the call.
The SIU then informed Anderson they would investigate Kohler. They would even go east to do it. They also interviewed Hand, listened to her taped conversation. Just after Christmas 2019, Kohler confessed it all to the SIU. This past summer, he was charged and a press release followed. Two weeks ago came the trial. In March 2021, he will be sentenced.
Kohler's lawyer said his client was "terribly remorseful" and "repentant," but hey, it was 50 years ago, and Kevin was dead.
Kevin's story was more Kafkaesque than Capraesque. His abuser's confessional was bleaker than many of his childhood friends expected. Kevin's zombie-plunge into the Don River made more sense to them. How he personally held on so long, is a testament to his strength.
Kohler is now a white-haired old man. He appears like one of those death camp bosses who was forced later on in life to fess up to the crimes committed in his youth. He was the overseer of Kevin's personal genocide. The Jewish sages taught us that anyone who takes a single life, or stands casually to the side with an apathetic gaze, is really destroying an entire world. It is the descent into an existence so profoundly destructive to the soul. They said, "the world endures because of three things: justice, truth and peace." Kevin Dickman was denied all three.
Most troubling is how the justice system came to charge and convict Kohler. It was Kevin's friends on the justice team, not public officials, who hunted him down, and alerted him to the SIU.
The SIU investigators threw some fresh eyes on the case, and this time, the abuser wasn't set free.
The third largest municipal force in Canada had over 600 of its 2,000-strong uniform complement disciplined for misconduct in a five-year period after 2010 – by far the worst stats of any major force in Ontario. When former chief Jennifer Evans was directed by the board to stop its racist carding program in 2015, she said no. A damning two-part series in The Pointer published two years ago, revealed that charges laid against some of its officers included theft, fraud, assaulting civilians, and more.
Officers once teamed to beat up an innocent 62-year-old, and another pair shackled a six-year-old Black girl who was acting up in school. Hiring practices were deemed discriminatory. Somehow, investigators also missed the obvious suspect in the Harrison family murders, allowing the killer to strike again. Andre Marin, the former Ontario ombudsman, once said, "Peel police have a complete disdain for oversight." A headline over an editorial in the Toronto Star once read: "Something is rotten in the Peel Region Police Service."
Sir Robert Peel famously said, "the police and the community are one."
But not in the region named after him – especially in 1974. Not when it came to bringing a pedophile to justice. Things have improved. The new chief is a reformer. He recognizes the region's demographics have changed. He agrees with Sir Robert's comment.
Kevin's friends are furious at how the system failed him. Tookey told The Pointer that Kevin couldn't rid his mind of his abuser, and things started to unravel in the weeks before his death. He couldn't secure decent housing. He was too old, too tired and too broken to face another winter on the streets. He wasn't a loser, but he now had nothing left to lose.
Meanwhile, the church network in Nova Scotia was shocked when Pastor Frank was charged. Regional director of Fellowship Atlantic, said Kohler should be credited because he didn't seek to hide from what he had done. Doug Campbell said, "Frank is one of the finest men I've ever met." Foster MacKenzie, chair of the elders' board at the Lake Echo Fellowship Baptist Church, agreed. Frank was a changed man who had taken responsibility for his actions, he added.
But perhaps Tookey placed the monster who roamed free in his idyllic little eastern hamlet, while Kevin's soul bled on the streets, into perspective when she said, "It shouldn't hurt so much to be a child."
It's a Wonderful Life is a timeless tale, and its endearing message of one life touching others, is as prescient today as it was back in 1946 when Capra put the finishing touches on his masterpiece.
But Bedford Falls was a Hollywood creation, and the script was taken from a work of fiction. Kevin lived in the real world where guardian angels fear to tred. Kohler's well-plotted plan to win over a young child, was textbook stuff: Sex Abuse 101. First you gain trust. Then you separate the child from his friends and family. Then like a lion eyeing a herd of antelope, you identify the injured or youngest. Some sex abusers go in for the quick kill, the one-and-doners. Others are serial abusers, they stretch it out. This is when the child's dependency of his abuser grows. The more they do things together, like travelling, the more these experiences pull them into the nightmare.
This manipulation is as perverse as a system that allows it to go unchecked.
After the Kohler trial, Ontario's SIU wouldn't say if the information revealed would lead to something deeper. A spokesperson said that since the case remains before the courts (awaiting Kohler's sentencing) everything will remain on hold.
Peel police acknowledged the "tragic events faced by Mr. Dickman and his family, and the effects they have had on them." Let's hope a more fulsome apology is coming. Peel police didn't jump on the SIU comment that a later probe might go deeper. Perhaps it will identify who decided to issue Kohler a get-out-of-jail-free card.
It might be a gesture of goodwill if it offered up a donation to help pay for Kevin's headstone, or his tree-planting and plaque? Here's another suggestion: why not create a fund to help children who have been abused at the hands of anyone working with a public institution, like the police, or maybe even institutions of religion. These kids will get the assistance denied Kevin. Let's name the fund in his honour.
Maybe the Peel Police Services Board will reject all the denialism going around these days and hold some kind of commission for all the residents who can't seem to understand why the force has a toxic culture and such a sordid history. Now, another former officer faces charges decades after an alleged sexual abuse, amid a swirl of questions about a troubled force. How does it see justice?
The March sentencing of Kevin's molester should be an opportunity for his friends to read out impact statements. Kohler should know his victim's life and death had meaning. If he has truly turned to the cloth, he would want to one day meet his maker for an honest judgement of his eternal soul.
The Capra classic is the story of a man whose life collapsed so quickly it took a viewer's breath away. It reached the pivot point when George Bailey stands on a bridge overlooking a raging river and looks as if he might jump in and end his existence.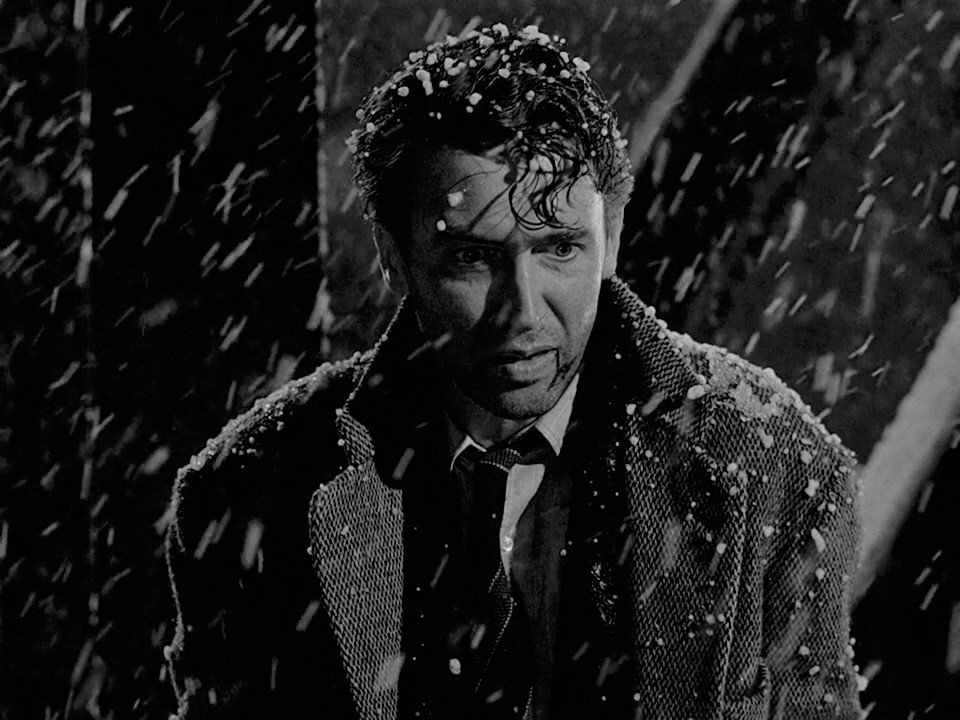 James Stewart in the role of George Bailey
Capra zooms for a powerful close-up. George's eyes burn with self-loathing. Capra pans to another man standing nearby. It's Clarence, George's guardian angel. Instead of George leaping in, Clarence goes first. He flails about in the water, shouting HELP! HELP! HELP!
Ever the good guy, George saves him. The mortal gets confused. He saved Clarence, but Clarence insists that he has saved George. He considers his plummeting fortunes, and said he wishes he had never been born. Clarence grants his wish. What follows is a night of reckoning. Everything George Bailey held dear – family, friends, even his beloved hometown – disappears. His happy community is now darker, more menacing. George is half-cocked with despair. A few frames on he is fully cocked. He then races back to the bridge, bows his head, and pleads to get his old life back. A soft and cleansing snow starts to fall. Suddenly, he is a man in full, good old George Bailey.
The 'Friends of George' rescue came just in time. His journey from darkness back to light, made Capra's point: every life touches others.
Kevin Dickman's childhood friends arrived too late. So did the justice system. From age 10 onward, all he held dear – family, friends, Peel Village, even hope – got taken from him.
There must have come a time in those last few days of his life that he wished he had never been born.
He finally chose the Don River to cleanse himself of the man who always pretended to be his guardian angel.
---
---
COVID-19 is impacting all Canadians. At a time when vital public information is needed by everyone, The Pointer has taken down our paywall on all stories relating to the pandemic and those of public interest to ensure every resident of Brampton and Mississauga has access to the facts. For those who are able, we encourage you to consider a subscription. This will help us report on important public interest issues the community needs to know about now more than ever. You can register for a 30-day free trial HERE. Thereafter, The Pointer will charge $10 a month and you can cancel any time right on the website. Thank you.
Submit a correction about this story