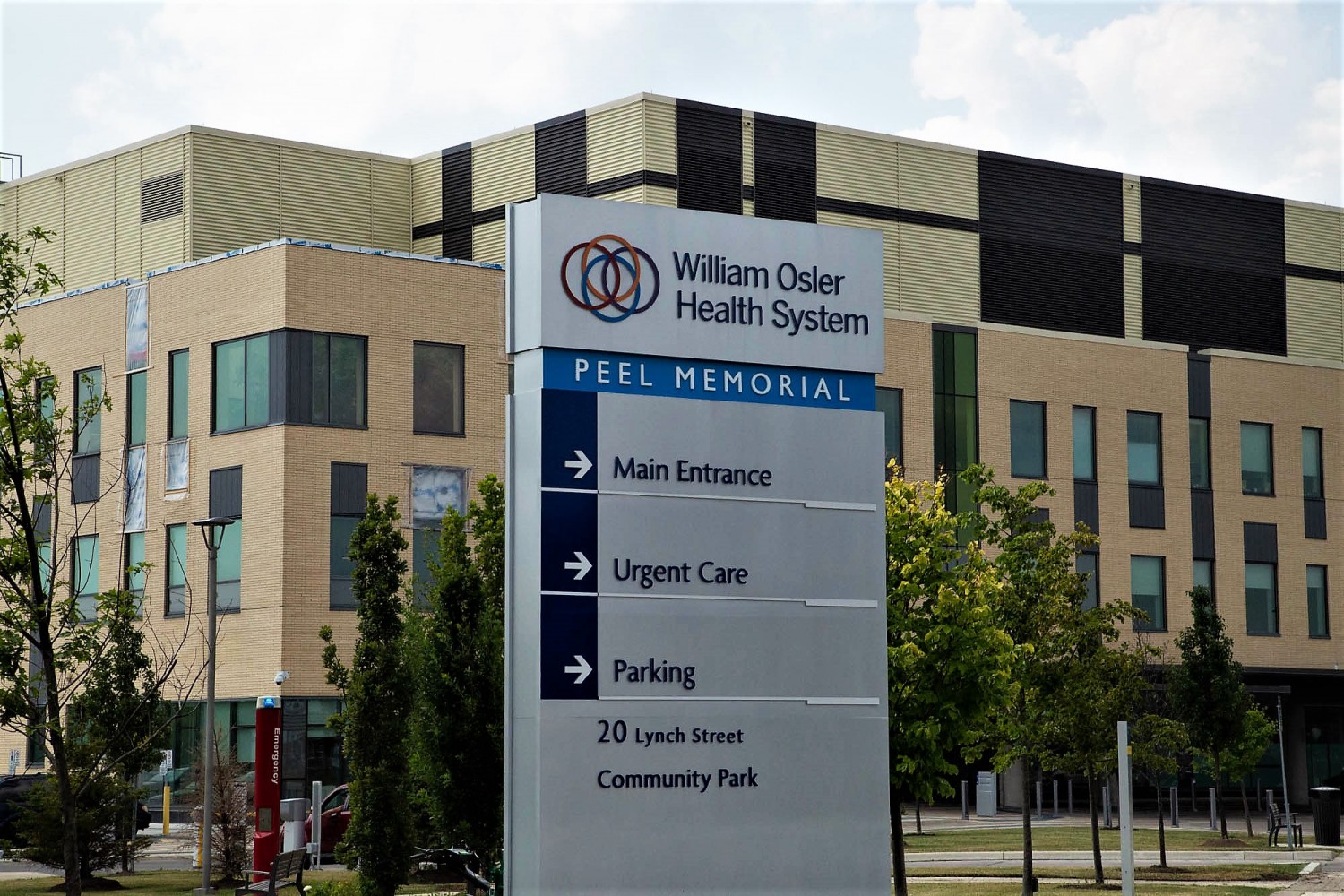 The Pointer file photos/Bioghraphi.ca
William Osler wanted a 'White man's country'; Brampton's healthcare system says it's open to conversations about the name on its buildings
In the medical community, he's widely regarded as the 'Father of Modern Medicine'.
In the city of Brampton, the organization that runs the only full-service hospital eponymously honours him. Dr. William Osler has institutions emblazoned with his name to represent what he stood for and they now stand across Canada, the U.S. and the United Kingdom. He was a man of great influence.
His legacy also includes negative attitudes toward those who were not white, detailed in a recent article published by the Canadian Medical Association Journal. It argues Dr. Osler lived in a time when racism was "rampant", but he did very little to address this. He has been quoted as saying "I hate Latin Americans," among other troubling comments. The journal article quotes a 1914 speech the Canadian made: "We are bound to make our country a White man's country."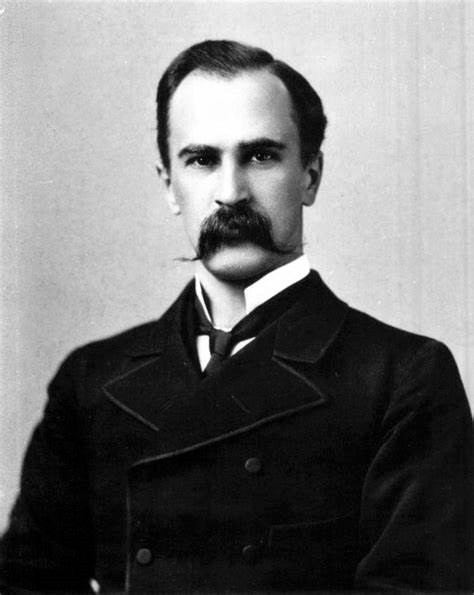 Dr. William Osler
The piece, William Osler: saint in a "White man's dominion," questions why he is still so widely celebrated, when there were other doctors of racialized backgrounds who were practicing at the same time, and received little to no recognition for their work.
Dr. Anderson Ruffin Abbott was the first Canadian-born Black doctor to graduate from medical school and receive a licence to practice in Canada. After numerous attempts, he was granted a position as a civilian surgeon in the American Civil War. Another name mentioned in the article is Dr. Peter Edmund Jones, a licenced Indigenous physician who helped with the Electoral Franchise Act, which allowed some Indigenous individuals the right to vote.
Unlike Dr. Osler, these two medical practitioners haven't received similar recognition.
"The works and even the lives of Osler's contemporaries who fought racism tend to be erased by the notion that Osler's racist behaviours were typical for his time," the authors, Nav Persaud, Heather Butts and Philip Berger, wrote.
In a public 1914 speech by Osler on immigration summarized in a newspaper at the time, he stated: "The question with us is what are we to do when the yellow and brown men begin to swarm over … We can say we do not want [Chinese and Japanese] people, but the case is different with the Indians, who are our fellow citizens [of the British Empire]. We ought, if we could, say to them: 'Come in, you are welcome.' But we have to safeguard our country. Therefore, we shall be bound to say, 'We are sorry, we would if we could, but you cannot come in on equal terms with Europeans.' We are bound to make our country a White man's country."
The article suggests such statements may have helped Osler fit in with the "medical elite" made up of white men.
The enshrinement of his legacy in Brampton is ironic. It is also coincidental.
A man who wanted Canada to remain a white man's country, now represents healthcare in a city that is overwhelmingly non-white. But, coincidentally, the treatment of patients, most of whom do not look like the man Brampton's health system is named for, might not stir much sympathy from a person who didn't want so many of them in his country in the first place.
The way the city's healthcare system is treated is not in "equal terms," as Osler described Indian immigrants in 1914, to the rest of Ontario. The 2016 Census showed that out of Brampton's 593,638 population at the time, more than 73 percent identified as a visible minority. The city's current population sits at about 656,000.
"The principles of diversity, equity and inclusion are deeply embedded in our organizational values and our patient care and workplace practices. We take the concerns about our namesake very seriously," Donna Harris, manager of public relations at William Osler Health System, told The Pointer. The organization runs Brampton Civic Hospital and Peel Memorial in the city as well as Etobicoke General Hospital. "We are committed to having further conversations about the history of Sir William Osler, his place in our society today and the name of our organization with staff, physicians, volunteers, patients, Board and community in the time ahead."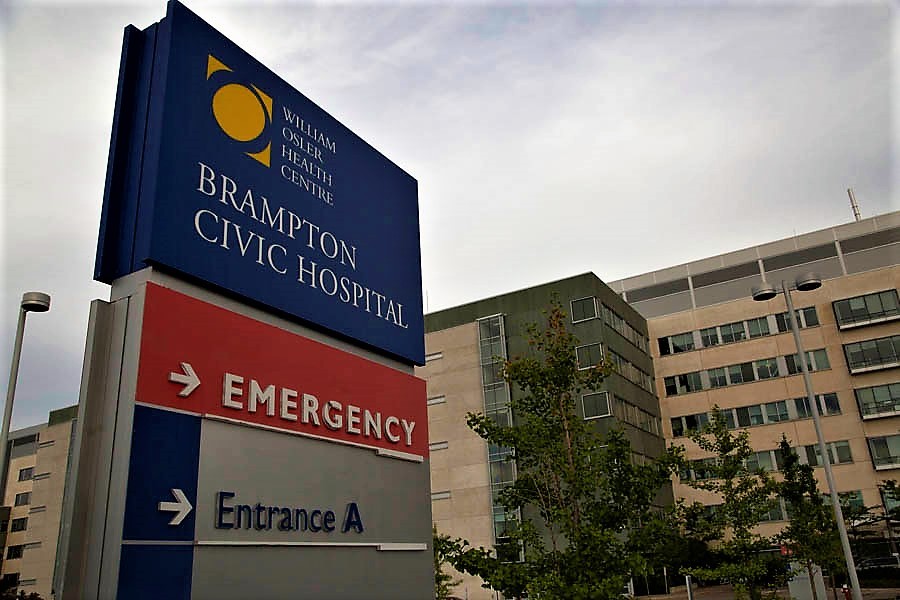 The William Osler Health System says it is open to dialogue about its name, as some residents and community leaders call for it to be changed
The Central West Local Health Integration Network (LHIN), which provides funding from the provincial Ministry of Health to local health service providers in its area, has historically received lower funding than any other LHIN in the province. This LHIN provides funding to Brampton, Caledon, Dufferin, Malton, north Etobicoke, and west Woodbridge. It funds two hospital organizations: Headwaters Health Care Centre in Orangeville and William Osler's three facilities.
"I think there's 100 percent institutional racism, and the way it impacts Brampton across the board, including our healthcare [funding], including the fact that Brampton doesn't receive its fair share," NDP MPP Gurratan Singh (Brampton East) told The Pointer.
The definition of institutional racism can differ based on who's asked, but many, including the government of Ontario, use institutional and systemic racism interchangeably.
"Systemic racism occurs when institutions or systems create or maintain racial inequity often as a result of hidden institutional biases in policies, practices, and procedures that privilege some groups and disadvantage others," the Province's website states.
It outlines "lack of public attention and policy concern regarding social, health and economic problems that disproportionately affect Indigenous, Black, and racialized communities," as an example of such institutional discrimination.
In 2009-2010, CW LHIN's funding for hospitals was the lowest out of Ontario's 14 LHINs; $515.33 per capita, according to a report from the City of Brampton. In 2016 -2017, the trend was repeated with $611.35 in funding for the city per capita.
In the 2017-2018 funding year, CW LHIN received lower amounts for each funding category of healthcare compared to the provincial average. The group received $936 in overall funding per person compared to a provincial amount of $1,907 per capita.
Now, because of an alarming lack of resources, Brampton has become Ontario's COVID hotspot, and while Canadians are flooded with news about how desperate the situation in the U.S. is, our country's ninth largest city has numbers comparable to the worst hit areas south of the border. Los Angeles County is one of many American regions now getting national attention and increased resources because of alarming rates of COVID-19 infection. Brampton's rate of infection over much of the last month has been worse, but resources from the Ontario government have been slow to arrive.
On Wednesday, the County's public health director said severe lockdown orders would likely be issued if the five-day average of infections crossed the 4,500-case threshold.
That would be the per capita equivalent of about 300 cases in Brampton. The city has reported the following daily case counts recently: 386 on November 12; 342 on November 11; 332 on November 9 and 318 on November 20. It has averaged close to 300 cases a day over the last two weeks.
While Toronto had about half the per capita case count over the same period, it has been given far more resources, and attention. Up until the start of November it had 17 provincial COVID-19 assessment centres, while Brampton had one. A fair per capita allocation would have seen the smaller city get about four screening sites, instead, its numbers skyrocketed while the fundamental tool, testing, to control the viral spread, was largely ignored. Brampton residents and businesses have suffered since the spring in the face of this neglect.
Extra testing only came to the city two weeks ago, months after the need first arose.
While the lack of funding isn't directly tied to any sort of legacy attached to Osler, Gina (Ragini) Agarwal said sometimes things happen without a reason and the mirroring of Dr. Osler's words and the Province's actions might be just a coincidence, but they still represent the same impact on the marginalized. The professor of family medicine at McMaster University noted that since this is a time when a lot of "truth and reconciliation is happening…it's a time to right some of these wrongs."
In 2019, McGill University's Medical Student Society (MSS), Osler's alma mater and one of many institutions with buildings named after him, voted to remove his name from some places. "The [Medical Student Society] recognize that Sir William Osler, while a pioneer in medical education at McGill, should no longer receive such recognition at the present time, given our evolving social norms that do not endorse such things as white supremacy and sexism," the approved motion stated.
Agarwal commented on the original article posted by CMAJ, and pointed out problems now surfacing over Osler's racist statements. "It's kind of strange that why do we always name hospitals and medical institutions after prominent white, usually male, individuals?"
Jaskaran Singh Sandhu, a consultant at public affairs agency Crestview Strategy, was born and raised in Brampton and issues with healthcare funding have been a common theme throughout his life.
He worked in the office of former mayor Linda Jeffrey and has been outspoken recently about the negative perception many traditional and social media platforms have created around Brampton's disturbing COVID case rate.
Instead of focusing on the blatant inequity in the Province's healthcare funding for Brampton traditionally, and now the woeful testing capacity here, many have instead made baseless claims or used screaming headlines to suggest the city's immigrant communities and many of their cultural practices are to blame.
Mayor Patrick Brown, among others, has claimed multi-generational family-living among Brampton's large South Asian-Canadian communities and travel from the subcontinent have been part of the problem, creating negative stereotypes and stigmas, without any proper research and analysis to contextualize his remarks.
Last week, media outlets flooded news feeds with wild headlines about "Large" Diwali celebrations that violated limits for gatherings. It turned out the reckless claims were largely exaggerated, and the tone often lacked balance, for example, by explaining that other cultural gatherings such as recent Thanksgiving festivities, have posed widespread challenges.
When Sandhu speaks with others about healthcare in the city, he says the conversation always includes mention of residents being better off driving to hospitals in surrounding municipalities, such as Oakville, Mississauga and Georgetown, rather than getting care in Brampton. He believes the only time Brampton was treated with the respect it deserves was when Bill Davis was premier from 1971 to 1985. Davis grew up in the city and still resides here today.
Sandhu, like thousands across Brampton, said he's frustrated the city never gets prioritized. Premier Doug Ford has said the Province will support the expansion of Peel Memorial, but a conversation for a third hospital needs to start now, Sandhu said. Memorial's second phase was already committed to by previous governments and it is part of the original plan for the site. By the time Peel Memorial is fully functional, the need for a third hospital will exist and the province will continue to play catchup, especially if no in-patient beds are allocated under Memorial's expansion; it currently only treats residents through out-patient care with no beds for admission.
Sandhu wants to see a close relationship and engagement between the diverse communities of Brampton and the provincial government.
"If those relationships were really nurtured and really developed over a long period of time, we would have a much easier go at this…the reality is that there is no relationship there between public health and institutions and communities on the ground."
Agarwal says there needs to be more representation of the population within the medical community.
Brampton does have diverse representation at the provincial government level. Two of the five Brampton MPPs are part of the governing PCs and both are South Asian-Canadians, while all three NDP MPPs identify as visible minorities and the current CEO of Osler is of South Asian descent.
But Agarwal said the full effect of such representation may not be implemented in policies, as elected officials and even those within healthcare usually follow what party leaders want.
"If you're one of the minority South Asians who's been given the leadership in something, if you start sticking your neck out and trying to change everything, the likelihood is you're going to be removed from your position."
This may explain the lack of leadership from Brampton's PC MPPs, Amarjot Sandhu and Prabmeet Sarkaria, even though their job is to represent the needs of constituents who put them in office. In 2018, the NDP brought forward a motion to allocate funding for a new hospital in Brampton. Neither of the two MPPs were present for the vote. In November 2019, a similar motion by the party was brought forward and both PC MPPs voted in favour, but it was defeated by their majority government with no input from the two Brampton members.
The Province hasn't collected race-based data on healthcare delivery in the past, which would show a clear picture of how healthcare funds are being used, the NDP has argued. The Province did ask local public health units, in June, to collect race-based information on residents who test positive for the novel coronavirus.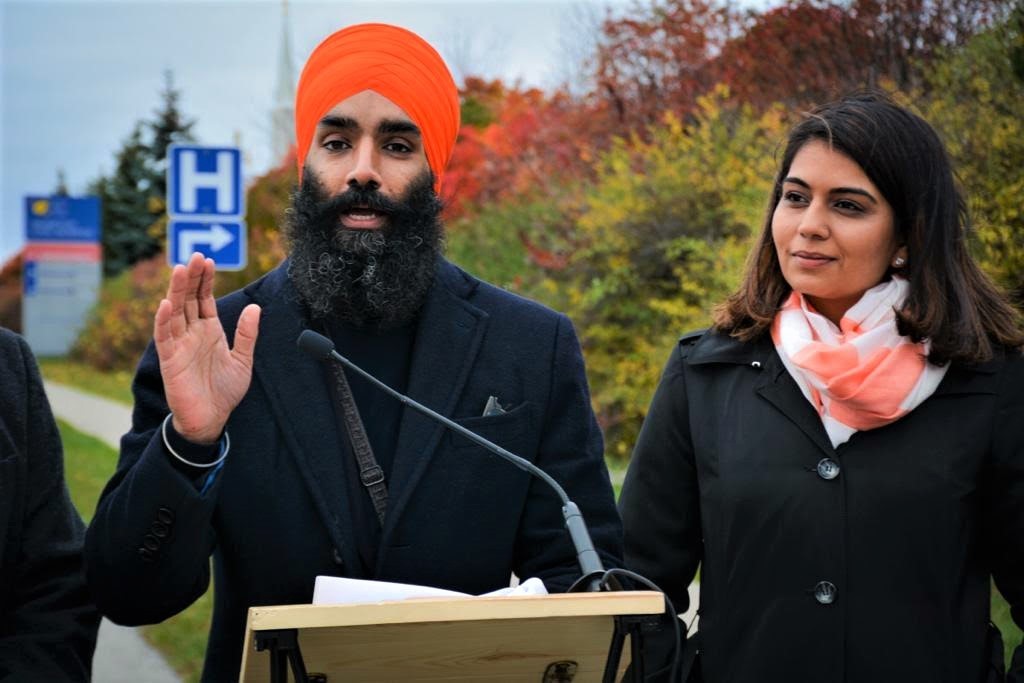 Brampton NDP MPP Gurratan Singh stands in front of Civic Hospital with fellow Brampton MPP Sara Singh; he believes if the community wants William Osler's name removed from the city's hospitals it should be done
In Peel Region such data has shown the virus is disproportionately affecting members of visible minority groups. Those who identify as South Asian represent 31.6 percent of Peel's population but make up 49 percent of all cases from April 13 to September 30.
The negative impacts of neglected healthcare for Brampton residents might have been unacceptable to William Osler. But his name, to many, represents the attitude of neglect that is putting the safety of Brampton residents at risk.
Symbols of oppression, including iconography that celebrates historic figures who at the very least turned a blind eye to destructive discrimination, are being removed across North America, a reflection of how society continues to evolve.
Singh says the statements Dr. Osler made were racist and if the community believes his name should be removed from Brampton's beleaguered healthcare system, he will support them.
"I think William Osler (Health System) needs to lay bare his legacy. I think people need to know his legacy and I think this needs to be a community led decision [to change the organization's name]."
---
Email: [email protected]
Twitter: @nida_zafar
Tel: 416 890-7643
---
COVID-19 is impacting all Canadians. At a time when vital public information is needed by everyone, The Pointer has taken down our paywall on all stories relating to the pandemic and those of public interest to ensure every resident of Brampton and Mississauga has access to the facts. For those who are able, we encourage you to consider a subscription. This will help us report on important public interest issues the community needs to know about now more than ever. You can register for a 30-day free trial HERE. Thereafter, The Pointer will charge $10 a month and you can cancel any time right on the website. Thank you.
Submit a correction about this story