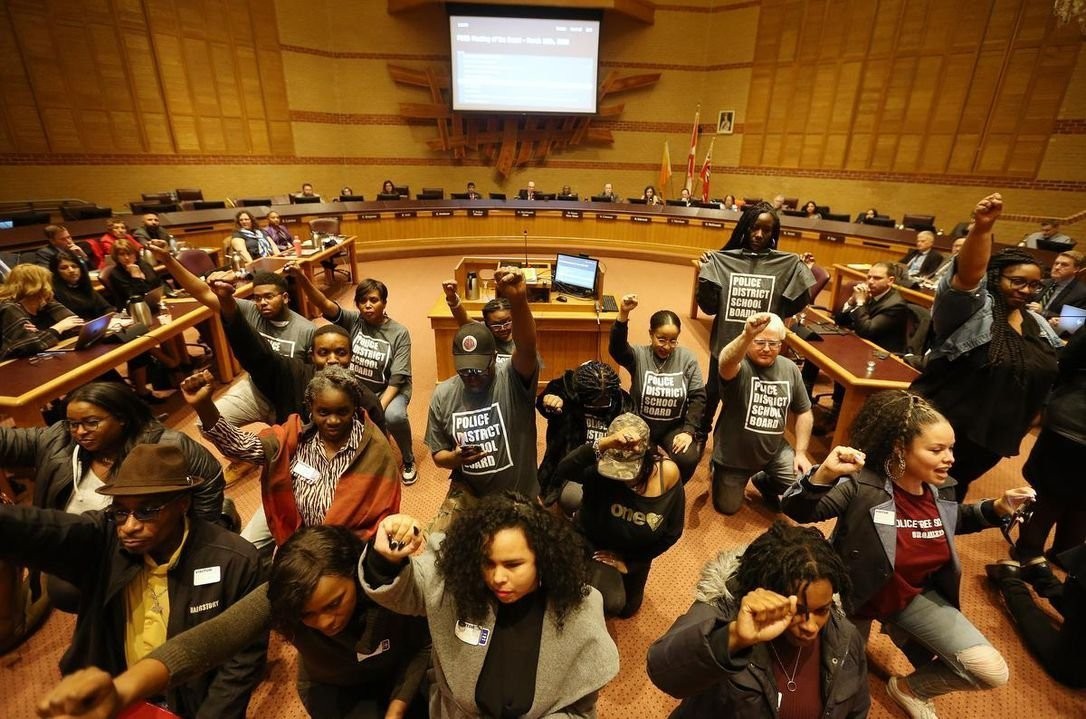 Photos from Twitter/Judy McKeown, Gord Gallimore and Nicole Luinenburg
Trio of educators finally appointed to anti-racism roles forces union u-turn
It's been a long journey for Judy McKeown, Gord Gallimore and Nicole Luinenburg.
In June, founding members of the Disrupting Anti-Black Racism Advisory Committee (DABRAC) thought they had won a game-changing victory. An overwhelming majority, 94.8 percent of members who participated, voted to create three full-time, salaried positions dedicated to introducing a diversity lens to a previously rigid union dominated by white members that failed to promote equity in education.
Meanwhile, Peel's school boards, whose students are overwhelmingly non-white, were doing harm to tens of thousands of families suffering the long-lasting consequences of institutionalized racism in education that denied opportunities and created barriers to success.
The unions representing teachers watched from the sidelines as the demographics continued to shift, while discriminatory attitudes did not.
Finally, union members like McKeown, Gallimore and Luinenburg said, enough.
From left to right: Judy McKeown, Gord Gallimore and Nicole Luinenburg.
But despite the tidal wave of support from other members, a series of bureaucratic roadblocks stood in their way. After close to half-a-year of fighting, the three community leaders are finally in place and set to start being paid from Wednesday for a job they've been doing voluntarily for months.
The three positions all focus on how to help bring equity to the union local and add desperately needed lived experience to a previously all-white executive. The positions, known collectively by some as 'The Big Three', are: Racism Reporting Officer (Gallimore), Dismantling Anti-Black Racism Training Officer (McKeown) and Anti-Racism Intersectional Officer (Luinenburg).
Initially, some of the executives and senior members in Peel's Ontario Secondary Student Teachers' Federation Division 19 (OSSTF D19) conflated the three new anti-discrimination positions with an increase in union dues. After an agreement was reached to fund the roles through reserves for a year, there was debate about exactly how the new positions should be appointed, with many diverse members pointing out the status quo would not bring diversity.
As a result of the struggle, and after continued pressure to put decision-making in the hands of those with the actual experience, McKeown says the first step is explaining why their roles exist and what they want to achieve. McKeown, in particular, will focus on bringing critical race theory to the heart of OSSTF D19, reviewing its policies and bylaws to help it serve all educators.
"There are still people who felt that there is no need for all three of us to be in the positions that we're in. I think the first part is demystifying the roles. After that, we want to get right to work," she told The Pointer. "I want to, in my role, provide training for people who are still struggling with concepts of critical race theory, intersectionality and how to fight anti-Black racism."
---
What do the three roles mean?
Dismantling Anti-Black Racism Training Officer: Organizes and plans training for union executives and members with the aim of eradicating all forms of anti-Black racism within schools and the union. Also works with other union executives on various committees and employee groups to ensure that D19 becomes a more equitable and anti-racist union (anti-racism, a proactive concept, means opposing racism rather than just not behaving in a racist or discriminatory way). Bridge the gap between the union, board, and communities to make sure the lines of communication are open, and meaningful change can be made for Black students, other marginalized students and staff.
The Racism Reporting Officer: Takes on reports of racism by or about members, finds resolutions to reports of racism and performs action-research by collecting quantitative and qualitative data. Works in collaboration with all other executive members to ensure anti-racist policies.
The Anti-Racism Intersectional Officer: Liaises with a variety of stakeholders, including community members, employee resource groups and members to improve equity within the union and schools. Attends student associations for equity seeking groups (e.g. Black student associations and other groups representing a range of visible minority communities) to help teachers understand how to better support students with intersectional identities. Works with union and board committees related to dismantling anti-Black racism and other forms of discrimination, collective bargaining, human resources, human rights and equity and inclusion.
---
The positions, agreed upon in June, were only announced officially on November 9. Technically, the three do not begin until Wednesday, but have already done work to confront the provincial umbrella of the union after it released a survey on anti-Black racism last week.
The survey, designed to help inform OSSTF's anti-discrimination policies, polled its members on a variety of topics about anti-Black racism and discrimination. To the frustration of Peel's new executive members, it appeared to ignore important areas of research and instead asked a predominantly white teacher-base to share its opinion, which likely would have resulted in skewed findings devoid of the lived experience needed to actually understand the issues.
One example the trio raises is a question about police officers in schools, a highly controversial program, especially in Peel, where the board and Peel Regional Police announced an "overhaul" of the Student Resource Officer (SRO) program earlier this year.
"The survey asked respondents to give their opinion on topics, including whether or not they agree that having police in schools can have a 'devastating effect' on Black students and their opinions on streaming, two practices that already have a large body of research demonstrating their negative impacts on Black and Indigenous communities," the three wrote.
McKeown, Gallimore and Luinenburg arranged a meeting last week with provincial OSSTF president Harvey Bischof to share their concerns, but no changes were made. To add urgency to the matter, they launched a petition, which has roughly 150 signatures. "Combating and eradicating systemic racism in our education system should not be based on the opinion of our union members," one supporter wrote.
The petition, started by the three Peel executives, states concern "the provincial union [is] relying more on member opinion than evidence to inform decision-making around addressing anti-Black and anti-Indigenous racism".
Over 150 people have signed a petition, in an attempt to ensure the teacher's union relies on evidence as opposed to member opinions when making new anti-Black racism policies.
Across several decades, dating back to the Stephen Lewis report into racism in Ontario's education system and other institutions, published in 1992, and most recently two Provincial probes of PDSB, studies and reviews have documented the difficulties of Black students and staff. There are several leading experts in Ontario, including Kike Ojo-Thompson, who specialize in helping organizations harness this data and turn it into reform.
The initial review of PDSB, published in March, held one such example of the data available. A breakdown of streamed classes in 2018-19 showed Black students, who make up 10 percent of the school population, vastly overrepresented in less academic classes.
For Grades 9 and 10, Black students made up just 7.7 percent of academic streams. In contrast, they made up 21.7 percent of those in applied streams, more than twice their representation among the student body as a whole. They also accounted for 25.4 percent of locally developed credit courses (academically below applied classes and aimed at teaching life skills). This is just one example of the hard data available around the impacts of discrimination in education.
Following the backlash from Division 19 in Peel, a spokesperson for OSSTF told The Pointer the survey had been paused in order to reevaluate and consult further. They did not include an apology or acknowledgement of the grassroots advocacy in Peel, to the disappointment of advocates, as such awareness can be an important sign of authentic engagement.
"As you may be already aware, OSSTF/FEESO has paused the survey you refer to in your question until we consult further with some of our advisory bodies," the spokesperson wrote.
The process has frustrated Luinenburg (Anti-Racism Intersectional Officer). Instead of taking criticism to heart, apologizing or crediting Peel's new executives for their work, the provincial union has demonstrated a reluctance to incorporate the professional experience of its three new executive members from Peel.
"I am old fashioned, but I like people to rely on evidence rather than opinion," Luinenburg told The Pointer. "It kind of falls into the trap that often happens when we're trying to do equity work, where there's this continual need to go and get more and more evidence, even though there's evidence that exists. We need to act on the evidence that's out there just now."
Despite McKeown, Luinenburg and Gallimore sharing these views in their Thursday meeting with Bischof, little constructive dialogue took place, they said. "He kept falling into this neutral language," Luinenburg said of the meeting. "There is no neutrality in racism: you're somebody who is trying to change systems … or you're complicit."
Bischof has not responded to interview requests by The Pointer on the issue.
In an internal message explaining the decision to pause the survey a week after its release, OSSTF's provincial leadership promised it had never been intended as "a referendum" on policy. They added data already submitted would still be considered.
"I recognized it right away as being problematic and I reached out to our three new time release officers to ask what they thought about it," Ryan Harper, acting president of OSSTF D19, told The Pointer. After facing criticism for the variety of delays the new positions faced, he said he was pleased his local "stands out" across Ontario for its progressive position. It is "always nice" to appoint positions in a timely manner, he said, but blamed bylaws and bureaucracy for the delays in finalizing the new positions. "I would say their advocacy has already started to pay off because [the] provincial OSSTF has now paused that survey and are seeking additional input."
Ryan Harper, acting president of OSSTF D19
The initial test of the Big Three, set even before they officially begin in their positions, demonstrates the need for roles specifically to deal with anti-Black racism and other forms of discrimination. The three hope they can begin to shake off the union's past as a seniority-obsessed organization, promote diverse hiring and push through progessive changes finally beginning to take root at PDSB.
"Now that we are in the roles, we can support the work that the board is doing," McKeown said. "[PDSB] is making strides and we want to be a part of that change. We want our union to be open to that instead of putting up potential roadblocks for the work that needs to happen."
---
Email: [email protected]
Twitter: @isaaccallan
Tel: 647 561-4879
---
COVID-19 is impacting all Canadians. At a time when vital public information is needed by everyone, The Pointer has taken down our paywall on all stories relating to the pandemic and those of public interest to ensure every resident of Brampton and Mississauga has access to the facts. For those who are able, we encourage you to consider a subscription. This will help us report on important public interest issues the community needs to know about now more than ever. You can register for a 30-day free trial HERE. Thereafter, The Pointer will charge $10 a month and you can cancel any time right on the website. Thank you.
Submit a correction about this story