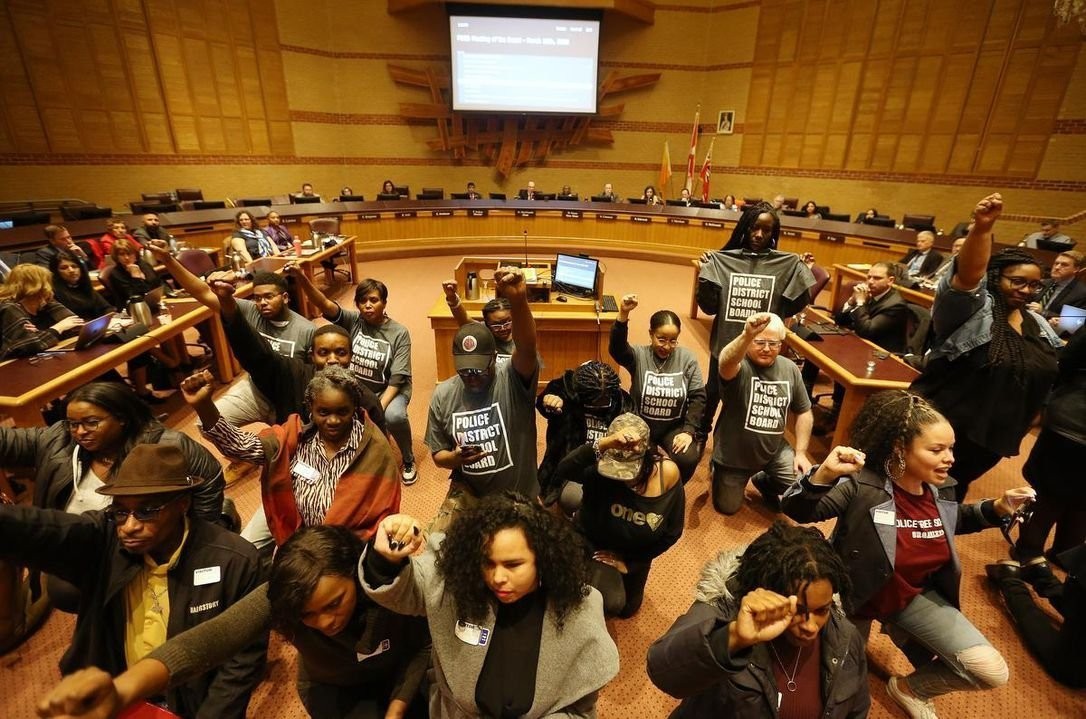 Photos from The Pointer files/Peel Regional Police/Twitter
Answering calls for systemic change, Peel police vow 'complete overhaul' of school officer program
The Peel Regional Police has temporarily cancelled its School Resource Officer program after concerns were raised that it alienates Black and other visible minority students. The decision is a crucial first step by the police agency to address issues with systemic racism and is a significant departure from the rhetoric of previous police leaders in Peel who steadfastly supported the program.
"The needs of the community and school environments have changed and advanced to a level where the service delivery requires a vital review," Chief Nishan Duraiappah said in a press release, adding the system will be undergoing a "complete overhaul".
Implemented 20 years ago, the SRO program is meant to build relationships between youth and police officers, act as an initial recruitment pathway as well as address issues and complaints on school property. Every secondary school in Peel has an assigned SRO.
While the intent is to form positive bonds between police and local youth, that is not always the outcome.
In April 2019, several students from Sheridan College appeared before the Peel Police Services Board with a list of concerns about Peel police including discriminatory practices such as racial profiling and carding.
Abigail Salole, the students' instructor, who also spoke before the board, addressed her studies of SRO programs. Salole, who has a PHD in criminology, explained that from her studies of at-risk youth, there is "unanimous sentiment" that SRO programs do more harm than good for them. Further, she explained that many studies have shown SRO programs perpetuate social injustices within racialized communities.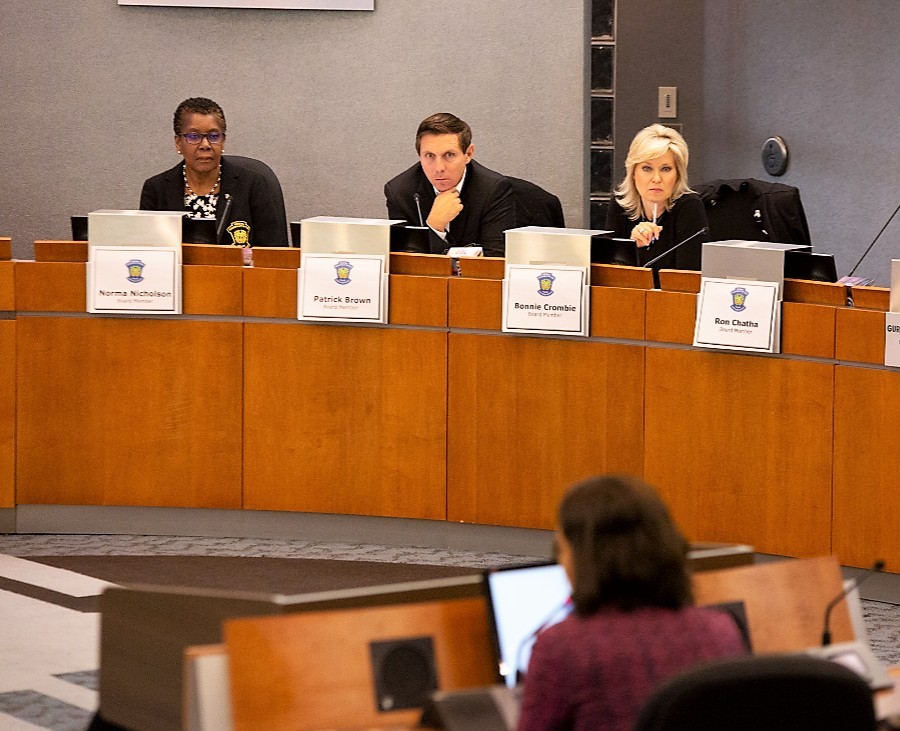 Sheridan College instructor Abigail Salole speaks before the Peel Police Services Board last year.
Almost 84 percent of the PDSB's students are visible minorities. Over the course of the program, more than 80 percent of Peel police's uniform officers were white.
"Research participants unanimously experienced the presence of uniformed and armed police in high school as negative," she said. "These young people will be the first to admit that they were not necessarily the most well behaved students, but that doesn't mean they should be discarded."
Salole admitted that her research might not offer a complete picture due to its small sample size, but said it was successful in highlighting a crucial problem with the SRO program.
"If you ask at-risk youth or those young people who are most marginalized in school you get very different answers about their experience of the school resource officer program," she said. "For those people who are scared of police already because of other experiences, it makes them scared to go to school, and it makes a barrier to school and education and exacerbates social problems that exist."
This is of particular concern for Peel's Black communities, many of whom do not have a positive view of police officers as many of them have been unfairly targeted in the past by practices like carding. Peel Police data showed that before the practice of random street checks was curtailed by the province in 2016, Black individuals in Peel were more than three times as likely to be stopped by police compared to white individuals.
Salole's concerns with the SRO program were not the first time Peel Police had heard and discussed such issues, or the first time concerns had been raised about its impact on marginalized youth. A few weeks before the appearance of Salole and her students, Peel Regional Police were discussing the scathing findings of an audit completed by the Canadian Centre for Diversity and Inclusion, which described a police organization that systemically discriminates, and harasses and punishes those who try to speak out. The audit found the majority of those who were asked about the SRO program "did not have a positive view." Town hall attendees noted concerns about their children being criminalized and carded while at school, and stated the only goal of the SRO officers was to collect information about potential crimes.
In the past, Peel Police has bullishly defended the SRO program. In November 2017, the Toronto District School Board cancelled its own SRO program after complaints that racialized youth felt targeted and intimidated. The decision sparked debate about officers in schools across the province. However, in January of 2018, a study from Carleton University of Peel's SRO program found no such issues, and praised the successful program for reducing bullying and making more children feel safe at school. However, only a quarter of the students surveyed for the study identified as being part of a visible minority population, despite PDSB's student composition that is overwhelmingly non-white. The Region of Peel's overall population included 65 percent of residents at the time of the Carleton study who identified as visible minorities. The university report's lack of visible minority responses, especially from those in Black communities, was heavily criticized.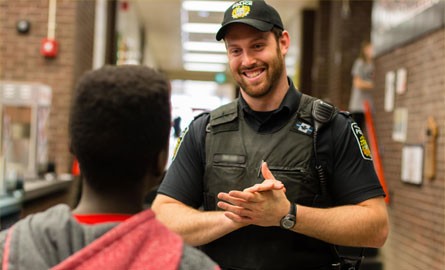 The SRO officer program is meant to build positive relationships with youth, but studies have found the presence of police in schools can have negative impacts on marginalized communities.
It was revealed that the report relied heavily on a steering committee that had 19 members, almost all of whom were employees of Peel Regional Police.
When other studies of the impacts of SRO programs were used to show negative outcomes for visible minority students, the Carleton report's failure to even address these issues rendered its findings irrelevant, as the consequences of Peel's program largely impacted students who are not white.
Business professor Linda Duxbury, co-author of the Carleton report into the SRO program in Peel, admitted the report didn't even look into the impact on visible minority students, despite this being the biggest concern.
She told NOW magazine her work "was to say here's what the SROs state what they do: they provide a safe learning environment."
The conclusions were drawn from interviews with 23 PRP officers assigned to schools, almost a dozen supervisors and more than 40 school officials, while 655 grade 9 students from five Peel high schools were surveyed. Only one in four students who were surveyed identified as a visible minority, a complete mismatch with the PDSB's student demographics that show an almost opposite reality. About 84 percent of student-respondents should have been visible minorities, to accurately capture the board's demographics, and the lived experience of the overwhelming majority of students. Instead, only 25 percent of students used in the Carleton study were visible minorities.
According to a press release from Carleton, the report was funded by the Social Sciences and Humanities Research Council as part of a Partnership Development Grant "looking at the sustainability of policing in Canada."
Now, the decision to halt the program — which has effectively been on hiatus since the onset of the COVID-19 pandemic and the closure of schools — is supported by both the Peel District School Board and the Dufferin Peel Catholic District School Board.
"We have been assured that Peel Regional Police will engage in a consultation process with stakeholders, including Peel District School Board staff and the diverse communities we serve, in particular members of the Black, African and Caribbean communities," states PDSB Interim Director of Education Jaspal Gill in a news release. "We have heard from members of our school communities, in particular those who identify as Black and Indigenous, that they do not feel safe when SRO's and other police officers are present in Peel schools. PRP's action to pause the SRO program is necessary."
DPCDSB Director of Education Marianne Mazzorato said the board supports a "fulsome review" of the SRO program, and is pleased the PRP will be consulting widely with the community on how to improve existing problems.
According to PDSB Supervisor Bruce Rodrigues, after trustees voted in June to ask the province for help following months of inaction to address serious concerns around anti-Black racism within the board, he says once the PRP have established the new model the board will then do its own consultation with students, staff and the community to determine whether it is something they all agree should move forward.
"If we determine that the new model does not meet the needs of the students and families we serve, we will not move ahead," he said "We are committed to listening to and working alongside the communities we serve to eliminate anti-Black racism and discriminatory practices in Peel schools and work sites."
The SRO program was a key point of contention for parents and advocates within Peel's Black communities in their fight against PDSB. Between the announcement of a provincial probe into the school board in November 2019 and the dismissal of controversial former director of education Peter Joshua in June, parents kept up the pressure. They demanded reform at PDSB from top to bottom and police in schools was one of the things they wanted to see go.
At a meeting in February, where the police were called to PDSB's headquarters, parents were protesting the shackling by two police officers of a six-year-old Black girl at a PDSB school. One of the officers served as a liason for the school. Furious, after the Human Rights Tribunal of Ontario found race played a role in the disturbing treatment of the young girl by Peel police officers, parents advocated against a culture of embedded racism. A system of criminalizing Black people was perpetuated, they said, by police in schools.
At various rallies and events, campaigners have worn t-shirts that re-label the acronym PDSB as Police District School Board.
Kola Iluyomade, a particularly engaged parent and advocate, said PRP's decision not to scrap the SRO program demonstrated it was "not introspecting" and believes the program needs to be cancelled altogether.
"It shows how tone-deaf they are to pause this [and] not end it," he said. "They say they want to consult with their communities, but [their officers] won't even talk to the families of those they killed [in mental health crisis] or the SIU… They can consult all they want ... they're not coming back. They can call it a pause, we're calling it a penalty; it's done, it's finished."
He was referring to the refusal of Peel officers to be interviewed by the SIU after recent high-profile cases that involved the deaths of Black men at the hands of Peel officers. D'Andre Campbell, a 26-year-old Brampton man who reportedly suffered mental health issues was killed in April, but the officer who shot him has refused to cooperate with the SIU in its investigation of the incident.
Last November, 30-year-old Clive Mensah, who also suffered mental health issues, was fatally Tasered by Peel police, but two of the three officers involved have refused to speak with the SIU.
Iluyomade said he was pleased by PDSB's commitment to abolish the SRO program if it is not satisfied with the review.
Advocacy Peel, one of the organizations campaigning for better treatment of Black students in the region, released a statement applauding the move. The statement highlighted the pressure parents will continue to put on PDSB and PRP to bring about the institutional change promised.
Dr. Tope Adefarakan, a member of the group, said in a media release that Advocacy Peel is "not going away", adding: "We are tired, but still yearn for our children to breathe the air of freedom in an inclusive and equitable learning environment."
According to the PRP, consultations regarding the SRO program will take place this summer and involve many community organizations, with a report to come forward before the end of 2020.
"We recognize that the consultative process needs the allocation of the requisite time and resources to ensure an equitable and trustworthy method. This will take thoughtful planning with as many stakeholders and partners as possible, including but not limited to, Black Community Action Network (BCAN), MOYO Community Health Services, school board staff, students, families, academics and advocates to collectively determine the next steps for PRP," Chief Duraiappah said.
---
Email: [email protected]
Twitter: @JoeljWittnebel
---
Email: [email protected]
Twitter: @isaaccallan
Tel: 647 561-4879
---
COVID-19 is impacting all Canadians. At a time when vital public information is needed by everyone, The Pointer has taken down our paywall on all stories relating to the pandemic and those of public interest to ensure every resident of Brampton and Mississauga has access to the facts. For those who are able, we encourage you to consider a subscription. This will help us report on important public interest issues the community needs to know about now more than ever. You can register for a 30-day free trial HERE. Thereafter, The Pointer will charge $10 a month and you can cancel any time right on the website. Thank you.
Submit a correction about this story