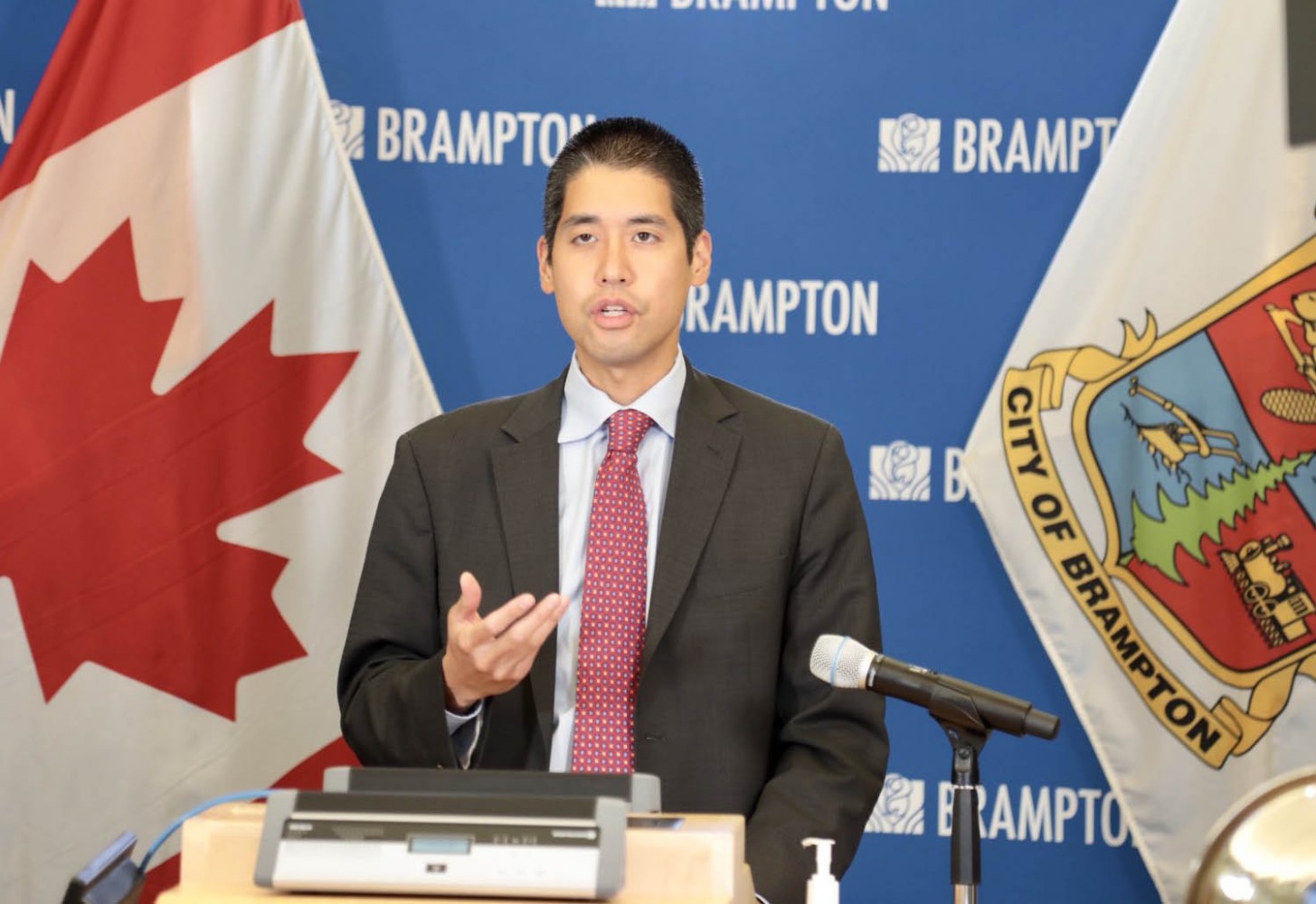 Photos from the Region of Peel/City of Brampton
'This is not a joke': Peel's top doctor warns of lockdown to prevent 'catastrophe'
Even watching on a choppy live stream, the concern on Doctor Lawrence Loh's face was clear for all to see. Presenting Peel's worsening COVID-19 data on Thursday, the region's medical officer of health had few reassuring words for councillors.
"This is not a conspiracy. This is not a joke. This is the largest open book test in the world and many places before us have not seen good results," he told elected officials at the Region of Peel Council meeting.
Also presenting to councillors was Dr. Sergio Borgia, medical director of infection prevention and control at William Osler. Neither he nor Loh was willing to entertain alternative theories or discussion about economic fallout. The two medical experts were in agreement in their frank presentations: Peel is on the brink of disaster.
Loh presented to councillors virtually Thursday, providing a clear warning that Peel is on the edge of disaster as COVID-19 continues to surge across the region.
"Now, more than ever, we need the community's support to help us fight [the] COVID pandemic and to follow the most current recommendations," Borgia said. "And we need the support of our elected officials to champion these messages in the community and enable our medical community to provide care for our patients."
But some councillors weren't playing ball. A variety of different speakers, with many representing Mississauga, asked questions and bounced theories off the two experts. The questions focused on the local economic picture and explored how businesses might reopen even in the current climate.
In Peel, case counts are already peaking almost three times higher than the first wave. By every indicator available, the situation is dire and seems only to be getting worse.

The COVID-19 case numbers being recorded in Peel during the second wave are far above any seen when the pandemic began.
Under the Province's colour-coded system that determines what stage of reopening each region is placed in, test positivity has to be at 2.5 percent or below to avoid being moved into the orange (restrict) category. Rates above this indicate testing levels are not adequate and the viral spread is not being controlled using proper techniques such as contact tracing, which rely on required levels of testing.
Between November 1 and 7, the positivity rate for the region as a whole sat above 10 percent, with Brampton at 13.4 percent and Mississauga at 7.2 percent. These are levels "well above any medical professionals' comfort zone," Borgia said.
As a result, Peel is the only region in the province currently in the red (control) category, the highest alert level before a lockdown is declared. (Toronto has decided to remain in a modified Stage 2 phase.)
The "R", or reproduction number, is currently at 1.1 in the Region of Peel. It's a measurement of the novel coronavirus's capacity to spread within a particular jurisdiction. The R value signifies the average number of people each infected person will transmit the virus to. In Brampton it is 1.0, in Mississauga it is at 1.3. Epidemiologists get worried when this number reaches 1, indicating the spread is essentially doubling within a given area, over a period of time.
Brampton's case positivity rate is the highest in the region, as an Osler health official told councillors, all these numbers are "well above any medical professionals' comfort zone."
The rolling seven-day average, calculated using data from Peel Public Health accessed at 2 p.m. on November 12, is also heading in the wrong direction. On October 28, Peel recorded a seven day average of 208 cases, rising to 260 on November 4. On November 11, the figure sat at 366.
To put this in perspective, Peel is accounting for roughly 30 percent of Ontario's cases, and new modelling suggests there could be around 2,000 daily new cases in the region.
Only hours after Loh spoke to regional councillors, the Province released the devastating new models suggesting Ontario could top 6,000 new daily cases of COVID-19 by mid-December. If this translates to around 2,000 daily cases in Peel, the region's healthcare system could be crippled.
William Osler and Trillium Health Partners, which run the hospital systems in Brampton and Mississauga, respectively, are bracing for this scenario. Previous modelling said ICU capacity would be threatened at around 1,200 new cases per day. Both hospital systems are already experiencing capacity issues because of the second wave, which appears to be surging higher.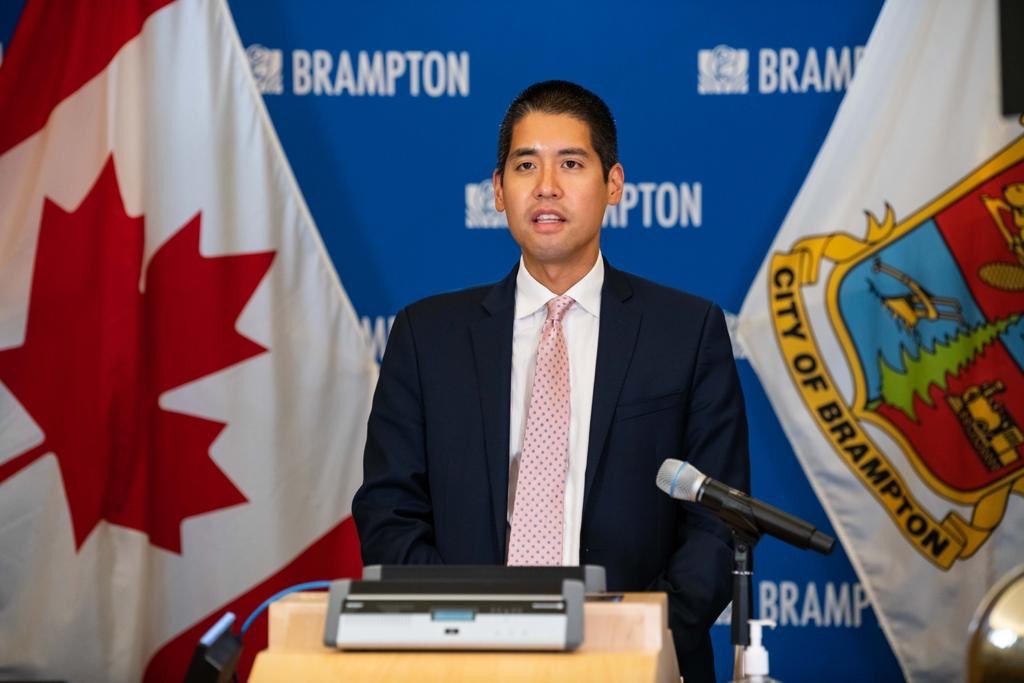 Dr. Lawrence Loh
The frightening reality has Loh on the edge of calling for a full lockdown. He told councillors if things continue to get worse, he will ask the Province for stricter measures to "help prevent a catastrophe" and to save hospitals from being overwhelmed. "I will not hesitate to introduce a circuit breaker [lockdown]," he said.
Under a cloud of worsening indicators, councillors asked Loh questions largely relating to the economic concerns in their wards. Mississauga Ward 1 Councillor, Stephen Dasko, repeated questions he had raised at his local council meeting Wednesday, asking how contact tracing could be used to open restaurants more liberally. His question was not met with a positive response.
Borgia, present to talk about hospital capacity at William Osler and not epidemiology, said contact tracing in large congregate settings like restaurants at this stage of the pandemic would be a "herculean" task. Loh pointed out that "the more people you have, the more possibilities you have for interactions… it basically makes contact tracing impossible."
Dr. Sergio Borgia praised Dr. Loh for implementing stricter public health measures than those in the new provincial framework.
Other queries suggested councillors are not reading the weekly epidemiological reports released by Peel Public Health or data from the scientific community more broadly. Instead, they are waiting until Loh presents and asking their questions, unfiltered. "There's things that we read in the media that we don't know until quite late," Mississauga Ward 7 Councillor Dipika Damerla said. "For instance, I was reading in the [Toronto] Star yesterday that [a] transmission rate of 3 percent, that's when things start to get out of control. We don't have context for those numbers."
It's unclear why Damerla, who is paid to represent her constituents, doesn't know what the local context is. She is reading news from a Toronto media source instead of the readily available information provided by Peel Public Health which shows the test positivity rate in Mississauga. The Pointer has also regularly published the city's test positivity rate.
During the protracted conversation, which continued at Regional Council until past 1 p.m., it seemed elected officials could not grasp the severity of the situation. Aside from the odd brief nod to high case counts, including Mississauga Mayor Bonnie Crombie admitting that "we are in a dire situation," most of the conversation was in stark contrast to the raw data presented.
"I think adults, if they could take a break once a week, once every two weeks, to go and sit in a restaurant for an hour it would probably do them some good," Mississauga Ward 5 Councillor Carolyn Parrish said, continuing to push for more people to be allowed to dine indoors. "They'd come back fortified to follow the rest of the rules."
Loh's core message, one he was forced to repeat multiple times to councillors, is people should not be mixing outside their households and should not make non-essential trips. Regardless of their capacity or safety measures, restaurants are a space where people mix outside their immediate households and eating out is an activity not considered essential. Given the consequences, that our hospitals could be over-run, frontline healthcare workers along with the public could be put at grave risk and the broader economic fallout could be much more severe, the comments of some councillors seemed tone-deaf in the face of what the two medical experts were trying to tell them.
In Peel Region, where the local public health unit is increasingly worried about the impacts of Diwali on November 14, places of worship have been a source of transmission. Instead of parroting Loh's suggestion that services should take place online, Mississauga Ward 4 Councillor John Kovac told councillors City bylaw officers were yet to lay charges against any religious institutions who are "following the rules really well."
Again, Loh was forced to counter with figures from contact tracers. "That's really helpful data from your enforcement folks," he said, before presenting the epidemiological evidence showing why bylaw figures are not leading the pandemic response. "In the month of October, we had 50 case investigations which related to places of worship."
Whether the reality has sunk in for elected officials or not, Peel is approaching its point of no return. The issues of mental health and economic pain are a "shell game," Loh said, explaining harsh measures are required eventually, so balancing the two at a tipping point can cause far worse damage in the long-term.
"Now is essentially our final chance before we yield control back to the virus and are left with the choice western Europe and so many other places have faced before," he said. "We cannot let this overwhelm our hospitals."
---
Email: [email protected]
Twitter: @isaaccallan
Tel: 647 561-4879
---
COVID-19 is impacting all Canadians. At a time when vital public information is needed by everyone, The Pointer has taken down our paywall on all stories relating to the pandemic and those of public interest to ensure every resident of Brampton and Mississauga has access to the facts. For those who are able, we encourage you to consider a subscription. This will help us report on important public interest issues the community needs to know about now more than ever. You can register for a 30-day free trial HERE. Thereafter, The Pointer will charge $10 a month and you can cancel any time right on the website. Thank you.
Submit a correction about this story