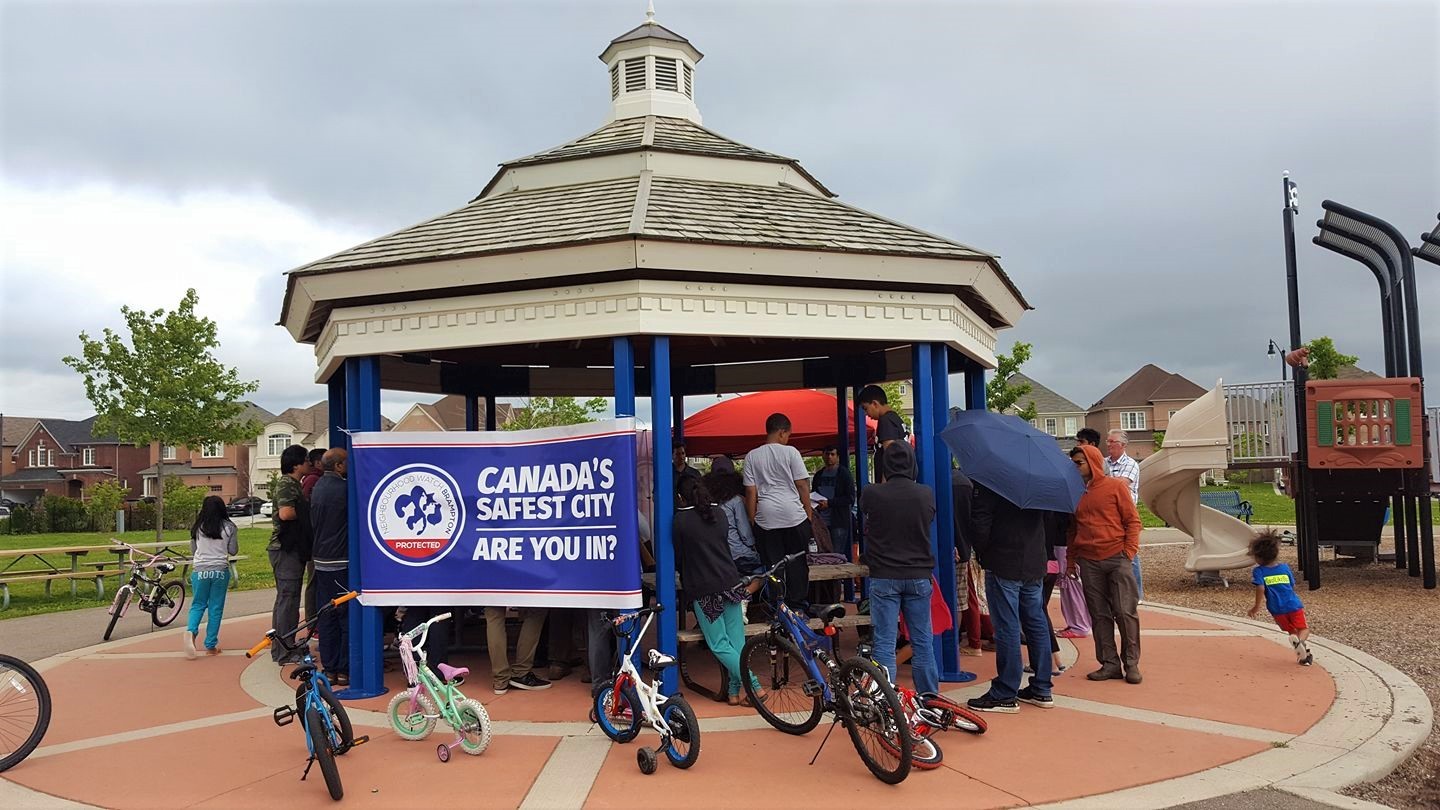 Photos Neighbourhood Watch Brampton/Screengrab Brampton Focus
Brampton spent big on a community safety program but abruptly pulled support; manager got $94K
It's a common sight on residential streets across Canada: signs perched at front windows informing anyone who needs help that a neighbourhood watch family is inside, while those looking to commit a crime should beware.
The purpose is simple: neighbours are watching each other's homes to prevent property crime and other types of wrongdoing from occurring. It's best described in an old police brochure: "A police officer patrolling your community may not recognize a stranger in your yard – but your neighbours would!"
Safe City Mississauga, a municipally supported initiative, hosts a neighbourhood watch program. Brampton, on the other hand, has recently ended its support for a similar one.
For the past four years, Neighbourhood Watch Brampton (NWB) was run by Brampton Focus, a non-profit community media organization. For three of those years, the program ran without funding from the City. During that time, discussions between the group and the City were ongoing, resulting in $150,000 allocated toward a yearlong pilot project, which ended in August.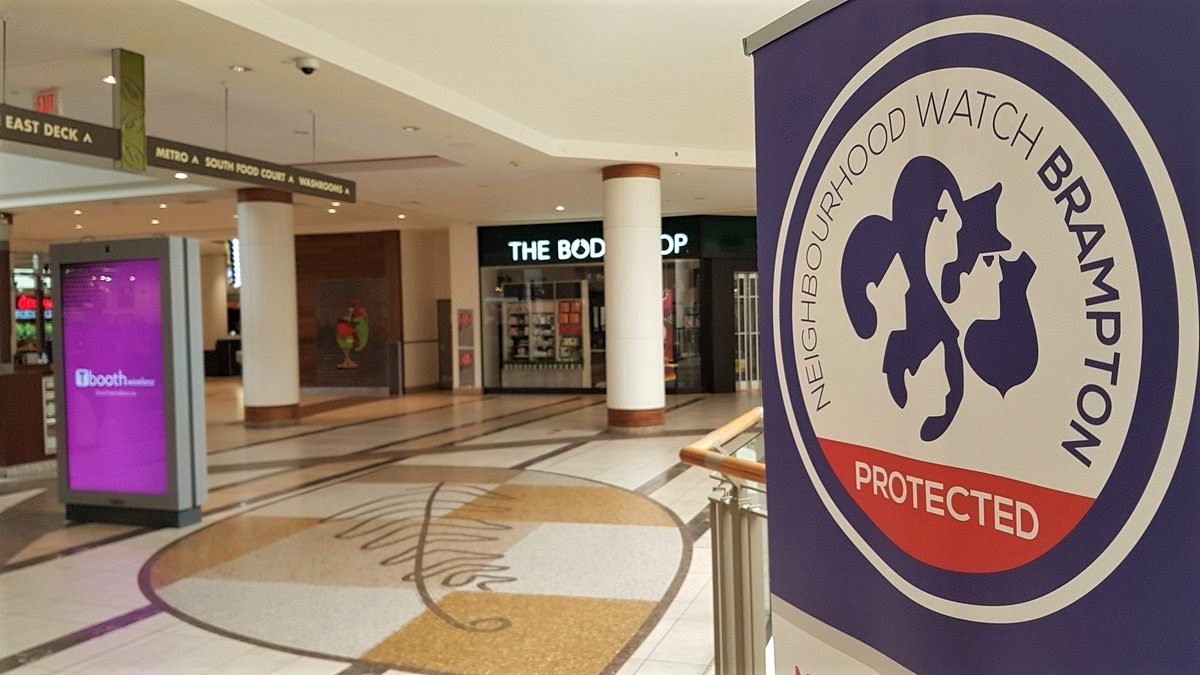 Brampton's Neighbourhood Watch pilot program unexpectedly lost its City funding recently, forcing the community safety group to pull the plug
Many meetings and thousands of dollars later, City Council decided it wouldn't continue funding the program, effectively killing Neighbourhood Watch in Brampton, at a time when many residents are growing increasingly concerned about crime on their streets.
The decision came at the tail end of the September 23 Committee of Council meeting, but Fazal Khan, NWB's program manager, told The Pointer he knew what the outcome would be two weeks before it was delivered.
At the previous COC meeting, Khan hoped to access temporary funding to help the program run while council made a decision on its future. He told The Pointer the delegation was a "conversation starter", as fitting the details of the full pilot program into a five-minute presentation seemed impossible.
No discussion on funding or questions followed, leaving him "shocked" that no one asked how the group spent $150,000 of public money. This indicated council already predetermined they weren't going to further support the program, he said.
"I've delegated many times to the Council. The content of your delegation, unless it's something brand new to Council and significant, it's about the questions the councillors have and they all know about the program."
Councillors asked City staff to detail the spending in a report, which was presented September 23. Of the funds, $94,110 went toward staffing costs: $360 of this was allocated to students who helped with the program and $93,750 went toward the program manager, a role filled by Khan. Marketing, software licenses, office expenses, and insurance accounted for the remaining funds. In total, the group spent $152,024.
Khan explained how his own salary, taken from the City's funding envelope, was approved. "A short-term contract was negotiated by the Program Manager, accepted by the board of directors of Brampton Focus and budgeted with notification to City staff."
According to its website, Brampton Focus is a registered non-profit organization. Councillor Paul Vicente is a "Founding Director" of Brampton Focus, according to his biography page on the City's website. It also states that, "In response to residents' concerns on community safety and the increase in crime, Paul worked to create Neighbourhood Watch Brampton, a new safety organization in the city."
Councillor Rowena Santos has been a board member for both Brampton Focus and Neighbourhood Watch Brampton, according to her bio.
Almost all the funding for the team of students who helped the group came from the federal government's Canada Summer Jobs program. This past summer, 17 students were employed, with nearly $105,000 coming through to support them, roughly the same amount received in recent years.
To determine the future involvement of City Hall, staff presented council members with three options: continue the program with some adjustments, enhance existing city-led programs, such as the Nurturing Neighbourhoods Program, or maintain whatever current safety initiatives the City already had. Council picked the second option, putting an end to its involvement with NWB. Brampton Focus also won't continue to support the program.
"Brampton Focus Community Media is not interested in reverting back to a model where volunteers are expected to fully fund and run Neighbourhood Watch Brampton while additional staff is hired by the City to respond to community safety concerns of residents," Khan said in an email.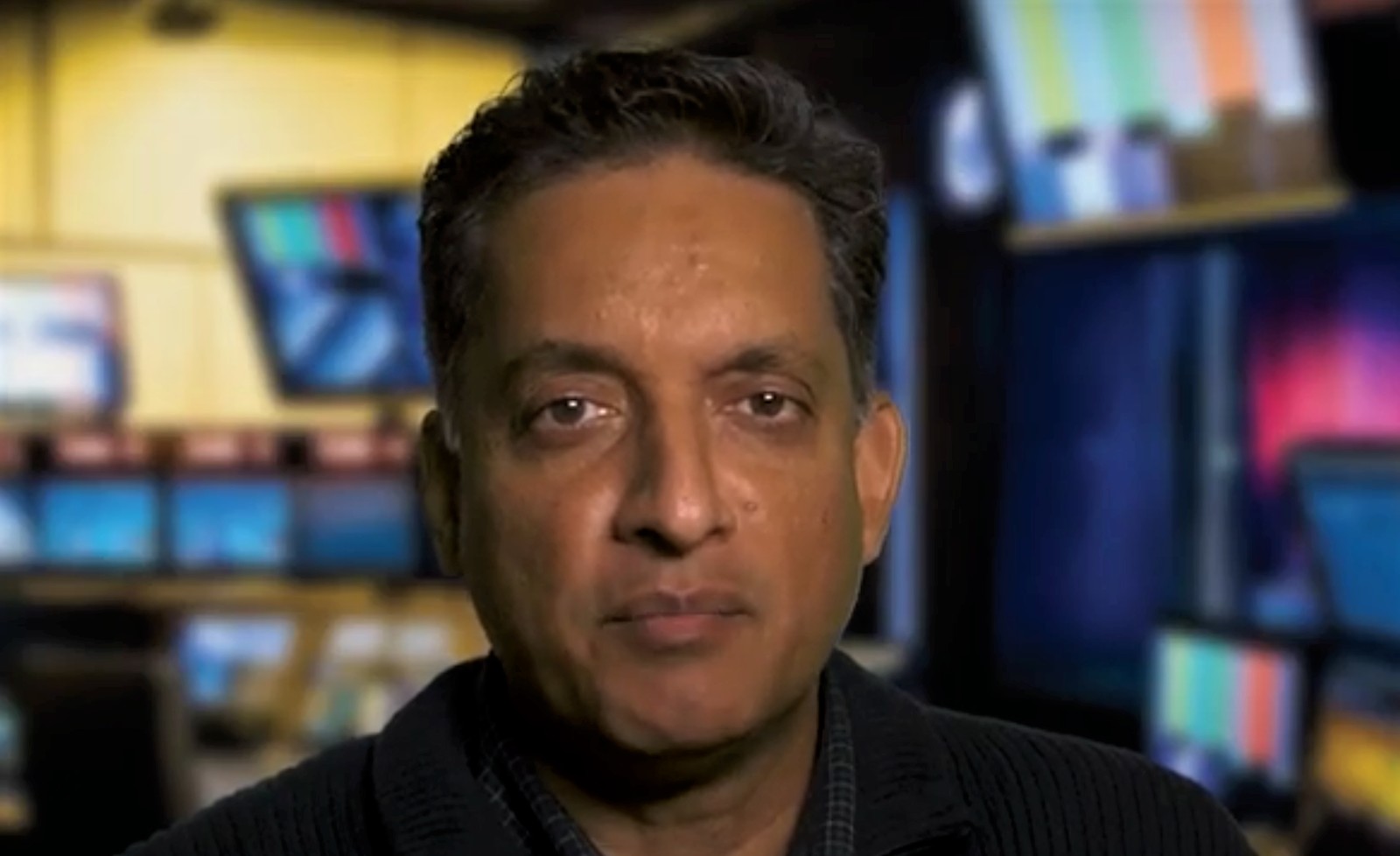 Fazal Khan was surprised and disappointed by City Council's recent decision to stop funding the neighbourhood watch pilot program
Instead, the program has been changed to Brampton Neighbours. The volunteer-run initiative focuses on neighbourhood profiling and monitoring by resident and community organizations. It's online and does not require funding from the City.
The loss of Neighbourhood Watch comes as violent crime across Brampton and Mississauga is increasing.
Over the last three years, homicides have been on the rise; increasing 67 percent between 2016 and 2017; 63 percent between 2017 and 2018; and last year saw a 17 percent jump, leading to 31 deaths. Other violent crimes, including assaults, uttering threats, and shootings also increased last year. The number of rounds discharged in Brampton and Mississauga (Peel police does not break down its crime data by city) increased 41 percent from 2018, with 700 rounds fired over the course of the year. The violent crime severity index (VCSI) measures and then determines the level of criminal activity in an area by rating different crimes, with the more violent offences carrying more weight. The rate for the two cities increased by 51 percent between the start of 2014 and the end of 2018, compared to a 27 percent increase for Ontario and 17 percent bump in the country over the same period.
The Pointer already reported this figure is rising at nearly three times the rate of the national VCSI.
The force dealt with a total of about 41,000 Criminal Code offences in 2019, nearly 9,500 of which were crimes against persons (an average of 26 per day) and more than 26,000 crimes against property (an average of 72 per day in the two cities; Caledon is policed by the OPP).
This year has also seen a string of violent crimes, including the death of 22-year-old Surajdeep Singh this summer. The Brampton resident was beaten to death on a pathway as he made his way home from a local Gurdwara. Two 16-year-olds have been charged.
Despite pulling its support, Council is not done with NWB, asking staff to provide a second report with a more detailed breakdown of the program's finances. According to City staff, the group did provide invoices outlining these expenses, but asked that they not be released publicly. It's unclear why this was requested.
The staff report indicates a number of metrics, established before the pilot began, were used to measure the success of the program. They include: the location of active Neighborhood Watch groups, the number of new participants, and the amount of Crime Prevention Through Environmental Design (CPTED) presentations that took place.
Khan told The Pointer he took issue with two metrics, CPTED presentations and the number of new households listed in the staff report.
It shows 2,062 households signed up for NWB during the pilot, a 41 percent drop from the 3,500 households listed as registered in a May 2019 proposal by Brampton Focus.
Khan said the numbers reported were only based on residents who were active during the pilot program, and didn't include households that signed up prior to the pilot and were not active over the last year.
"This was the wrong base to use and staff [did] not even verify with us," Khan told The Pointer. The report, with the 41 percent reduction, was only seen by the organization when it was presented to council. "We had offered access to our CRM system to confirm all of our numbers. Staff did not take us up."
He said the City wanted a "holistic approach to community safety" and didn't want the money simply to be used to increase membership with paid social media campaigns. The group focused on driving membership through the value of the program and grassroots community initiatives.
He acknowledged to The Pointer that membership didn't grow the way the organization had hoped, and believes if they knew the program would last a full year, and had been able to plan for that, instead of the six months that were planned based on the original funding outline, the membership numbers would have improved.
According to the staff report, the pilot was extended to a full year "through the spring and summer of 2020 to capitalize on a full season of active community engagement." This happened after NWB received its first cheque from the City in August of 2019, according to City staff. This was toward the end of the summer student program, which NWB heavily relied on.
They opted to wait until the spring of 2020 to start up engagement efforts again. Khan said city staff were informed and no complaints were registered. Until then, they planned the program and continued with communication work to raise awareness.
When spring came, the face-to-face events had to be canceled because of the ongoing pandemic. NWB adjusted plans by taking engagement and educational efforts online to build relationships with community groups in the city, Khan said.
But like so many other initiatives, COVID-19 has been a major disruption, while crime has not slowed down.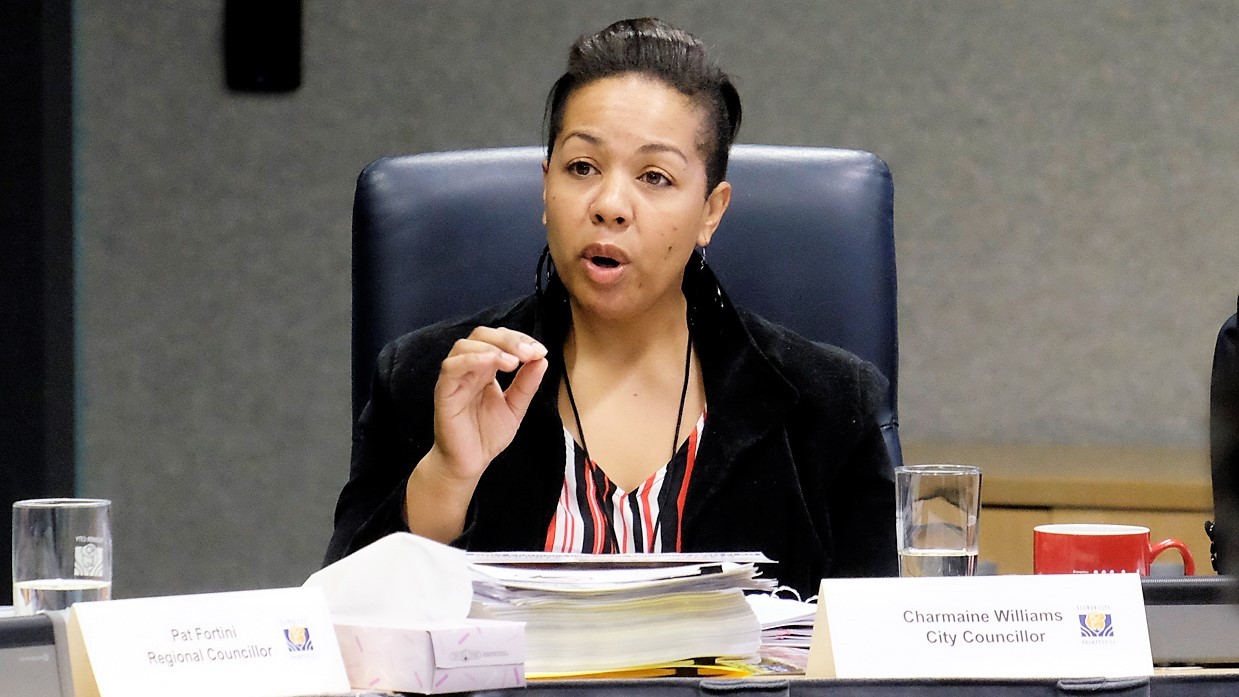 Brampton Councillor Charmaine Williams raised concerns over the neighbourhood watch pilot program
Despite the obvious challenges, Councillor Charmaine Williams (Wards 7 and 8) argued at the September 23 Committee of Council meeting that more could have been done. "The sense of security" that's needed in such a community group can't be achieved online and through social media alone. While she noted COVID had its impact, there were examples of people coming together with their neighbours, organizing fundraisers or cheering for healthcare workers and creating community connections, she said.
Khan was ready to speak about membership questions if they came up, but never got the chance. "In a pandemic, you cannot expect us to go door-to-door and get people to sign up," he told The Pointer.
The staff report also states there was no information on the CPTED presentations NWB administered, acknowledging the group indicated it was already delivered by Peel Regional Police and outside of their scope. Khan said his group told the City from day one this wasn't their responsibility, which the report clarifies. It's unclear why this metric was still included in the report, when it was understood it was not NWB's function.
Other obligations NWB failed to follow through on, according to the report, include listing where active groups are located and failing to provide participant survey results.
"The participant survey results were not included in the report reviewed by staff," the report states, "but the program manager stated the findings were statistically insignificant and they provided high level guidance only."
The rocky relationship comes as the City and its community partners struggle to find a transparent arrangement that allows a crucial public safety function to operate, while ensuring proper governance in the use of public dollars.
NWB has a tumultuous history. Prior to Brampton Focus taking it on, it was part of Brampton Safe City, a community group which received hundreds of thousands of dollars in funding from the City each year, despite failing to specifically account for much of the funding, while about 70 percent of the money went to staff. It was run by Larry Zacher, the husband of former longtime councillor Gael Miles, who had the job before it was given to him.
In 2015, the entire organization was shut down after more than 30 years in operation and with outstanding debts owed to the City.
Meanwhile, thousands of residents have actively participated in the city's neighbourhood watch program, while crime remains a top of mind concern throughout Brampton.
The future of a program cherished in communities across the country is now unclear in one of its largest cities.
---
Email: [email protected]
Twitter: @nida_zafar
Tel: 416 890-7643
---
COVID-19 is impacting all Canadians. At a time when vital public information is needed by everyone, The Pointer has taken down our paywall on all stories relating to the pandemic and those of public interest to ensure every resident of Brampton and Mississauga has access to the facts. For those who are able, we encourage you to consider a subscription. This will help us report on important public interest issues the community needs to know about now more than ever. You can register for a 30-day free trial HERE. Thereafter, The Pointer will charge $10 a month and you can cancel any time right on the website. Thank you.
Submit a correction about this story