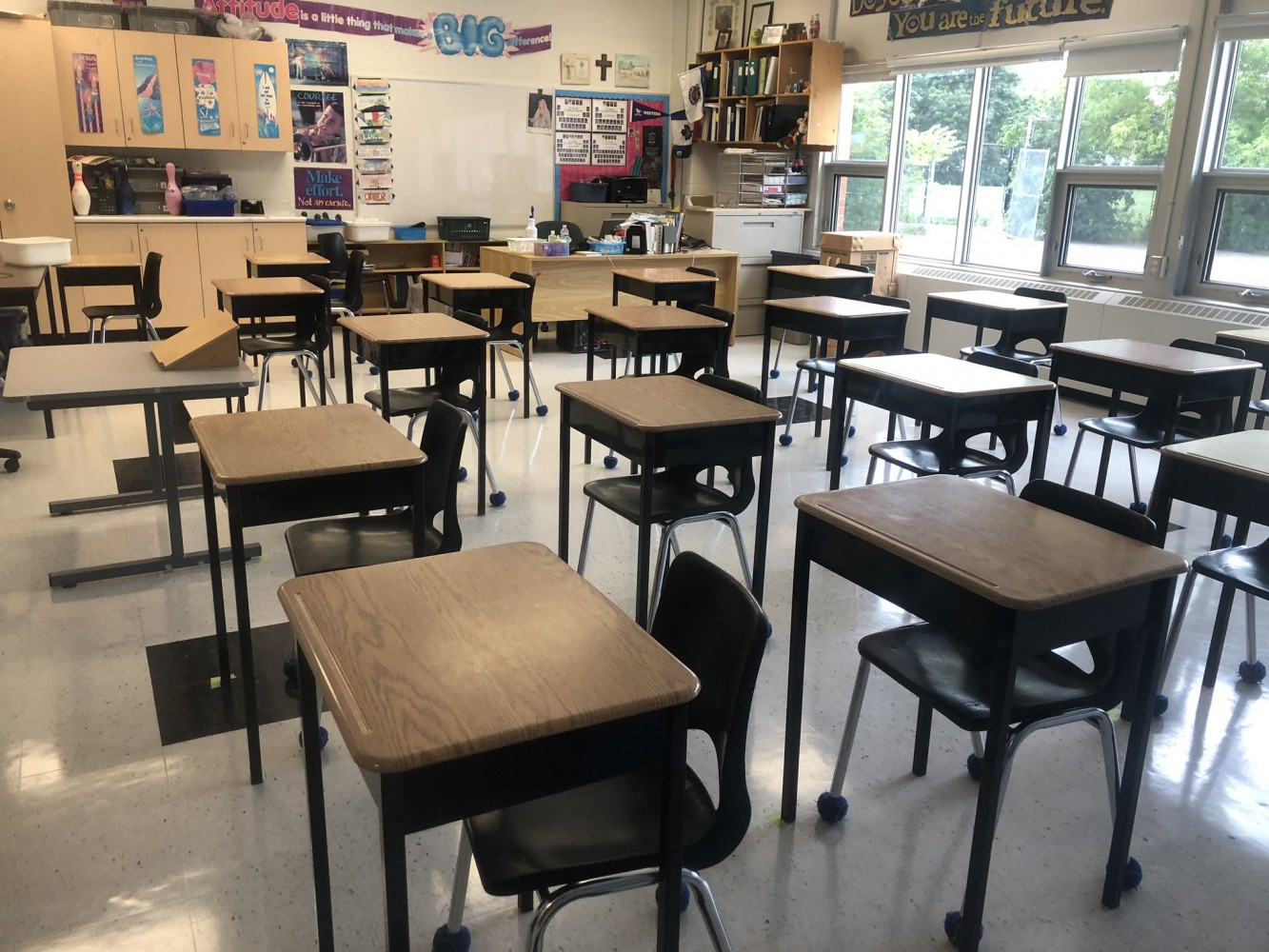 Photos The Pointer files/DPCDSB/Twitter/PDSB
40% of Ontario schools with COVID-19 cases located in Mississauga or Brampton 
There have been few constants during the COVID-19 pandemic. Bus time tables have been ripped up, lesson plans rolled out then rolled back and the hope of a safe return for many has vanished.
One predictable factor has hovered over the chaos: school was to return in September. In a sea of uncertainties, maybes and postponements, it was one solid goal for politicians and bureaucrats to work toward as summer neared its end.
Now, fall has finally arrived, the return to school has been turbulent and marred by setbacks. In Brampton and Mississauga, Peel District School Board (PDSB) was forced to delay online learning at the last minute after 10,000 students switched from in-person to online education in a single week. The board also staggered its return to the classroom and now finds the move mired in confusion.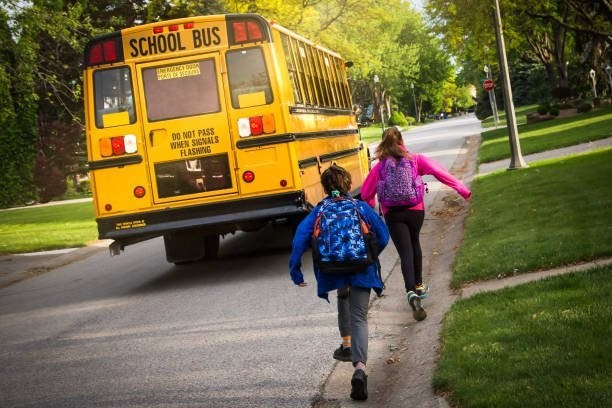 The return to school has been turbulent for boards across Ontario, particularly in Peel where cases of COVID-19 continue to rise.
Schools in Brampton and Mississauga are now reporting new cases of COVID-19 daily.
Bringing students together in the classroom for the first time since they left for March break was always going to be complicated. Even without COVID-19, the task was administratively onerous. Throw in the resurgence of the viciously contagious virus and things are more complicated still.
There were always going to be cases in schools. In Quebec, where students returned at the end of August, 47 schools reported cases or outbreaks in the first week back alone.
For Peel, the rate of COVID-19 cases appearing in schools dwarfs those numbers and looms high above Ontario's educational landscape, as the virus keeps slipping through the doors in places of learning across Brampton and Mississauga.
Cases of COVID-19 in Ontario have rebounded dramatically in September, climbing into a second wave.
Schools fit the general pattern for Peel. The region has been consistently over-represented in COVID-19 cases reported by the province. Tuesday, Peel made up 20 percent of Ontario's total new cases, accounting for the same portion Monday. Sunday saw 30 percent of new cases reported in the region and Saturday had 23 percent of the province's total. Peel is home to roughly 10 percent of Ontario's population.
Brampton NDP MPP Sara Singh has been calling on the government to lower class sizes, especially in her hard-hit city.
"Brampton families shouldn't have to choose between their kids' health and safety and their academic success, but that's exactly what the Ford government is forcing them to do," she said in a media release. "Students are either heading back into crowded classrooms as COVID-19 infections circulate at alarming levels in our community or have been stuck waiting at home for online classes to start, slipping further and further behind."
The Peel District School Board (PDSB) and Dufferin-Peel Catholic District School Board (DPCDSB) have not been able to confirm their elementary class sizes, with the former simply stating they are below the government's targets (between 20 and 23 students, depending on their grade).
This contradicts unverified claims that have been made on social media, of as many as 25 students in PDSB elementary school classes. The board has not released actual class-size lists for each of its schools.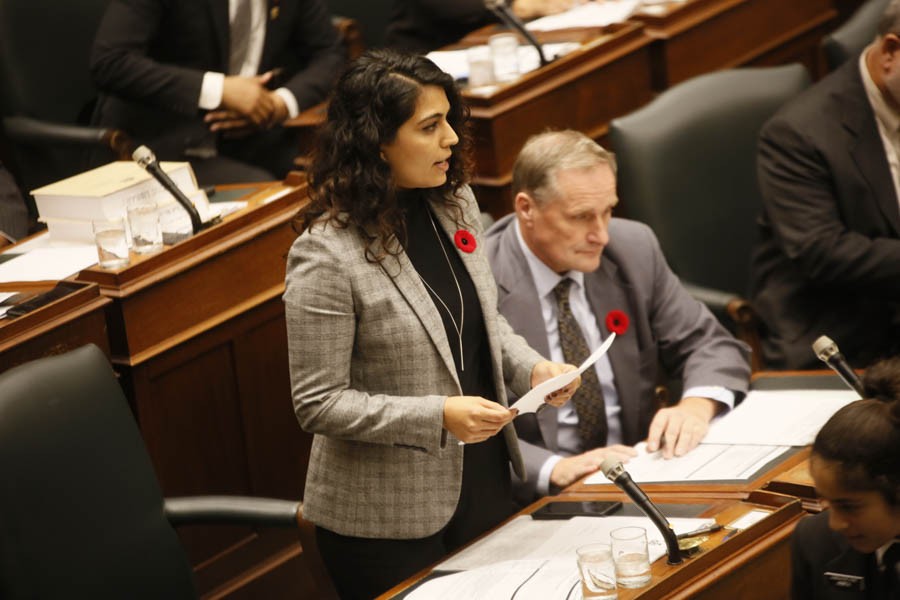 Brampton MPP Sara Singh
Unlike the data under the previous Liberal government, the PCs have discontinued the practice of reporting the actual size of each and every class, in every publicly funded school in the province. The government's class size tracker, on the Ministry of Education website, now only includes this data through 2017.
The NDP is campaigning to lower the caps to 15 students per class.
As of 10:30 a.m. on September 22, there were 141 cases of the novel coronavirus spread out across 116 schools in Ontario, according to figures on the province's website. In total, 2.4 percent of Ontario's 4,828 schools had cases, most of which are concentrated in a few hotspot regions.
Between them, Ottawa, Toronto and Peel account for 63 percent of schools reporting cases of COVID-19. A total of 19 schools in Brampton have cases and 10 listed in Mississauga, according to the province, meaning Peel's two two cities alone account for 25 percent of the Ontario total.
However, data updated daily by each board, shows the two cities have 46 schools with reported COVID-19 cases (Caledon has two).
View COVID-19 Map of Peel Schools in a full screen map
Using this figure, the two cities account for 40 percent of the 116 schools in Ontario reporting COVID-19 cases as of Tuesday morning (It's possible that the overall number of schools in Ontario with cases is much higher than what the province's list shows, due to the lag in reporting.)
Provincial figures, updated at separate times to the government website, do not capture the updated figures reported by PDSB and DPCDSB on their websites.
Data from the region's two boards show 48 separate schools reporting infections (at 5 p.m. on September 22), compared to the 29 for Peel reported on the province's list. It is unclear why there is such a stark difference between the provincial and local numbers, but there was a similar lag between databases when Peel Public Health and Ontario Health began reporting daily COVID-19 case counts at the beginning of the pandemic.
Using figures from the school boards' own reporting, the infection rate using schools overall is rapidly increasing; 36 of PDSB's 257 schools are reporting at least one case of COVID-19; roughly 14 percent of the board's schools have reported at least one case. DPCDSB has reported cases in 12 schools, representing 8 percent of its schools. Each board has one school with a COVID-19 case in Caledon, with the rest in Brampton or Mississauga.
However, when looking at the total number of staff and/or students infected, the spread does not look nearly as bad, with almost all schools now reporting a case having only a single infection.
It's unclear why the boards are not publicly indicating whether each case is among the student body, or staff. Both categories are lumped together. Parents with children in a classroom where either a staff or student is infected are being informed of the details so they can take precautions and make decisions about proceeding with in-class learning.
So far it appears the province is treating all school boards the same despite the apparent elevated risk in particular parts of Peel. A series of tweets Monday morning from Education Minister Stephen Lecce indicated he was sitting down with public health officials and education leaders in areas with higher rates of COVID-19.
"Minister Lecce proactively reached out to boards in 'hot spot' regions, in order to discuss outbreak management protocols and reaffirm the importance of protecting students, parents, and staff," a spokesperson for the province told The Pointer, but added that no specific action had been taken.
Essentially it was a catch-up and not a plan to bailout the very school boards that could bring the entire reopening project to a halt.
The Toronto District School Board took its own proactive approach, identifying "impacted" schools in high risk areas of the city with elevated infection rates and then capping the number of students in elementary schools in these areas at either 15 for JK and SK or 20 students for Grades 1 to 8. Projections by TDSB released last week showed the board would meet these limits, thanks to its aggressive work over weeks to identify high risk schools and get needed resources to them.
Despite the large number of Peel schools reporting cases, the Region's public health unit told The Pointer there was no evidence of transmission yet within the classroom. The boards and Peel Public Public health are mandated to work together to establish if in-school transmission has taken place, close classrooms and even entire schools.
So far only one school, Edenrose Public School in central Mississauga, has reported a classroom closure, after one case was confirmed.
The ever-changing return to school plans, disrupted by poor planning and an unpredictable pandemic, have left PDSB and DPCDSB scrambling. Staff, desperately working behind the scenes to finalize plans and create order from chaos, have been hard pressed to respond to questions.
In August, The Pointer asked both boards if they planned to allocate additional resources to schools in areas with higher rates of COVID-19. Spokespeople for both boards said it was too early to say at the time, despite the launch of a plan by TDSB.
DPCDSB did not respond to a subsequent question sent in September, while PDSB said 32 schools had been given priority funding to reduce class sizes in high-risk areas. It is not clear exactly which schools benefitted and a spokesperson for the board admitted there was no "central listing of all class size reductions," unlike the data that is available for TDSB schools, which now includes the average class sizes for each grade level in high-risk areas, based on updated lists.
PDSB, planning to complete its reorganization of primary school classes Monday, was also not able to confirm the size of its smallest, largest and average elementary school classes. Instead, the board provided a more general statement that schools were below provincial targets of 22 (SK), 20 (primary) and 23 (junior/intermediate). But it remains unclear if every class is below the target, or just the average number using all classes within each category meets the target.
Skeptics have taken to social media, including some teachers who have shared pictures, showing that many elementary classes across the GTA have more students than the provincial targets.
Parents dealing with Peel's rapidly rising COVID-19 case count moved en-mass before September 10 to bring their children home. At least 10,000 students fled the in-person teaching model before a board imposed deadline, leaving PDSB with no choice but to delay online teaching plans. For parents who missed the deadline, now concerned about their children's in-classroom interactions, there could be a long wait before they can be removed, despite the climbing case numbers across Brampton and, to a lesser extent, in parts of Mississauga.
PDSB confirmed to The Pointer it would allow students to switch learning models again around mid-November, but legal experts have pointed out that boards likely can not prevent a parent from switching a child out under a number of circumstances.
Confusion continues to swirl.
Both boards appear to be missing some of their own deadlines and struggling to communicate with parents, who have flooded social media expressing their confusion.
"Still waiting for @DPCDSBSchools to contact my Gr 5 child; school was supposed to start today," one parent tweeted. Another said their child's teacher was as stressed as they were, with no one quite sure what the plan is.
Tuesday, PDSB shared a note with students saying that "some classes are still being formed" for their online secondary schools, urging students to keep checking their email for more details.
But as the two school boards desperately scramble to fix academic and administrative issues they could perhaps have predicted, COVID-19 has continued creeping into the classroom. Brampton, Mississauga and Caledon have all reported cases in schools, most with one infection and four with two.
So far, the Ministry of Education has offered little more than encouraging words for a smooth return to learning, since its financial planning was rolled out in the middle of summer. Peel is home to roughly 8 percent of Ontario's schools, yet it makes up 40 percent of those with cases in the province.
As the government, school boards and local public health units stare at a second wave now at the doorstep, which they warned of for months, they are also trying to put together the disjointed pieces around a messy start to the school year. In Peel, it is unclear which high-risk schools received extra funding to reduce their class sizes, while it is equally unclear why Ontario hasn't parachuted emergency resources into the region to help its schools. Community transmission is on the rise, the Doug Ford government took emergency action last week to drastically reduce the size of social gatherings in other public spaces, but in its public schools, children and staff remain on high alert as the virus slips through more and more doors.
"Instead of investing in a full, safe return to schools in September, Doug Ford is shortchanging Brampton families yet again," Singh said. "I'm urging the government to act quickly on the NDP's call to cap class sizes at 15 so we can better protect students and educators in Brampton and help stop the spread of COVID-19 in our community."
---
Email: [email protected]
Twitter: @isaaccallan
Tel: 647 561-4879
---
COVID-19 is impacting all Canadians. At a time when vital public information is needed by everyone, The Pointer has taken down our paywall on all stories relating to the pandemic and those of public interest to ensure every resident of Brampton and Mississauga has access to the facts. For those who are able, we encourage you to consider a subscription. This will help us report on important public interest issues the community needs to know about now more than ever. You can register for a 30-day free trial HERE. Thereafter, The Pointer will charge $10 a month and you can cancel any time right on the website. Thank you.
Submit a correction about this story