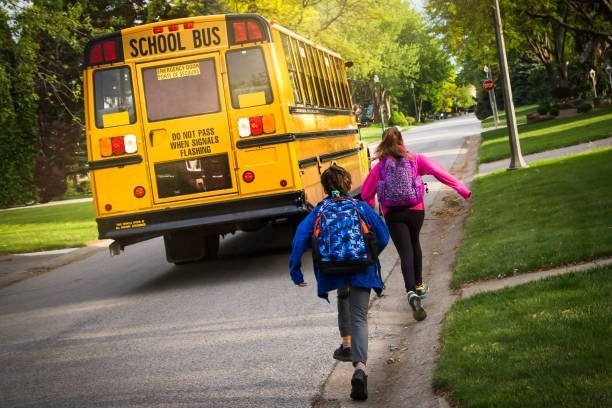 Photos from the Government of Ontario/Twitter/Screengrabs from YouTube/Peel District School Board
PDSB confirms staggered return to school as new provincial framework lays pandemic responsibility at the feet of Peel Public Health 
Parents and teachers in Ontario have been on a rollercoaster since March. Funding announcements, reopening frameworks and class size confusion have come one after the other in a seemingly never ending rush.
On Wednesday, Prime Minister Justin Trudeau and Ontario Education Minister Stephen Lecce had new details for parents, while Peel District School Board (PDSB) also released further plans. The dizzying array of announcements leaves parents in Peel with more answers than before, but with several new questions as well.
The federal government committed to sending hundreds of millions of dollars to Ontario to boost its reopening plan (including an extra $70 million for temporary teachers). The province rolled out a pandemic management strategy within schools that puts massive responsibility on local health networks and PDSB confirmed students would return to the classroom in a gradual drip between September 8 and 16.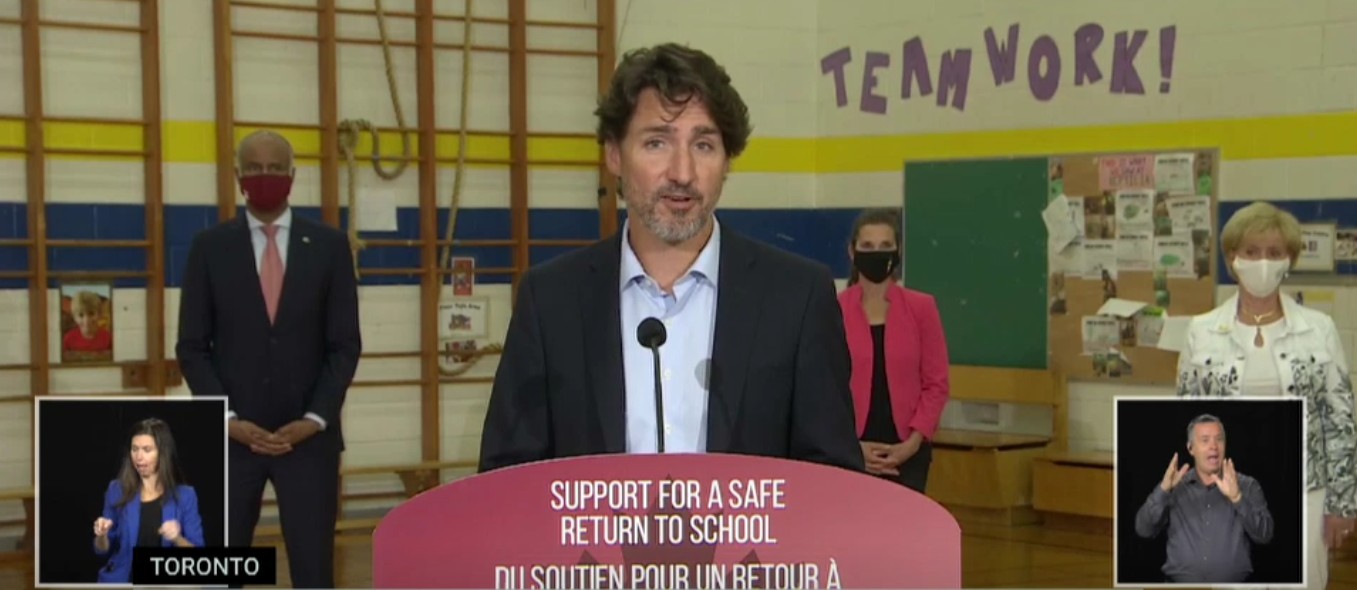 Prime Minister Justin Trudeau announced further federal funding Wednesday to help provinces reopen schools.
At the heart of parental stress around a return to school has been the threat of COVID-19 and just how easily the virus could spread between children. Calls from the provincial NDP as well as local teachers unions and education advocates have consistently demanded smaller class sizes, while Peel Public Health has also backed calls to reduce the number of children in classrooms. These demands are related to stopping the potential havoc an outbreak of the virus could create in communities if children start bringing it home to their families.
Attempting to alleviate these concerns, the Government of Ontario unveiled its pandemic response plan. Documents drawn together by the Ministries of Health and Education layout the responsibilities of school boards, local health units and parents.
When schools reopen, for example, parents will be expected to assess their children's health every morning before sending them to school. Children believed to be sick must be kept away and those who turn up with symptoms of COVID-19 will be sent home.
Peel Public Health will be responsible for declaring and managing outbreaks of the virus in local schools and investigating potential spread. The already announced system of cohorting students will be designed to minimize school closures, with provincial documents encouraging the dismissal of groups of students if COVID-19 is identified among the cohort, instead of the closure of an entire school.
Unlike long-term care homes, where an outbreak was defined as a single case of COVID-19, outbreaks at schools will require two students to test positive.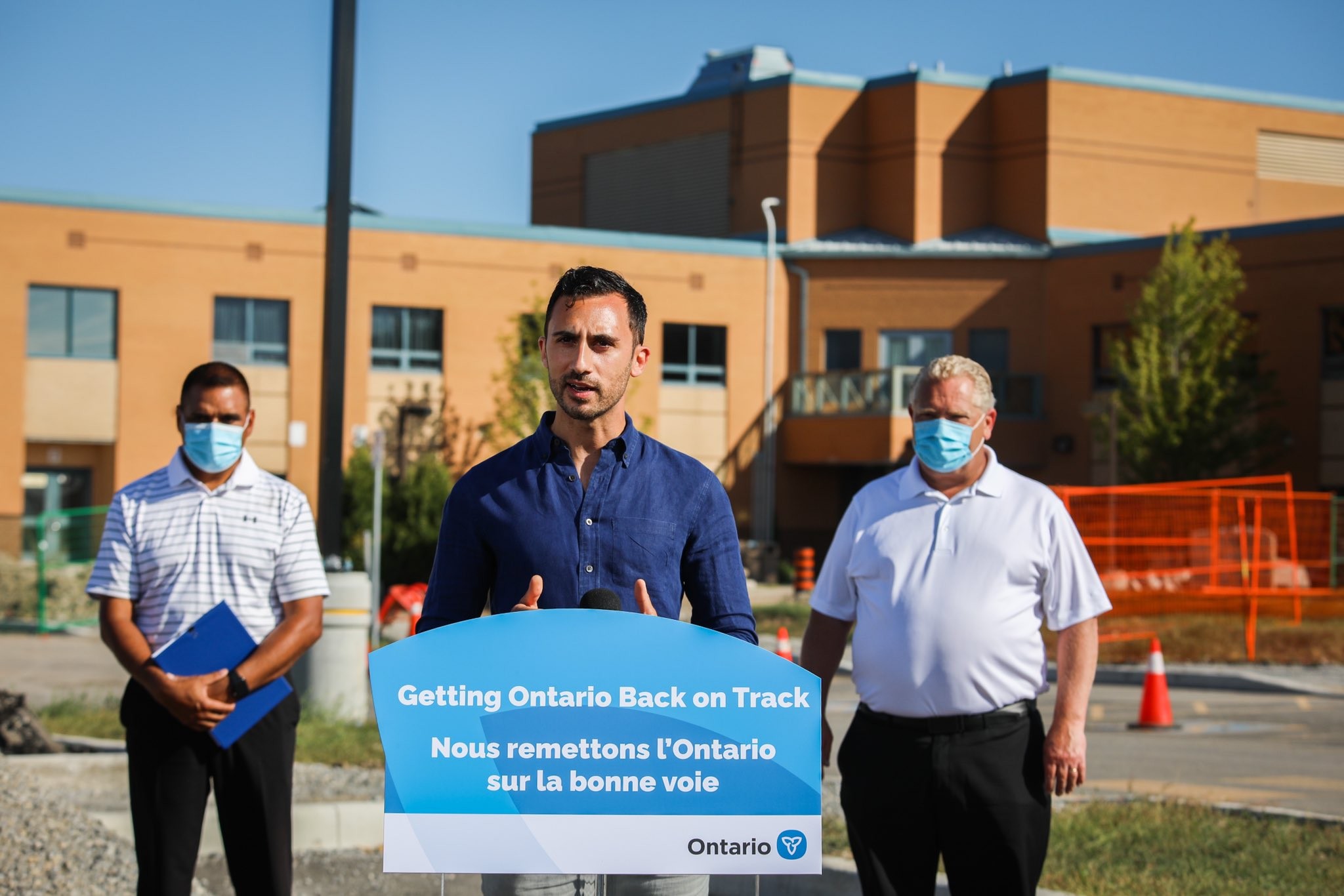 Education Minister Stephen Lecce, along with Premier Doug Ford, shared further details Wednesday about the return to school, placing further responsibility on local public health units to manage the threat of COVID-19 when students return to class.
School boards must provide an online resource illustrating cases at their schools for parents. Principals of affected schools can also choose to write to their community directly, but this will not be mandated.
In certain situations, Peel Public Health will have the power to close an entire school to limit the spread of the virus. The province has not provided a codified list of requirements for when this will happen, meaning local health officials will have to make a judgement call based on the epidemiological picture and potential spread within the school.
It remains unclear if specific plans will be in place to quarantine communities around schools where particularly severe outbreaks take place. High case numbers continue to plague the Region of Peel, with Brampton responsible for a significant quantity. This provides a double threat: the potential for COVID-19 to enter classrooms from the home and, once inside, exacerbate the region's already rising community case count.
Monday, August 24, saw Peel record 30 of Ontario's 105 cases, on August 25 the region had 31 of a provincial total of 100. August 26 was better with 8 of 88 positive diagnoses for COVID-19 in Brampton, Mississauga and Caledon. Per-capita, Peel continues to be overrepresented in cases of the novel coronavirus in the province, indicating an increased risk when it comes to back-to-school.
The province's current guidance specifies the children of COVID-19 positive parents should quarantine, along with those in the same cohort and the siblings of anyone who tests positive. As various examples in the United States and elsewhere have demonstrated, the speed and effectiveness of isolating, testing and tracing around education clusters defines how successful controlling the spread of COVID-19 will be.
A report published by the American Academy of Pediatrics and the Children's Hospital Association said during the last two weeks of July more than 97,000 children across the United States tested positive for COVID-19. The study quantified this as a 40 percent increase in child cases following a return to school.
The return of students to the classroom is likely to put increased pressure on Peel's four testing centres (three in Mississauga and one in Brampton). Although no student will be mandated to get a test for the virus, local health officials will be able to provide recommendations for students to seek a test and anxious parents will likely want their children tested too.
The return of PDSB alone will mean as many as 155,000 students returning to regular interactions with their peers and at heightened risk of contracting COVID-19. The stress this will put on testing centres in the region is hard to quantify.
If just 10 percent of that student population were to seek an assessment, 15,500 tests would need to be administered.
During June, Brampton's drive-through testing centre managed a peak number of 668 tests in a single day, open 12-hours and working at capacity. With demand for tests from other industries, including factory settings known for workplace exposure and employees at Toronto Pearson Airport (also located in Peel) the current complement of centres is likely to be under stress.
In addition, many parents have already used up valuable vacation days looking after their children during the first wave of the pandemic and may not be able to afford further time off to take them for testing. While high schoolers will be able to take themselves to get tested, elementary students would likely need supervision in long lines.
How Peel Public Health, William Osler (Brampton), Trillium Health Partners (Mississauga) and the province will respond to this demand is unclear.
Speaking at a press conference in Mississauga, Dr Lawrence Loh, the region's top medical professional, distanced himself from the decision, saying "testing is a provincial responsibility" administered through Ontario Health. He confirmed discussions were underway to look at potential pop-up or mobile testing centres for students upon the return for school, but offered no further details.
The Ministry of Health did not return a request for comment in time for publication.
The need to ramp up testing for students, including the introduction of pop-up testing alluded to by Loh, will come at a cost. It remains unclear if specific funds will be poured into further testing centres in Peel, as the destination of provincial education funding continues to take shape.
Wednesday saw the federal government pitching into Ontario's reopening fund for schools, offering the province $763.34 million in two installments. The first installment, totaling $381 million, includes some funding to hire up to 125 new nursing positions for public health units across Ontario to help manage potential COVID-19 cases in schools. These nurses may be given significant responsibility towards organizing testing in schools and for students.
The federal dollars come in addition to the province's initial commitment and rules allowing school board's to spend two percent of their operating budget from reserve funds.
A breakdown of where Ontario plans direct the first stage of funding from the federal government. Details are not yet available for how much each school board will receive.
A spokesperson for the Ministry of Education said the allocation of new money to each school board was yet to be finalized, meaning it is unclear how much PDSB and Dufferin-Peel Catholic District School Board (DPCDSB) will receive.
After repeated requests from The Pointer, PDSB recently confirmed it had a reserve total of $157 million available. Rules rolled out by the Ministry of Education will allow it to use up to $36.6 million to hire new teachers and prepare for the upcoming reopening. DPCDSB also previously told The Pointer there is approximately $60 million in its reserve accounts. The provincial plan allows it to spend $18.4 million of this on reopening costs. The boards have not disclosed how much they plan to use this year.
On Wednesday, PDSB also confirmed it would stagger its return to school to allow students to orient themselves with the new normal for education. Between September 8 and 14, students will return in smaller groups to become familiar with the setup.
The schedule for students returning to PDSB and when their orientation will take place.
Rather than the one major announcement on education the province had perhaps envisaged at the start of the summer, the return to school policy has been characterized by a drip of information and mounting parental frustration. Each announcement aimed at bringing the rollercoaster of uncertainty to a stop has only made it go faster.
The latest announcements mean a significant boost of federal dollars, heavy responsibility on outbreak management for Peel Public Health and a glimmer of detail for students at PDSB.
Yet questions remain over how Ontario's testing system will cope with the possibility of outbreaks in schools and exactly how much each school board will get from the federal boost of more than $700 million.
As the countdown towards a return to school turns from one measured in weeks to days, parents will wait to see what more details are still to come.
---
Email: [email protected]
Twitter: @isaaccallan
Tel: 647 561-4879
---
COVID-19 is impacting all Canadians. At a time when vital public information is needed by everyone, The Pointer has taken down our paywall on all stories relating to the pandemic and those of public interest to ensure every resident of Brampton and Mississauga has access to the facts. For those who are able, we encourage you to consider a subscription. This will help us report on important public interest issues the community needs to know about now more than ever. You can register for a 30-day free trial HERE. Thereafter, The Pointer will charge $10 a month and you can cancel any time right on the website. Thank you.
Submit a correction about this story