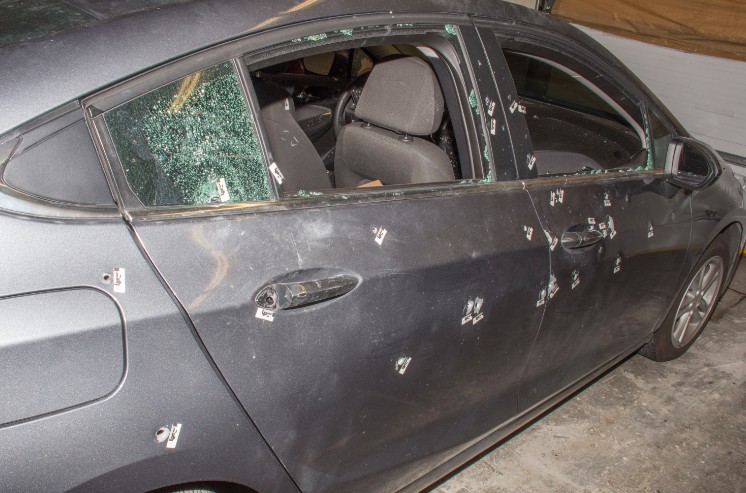 Photos from Peel Regional Police
Two arrested in 'horrifying' Malton gang shooting while questions linger about changes to policing 
Two of Peel's most dramatic incidents of gang violence, committed five weeks apart in late 2019, have been connected to the same group, Peel police say.
During a press conference Tuesday, police investigators said the murders of 17-year-old Jonathan Davis (not the intended target) in Mississauga in September and Giovanni Delahaye, 28, in October in Brampton were committed by the same gang.
By analyzing shell casings from the crime scenes, police determined the same weapon was used during both shootings.
"We will not tolerate this within our community," said Peel Police Superintendent Martin Ottaway, who would not name the gangs involved in the dispute. "I don't want to give them any notoriety because that's exactly what they would want," he said.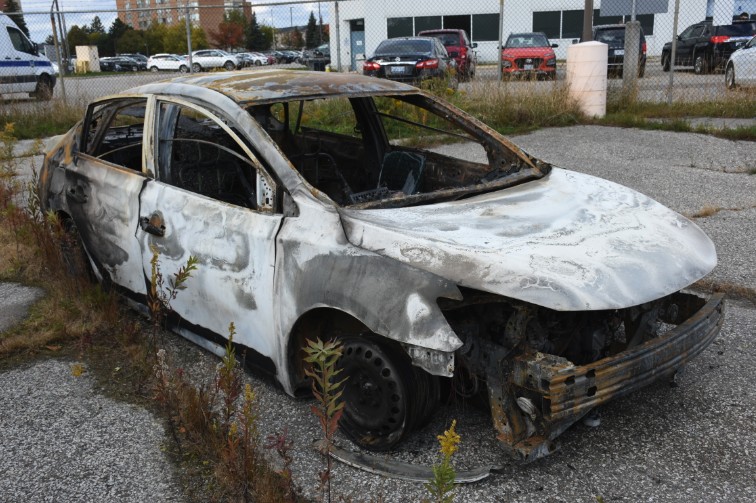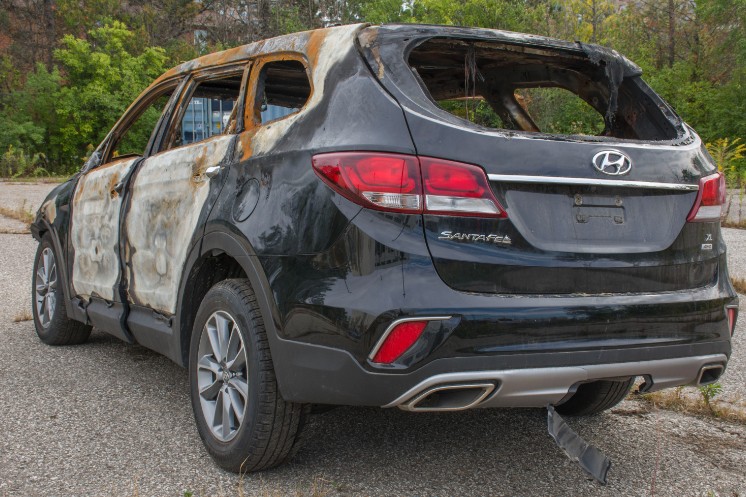 The two vehicles used during the Malton shooting were later found by Peel Regional Police after being set on fire.
Peel Regional Police Chief Nishan Duraiappah described both shootings as "brazen acts of violence", and said his organization will "relentlessly pursue" those responsible.
Davis was struck when gunfire erupted behind an apartment complex at 7230 Darcel Avenue in Mississauga on September 14. Video evidence released by Peel Police shows two vehicles approaching the apartment complex. A group of six men are seen exiting the cars and fanning out quickly across the lot, threading through the parked cars. In a separate video, another group of men are seen standing around vehicles at the back of the apartment before gunfire explodes. With the loud popping of gunshots, people run in every direction, screaming as they flee.
"(It's) absolutely horrifying," Chief Duraiappah said.
When the gunfire stopped in what has been labelled one of Peel's most severe acts of gang violence in the region's history, over 140 rounds had been fired, five people were shot, including a 13-year-old girl, a 16-year-old boy, two 17-year-old boys and a 50-year-old woman, and Davis was dead.
According to police, Delahaye and his associates were the intended targets of the shooting.
While Delahaye would survive this attack, he had less than six weeks to live. Just before 10 p.m. on October 22, he was killed when driving in the area of Highway 410 east and Derry Road in Mississauga after his car was sprayed with bullets. Three others were also shot in the attack, but survived.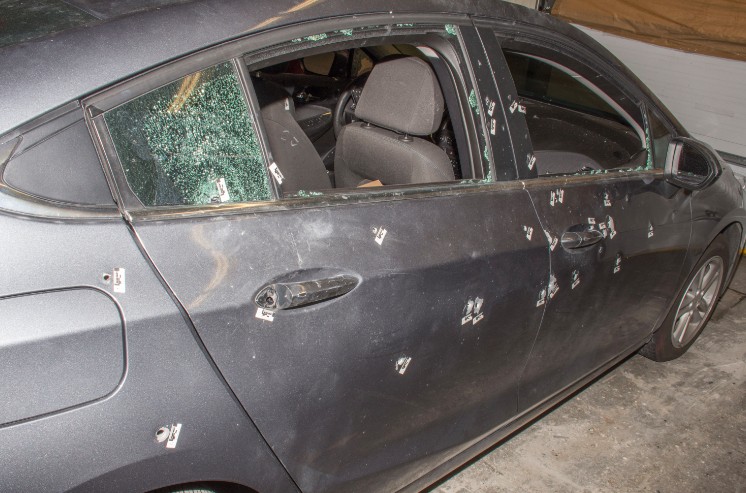 A photo from Peel Police shows the car Delahaye was driving in riddled with bullet holes.
While making the connection clear to the public, police also announced that two men had been arrested in connection to helping plan the shooting on Darcel Avenue.
Safeer Ahmad, a 19-year-old man from Mississauga, and Jahvon Valdez, a 21-year-old man from Brampton, have both been arrested and charged with conspiracy to commit murder. Police are still looking for a number of other suspects, including potential shooters.
"We believe a number of people have knowledge that could help us solve this case," Ottaway said.
The connection between the two incidents may cause intrigue among the general public, but for those within Peel police, the connection is not surprising.
Chief Duraiappah explained that the vast majority of Peel's violent crime — incidents which have been steadily increasing in recent years — are committed by the "same subset of people."
Putting further emphasis on this point, on Thursday, Peel Police announced the arrest of the two men, both from Brampton, in connection to two separate homicides in 2019. While the killings were seemingly unrelated, police said the men now in custody are part of the same street gang.
"What we're talking about is a small number of high-risk offenders," the Chief said.
Random violence in recent years has alarmed many Brampton and Mississauga residents and when innocents like Davis are caught in the middle of brazen gangland-style shootings that are usually only ever seen in the movies, it's clear more needs to be done.
Over the last three years, the number of homicides has continued to rise, increasing 67 percent between 2016 and 2017, 63 percent between 2017 and 2018 and a further 17 percent jump last year, leading to the deaths of 31 individuals. Other forms of violent crime, including assaults, uttering threats, and shootings also increased last year. In 2019, the number of rounds discharged in Brampton and Mississauga (Peel police does not break down its crime data by city) increased 41 percent over 2018 with over 700 shots fired over the course of the year. The majority of these shootings are linked to disputes between gangs, which generally devolve into violent turf wars over territory or the local drug trade.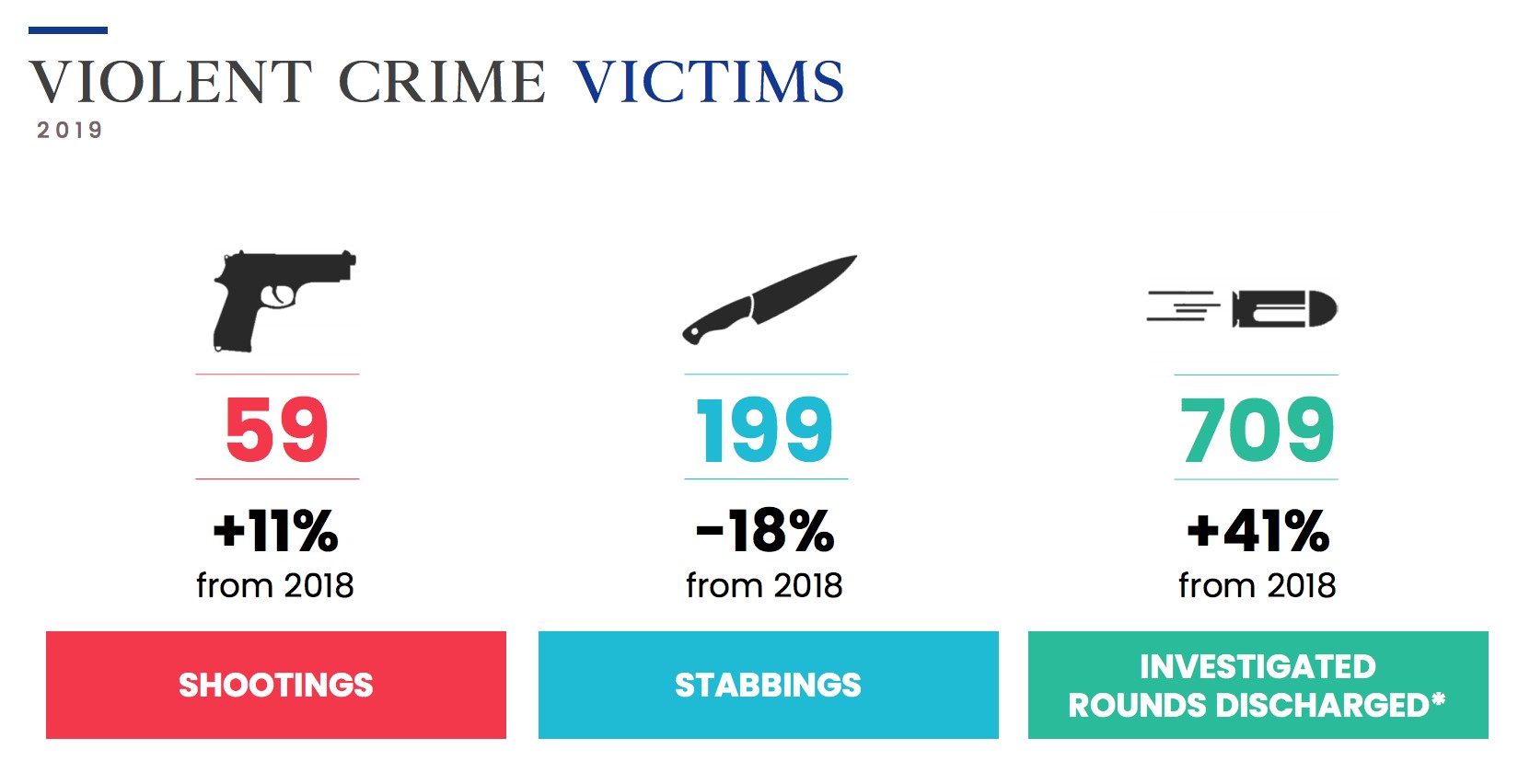 Gun violence has increased steadily in Peel in recent years.
"Urban gangs are territorial and gang wars are not uncommon," states a 2006 report from the Canadian Department of Justice, which analyzed the increasing presence of gangs in major Canadian cities and their use of firearms. In more than a decade since, the situation in certain cities has gotten worse. "Attempts to eliminate competitors or settle differences can involve shootings. The basis for the shootings often involves 'turf' disrespect or drug activity. This is also true for the majority of other crimes committed by urban gangs that can include property offences, drug distribution/trafficking, robberies, home invasions, assaults, and homicides."
"There definitely is a history between these two groups," Superintendent Ottaway said, noting the same types of issues were most certainly the "catalyst" for the 2019 shootings.
The level of gang activity in the two cities is having a profound impact on the entire region, as both continue to grow rapidly, while a range of social safety nets are not properly put in place to accompany the exploding population increase.
According to the United Way's 2017 "Opportunity Equation" report, in 1980, low-income neighbourhoods made up only 2% of the total in Peel, but by 2015 over half (52 percent) of neighbourhoods were designated low-income using census data for average household incomes. Middle-income neighbourhoods dropped from 86 percent of the total in 1980 to 43 percent in 2015. Other indicators also make it clear that communities are not being provided with proper support, pushing more residents, often young males, into a life of crime.
Last year, it was reported that Mississauga's food bank use rose at a higher rate than any other area in the GTA, and the shortage of affordable housing in Peel is the worst across the area, with average wait times of more than a decade.
With such a large percentage of visible minorities, who make up about two thirds of the population in both cities combined, systemic racism also contributes to the marginalization of many youth. Both Peel police and the Peel District School Board have been found to foster cultures of systemic discrimination, and even the city halls in both cities have recently come under fire for their own failures to accurately reflect their communities and provide equal opportunities for all residents.
With the root causes of crime going unaddressed it creates a perfect storm.
According to the violent crime severity index (VCSI), a measure that determines the level of criminal activity in an area by rating different crimes, with the more violent offences carrying more weight, Peel's rate increased 51 percent between the start of 2014 and the end of 2018, compared to a 27 percent increase for Ontario and 17 percent for the country over the same period. The Pointer previously reported this figure is rising at nearly three-times the rate of the national VCSI. The rise in gun violence in the two cities has played a major role in this increase.
Peel police maintain solvency rates for the more serious types of violent crime well above the provincial and national averages, but the growing presence of gangs in the region and the growing frequency of shootings and stabbings over recent years has left Peel police officials looking to upper levels of government for help.
The need for upper level assistance is becoming more significant as local municipalities not only deal with the financial fallout from the COVID-19 pandemic, but also growing calls for reform to police budgets.
In 2019, with several violent incidents happening around the time of the federal election, new envelopes of funding came down to assist local police organizations in Ontario to combat the violence. This includes $20.5 million over three years from the province, and a $65 million partnership between the federal and provincial governments to address gun and gang activity.
It's not clear what impact the COVID-19 pandemic has had on the release of these funds and their respective applications.
"In light of the current emergency, the ministry is being flexible in the administration of grants and working with Peel Police Service Board and other grant recipients on adjustments to timelines or processes, as required. As a result, there may be impacts to the implementation timelines of our grant programs," an attorney general spokesperson told The Pointer in April. "The ministry will continue to keep stakeholders and applicants informed of any changes to the process or timelines."
During a presentation to regional councillors last month, Chief Duraiappah projected approximately $16.5 million in grant funding from the province of Ontario. However, this is also uncertain as the province deals with its own financial hit from COVID-19. Last year, changes to provincial grant funding left the Peel Regional Police hunting for over $2 million in needed funding for projects to make up for cuts.
Peel Police will need to find ways to adjust to the changing financial realities and evolving societal expectations around policing.
In an interview with The Pointer last month, the Chief said he would be releasing further details in July on his plans to move the organization forward.
In a video statement released in the first week of July, he said, "it's time to act".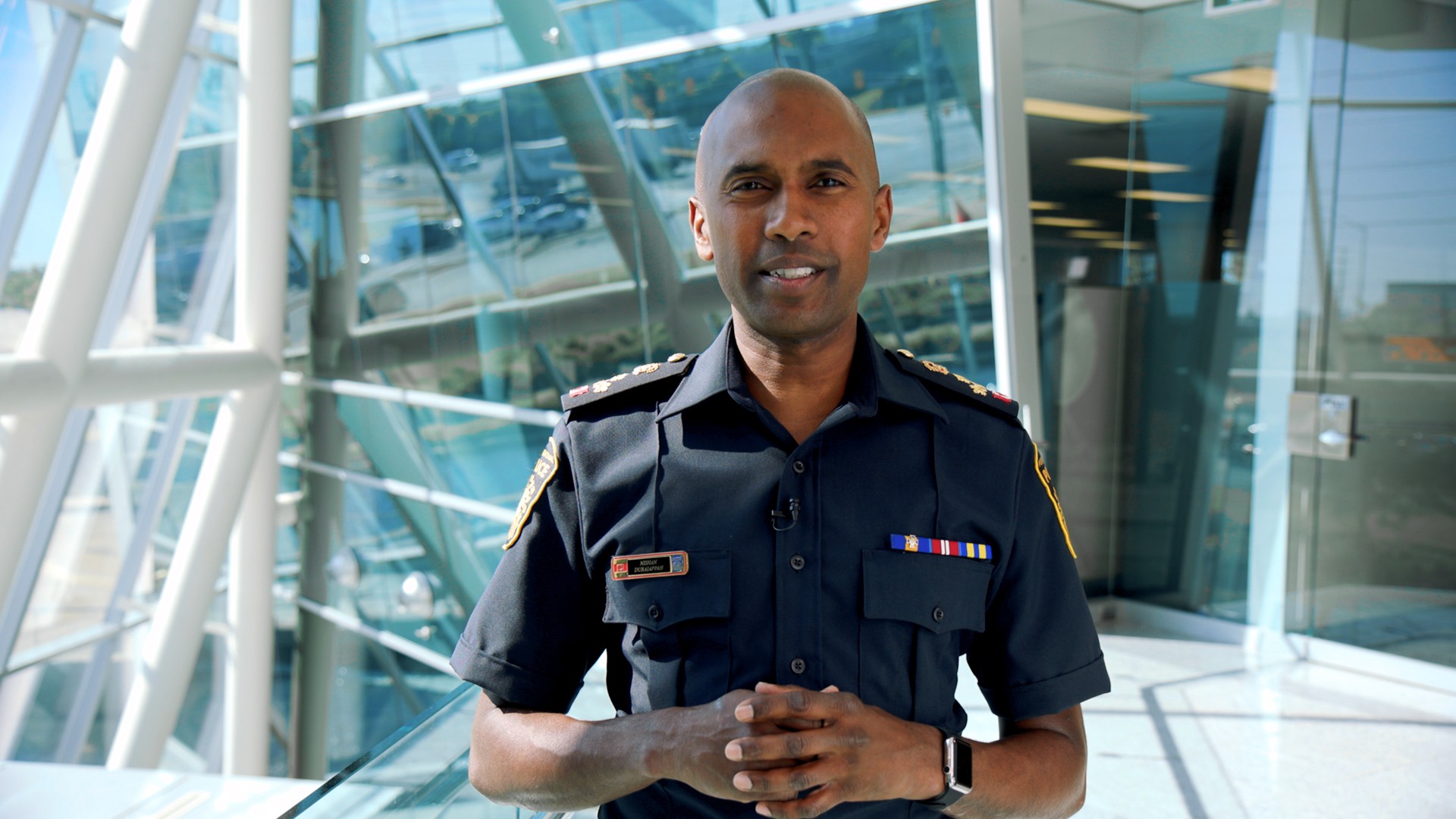 Chief Nishan Duraiappah has released few details about his plans for "systemic change" for Peel Regional Police.
To accomplish the "significant, systemic, organizational change", Chief Duraiappah said he's working on a "multi-faceted approach centred on human rights."
"We recognize we have to rethink our roles and adjust. Working together will come in the form of many new initiatives," he said.
Despite his characterization last month that details of the force's approach to transformative changes would be offered in July, so far he has not provided those details.
The Chief did point to the quick implementation of body worn cameras for Peel officers as one initiative, which was driven by the Police Services Board in response to public outcry and a backlash following the killing of George Floyd in Minneapolis by a now former police officer charged with second-degree murder.
The body-worn cameras come with a price tag of $1.4 million annually. However, this decision has been heavily criticized by community members, nearly 100 of whom wrote to the Police Services Board criticizing the move for being nothing more than a Band-Aid solution for an incredibly complex problem. Critics say the technology does nothing to address the root causes of crime, which many want proper funding for, possibly through the reallocation of money that is currently eaten up by unsustainable police budgets, as municipal decision makers throw more and more dollars at fighting crime after it happens, while ignoring the root causes to prevent problems in the first place.
To achieve most of his "foundational" change, the Chief is relying on the provincially mandated community safety and wellbeing plan (introduced by the previous Liberal government for every municipal region) something currently being developed by a task force at the Region of Peel, which includes PRP, regional councillors and local stakeholders.
The community safety and wellbeing approach "focuses on the needs of the community first," Duraiappah explains in his video statement, and allows the community to "get the right services, for the right people, at the right time."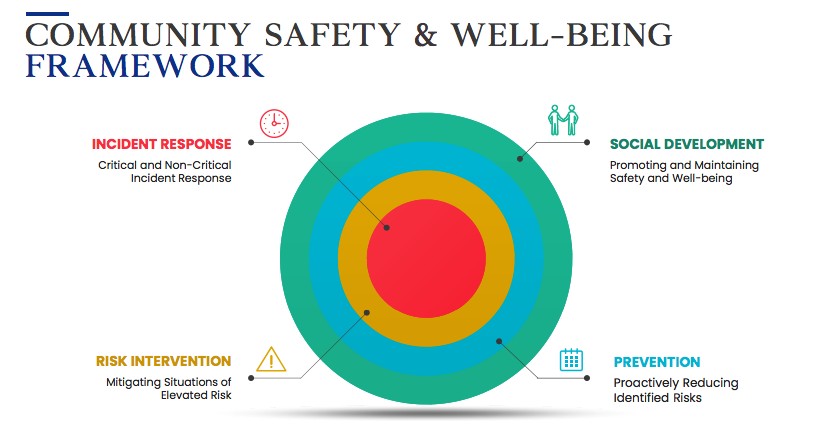 The community safety and wellbeing plan prioritizes social development, preventative programs and risk interventions before incident response.
According to a recent report to regional councillors, the region's plan will place emphasis on addressing family violence, systemic discrimination, mental health and addictions and focusing on assisting key populations, such as vulnerable youth and seniors. With more details slated to come forward in the fall, the region's report lists a number of goals for the plan, including improving advocacy efforts and data collection.
Neither the regional report, nor Chief Duraiappah's video address the findings of the Canadian Centre for Diversity and Inclusion audit, which was widely critical of Peel Police's failures on equity and inclusion. Nor did either address how they plan to deal with upcoming discussions around the Peel police budget.
In response to calls to "defund" the police, mayors in Mississauga and Brampton declared the budget will be looked at through a different lens but have not provided any specifics about how they plan to address the ballooning budget, which has increased by almost 70 percent over the last decade from $290 million in 2010 to $490 million in 2020.
In response to questions from The Pointer during a recent press conference, the Chief was non-committal about budget discussions in the fall.
"We are quite alive to the fact that this is not going to be… not what it would normally have been, but it won't be a normal budget year," he said. "As stewards of tax dollars, we have been looking at that very proactively, as you can imagine, most agencies and organizations have used the pandemic to accelerate many efficiencies in the service, so we're using that lens at the moment to see what we can do to reduce any impact."
To date, Duraiappah says it's unclear how COVID-19 will impact the force's bottom line, but he knows the region is grappling with a large financial hit — the region recently voted to defer between $600 million and $700 million in capital projects over the next five years due to COVID — and it will impact budget discussions coming later in the year.
"We are being quite sensitive to that. I do anticipate that to be a sincere consideration for what we would normally come back to," he said. "As you know when I came here, I was commissioned with a change mandate and some of that has been to look at where efficiencies exist within the organization, look at doing things non-traditional and we're hoping that has a real opportunity to at least see the reallocation of resources where we would normally come to the board to say there are needs."
---
Email: [email protected]
Twitter: @JoeljWittnebel
---
COVID-19 is impacting all Canadians. At a time when vital public information is needed by everyone, The Pointer has taken down our paywall on all stories relating to the pandemic and those of public interest to ensure every resident of Brampton and Mississauga has access to the facts. For those who are able, we encourage you to consider a subscription. This will help us report on important public interest issues the community needs to know about now more than ever. You can register for a 30-day free trial HERE. Thereafter, The Pointer will charge $10 a month and you can cancel any time right on the website. Thank you.


Submit a correction about this story