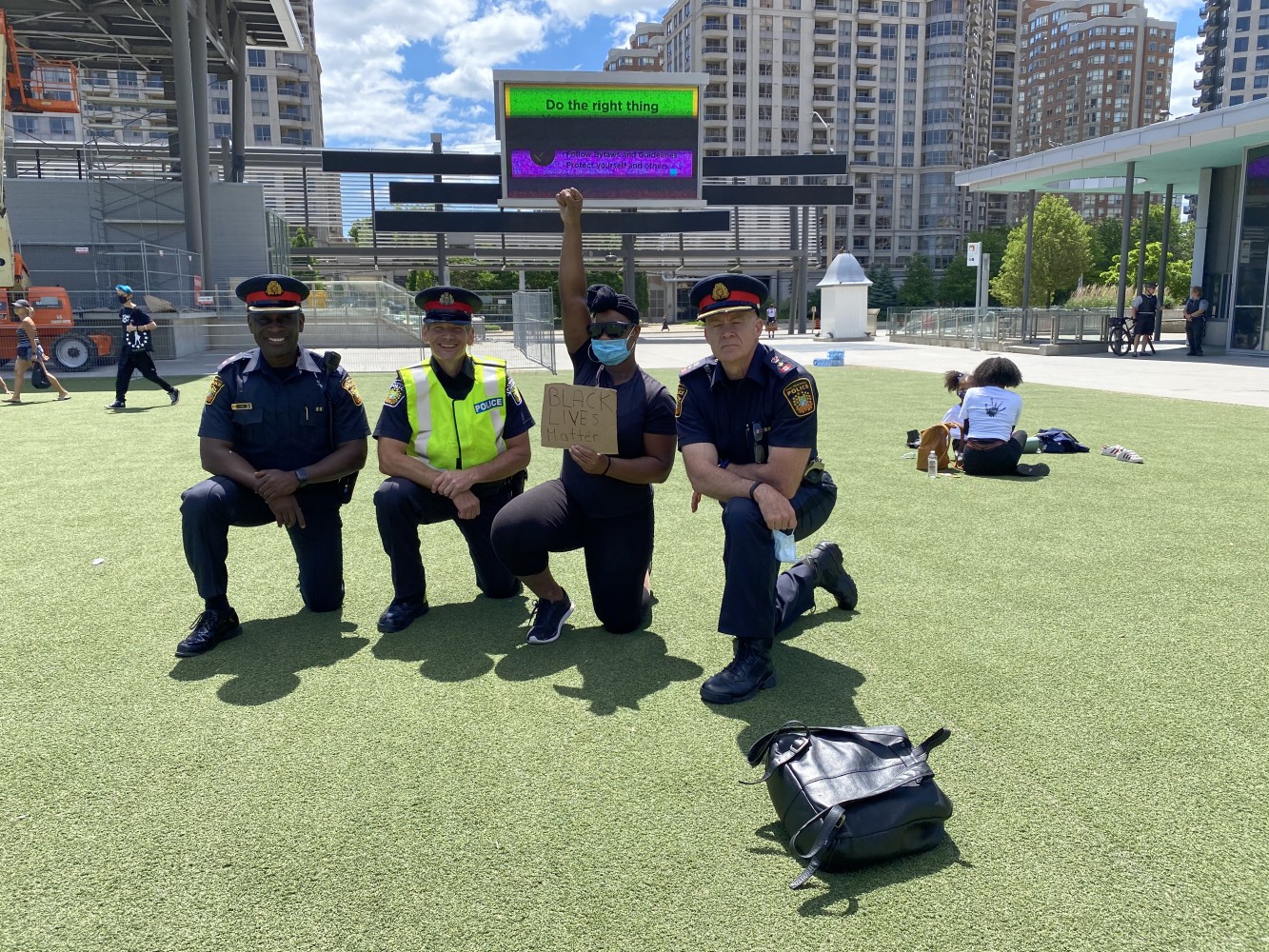 Photos by Aishwarya Dudha/The Pointer files/Twitter/Peel Regional Police
'Change is coming': Peel police chief promises systemic action to eradicate anti-Black racism
The ground is shifting beneath the feet of law enforcement agencies across North America following the death of George Floyd at the hands of Minneapolis police, and Peel Regional Police Chief Nishan Duraiappah is reassuring the community that his organization is ready and willing to change.
Floyd's death, after a police officer now charged with second-degree murder pressed his knee into the man's neck for more than eight minutes as Floyd repeatedly said he could not breathe, has once again put a spotlight on how police organizations treat Black communities in cities worldwide.
Critics say police should be focusing their efforts on working with stakeholders, politicians and leaders in their jurisdictions to confront conditions before police need to become involved, instead of reacting to problems often created by the breakdown in policing within marginalized communities.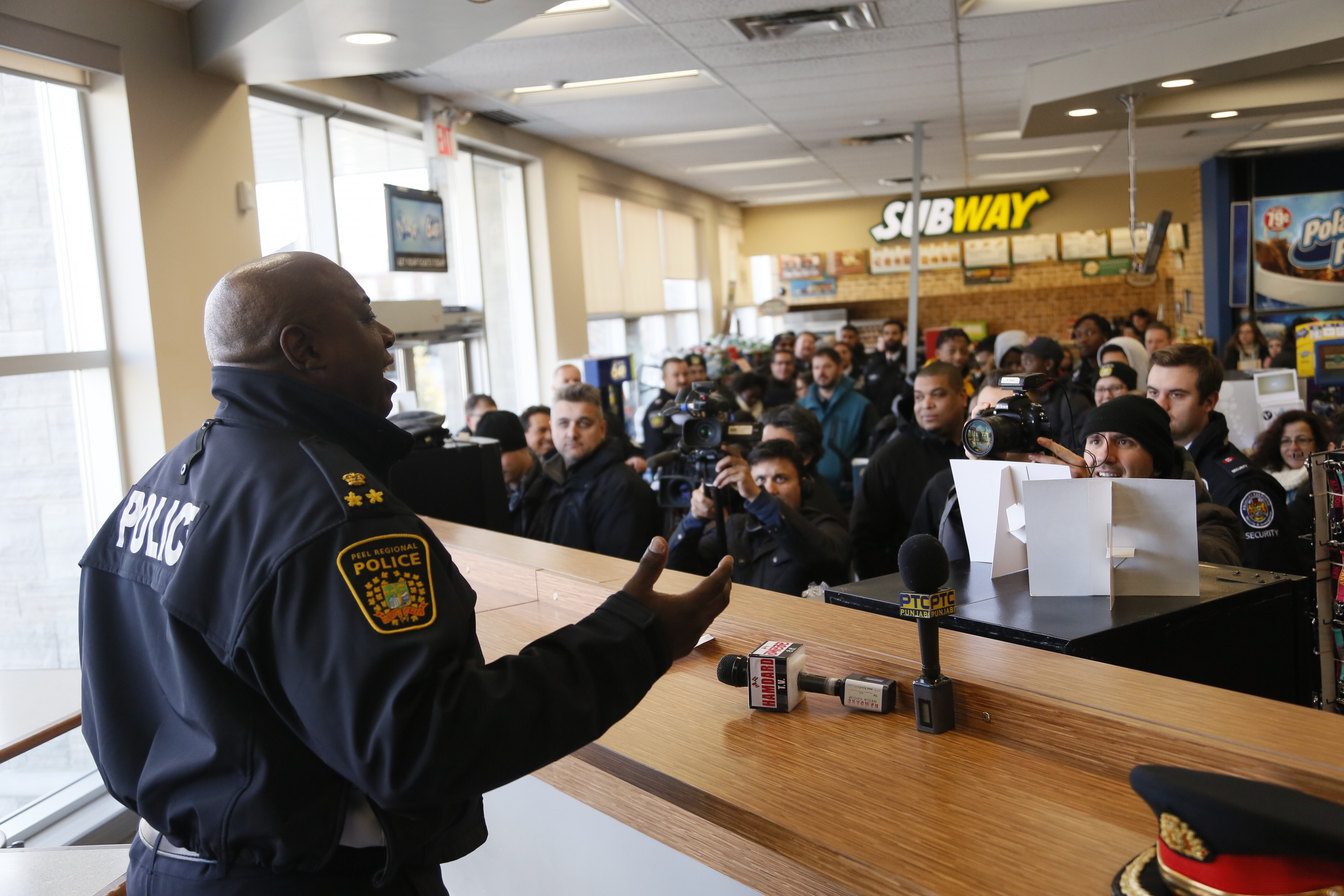 Critics say police need to forge strong bonds with their local communities to build trust and eliminate anti-Black racism (Deputy Chief Marc Andrews pictured above).
Often, police, because of the political attention on tough on crime support among the public, have far more sway with leaders than the various social support agencies and advocates who are routinely ignored by decision makers.
Duraiappah spoke with The Pointer Monday about his priorities as policing is now under the spotlight like never before.
"If you see the grassroots, defund the police movement, apart and aside from the nuances and the difficulties of immediately defunding us, or disarming us — that's another request — the spirit of what people are saying is exactly what the police have been saying for a long time. We are not the professionals, whether it be mental health or addictions, older adult isolation, youth based problems to be able to resolve them," Chief Duraiappah says. "The issue being that we're the 24/7, available, go-to people. We've always been saying that the need for other systems to be strengthened in order to get upstream and mitigate risk so that we're not the one in crisis response, is absolutely the solution."
Whether it's housing, food security, public health and the alarming rise in mental health issues or homelessness, police organizations have a powerful voice at the council table to be able to advocate for investment in these "upstream" areas. This is certainly to their benefit as people who are safely housed, fed and healthy, are much less likely to resort to crime in order to overcome desperate situations.
Like the demonstrations that occurred following the death of Eric Garner in New York — eerily similar to Floyd's — and the killing of Michael Brown Jr. by police in Ferguson, Missouri in 2014, and those sparked by the police beating of Rodney King in Los Angeles in 1991, protests have been large, loud, and at times, violent. What sets recent events apart is this movement appears to be forcing real action.
Even in Peel, incidents that shook the community did not spark such a wide response.
Following the 2014 killing of Jermaine Carby, a 33-year-old Black male who was shot by a Peel police officer, in what a subsequent lawsuit described as an "unlawful street check [that] led to a confrontation which ended when Mr. Carby was shot and killed", there were protests, but not like this.
And more recently, in April, Duraiappah had to reach out to frustrated residents in Black communities following the fatal police shooting of 26-year-old D'Andre Campbell, in Brampton, after the man's family said he suffered mental health issues and police failed to use any de-escalation methods before killing him.
In Minneapolis on Sunday, a majority of city council members spoke to demonstrators saying they were in support of disbanding the city's police department in its current form.
The whole world appears to be paying attention. From politicians on Twitter, to video game advertisements, to conversations as society starts to return to normal, many are speaking out against the anti-Black racism that has plagued our systems for decades.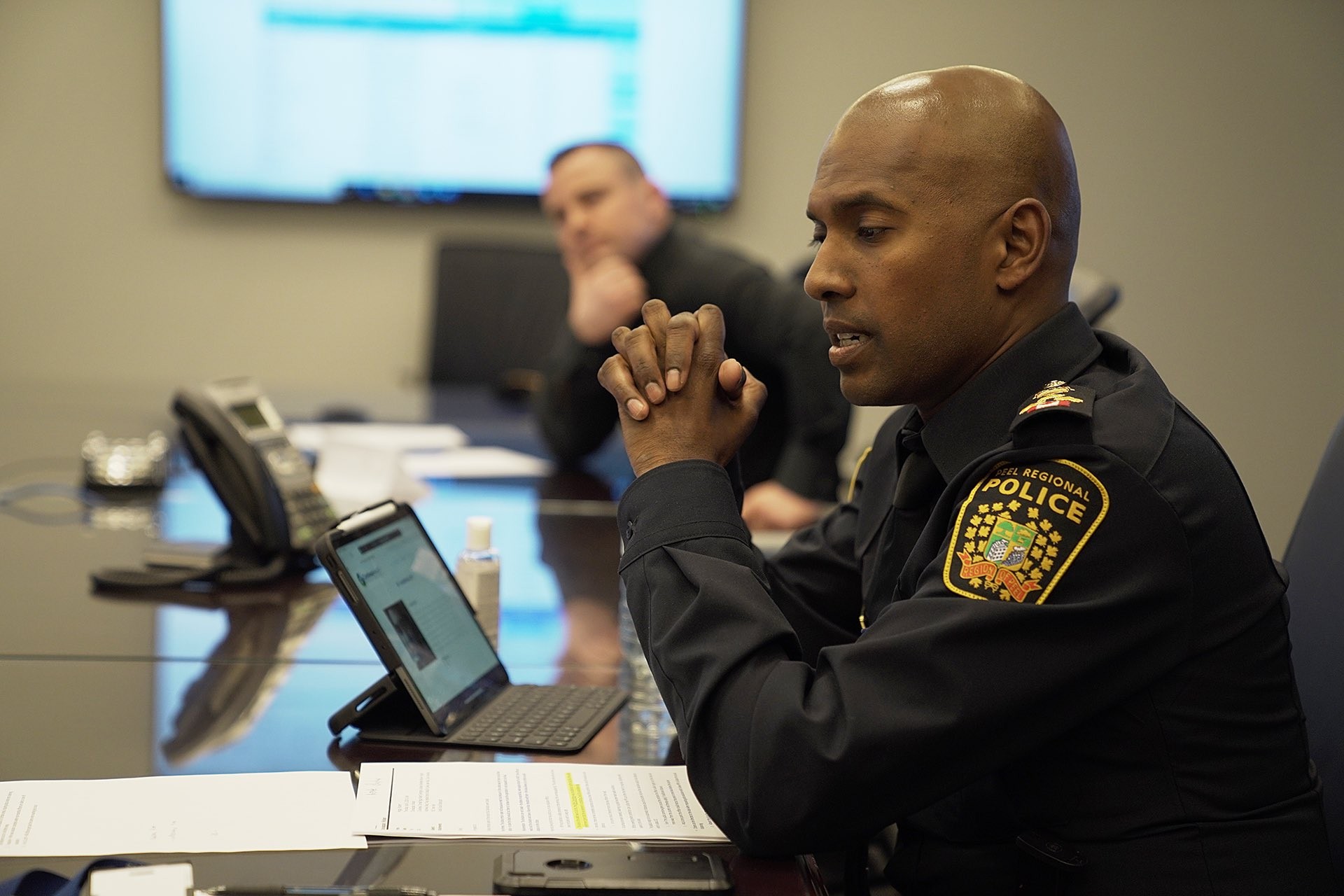 Peel Police Chief Nishan Duraiappah
The movement appears to have momentum; whether it results in substantive change is yet to be seen.
In Peel, statements of support for the Black Lives Matter movement have come down from mayors, councillors, school boards and many others in positions of power, but these are just words. The public is now looking for action.
"I know that many chiefs and police leaders have taken a public stance and the position that we are open, we recognize we need to change and systemic change is needed. I think your readers really are now interested in, 'okay show me, and what is that going to look like?'" Chief Duraiappah told The Pointer.
"My efforts to ensure we are watertight and that we are strong for the future, will be shown in real, systemic, structural change – activities that are coming. I just ask that the community come alongside us. It's an opportunity to help us get there, that's what we need."
He assured, "Change is coming."
Eliminating a decades-old system of oppression and discrimination against Black communities and other racialized groups is not something that can be dismantled and rebuilt in a few months, or even a few years. According to Chief Duraiappah, his vision extends far out from 2020 and involves a complete rewiring of how the police organization operates both inside and out.
The police services board brought in Duraiappah from Halton in late 2019 as an agent of change for a police organization that was falling woefully short of community expectations in a myriad of ways, especially when it came to policing its large visible minority population — which makes up about 65 percent of the population in Brampton and Mississauga combined (Caledon is patrolled by the OPP).
These past shortcoming have been detailed by The Pointer, with systemic problems infecting all levels of the force, from frontline officers all the way to former chief Jennifer Evans whose resignation, after widespread calls for her to step down over her horrible record on policing visible minority communities, was disguised as an early retirement. Many of these issues disproportionately impacted Black communities in Brampton and Mississauga.
On the front lines, A Toronto Star investigation between 2010 and 2016 found some 640 Peel police officers received discipline for misconduct with offences ranging from secretly watching child pornography seized as evidence to an officer being charged with fraud and money laundering. Most recently, Peel Regional Police Association President Adrian Woolley, the union leader who speaks on behalf of frontline officers and represents the values of the force, was convicted for drinking and driving, going 74 kilometres over the speed limit with a blood alcohol level almost 50 percent above the legal limit and received an eight-month demotion from Constable to Constable Second Class.
In Brampton and Mississauga, where Black residents were just 9 percent of the population, data from a recent five-year period showed that almost 25 percent of those stopped for a street check — or carded — were African-Canadians, which was a rate three times higher compared to the carding interactions with whites.
The controversial practice was denounced by Justice Michael Tulloch who in reviewing the use of street checks in Ontario, said the practice alienated entire communities and eliminated trust and cooperation between the public and police.
Yet, former chief Evans was determined to continue the practice, despite it being widely derided in the community, and even went as far as claiming, with no evidence to back her up, that the adherence to Charter rights, under new provincial rules, was preventing police from doing their job and played a role in the increasing violent crime observed in the region in 2018.
"What really has to happen is systemic or structural change," Duraiappah says. "A change that needs to happen can't be just rooted in one particular strategy."
"Systemic change; culture shift." The terms have effectively become buzz words in the quick two weeks since police organizations have vowed to improve their practices. What does it really look like?
In its simplest form, it comes down to a complete shift in priorities for police officers, Duraiappah says.
"The emphasis on a law enforcement perspective has to shift to a public health perspective and response to risk in our community and without a doubt, this is exactly what needs to happen."
The increasing militarization of police forces, armed with tasers, other weapons and full-body armour during confrontations with the public across North America has poured fuel to the fire. Calls to "abolish" or "defund" the police are mounting as money is not going toward supporting communities, but instead to provide more weapons and tools to be used against communities.
There will always be a need for police organizations to tackle the most complex, organized and violent types of crime, but this shift in priorities to address and advocate for other forms of "upstream" supports, to fight crime before it ever happens, could lessen the burden on police, and improve the lives of the people they serve.
As always, the discussion really comes down to money.
The discussions around the regional council table regarding the 2020 police budget were tense. Municipalities are hard-pressed to come up with revenues they need to support the services that come within their purview.
But despite a police budget that takes up the largest chunk of the regional budget, it has not been properly scrutinized, as most regional councillors don't even ask questions and many have been willing to pass requested budgets sight unseen.
For the most part, the 2020 budget planning was already completed when Duraiappah arrived in Peel, but he was still able to find certain areas for improvement in the short time he had.
Instead of a planned 55 new officers, Chief Duraiappah reduced that number to 35. The reduction of 20 officers could actually be a policing gain as the budget proposed hiring 18 additional civilian positions to carry out various crucial roles within the force, a new trend in policing that not only saves money on the bottom line, but can bring in new expertise to help police organizations tackle the ever increasing complexity of modern crime.
Throwing more officers in patrol cars is widely seen as a waste of resources and unless they are properly deployed, often results in little to no impact on crime rates.
In Peel, PRP are facing serious pressure from growing violent crime, an increasing workload and a province that continues to change the foundational grant programs that police rely on for supplemental funding. All of that was prior to the COVID-19 pandemic that has placed even more pressure on municipal coffers.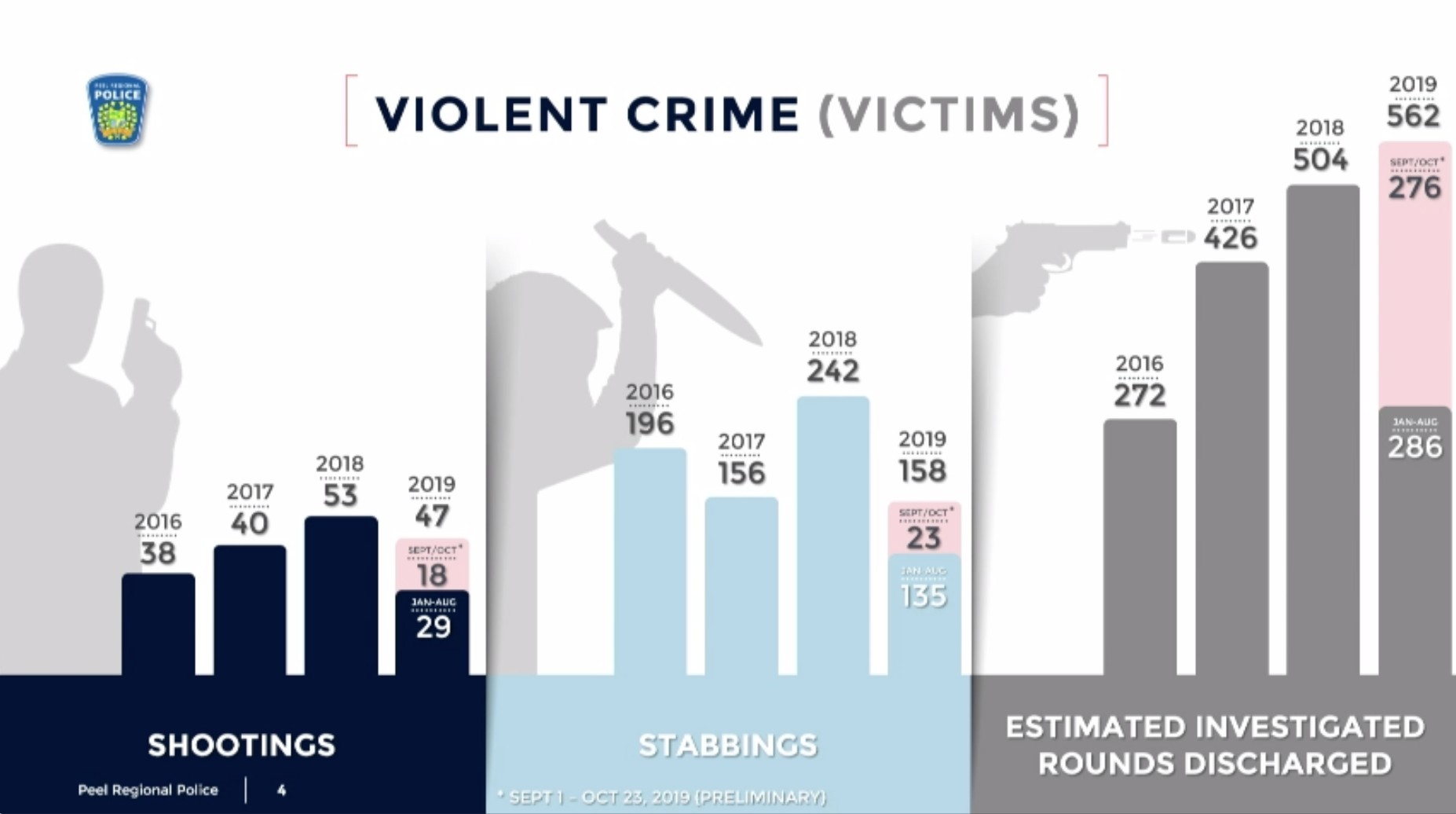 Crime stats from late 2019 highlight how many forms of violent crime are increasing in Peel.
The 2020 police budget consists of a $445.7 million operating budget, the lion's share of which (approximately 94 percent) is for salaries, other income and benefits and represents a $22.7 million increase over what was needed last year. It marks a 10 percent increase in the police budget over two years. The sharp rise is driven mainly by $11.9 million in additional labour costs, $2.7 million in "operating and inflationary pressures" and a $2.6 million decrease in provincial grant funding, the latter of which has a "significant" impact on the organization, Duraiappah said at the time.
Recent police budget increases across the GTA are unsustainable and from Durham to Toronto, police board members have said municipalities can not afford the funding police forces expect.
The overall $490 million Peel police budget for 2020 represents a 69 percent increase from the roughly $290 million budget in 2010.
The brand new contract for officers which sees a first class constable start at $100,420 represents a 41 percent increase from the $71,400 starting salary in 2006.
These are numbers that guarantee funding for other areas, such as mental health support, affordable housing and youth employment and engagement, cannot be found.
The Region of Peel is also responsible for investments in public health, child care, long-term care, and housing. Investments in the last item on that list have been practically non-existent over the last two years, contributing to an affordable housing crisis across the region and a shelter system that is operating near or over capacity 24/7, 365 days a year.
This is like a powder keg waiting to explode.
There is nothing stopping police leaders from appearing before council and advocating for more investment in affordable housing — though it could be a first for Peel Region — however, it begs the question of where that potential funding would come from, and would police then be taking resources away from their own budget.
"I guess the question is do you take from one to the other?" Duraiappah says. "I think theoretically, you can't immediately do that either until the other ones are set up in a fashion that they are in a position of strength."
When it comes to affordable housing, it's clear Peel is not in a position of strength. This conundrum is worsened by a reduction in provincial grant funding — $2.6 million for PRP in 2020 — and further services being downloaded to municipalities from the province without the resources to handle them.
A change in service delivery is only one piece of the solution to address the lack of trust between Peel police and its racialized populations.
Only 20 percent of Peel Police officers are visible minorities, while the population of the two cities is about 65 percent non-white. Incidents in its history also provide evidence of discriminatory practices internally, including the 2014 case of Staff Sgt. Baljiwan (B.J.) Sandhu, who the Ontario Human Rights Tribunal found was passed over for a promotion because of his "race, ancestry, place of origin, and/or ethic origin."
Perhaps more concerning, the same ruling also found that Peel police "generally" devalued police work in Peel's massive South Asian community.
And these issues were not just among the rank-and-file officers either, an audit completed by the Centre for Diversity and Inclusion last year — before Chief Duraiappah was hired — found that senior leadership within PRP were incredibly out of touch with the issues being faced by their officers and generally found no barriers for promotion or advancement in the organization, despite the fact that frontline staff said they definitely existed.
The 142-page document is an indictment of the police force which the audit found doesn't represent the fast-changing, diverse community it serves, raises barriers for racialized members of the force, punishes those who speak out, and has turned a blind eye to systemic bias.
The review also found a disturbing 79 percent of Peel police employees who took part voluntarily in focus groups reported experiencing harassment or discrimination within PRP, while 90 percent of participants reported witnessing such behaviour.
Chief Duraiappah says his organization is working on a new diversity and equity strategic plan — scheduled to be made public in July — which will detail many of the "inside the house" changes the organization is making. This includes a commitment to a "human rights-centred approach."
"Which could mean taking on, voluntarily, some significant pieces of accountability and self-monitoring to report to our Police Services Board and that would pertain to interactions with the public, do we see disproportionate systemic issues within Peel police? And also, it improves some of our engagements with other partners, like the school boards, which I know is a big one, so that human rights focus is really oriented to something that really is a big change that needs to happen."
The Chief also plans on "accelerating commencement, acceptance and implementation" of body cameras for Peel officers. A report detailing potential costs, program requirements and implementation is scheduled to go to the police services board on June 26.
The new plan will also create support systems for visible minority and other diverse populations, including LGBTQ communities, within the force in order to improve promotion and advancement practices.
He was asked specifically about a Black employee resource group, to ensure proper mentorship, advocacy and support for advancement, while guaranteeing the lived experience of these officers will be at the forefront of policies moving forward and efforts to rebuild lost trust with communities.
"Any organization that just assumes that any person within it will succeed, develop and grow without being nurtured is missing the mark," the chief says, adding that many of these plans, which could include internal support networks for these populations within the organization, will be detailed in a forthcoming leadership development plan. "It's a clear opportunity for us to ensure that the future leaders of the organization are representative of our community and ultimately that they're the best police officers and civilians that this organization has, and the only way to do that is to create opportunities for everybody within the service to grow in their capacity."
---
Email: [email protected]
Twitter: @JoeljWittnebel
Submit a correction about this story