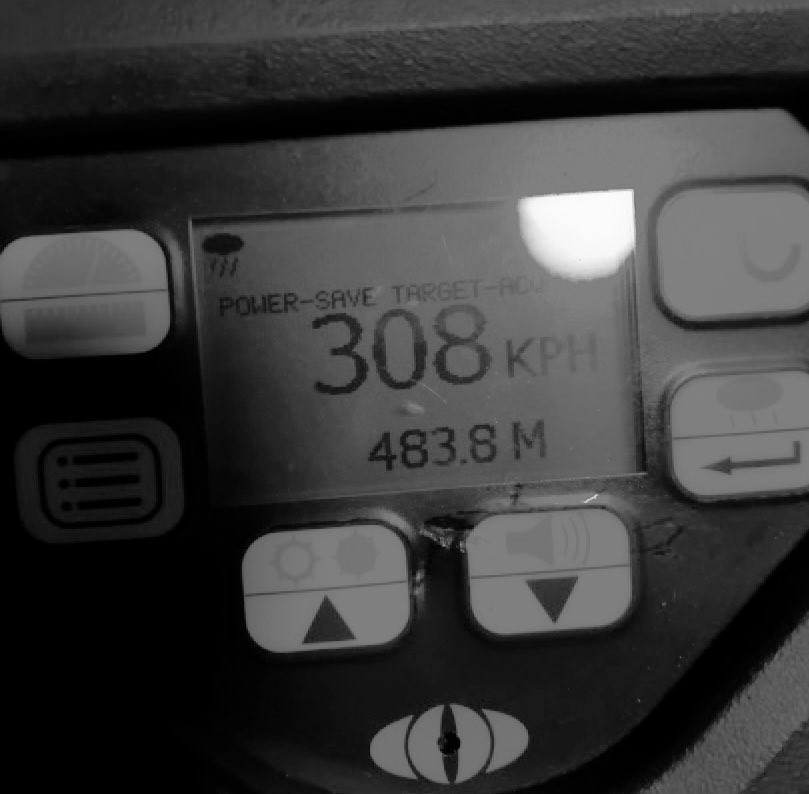 Photos from The Pointer files/OPP/City of Brampton/Peel Regional Police
Spike in street racing and stunt driving show the problem with Peel's empty roads
On Saturday night, two people flashed through Mississauga. Driving his father's Mercedes, a teenager and his friend were clocked by the Ontario Provincial Police (OPP) going 308 km/h on the Queen Elizabeth Way (QEW) near Burlington.
"I didn't even know a car could go that fast," Ford said at a press conference on Monday, confounded by the brazen disrespect for law and safety. "200 kilometres per hour over the speed limit — that is just irresponsible and unsafe."
The 18-year-old was given a seven-day license suspension and the vehicle impounded. He was also charged with stunt driving and will face a criminal charge for dangerous driving. That charge can range from a fine of up to $10,000 to prison time, according to the OPP.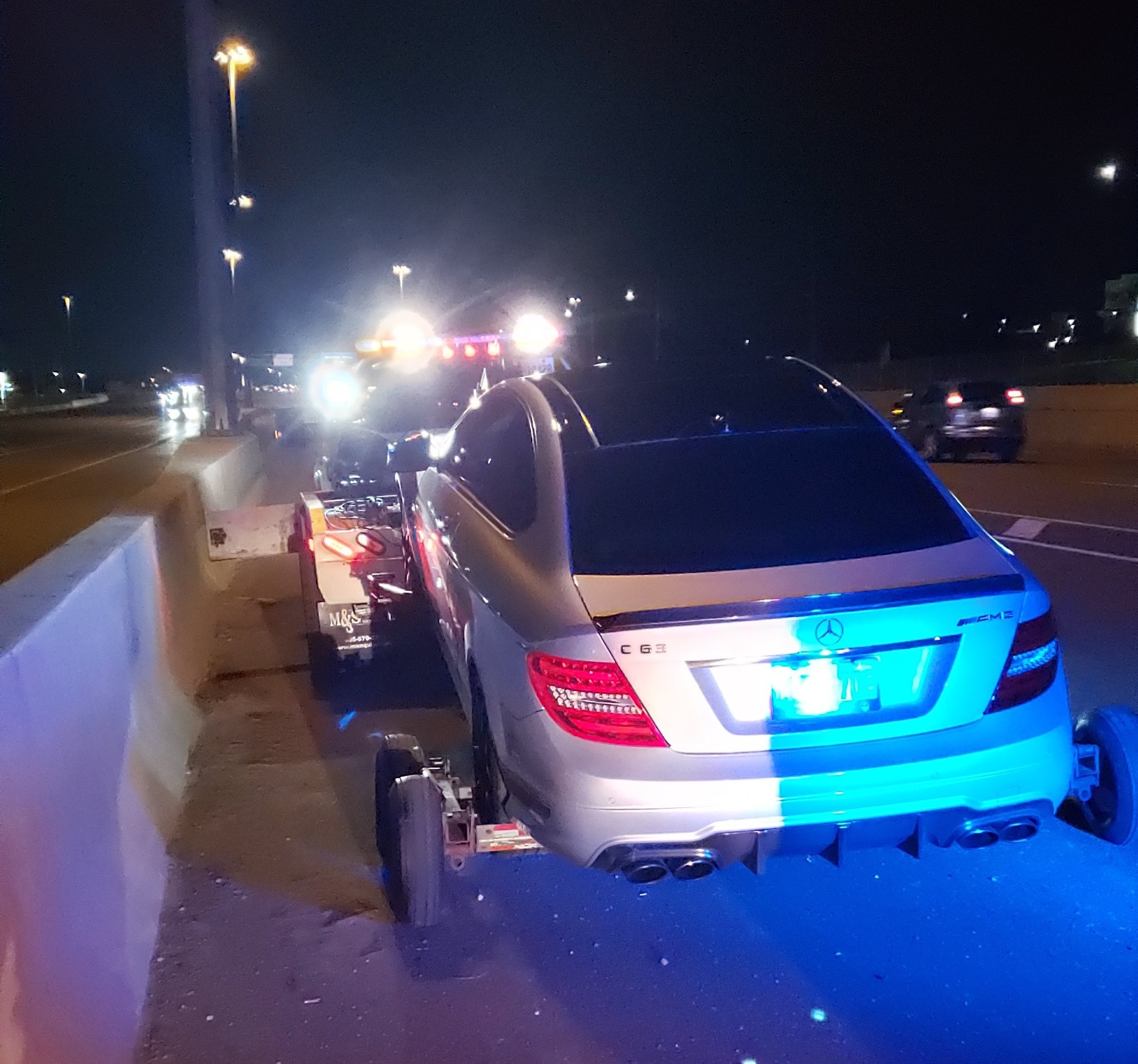 A teenager caught driving more than 200km/h over the speed limit on the QEW has his father's car impounded.
The story gathered national headlines and drew attention to an issue residents across the GTA have been complaining about since the beginning of the pandemic.
Since the declaration of a state of emergency in Ontario on March 17 and orders from the province to stay home, road traffic has dramatically reduced.
Drivers who normally jump in their car at least twice per day to get to and from work are now venturing out only a couple of times per week for groceries or essential trips. School rush and commuter congestion are gone. Weekend backups on highways leading north to cottage country have also reduced as many families choose to stay home.
The empty roads have acted as a temptation to some. Clear highways like the QEW beckon irresponsible drivers who want to test the limits of their expensive engines. In Brampton and Mississauga, the cities' wide, straight roads have the same draw.
Hurontario Street, Dixie Road and Williams Parkway are just a few examples of the region's highway-like roads, cutting straight through the heart of residential suburbia.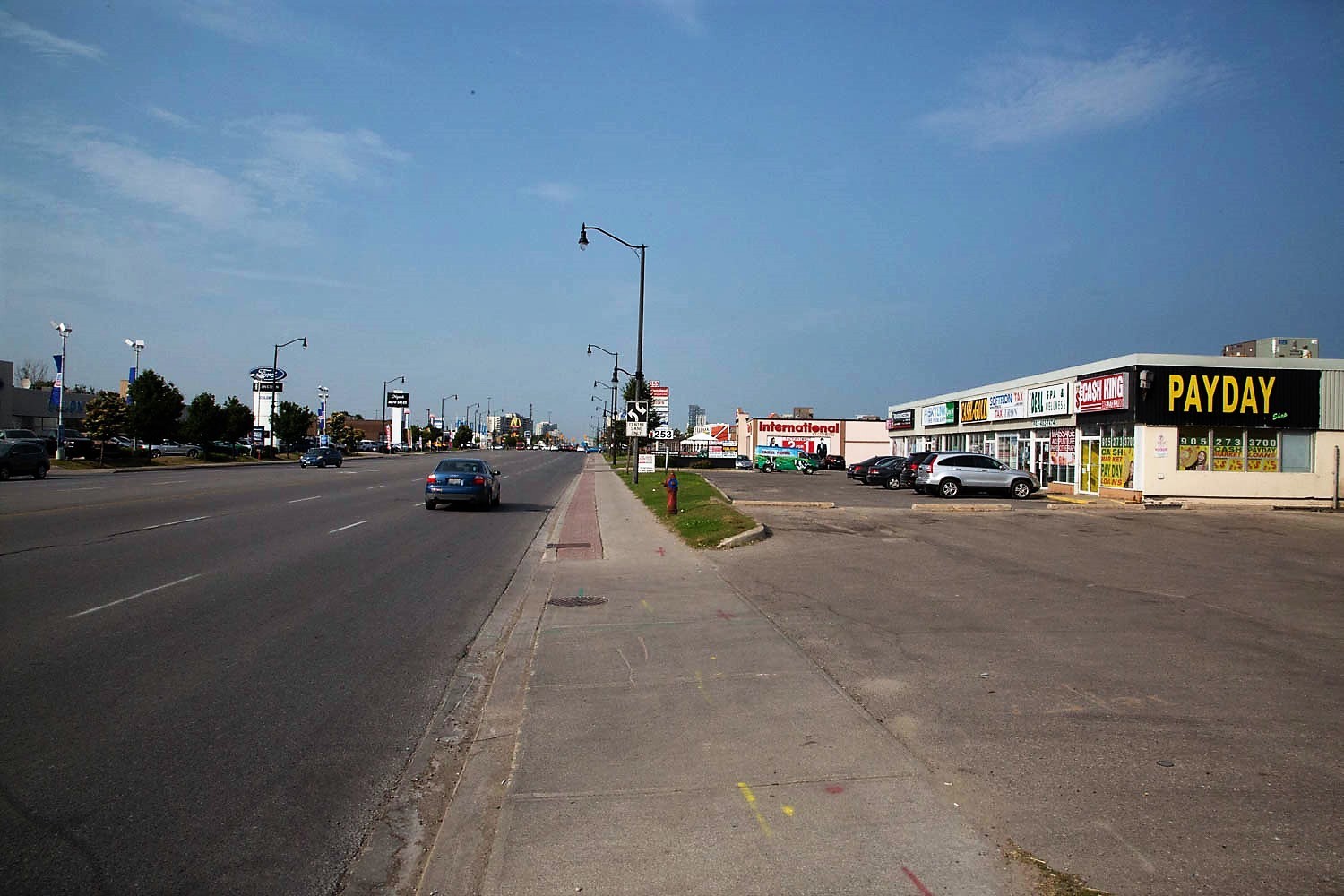 The prevalence of wide, straight roads in Peel are a draw for reckless drivers.
The Peel Regional Police, like their partners in the OPP, use social media to share some of the more egregious violations of road safety. Since the beginning of April, communications officers have posted four staggering speed violations. On Twitter an image showing a car going 126 km/h on a 60 km/h road was matched by a driver who reached 156 km/h. Images of speed guns have been accompanied by captions such as "that's an expensive coffee," in order to discourage residents.
Where are people rushing to on Peel's empty roads during a pandemic?
Addressing complaints from a Mississauga resident at the city's telephone town hall on May 5, the Peel Regional Police Chief Nishan Duraiappah said his officers continue to patrol roads as before. He urged members of the public to report dangerous and reckless drivers.
"We know that the volume of traffic has decreased which often changes drivers behaviour and allows people to take more liberties on the roadways," Duraiappah said. "We have seen almost a 100 percent increase in street racing offences which, by law, is 50 kilometres per hour over the limit or more."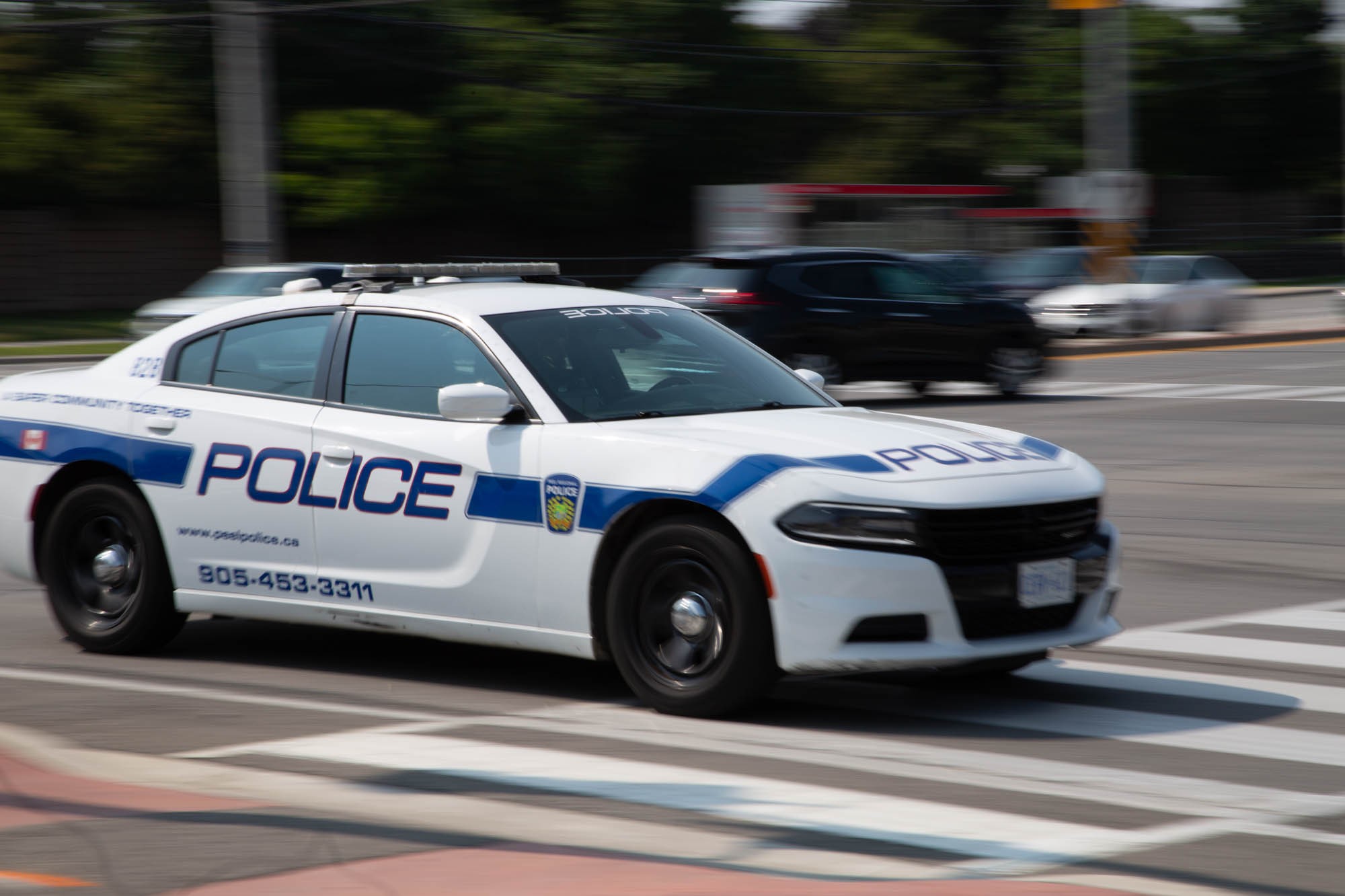 Peel police continue to patrol the region's roads for speeders.
Data shared with The Pointer by Peel police does not reflect this exact increase, but demonstrates the issue. In March, police laid 44 charges for stunt driving up 63 percent on 2019's 27 offenses. In April, the number of charges decreased to 26 compared to 35 in 2019, but year over year for the two-month period, stunt driving charges have increased 13 percent. Charges for impaired driving and speeding tickets are down in 2020 compared to 2019, but so is road traffic.
It is not clear why March's numbers are so much higher than April's. Did the novelty of empty roads in mid-March increase the practice of street racing temporarily?
"You'll note the numbers appear to have decreased but keep in mind the overall traffic on the road has decreased," officer Danny Marttini explained. "As many people are working from home or not at all, traffic is much lighter. In other words the numbers are not the whole story."
Conservative road traffic estimates shared by the City of Brampton at the end of April showed traffic levels in Peel had dropped by at least a third. On average, traffic volumes were 47 percent lower the first week of April compared to the first week of March, according to the City of Mississauga.
With the population told to stay at home unless there is an emergency, the persistence of any driving offenses is a concern for police. The fact anyone is driving impaired when bars and restaurants are closed will raise eyebrows, while the need to speed without congestion is also diminished. There are no unexpected delays making people late.
But increased awareness of stunt driving as a result of COVID-19's empty roads has only drawn attention to an issue that already existed in Peel. Even before the pandemic, the region had a serious speeding problem.
Previous analysis by The Pointer showed how a strained Peel Police force was struggling to keep up with a regional rise in violent crime. Drawing on annual crime data, a link can be formed between maintaining the force's impressive solve rates for crimes against people, including homicide, and a dip in the number of tickets issued for less high profile crimes such as driving offenses.
In order to solve murders and other significant offenses, police were forced to spend less time enforcing the rules of the road.
While the number of traffic violations has dropped in recent years, the deaths from motor vehicle collisions has increased from 25 in 2012 to 36 in 2018, the largest jump being in Brampton where deaths increased from 10 in 2012 to 22 in 2018. Pedestrian deaths have also spiked, doubling from 9 in 2012 to 18 in 2018.
The rising number of deaths compared to dropping tickets shows that the issue persists without officers available to take it on.
Combined with the dropping number of tickets each year, Peel's roads invite their users to hit the gas. During a pandemic, without other cars around to act as a point of reference or force drivers to slow down, long and straight roads with few red lights lead to unintentional speeding too.
While none of the extreme examples shared on social media by police are likely to be a mistake, drivers cruising through 50 km/h zones at 80 km/h is relatively common.
In order to cut back on this practice, both Brampton and Mississauga are in the processes of setting up Automated Speed Enforcement. These devices, also known simply as speed cameras, will issue a ticket to any driver clocked going above the speed limit. They can be added to any school zone or municipally designed community safety zone with 90 days notice.
In December, Brampton identified a number of areas in the city for cameras and placed signs to warn drivers of the changing rules. In Mississauga, staff are in the process of identifying areas to designate and place cameras.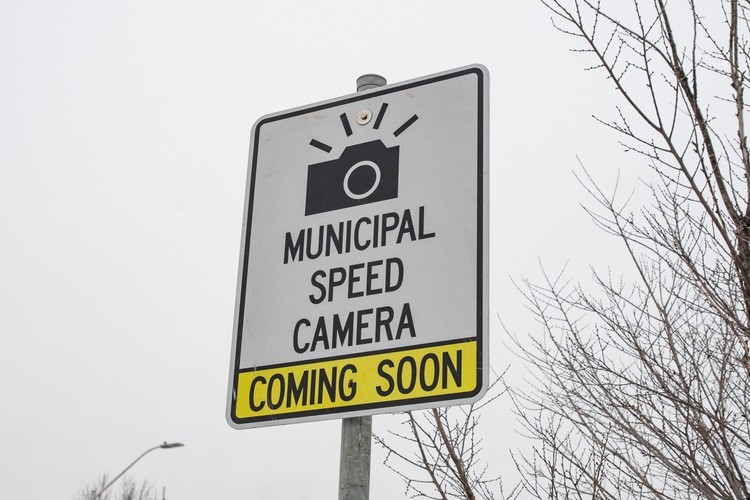 The City of Brampton did not confirm in time for publication if any of their cameras are yet operational.
The technology is common around the world as a speed enforcement technique, but was only made legal in Ontario at the end of 2019. It is an important step to reducing speeding in the areas cameras exist, but has limits. Like police speed traps on the highway, the issue with these systems is that they slow cars down for a kilometre around them, but do not tackle the underlying issue.
In order to solve the root cause of the problem, cities need to reform how they are built.
Increasing the number of turns in a road, reducing width or creating concrete islands and roundabouts are all shown to force drivers to slow down. If roads do not offer a long enough stretch to build up speed, the vast majority will stick to the limit.
The presence of the Hurontario LRT from 2024, for example, will likely have a positive impact on speeding. The creation of its stops in the middle of the street and a reduction in lane sizes will make it harder for drivers to hit high speeds on Mississauga's central spine.
Ward 9 Councillor Pat Saito previously told The Pointer retrofitting all of Mississauga's roads for a Vision Zero strategy of reducing pedestrian deaths was not feasible.
"In cities like Mississauga, where we really have wider roads [...] we can't just go and say 'I'm going to narrow every single road and reduce the speed limit to 30 [km/h],'" Saito said. "It's not physically possible from a financial perspective and it's not environmentally possible because [of] the gridlock [slower, narrower roads would cause]."
But COVID-19 has changed the game. Significantly reduced road traffic has made road closures for construction less disruptive and attitudes to cycling, walking, public transit and driving all appear to be shifting.
Brampton and Mississauga have shown some awareness of this with the introduction of temporary bike lanes on some roads.
Brampton Ward 7 and 8 Councillor Charmaine WIlliams has been a vocal advocate for such changes. She told The Pointer that in 2019 she voted for traffic calming measures and Vision Zero.
"I was the key driver of the 'Please Slow Down' campaign," she said. "This came out of a meeting I had with a woman who lost her son in a tragic automobile accident. As the mother of 5, I can only imagine the pain. We have to do something."
Without substantial changes to the way both cities build their roads, the issue of significant speeding will likely continue. Saturday's incident on the QEW has sparked a debate around enforcement and fitting punishments for those who flout the rules of the road.
Making the crime physically impossible to commit would be more effective still.
"Even if there's no other cars on the road, I know the OPP and other regional police departments around our province will be keeping an eye on that," Ford added on Monday of the teenager racer. "You've got to throw the book at these people because they're putting everybody's lives in jeopardy when they do something that reckless and careless."
---
Email: [email protected]
Twitter: @isaaccallan
Tel: 647-561-4879
Submit a correction about this story