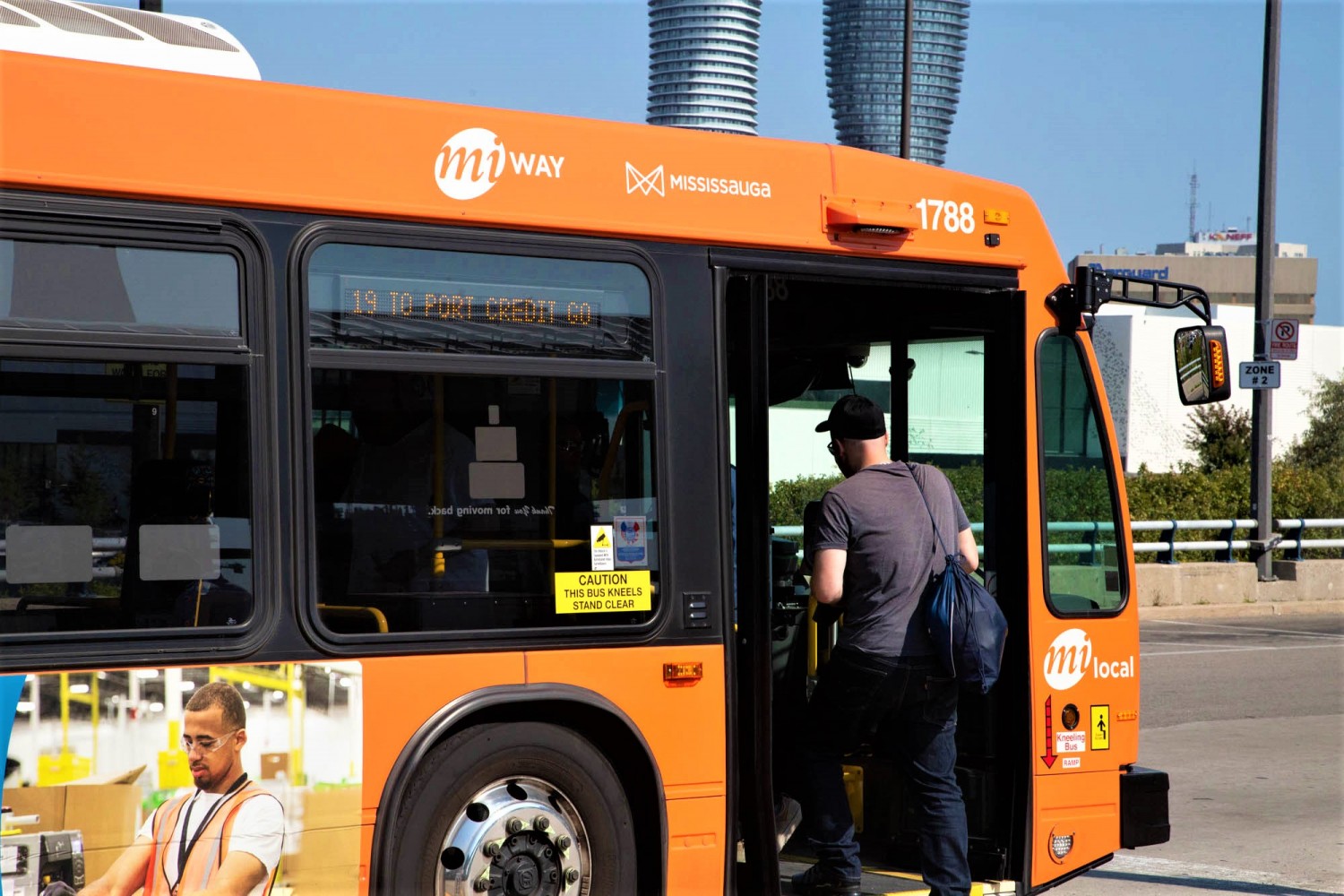 The Pointer file photos/Graphics FCM/Twitter-Brampton Transit
Mississauga moves to re-introduce fares on buses, but riders might stay away until they feel safe
With losses piling up, the City of Mississauga is considering re-introducing fares to its buses by installing plexiglass screens to shield drivers from the public. It has not cost anything for riders to use MiWay since March 21, when the city introduced rear boarding to protect its operators from interacting with the public.
The public safety move made it impossible to collect fares from boxes that are located at the front of buses, right next to MiWay drivers.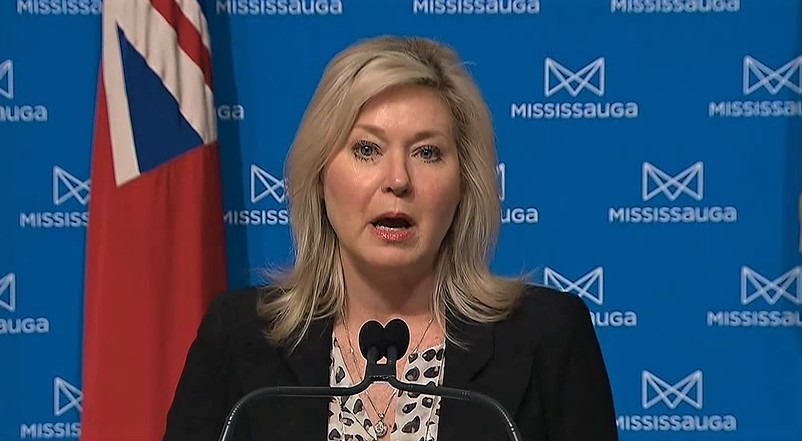 Mayor Bonnie Crombie, seen during a recent COVID-19 press conference, is demanding aid from Ottawa
The decision to switch to rear boarding and free public transit came as COVID-19 began to take hold of Peel Region, closing down public life. In order to minimize transmission of the virus, rules were introduced (and are still in place) that mean buses are sanitized daily, passengers enter only through the back, sit at least two metres apart and vehicles cap off at 50 percent capacity with only certain seats available.
In order to ensure essential workers, such as those on the frontlines of the healthcare system, and that residents had a way to get groceries and other supplies, municipal transit systems across the country have been operating throughout the pandemic.
Free fares meant the end of a valuable source of revenue for the City. After property tax, user fees at recreation centres and fares on MiWay buses are among Mississauga's most important income sources. As recreation centres closed and buses stopped charging passengers, the city released dire financial projections.
By the end of June, Mississauga could run COVID-19 related losses of almost $60 million, staff predicted. Of that number, almost half was lost revenue from free ridership on MiWay buses, with the figure sitting at $25.8 million.
It was estimated by the Federation of Canadian Municipalities (FCM) and the City that Mississauga would need a 17 percent tax increase in order to cover its projected losses, based on financial modelling done by the City. The figure was the highest among 11 of the largest Canadian cities FCM included in its recently released document that detailed the need for $10 billion to $15 billion of funding assistance from Ottawa.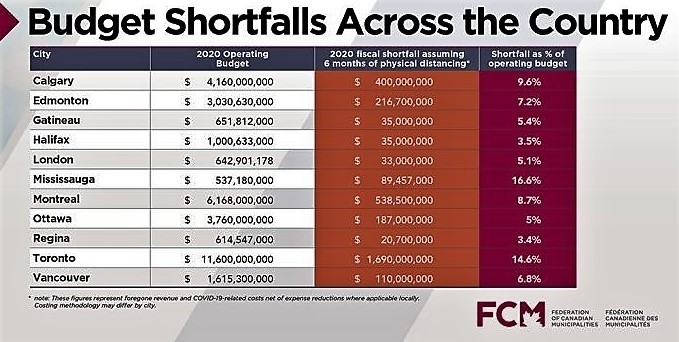 Mayor Bonnie Crombie issued a statement, outlining the dire situation Mississauga is in.
"Without provincial or federal assistance this year, Mississauga projects a 17% property tax increase next year," she wrote.
Addressing the lay-off of 2,000 non-essential staff already, she said if lost revenues continue, there will be serious consequences. "Cutting more staff means cutting services. It's as simple as that. So, while it's easy to just say the City should cut, my question to you is where? Our operation is lean – last year we found $2.5M in savings. At the municipal level, cutting jobs means cutting services. So, where do you start? It's important to note that cities are the only level of government that has laid people off to date. Neither the federal or provincial governments have done this."
Crombie asked the federal government to step up with the $10 billion to $15 billion in aid FCM said is needed from Ottawa to help struggling municipalities.
"In Mississauga, we project $60M in losses by the end of June and $90M by September."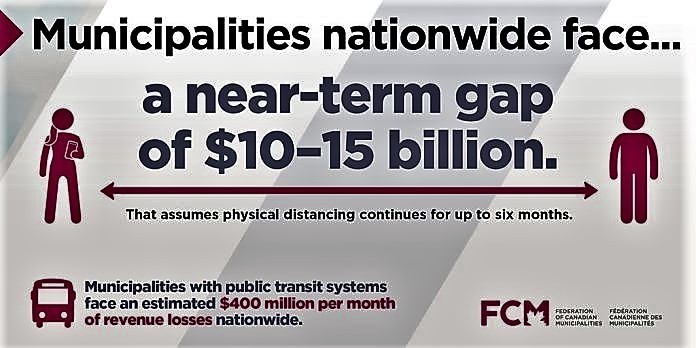 To offset these projected losses and to accommodate the possibility of higher demand, the City is in the preliminary stages of installing shields to allow passengers to board at the front of vehicles and pay their fares again, as more people start returning to work. The process is set to be completed by the end of June, when Council will then consider the reintroduction of fares.
On Monday (May 4) a short list of businesses will be allowed to open their doors, or prepare to reopen in some capacity, including: garden centres and nurseries (for curbside pick-up and delivery only), automatic and self-serve car washes, and car dealerships (by appointment only).
Additional construction projects can now resume as well, including those in the shipping and logistics sector; broadband, telecommunications, and digital infrastructure; municipal projects; colleges and universities; child care centres; schools; and site preparation, excavation, and servicing for institutional, commercial, industrial and residential development.
With the gradual reopening of society, the City of Mississauga doesn't want to continue losing millions of dollars because of its temporary free transit policy, while bus capacity will have to gradually return to normal, as more and more passengers will need to use the system once we return to normal life.
"The biohazard [plexiglass] barriers are currently being installed," Catherine Monast, a spokesperson for the city, explained. "The barriers enable front door boarding which is necessary for fare collection but no payment remains in place until further notice. The decision to begin charging fares again would come from Council."
The screens are in line with new guidance announced by the province. On April 30, Premier Doug Ford unveiled workplace rules for businesses as the province takes its first steps towards reopening after more than a month of shut down.
One of the changes includes "installing plexiglass barriers" to limit interactions between staff and the public. A similar scheme has been in place at stores that remain open, including the LCBO.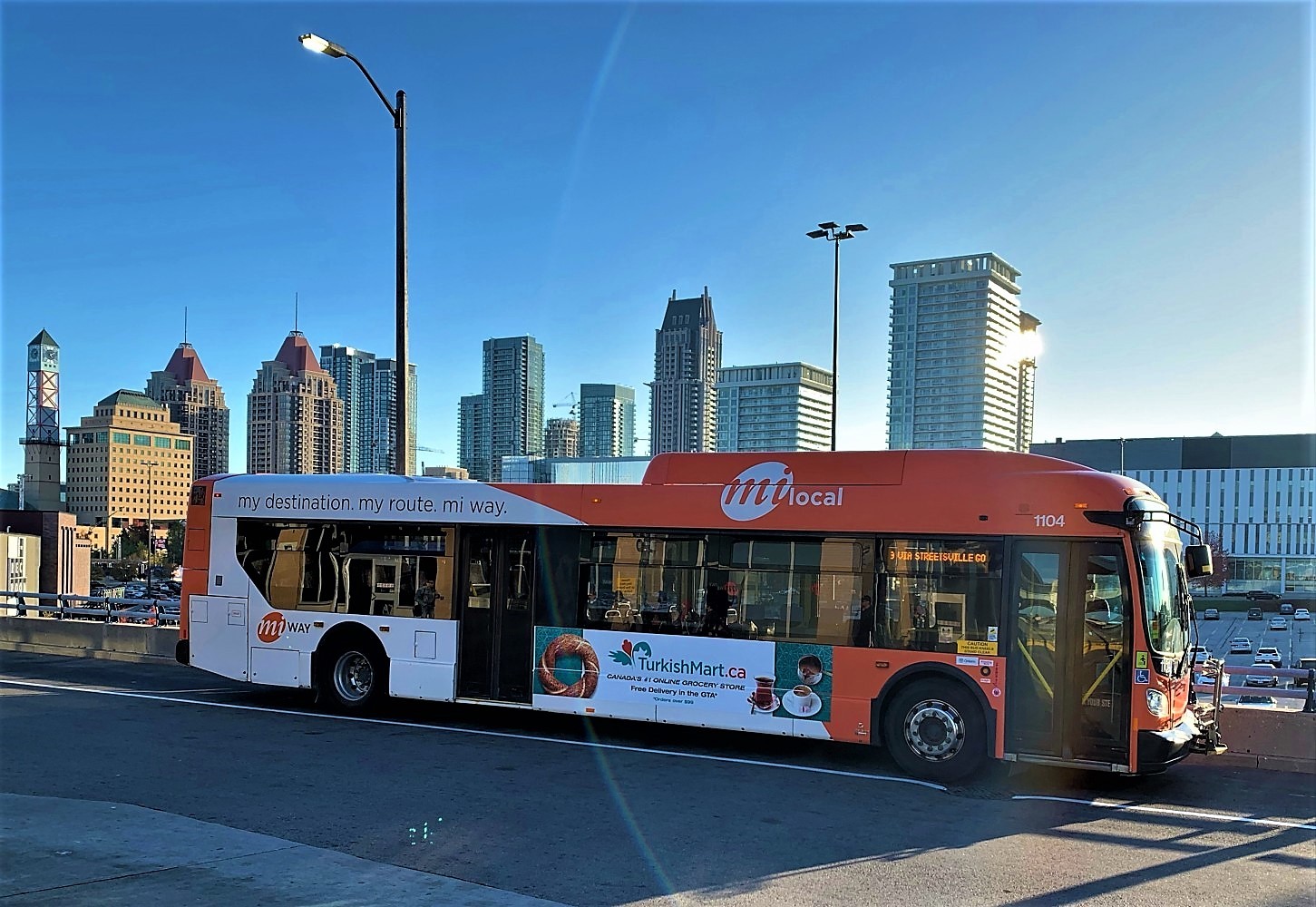 MiWay buses will be fitted with plastic shields to protect drivers
Just how much revenue will be recovered remains to be seen. According to the City, ridership is down around 75 percent as a result of the pandemic, meaning the fares collected once the new measures are in place will likely be far less than what they were.
Even if businesses are allowed to reopen, it's possible that many workers who commuted to office settings and have been doing their jobs from home, might continue to do so until they feel safe.
Many unionized workers have already stated they will refuse to return to the job, until the COVID-19 threat is eliminated, either by a widely available vaccine – which, even if an effective one is developed, could take as much as two years to reach the broader population – or by the natural immunity that could develop among large populations, which is known as herd immunity.
It's unlikely that community transmission can be controlled through continued social distancing, if society begins to open up soon, which governments are facing increased pressure to do, as the economy and people's personal financial situations continue to decline.
Even if lots of previous riders choose to avoid public transit out of fear of contracting the virus in close quarters, for a city facing the dire financial straits Mississauga is in, something is still better than nothing.
The chief issue with transit is that, while ridership may have dropped off a cliff, all operators are still on payroll and the vast majority of vehicles are still on the roads. Reduced capacity means that a large number of buses are required to move far fewer passengers, especially during rush hour. These vehicles have to maintained, mechanical staff have to stay on the job, and with stepped-up cleaning requirements even more employees and sanitary supplies are needed to keep the operation running.
The reintroduction of some cancelled routes in Mississauga, including the 103 Hurontario Express, will help service potential demand increases, but costs will only go up, while revenues could stay relatively low.
Lower fuel prices are helping to offset losses a little, but the chief operating cost of any bus is its driver, the mechanics and the cleaning crew it requires.
"As you may remember, Mississauga — like many other cities — implemented rear-only boarding [at the start of the pandemic]," Mayor Bonnie Crombie explained on Wednesday. "We made transit free at this time as it is not possible for us to collect fares from the rear of our buses. This new interim [plexiglass] solution was developed in-house and will not only enhance safety for our drivers, but will also allow us to eventually resume the collection of fares. Free transit, while excellent in principle, is costing us $7 million per month. This is revenue that is greatly needed to address our $43 million revenue shortfall as a result of the pandemic [in April alone]."
The move comes in the context of a rocky relationship between the City and its transit union around safety and personal protective equipment (PPE) during the pandemic.
In March, before Canada's top doctor Theresa Tam recommended the use of masks, MiWay resisted pressure from its union to furnish drivers with PPE. After two weeks of debate, the service relented and now provides masks, gloves and hand sanitizer to drivers, but there was an early period when staff couldn't even wear their own. It is still up to drivers to choose if they want to wear PPE while working.
Leo Covello, the Amalgamated Transit Union's (ATU) health and safety representatives previously told The Pointer the problem had not sat well with him. "Not being allowed to wear gloves or masks from the beginning [of the outbreak], I'll admit that bothers me a bit," he said.
Speaking about the latest move, Jack Jackson, the local president for ATU in Mississauga, said he is comfortable with the safety measures being put in place in preparation for fare collection and front boarding.
Jackson was frustrated during the very early stages of the pandemic, when a man in his 40s who had recently returned from the U.S. and later tested positive for the novel coronavirus, traveled to work in Meadowvale on a MiWay bus the first week of March.
Jackson said the passenger's infection had ultimately exposed 7 MiWay operators and 21 maintenance staff to the virus, although the City and public health officials did not confirm this.
But since those early days when the union had to fight to allow potentially exposed staff to get time off and when PPE was not readily available, things have improved dramatically, including enhanced cleaning measures introduced by MiWay after the first passenger tested positive.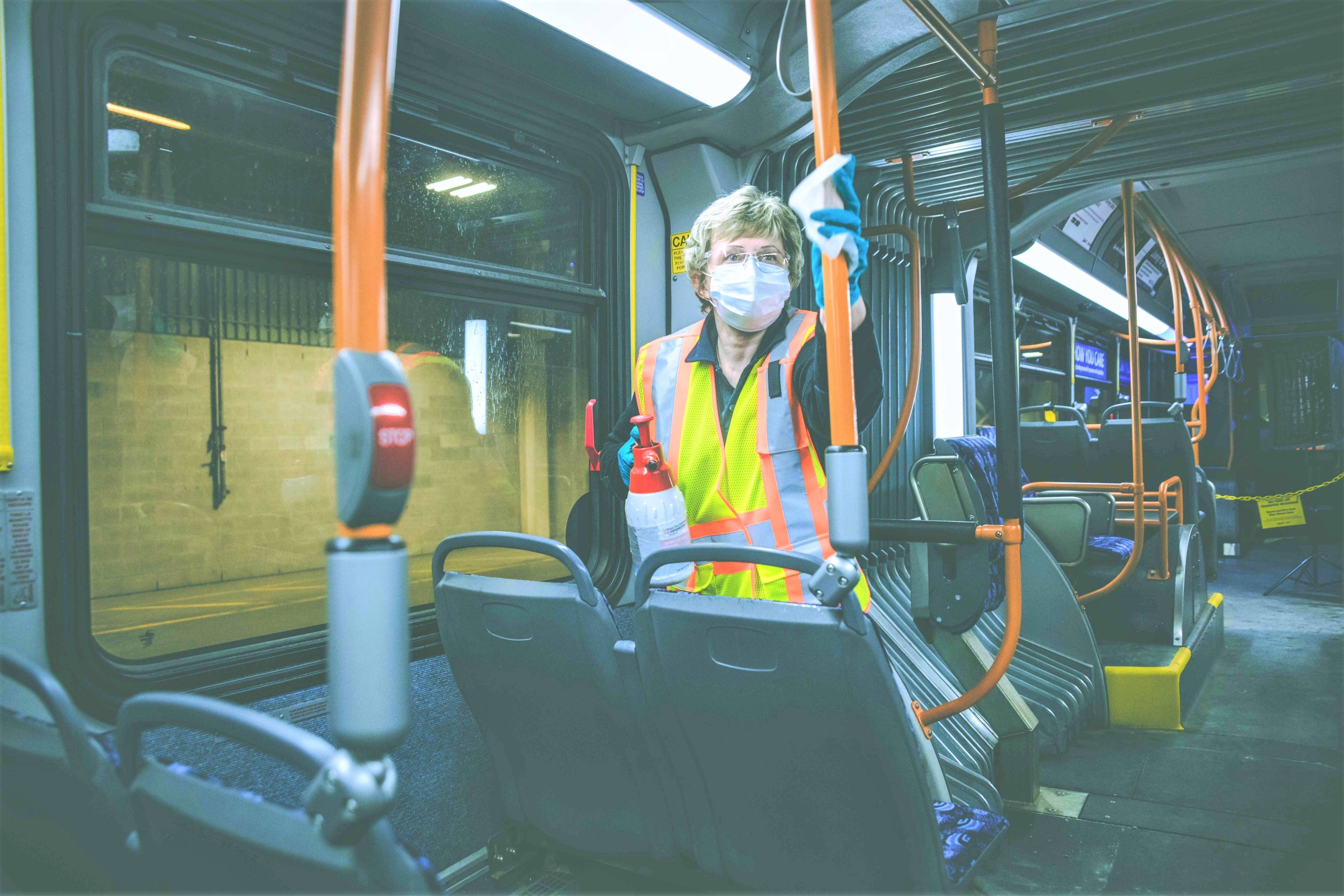 Cleaning of buses has been stepped up since the pandemic began
The eventual compliance by MiWay in March came as provincial and federal leaders as well as public health officials began ordering employers to take public health seriously, including warnings that a failure to do so would come with consequences.
"We saw the frustrations that it took us a little long to get to where we are," Jackson told The Pointer. He explained the installation of barriers alongside gloves, masks and a request for hand sanitizer stations in operators' cabs would get the service to a decent level of safety.
Other jurisdictions, including Toronto and Vancouver, have laid off significant numbers of transit operators as they have struggled with falling revenue. In Mississauga, revenue covers 47 percent of MiWay's operating cost, while Toronot's farebox collection covers more than 73 percent of costs. This means while MiWay is hurting, it is in a better position than systems like the TTC which are almost victims of their own success.
"The ridership is down all across Canada, we understand that, but in MiWay the [vehicle] utilisation is very high," Jackson explained. "We think the shields are going to help us get fare revenue … but to be quite frank, I would like to believe our city will not lay our members off, especially after they had some frontline [drivers] exposed without PPE for all these months."
The process for re-introducing fares is unlikely to be as rapid as the decision to remove them. First, all MiWay vehicles will need to be fitted with plexiglass screens, a task that has begun but most at the City suggest will take around two months.
The end of June appears to be a realistic timeline to complete that phase of the project, but fares won't automatically be re-introduced. Instead, councillors will vote to bring them back and then staff will execute the process. With the months to install the glass and staff then required to re-introduce fare payments, it is possible riders won't be charged on MiWay until at least July.
---
Email: [email protected]
Twitter: @isaaccallan
Tel: 647 561-4879
---
COVID-19 is impacting all Canadians. At a time when vital public information is needed by everyone, The Pointer has taken down our paywall on all stories relating to the pandemic to ensure every resident of Brampton and Mississauga has access to the facts. For those who are able, we encourage you to consider a subscription. This will help us report on important public interest issues the community needs to know about now more than ever. You can register for a 30-day free trial HERE. Thereafter, The Pointer will charge $10 a month and you can cancel any time right on the website. Thank you.
Submit a correction about this story