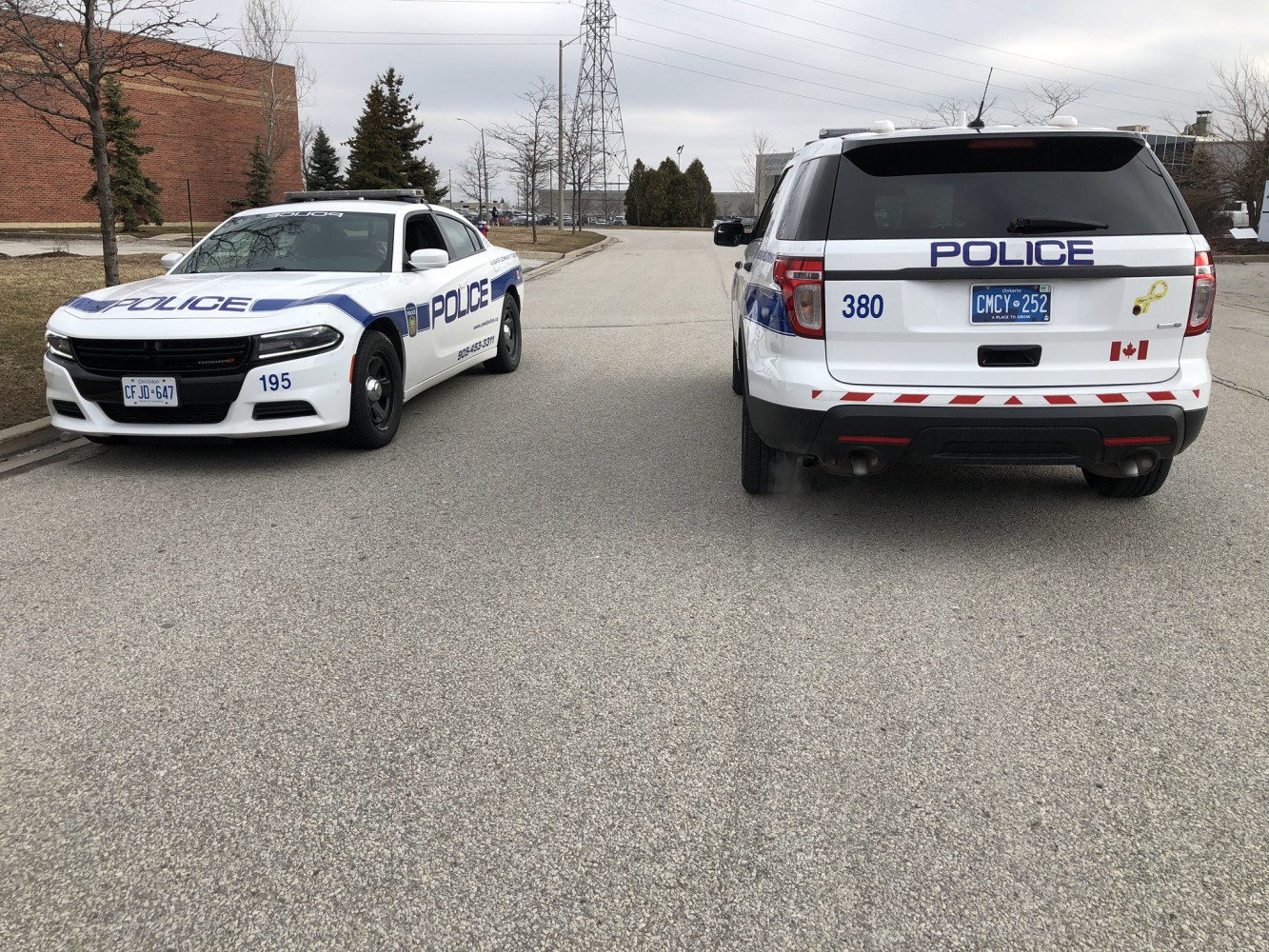 Photos from Twitter/Peel Regional Police/Google Street View
'Crime doesn't take a vacation': Vital police work must continue, despite risks to officers posed by COVID-19
By all appearances, the pre-dawn of March 14 was like any other dull, grey morning at the tail-end of a Mississauga winter.
The same grey sky hung over the same soggy brown patches of dead grass exposed by recently melted snow. The vehicles of a scattered group of early risers droned down suburban roads. And of course, for police there was the typical mischief to deal with.
However, along with the chill in the air, there was something different, and far more sinister.
It was just after 6 a.m. when the radio in the officers' cruiser beeped to life, calling them to a home in the area of Huntingfield Drive and Glenn Hawthorne Boulevard for reports of a firearm at a house party.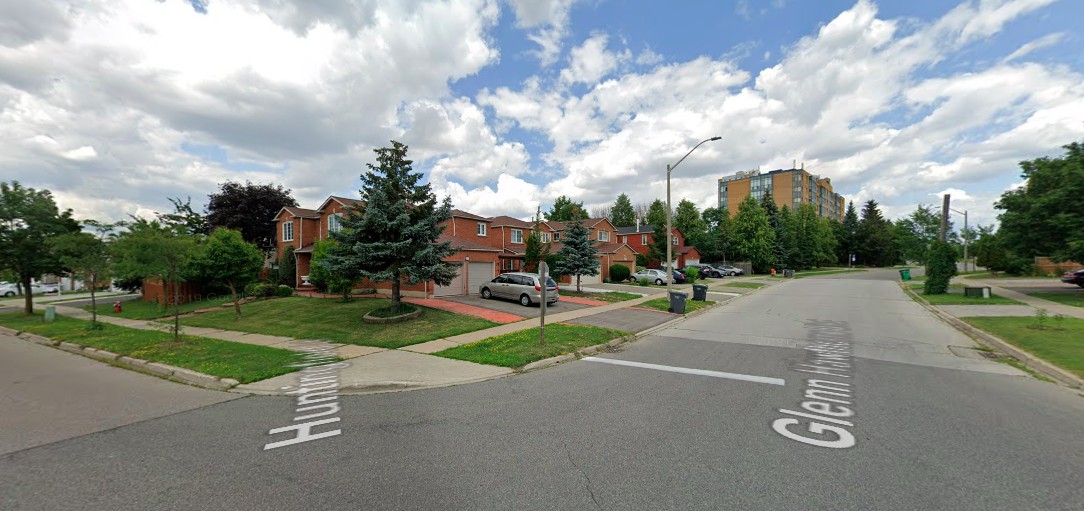 In the area of Huntingfield Drive and Glenn Hawthorne Boulevard, reports of a firearm at a house party brought police officers to the potentially dangerous scene.
It's a call that comes with many red flags: a potentially dangerous weapon, an unknown number of possible assailants and an unknown number of people still inside the home.
Yet, as officers began to head toward the incident, there may have been something else running through their minds.
The global COVID-19 pandemic has altered the fabric of people's lives, and there is no exception for the officers who must police the worst of us. Along with the normal, potentially dangerous altercations and the threats to their personal safety officers face in any given day on the job, there are now new concerns of becoming sick with an incredibly contagious virus.
On March 14, there were already 12 cases of the novel coronavirus in the Region of Peel, and while the extreme measures to enforce physical and social distancing were still days away from being implemented, attending a crowded house party, along with the presence of a firearm, was made even more dangerous by the potential threat of COVID-19 lingering in the respiratory tract of one or more party-goers. Since that time, Peel's cases of COVID-19 have surged by almost 20 times — there were 216 cases confirmed in the region on Monday.
According to Constable Akhil Mooken, Peel Regional Police are taking serious measures to protect both members of the public and officers from the spread of COVID-19, including changing which calls officers respond to, and what they do when they get there.
To limit officers' potential exposure to the highly contagious virus, Peel police have stopped attending certain medical calls, allowing fire departments and paramedics to handle the lion's share of these situations.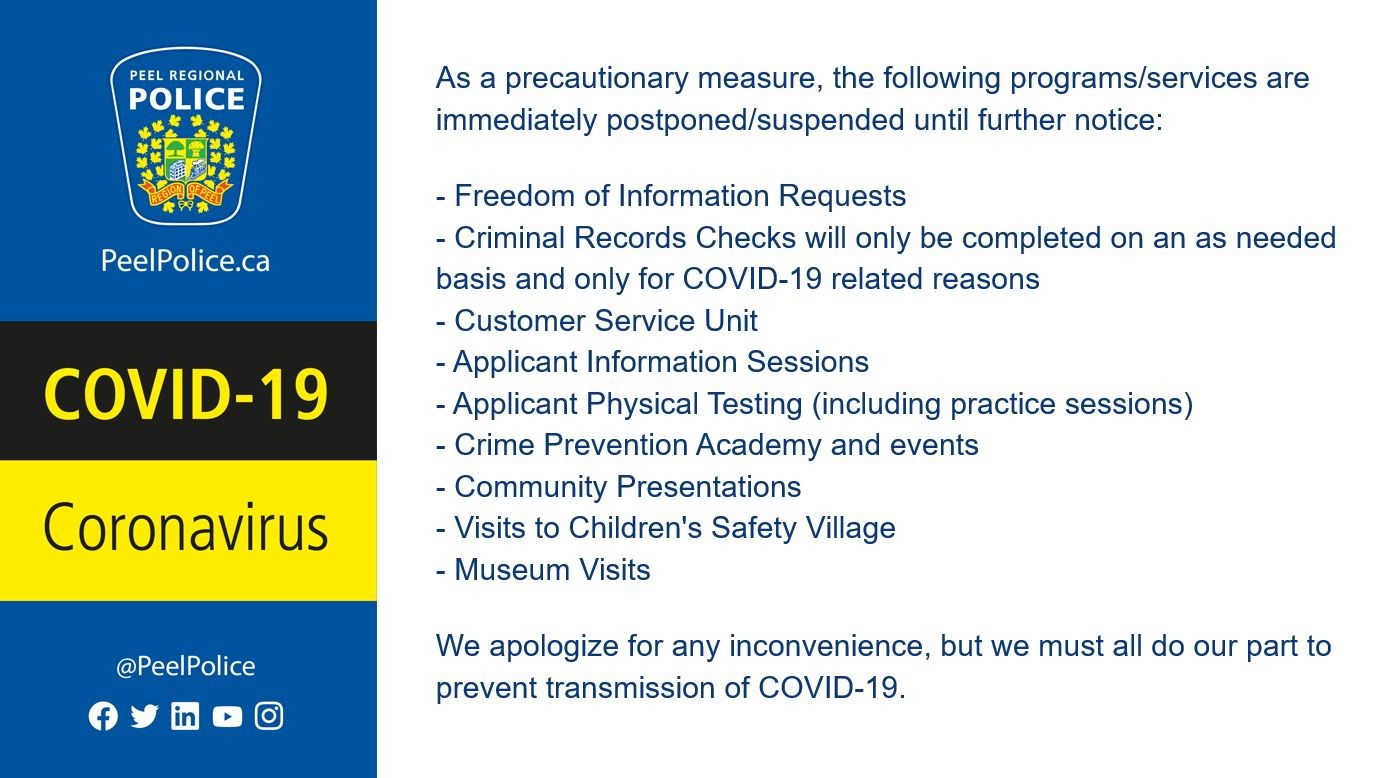 "We only go to anything with a death, or suspicious death or potential that somebody could lose their life. We're trying to cut back on our potential exposure to cases of COVID-19," Mooken explains. "In regards to us still attending all emergency calls, our officers will use their protective equipment when they can, but a lot of our situations and scenarios are very dynamic so to be able to stop and put on the personal protective equipment is suggested, but at times it can be difficult just because of how dynamic situations can be."
It's easy to understand, but a tough pill to swallow for some officers who could potentially be put at further risk simply by doing their job.
"When you arrive on scene at a call, immediately you want to start practicing your social distancing as best you can, but that's difficult to do when you're doing some of the types of investigations they have. What happens when you have to go hands-on with a person to affect an arrest? So in the back of their minds, there are all these stressors. It's hard to do the job in policing, wearing a mask," explains Scott Blandford, a retired, 30-year police veteran formerly with the London Police Service, now teaching a master's program in public safety at Wilfrid Laurier University's Brantford campus.
"So much of it is driven by communication and communication is not without the need to visually see someone as well and read body language, which is very difficult to do when you're wearing a mask and gloves and such."
In addition to the change for officers, the Peel Regional Police organization has closed all of its divisions across the region to routine police business. Members of the public can still visit these divisions for certain types of instances, but are screened for potential symptoms and signs of COVID-19. Peel police urge residents to report their complaints online if possible, and have set up a page on their website explaining what can, and can't be reported online.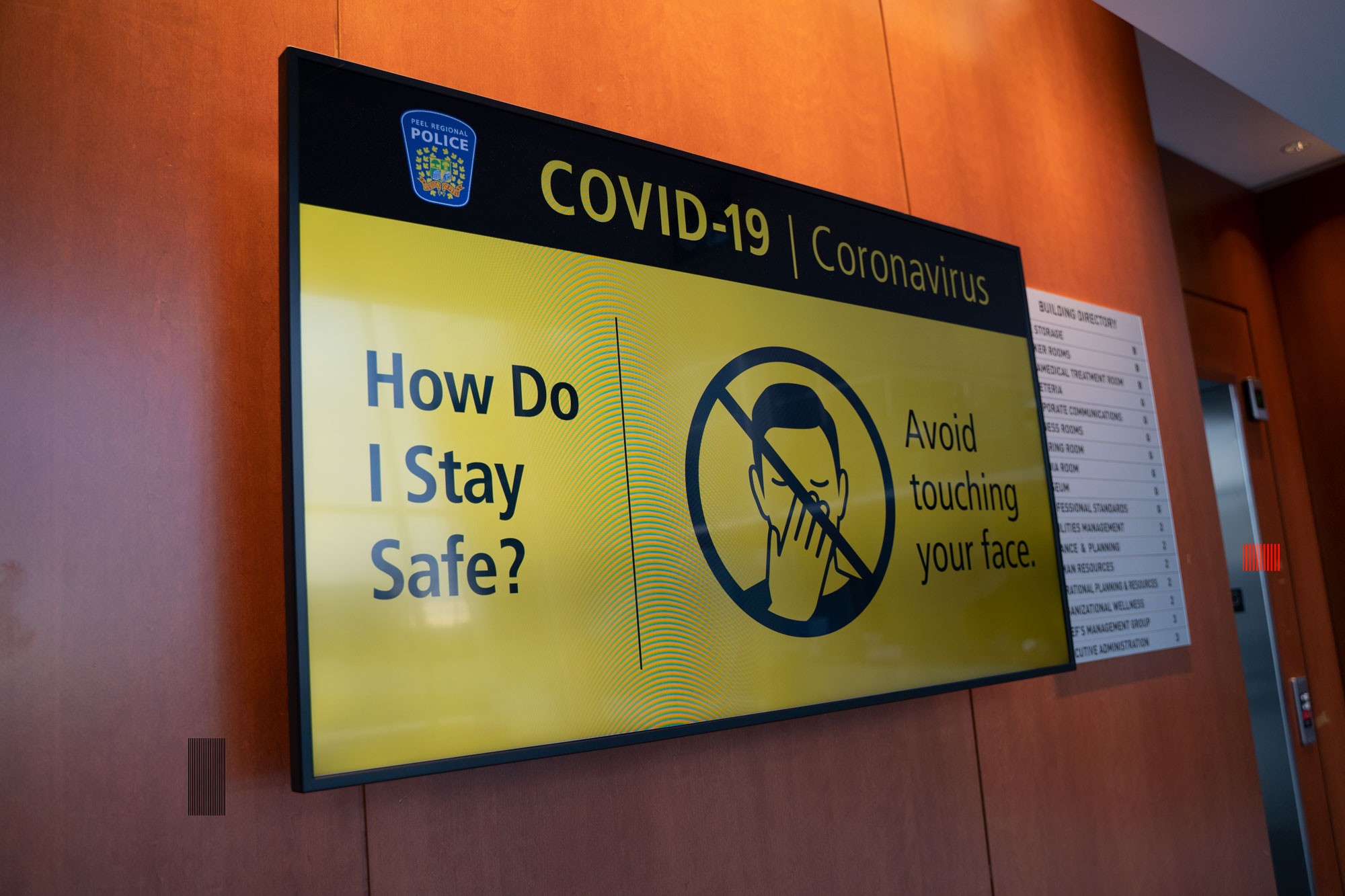 To keep officers safe, the Peel Regional Police are cutting back on attending certain medical calls to limit officer exposure to COVID-19.
Officers are also now being screened everyday before their shifts for potential signs of COVID-19. While no officers within the Peel police ranks have tested positive for the new coronavirus, a number are in self-isolation as a precaution, either after returning from travel, or from potential exposure while on the job.
Screening and early detection of COVID-19 is particularly important for police organizations, as the highly contagious virus, if contracted by one officer, could easily spread through an entire shift. While Peel police have pandemic plans in place if such an outbreak were to occur, the force has been reallocating officers from certain roles to fill any gaps in the frontline due to some being in self-isolation.
"We want to make sure we have the adequate resources to be able to respond to the concerns of the community and to ensure we have contingency plans in place if officers do end up going into self-isolation or getting COVID-19," Mooken, a member of the force's media relations unit explains. "We need to protect our healthcare workers and those responding on the front lines to ensure everyone else's wellbeing."
Even before COVID-19, the number of officers within the Peel police ranks was a concern for the organization itself and many in the community.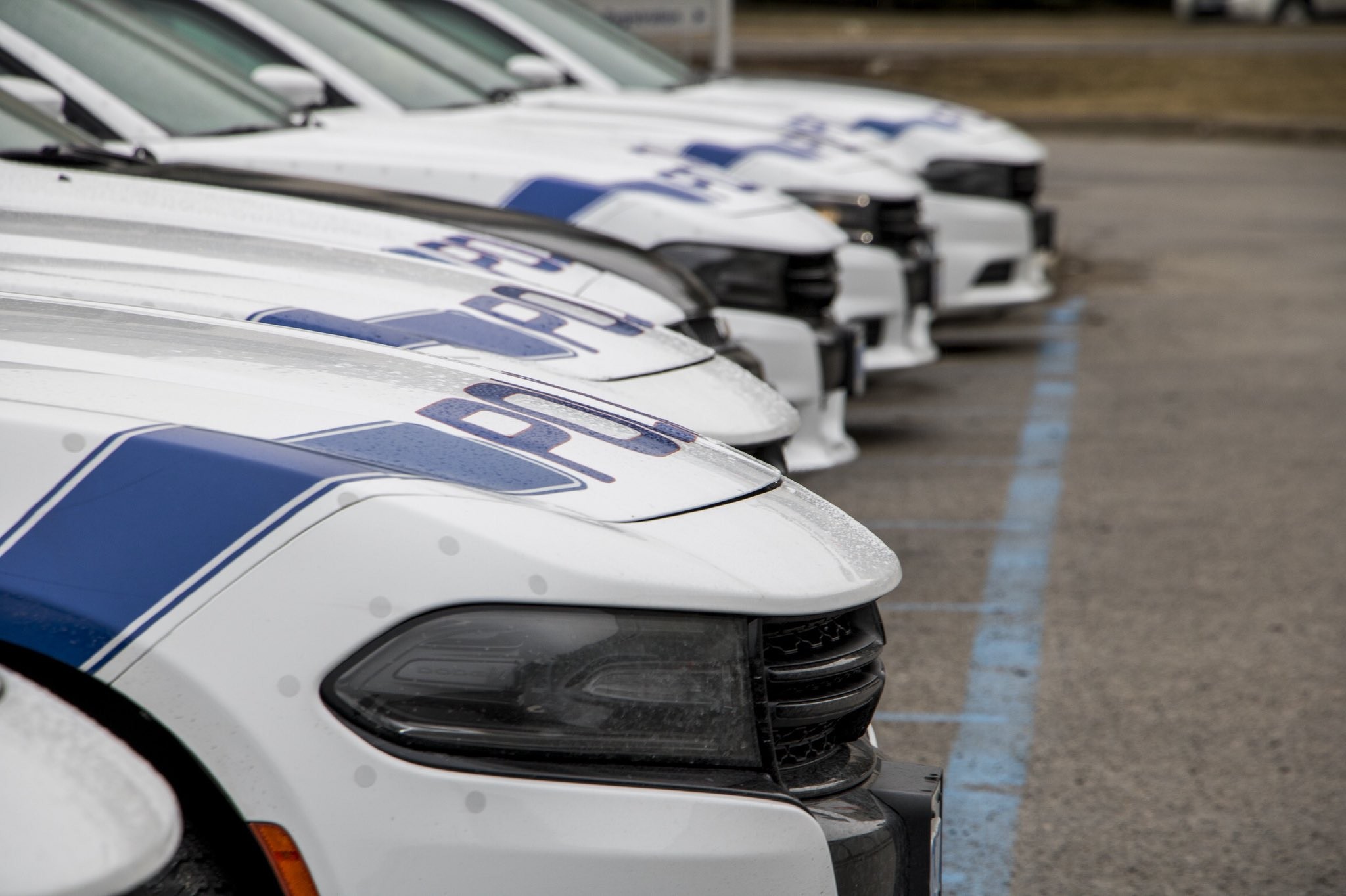 Peel Regional Police have roughly 140 officers per 100,000 residents, which is below provincial and national standards, posing a unique risk to officers responding to more daily calls than others during a pandemic.
By the numbers, it could be argued Peel police could be hit harder by a COVID-19 outbreak than other forces in Ontario or even Canada. Peel currently has about 140 officers per 100,000 residents, while the provincial average is about 181 and the national average hovers around 194. The planned hiring of 55 new officers this year was scaled back by Chief Nishan Duraiappah in an effort to contain the forces unsustainable budget increases. The new officers this year were simply enough to get the police force "back to a breathing point," explained Chief Duraiappah at the time, noting that service delivery would be compromised if he was forced to cut the number of new hires.
To be sure, Peel police have a strong contingent of officers capable of policing Brampton and Mississauga but with a smaller number of officers per capita, this means the officers Peel does have are busy. Busy for a police officer means attending more calls, and interacting with more members of the public in any number of ways, and in the age of COVID-19, all of these interactions are potential points of infection.
The increased level of stress can also increase the need for mental health leave. The COVID-19 pandemic is creating a surge in anxiety-related conditions among members of the public, something that does not ignore police on the frontlines.
"For every officer that goes off, somebody has to cover that time," Blandford says.
"You have to have a certain number of officers based on your traditional number of calls during certain times, so that's how you staff the street, and once you start running out of people, then you have to start forcing people into overtime situations and overtime situations lead to burnout, and burnout and the additional stress can lead to sickness because they're worn out, or it can lead to mistakes because they're so tired."
While some have raised the potential for crime to decrease during the pandemic, with many more people staying in their homes and physical distancing, Mooken says it's too early to judge any potential decreases in specific types of crime. However, he says it's safe to say Peel has seen a reduction in traffic offences. The Ontario Provincial Police are reporting that collision numbers in the GTA are down by more than 30 percent.
It doesn't mean officers aren't out there, Mooken assures.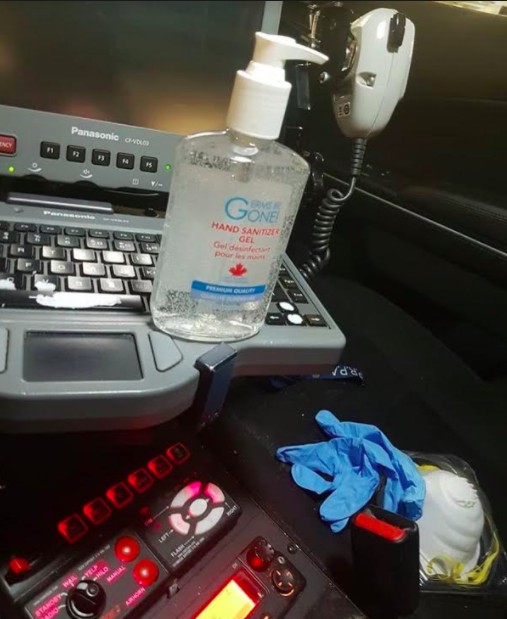 Peel police officers continue to respond to calls, even as crimes like traffic offences decrease with people staying home to physically and socially distance.
"Crime doesn't take a vacation or doesn't take a break regardless of what's happening so we still have to investigate," he says.
Additionally, Peel police are also investigating crime related to COVID-19 with fraudsters trying to take advantage of people and using the pandemic to expose potential vulnerabilities. A number of scams have been reported to the Canadian Anti-Fraud Centre, including:
Companies offering duct cleaning or home decontamination services to protect from COVID-19.

Fictional public health agencies saying you have tested positive for COVID-19 and asking for your personal/financial details.

Suspects purporting to be from known charities asking for donations in exchange for masks or other medical products.

Financial advisors pressuring people to invest in stocks related to COVID-19 or offering loans/financial support.

Private companies selling fast and accurate COVID-19 tests.
"It's unfortunate that that happens, but those types of people do exist unfortunately and we want to make sure we're doing what we can to locate them and hold them responsible," Mooken says.
The shift in tactics due to COVID-19 is not the first time police agencies in Canada have had to adapt due to potentially dangerous pathogens. Blandford explains that, following the SARS epidemic in 2003, he helped London police develop a strategy and protocol for dealing with such pandemics. Before that, he recalls when AIDs first started to become a concern in the early 1980s.
"We used to go to accidents all the time and not put rubber gloves on and be covered in blood and bodily fluids and such and it got to the point, when all that was coming out, you would stop and say, 'my safety is first,' and you'd double-glove before you'd even touch the person."
A similar mindset was rampant during SARS with Blandford recalling officers not even wanting to respond to calls for fear of infection. A similar fear is understable during the current COVID-19 pandemic. In New York City, the hardest hit area of the United States, the NYPD has already lost three of its members to COVID-19. Last week, a uniformed officer with the Toronto Police Service tested positive for the novel coronavirus, and the Ontario Provincial Police also confirmed the first case among its ranks. Most recently, on Sunday, two Ottawa police officers tested positive.
It's a real risk, but police work must continue.
"From an investigative standpoint our investigations are continuing, obviously in our investigative bureaus they are adapting to rules of physical distancing," Mooken explains. "Investigations still happen, we're still going to be looking for those committing offences and holding them responsible for their actions."
---
Email: [email protected]
Twitter @JoeljWittnebel
Submit a correction about this story