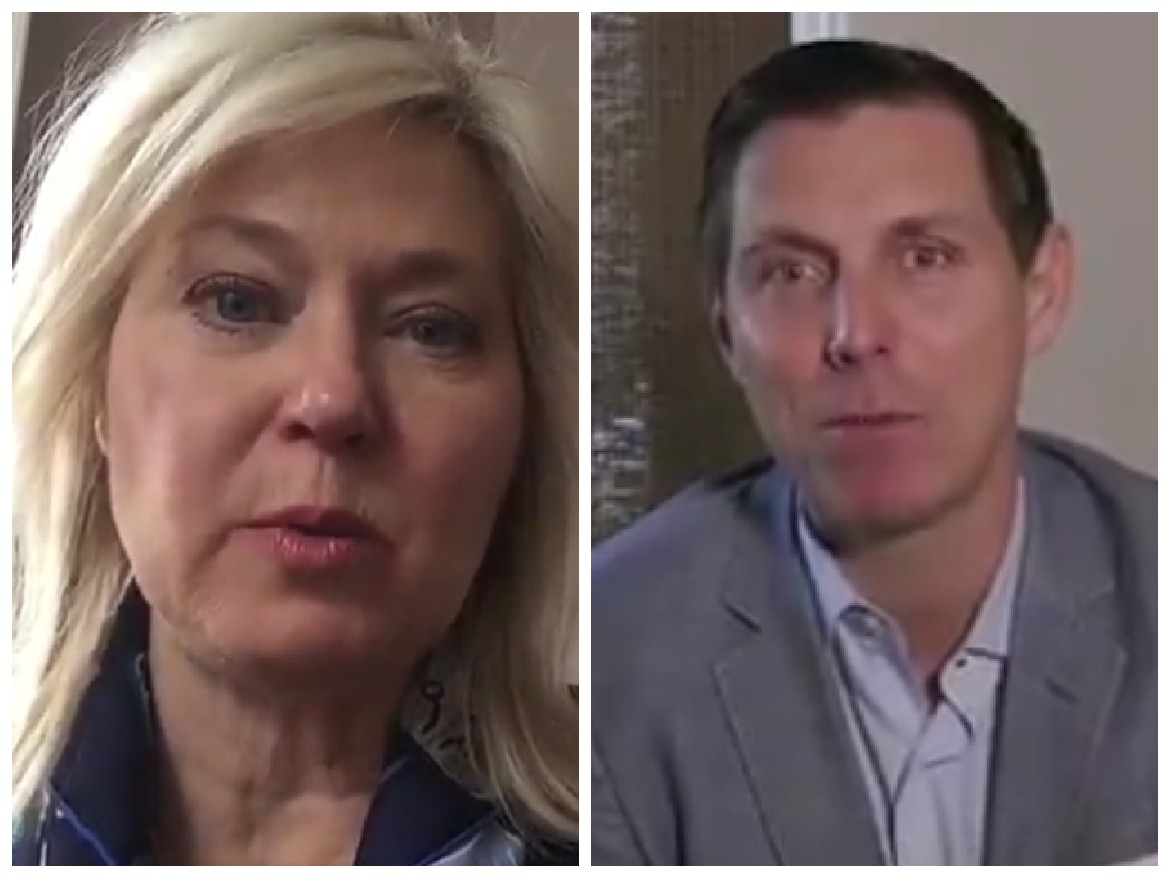 Photos from Twitter/Bonnie Crombie/Patrick Brown/Instagram
Brampton and Mississauga find new ways to drive home the importance of social distancing
In the midst of a global pandemic, vital information on how to flatten the curve of an outbreak is shared in a number of ways — be it through the newspaper, television, radio or social media.
To date, 43 cases of COVID-19 have been confirmed in the region, while the provincial total has risen to 503.
With each passing day, politicians shift the narrative, embracing stricter measures they deemed unnecessary before. For people only half-paying attention to rapidly changing circumstances, the unending barrage of new information is a lot to process and understand.
Last week, Premier Doug Ford declared a state of emergency in Ontario, mandating the closure of cafes, bars and restaurants, except those offering takeout and delivery options. While the tone of the premier's announcement was serious, not everyone heeded the call for social distancing and isolation. There were still complaints about crowded aisles in supermarkets and people forming long, tight lines outside of video game stores.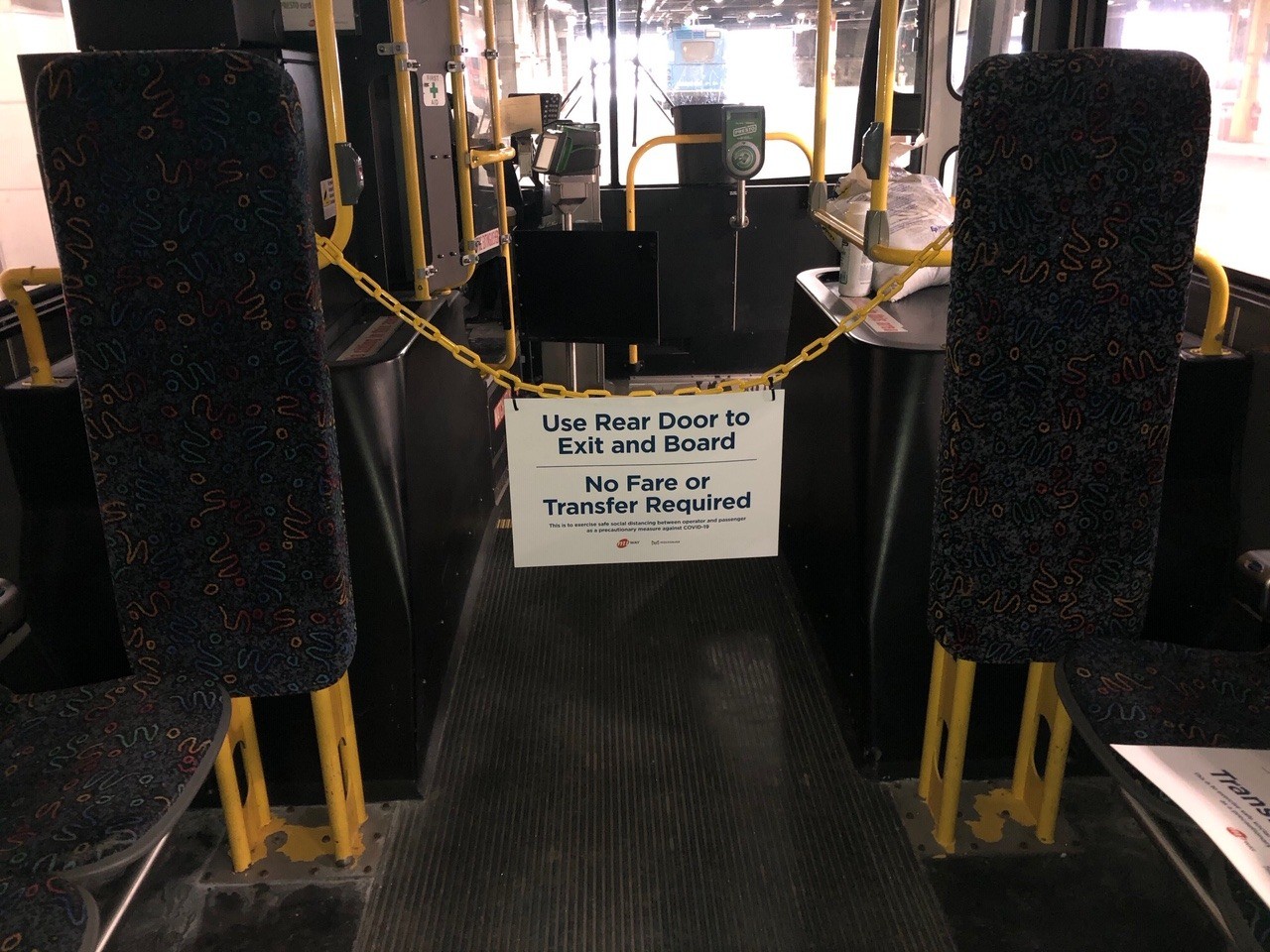 To encourage social distancing, Mississauga's MiWay transit system has suspended fares and moved boarding and exiting to the rear door.
While a lockdown in Canada could conceivably be enforced by the police, as is being done in other countries, much of the burden falls on voluntary compliance to keep the public safe and stop the spread of COVID-19. Driving home the importance of these measures falls on the shoulders of municipalities that know their residents best.
In Mississauga and Brampton, Mayors Bonnie Crombie and Patrick Brown have been continuously active on social media, attempting to instill the importance of social distancing in the public. Over the weekend, Brown took time to respond to images of gatherings in parks and at city facilities shared on Twitter.
He shared a tweet about people using city facilities for sport, saying parks staff would be "removing the nets in the morning" and bylaw officers would be on the grounds to ensure compliance. In another post, he retweeted an image of a full parking lot at Heart Lake, telling Bramptonians to take social distancing seriously.
"Frankly, if people keep going to parks [...] we'll start to close parks as well," Brown told The Pointer, referencing the two incidents. "If people can do it in a manner that there's not crowds, I like people being able to get their exercise, but people need to learn [...] you can't risk the public health."
In Mississauga, Crombie also used Twitter to communicate with the public, posting a video from her home to chastise residents not following advice. "Some people still aren't getting the message, I've seen photos and social media posts about very concerning behaviour," she said. "This morning I posted a video of a group of parents and children playing altogether in a playground. This is not social distancing and it is very unsafe behaviour."
"This isn't the time for dinner parties or tea parties or even playdates — that's not social distancing," she added. "Please be sure to put two metres, or six feet, between you and the next person [...] If we're going to beat this virus, we need greater cooperation."
Social media companies and upper levels of government have been doing the same. The Ontario Ministry of Health and the federal government have paid advertisements on Facebook and Twitter, while Instagram is running a series of stickers and stories encouraging users to take the pandemic seriously and stay home.
Instagram users can add a 'Stay Home' sticker to their images
Those most at risk of becoming severely ill from COVID-19 are 60 years of age or older, a demographic generally less active on social media, where pertinent health information, often shared by politicians, is abundant.
Mississauga and Brampton own assets across the region that could be vital for sharing information with seniors. Advertising spots on MiWay and Brampton Transit shelters have high visibility, something demonstrated by a Mississauga real estate agency's recent decision to sue over a lack of exposure at these sites. Bus shelters are ideal physical spaces to share COVID-19 safety messages with transit passengers and people driving by.
As part of the advertising deal signed in Mississauga with distributor Outfront Media, five percent of all poster spots are dedicated to city projects, with these places previously used to announce the end of paper transfers. With COVID-19 the most pressing public health issue for the city, these could be converted into spaces to share awareness messaging from the province and region.
Outfront Media, which operates the ad space on behalf of the city, did not respond to questions about volunteering to show public health information.
"Transit service agencies have a fundamental role to play in public distribution of messaging of public health messages," Dr. Josipa Petrunic, executive director and CEO of electric and smart transit group CUTRIC, told The Pointer. "All transit agencies should, and many of them are now, plan to offer public health messaging. Whether that's on their their advertising boards, in their stations, subway stops or at their bus stops, the information that Canadians need to know how to respond to COVID-19 (stay far apart, sit four or five seats away, try and be three to four metres apart) that kind of information needs to be plastered around transit's walls and its advertising boards."
Buses, driving around Mississauga and Brampton with significantly reduced passenger numbers, can still play a role in the fight against COVID-19. The shelters erected at their stops can remain sources of vital information, even as daily commuters desert them.
"It's a space that transit can serve: as a public health messaging board," Petrunic added. "We have to keep in mind that about one in eight Canadians take transit on a regular day [...] this includes a lot of people, like myself, who have given up on cars. In this regard, transit remains an essential service."
Mississauga confirmed it is using digital billboards on the Canadian Pacific Railway overpass, Celebration Square and signage at city facilities to get the message out. The city is also exploring signs on regional roads.
Bus advertisements have the potential to reach the community as a whole, including members young and old, with public service information. The region's flourishing cultural media stations are another method leaders can use to share the message.
In 2012, the Region of Peel pulled together a summary of literature on engaging with different communities. It identified a need to "work collaboratively with the South Asian population to seek ways to create socially and culturally appropriate supportive environments" for the spread of public health information.
Peel's population is diverse and the region has several ethnic media stations, which broadcast in languages such as Punjabi and Urdu. In Mississauga, the radio station CINA is one such example, offering multicultural programming targeted at Indian and Pakistani audiences. Meanwhile, Apna Punjab TV provides programming from its headquarters in Brampton.
"The Mayor [Bonnie Crombie] has had several interviews with ethnic media to get the message across in terms of prevention and social distancing," Nicole McInerney, director of communications at the mayor's office, told The Pointer. "Outlets include but aren't limited to – Canada One TV, Parvasi, Toronto Z9 Digital TV, AM770 Eawaz Radio, Awaz Entertainment."
Patrick Brown said he is engaging with the public in a similar way. "I've been very busy on cultural media, I've probably done 10 or 15 interviews in the past week," Brown said. "I've been trying to get the city's message across on the importance of social distancing and some of the measures we've taken to alleviate the pain during this period."
To stop the spread of the COVID-19, the message, regardless of delivery, is clear: stay home.
---
Email: [email protected]
Twitter: @isaaccallan
Tel: 647-561-4879
Submit a correction about this story