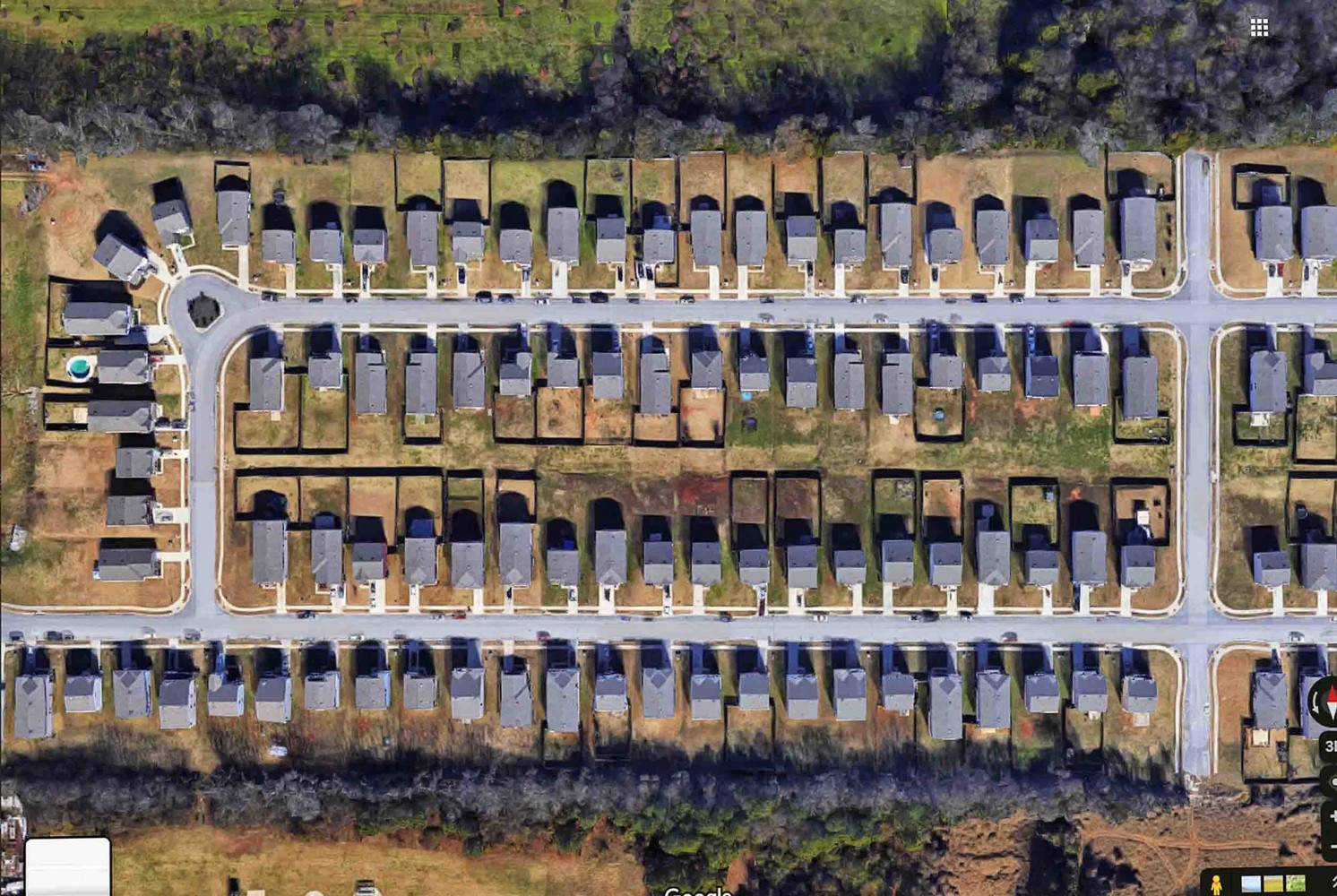 Photos from The Pointer file/Google Maps/Twitter/Graphics from City of Brampton and Region of Peel
Can Brampton break its addiction to sprawl before the 2040 Vision deadline?
In 2017, Brampton underwent a spectacular exercise in self reflection. Officials at city hall hired Larry Beasley, a renowned architect closely associated with the Vancouverism movement, to lead a planning exercise with eyes on the future.
Beasley and his team consulted more than 13,000 residents, asking them what they wanted to see their city look like in the future. The document this exercise produced was the 2040 Vision (Living the Mosaic), almost 100 pages showing complete streets, walkable communities and tall buildings overlaid on the map of where Brampton is built today.
In the lead up to the 2018 municipal election, debate raged around the document: was it aspirational or was it a blueprint? Eventual winner Mayor Patrick Brown argued it was a "foundational document" for how the city should develop moving forward. He and his council have since been vocal on the issue, advancing things such as the 2019 Active Transportation Master Plan.
"If I'm mayor, you're going to have a partner to make sure we can actually realize that vision," he said in 2018. In March 2019, he looked set to deliver on that promise, commissioning an audit of the 2040 Vision to help pin down what concrete steps should be taken.
For all the world, it looked like Brampton was on the move. The city — once known for sprawling subdivisions, fast roads and a lack of community — was on the up. The Vision would be delivered in time for 2040.
A look at the numbers suggests otherwise.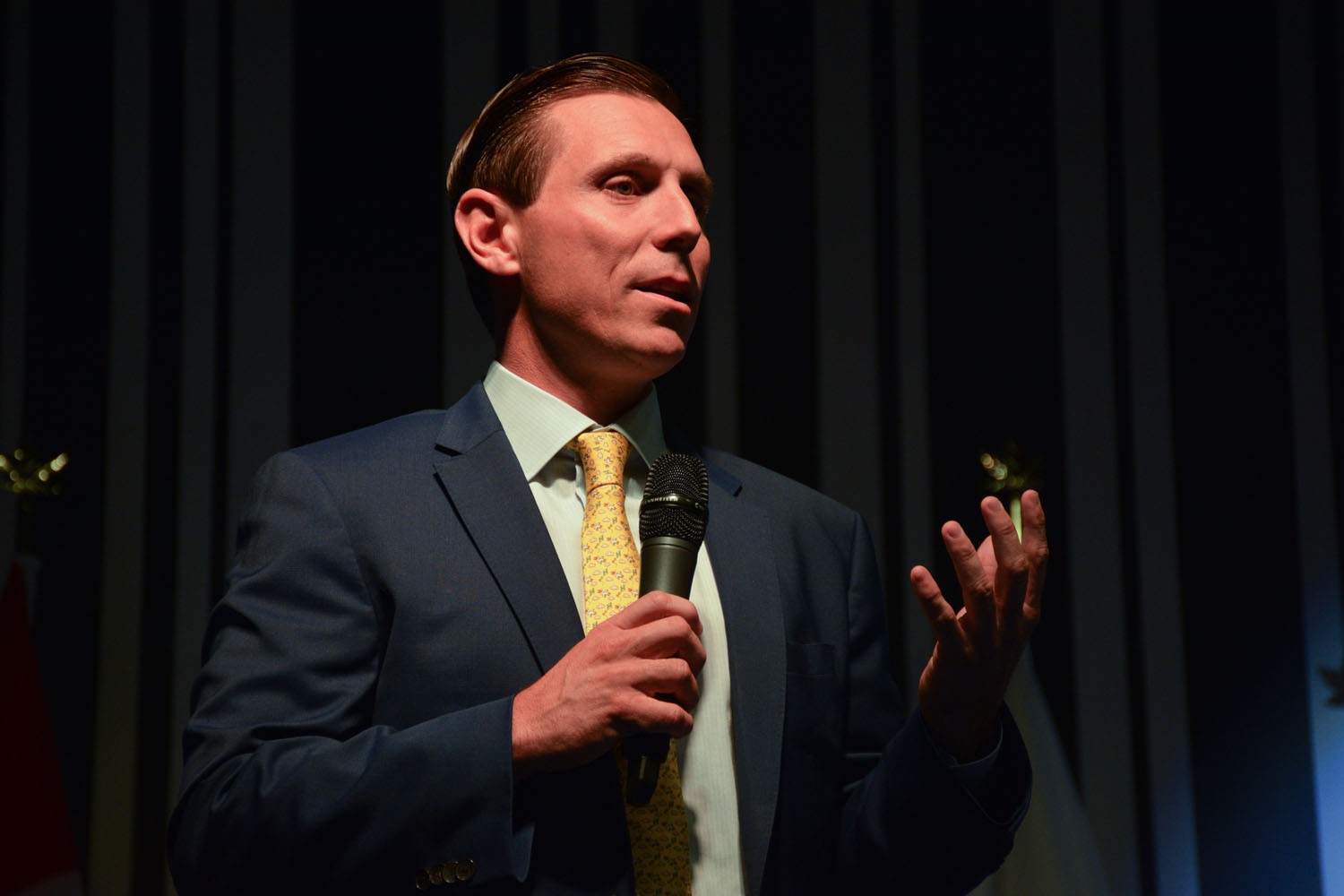 Mayor Patrick Brown
For decades, development in Brampton has been excessively lucrative. Since 2013, the value of construction permits issued by city hall has twice surpassed $2 billion dollars, with the trend extending much further back.
With the exception of 2018 ($865 million), something of an anomaly year, the value of construction has comfortably exceeded the billion dollar mark every year since 2013. In 2019, the total development value sat at $1.8 billion, while in 2017 it was worth $1.48 billion and $1.96 in 2016. In both 2015 and 2014, permits were worth $2.7 and $2.6 billion.
Residential construction values in Brampton over the past 15 years.
Of this construction, the vast majority (more than 7,000 of 8,739 permits issued in 2019) is in residential development, with the city offering permits to construct the houses hundreds of thousands of new residents will live in. In carefully selecting the development and building applications it chooses to permit, a city has ultimate authority over how it will physically look and be lived in for years to come.
Approving single family homes favours sprawling, suburban development, while density and height are generally seen as signals of modern cities. But this issue runs deeper than just perception. If a city approves too many single-detached family homes, they are inadvertently approving higher greenhouse gas emissions as a result of the many cars they are putting in garages, while they're also approving obesity. If large quantities of land in a city is eaten up by housing, shops are pushed into malls and walking is taken off the table. In 2015, for example, there were 15,752 cases of diabetes per 100,000 residents in Peel compared to an Ontario average of 12,529, with the above-average rate demonstrating the walking issues in the region.
Crucially, for the future development of a city, more sprawl means lower tax revenue. If an acre of land is taken up with one single home instead of 80 units in an apartment tower, simple math shows city coffers will earn less.
In Brampton, development continues to favour the big, suburban home. Across the past three years, even as the city's 2040 Vision has been written and talked about, the practice of approving suburban planning has continued. In 2019, the City of Brampton issued building permits for 5,607 units, of which more than 2,500 were for second units in existing homes. Of the remaining permits 911 were for units within apartment buildings compared to 928 units in townhouses and 893 single detached homes. Based on recent years, 2019 was a dense and progressive year by Brampton's standards.
In 2018, for example, under the previous city council, just 3 percent (83 units) of all building permits approved went to houses in apartment buildings. That year 333 townhouses were offered permits and 684 single-detached homes. In 2017, 39 percent of all approved units in Brampton were single-detached dwellings occupying their own spot of land. That year 233 apartments were given permits compared to 334 stacked townhouses, 608 regular townhouses and north of 1,000 singles.
As a former suburb of Toronto, a bedroom community, many would argue that these sort of building patterns are actually what attract people to the city. The appeal of Brampton, in the eyes of some, is the white picket fence, North American dream.
However, a cursory comparison to neighbouring Mississauga, a city that also started life as a suburb, would suggest otherwise.
In 2019 when Brampton approved 911 apartment units, Mississauga greenlit 3,233. In 2018, Brampton said yes to 83 apartment units, while Mississauga gave its seal of approval to 2,582 — 2,499 more than its northern neighbour. At the other end of the spectrum, the comparison is exactly the same. For Brampton's 893 singles last year, Mississauga had 156, while in 2018 a modest 684 Brampton singles was still put to shame by Mississauga's 191.
It could be argued that many of the applications for Brampton's new builds were already in the pipeline, and the numbers over the past few years actually reflect decisions from before this period. But council has every ability to stop the trend quite quickly. A move in September of 2018, for a secondary plan amendment review, was intended to put a pause on applications, in order to create more density, in keeping with mandated provincial targets to reduce sprawl. But it's unclear what happened with this review, after the 2018 municipal election and after many single-family home builders expressed anger about the decision to hit the pause button.
Another factor behind the lopsided numbers is Mississauga's lack of available land. The city is now built out, compared to Brampton which still has some 35 percent of its urban boundary to build fresh subdivisions on. But Mississauga's vertical trend was initiated more than two decades ago, even when it still had plenty of land open for new builds. Realizing sprawl was bad on many levels, including the worsening financial picture, Mississauga understood it had to change its planning philosophy.
"We have shifted our focus to building up, not out," Mayor Bonnie Crombie told the Mississauga Board of Trade in her State of the City address at the beginning of March, focusing on recent developments. "We have already started to lay the strong foundation needed to bring our vision to life [...] Shovels are already in the ground and construction is underway on several new residential buildings, including the first two M City condos, which will define the western edge of our skyline with their iconic, twisting towers."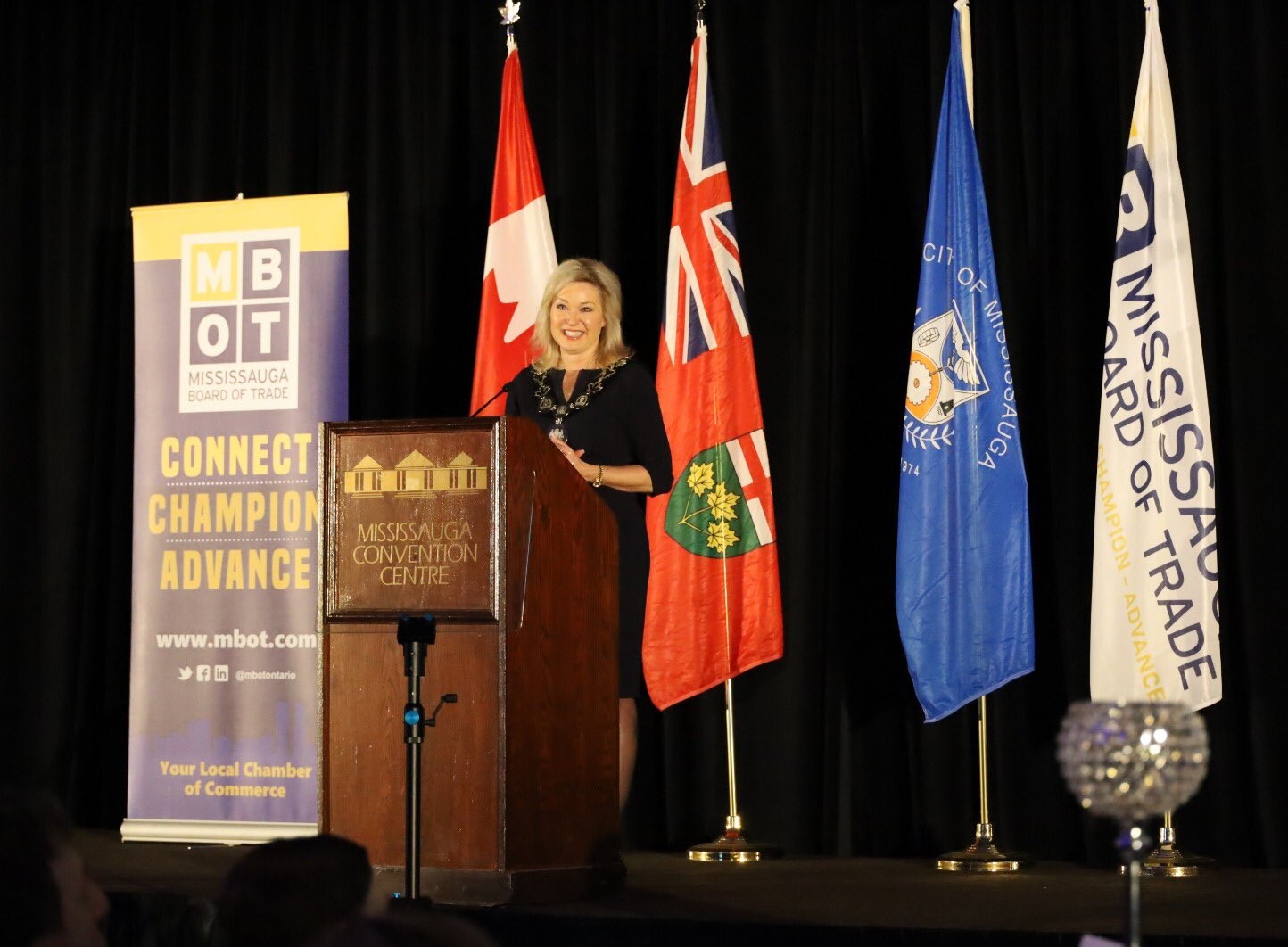 Mississauga Mayor Bonnie Crombie
In Brampton, similar projects — aside from the distant prospect of the Shoppers World redevelopment or a hypothetically dense Queen Street — are hard to find or boast about . Instead of promoting established plans, politicians are left posturing about the achievements they have written in principle.
A rendering of the future Shoppers World in Brampton
As Mississauga rights wrongs of the past and builds up, Brampton is stuck repeating old habits and capable only of building out.
This is epitomized in Peel's northern city by the list of developers granted the most applications in 2019. Last year, Mattamy Homes was responsible for 236 builds, Fieldgate for 235, Townwood homes for 157 and Regal Crest Homes for 122. Even a brief look at some of their websites, Mattamy Homes, for example, shows these companies to be primarily subdivision, suburban builders, most of which have a long relationship with Brampton and some of its current and past City Council decision makers.
A look at the websites of developers favoured in the City of Brampton clearly shows their focus on the single-family home.
Again, making the simple comparison to the south, Mississauga is able to boast companies like Oxford Properties or Rogers behind their projects that reach for the sky. The reputation of these builders is for density and forward thinking rather than building cities to their outer limits around high speed roads.
Elsewhere in Brampton, commercial permits have been relatively low in recent years. For all of the past three years, commercial permits have hovered around the $100 million mark, not making it over $150 million in any year since 2012.
Industrial constriction, on the other hand, skyrocketed in 2019. After dropping as low as almost $100 million in 2014, industrial permits have crept steadily up and passed $250 million last year. While an increased industrial construction is a good indication that business activity is increasing, there is every argument that it does little for the city in the long run.
Warehouses, scrap yards and manufacturing plants are among the businesses that operate in this type of zoning, with these particular businesses generally using large quantities of land and employing very few people.
Where office towers or shops attract many jobs on one site, many of these businesses can operate with just a handful of employees, with the majority of the land used for storage or many automated capacities. For this reason, an increase in industrial zoning where commercial activity is down over the last decade suggests the type of businesses setting up in Brampton could take the city in the wrong direction.
Brampton 2040 imagined a future for Peel's second largest city where jobs were plentiful, housing was dense and the streets were walkable. As the title implies, the deadline for that to become a reality is just 20 years away. Over the past two years, the Vision has been a regular talking point for the Mayor and councillors, with the city most recently organizing a series of renowned experts to discuss the future at the downtown Rose Theatre (read more about that here).
The Vision remains nothing but talk. Data from building permits issued by the city across the past few years show a continued reliance on single-family homes and sprawl, where — to the South — neighbouring Mississauga has begun to move in the opposite direction.
---
Email: [email protected]
Twitter: @isaaccallan
Tel: 647-561-4879
Submit a correction about this story