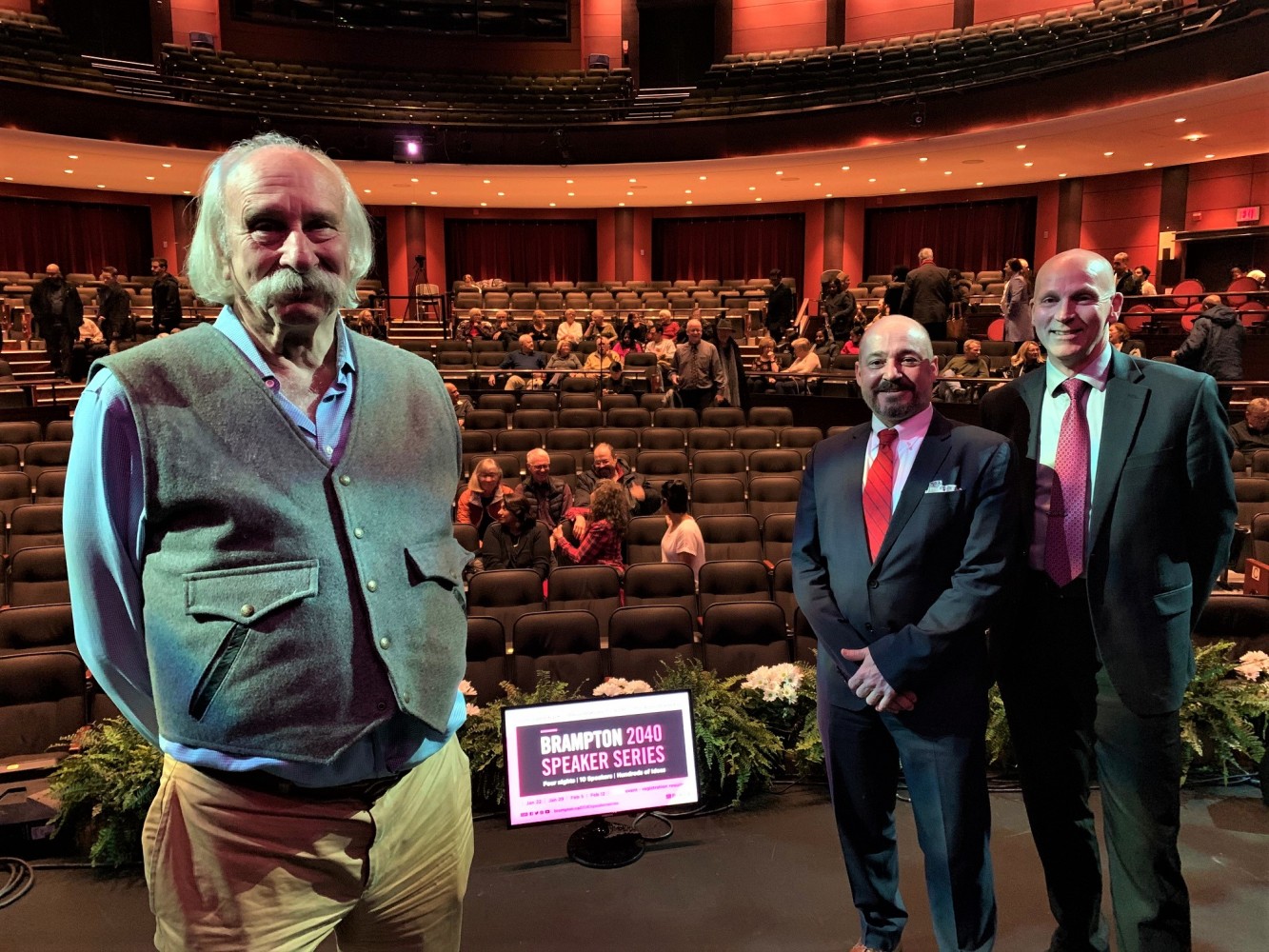 The Pointer file photos/Renderings City of Brampton/Friends4Expo.org
Brampton's 2040 Speaker Series couldn't inspire an apathetic city
The underlying conceit of urbanist Joe Berridge's book entitled 'Perfect City' – released late last year and reviewed by The Pointer – was the fact the author insisted there was no such thing.
All cities are flawed, sometimes irredeemably.
The question, though, is Brampton one of them?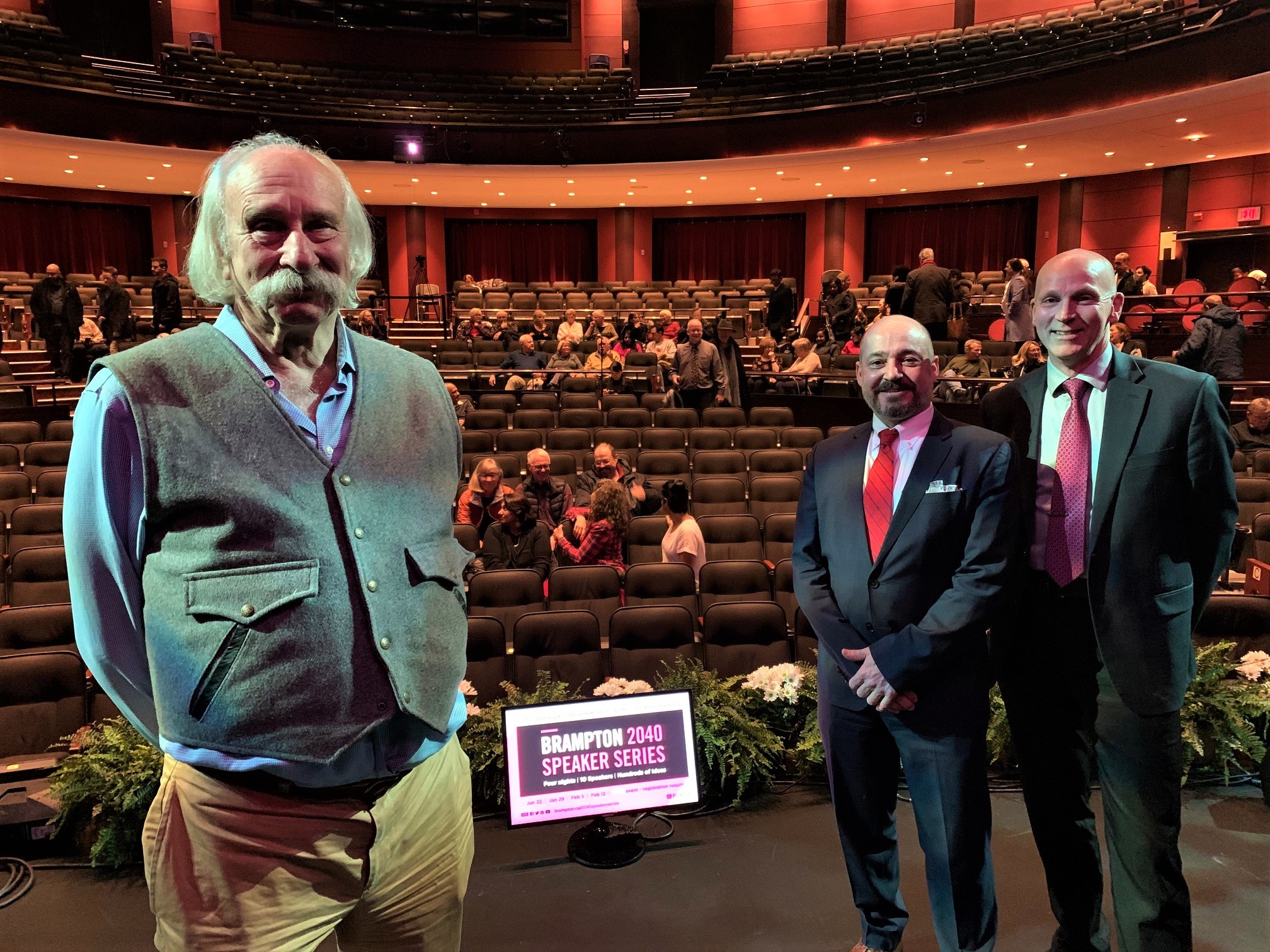 The February 12th lineup of the Speakers Series, from left, Dan Burden, Joe Minicozzi and Ian Lockwood
In its current state, it seems as far removed from perfection as a city can get. It has none of the untranslatable charm of a great world city, the places millions flock to for inspiration, romance and a sense of human potential.
Even tiny Stratford or Unionville offer some of this promise.
That isn't the case here.
The Etobicoke Creek runs underneath our city and has virtually stymied any major redevelopment in the downtown. The plan to fix these labyrinth of watery channels and the surrounding streets up above (dubbed the Riverwalk and Downtown Reimagined projects) is so expensive (around $200 million for the bare minimum) the region and city have temporarily backed off doing anything for the city-centre rehabilitation, for now. And, without any money, the Riverwalk remains little more than an aspiration.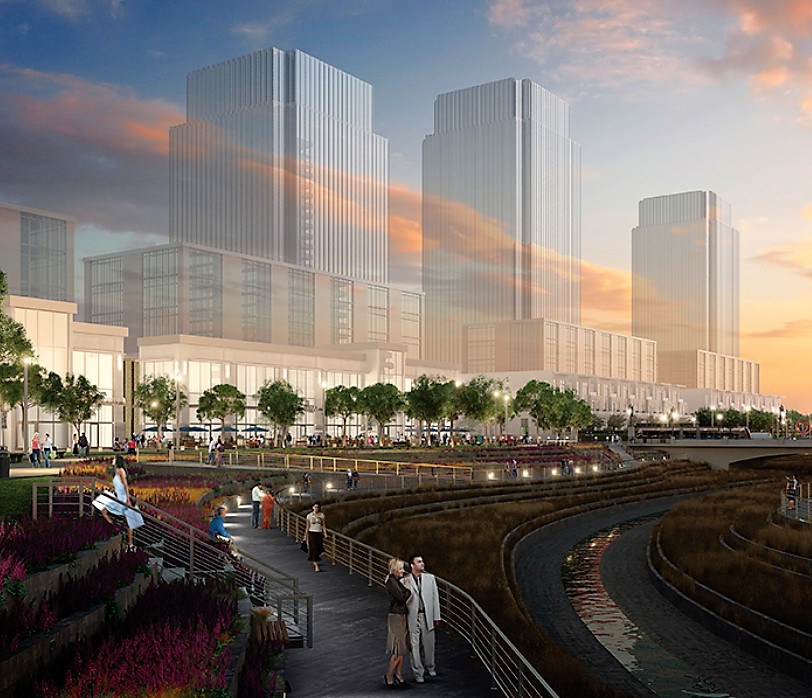 A rendering of the Riverwalk project
The city is also the poster child for "hallway healthcare." Brampton Civic is unable to meet the needs of our ever-expanding population.
The bad press – the only type Brampton receives from most shrinking media outlets that don't even bother parachuting in any more (choosing to pick the latest crime news straight from the Peel police website) – from stories of violence on our streets does nothing to enhance the city's image as a great place to live and raise a family.
The city's land-use mix is also one of the worst in Ontario, and future growth is stalled by an unhealthy reliance on the car and our sprawling neighbourhoods.
We are choking on the fumes of excessive growth.
There is little reason to have "pride of place," a term touted by others, and used as a selling tool for their economic development office or affixed to their website. Think of Portland, Oregon, a city the size of Brampton that features all the niceties of a major city – expansive transit, an electric downtown a modern light rail system that runs through its most historic neighbourhoods and a rich tax base.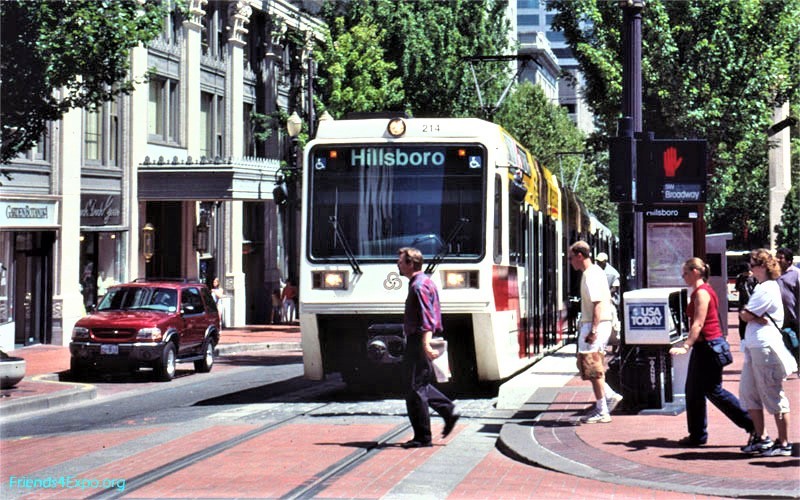 Portland's LRT system
Instead of perfection, Brampton taxpayers would settle for "okay," or "just plain livable." These words aren't appreciated by elected officials and those who think waving pom-poms like a cheerleader will hide the truth from worn down residents.
But hope springs eternal, and in Berridge's book, the seeds of perfection are carried on the winds by immigration. This brings "vitality" to places like Toronto and elevates them to super-city status.
If immigration is a change-maker, Brampton should be the most perfect city on the planet.
Consider: 74 percent of the population, as of 2015, was made up of visible minorities (the number is likely higher now); it is the second fastest growing among Canada's 25 largest cities; and according to Brampton's online portal, it will expand by 275,000 residents between 2016 and 2041 (the number, depending on market forces and overall movement into the region, could be higher).
Much of this growth is driven by new Canadians. So why hasn't immigration transformed Brampton into Boomtown?
The evils of ennui
It's a Wednesday evening in late January and Garden Square in downtown Brampton is bathed in a white light cast out from the Rose Theatre – perhaps the city's prettiest and most identifiable building. The second in a set of four 2040 Speakers Series nights is being held at the city-owned facility, and the concourse is a-buzz as attendees shuck off their coats, hats, toques and scarves under a dispassionate voice over the public-address system that says it's time to take your seat. Tonight's event features two of the top minds in the progressive city-building movements, Stephen Lewis and Zahra Ebrahim.
For those of a certain vintage, Lewis, now 82, is the star attraction, the former leader of the NDP party in Ontario. He's like a well-decorated old solider, once leader of the opposition in the 1970s. He now seems oddly out-of-step among those who powered the populist movement led by Doug Ford, sweeping conservatives into government for the first time since the early 2000s. Think of Lewis as Canada's answer to the Democratic party's Bernie Sanders, now running to be president of the United States. Both are aging lions of the left.
His speech tonight will be centered on the issue of our age, climate change, and how citizens can rise up to implore cities to lead the way in helping to fix this modern-day malady. Lewis said it's as if the earth has shifted slightly off its axis. But the shift is monumental, and perhaps we've gone past the point of no return. He has plenty of street cred to discuss the issue: during last year's federal election, he and another icon, David Suzuki, the famed eco-warrior, crisscrossed Canada to preach about the climate crisis to voters in our major cities. They hoped to hold the politicians' feet to the fires burning in the Amazon basin, or in the forests of northern Canada.
Ebrahim is a youthful city builder and designer interested in shifting power from some to many, using urban planning to build equity, and engage citizens in the design of services, policies and infrastructure. She is an executive advisor to Deloitte on cities, and her talk will focus on how engaging diverse sets of stakeholders can co-create solutions to complex organizational and industry challenges and co-design better social outcomes. Her work at the grassroots level in Scarborough is the centerpiece of her discussion – showing it takes passion, not just money, to drive change.
So, there you have it: two powerful issues, two influential intellects, both worth the price of admission – which during this series is exactly zero. It's free to all, thanks to the taxpayers and fee payers of the city who fund City Hall's initiatives.
But despite all that, the Rose Theatre is near empty. Most of the council members who have endorsed the entire 2040 Vision were not in attendance.
A light dusting of patrons – mostly old and white, and representatives of the Brampton of yesteryear – occupy the seats, leaving vast acreages of empty ones to create a disturbing backdrop. These are the same people reporters and councillors spy in the public galleries at City Hall whenever key questions involving city issues have been discussed over the years.
There was a small representation of the city's diverse ethno-cultural communities, but not nearly enough.
This wasn't a one-off, either. In the four evenings (the last one on February 12) the turnout has been dismal, almost embarrassing.
The Brampton 2040 Speaker Series was held over four Wednesdays in January and February, with 10 speakers, and included hundreds of ideas. It's part of a much larger public engagement endorsed by council in 2018, depicting a more sustainable, urban, vibrant and economically successful direction for the city. This call to attend and offer input seemed well-timed because Brampton is a city desperate for change, and now is the time to double down on its transformational 2040 game plan.
This promised to be an interesting night out, and free food was offered up by one of the city's newest eateries. There was also entertainment provided by Rhyan Douglas, a 15-year-old local singer and rising star from the music program at Mayfield Secondary.
Yet for some reason, the whole Speaker Series has fallen on deaf ears.
Even for The Pointer, which decided to commit resources for significant coverage, it was like reporting in a vacuum. Even council members, including Mayor Patrick Brown, could hardly be found in attendance. He left minutes after kicking off the series.
It's unclear why it has stirred up such apathy. Was the city's marketing effort a bust? Maybe, said one of the attendees in an interview captured immediately after the Lewis-Ebrahim presentations.
The mid-winter weather wasn't bad enough to offer cover to residents who chose not to attend.
Was the subject matter too highfalutin for many?
Should the city be lauded or trashed for holding this series in the first place. Is the $50,000 paid out for the speakers' money and other costs well spent?
Organizers said these nights were critical and would continue momentum from the public participation that resulted in the 2040 Vision.
Sure, momentum is important, and yes, this city needs to engage, but what purpose is served by nights of chatter when hardly anyone is listening?
Was former mayor Linda Jeffrey right? She never bought into the 2040 Vision, calling it little more than an "aspirational" document, a pipe dream, a pie-in-the-sky fantasy.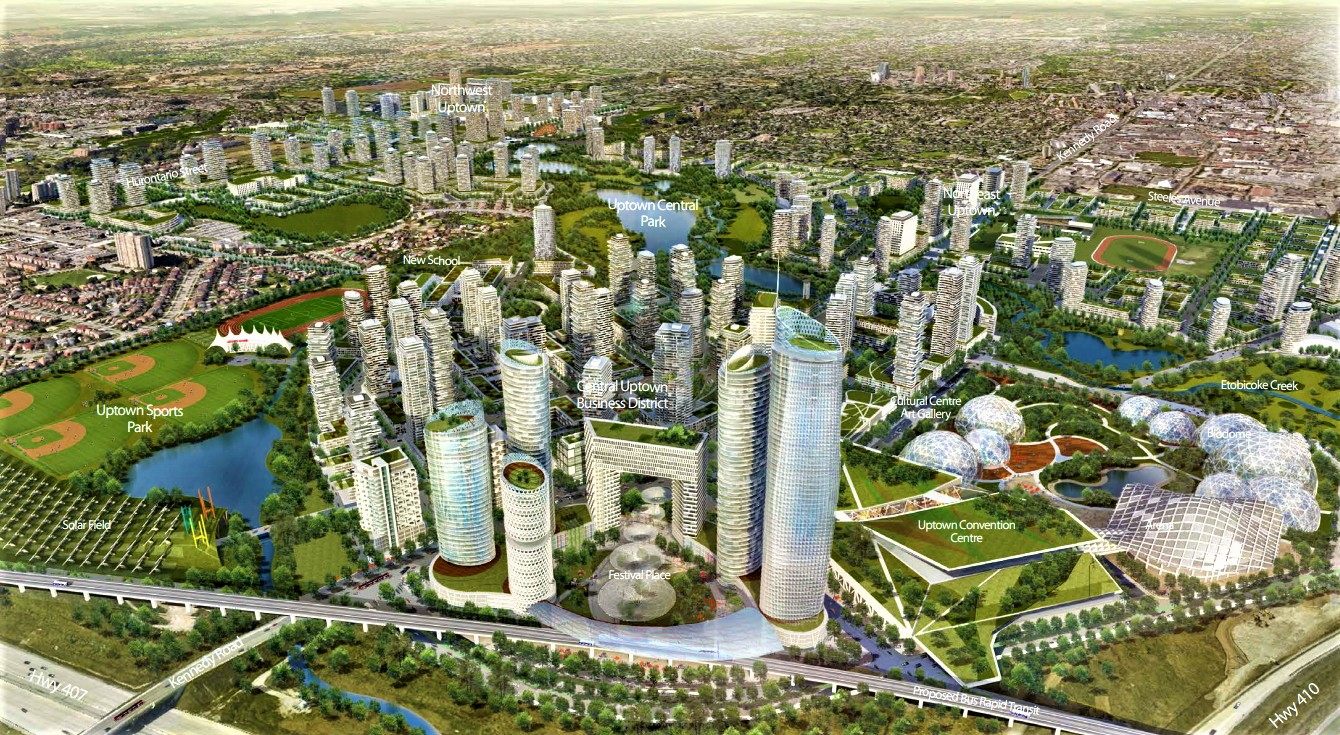 The City Centre plan in the 2040 Vision document
But that dream is exactly what Brown represented to all those who supported his candidacy in the face of Jeffrey's shrug-of-the-shoulders attitude toward her own city.
Was Jeffrey always right about Brampton? A place that offers not much more than a pillow to sleep on and some quaint parks left over from its glorious years.
At the Lewis- Ebrahim event, Mayor Brown welcomed the crowd, but was long gone before they finished – so were the other four councillors who attended. Why are taxpayers paying speakers to educate and elucidate and even key public officials don't care enough to attend? Surely this input could propel the visioning forward.
Two of the city's highest-ranking staffers were there: Bob Bjerke, director policy planning, and Andrew McNeill, strategic leader, planning and development services. The work plan for staff is aggressive, to lay out a Draft Brampton 2040 Plan by the end of the current council's term.
To Brown's credit, during his campaign and after his election win, he recognized the 2040 Vision shouldn't be another wasted exercise in public input, the report left to gather dust in some corner office at city hall. The recent unveiling of plans for the Queen Street corridor, to completely reshape one of the city centre's widest boulevards from its current forlorn state, will be derived from conclusions set out in the 2040 Vision.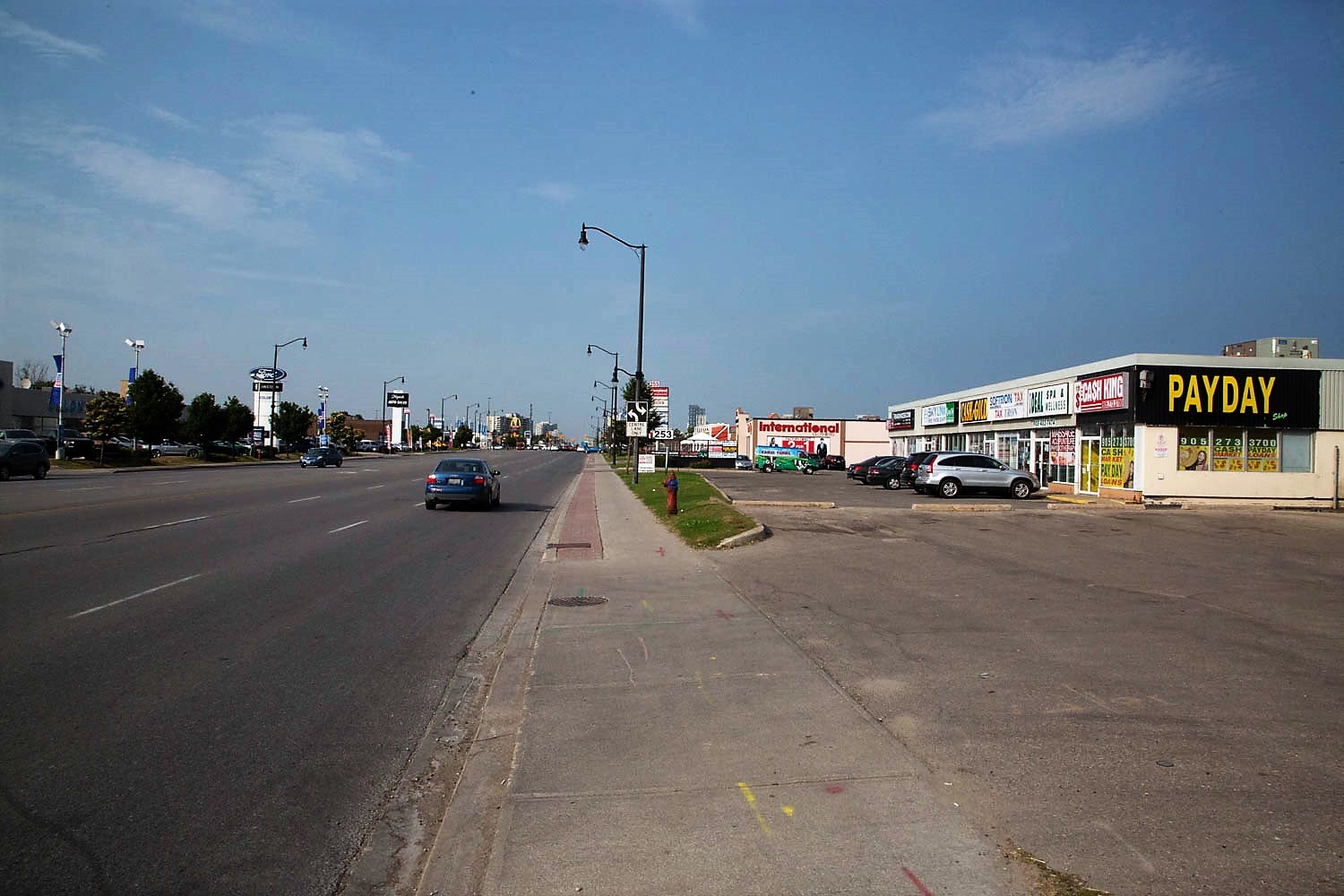 Queen Street just east of downtown is a symbol of terrible planning and failed leadership
But as Hemingway famously said, there's a difference between movement and action, and this Speakers Series has inspired neither.
Were the presentations to a near-empty theatre worth a spectator's time, or our taxpayers' money?
The answer is a qualified maybe.
Those who didn't show missed an inspiring opportunity to hear from a roster of urban experts who can help guide us through our current messes. The first night's presentation featured Ken Greenberg, a famed urban designer, teacher, writer, former director of urban design and architecture for the City of Toronto and currently a consultant with the city on its expansive Queen Street corridor plan. He was joined by David Crombie, affectionately known as Toronto's "tiny perfect mayor" during his stint in office, 1972-'78. He also chaired the Royal Commission on the Future of the Toronto Waterfront and served as president and CEO of the Canadian Urban Institute.
Greenberg has said it the past that Brampton "has great bones," meaning: its historic downtown has enough iconic buildings to be fleshed out by future growth.
Crombie told the audience: "Being an engaged citizen doesn't require training. Just show up."
Few did. The speakers drew a sea of empty seats.
The third night in the series featured Brampton's Brad King, vice-president with Lord Cultural Resources, the firm charged with putting together the city's master plan for Arts and Culture, now in the implementation stage. One attendee said his presentation was simply a reminder of the arts community getting gutted in 2015 and still struggling because there is no money and no plan.
Gil Penalosa, founder and chair of non-profit organization 8 80 Cities and ambassador of World Urban Parks, kicked off the night with an entertaining 50-minute presentation about creating vibrant cities by killing our love for the car and building complete streets. But he's spoken here before (three times in fact), telling Brampton that it remains a city in the offing.
The night ended with Dr. Pamela Blais, a famed urban planner and principal of Metropole Consultants, telling all that city building is also an exercise in creating a job market for future employees.
The series concluded two weeks ago with Ian Lockwood, a livable transportation engineer at Toole Design in Orlando, an expert in "city structure" who said street networks and open spaces can help make suburban places achieve better outcomes.
He was joined by Dan Burden, the mustachioed director of innovation and inspiration at Blue Zones, an international expert in walkability, bike-ability, traffic calming and road diets. In 2001, he was named one of TIME magazine's "six most important civic innovators in the world."
The last speaker was Joe Minicozzi, a principal at Urban3 in Asheville, North Carolina, named one of the 100 Most Influential Urbanists of all time. He said cities like Brampton have badly misjudged the costs of giving themselves over to the car. He displayed the data to show that building density is also about building wealth.
Lockwood (originally from Ottawa) said we have to reach back to the murky days of pre-science, when the earth was deemed the centre of our solar system. He said the same progression that proved the sun was in fact the centre, should apply to development. Put people in the centre of our [development] solar system, not the car," he said.
Minicozzi showed how data mapping has recorded the unhealthy advance of asphalt (our dependence on highways and parking lots) and ruined our tax base. Density is how you build wealth in your community, he said. His land-use analysis model shows how building a city for the car is driving many of them into bankruptcy – both fiscally and morally.
It's these types of priceless presentations (replete with charts, graphs and stunning pictures) that were missed by the public, and our public officials.
Many of those officials, in places like Brampton and Mississauga, are increasingly out of touch with the local realities of urbanizing centres across the world. They seldom take the very transit they are responsible for shaping. They often live in some of the most well-off, sprawling neighbourhoods in their communities, while tasked with bringing future density online. And they skew old, more inclined to curry favour with similarly aged voters who dominate poorly participated civic elections, not the residents of the future who will be forced to turn around the excess and failures of the past.
Both Brampton and its neighbour to the south were built by developers who made fortunes from their spread-out subdivisions, thanks to the elected officials they still call friends.
The presence of world-class city-builders like Blais, Ebrahim Greenberg, Crombie, Lockwood, Minicozzi, Burden and others should have elicited a ton of interest, primarily from Brampton's latest crop of local leaders. But it didn't.
There were no massive social media blasts about the numerous bold ideas and plans to piggy-back on them. There was hardly any talk of catalyzing the energy and data and innovative urban planning into a cohesive community-driven strategy.
Unlike the social media feeds of some current councillors, filled with non-stop campaign-style photo ops and self-promoting events, the series drew hardly any of the same attention from elected leaders who make all the big decisions about the city's very future.
Many of the presentations were uneven, and Lewis seemed to take his talking points on Brampton's climate-change initiatives straight from municipal bureaucrats and communications staffers, saying the city is well poised to be a leader in various areas of sustainability.
A quick trip around the city beforehand might have changed his mind. The lack of transit, our gridlocked streets, low slung aging commercial strips and row after row of new sprawling subdivisions, on top of council's recent approval for support of an environmental study of a new 400-series highway along the northern and western edge of Brampton, might have changed his mood, and his presentation.
The limited feedback from attendees in the Q&A sessions following most speeches, was also disappointing.
Maybe the problem with this series, and in many things Brampton, goes deeper, to the city's lack of forward movement, its mojo. When a two-man inquiry on the future of regional governance stopped for a day-long gathering inside Peel Region Council chambers in Brampton last year, there were no presentations by Bramptonians. With the future of their municipalities at stake, Caledon and Mississauga residents stepped up, and dominated the meeting.
At the end of their Rose Theatre presentations, Minicozzi and Lockwood talked about public engagement – the most critical element in city building.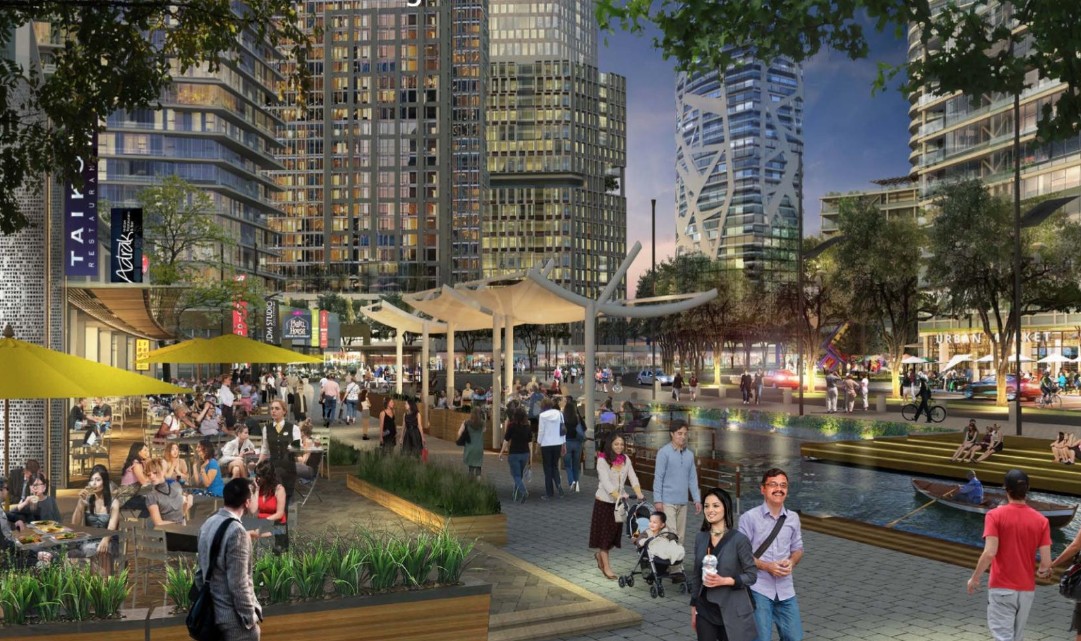 Plans to reshape Bramalea in the Brampton 2040 Vision master document
The former said: "You can't deliberate and talk and talk about things and it all just calcifies and you create a system that is running past you. The Eiffel tower was built in 18 months. Do we need to talk so long? Act. Do things. Initiate. Start by doing the good things, the small things, the things that are so easy to do – like infilling into your empty spaces." That would run counter to Brampton's decades long preference to simply give in to home builders who make their fortunes from turning over farmland, instead of creating vibrant, dense complete communities.
Lockwood agrees. Creating a city starts with creating a tax base, he said. He remembers when he moved from Canada to head up transportation at West Palm Beach, Florida. He was shocked when he arrived with his young family. The city was virtually empty. It had $7,000 in reserves. The city had seen no development in 20 years. The downtown was like a war zone: boarded up buildings, druggies and prostitutes infesting the streets. On his first night in town, a shooting took place in his front yard. Cops. Helicopters. A take-down. It was all so shocking.
An Oscar-winning documentary had been made in 1989 that summed up the city: Crack USA. But there was a political will to change. He was given license to impose new building orthodoxies: narrower streets, fewer cars, more retail, arts, culture and parks. Today, West Palm Beach is a modern-day marvel: safe, beautiful, and tax rich.
One attendee was interviewed by The Pointer on the second night of the series and she expressed concern that the very foundation upon which the series was based, the 2040 Vision that was led by urbanist Larry Beasley, was in itself flawed.
She said the report was constructed from the thousands who took part. But was it skewed, top-heavy with input from those who engaged, the older, whiter portion of Brampton? She said many of the city's visible minority members who didn't show for the Speakers Series, did the same during the 2040 Vision process.
Maybe that's why there was no stirring call to arms after this four-night series ended. This isn't a knock at organizers or a put down of those who did show up. But a decided lack of energy from the citizenry was troubling, and so too was the response and real leadership from council. The fundamentals to city-building were laid out for them on a very tasty platter.
Too many Bramptonians are clearly uninterested in the future of this city – including our political leaders, some of whom are obsessed with nothing but their own political future.
In Berridge's book, he talks at length about how near-perfect cities are enlivened by immigration. But suburban cities like Brampton seem less a community than an agglomeration of houses, shops, and commercial plazas connected to one another by cars, not by the fabric of human life. Over 60 percent of our residents exit the city each day to work somewhere else. Is Brampton simply a sleep-over for far too many of them? And will this lack of civic buy-in have lethal consequences?
Before Berridge wrote Perfect City, Blais wrote Perverse Cities, doubling down on the problems inherent in the suburbs. Her comments on the 2017 Growth Plan for the Greater Golden Horseshoe, which will shape future development across the region, was regurgitated during presentations at the Rose. Cities that create opportunities for job seekers and sport great livability standards will be the ones that succeed in the 21st century. Almost every speaker repeated this theme during their talks.
The city's 2040 Vision was supposed to be a game-changer, driven by political will and public buy-in.
But action isn't possible without enthusiasm, or as Berridge terms it, "urban magic."
Brown says a "Team Brampton" approach will change our city's fortunes.
That team failed to show up in force over the recent four weeks.
Energy is transforming. The opposite is also true.
Brampton shouldn't have to settle for being just okay, or just livable. We should strive to be great, like West Palm Beach. Like Portland, Oregon. Like all the cities featured in the four-night series.
It showed those who bothered to attend that there is a way forward. Cities more flawed than Brampton have stepped up to become models of modernity. The 2040 Vision was supposed to be step one in this process of renewal.
The last night of the Speaker Series featured visits from students in the Livability Program at Central Peel high school. Even Mississauga councillor Stephen Dasko (Ward 1) took time from his very busy schedule to learn more about city-building from three of the best urbanists on the planet.
The yawning indifference to the series by most citizens is troubling. No-shows by councillors is unacceptable. Maybe these factions represent this city's true id.
Yes, all cities are flawed, but somehow in Brampton, it feels irredeemable.
Submit a correction about this story