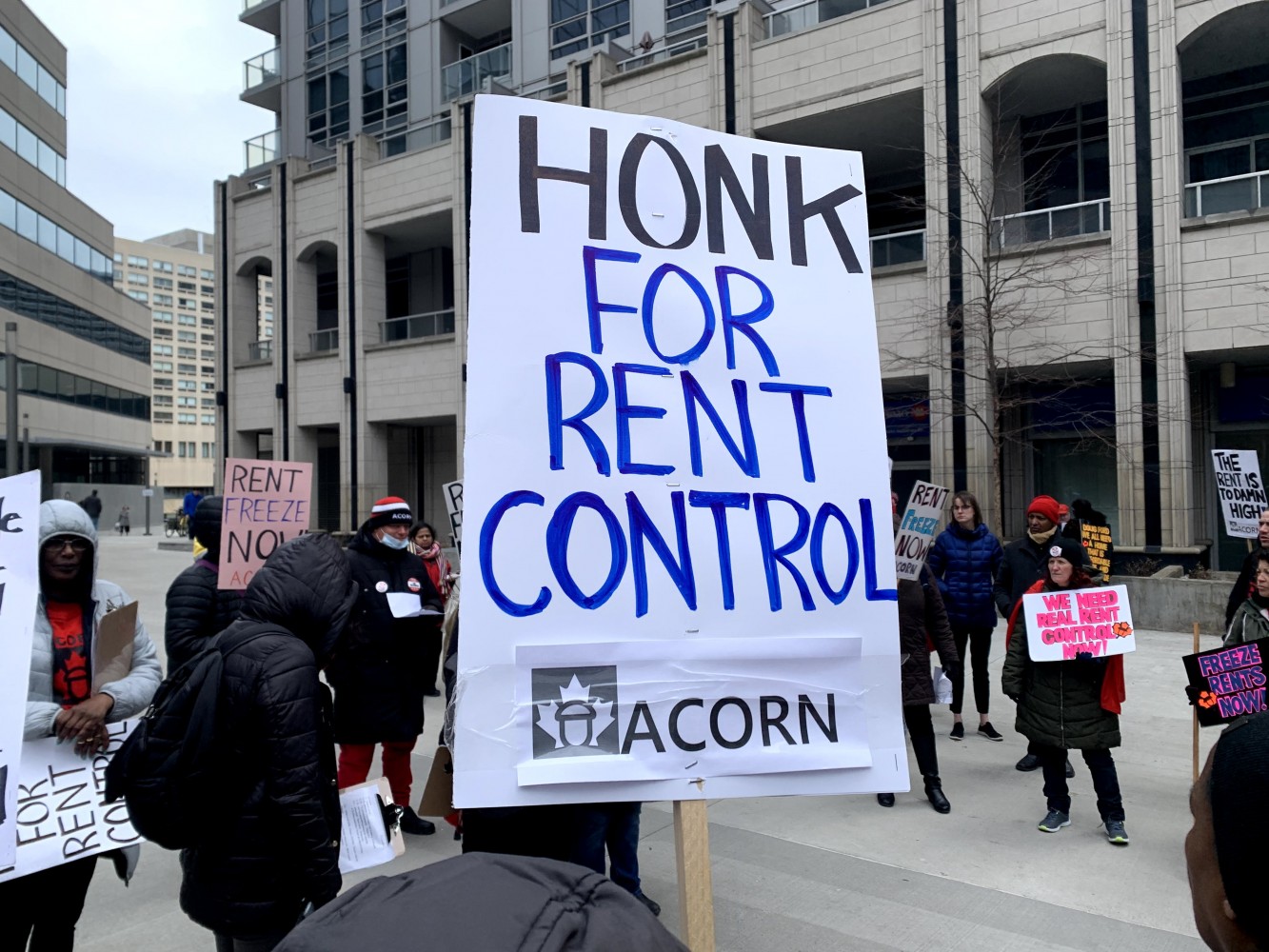 Photos by Isaac Callan
Protesters call on provincial housing minister to freeze sky-high rental rates
On Thursday afternoon, at the corner of College and Bay Street in Toronto, a group of protestors gathered. Activists were bussed in from across the province from places like Hamilton, Ottawa and Peel to deliver a message.
The organizers — the Association of Community Organizations for Reform Now (ACORN) — delivered an eviction notice to Housing Minister Steve Clark.
According to ACORN, up to 150 protestors, including representatives of the Ontario NDP, showed up to brave the cold. Signs reading "Evict Steve Clark," "Rent Freeze Now" and "Real Affordable housing" were waved at passing drivers and 777 Bay Street — the building where Ontario's Housing Minister has his offices.
After 30 minutes of speeches, all calling for reform of the rental system, members moved towards the entrance of the Ministry of Housing. As the crowd of protestors walked towards the building chanting, Toronto Police blocked the door to stop their entry. A relatively well-natured face-off ensued, before protesters turned tail and took their grievances to the lawns of Queen's Park, the provincial legislature.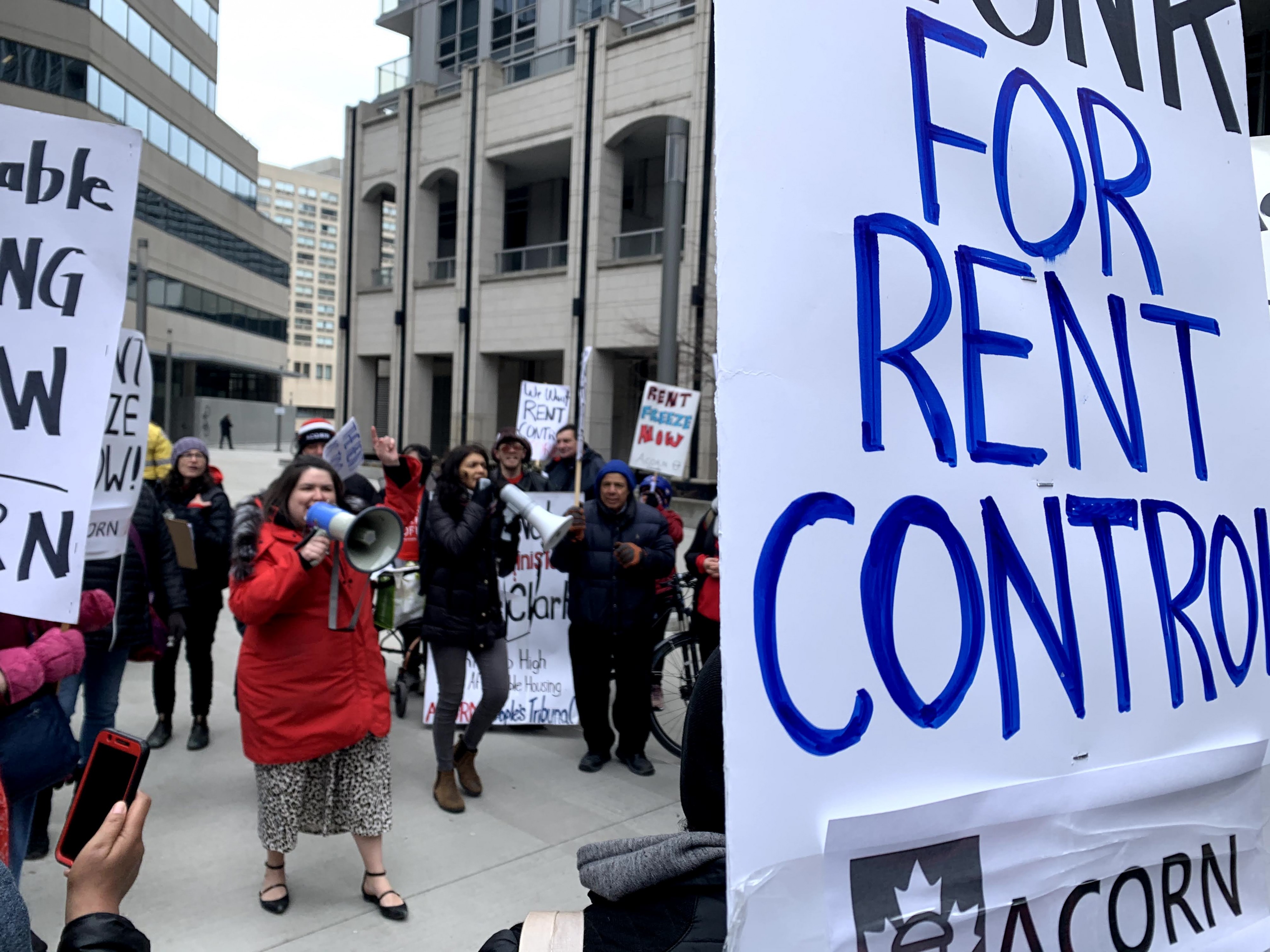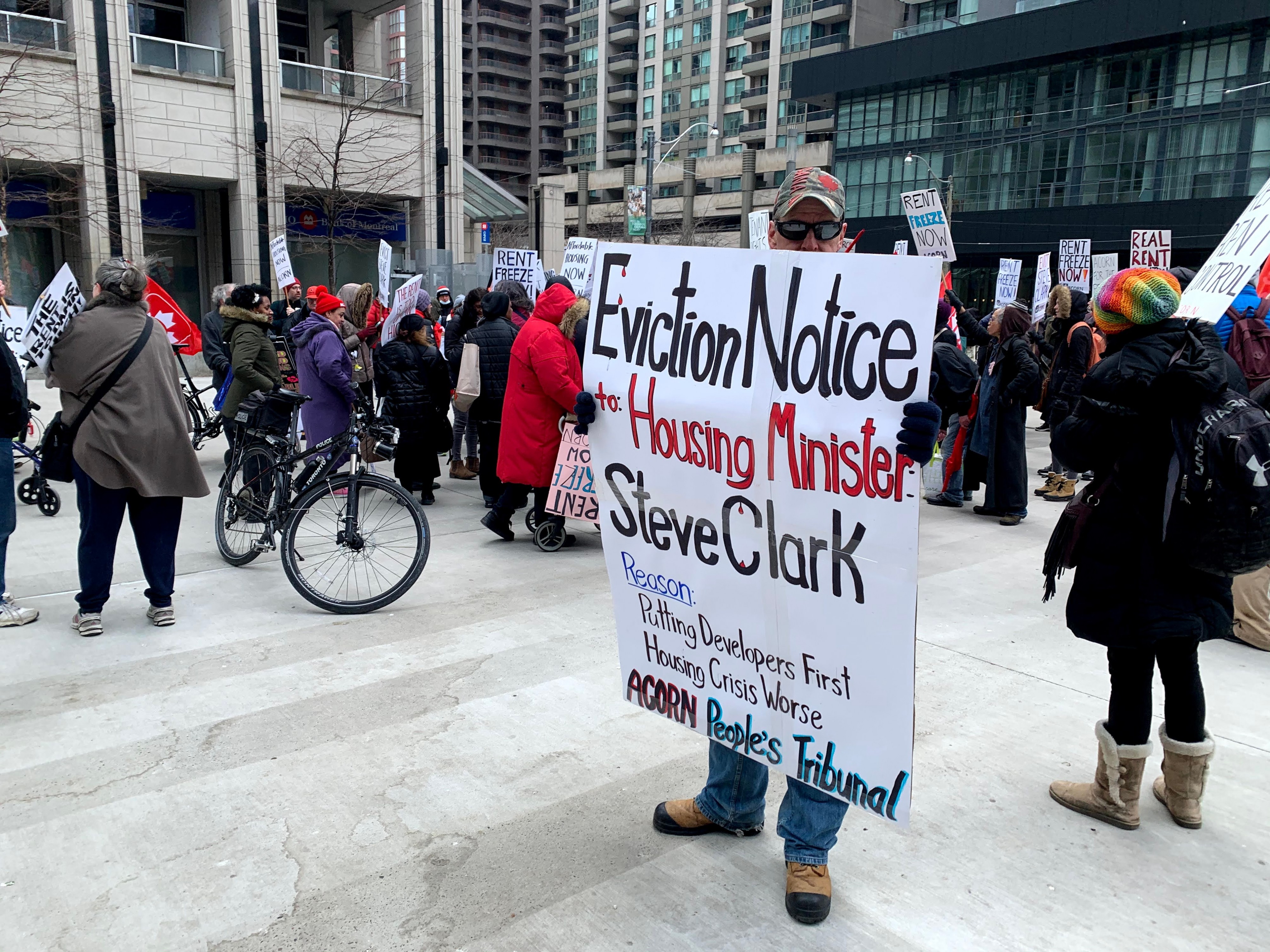 Protesters gathered to try and serve Housing Minister Steve Clark a symbolic eviction notice
The activists had several demands, but one was loudest: introduce a rent freeze.
Rental protection in Ontario is a relatively convoluted topic. It has been made more complicated by changes introduced by the current Progressive Conservative (PC) government under Premier Doug Ford and Housing Minister Clark. In 2017, the Ontario Liberals introduced a series of housing changes that included rent control on all buildings in the province, where previously anything built after 1991 had been exempted.
In 2018, almost immediately after winning a landslide victory, Premier Ford reintroduced rent control exemptions. This has allowed landlords of properties built after November 2018 to raise prices considerably.
Another gap emerges when a property lies vacant. Regulations only apply to properties which keep the same resident over a period of time, meaning that, if tenancy changes, landlords can exit rent control. For incoming tenants, landlords have the power to set the rental rate at whatever level the market will bear. This, in particular, has elicited criticism as it motivates landlords to evict tenants to raise rent, particularly in markets as heated as Toronto, Mississauga and Brampton.
In short, Ontario's rent control only applies to properties built before November 2018 and occupied continuously. In 2020, that control is 2.2 percent, where it was 1.8 percent in 2019 and 1.5 percent in 2018.
"Removing vacancy control is setting a perverse incentive for landlords to intimidate [and] ignore tenants," Mississauga resident and ACORN member Nabeela Irfan told The Pointer in front of Queen's Park. Irfan, in her early thirties, said she still lives with her parents because she can't afford to move out — unless she were to spend 70 percent of her income on housing.
"We have members that tell their landlords to fix issues under the Property Standards Act, but nothing is being done, instead they're turning a lind eye because, again, if these people move out, they can hike up the rent further and get someone new to come in," she added. "So it's a really dire situation for folks and they have no people — people aren't aware of their rights and people are afraid to speak up for their rights."
"It's a sh*tty situation."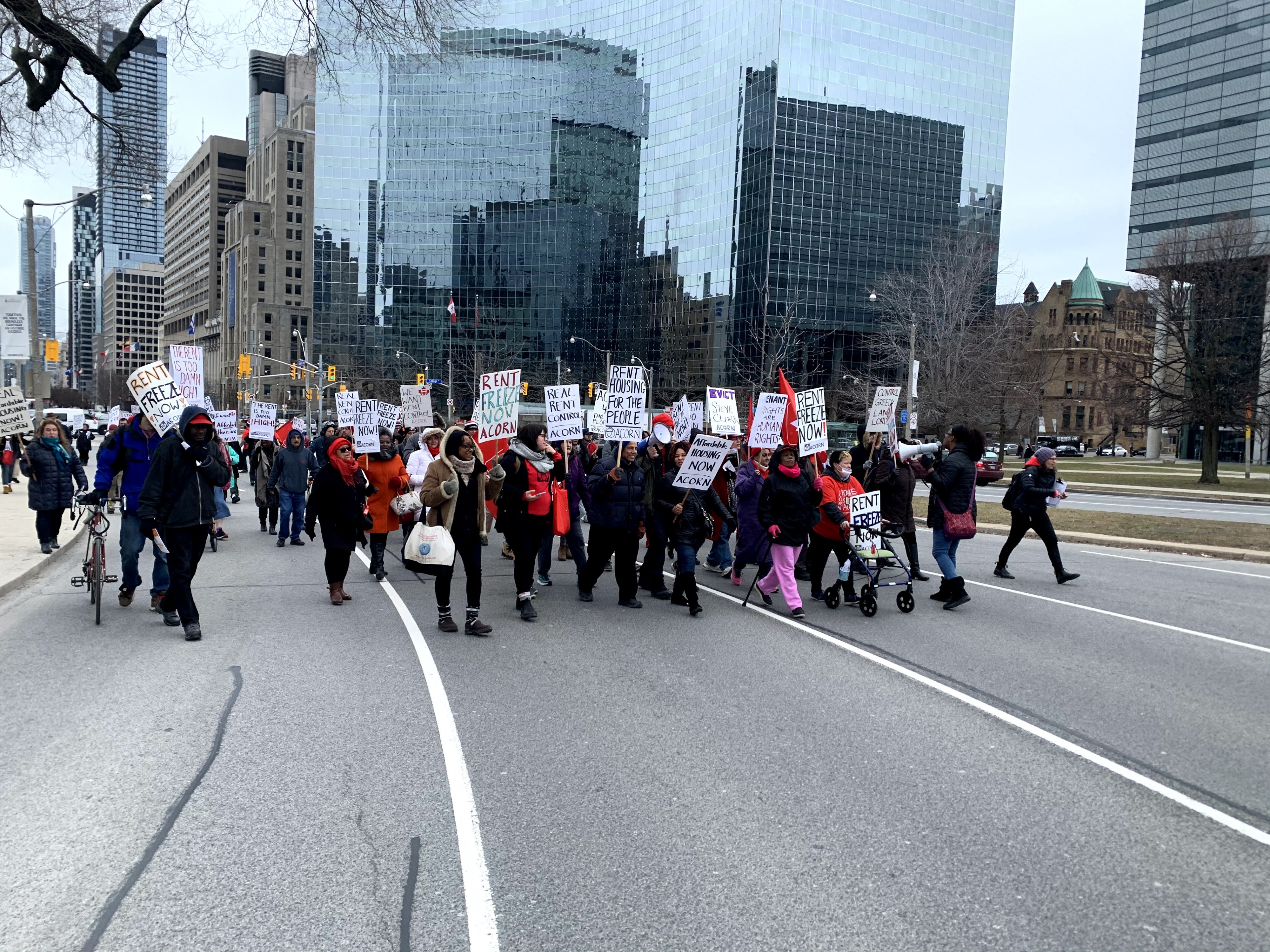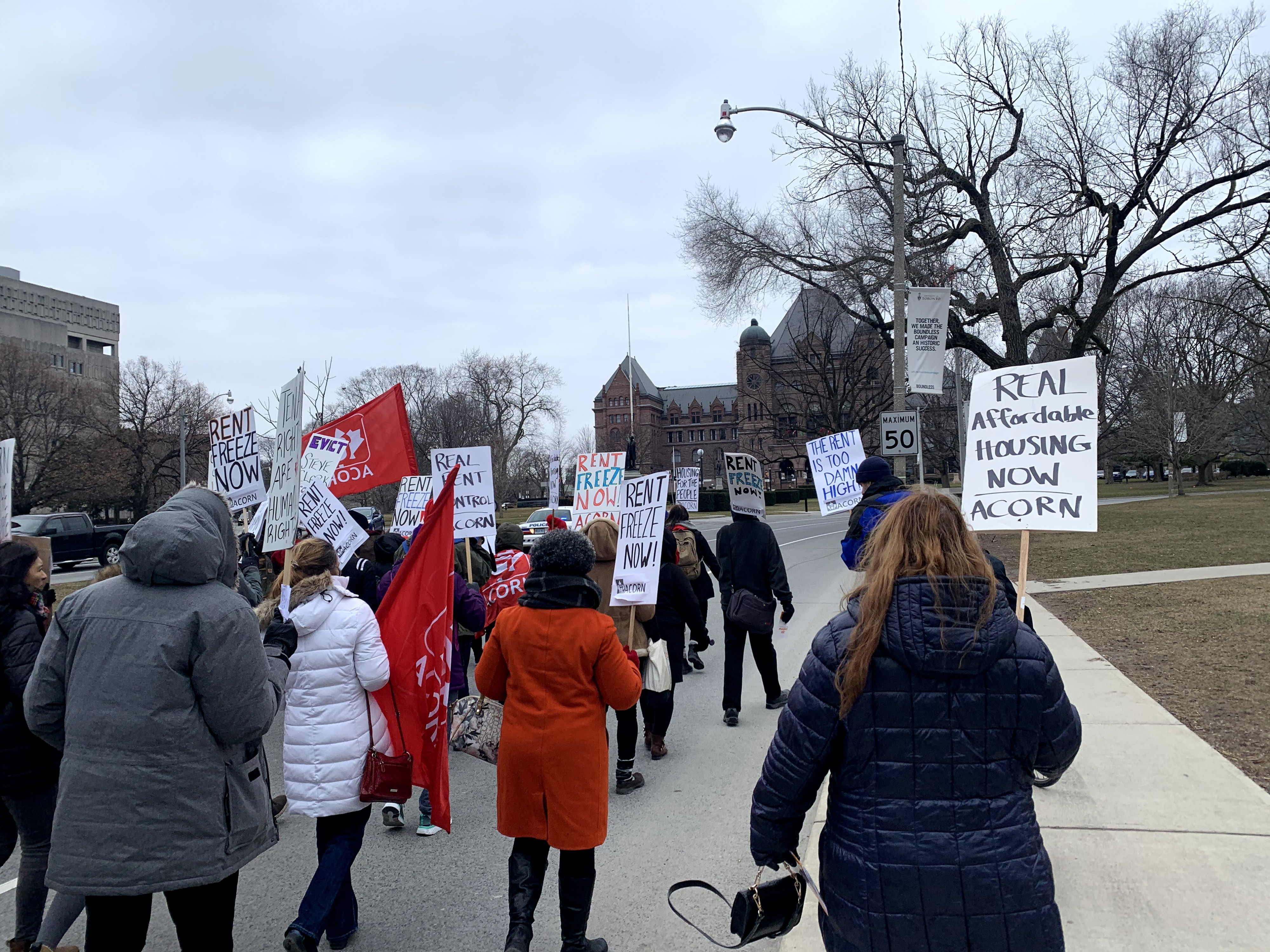 After being blocked from the offices of the housing minister, protesters headed to the provincial legislature at Queen's Park
Lawyers at Mississauga Community Legal Services previously told The Pointer they suspect landlords of unregistered secondary units are using this tactic to raise rates. "Our suspicion is that tenants can be forced out for the landlords to then take the market value even higher," Brianna Robinson previously said. "I think it [eviction] is generally to hike the rent. We don't see a lot of action from the City of Mississauga."
On Thursday, changes announced by the PCs claim a fix to this practice is coming. Proposed legislation plans to help tenants fight unlawful evictions, while also "streamlining" the process of being a landlord. In particular, the punishment for landlords found guilty of illegal evictions will increase, theoretically disincentivizing the practice.
"Our government cares about the well-being of Ontarians and we want to ensure the system is fair for both tenants and landlords," said Steve Clark, Minister of Municipal Affairs and Housing in a press release. "We've heard the concerns from tenants who've been forced to leave their homes due to renovations. That's why we are taking action to increase fines, raise tenant compensation and tighten the rules to encourage everyone to follow the law."
Whether these changes make a difference or not remains to be seen. A major issue with illegal evictions comes from tenants who do not understand their rights, meaning harsher punishments for landlords who are caught may not have a significant impact.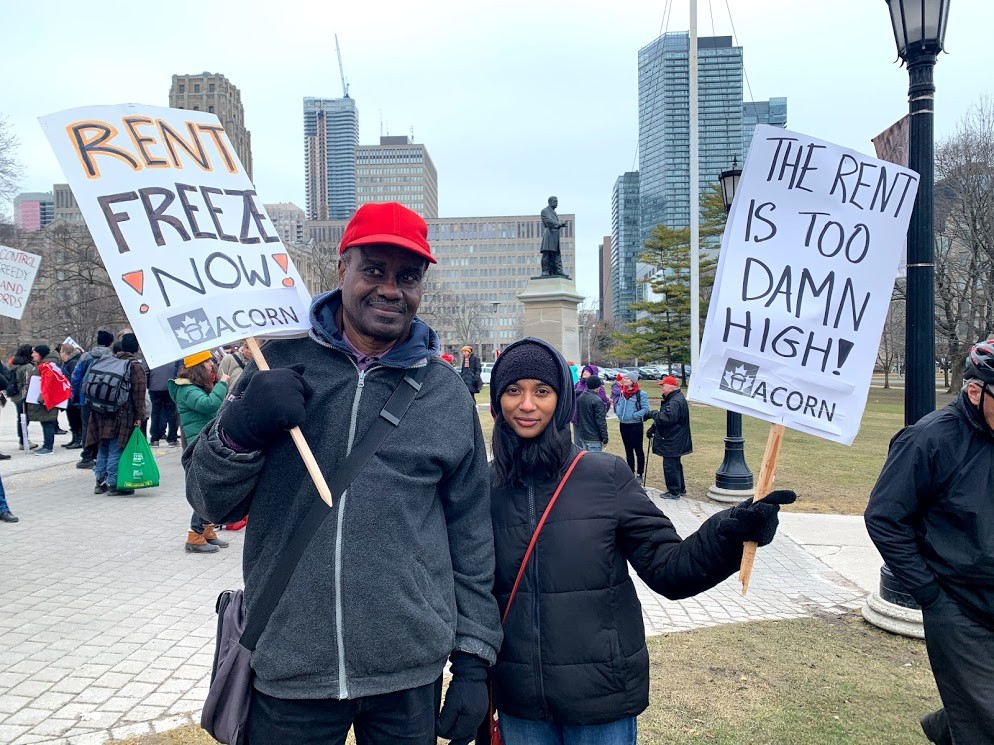 On Thursday, Silvian Alleyne (left) of Brampton and Nabeela Irfan (right) of Mississauga joined a demonstration asking Housing Minister Steve Clark to freeze rent in Ontario
In Brampton and Mississauga, where the majority of the population in both cities are new arrivals, this issue may be made worse as language and cultural barriers compound confusing regulations. "There needs to be a sort of educational component [to regulations]," Silvian Alleyne, a Brampton resident, told The Pointer. "I've seen some newcomers renting in basement apartments and not knowing their rights. That educational component is really necessary."
Some, particularly landlords and developers, would argue the changes ACORN are proposing are radical. The call for a rent freeze instead of the 2020 rent cap is a controversial policy, but campaigners point to the province's decision to scrap minimum wage increases as ample justification.
"In the last year, rent went up in Toronto 12 percent and in Ottawa it also increased by 12 percent," Marva Burnett, president of ACORN Canada, told protestors. "We have a very simple answer: we need real rent control with vacancy decontrol so when people move out of that unit, the rent remains the same. [...] Why are we having rent increases? Our incomes are not going upward!"
The PC's rent control rules hold particular repercussions for Mississauga and Brampton. Both municipalities are growing at breakneck speed, with thousands of new units constructed every year. In Mississauga, in particular, a series of major developments plan to begin construction across the next decade.
In the city centre, for example, the Square One District will bring 18,000 units. To date, developer Oxford Properties has neither committed to a single market affordable unit nor any that are rent controlled, given the exemption. In Lakeview Village and Brightwater, in the south of the city, some units will be offered at below-market rates, while the rest will duck provincial pricing controls.
Whether or not ACORN's appeals fell on deaf ears is unclear. When protestors were stopped by police from entering the offices of Housing Minister Steve Clark with an eviction notice, they were told he wasn't there anyway. After they marched to Queen's Park, it was the same police officers, security guards and NDP MPPs who were listening.
In the moment, the government appeared oblivious to their demands.
---
Email: [email protected]
Twitter: @isaaccallan
Tel: 647-561-4879
Submit a correction about this story