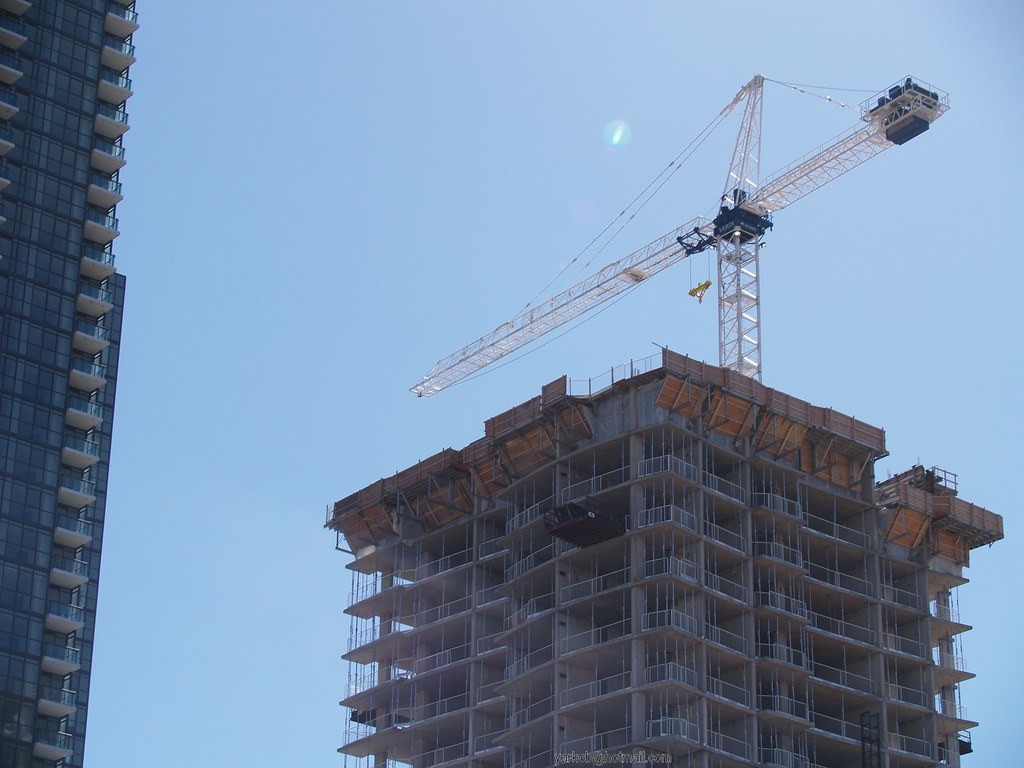 Photos from Creative Commons
Mississauga continues to reverse sprawl with apartment developments
In the dawn of a new decade, Mississauga is in the midst of a major development boom. Projects announced left, right and centre mean the city is one of the province's most appealing spots to build.
Development frenzies are nothing new for Mississauga. In its early history, the city dined out on developer fees for years. Former Mayor Hazel McCallion was well known for freezing property taxes year after year as developers paid for the city to grow.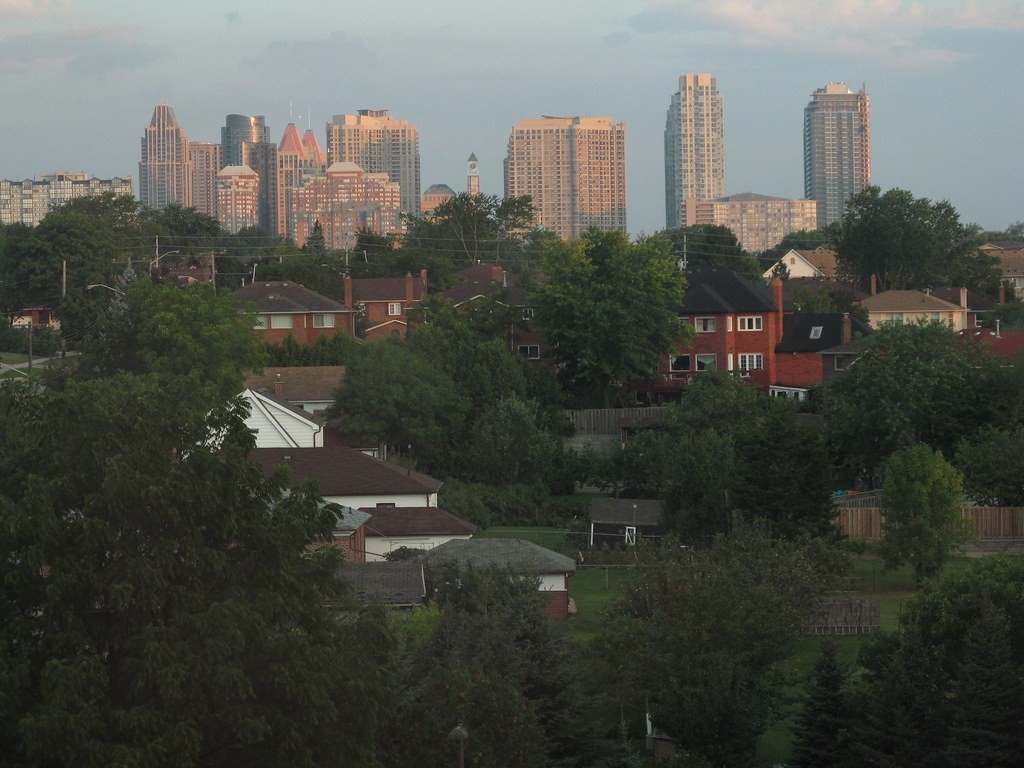 Mississauga is building upwards with taller and denser developments
Under McCallion, the city sprawled outwards. At first, infrastructure was almost free to the taxpayer as developers chipped in their share of stormwater pipes, roads and transit expansion. But, in recent years, after McCallion stepped down in 2014 and was replaced by Mayor Bonnie Crombie, the result of past decisions have caught up with the city.
In January, city councillors approved a 4.52 percent budget increase, resulting in a 3.24 percent blended property tax increase for residents. The hike was the latest substantial tax rise, with the days of zero percent increases gone.
However, even as the hangover of suburban beginnings continues to hit and the city's infrastructure gap grows, developers continue to flock to Mississauga, now applying to construct height instead of sprawl. The appetite for single-detached family homes, once synonymous with the city, is vanishing and being replaced by tall buildings, promising Mississauga a future skyline made of more than its downtown cluster of towers.
"We have shifted our focus to building up, not out," Mayor Bonnie Crombie told the Mississauga Board of Trade on Tuesday. "We have already started to lay the strong foundation needed to bring our vision to life [...] Shovels are already in the ground and construction is underway on several new residential buildings, including the first two M City condos, which will define the western edge of our skyline with their iconic, twisting towers. Less than two months ago, Oxford Properties announced the Square One District, the largest mixed-use development in Canadian history in the heart of downtown. It will see up to 37 new buildings and three million square feet of office space that will define our downtown for decades to come."
"Up, not out," she added. "Smart growth. Fewer cars. Less congestion and air pollution."
In 2019, the total value of construction permits issued by the City of Mississauga sat at $1.79 billion, down slightly from 2018's $1.85 billion. However, within those numbers, the value of residential units continued an upward trend that has seen the value of permits for housing almost triple across the last seven years.
In 2013, the value of permits issued for residents sat at $367 million, increasing to $732 million in 2016 and $1.08 billion in 2019. That is to say, while the total value of all construction may have topped off in 2018, the city's trend towards building housing hasn't broken pace.
The high cost of housing (therefore value to developers) of housing in Mississauga is a motivator for all this construction. Property has never been more valuable in the city. Major recent announcements in this area include Oxford Properties' plan to turn the area around Square One shopping centre into 18,000 residential units and the submission of an Official Plan Amendment by Lakeview Community Partners to begin building tall towers on their stretch of Lake Ontario's waterfront.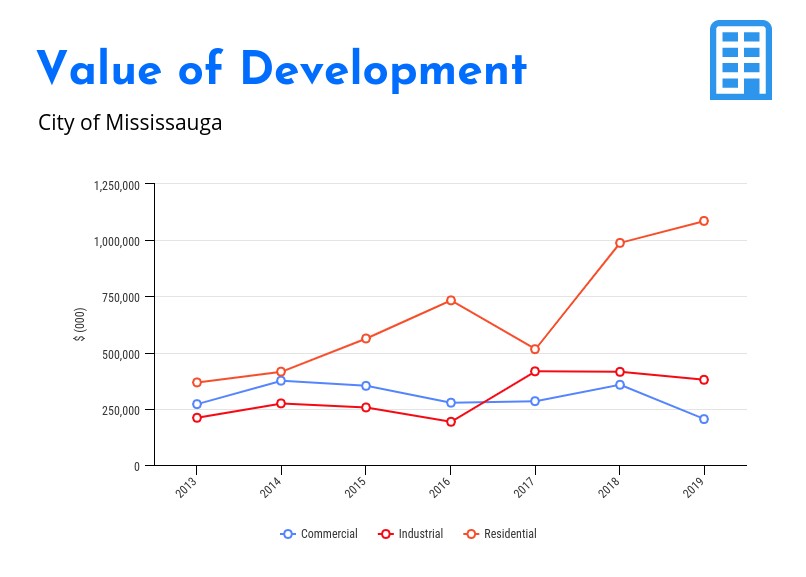 In November 2019, the Who's Hungry report, a GTA study into foodbank use, found Mississauga to have a vacancy rate of just 0.9 percent, where healthy rental markets have between 3 and 5 percent. That rate recently ticked up slightly to 1.2 percent, still well below what it should be. While the slight increase in the vacancy rate can be seen as evidence developer investment is paying off, it remains low. An increase of just 0.3 percent could be seen as a statistical blip, with many waiting to see a sustained rise in the rate before exhibiting too much optimism.
Indeed, so far the change has done little to halt rising rental prices. A December report from Rentals.ca, which regularly releases studies on the state of the Canadian housing market, suggested Mississauga rent would increase 8 percent during 2020.
The incoming Hurontario LRT, set to break ground this spring, has been one of the key motivators for an influx of major development. Applications have been coming in up and down the street in anticipation of the light rail system, with Eglington and Hurontario among the areas targeted by developers.
Since Mississauga is largely built-out and new developments are situated around areas with transit connectivity, the city's construction trend has been reaching for the sky. Over the past three years, the city has steadily moved to build towers and apartments instead of single-detached or semi-detached family homes.
In 2017 — a slow development year for residential units overall — the city approved 205 single-detached homes, 770 apartments and 78 semi-detached houses. In 2018, the number of singles decreased to 191, semis were down to 30 and apartments were up to a dramatic 2,582. Last year, singles dropped again to 156, semis rose marginally to 36 and apartments hit a high of 3,233.
Across the next decade, that trend should continue. The 18,000 units proposed by Oxford Properties in the city centre will be spread through a development made of 37 towers, while the vast majority of Lakeview Village on the waterfront is also taller buildings. With land as scarce as it is in the city, the construction of single or semi-detached properties is largely on the site of similar old properties, while infill through apartments continues.
In the background, industrial and commercial developments in the city tapered off slightly in 2019: $379 million approved in industrial developments was down from $416 million in 2017 and $414 million in 2018. For commercial applications the trend was similar, with 2019's $204 million a drop from 2018's $357 million and down even on 2017's $284 million. In fact, commercial development in 2019 was the lowest in seven years, with even 2013's $271 million offering a higher total. Plans to develop commercial space within flagship developments, including Lakeview Village and the Square One District, across the next few years will likely reverse this trend with significant office space finally promised for Mississauga's downtown.
However, as The Pointer has previously reported, Mississauga is experiencing a backlog in development too. According to the city and mayor's office, between 20,000 and 30,000 units have been approved in principle, but developers have not applied for the building permits to get their projects on the road. Recent trends could jump even higher if developers with approval get serious about building too.
Although the city's inflamed market has a long way to go to provide affordability, baby steps are taking place. As a whole, the city is moving successfully to achieve the density it hopes will encourage walking and extensive use of public transit.
As 2020 rolls on, Mississauga looks set to continue its expansion of dense housing, with developers and city planning working to the tune of "The Only Way Is Up."
---
Email: [email protected]
Twitter: @isaaccallan
Tel: 647-561-4879
Submit a correction about this story