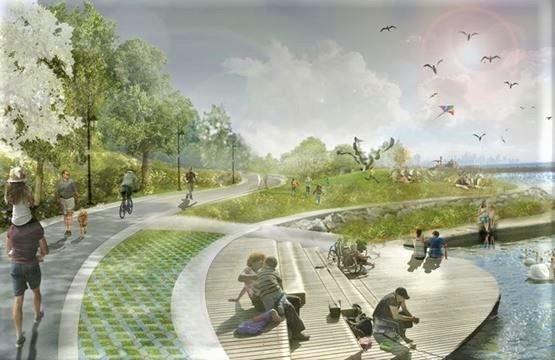 Photos by Stephen Uhraney/Flickr/Wiki Commons/Renderings City of Mississauga
In Mississauga and Brampton and across Ontario, Doug Ford is the biggest threat to smart, green growth
Exactly two hundred years ago, John Keats' penned his immortal 33-line ode "To Autumn," one of the greatest love letters ever written to nature.
Season of mists and mellow fruitfulness,
Close bosom-friend of the maturing sun'
Conspiring with him how to load and bless
With fruit the vines that round the thatch-eves run…
He was like a bird pecking ecological imagery off a granary floor.
Today, most of the writing about our environment is cryptic, apocalyptic, even Hogarthian. David Wallace-Wells captures that degradation in his new book, The Uninhabitable Earth. In it, nature is on the ropes – and if we don't start righting some serious wrongs, it might be too late to save ourselves.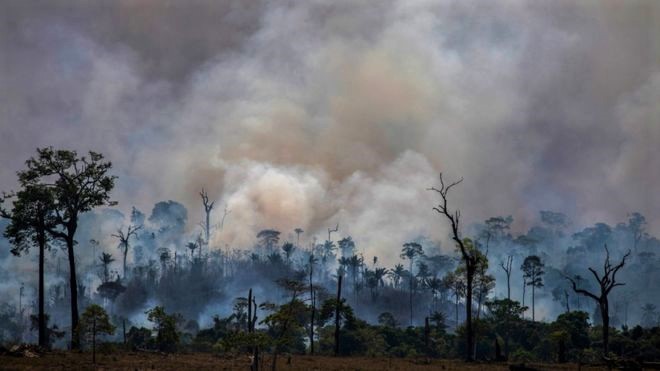 Fires burn down large sections of the Amazon
The deadly path of Dorian, the ferocious hurricane that destroyed parts of the Bahamas and left behind a trail of death and devastation, is said to be partly caused by our heated-up atmosphere. Each day, we are bombarded with more facts and startling images – a giant chunk of Arctic ice falling into the ocean; a dead whale on the beach, its stomach filled with plastic bags – that offer further proof we are reaching a dangerous precipice.
Keats' poem was a giant hug of nature, while Wallace-Wells' book is a rejection of the worst elements of human nature.
We know there are men – yes, they always seem to be men – with the power to do enormous harm. Two comic book villains have recently emerged: Donald Trump, and Jair Bolsonaro, founding members of the climate deniers club. It didn't take the U.S. president long to pull out of the Paris Climate Accord, and since then, he has done his best to shred most of the country's environmental protections. The Brazilian president encouraged the man-made fires that have raged uncontrollably in the Amazonian rain forest, destroying what scientists call the "lungs" of our planet.
The Pointer would like to nominate a third: Doug Ford, the premier of this province. While we're at it, let's add his eco-averse minister of the environment, conservation and parks, Jeff Yurek (Elgin-Middlesex-London).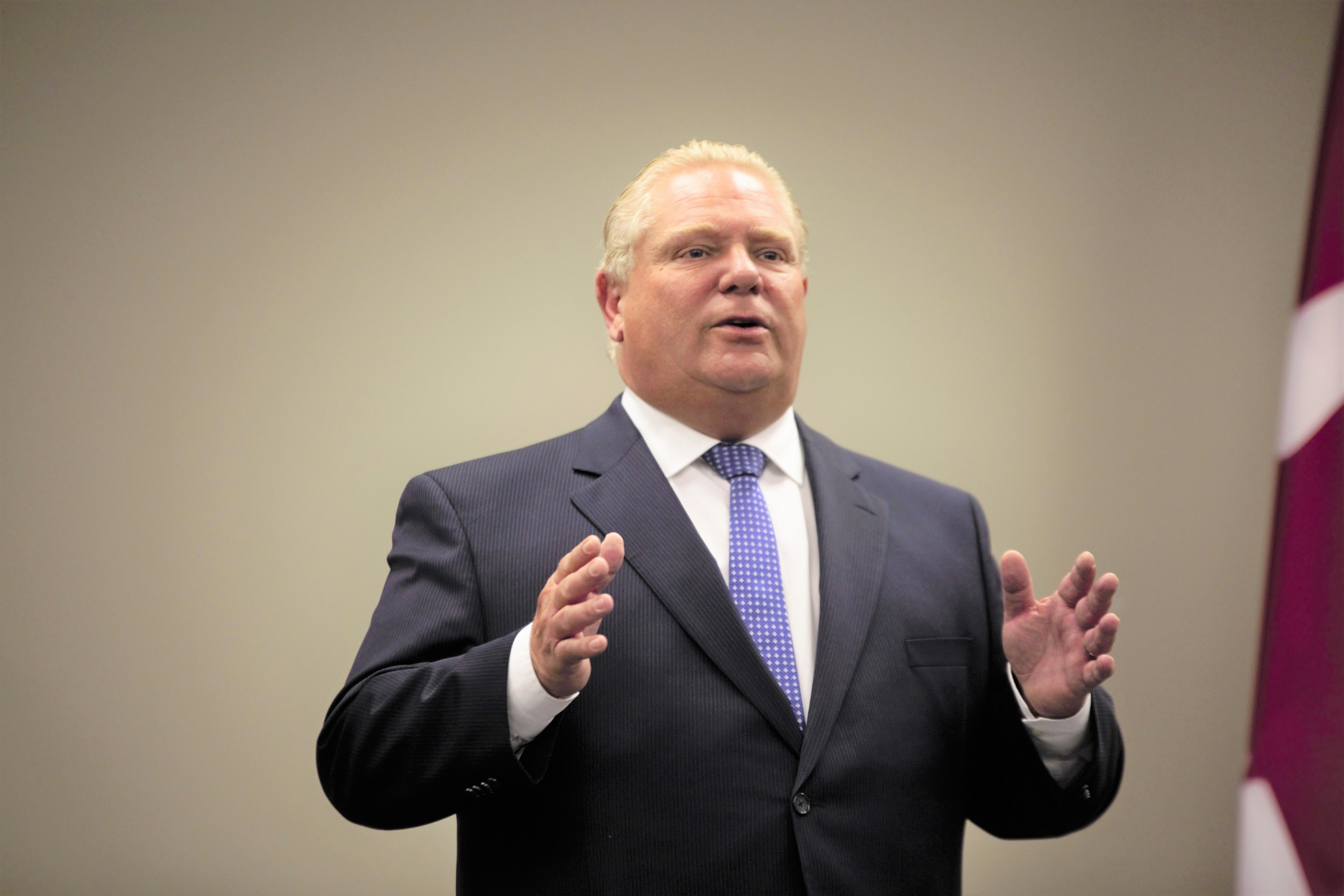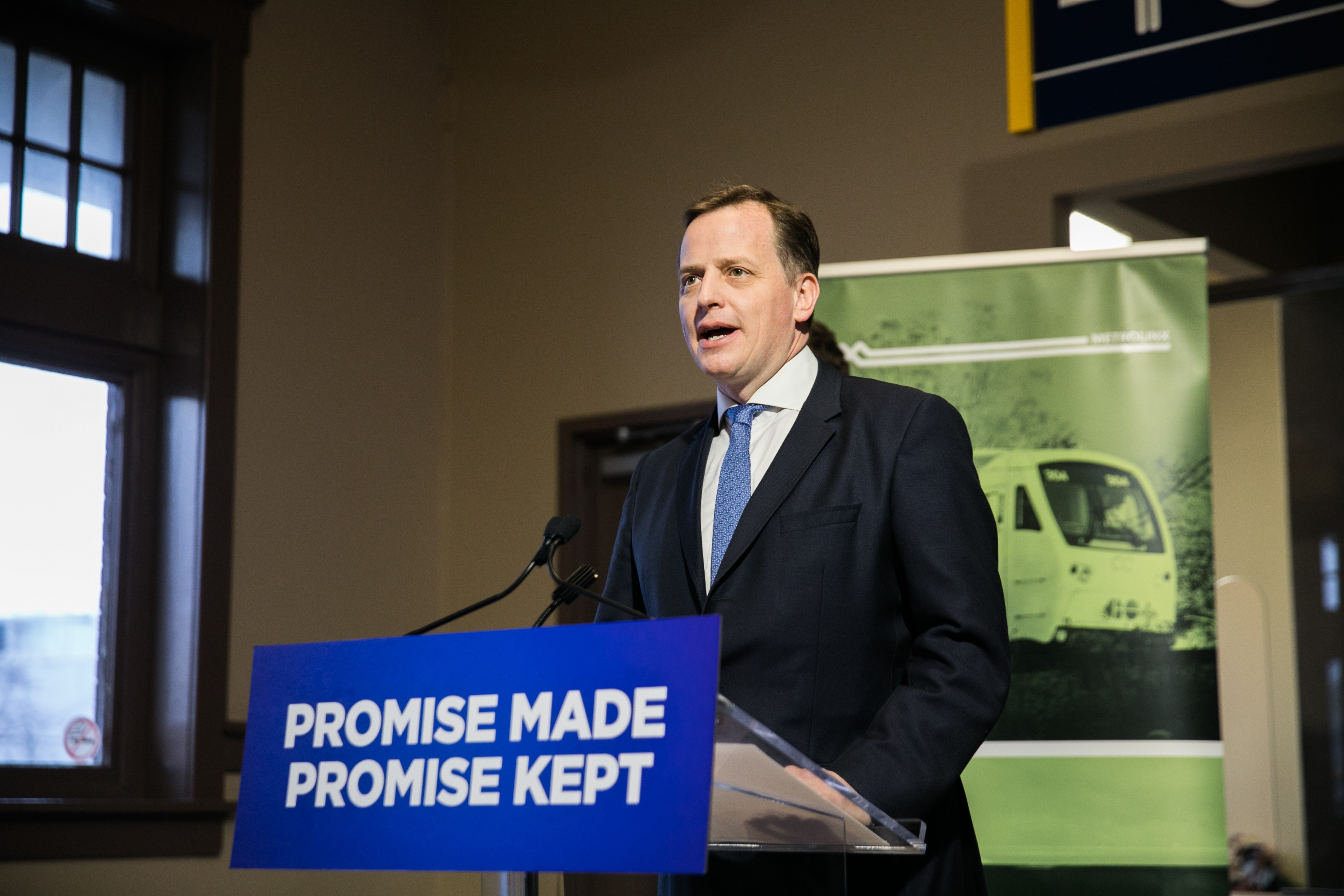 Environment Minister Jeff Yurek
Make them entry 1 and 1a.
No. 1 has imposed a slash-and-burn philosophy of government programs that has laid waste to healthcare and education and downloaded millions in costs on the municipalities.
No. 1a recently sent an open letter (see below) to the province's conservation authorities, including Credit Valley Conservation (CVC) in Peel Region. He basically told them to stop doing what they've been so successfully doing for the past 60 years: saving us from ourselves!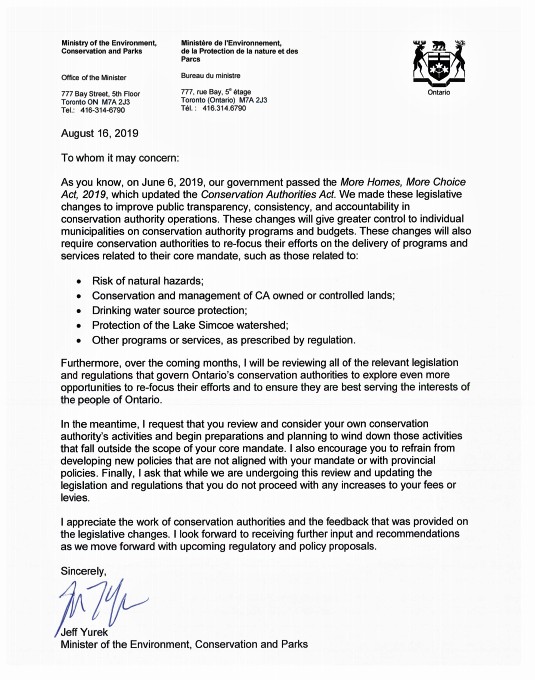 Yurek said things have to change, especially now that Bill 108 (More Homes, More Choice) has passed – the Act that has opened up a wide avenue so developers could build more single-family homes – just like it did during the last time a PC government (Mike Harris-Ernie Eves) was in power in the late '90s and early 2000s. Will this Common Sense Revolution 2.0 usher in a new wave of suburban sprawl and grinding gridlock?
Wrote Yurek: "We will review your activities and wind down those activities that fall outside the scope of your core mandate."
He also warned the conservation authorities not to develop new policies or increase fees or levies. His short but blunt letter landed with a decided thud in the office of Karen Ras, Mississauga's Ward 2 councillor and chair of Credit Valley Conservation. It's clear from her response (see below), she finds it "very troubling." She says his direction was inconsistent with Bill 108, and even premature since much of the policy design to support the legislation is still in progress. She also questioned his comment about fees and levies since they have already been worked out with the local municipalities, which have set their budgets. She thought Yurek was "vague on details," and conservation authority staffers weren't consulted and no policy drafts were circulated.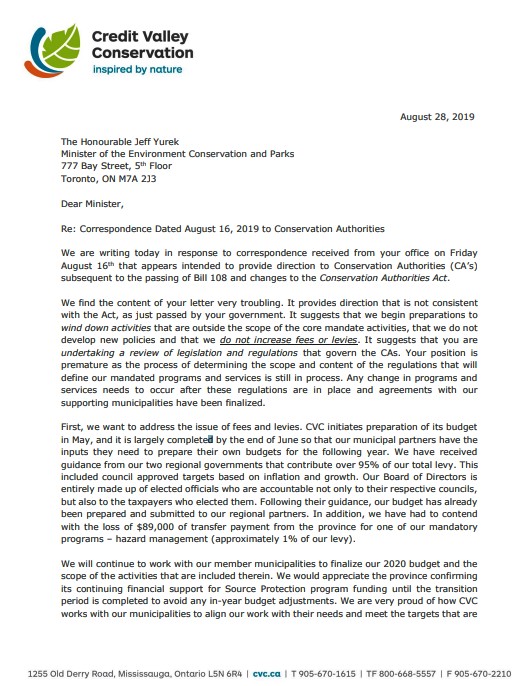 First page of a 5-page response to Minister Yurek
The Ford government has been ruling by fiat since it chopped Toronto City Council in half moments after it won election in 2018. That move came after zero consultation, too.
Ford's tommy-gun approach to cost-cutting has hit multiple targets, and Yurek's letter makes it clear our 38 conservation authorities are next to bleed.
Ras bristled at his slights directed against CAs, and wrote back to the minister, "we deliver programs and services that have value."
Visits to conservation areas have doubled since 2010, and that has helped them become more self-reliant. Ras concluded by challenging the minister to engage in "meaningful" consultations.
Ras should be a Ford-Yurek type, a person to make decisions, but for the good of the people. That's what she's been doing since joining Mississauga Council in 2014. She has a long history in the private sector. The mother of two was director of corporate relations for Enersource Corp. and past chair of the Mississauga Board of Trade. Her resume says she had a deep appreciation of the issues and challenges facing local businesses. But leading a conservation authority has obviously poisoned her mind to the type of business-first, bottom-line-before-anything-else thinking that permeates the current Ford regime, and that will never endear her to these alt-right ideologues.
Ford showed his eco-stripes in the 2018 election campaign when a secret tape captured him promising to friends in the building and development industry that he would dismantle some of the restrictions placed to protect sensitive land in fear of the predatory development industry by the Kathleen Wynne Liberals.
He showed early on he wasn't interested in green initiatives. A proposal to allow municipalities to poach on protected Greenbelt land and allow housing development there was directed by the premier but instantly rejected by the public. This outrage forced him to retract his claws, but not the idea that rules put down by other administrations were made to be broken, and the degradation of nature is okay if it serves a larger purpose – sucking up to his friends in the development sector.
A CBC investigation this week revealed that the current PC government under Ford has spent almost a year in backroom talks with a Vaughan-based development family, the Milanis, to help them build in the Greenbelt. The family, which has donated more than $100,000 to the PCs in recent years, wants to circumvent protective legislation to build on 60 hectares in an environmentally protected part of northeast Vaughan that's covered under the Oak Ridges Moraine Conservation Act. Ford dispatched Municipal Affairs Minister Steve Clark to direct his staff in an effort to coordinate an arrangement for the development with the City of Vaughan.
The news came as little surprise to anyone who saw the hidden video from last year's election campaign that showed Ford promising developers he would open up a "big chunk" of the Greenbelt for them if they helped get him elected. They kept up their end of the deal, and now Ford is trying to keep up his.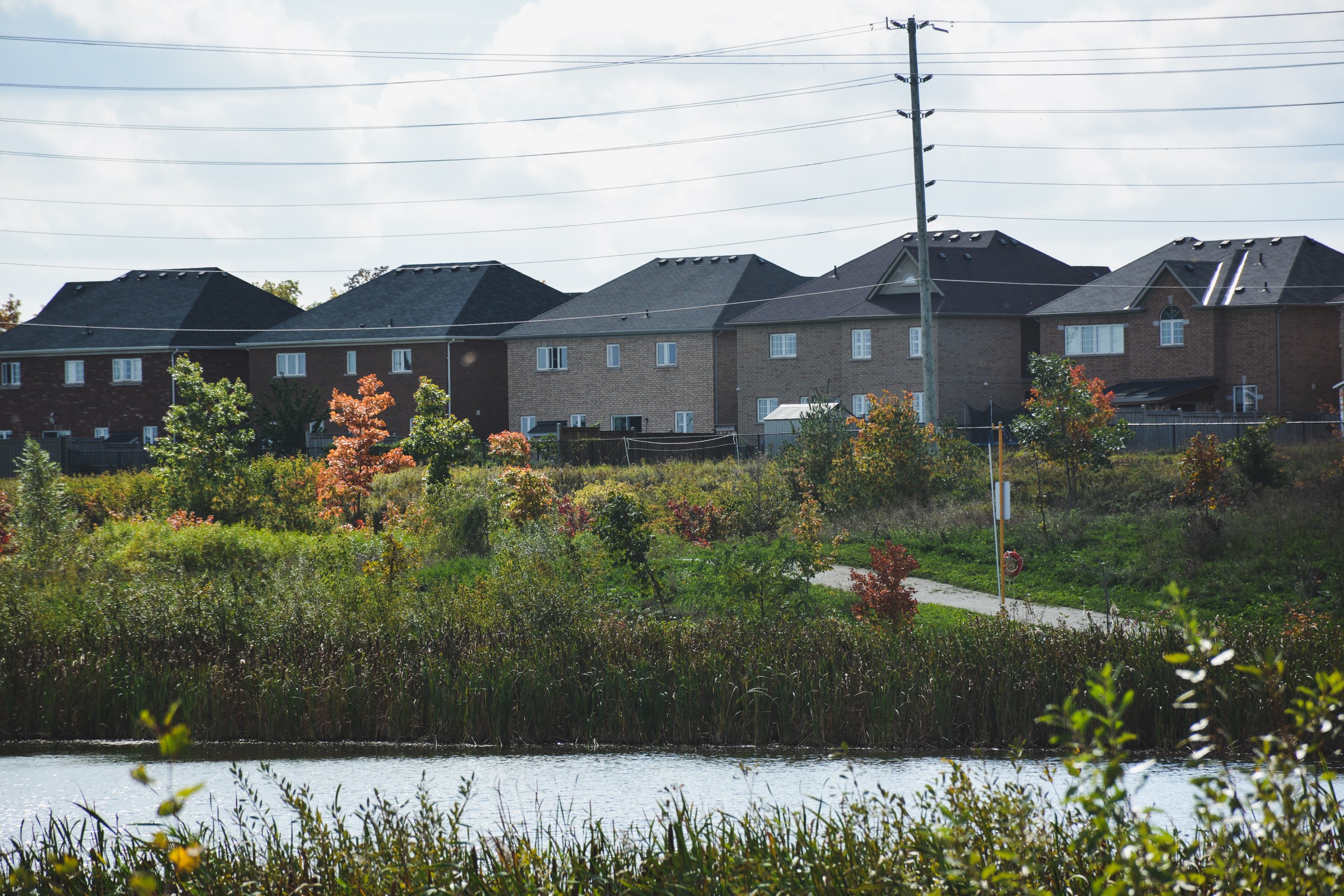 Yes, he pulled back ­– but only temporarily. Bill 108 was written in hopes of increasing the volume of single-family housing being built, which ensures a return to yesteryear, when sprawl and soul-sucking gridlock were the end result of the last PC government to hold office, the Mike Harris-Ernie Eves regimes.
You remember them?
They shredded environmental protections and continued this merry dance until disaster struck and people in a small southwestern Ontario town called Walkerton started to die because they were drinking tainted water.
This led to the ouster of the PCs and the entry of the Dalton McGuinty Liberals, who eventually installed the Places to Grow legislation ("smart growth") with the aim of stopping the sprawl. Greenbelt legislation followed to protect eco-sensitive lands.
They also put the boots to their portfolio of coal-fired power plants, bringing down the Lakeview Generating Station in 2006-07.
It's clear, Yurek is under orders to feed the demands of the development industry. The check on all this remains our conservation authorities, which work in partnership with the regions and cities. Now, they, too, are under siege from Queen's Park.
Ford has already cut flood mitigation money in half across the province and has taken steps to slow down or stop community tree planting.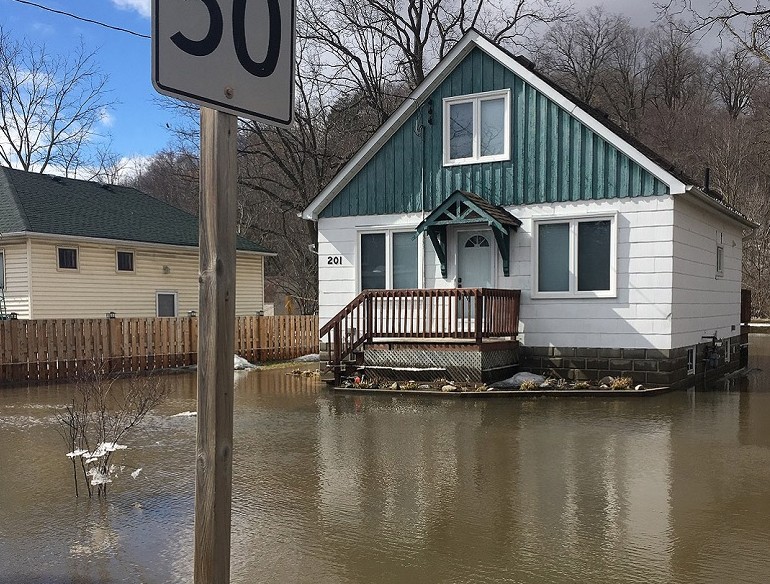 Bolton flood this spring
This policy is pure Trumpian – mean and illogical.
This major overstepping of his mandate is both tone-deaf and maddening to anyone who cares about protecting our air, land and water for our children and their children. It's also dumb politics.
The Ford government is clinging to its "open for business" mantra, and Yurek's letter (issued just before the recent Association of Municipalities of Ontario conference in Ottawa) seems to suggest CAs have created a drag on his government, preventing it from achieving its goal. While Ford played nice-nice with his so-called municipal "partners" at the recent AMO conference, the true agenda of the Ford regime is found in Yurek's letter – a stark, draconian order to dismantle what they are trying to accomplish – and in Minister Clark's behind-the-scenes work for a Vaughan-based developer-family that has helped fill the PC coffers.
Are our CAs really working against the best interests of business?
The answer is no, and the proof is playing itself out daily on the old Ontario Power Generation lands in southeast Mississauga. A $52-million reclamation project is halfway finished between the Region of Peel, the Toronto and Region Conservation Authority (TRCA) and Credit Valley Conservation.
The mixed-use Lakeview Village plan will arise on the western portion of this property, built by Lakeview Partners, a large business consortium. Although the two projects are technically unconnected, they've formed a tight partnership – which must gall Ford and Yurek. Luckily, both projects were in place long before this dynamic duo came to power.
This "re-naturalized piece of the Lake Ontario shoreline" (still under construction) will be 11.8 hectares of meadow, a hectare of cobble beach, 4.6 of forest, and 7.7 of coastal wetland and rocky islands. The Jim Tovey Lakeview Conservation Area (JTLCA) is 26 hectares in total, or the size of 50 football fields, says Kate Hayes, senior manager, restoration and management at CVC.
Her staff undertakes forest, meadow, wetland and aquatic restoration projects that are multidisciplinary in nature, with a wide range of stakeholders from all levels of government, business, and landowners.
It's a labour of love for her and them, and Hayes is inspired daily by Tovey's vision. The late Ward 1 councillor drove Imagination Lakeview from inception until his death by heart attack in 2018. This ecological site was inspired by his love of Mother Nature, and his dogged determination was fueled by long-suffering Lakeview residents who, for half a century, were prevented from being connected to the best parts of their lakefront. The goal was to build a mixed-use village to human scale and link it and its residents and visitors with this loveliest resource.
Turning a brownfield site a lighter shade of green after a century of sooty abuse is the exact opposite of what Trump and Bolsonaro and their ilk are trying to impose around this planet. Says Hayes: "I think the world is desperately in need for some good news stories."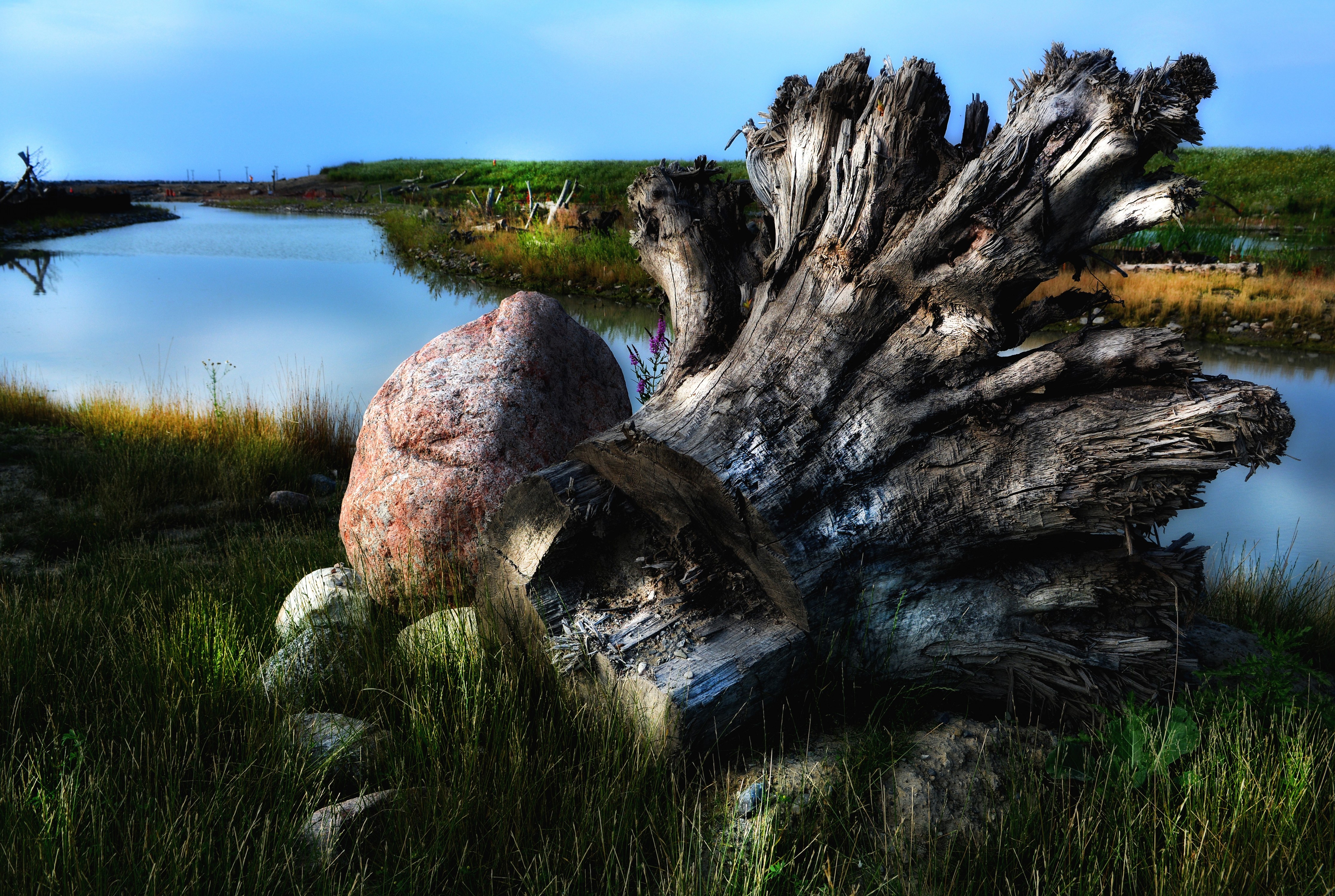 Lakeview has plenty of chapters still to be written. On the Tovey site, the TRCA has put the bones in place (the berms and reconstituted shoreline), while CVC is providing the top dressing: the flora and fauna. It is a key piece of CVC's Shoreline Management plan which controls the future of much of the 22 kilometres of Mississauga's portion of Lake Ontario.
Meanwhile, the partnership formed between the TRCA, CVC, the Region of Peel, the City of Mississauga, Lakeview Ratepayers' Association, and Lakeview Partners might be the most enduring legacy of the Tovey project.
Hayes uses words like "incredible, fabulous," and "exceptional" to describe this ongoing narrative.
The Great Lakes represent 20 percent of the world's fresh water, and to save even a small but vital portion for future generation, leaves Hayes near speechless. "Nature is so powerful," she explains. "If you build it, they will come back – the insects, bats, small animals, frogs, birds and fish. We have created a feeding trough for all of them."
The CVC, founded in 1954, manages the Credit River and its 14 adjacent watersheds, plus the Lake Ontario shoreline. Its work is critical in our post-industrial age, as polluting plants like the Lakeview Generating Station, St. Lawrence Starch and Imperial Oil have come off-line in the 1990s and early 2000s. This offered a chance for natural ecosystems to restore themselves – and CVC has stepped up to lead these reclamation projects. It remains our region's most important watchdog.
The Tovey project has already generated $1.6 million in revenue from tipping fees and disposal of rubble and private fill sources. Swim Drink Fish (Weston Foundation) is funding the cost of the plants to be installed at the three wetlands – another major cost savings. Lakeview Partners has donated large amounts of concrete salvaged from the OPG site, and some of that material has been used in the eastern wetlands as well. Other donations included sand used in the coastal wetlands (sponsored by Lakeview Partners), and money from the Port Credit Community Foundation, which sponsored Morphology 2019, a photographic display of the project's ongoing work.
The entire project meets the strict standards of the Living by the Lake Action Plan, part of the CVC's shoreline management.
By July of this year, the project had imported and placed a total of 30,923 truckloads of rubble for construction of the confinement berms, and 65,935 truckloads of fill from the Region of Peel and private sources. The majority of rubble-fill operations (including the core of the north offshore island) is done, with remaining islands to be filled from on-site salvaged materials and supplemented with off-site sources in 2020 and 2021, including concrete donated by Lakeview Partners.
Additional site work completed to date include:
• Total of 350 metres of new Serson Creek channel has been completed and was opened to the Great Lakes in August of this year;
• Serson West wetland completed in 2017, with a total of approximately 20,000 aquatic plants installed in spring 2018;
• Approximately 90 percent of Serson East wetland completed in the spring of this year, with an additional 20,000 aquatic plants installed;
• Construction of Applewood wetland commenced in August, with completion scheduled for October of this year.
CVC is managing its business with limited resources. Those could dwindle further if Ford and Yurek are successful in hobbling our CAs. The damage that results from Bill 108, or gutting our CAs, could last decades, maybe centuries.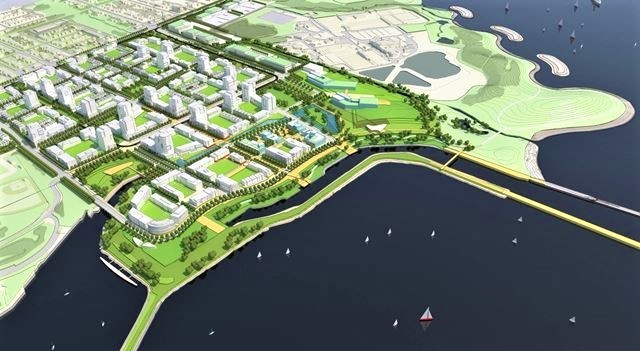 CVC's Integrated Watershed Restoration Strategy (IWRS) is a tool to ensure restoration projects use limited resources to restore ecosystems. CVC and its partners have planted nearly six million trees since 1955, one million of those in the past decade alone, says Hayes. In an article for Revitalization magazine, she said it has also restored 1,500 hectares of forest and grassland habitat, over 11 km of stream habitat, and 15 hectares of wetland habitat. The majority of these projects have been completed in priority areas identified in its restoration strategy. CVC initiated its shoreline strategy in 2009, and a year later, Tovey's Inspiration Lakeview, conceived with his team of local residents, was folded into the master planning process for the City of Mississauga. The Tovey Conservation park began in 2016 and will be finished in 2026 – if Ford and Yurek don't stand in its way. The United Nations has declared 2021-2030 the "decade of ecosystem restoration." The Tovey project fits nicely into that timeline.
It's still unclear if Ontario's 36 CAs will lose power or funding under Ford and Yurek's direction. But the letter from the minister has left many executives like Ras angry, or mystified. The years of experience in watershed-based natural resource management within the CA community means little to the present government, which seems intent on slicing off environmental protections and doing the bidding of the development sector.
John Danahy, a University of Toronto professor emeritus in landscape architecture and one of the creators of Inspiration Lakeview, has, for the past decade, waited eagerly to see the reclamation of the old lands that once housed a dirty power plant completed. While he sternly disagrees with the intensification goals of the Lakeview Village project, the Tovey project fills him with unmitigated joy. Any thought that the CVC would be targeted by the Ford government makes him angry and eager to comment to The Pointer. "The conservation authorities are a gem for this province," he says. "I think we are the only province with such a watershed-based authority that has saved Ontario from countless floods. Plus, we have a network of ecological and recreation reserves and trails like no other place in the country. They are managed with local knowledge that crosses the artificial boundaries created by the survey of towns and cities.
"We are … very lucky to have the conservation authorities that other provinces should have, to address resilience to climate change."
The Tovey Conservation Area is a fitting way to celebrate his legacy. It's something future generations will cherish.
The idea of putting a coal-fired power plant on eco-sensitive land and water in the heart of a growing urban centre was one of the notable swings and misses by the Big Blue Machine that ran Ontario during the post-war era.
Nobody was taking notes back then to see if the kids living near the plant were slow learners, or dogged by asthma, or if cancer was spreading because of the dangerously carcinogenic ash spewed from the coal-caked smokestacks.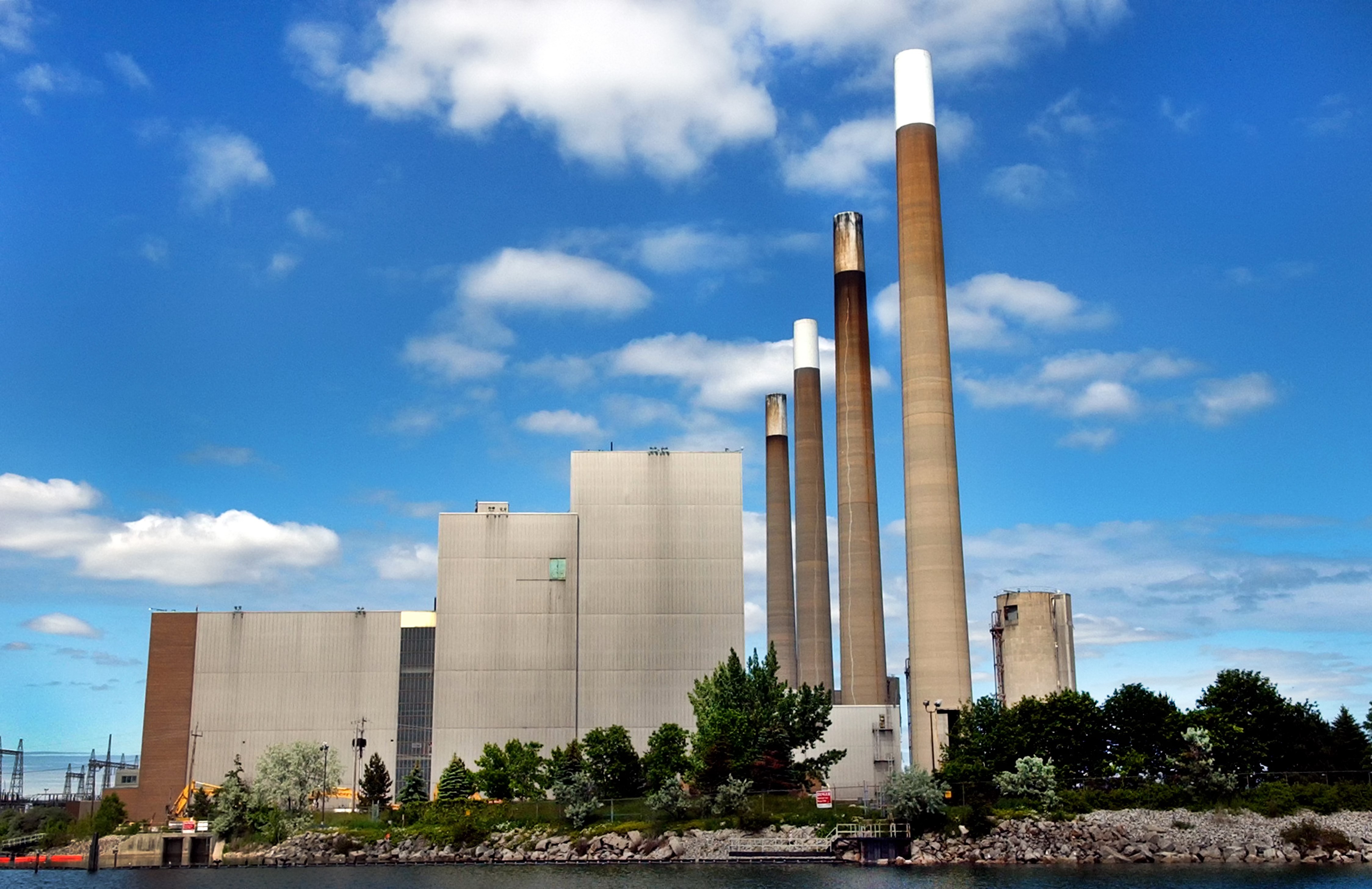 The Lakeview Power Plant was completely demolished in 2007
The fact people lived under giant smoke-belching cigarettes wasn't considered abnormal, or alarming. Could some of this bad air enter a child's lungs? No one seemed to know or care. The rapacious appetite of unfettered capitalism dimmed as concern for public health and ecological rightness began to take hold.
Rachel Carson's Silent Spring (1962) is credited as the beginning of the green movement, when U.S. government protections against the use of pesticides began an even larger movement.
Luckily, those bad days are over – or at least we thought they were, until Ford scored a majority win in 2018, taking a stranglehold on the legislature.
Of course, his denial of climate change and dismantling of cap-and-trade only moves our world closer to the BIG issue staring all of us deep in our soul. Will we even have a planet worth living in?
Everything is now in play, even the future of our conservation authorities. The problem – and it's a big one – is that the cuts to CAs first imposed by the Harris regime have never been removed. Ford looks like he's about to up the ante.
The miracle of restoring this land and water and wetlands after an abusive past plays itself out every day on the southeast corner of Mississauga, on our reclaimed waterfront.
Hayes loves the fact she and her talented team of naturalists get to see fish swimming upstream at Serson Creek for the first time, or see birds and bees and small animals finding their way back to their natural habitat. Every day of improvement fills her with wonder.
Never has $52 million been so wisely spent, with such an awesome return on investment. Attention Ford/Yurek: A green solution can also be GOOD for business!
It's a lesson they, and eco-imbeciles like Trump and Bolsonaro, have yet to learn.
Keats' "To Autumn" was an enduring love letter to nature. The images he captured and the feelings he evoked ended with these three lines which, years from now when the Tovey site is complete, might even apply there…
"Hedge-crickets sing; and now with treble soft
The redbreast whistles from a garden-croft,
And gathering swallows twitter in the skies."
Submit a correction about this story