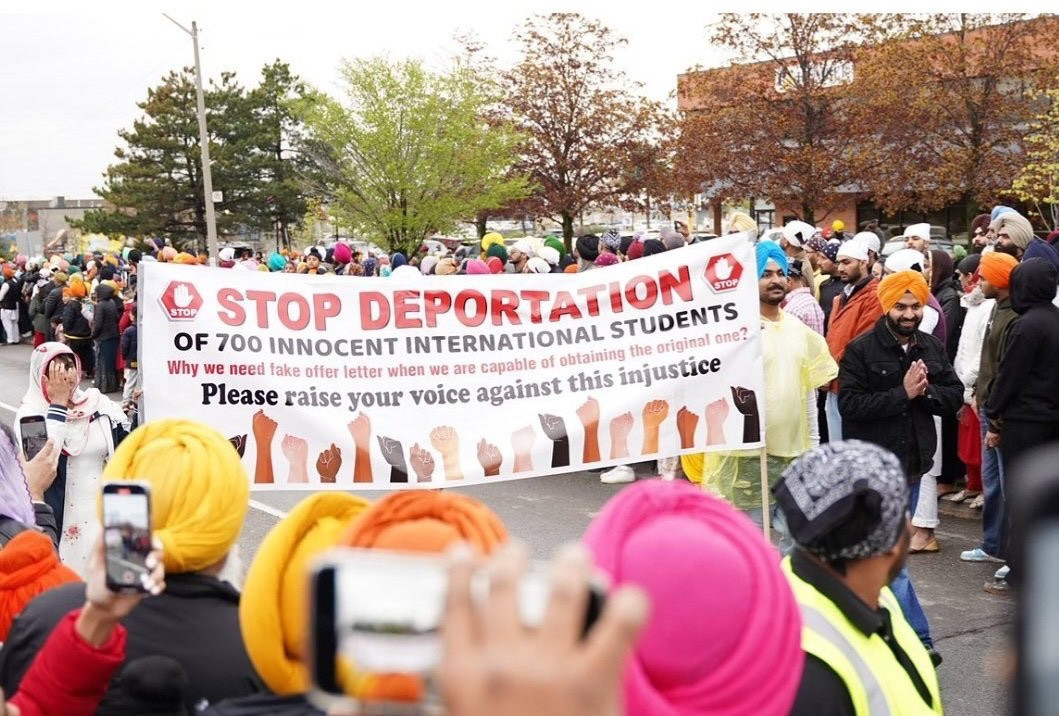 (Ask Kubeir Immigration/X)
Fraudulent university admission exposes systemic problems facing international students
In October, international students at Université de Moncton in New Brunswick warned of fraudulent admission letters being used by unauthorized foreign recruiters. Officials at the institution said three cases of fraud were reported to federal authorities and 40 requests for admission were turned down after fake documents were used.
A few months earlier, in June, the Criminal Investigations Section of the Canada Border Services Agency (CBSA) laid charges under the Immigration and Refugee Protection Act against Indian citizen Brijesh Mishra (who was living in B.C.) for allegedly defrauding students seeking college admission in Canada.
Dozens of international students had allegedly been given fake college admission letters by the man, who allegedly posed as a licensed immigration agent. Mishra is facing five charges under the Act.
News of students facing deportation orders after unwittingly being drawn into these fraudulent schemes spread across the country. Their stories expose a federal and provincial system that is badly broken. While colleges and universities make tens of millions of dollars from the inflated tuition fees young people are burdened with, unscrupulous landlords prey on them and fake agents profit off their misfortunes.
Stories of rental fraud, with students paying hefty deposits then being denied occupancy, and employment scandals have circulated throughout Peel's large South Asian community for years, often leading to tragic outcomes.
With concern mounting across the country, on October 27, the federal government announced measures to protect international students from these scams, which often cost them far more than the money spent to secure a future here in Canada. Marc Miller, Minister of Immigration, Refugees and Citizenship, came to Brampton, a hotspot for many who prey on international students, to make his announcement.
"International students are talented, bright and deserving of a positive experience as they pursue their studies in Canada," he told those gathered at the city's Sheridan College campus. "We will continue to improve Canada's International Student Program by protecting students and weeding out those who try to take advantage of them. Whether an international student stays and works after graduation or returns home, we want their time as a student in Canada to have been beneficial to their growth and aspirations."
Starting December, "post-secondary designated learning institutions (DLI) will be required to confirm every applicant's letter of acceptance directly with IRCC," according to a government news release. The goal of this new and improved verification process is to protect prospective students from fake admission letters and to deter other types of fraud targeted at foreign students. The new measures will see study permits only issued with a genuine letter of acceptance.
The problem of fake admission letters is not new, and local advocates say it is not an isolated issue, but systemic. The Pointer spoke with Sandeep Singh, Marketing Director at Brampton Immigration Consultancy, who shared that while his organization is pleased with the government's move to begin verifying letters of admission to protect international students who may receive fraudulent letters without their knowledge, it does not address the root of the problem.
"Ghost consultants are those consultants who are not authorized to represent anyone," Singh explained, saying they assume the role of education consultants but carry out the work of unlicensed immigration/education consultants. As a result, if they choose to forge documents for students they cannot be held accountable because they are not registered or regulated by the Canadian government.
In the case of Mishra, who was eventually charged after allegedly defrauding dozens of students (some news reports have said hundreds but The Pointer has not verified these claims) authorities only laid charges after he attempted to illegally enter the country from the U.S. following the expiration of an earlier visitor's visa, when an immigration warrant was issued for him in May. His arrest led to an investigation and Mishra's alleged misrepresentation as a licensed immigration agent came to light.
"Our government is taking action against those who are responsible for fraud while protecting those who've come here to pursue their studies," Minister of Public Safety, Marco Mendicino, said at the time, addressing the growing problems facing international students. "I want to thank CBSA's criminal investigators for their hard work protecting Canadians and those who hope to come here."
Questions have been raised for years about how Canadian colleges and universities, in their rush to collect international fees that are four to five-times higher than those charged to domestic students, could be so careless with their admissions screening process.
"What is actually happening is that these institutions, the Canadian institutions, are giving agreements to those ghost consultants," Singh claims. He said this is where the problems start within a systemic set of causes that place international students across the globe, mainly from India, in potentially dire situations.
Singh believes Canadian visa officers who approve the student visas based on the fraudulent admission letters are also at fault. Regarding the recent announcement by the federal government, he said more must be done than just a screening of these letters, but it's a welcome first step. "What are you gonna do with the ghost consultants?" he asked. "How are you going to make sure that the Canadian institutions (colleges and universities including ones who use recruiting offices in countries such as India and China) stop working with those random ghost consultants? Because when they do anything wrong, there's no liability, there's nothing to lose for them."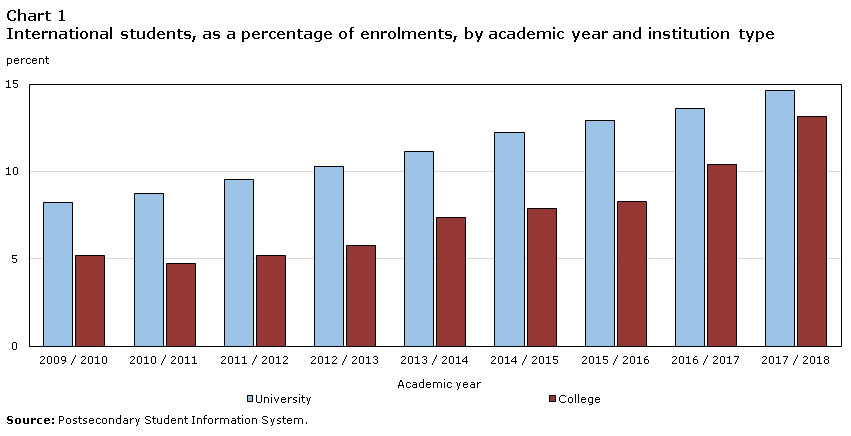 The number of international students arriving in Canada has increased steadily over the last decade. These students have been a cash cow for universities and colleges as they are often charged four to five times more for tuition than Canadian students.
(Statistics Canada)
The Pointer reached out to some local universities and colleges to ask if any of the 285 "cases of interest" that senior immigration and border enforcement officials are reviewing are students at their institution, as well as what their colleges and universities are doing to address the issue of fake admissions letters and support for international students who may be affected.
In a statement, Sheridan College wrote it is "not aware of any of the 285 cases of interest being linked to students from Sheridan," and said it is not uncommon for Immigration, Refugees and Citizenship Canada to "reach out to validate a learner's letter of permission during the visa application review process."
"This is standard practice, and we are always happy to cooperate with IRCC officers whenever our validation is needed," Meagan Kashty, Manager, Communications & Public Relations at Sheridan, said. She added that while the institution is not aware of any cases of interest being linked to Sheridan students, having "strong measures to support international student applications has long been a priority for Sheridan."
"Our dedicated international student recruitment team and market managers are full-time Sheridan employees. They work with a select number of international admissions agents. Sheridan does extensive vetting of references and business practices to help us ensure our agents are acting in ways that are ethical and professional," she said.
"We evaluate the outcomes of our agreements before renewing to ensure that the students who have been recruited were successful and that we are satisfied with an agent's performance. Senior leaders at Sheridan make regular visits to official in-country recruitment partners, and regularly monitor their performance. We are also routinely in contact with consular officials to make our presence and standards known," Kashty detailed in an email to The Pointer.
"Sheridan is recognized internationally, by prospective students and recruitment partners as having rigorous and transparent admissions standards and high standards for academic performance and English proficiency," Kashty said, sharing that Sheridan's team of credential evaluation specialists "assess curricula from across the globe to ensure that international students have achieved the required equivalent academic standards to set them up for success at Sheridan."
It still remains unclear how post-secondary institutions go about working with unlicensed consultants given the federal government requires legal registration/licensing for these contractors. "That is a million dollar question," Singh said. "In Canada the immigration or immigration consultant is a licensed professional, but in many countries around the globe, you don't need a license. What you need is a shop, an office and you start recruiting." He claimed that for both ghost consultants and educational institutions, international students are just a number. "They consider education as a product."
For many students coming to Canada for an education from abroad, they risk facing dire prospects, with some falling victim to drug and sex trafficking and others facing precarious living situations and food insecurity. As previously reported by The Pointer, Lotus Funeral and Cremation Centre in northwest Toronto, said as the number of student deaths increased due to suicide it had to send more and more bodies back to their families, "at least on a monthly basis." International students often also struggle to support themselves in Canada because they are not permitted to work more than 20 hours per week during their academic years. In the backdrop of a rising cost of living crisis and the already heightened tuition fees for international students, this spells significant financial difficulty for students trying to complete their education here.
In September, the Region of Peel sent a letter to the provincial and federal government asking for a response to five goals outlined in the recent Brampton Charter for Improving the International Student Experience, which include:
Upholding ethical recruitment standards and practices;

Creating academic and wrap-around supports for learners;

Promoting safe and affordable housing and financial stability;

Providing opportunities for legal and reliable work; and

Championing well-defined and transparent pathways to citizenship for international students.
The Charter was a joint effort by Sheridan and the City of Brampton to push for accountability to protect international students.
Colleges appear to be doing more on their end as well, since the dire situations of so many international students, including the deportation threats earlier this year, have received more attention.
"We keep our select number of agent partners and other in-country representatives regularly informed about the latest curriculum standards and equivalencies for admission to Sheridan programs," Kashty explained, and wrote that when a student is victimized by fraud, it "jeopardizes the reputation of the post-secondary sector in Canada."
"We are pleased that the recent government announcement will help mitigate that risk," she said, and stated Sheridan does not work with unlicensed or unregistered educational consultants.
Dwayne Benjamin, Vice-Provost, Strategic Enrolment Management, University of Toronto, told The Pointer in an email that the university "does not engage with third-party agents to recruit students," sharing that domestic and international students apply directly through the Ontario Universities' Application Centre (OUAC). "The University's internal admission and recruitment teams support applicants throughout the process, and all communications with applicants come directly from the University and are available in the admission portal," Benjamin said.
He also shared the process the university undertakes to support international students through their onboarding, saying it has taken, "additional measures to protect admission documents, including embedding security features to help Canadian immigration officials verify their authenticity. These steps protect the integrity of our admission processes."
"There is no way for us to know about individuals who may have received fraudulent admission letters through third-party agents as, by definition, they would not be registered U of T students".
Megan Parlowe, Senior Communications Officer for Algoma University, which has a campus in Brampton that is set to expand, told The Pointer in an email that roughly two years ago the university took "proactive steps to guarantee the authenticity of our letters of admission by making them digitally verifiable."
"We're confident that none of the false letters of admission recently referenced by Immigration, Refugees and Citizenship Canada Minister Marc Miller were related to Algoma University, and we will happily participate in the federal government's enhanced verification process moving forward," she stated.
Humber College did not respond to The Pointer's request ahead of publication.
"The government took a good stance by starting verifying the LOAs, but they're still not going behind the root cause," Singh said. "You can start checking the LOAs, these guys will find out another way to do it." He questioned how if immigration consultancy licensing is so important in Canada, why can the institutions still work with the unlicensed consultants regardless?"
If a licensed Regulated Canadian Immigration Consultant (RCIC) or lawyer engaged in fraudulent activity, he said they could face legal repercussions, but highlighted how someone outside of Canada, especially if they are not a Canadian citizen, could likely avoid accountability. "Someone sitting in India, you can't do anything about it," he said, referring to the numerous ghost consultants operating from abroad.
International students pay the ultimate price in all of this, Singh emphasized, sharing how the recent fake letters of admission involving Université de Moncton in New Brunswick show the issue must be addressed at its root, otherwise international students at other colleges and universities will be taken advantage of by unscrupulous individuals posing as legitimate immigration agents. "We are really happy with the decision that came up that LOAs will be verified… but we still feel there is still a lot of room where things can be done better, and the actual thing that needs to be done is that the contract needs to be canceled by the educational institutions for those ghost consultants, and the contracts should only… be given to RCICs or Canadian lawyers, no one else."
"You cannot take action on ghost consultants," he claimed, adding that Canadian officials are limited in their current ability to deal with the worst bad actors, who operate both here and abroad. He advocated for governments to put more pressure on colleges and universities to implement policies and processes that will end the use of unregistered, unlicensed immigration consultants seeking to prey on innocent students.
---
Email: [email protected]
Twitter: @_hafsaahmed
---
At a time when vital public information is needed by everyone, The Pointer has taken down our paywall on all stories to ensure every resident of Brampton, Mississauga and Niagara has access to the facts. For those who are able, we encourage you to consider a subscription. This will help us report on important public interest issues the community needs to know about now more than ever. You can register for a 30-day free trial HERE. Thereafter, The Pointer will charge $10 a month and you can cancel any time right on the website. Thank you
Submit a correction about this story