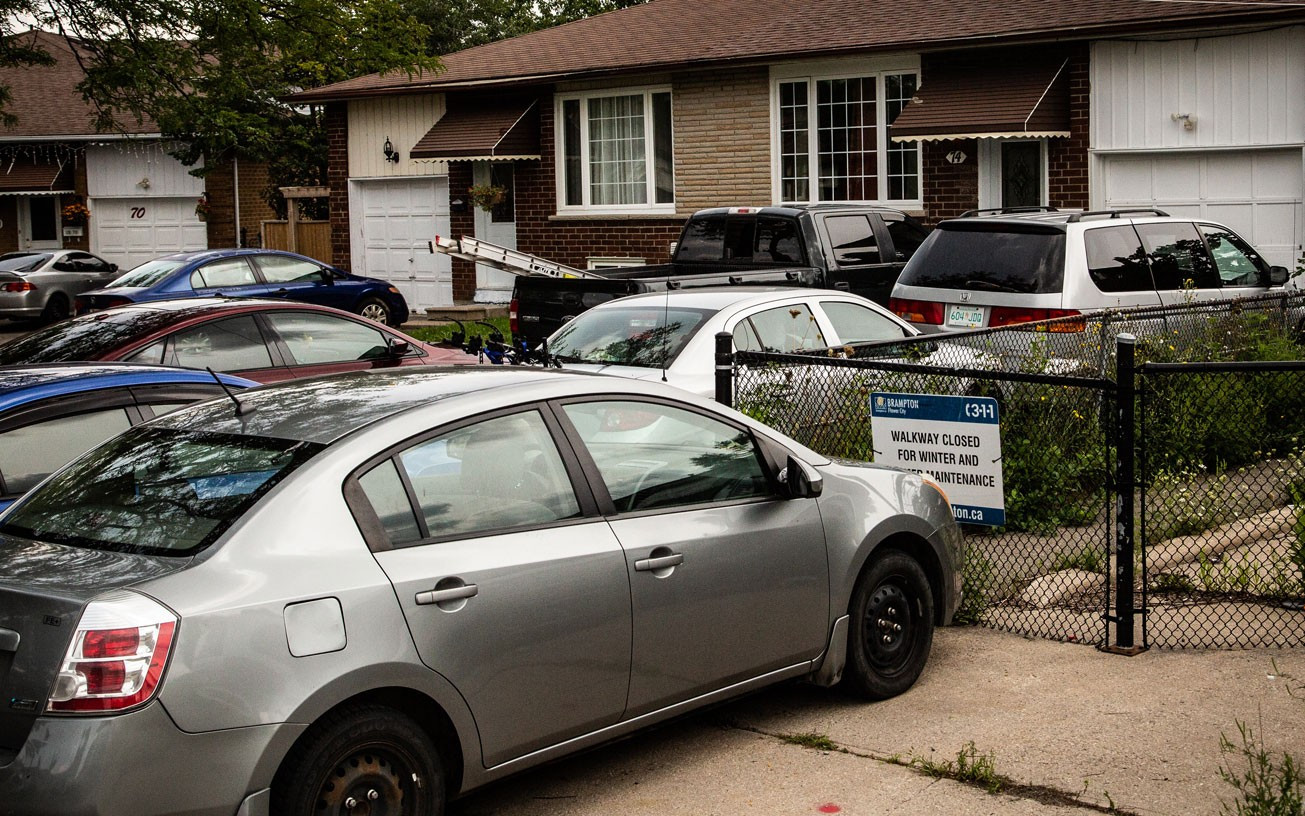 The Pointer files
Will Ottawa's $114M commitment to Brampton push the city away from sprawl to create more affordable housing? 
The Federal Government made a historic announcement two weeks ago that will fast-track the construction of 3,150 new housing units in Brampton over the next three years. Prime Minister Justin Trudeau visited the city to tell residents their tax dollars will be coming back to the community, with the government allocating $114 million through the Housing Accelerator Fund to help build more homes.
The funding will spark construction of more than 24,000 homes across one of Canada's fastest growing cities over the next decade.
"We need more housing, more collaboration with great partners across orders of government, more investment from private and non-profit partners, and of course, more shovels in the ground," Trudeau said.
Sean Fraser, Minister of Housing, Infrastructure and Communities, addressed the need to create more dense, urban-style housing that is within reach for more Canadians. "We need to pull every lever at our disposal if we're actually going to build enough homes to restore a level of affordability so ordinary people can actually find a place that they can actually afford."
He said he has asked the City of Brampton to go further than its "ambitious" application, by allowing existing homes and properties to be converted for quad-plexes or four-storey missing middle housing that should be built within walking distance of every transit station in the city.
That would be a departure for a city currently defined by sprawl, featuring large subdivisions with single-family houses that are in high demand.
Fraser is one of many people calling for a change in the housing market, and a shift in the way buyers should think when considering what kind of housing is affordable, and what fits with commitments to smart growth.
He said municipal officials were highly responsive to creating the incentives that will see more funding flow from Ottawa.
"The answer that I received was 'sure, let's work on doing that together,' and that set the stage for us to be able to come here today," Fraser said. "If I've got a message for other cities out there, there is additional federal money on the table. We believe that federal leadership and federal funding can drive municipal change, but we need willing partners."
In a press release, the federal government wrote the agreement will allow for "high-density development near the city's transit corridors, reduce barriers to the development of housing in key areas of the city – such as urban centres, boulevards, and major public transit stations – and result in the creation of new incentive programs for affordable housing."
The Housing Accelerator Fund, it wrote, "asks for innovative action plans from local governments, and once approved, provides upfront funding to ensure the timely building of new homes, as well as additional funds upon delivering results," and encourages local governments to "think big" by being "bold in their approaches, which could include accelerating project timelines, allowing increased housing density, and encouraging affordable housing units."
The City's Application to the Housing Accelerator Fund, which Council approved at a public meeting on May 24, details its projection of the total number of housing units it could permit with and without support from the HAF. Without the funding, the City said it could permit 13,500 housing units. The application form breaks that down by types of housing, listing 2,025 of those as single detached homes, 4,725 as multi-unit housing that are in close proximity to rapid transit, 6,075 as "missing middle" multi-unit housing and 675 as other multi-unit housing.
The total number of housing units it could permit with HAF funding (including the 13,500 units), according to the City, is 16,650 units. The projection listed 2,025 as single detached homes, 6,475 as multi-unit housing in close proximity to rapid transit, 7,275 as missing middle multi-unit housing and 875 in other multi-unit housing.
Missing-middle housing is a key to address affordability and the need for more dense residential planning, to support transit, increased tax revenues and to pursue a more urban built form, rather than the costly, unsustainable suburban sprawl that has defined Brampton.
The application highlighted that it could permit those 16,650 housing units over three years, listing 4,700 units for the year ending September 1, 2024, 5,900 for the year ending September 1, 2025 and 6,050 for the year ending September 1, 2026. "Although the city intends to meet these growth targets within the 3-year horizon of the Fund, the initiatives proposed through the city's submission will have long-term impact in supporting Brampton's housing supply growth," the staff recommendation report says.
The Housing Accelerator Fund evaluates a municipality's application based on their initiatives, but once they are granted funding, permits them to allocate funding toward four areas in support of housing. These include "Investments in Housing Accelerator Fund Action Plans," which involves any of the initiatives the applicant's action planned and approved by CMHC; "Investments in Affordable Housing," which may involve the construction of affordable housing, the repair or modernization of affordable housing land or "building acquisition for affordable housing;" "Investments in Housing-related Infrastructure," which includes several areas that support housing such as drinking water infrastructure, wastewater infrastructure, public transit, disaster mitigation and so on; and finally "Investments in Community-related Infrastructure that supports housing," which entails local roads and bridges, sidewalks, lighting, bicycle lanes, fire halls, landscaping and green space.
The applicant is asked to estimate the percentage of funding it will allocate in each respective category, and must report on how they are using their funding once their application is approved and must detail timelines of their use. In its application, the City estimated it may be eligible for a total of $114,540,500 in funding through the HAF and determined the following breakdown for how the City will allocate that amount under the permitted funding use regulations: 20 percent or $22,908,100 toward investments in the Housing Accelerator Fund action plan items for each of the three years (totalling 60 percent of funding use); 25 percent or $28,635,125 toward investments in housing-related infrastructure; 10 percent or $11,454,050 toad investments in community-related infrastructure that supports housing; and 5 percent or $5,727,025 toward investments in affordable housing.
The Application Form the City of Brampton submitted to the Housing Accelerator Fund estimated it would allocate 5 percent of funding from the agreement toward "Investments in affordable housing."
(City of Brampton)
It's unclear whether these percentages will change now that the application, which the City submitted by the June 2023 deadline, has been accepted and the funding secured. The Pointer asked the City if their permitted funding use allocations will change, specifically regarding investments in affordable housing in light of the worsening housing affordability crisis in Brampton. The City did not respond to The Pointer's request by publication.
A staff recommendation report received by Council at the May meeting discusses how any applications to the Housing Accelerator Fund (HAF) must provide an Action Plan that includes "a minimum of seven initiatives that will boost housing supply, housing supply growth targets over a 3-year period with and without HAF funding, and additional targets to identify the total housing supply projected to be permitted at the city with support from the HAF according to four defined housing types."
The report summarizes eight initiatives the City of Brampton submitted through its application. The first initiatives is two incentive programs, one being a city-wide Housing Incentive Program "which will focus on incentivizing purpose-built rental and housing that is affordable for low-and-moderate income households, as well as other desired housing types including infill housing, Single Room Occupancy housing (SRO), large units, and other senior and student-focused developments." The other is a Housing Catalyst Project, which will "deliver capital funding and support non-profits in the delivery of innovative housing pilot projects in Brampton. The Housing Catalyst Capital Project aims to incentivize ideas around new and innovative housing options."
The second initiative discussed is "Implementing Inclusionary Zoning," which involves developing an Inclusionary Zoning framework, which will support the development of affordable ownership and rental housing options across the city's Major Transit Station Areas." The report says that funding through the HAF "would be targeted to the city's implementation program, helping to match Brampton residents to units located across Brampton." It would also support monitoring and evaluating units to "maintain the affordable housing stock for this program and other affordable housing programs outlined in this submission."
"Unlocking Growth Potential via Rapid Transit" is the third initiative, which references the Brampton Plan and the "key corridors for intensification aligned with transit investments and existing services," that it identifies. It will use priority and Zum buses, which serve commuters every 10 to 15 minutes or less and are located in transit corridors, saying these corridors will "enable a mix of uses and allow for transit supportive forms and densities," including mid-rise typology, (5 and 12-storey buildings). "Shifting local bus routes to priority bus/Zum will shift the height range from 4 storeys or less to 12 or less. Increased transit investment also plays a key role in supporting low-cost mobility options for residents, reducing reliance on the car and making home ownership more affordable," the report says.
The fourth initiative is labeled "Revised Parking Standards," which will involve meeting the needs of the "significant population and employment growth, support more sustainable modes of transportation and a more electrified transport network, integrate land use and transportation policies, promote housing affordability, and propose strategies to manage parking resources, finances, and operations."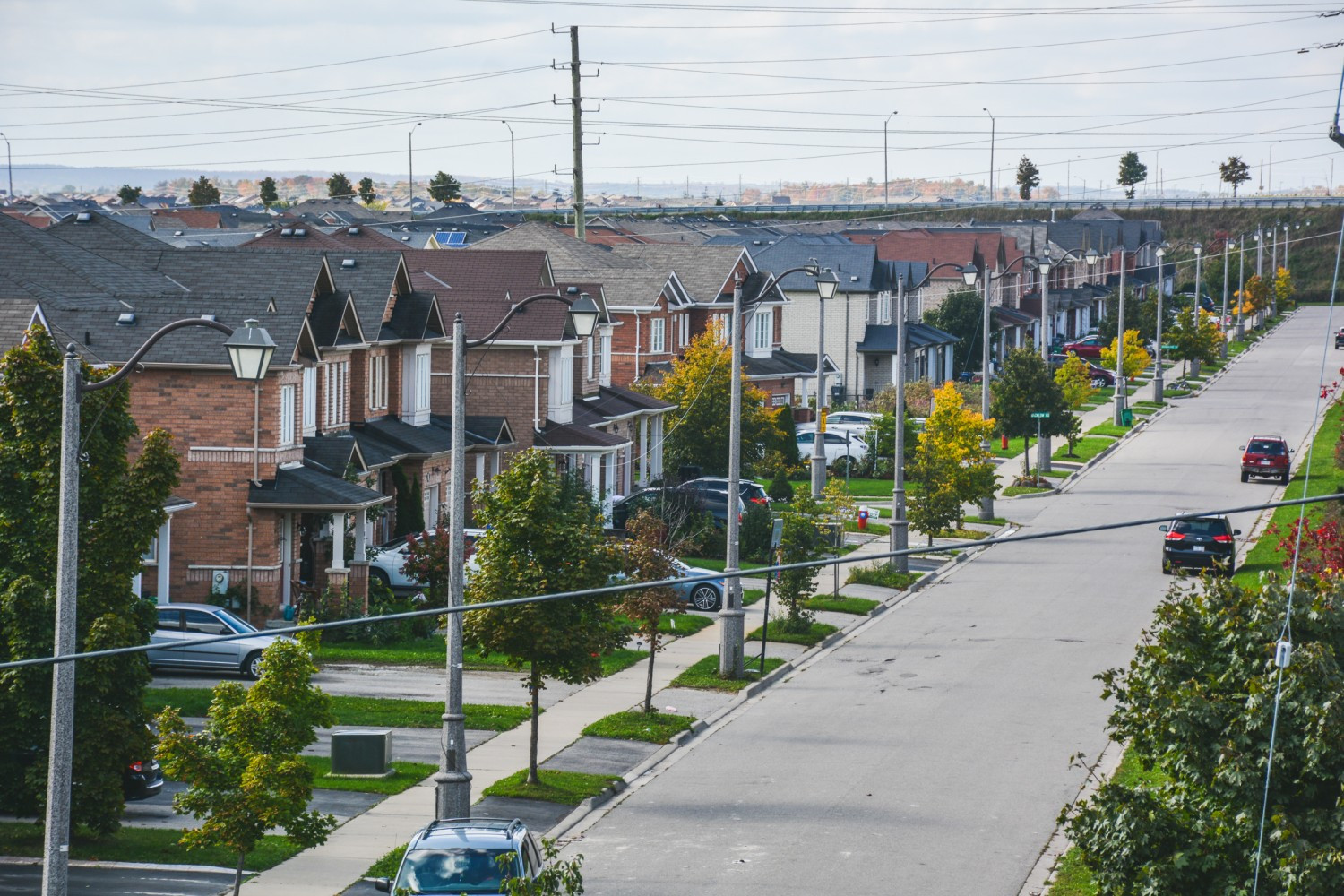 Brampton will need to drastically shift its urban design philosophy away from sprawl in order to provide affordable housing options for residents.
(Joel Wittnebel/The Pointer files)
It proposes removing parking minimums in intensification areas to reduce the cost of building and promotion of housing affordability, granting parking requirement exemptions or reductions "to development applications that provide affordable housing on a case-by-case review basis," and exploring the "feasibility of a paid on-street parking program and implement a pilot small-scale program," which is says have the potential to "support increased density and infill housing in neighbourhoods."
Fifth is "Encouraging Detached Additional Residential Units," where the City says its capacity to "implement over 34,000 detached additional residential units (garden suites) with the city's existing zoning framework" has the "potential to play a significant role in delivering new housing units in Brampton in the future."
The City will host a webinar series, the report says, to address how to find "the right contractor and architect, the city's processes, safety requirements, utility requirements and enforcement." The City will also explore the feasibility of a rebate program using HAF funding to "provide rebates at the time of building permit issuance that recoups costs associated with registration fees, custom home review, and Educational Development Charges."
"Encouraging Missing Middle Units in Existing Neighbourhoods" is the sixth initiative. "Historically, growth in Brampton's housing supply has been primarily in the form of low-density residential development," the report reads. "There is a great opportunity for the city to support and allow for house-scale infill options in lower density built-up areas to increase the supply of housing, diversify Brampton's housing mix, and support the development of more walkable, complete communities."
"This initiative will build on the city's newly endorsed policy framework to publish Urban Design Guidelines for Missing Middle Housing, and develop a financial modelling tool for public access for residents to measure affordability and feasibility of building or converting to a triplex in Brampton," it reads.
The seventh initiative listed is "Pre-Zoning in Strategic Growth Areas," which the report says will "support the development of more housing in Brampton." It says the pre-zoning process will "ensure that the necessary regulatory framework is in place to support a full mix and range of transit-oriented heights, densities and uses across the city where intensification is focused," regarding strategic growth areas, which are identified by the city as areas for major growth and development.
"Infrastructure and Servicing Capacity Planning" is listed as the eighth and final initiative, which will involve the City assessing, identifying and prioritizing "needs for major infrastructure in the city, in coordination with the Region of Peel." The City plans to provide policy recommendations for areas with insufficient infrastructure to "support and accelerate the supply of new housing" through this initiative.
---
Email: [email protected]
Twitter: @_hafsaahmed
---
At a time when vital public information is needed by everyone, The Pointer has taken down our paywall on all stories to ensure every resident of Brampton, Mississauga and Niagara has access to the facts. For those who are able, we encourage you to consider a subscription. This will help us report on important public interest issues the community needs to know about now more than ever. You can register for a 30-day free trial HERE. Thereafter, The Pointer will charge $10 a month and you can cancel any time right on the website. Thank you
Submit a correction about this story