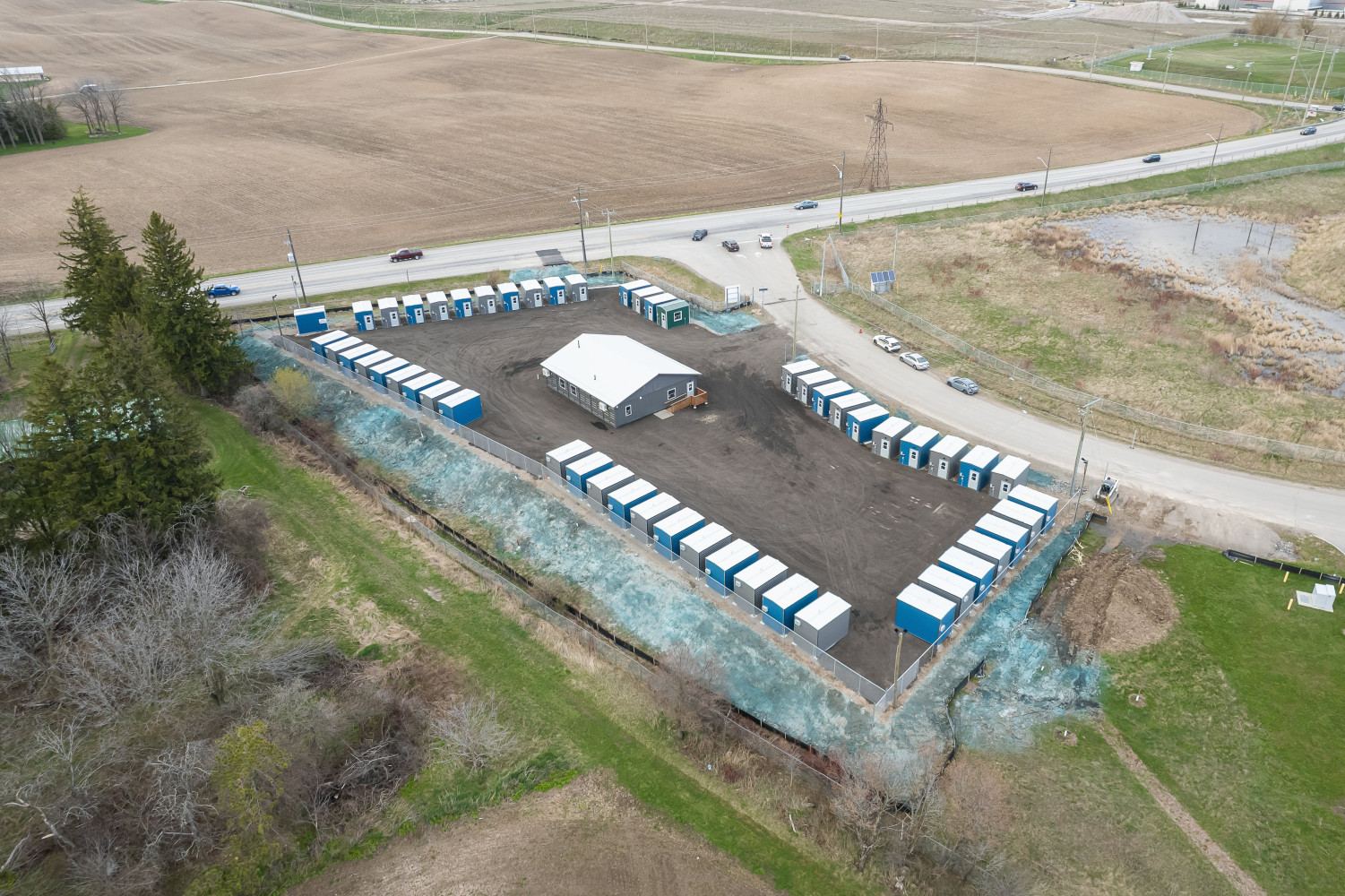 EngageWR
Peel moves to increase emergency housing & shelter options, boost rental assistance ahead of winter
"For every one person we support, we turn away four people," Aileen Baird, director of housing services for Peel Region, told councillors last week.
A report on Thursday recommendations on the feasibility of temporary modular housing as a rapid solution to support people experiencing homelessness and ease pressures on a system that is operating at nearly 300 percent capacity. Staff were tasked earlier this year with studying the use of modular-style units as a means to provide emergency housing for vulnerable residents facing unprecedented barriers within Peel's shelter system. The review came after Mississauga Councillors Joe Horneck and Alvin Tedjo put forward a motion in July in response to a correspondence from Baird that showed the Region's housing and homelessness systems are currently well over capacity.
At the time, Horneck and Tedjo requested Regional staff report back to council on the feasibility of deploying modular housing to address the local crisis, similar to projects that were implemented in other jurisdictions; and that staff investigate sites based on demand in all three local municipalities (looking at a minimum of two locations per municipality), and report back on the necessary budgeting, lands, and time necessary to implement the proposal.
Councillor Horneck told Regional councillors in July that while temporary modular housing is a rapid way to be able to address this issue, it's not a "permanent fix," but would allow individuals sleeping rough to "have some dignity [and] to have some personal space." He added that although the Region is looking to allocate resources in "a more significant way" the motion only "scratches the surface, it's not a solution."
Thursday's report from staff recommended, based on the results of the feasibility analysis, that council not proceed with cabin-style, temporary modular housing in Peel, noting "establishing temporary modular housing requires undertaking planning and development approval processes, which can threaten the ability to move quickly."
The report states that while "temporary modular housing can provide a healthier, safer temporary housing option" for the Region's homeless population, "due to the limited availability of affordable, permanent and supportive housing in Peel, these temporary accommodations are at high risk of becoming permanent, creating unsuitable permanent living conditions in spaces constructed for short-term use."
Instead, staff recommend exploring higher quality, temporary modular units in Peel that are non-cabin style, connected to Peel's water and wastewater system, as a way to expand the number of emergency shelter beds. This would begin with units at the Surveyor Family Shelter site for families and units at the Cawthra Road shelter site for individuals. Both are located in Mississauga.
"We're suggesting we start small at Cawthra Shelter and Surveyor Shelter in Mississauga should funding become available," Aileen Baird told council. "I want to reiterate, we do not have the funding to do this. But if council supports the idea, we'll start to get to work and bring forward the details."
To address increases in homelessness as winter approaches, staff are also recommending other rapid solutions including: securing an alternate site outside of Peel's emergency shelter system to support asylum claimants, establishing more homelessness respite/drop-in programs throughout the community, and investing more resources in subsidies and supports.
"At the same time, staff acknowledge the risks associated with not proceeding with temporary modular housing, including the direct risk to the most vulnerable, and reputational risk to the Region associated with the perception that the Region is not doing enough to support the homeless living outdoors and reduce homelessness," Thursday's report states.
"Rapid response temporary modular housing is used to address short-term housing needs in response to natural disasters, conflict, and systemic crises like housing unaffordability that force people into homelessness," the report adds, also cautioning that "Temporary Structures are not intended as a long-term housing solution and should not replace permanent housing options."
The motion was inspired in part by projects in other jurisdictions like the Region of Durham pilot project in Oshawa in response to the ongoing homelessness crisis that has led to highly visible encampments in public places.
(Alexis Wright/The Pointer)
Even with the cabin-style proposal, Aileen Baird told councillors the Region likely wouldn't be able to get them up and running within the year due to supply challenges, so staff are proposing other solutions in order to act faster to address the housing crisis. This includes implementing a drop-in respite program and while it's not an emergency shelter, Aileen Baird explained, it's a way to bring the homeless out of the cold. The program includes cots for those in need to stay overnight, access to supports and meals, among other services, which she noted staff are working on ahead of winter. Another proposal is the use of subsidies to get people permanently housed which she noted is a "really fast way for us to overcome the supply constraints and move faster." Staff will be making the request for more subsidies in the 2024 budget.
A spokesperson for the Region previously confirmed that as of December 2022 Peel's centralized waitlist for a subsidized unit had nearly doubled since 2019 to 28,811 households. The spokesperson noted the figure "may be under-reported" due to the backlog Peel Region's Housing Services experienced last year. An updated figure for 2023 has not been made available.
"Reducing homelessness and not just managing it requires more investment in homelessness prevention, and in permanent housing solutions, and I really can't stress this enough," Aileen Baird said. "That's why today's reports and our 2024 budget asks include important changes to how we administer subsidy, how we improve access to supports, as well as significant operational and capital investments in subsidy and in supply."
The report was one of four on Thursday's agenda related to housing in the Region as it grapples with how to meet the soaring demand for emergency support and failing to adhere to its "no turn away policy" which staff announced the Region had to break earlier this year. Sean Baird, Peel's commissioner of human services, told Regional councillors during a September 14 meeting. Staff have been in the "unfortunate position" of turning away people since the beginning of the summer. Those that are turned away could be seen camped a mere 20 feet outside the door of the same shelter, he explained.
In July, he told council that over 300 people had to be turned away in the span of two weeks as a result of hitting capacity and running out of room in overflow spaces in local hotels.
Councllor Tedjo told councillors and staff on Thursday that when the motion to review modular housing as a temporary fix to address the Region's housing and homeless crisis came forward, it was to open the door and start conversations around what Peel's options were and the ability to do something quickly. He noted that while the idea was to propose a solution that could be implemented in a matter of months at a low cost, they didn't think about the infrastructure and wrap-around services associated with the project.
"We want to deliver the best services, but I think we also want to make sure that we're exploring every option to do this as quickly as humanly possible," Tedjo said. "So I absolutely support the recommendation here to move on to more permanent modular solutions, but I can't emphasize enough…to do this as quickly as possible."
A report in September revealed Peel's shelter system is currently operating at a 247 percent occupancy rate — an unprecedented number that has now increased to almost 300 percent since the creation of Thursday's presentation, Aileen Baird revealed. Just last month, Baird told councillors the Region, which oversees a number of services to provide shelter and resources for people experiencing homelessness, is turning away over a couple hundred people from the shelter system a week.
Peel Family Shelter is currently operating out of a Motel 6 in Mississauga, a temporary location for the service.
(Alexis Wright/The Pointer)
Thursday's report notes the number of individuals and families experiencing homelessness in Peel is increasing and the affordable housing system is unable to keep up with demand.
"Without doubt, and we all know this homelessness is a complex problem," Aileen Baird told councillors on Thursday, adding "we can reduce it and eliminate it through providing homeless families and individuals with stable, suitable, affordable and supportive housing."
"Several strategies, funded appropriately and implemented simultaneously are needed to reduce or eliminate homelessness. There are no silver bullets," she explained.
A separate report Thursday revealed Peel is currently meeting only 19 percent of the community need for affordable housing, despite an estimated 91,000 households across the region who require assistance to meet their basic housing requirements; called core need — a classification used to identify families or individuals living in homes that are considered inadequate or unaffordable.
In July, Sean Baird made it clear to councillors that there is no "clear exit plan for this strategy." While the temporary modular housing units are valuable and lower in cost, he warned "it doesn't solve the ultimate need, which is the need for more permanent built affordable housing."
Aileen Baird told council in September that with winter around the corner, staff are actively working on a non-hotel solution in anticipation for the winter months, what she called an "unfunded solution," noting the current strategy of housing claimants in hotels is not sustainable.
Peel councillors have been battling a reality that repeated budgets at the Region have routinely failed to invest in housing relief. The Region has instead continuously pointed the figure at upper levels of government to provide the necessary funds for new affordable units and without enough investments being made at the local level, the situation has become increasingly severe in recent years. The Region's approved 2023 budget showed Peel's Housing Supports would increase by 9.3 percent from $141.9 million in 2022 to $155.2 million for 2023 — falling short of what's helping the increasing number of residents in need. In April the Region of Peel reported it was set to receive a 38 percent increase from the provincial government in response to rising homelessness, bringing the total for 2023 to about $42.4 million from the Province.
"We need to be going, we need to be yelling, we need to be getting all the attention that we can to get the federal government or the provincial government to do their part. But we still have an opportunity to do our part," Councillor Tedjo acknowledged.
"We can't wait for other levels of government to come to the table, we need to show leadership and we need to be there ahead of it," he said.
Councillor Alvin Tedjo says while Peel needs to advocate to upper levels of government for more funding, the Region needs to show leadership at the local level.
(Alexis Wright/The Pointer files)
Despite the April announcement representing an approximate $11.7 million dollar increase in funding, the investment still falls short. The Pointer previously reported that the provincial government would need to provide $320 million dollars to Peel in order to fulfill the Region's goal of adding 2,200 new affordable units by 2028. The federal government committed an additional $212 million for the Interim Housing Assistance Program earlier this year in response to ongoing pressures from elected officials at various levels of government, allocating $97 million out of the total to Toronto, but it remains unclear how much Peel will receive.
"You hit the nail on the head when you were talking about being chronically underfunded for too long, and the Region of Peel picking up the slack sometimes in situations that really should be under the jurisdiction of the province," Brampton Councillor Rowena Santos said, adding the Region needs to advocate to the province to provide funding for transitional housing.
Under the cost analysis for modular housing, the report notes both capital and operational funding are required to set up and operate the temporary modular housing with on-site supports. Costs will vary depending on the types of units, the range of services provided, and whether security and support are provided around the clock.
Based on research conducted, staff note the cost of individual modular cabins, without plumbing, can vary, typically ranging from $15,000 to $25,000, depending on the manufacturer. Along with the expenses of the structures, other costs that could be associated with the proposed project include expenses related to permits, approvals, design services, engineering services, legal services, land purchase or leasing costs, insurance, site construction and servicing costs, on-site staff support, utility costs, ongoing site maintenance, among many others listed in the report.
Using the Waterloo model as a reference in the report, staff note the capital and operational expenses for 50 modular units without plumbing and a shared amenity space would cost just over $4 million, which translates to approximately $43,200 per person annually, including support services. In comparison, the report notes the Region spends $57,200 per person annually on hotel accommodations, and that "while rapid-response temporary modular housing may be cheaper than hotels, staff believe it may not be as cost-effective as portable subsidies or traditional shelters."
The modular housing units in Waterloo opened in April this year.
(EngageWR)
The report also notes funds are not available in the existing Housing Supports budget, and a request for the required funding is not included as part of the proposed 2024 Housing Supports budget.
"Whatever we need to do to make that speed come faster," Councillor Tedjo said. "We know that we're going to go into winter, we know that this is going to be a challenge. We know we're not going to be able to meet those needs right away. But what we can do as quickly as possible, I think is something that we need to be supportive of."
---
Email: [email protected]
Twitter: @mcpaigepeacock
---
At a time when vital public information is needed by everyone, The Pointer has taken down our paywall on all stories to ensure every resident of Brampton, Mississauga and Niagara has access to the facts. For those who are able, we encourage you to consider a subscription. This will help us report on important public interest issues the community needs to know about now more than ever. You can register for a 30-day free trial HERE. Thereafter, The Pointer will charge $10 a month and you can cancel any time right on the website. Thank you
Submit a correction about this story