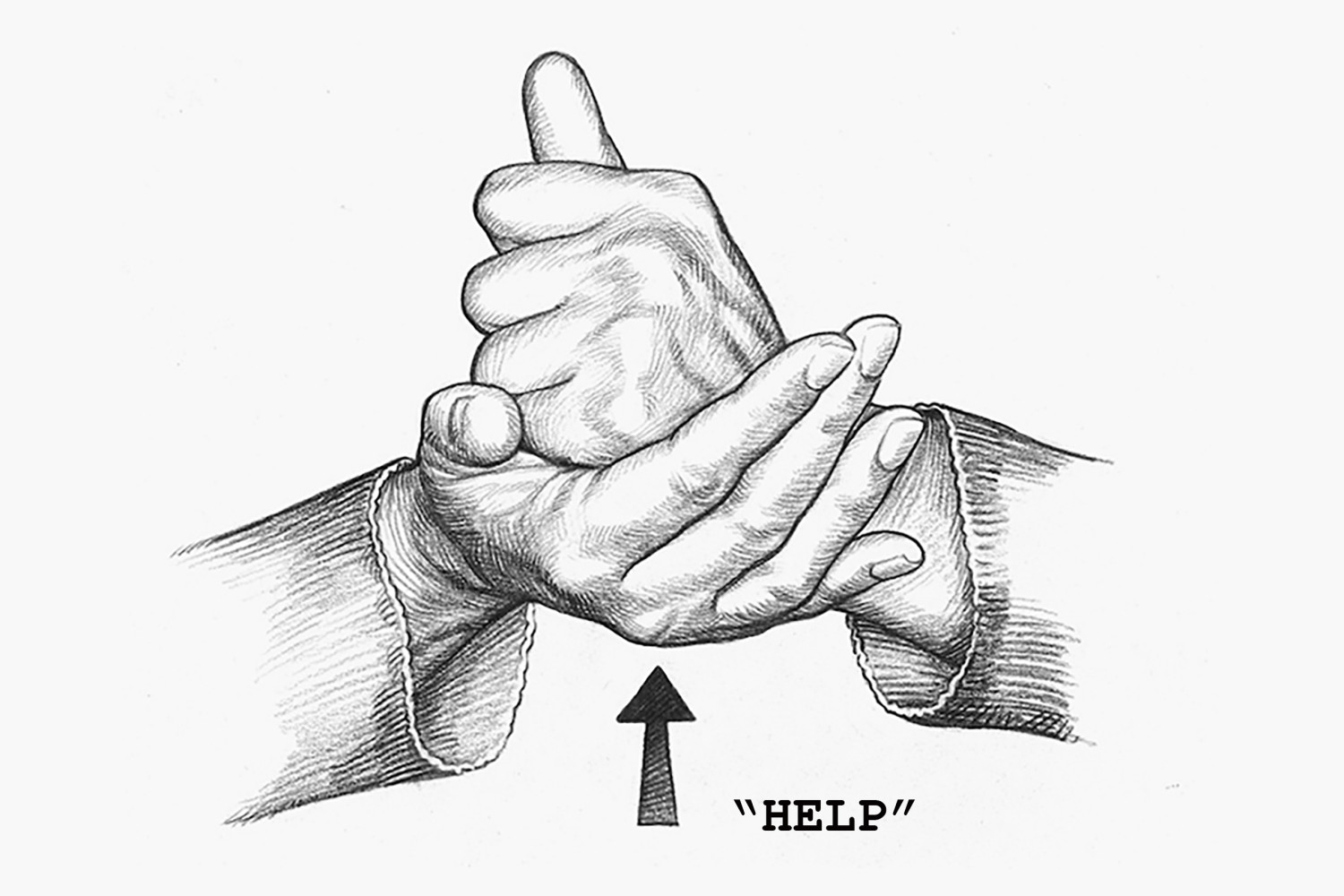 Onewell.org
Abuse, neglect and cash settlements: How a lack of accountability is harming children in Ontario schools for the deaf and blind 
Content Warning: This story describes incidents of physical and sexual abuse against children that some readers may find disturbing.
---
Numerous forces constantly push in on children who are deaf or blind. Isolation, misunderstanding, dependence, neglect and, all too often, abuse—these are common experiences for the hundreds of young people across Ontario who rely on our provincial government for support.
But little is known about these children and their experiences inside schools run by the Ministry of Education.
Some of what is known, is deeply disturbing.
The Provincial and Demonstration School Branch (PDSB)—not to be mistaken with the Peel District School Board with the same acronym—is responsible for the care of some of Ontario's most vulnerable learners. The Board has seven schools across the province educating children who are deaf, blind and those with severe learning disabilities.
According to multiple sources, including top union officials and parents of children within the Board; and documents from lawyers and teachers, inspection logs from the Ontario government as well as independent studies into the general treatment of children with disabilities across Canada, the Board has been underfunded, understaffed and plagued with allegations of mental, physical and emotional abuse of both students and staff for years.
Two class action lawsuits against the PDSB and Ontario government over the last decade have described disturbing levels of harm to the young students in the care of the PDSB. A 2016 lawsuit detailed how teachers approached students with "contempt, prejudice, indifference and abuse" and alleged ongoing sexual, physical and emotional abuse of students by their peers, teachers and counsellors.
The Government of Ontario has paid out $23 million in taxpayer funds to settle these lawsuits and avoid any admission of wrongdoing. No substantial review of the numerous allegations has been completed and no improved accountability mechanisms have been put in place by the Province following these lawsuits.
The teacher's union representing staff in this niche educational environment have long been demanding reforms, but have been dismissed by senior administrators and the Ministry of Education.
Classrooms meant to teach a very small number of students with complex needs are routinely overburdened despite collective agreements dictating small class sizes designed to provide proper care for students. This has led to teachers refusing to work due to unsafe conditions. Crumbling infrastructure is ignored and strategies for change fail to consider the special needs of teachers and students, leading to accusations of audism and ableism.
One union executive has concluded the Province is intent on allowing the school Board to decay to such a state it can easily be dismantled. The Province denies this assertion.
The Board's chief psychologist, one of the few doctors in the province capable of assessing the mental state of deaf and blind children, resigned last year over barriers to providing clinical care to students. Dr. Stephen James wrote in his resignation letter that he fears the Board's effort to prevent him from conducting necessary assessments could have drastically altered the life trajectories of graduating students. He stated the Board blocked him from explaining the situation to parents seeking answers around why their children were not receiving necessary assessments. According to sources, Dr. James has since returned to the Board, but The Pointer was unable to confirm his employment as a request for comment was not returned.
Teachers want out, but as individuals with hearing or sight impairments, they worry about obtaining employment elsewhere. Attempts to improve their situation within the PDSB only leads to more issues as they fear reprisal for coming forward with concerns.
In 2014, two deaf students were arrested outside E.C. Drury School for the Deaf in Milton, one of the seven schools managed by PDSB, while protesting the decaying learning conditions.
It's a disturbing litany of mismanagement and a lack of accountability on behalf of a provincial government responsible for ensuring these vulnerable students receive the care and education they deserve and on behalf of a school Board with a vision statement to ensure "all students will have a sense of belonging in a safe and caring environment. They will be supported in their unique learning needs and be challenged to actualize their potential."
One family is attempting to put an end to the harm.
In a Statement of Claim filed last year, Jane, a student at the PDSB and her parents, allege widespread abuse of Jane by senior administrators who downplayed repeated assaults against her by fellow students, allegedly hid information about these assaults from police, and refused to conduct the necessary medical assessments to provide Jane with the care she desperately needed leading to misdiagnoses and years of mental anguish culminating in her attempting suicide multiple times.
The allegations are denied by the Province and senior PDSB administrators in a Statement of Defence.
While the family is seeking monetary damages, Jane's father says things need to go far beyond civil courts. Before enrolling Jane with the PDSB, he says other parents warned them about the school Board and the mistreatment of students. The class action lawsuits have involved thousands of students who attended these provincially-run schools dating back to the 1950s.
"This is much bigger than our one family," he says.
Jane's name has been changed in this story and The Pointer is not revealing the names of her parents in order to protect her identity.
The family is calling on the Government of Ontario to conduct a systemic review of the PDSB to finally address the long-standing accountability issues—the Board has no elected trustees like other public school Boards—and root out senior leadership who refuse to acknowledge that change is required, despite the obvious harm inflicted on vulnerable students. The lawsuit names Jeanne Leonard, the current principal at E.C. Drury in Milton, and Cindy Smith, the former principal at E.C. Drury from 2017 to 2021 who now works with the Waterloo Region District School Board.
Education Minister Stephen Lecce, has dismissed the family's request and refused to take any action, despite the overwhelming evidence of harm occurring within the provincially-run Board.
"Let's call it what it is, it's child abuse," Jane's father says.
"Institutional child abuse."
---
What happened to Jane was school yard bullying that took a traumatic turn.
It was a warm Spring day in 2015 and the bright, bubbly 13-year-old was watching the end of a soccer game outside of E.C. Drury School for the Deaf in Milton.
Jane was born 26 weeks premature, and the better part of the first six months of her life were spent in an incubator as she fought to survive—displaying a resiliency that would serve her well during the horrific time she spent at E.C. Drury.
Being born extremely premature deprives a baby of necessary time in the womb for crucial development, and can lead to health complications at birth or later in life. For Jane, she was diagnosed with auditory neuropathy—a type of hearing loss caused by nerve impulses in the inner ear being unable to send sound signals to the brain. It left her with deafness in both ears. She was also diagnosed with cerebral palsy, a neurological condition that hampers muscle movement and balance.
To mitigate the effects of this disorder, Jane wore leg braces. These metal supports protected her from nasty spills to the ground under normal circumstances.
They were unable to protect her from bullies in the school yard.
While she stood watching the soccer game, a male student crouched down behind her and another delivered a hard shove to her chest. The impact sent her tumbling over the back of the other student. Her head slammed into the earth with a sickening thud.
The assault left Jane with a severe concussion and traumatic brain injury.
When Jane's parents raised the assault with school administrators, they denied that anything serious had happened. The vice principal dismissed their concerns, saying it was nothing more than a harmless school prank, of which Jane was a willing participant.
When the school year ended she was still experiencing light sensitivity, dizziness, headaches and nausea. She told her parents it felt like there was "lightning" in her brain.
Jane experienced repeated assaults by fellow students which left her with a traumatic brain injury.
(Submitted)
Jane's parents had reached a breaking point. This wasn't the first time Jane had experienced bullying at school, and not the first time her parents were forced to go to extreme lengths to get basic information to try and improve their daughter's treatment at E.C. Drury.
Jane had only just started to feel comfortable returning to school after being repeatedly assaulted and sexually assaulted between 2008 and 2011 by a fellow student. The attacks saw Jane "repeatedly punched and kicked resulting in multiple bruises and sores on Jane's vagina and groin area," according to court documents.
When Jane's parents approached the school about these initial assaults, officials "failed to take steps to protect Jane" according to a recently filed Statement of Claim.
It was only after the school's failure to take action was reported to police and the Children's Aid Society that steps were taken to keep the offending student away from Jane.
All of these attacks were part of a previous class action lawsuit against the PDSB involving thousands of students. The Government of Ontario settled the lawsuit for $15 million in 2016, through which Jane and her family received a small settlement.
"They gave poor deaf people pennies on the dollar for destroying their lives," Jane's father says.
The bruises from these attacks faded, but for Jane the flashbacks and nightmares did not. She became fearful for her safety at school and retreated into a cone of silence, unable to speak with administrators or self-advocate, even as students continued to harass and assault her.
In November 2015, Jane tried to kill herself for the first time.
She was placed in a youth psychiatric inpatient program for two weeks. Upon her return, officials appointed a case worker to ease her adjustment back into the school environment. Seeing Jane's state and her ongoing issues dealing with light and sound—which required a low simulation environment— the case worker made a referral for Jane to receive a psychoeducational assessment.
For exceptional students like Jane, a psychoeducational assessment is a critical study administered by a qualified psychologist which uses observation, historical records, standardized testing and interviews to help determine how the student learns best and identifies barriers they may face to learning. For Jane, this was the first of many requests from clinical professionals to perform such an assessment that went ignored by school officials.
---
David Sykes has been working within the Provincial Demonstrations School Branch for nearly 20 years. First as a teacher educating deaf and blind children for close to a decade before shifting to union duties. Sykes is now the executive coordinator, district officer and chief negotiator for District 30 of the Provincial Schools Authority, the union representing approximately 200 teachers who work in provincial demonstration schools across Ontario.
He says the real tragedy in the disturbing saga of the PDSB is there is a real possibility the Board could do amazing things for so many vulnerable children as those who get into this line of teaching are selflessly dedicated to helping students with complex needs.
"We have the ability, if we funded our system properly, to have the best teachers come because they're saints and angels," Sykes says.
Unfortunately, teachers at the PDSB, on average, earn less than teachers at other public school boards in Ontario, despite being responsible for students with some of the most complex needs and requirements for enhanced teaching certifications (deaf and blind certification and American Sign Language for example). The infrastructure these teachers rely on to provide lessons is degraded and rarely replaced; support positions, when vacated, remain unfilled by the provincial government, Sykes says. In a recent memo sent to senior officials at the PDSB, Sykes details infrastructure issues at E.C. Drury, including bricks falling off the school's clock tower and an aging pool that has not been open for the last four years—despite being given assurances in March 2022 by the Deputy Minister of Education Nancy Naylor that the pool would be fixed.
E.C. Drury School for the Deaf in Milton.
(Google Maps)
According to the Ministry of Education, the average per student funding for the PDSB is approximately $125,000 annually and the Board's capital infrastructure budget has been "consistently maintained" despite declining enrolment. The Ministry states approximately $8 million in capital improvements has been dedicated across four PDSB sites over the last seven years.
"We have reported numerous issues about health and safety and loose tiles which present a slip and fall hazard, we have reported at least 206 issues needed remedy at ECD alone, we have had no choice but to file grievances and still issues are left unresolved," Sykes writes in the memo.
In the 2021-2022 school year there were 112 grievances filed with the Provincial Schools Authority—the administrative branch of the PDSB—a 250 percent increase from the year before.
"I blame the administration for allowing our infrastructure and our staffing levels to stay at such critically low levels that all the people that are currently in the field, want to get out," Sykes says.
While all of this occurs on the surface, there is a tainted atmosphere that permeates the work environment at many PDSB schools, driven by systemic neglect, ignored abuses, nepotism and mismanagement.
"The normalizing of egregious and awful things that are said and done is well known," Sykes says. "I might tell you something and you would be horrified by it and I would just be like 'oh that's where we work.'"
This includes incidents of administrators taunting a deaf staff member who became locked in a bathroom with a malfunctioning door; and policies enacted by senior staff showing blatant audism—discrimination against those who are deaf or hard of hearing.
The Pointer has viewed images of the aftermath of a violent student outburst which led to the destruction of a classroom at E.C. Drury, leaving desks upended, chairs scattered and school supplies strewn across the floor. It looks like a bomb went off.
The Ministry of Labour investigated the incident and found several violations at the school, including the failure to adequately update student safety plans for years, despite some students having been involved in a number of violent incidents.
In response to this outburst, an interim policy was created that in the event of further violent incidents a cowbell should be rung. The policy was created without any input from deaf staff members. When deaf staff expressed concerns about this new policy during a staff meeting, they were ignored by senior administrators.
This new emergency system came on the back of a previous one that staff members with visual or physical disabilities also found discriminatory. In the previous system, in the event of an emergency inside a classroom, a card was passed to the nearest staff member or responsible student outside the classroom, who could then use it to signal help. However, following incidents with no available staff to assist, forcing teachers with physical disabilities to leave the room to summon help, the system was deemed ineffective by the teachers tasked with using it. According to documents viewed by The Pointer, these concerns were shared with senior managers, and this system was even criticized by the Ministry of Labour for being ineffective, yet managers still insisted it was effective.
"Our government has really taken steps to constructively dismantle our system," Sykes says. "This means that in future, deaf and hard of hearing kids will have nowhere to go."
---
Today, Jane's parents say she enjoys art. Her pencil sketches of tigers and birds are an outlet when she is able to concentrate long enough to put the pencil to the page. She often gets bad headaches that force her to stop. One of her pieces shows a young girl curled up next to a sleeping lion, the big cat's head nestled protectively against the girl's cheek.
The two years following Jane's first suicide attempt saw her learning abilities decline as she attempted to adjust to a low stimulation environment. Ongoing headaches linked to her traumatic brain injury; other symptoms of post-traumatic stress disorder; and insidious taunting and bullying from other students at E.C. Drury accelerated her mental decline. On a daily basis, she was taunted in the cafeteria by a female student who, in front of others, said she hated Jane and urged her group of peers to laugh at her.
At home, Jane's mother watched as a shadow began to fall over her daughter.
"She used to be adventurous; a jovial and friendly girl," she says. "Slowly she's just become anxious and depressed and afraid to go outside. She's lost a lot of her vibrancy and lustre."
In September 2018, Jane was assaulted by an ex-boyfriend. She'd ended the relationship, but the young man wouldn't accept this and followed Jane into an upstairs hallway at E.C. Drury. When she refused to acknowledge his requests, the student shoved Jane.
She immediately texted her mother who told her to tell school officials what happened. According to court documents, Jane froze. Her past experiences with school officials dismissing her bullying and attacks, especially one that left her in so much pain, led to her burying the incident and refusing to talk about it with school administrators.
A month later, a similar incident occurred, with the male student following Jane, screaming at her. The constant yelling was a barrage of needles to Jane's brain, triggering her post-concussive symptoms. She asked him to stop as waves of nausea and dizziness rocked her head and stomach. The male student refused, moving closer to scream directly into her face. She lashed out in self-defence, scratching the student's arm.
When a teacher later noticed the scratch, the male student attributed it to "rough play" with Jane, according to court documents. An incident report was created detailing how the student required medical attention after being scratched by Jane. At no time did teachers or staff speak with Jane about the incident or check on her safety or mental wellbeing.
Jane's parents were not notified of the incident or the subsequent report—which portrayed Jane as the aggressor.
"The school's conduct prevented both the school and Jane's parents from creating a safety plan to prevent further assaults," Jane's statement of claim reads.
The situation escalated later that month when Jane attempted to apologize to the male student. She tapped him on the shoulder to hand him a note explaining she had not meant to bully or hurt him. When he turned around, seeing it was Jane, he shoved her hard in the chest, sending her stumbling backward.
Again, Jane immediately texted her parents to explain what happened. This time her father picked up the phone to call the school and report the incident. Smith, the school's principal at the time, returned his call later that morning only to tell him she was busy and "would deal with the matter later".
That afternoon, the male student sat down in front of Jane's locker and refused to move. After repeated attempts by Jane and other students to encourage him to leave, he stood up suddenly and again shoved Jane. This time she tumbled to the ground, hitting her head—causing another concussion. In their Statement of Defence school administrators and the Province deny knowledge of Jane being injured in the encounter.
The incident led to a three-day suspension for the male student and a criminal assault charge.
In the family's Statement of Claim, it's alleged the school officials routinely failed to address these repeated assaults and mischaracterized Jane as the aggressor in multiple instances; they failed to interview Jane with respect to two of the assaults; and allegedly withheld information from Halton Regional Police, including an assailants written apology in relation to the first assault in September 2018; a teacher's written report to the principal in relation to a second assault that took place in September or October of 2018; an incident report in relation to a third assault which took place on October 12, 2018; and finally the incident report and video evidence related to a fourth assault on October 23, 2018.
In the Statement of Defence, school administrators deny withholding any information from police officials. The Pointer attempted to get further clarification on this startling allegation, but lawyers representing Smith and Leonard declined to comment as the matter is before the courts.
When a safety plan was eventually created for Jane, in February 2019, displaying a lack of attentiveness and connection to Jane's ongoing struggles, the plan placed the onus on Jane to report incidents to school officials—something she had already shown an unwillingness to do. The student who assaulted Jane entered into a peace bond, agreeing to stay away from her. Jane's parents claim the student was never monitored at the school to ensure he stayed away from their daughter.
Communication between the family and school officials was routinely strained. Following repeated attempts to get answers from Jane's teachers, Leonard banned her parents from contacting them, stating all communication had to go through her.
Throughout 2019, Jane's medical condition continued to deteriorate. In May 2019, Jane told her healthcare providers that she was experiencing seizure-like symptoms—"lightning in her brain"—triggered by stress and anxiety.
A report from Holland Bloorview Kids Rehabilitation Hospital detailing Jane's condition explains that she continued to experience light and noise sensitivity, issues with balance and increased fears and nightmares.
"There have also been significant fears about going to school and it sounds like some level of trauma from incidents that have happened at school," the report reads. "It is important to be aware of the impact of mental health on amplifications of any physical symptoms."
In August 2019, a report from Jane's neuropsychologist recommended Jane visit a counsellor fluent in American Sign Language to address the mental health issues that could be driving a lot of her physical suffering.
"Jane's view that she was not understood or perhaps disbelieved by her school about the incidents has significantly compounded her trauma experience," the medical report viewed by The Pointer reads.
Education minister Stephen Lecce has refused to take action on complaints related to the Provincial and Demonstration School Branch.
(Government of Ontario)
According to Jane's parents, this report was provided to school officials. Despite an ASL counsellor being available through the school, this support was not provided.
The lack of care provided to Jane's medical needs form a large part of the Statement of Claim the family filed last year. The detailed court filing lays out her numerous health conditions, which include, cerebral palsy, auditory neuropathy, attention deficit hyperactivity disorder, development coordination disorder and a learning disability. To manage these health conditions, Jane was designated as having "multiple exceptionalities". An official classification meant to ensure the student receives the accommodations necessary to promote their learning.
But in a letter sent to a lawyer representing the family, and shared with The Pointer, Leonard writes that in 2009 it was determined that Jane "did not meet the definition of having multiple exceptionalities". This is in complete contradiction to Jane's annual review from the school completed that same year, which clearly indicates the box to designate the student as having multiple exceptionalities is checked off. It's unclear why Leonard made this claim. The Pointer attempted to get clarification through her lawyer, but no answer was provided.
The Claim details the litany of assaults and abuses endured by the young girl while at school, which culminated in "debilitating levels of anxiety" which the family attributes directly to the school's failure to keep her safe, or investigate incidents of violence and establish safety plans to prevent further incidents.
It also tells the harrowing story of an episode Jane experienced at school. It was the fall of 2019, and in the middle of class, Jane began screaming in terror. When her teacher attempted to console her, she ran from the room. Jane later explained that she was seeing people in the room who were not there; people who were telling her repeatedly to kill herself. The school did not inform her parents of the incident. The Statement of Claim blames this failure on Leonard's decision to prohibit teachers from communicating with Jane's parents due to their "frequency of contact".
In December of 2019, Jane was found to be medically unfit to attend school. She hasn't returned.
The Statement of Defence filed by Jeanne Leonard, Cindy Smith, the Provincial Demonstrations School Authority and the Province, paints a drastically different picture of Jane.
While denying any negligence in Jane's treatment, the school administrators and institutions suggest Jane was a perfectly healthy student on the verge of graduating from E.C. Drury.
"Jane enjoyed great success at the School," the Statement of Defence reads. "At the time that her parents withdrew Jane from in-person attendance at the school, she was only four credits short of graduating with an OSSD and was on track to complete those remaining credits."
The Statement continues: "At no time did Jane advise School staff that she was fearful for her safety at the School. To the contrary, Jane advised School staff that she was happy at the School."
For Jane's father, the description of his daughter by those charged with her care, illustrates just how disconnected and hands off they were during Jane's time at the school.
"They were ramming her through," he says. "They were forcing our little autistic, intellectually disabled child who was severely traumatized to perform at the level of Super Kids and kept ignoring doctors recommendations and warnings about her condition."
What is claimed by the administrators and provincial government also differs from what Jane's teachers repeatedly told her parents.
"[They] continually told us that our daughter could not keep up, could not do the work, could not complete the tasks," Jane's father says. "It was the theme of what every teacher told us."
But the breadth of mischaracterizations and misleading claims made in the Statement of Defence does not end there.
At the crux of the family's argument that Jane was deprived of necessary medical accommodations—something they claim led to misdiagnoses and a worsening of her medical conditions—is the school's failure to provide a psychoeducational assessment.
Following the first referrals from the school's own case worker for Jane in 2017, there were repeated calls from medical professionals over the next two years for Jane to receive this critical assessment and adequately assess her condition and learning needs, including a report from Jane's neuropsychologists recommending such an assessment. It was never completed.
According to the PDSB's chief psychologist, Jane was not the only one denied these critical assessments.
"I may never understand why SMT (Senior Management Team) denied me the ability to provide psychoeducational assessments for our students," wrote Dr. Stephen James in a redacted version of his resignation letter shared with The Pointer. For two years after being appointed chief psychologist, Dr. James explained that his clinical duties were crowded out by his managerial responsibilities. During this time "we had no psychologist at E.C. Drury."
"Students have had years of instruction and even graduated without needed assessments. At best, those families paid thousands of dollars out of pocket to get access to DSO (Developmental Services Ontario) services and accommodations for their children. At worst, our lack of transition support changed these graduating students' life trajectories," he wrote.
Repeated attempts to reclaim his clinical duties were denied by the SMT, Dr. James states.
In his February 2022 letter, Dr. James states there has not been a psychologist at E.C. Drury since 2018 and he was prohibited from performing clinical work. He alleges that when families asked why assessments weren't being completed, the SMT "informed families that I refused to provide assessments."
Further, he claims only two assessments were completed over this time period and both were hand-picked by senior management.
"These were not selected for clinical need," he states. "No clinical triage system was applied."
The first case was a family threatening the PDSB with a lawyer; the second followed after the family took the matter to their MPP.
According to the Ministry of Education the PDSB hired a new clinical manager to oversee the operations of PDSB Student Health Services, and contracted additional psychologists to complete psychoeducational assessment during the 2022-2023 fiscal year.
Despite the evidence from Jane's medical professionals, the school administrators deemed Jane to be a low priority for such an assessment. The Statement of Defence notes that school staff made efforts to arrange an assessment "despite a lack of evidence", and that one was eventually arranged, but Jane was not present at school, and before it could be rescheduled, Jane was no longer medically fit to return to school. The Pointer attempted to get clarification through the provincial lawyers what additional evidence would have been required to increase Jane's potential for receiving this critical assessment, but no response was received.
Further, the Province, PDSB and their lawyers allege during multiple parent-teacher interviews with Jane's parents "they had no concerns with regard to her educational program". But in repeated emails to senior administrators, Jane's parents expressed concerns with Jane's treatment; the failure to conduct a psychoeducational assessment; and why further actions were not taken to keep students known to have repeatedly bullied Jane away from her.
The Statement of Defence is also filled with nonsensical statements including the baffling claim that "no request was received from Jane's parents for therapeutic intervention other than those that were provided"; as well as the statement that Jane never expressed any issues or concerns for her safety at school, then later detailing how Jane approached school officials because she was fearful the students suspended for pushing her would soon be returning to school.
"We were really shocked to see that Statement of Defence. I think it killed the last bit of idealism in me," Jane's father says. "I thought well at least the government lawyers are going to be somewhat truthful, but the breadth of lies in this Statement of Defence is so ridiculous that it's actually inspired us more to prove that these women criminally mistreated our daughter."
Many of the claims made by Jane's family are not isolated, as evident by the class action lawsuits involving thousands of children dating back to the 1950s. However, in the case of E.C. Drury and Jeanne Leonard, the province has ignored allegations of abuse against her for several years. Through her lawyers, Leonard declined to comment for this story.
In February 2021, a letter from Carole Hunton, the former President of the Provincial Schools Authority Teachers (PSAT) District 30, the union representing teachers within the PDSB, to Karyn Bruneel, the executive director of the PDSB (Bruneel is no longer with the Board) detailed several grievances about Leonard lodged by teachers within the specialized Board.
"PSAT has raised numerous concerns about Superintendent Leonard…who we claim are responsible for egregious abuses of teachers. We have a long list of members who accessed sick leave as a direct result of how they were treated by Superintendent Leonard," the letter reads. "We have their attestation that the Employer failed to address complaints about workplace harassment or dismissed them, or failed to investigate fully."
This letter followed a previous correspondence sent in January of 2020 detailing concerns about Leonard and other senior officials with incidents dating back to 2016.
"In our letter we also explain how the PDSB actively dismissed concerns of an assault by Principal Robinson on one of our members and that Superintendent Leonard 'covered it up' or failed to investigate properly," the letter states, noting a trail of evidence spanning nearly a decade was provided to the PDSB. "Time and again we are told that complaints are taken seriously, time and again these become empty words."
---
Child abuse within institutional settings is not a new phenomenon in Canada. From the country's shameful history with residential schools that stripped Indigenous children of their culture and identity, subjecting them to physical and sexual abuse; to the widespread abuse uncovered within the Catholic Church, to ongoing cases coming to light from schools across the country dedicated to educating deaf and blind children and those with physical or learning disabilities.
"Institutional child abuse has been a tragedy of enormous proportion in this country," reads the Restoring Dignity report penned by the Law Commission of Canada in the year 2000 after an in-depth study of the issue across the country. "All Canadians must recognize the legacy of institutional child abuse not only to redress the terrible harms done in the past but also ensure that they do not recur."
Studies have shown that deaf and blind children are 50 percent more likely to become victim of sexual abuse compared to hearing children.
Despite the overwhelming evidence of historical abuses within these settings—knowledge that places a strong onus on those in positions of authority to ensure accountability mechanisms are in place to prevent similar atrocities from occurring again—there has been next to nothing done to address what has gone on within Ontario's schools for the deaf and blind. Comprehensive reports from officials across the country have shown that strict monitoring and accountability mechanisms need to be in place to avoid systemic abuse from flushing within these institutional settings.
A 1993 ombudsman report into abuse at Jericho Hill, a school for the deaf in British Columbia, uncovered repeated failures by administrators and the Ministry of Education to take reports of abuse by students seriously.
"People in positions of trust and in positions of power knew reports had been made and did nothing. Some of those young people have experienced tragic lives as a result. The inevitable conclusion reached by some individuals is that this matter was covered up," the report states. The report recommended increased accountability mechanisms within these settings to ensure incidents of abuse do not go unnoticed or ignored as they had at Jericho Hill.
Repeated pleas for assistance from Jane's parents, accompanied by evidence of the wrongdoing done to their daughter, as well as a call to review the ongoing issues within the PDSB sent to Education Minister Stephen Lecce have gone ignored. A response sent to the family from Assistant Deputy Minister of Education Claudine Munroe states "we disagree with your characterization of the actions taken by our staff in support of your daughter."
"Nothing is changing," Jane's father says. "We have no accountability."
In fact, the PDSB lacks basic online reporting mechanisms for violent incidents. Despite the fact the Ministry of Education mandated that school boards across the province must have such an online reporting tool in place by the 2018-2019 school year.
"This is one of the main reasons that those who harmed our daughter while working as educators for the Province were able to do so," Jane's father says. "We have substantial evidence that Jeanne Leonard and Cindy Smith hid incident reports from us and forged at least one incident report and its associated fact-finding documents. This would never have happened if these Incident Reports had a digital trail."
The Province denies this claim in its Statement of Defence. The Ministry claims the reporting mechanisms in place at the PDSB meet provincial legislation requirements.
"PDSB has a robust manual incident reporting process in place that meets legislative, regulatory and other reporting requirements," a ministry spokesperson told The Pointer.
In a petition to Lecce, which garnered over 2,600 signatures online, Jane and her family called for the immediate creation of online reporting mechanisms as well as a systemic shift to create elected trustees for the Provincial Demonstrations School Branch as a pathway to increased accountability for administrators.
"There are two million hearing students in Ontario who are all protected from mistreatment at school via Elected Boards of Trustees and digital accountability for Incident Reporting. Incomprehensibly, Ontario's Deaf students are not, and this has resulted in devastating harm to many Deaf Canadians. Our daughter's story proves that nothing has changed," the petition reads.
It's unclear why Minister Lecce refuses to take action in this situation—he did not respond to questions from The Pointer—when he has taken action in the past to address systemic issues within other school boards in Ontario.
The Peel District School Board has been plagued with systemic discrimination and racism that had, and continues to cause significant harm to young students. Following repeated failures on the part of administrators and senior leaders within the Board to take any real action to change the harmful practices, Lecce's ministry stepped in. In 2020, they stripped power from the elected trustees, who had proven completely ineffectual at solving the problem, and appointed a supervisor to oversee the Board, along with launching a systemic review to expose the rot and fix the serious problems.
A similar situation is unfolding within the Provincial Demonstrations School Branch. Evidence clearly shows students are being harmed by ineffectual practices and a lack of accountability for those tasked with their care. It's a situation that has allowed abuse to continue unabated in many of the historical examples of institutional abuse documented by the Law Commission of Canada.
"There was little independent monitoring of what went on inside these institutions," the 2002 report reads. "This lack of effective protection of children cannot be attributed to a single, simple cause. In some cases, however, the desire to preserve the good name of an institution took precedence over a concern for the welfare of children."
---
Jane's parents are battle fatigued.
It has been several years of non-stop advocacy on behalf of their daughter against an educational system that has tried to block them at every turn and against a provincial government that is blind to their cries for help.
"The resources required to fight this Goliath are immense," Jane's father says.
"It's been very difficult to just hold it together and get through this," her mother says.
At the same time, they are caring for their daughter who is still recovering from the trauma she endured at E.C. Drury.
"(She's) terrified to leave the house, terrified of everybody, terrified of most adults," Jane's father says.
Last year, the family paid thousands of dollars in order for Jane to receive a private psychoeducational assessment—the study they fought tirelessly for the PDSB to administer. It determined that Jane was Autistic and Intellectually Disabled, two diagnoses the family believes, if they had been made during Jane's time at the PDSB, she would have received the proper accommodations that could have prevented much of the harm she experienced.
The family is seeking monetary compensation from the Province to cover the exorbitant legal bills it has taken to get to this point. But they are hopeful changes will be made to impact not only their family, but any other students harmed during their time at the PDSB, or others that may be enrolled in the future.
"We do not want to shut these schools down," Jane's mother says. "They need to be held accountable and accountability standards need to be on par with hearing kids."
To date, the provincial government is deaf to their pleas. Not deaf in the way Jane is deaf and physically can not hear, but a deafness that is best described by the late psychologist and advocate for the deaf Harlan Lane.
"What matters deafness of the ear, when the mind hears? The one true deafness, the incurable deafness, is that of the mind."
---
Email: [email protected]
Twitter: @JoeljWittnebel
---
At a time when vital public information is needed by everyone, The Pointer has taken down our paywall on all stories to ensure every resident of Brampton, Mississauga and Niagara has access to the facts. For those who are able, we encourage you to consider a subscription. This will help us report on important public interest issues the community needs to know about now more than ever. You can register for a 30-day free trial HERE. Thereafter, The Pointer will charge $10 a month and you can cancel any time right on the website. Thank you
Submit a correction about this story