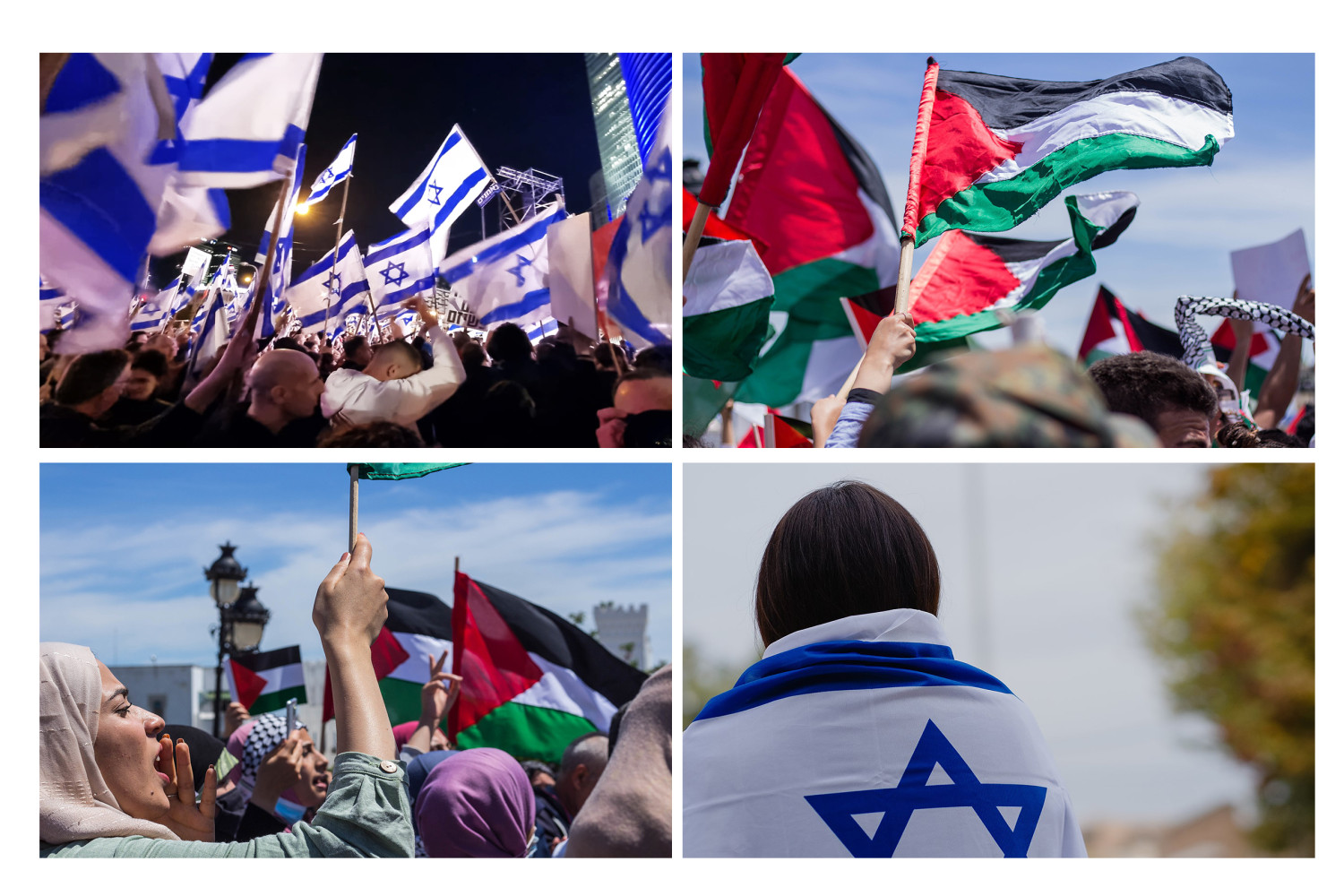 Images from Wikimedia Commons/LeviMeirClancy/Brahim Guedich
Israeli/Palestinian conflict challenges Canadian values of tolerance & pluralism  
Elected officials and advocacy groups have condemned public gatherings across Canada following the atrocities carried out by Hamas on Israeli civilians over the weekend that led to the deaths of more than a thousand Jewish individuals, wounding thousands more and the kidnapping of approximately 150 people taken back to Gaza.
Hamas is officially described by the Canadian government as "a radical Islamist-nationalist terrorist organization that emerged from the Palestinian branch of the Muslim Brotherhood in 1987. It uses political and violent means to pursue its goal of establishing an Islamic Palestinian state in Israel."
The surprise attack this past weekend came as Israelis and visitors were wrapping up the seven-day-long Jewish festival of Sukkot. The festivities were met with the sound of sirens as thousands of rockets rained down on Israeli villages, towns and cities. Shortly after, Hamas militants poured in by way of air, sea and ground, starting a full-fledged surprise attack that led to the largest single loss of Jewish life since the Holocaust.
The Times of Israel published that: "October 7, 2023 saw the most Jews slaughtered in a single day since the Holocaust."
As the aftermath of the attack on Israel began to unfold, in Mississauga groups of people in an unsanctioned gathering were seen in a series of videos posted to X, formerly Twitter, in the late hours of Saturday night into early Sunday, parading around a local plaza in cars in a small convoy, cheering and honking horns, filming the gathering on smart phones and waving Palestinian flags.
Some chanted "Allahu Akbar," which translates to "God is great" in Arabic in the plaza parking lot at the intersection of Ridgeway Drive and Eglinton Avenue, in the city's west end, close to the border of Oakville.
It is unclear if anyone in attendance was condoning the violence. Palestinians, Arab groups and Muslim associations around the world have drawn a distinction between support of the violent acts carried out by Hamas (which is not part of the Palestinian Authority that it overthrew and seized power from in Gaza in 2007) and efforts to draw attention to Israel's blockade of Gaza since Hamas took control there sixteen years ago.
In a statement from the National Council of Canadian Muslims, the organization said it was "horrified by the escalating violence in Israel and Palestine," calling the attacks on both Israeli and Palestinian civilians "unjustifiable."
"As Muslims and as Canadians, we are horrified by images of Hamas targeting, killing, and hostage-taking of civilians. We are terrified by the open calls for genocide by Israeli political and military leaders and the incessant bombing taking place right now that is carrying out those calls," the organization stated.
Many of the public gatherings across Canada, including in Peel, since Saturday's violent attack on civilians, have focussed on Israel's treatment of Palestinians, which has been described as an apartheid system by many international observers. Israel has been in violation of United Nations declarations since 1967, allowing settlements in Palestinian territories, primarily in the West Bank, which are now considered occupied.
The United Nations states "that Israel's establishment of settlements in Palestinian territory occupied since 1967, including East Jerusalem, had no legal validity, constituting a flagrant violation under international law and a major obstacle to the vision of two States living side-by-side in peace and security, within internationally recognized borders."
In Canada, the conflict has its own complexities, with police officials revealing that threats have been received this week, including the possibility of attacks locally, and news that some could be coordinated.
In a statement from Peel Regional Police Chief Nishan Duraiappah, he noted the force is aware of the online threats of violence, adding, "We want to assure Peel residents that we are monitoring the situation closely and any local impacts." He said deployment of resources has been increased around places of worship and in other parts of the community. "We will continue to connect with our faith-based communities to provide reassurance and supports."
"Peel Regional Police remains steadfast in our commitment to public safety and will not tolerate any forms of hate crime or threat of violence against anyone. Any acts of violence will be investigated to the fullest extent. Peel Regional Police continues to collaborate with all police services to ensure the safety of everyone."
Peel police did not respond to questions about the gathering that took place in Mississauga's west end over the weekend, which received widespread attention online.
In the days that followed the Hamas attack, pro-Palestinian gatherings occurred in cities across Ontario and in other parts of the country including in Vancouver, Winnipeg and in Calgary.
On October 9, a pro-Palestinian demonstration took place in downtown Toronto at Nathan Phillips Square as part of a series of rallies organized by the Palestinian Youth Movement. Roughly 1,000 people joined the rally, with some waving flags and holding signs with words like "stand with the Palestinian resistance" painted across them, while chanting "Palestine will be free." That same day, thousands of people gathered at Mel Lastman Square in north Toronto in solidarity with Israel.
The gatherings held by some Palestinian groups in the wake of the Hamas attacks have drawn condemnation from Jewish organizations and politicians, who have characterized the events as glorifying the violence against civilians that shook Israel and much of the world over the weekend.
In a letter to the police chiefs in four of Canada's largest cities, Jewish leaders called on politicians and law enforcement to halt the gatherings.
"Hamas is a listed terrorist entity that is currently murdering, assaulting, and kidnapping dozens of children and civilians," the letter, commissioned by B'nai Brith Canada's CEO Michael Mostyn and other politicians and community leaders, stated. "These rallies are showing material support for a terrorist organization that has no respect for Canadian values. We, the undersigned, demand that these rallies in support of these heinous crimes be stopped."
"Every reasonable person should, irrespective of one's political or religious beliefs, condemn those who condone and glorify acts of terror," Mostyn said in a separate statement on B'nai Brith's website. "Celebrating Hamas for brutally massacring and abducting Israeli children is fundamentally radical, un-Canadian, and morally repugnant."
Mississauga Mayor Bonnie Crombie—who is currently on a leave of absence as she campaigns to be the next leader of the Ontario Liberal Party—also condemned the rallies shortly after the Hamas attacks.
"Gatherings that glorify the unconscionable violence we saw against Israeli civilians this weekend are entirely unacceptable," Crombie posted on X on October 8. "I strongly condemn today's terrorist attacks across Israel by Hamas. Israel has a right to defend itself."
Prime Minister Justin Trudeau and Ontario Premier Doug Ford also released statements condemning any public celebration of violence taking place across the country.
"The glorification of violence is never acceptable in Canada," Trudeau said. "Canada unequivocally condemns Hamas' barbaric, brutal terror attacks — and reaffirms its support for Israel's right to defend itself."
Within hours of the attack Israeli Prime Minister Benjamin Netanyahu called it a "dark day" for his country and declared war on Hamas. Israel subsequently retaliated with air strikes in Gaza, and has since ordered a siege on the narrow strip of coastal land, including halting supplies of food and fuel and cutting off electricity. Canadian officials, including the Prime Minister, have since affirmed Israel's "unequivocal right" to defend itself.
According to recent reports, as of Friday, the death toll in Israel from the Hamas attacks is more than 1,300 people with another approximately 3,300 injured. In Gaza, the Israeli response has killed more than 1,800 people, including 583 children, and injured 7,388 others, according to the Palestinian health ministry. On Friday reports emerged that Israeli authorities are telling 1.1 million Palestinians in north Gaza to evacuate immediately, within 24 hours, suggesting the entire population there could be in imminent danger as constant air strikes continue.
The conflict between Palestinians and Israel has seen tensions rise locally in the past.
In July 2020, Sauga for Palestine, an organization of high school students, held a rally in protest of the proposed annexation by Israel of certain parts of the West Bank territory, which under the Oslo Accords, are supposed to be under autonomous Palestinian control. Israel, citing historic claims and other territorial rights, has disputed various international laws and other rulings that have designated the country as an occupying force in certain parts of the West Bank and elsewhere that are deemed Palestinian.
The Oslo Accords are part of three decades of attempts to secure peace between the two countries. In September 1993, former Israeli prime minister Yitzhak Rabin (who was assassinated by a fellow Israeli for his efforts to bring about peace) and Palestine Liberation Organization (PLO) negotiator Mahmoud Abbas signed a declaration — known as the Oslo Accords — which saw both sides pledge to end their decades-long conflict. Palestine renounced terrorism against Israel, in return for promises of an independent Palestinian state that would assume governing responsibilities in the West Bank and Gaza Strip.
(WarMapper)
In September 1995, a second accord was signed and went into more detail on the structure of the bodies that the peace process was supposed to form. Although the goal of the Oslo Accords was to resolve the Israeli-Palestinian conflict, the process witnessed a slow decline, with Israel continuing its occupation of Palestinian land while continuing to conduct raids into lands it didn't have administration over.
Despite attempts over the years to revive the Oslo process, Israeli and Palestinian leaders have not been able to put it back on track.
Even high-ranking Israeli officials, current and former politicians have pointed out, since the Hamas attacks, that, while categorically unjustifiable, some sort of violent action was always a fear as a result of longstanding Israeli policy.
"But by ruling out any political process in Palestine and boldly asserting, in his government's guidelines, that 'the Jewish people have an exclusive and inalienable right to all parts of the Land of Israel,' Netanyahu's… government made bloodshed inevitable," Israel's former foreign minister Shlomo Ben Ami, wrote in an opinion piece that was published this week by some of the largest newspapers in the world, including the Los Angeles Times and the Globe and Mail.
While the conflict does not involve Canadian soil, it impacts many residents across Peel, and the rest of the country. The rally at Mississauga's Celebration Square in 2020, when students were trying to draw attention to the Israeli divestment movement, a goal to have countries and multinational companies commit to withdrawing investments and partnerships until Israel ends its illegal occupation of Palestinian territory, ended in conflict.
A small group claiming to have Palestinian ties, who had nothing to do with the peaceful organization of the event, arrived at Celebration Square and began chanting anti-Jewish slurs and hateful messages.
Instead of students being able to draw attention to a cause supported by many countries, groups and individuals around the world, who want Palestinian statehood and freedom for its people, the messages of hate overshadowed the youth who had worked for weeks to organize the event.
Two days ago, Toronto Councillor Ausma Malik put out a plea to all Canadians, in hope of seeing an immediate de-escalation of the conflict.
"I condemn all targeting of civilians—it has always been unjustifiable, and in violation of international law. Canada must join calls for an urgent cease-fire, and de-escalation, and commit to being a mediator for accountable, long-lasting peace."
She called for Canadian values to prevail in our collective response.
"We must hold firm in our commitments to one another's humanity, well-being and to justice."
---
Email: [email protected]
Twitter: @mcpaigepeacock
---
At a time when vital public information is needed by everyone, The Pointer has taken down our paywall on all stories to ensure every resident of Brampton and Mississauga has access to the facts. For those who are able, we encourage you to consider a subscription. This will help us report on important public interest issues the community needs to know about now more than ever. You can register for a 30-day free trial HERE. Thereafter, The Pointer will charge $10 a month and you can cancel any time right on the website. Thank you
Submit a correction about this story