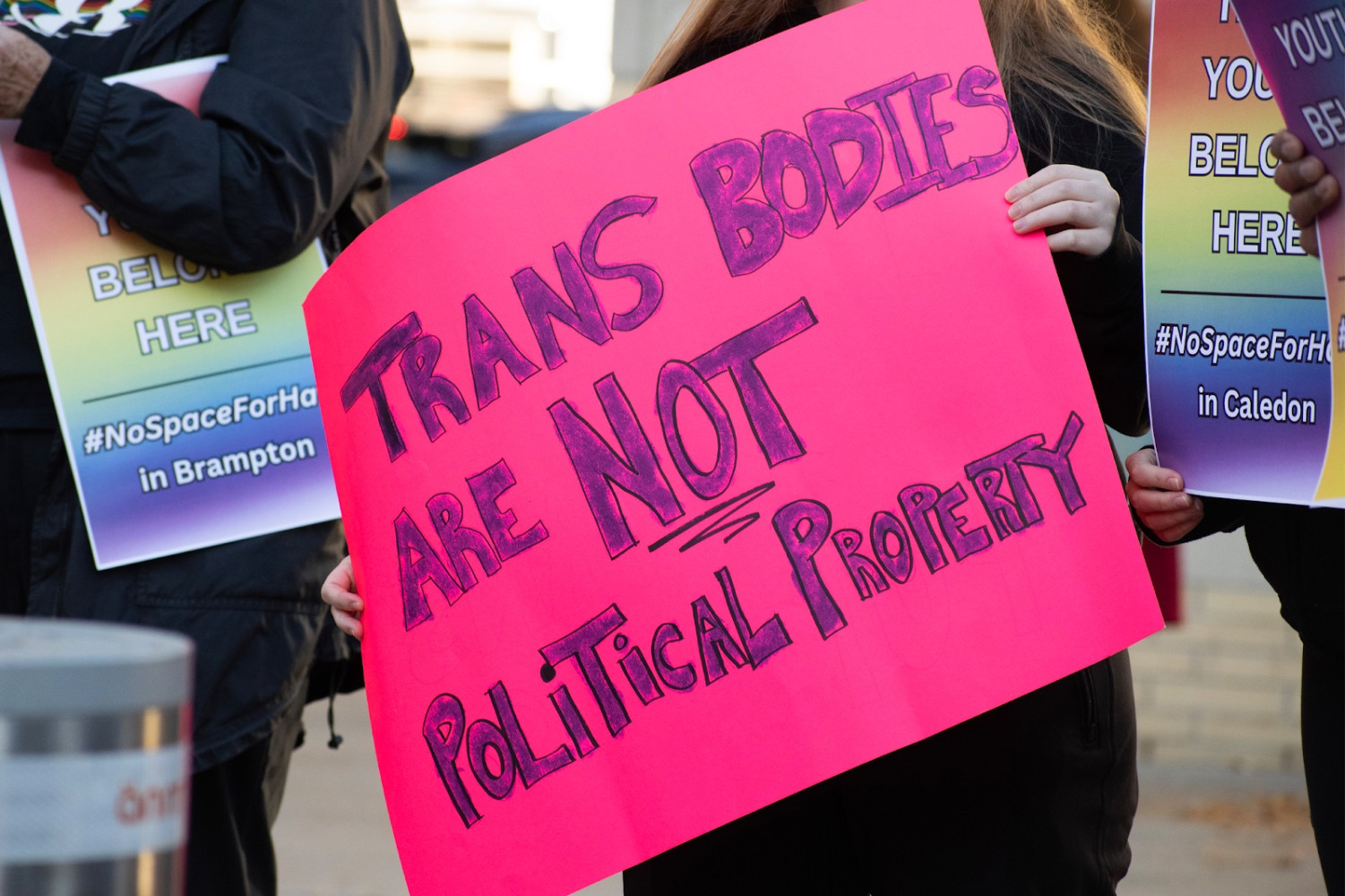 (Alexis Wright/The Pointer)
Residents gather in Mississauga to support trans, queer youth and counter protests fueled by intolerance
On September 20, communities responded to nation-wide protests that were organized across the country with counter-protests affirming the rights of Two Spirit, trans and queer people in Canada. In Peel, a grassroots organization called QTBIPOC Sauga organized a counter-protest in collaboration with Caledon Pride outside the Living Arts Centre. Just over 50 counter-protesters were in attendance, holding signs in support of trans rights, carrying Pride flags and chanting "protect trans kids."
Across from them, the protesters gathered, with an estimated 2,000 people in attendance. The rally took place just outside of Mississauga City Hall, and like others taking place on the same day in many Canadian cities, was part of the "1 Million March 4 Children," a movement that accuses the Canadian education system of "indoctrinating" children with "LGBTQIA+ ideology," as claimed on the website of Hands Off Our Kids, one of the organizations behind the nation-wide rally. Many of the organization's claims perpetuate existing harm to 2SLGBTQ+ communities, using stereotypes and rhetoric, such as the claim that gender and sexuality-inclusive education in public schools negatively affects children.
"I find it very distressing that after decades of work to make schools safe for children of all genders and all sexual orientations, that there are a small number of cynical political activists who are using the fear, particularly the fear of new Canadians, for things that they don't understand, and that [the] fear that their children will become something other than what they are comfortable with is being harnessed to drive a movement to make schools unsafe for trans kids, unsafe for queer kids and unsafe for all of those kids who get called names even if they're straight," Chris Hitchcock, an Oakville resident attending the counter-protest, told The Pointer.
"And I also worry that this is the thin end of the wedge. Already in New Brunswick and in Saskatchewan there are laws that require schools to phone parents if they have a request from a child to use a non-standard pronoun. And I do not think that people who are threatened by their child's gender should be able to use the state to report on them," she said. "I think schools need to be safe places, I think children need to decide how and when to come out to their parents, and it shouldn't be because bigots have forced schools to rat on them."
New Brunswick's controversial changes to its Policy 713 includes the requirement of trans and non-binary students under age 16 to have parental consent in order to have their preferred first name and pronouns used in schools. Similarly, Saskatchewan has also moved to require parental consent for gender diverse students under 16 years of age to use their name, preferred pronouns and to identify as their gender if it is different from what they were legally assigned.
"These people deserve their rights just as much as anyone else," said Gordan, another Oakville resident who came out to support the counter-protest. "It's just important to stand up for marginalized communities."
(Alexis Wright/The Pointer)
The conversation around 2SLGBTQ+-inclusive education in schools has been heated, with many people using the claim of "protecting children'' as a means to spread views and information not supported by facts. For example, claims about education material under the current Ontario curriculum have distorted, and sometimes misstated what is actually being taught in schools. Parental and religious rights and freedoms have also been cited, further marginalizing 2SLGBTQ+ youth seeking access to support and resources that help them navigate their own experiences.
"We want our children to understand that diversity exists, and diversity comes in all shapes, sizes, sexual orientations, colours and everything, and it should be acceptable," Asma Mahmoud, one of the counter-protesters at the event, said. "People project their hate through their children." Mahmoud, who is a Pakistani-Canadian, spoke to some of the cultural factors that have influenced recent discussions.
"People, when they come to Canada, they are under the impression that they somehow have to protect their kids from LGBTQ identities or [from even understanding] what those people stand for. We come from countries which are already prejudiced against LGBTQ communities, and for us to look for acceptance and to see that diversity, it scares us. All those people you see there, are scared," she said. "What they don't realize is that the children who are standing here have seen adversity of the worst kind. Most of them are children from first generation immigrant parents. Their parents did not accept them, threw them on the street, they saw violence in their families, everything. We don't want that violence, that hate and that misunderstanding for the new generation which is right now studying in these schools."
She said many people attending these rallies come from cultures and communities that refuse to even validate the existence of gay and trans people, and that this can lead to a culture shock when people settle in Canada. "We want to think that we are protecting our children. In fact, we are exposing our children to more ignorance, and that ignorance later on will translate into hate crimes, into bullying and all these things."
A sign written in Urdu, which translates to: "Do not teach your kids hate and fear. Gay and trans kids are also our kids. Canada is a country for everyone."
(Alexis Wright/The Pointer)
As the protests took place around the country, some Canadian institutions and political figures spoke out in support of the counter-protesters while others did the same in support of those who said they are trying to advocate for their children who attend public schools. On the morning of the nation-wide rallies, the Region of Peel shared a post on X, formerly Twitter, that read, "Gender ideology and human rights protests are underway in Peel, events which contribute to members of 2SLGBTQ+ communities feeling unsafe and unwelcomed. Peel Region respects peaceful protest but stands against actions that undermine a safe, equitable and accessible community."
Mississauga Mayor Bonnie Crombie also shared her official statement the morning of the protests, writing, "Protests like the one planned today in Mississauga and in cities across the country only continue to further divide us, and undermine the rights and dignity of 2SLGBTQIA+ youth. As Mayor and as a proud PFLAG parent, this disturbing rise in intolerance and discrimination towards the 2SLGBTQIA+ community is deeply unsettling and personally heartbreaking."
"I have always stood and will continue to stand with all communities who find themselves faced with discrimination because of who they are, what they believe in or where they are from. As a society, we must always look forward, and never behind in the fight for equality," she wrote. "This protest is a sad reminder that our work never stops to ensure that Mississauga is a place where everyone is embraced, celebrated and respected…"
In a Tweet published on the 20th, Prime Minister Justin Trudeau responded to the nation-wide rallies, writing, "Let me make one thing very clear: Transphobia, homophobia, and biphobia have no place in this country. We strongly condemn this hate and its manifestations, and we stand united in support of 2SLGBTQI+ Canadians across the country – you are valid and you are valued."
(Alexis Wright/The Pointer)
The Peel District School Board (PDSB) tweeted on the eve of the protests that it "stands with our Two Spirit and LGBTQIA+ students, staff and families," and shared its official statement regarding the planned protests. "One of our guiding mandates as a public school board is to foster values of acceptance, respect, understanding and inclusion. We do this by recognizing the diversity of our school's population, including diversity of sexual orientation, gender identity and gender expression," it included in its statement.
"We want to make it unequivocally clear that PDSB stands with our Two Spirit and LGBTQIA+ students, staff and families, and we support everyone's human rights and expression of gender," it wrote. "As you may be aware, there are plans for organized protests across the province against the teaching of Two Spirit and LGBTQIA+ identities… including an organized protest in the Region of Peel…Harassment, discrimination and hate have no place in PDSB."
In its statement, the PDSB highlighted its Two Spirit and LGBTQIA+ Action Plan and said it would raise the Progress Pride flag at the administrative sites for the remainder of the week, "in support of Two Spirit and LGBTQIA+ communities."
This Action Plan report was presented a week later during the September 27 Board Meeting, however Board members were repeatedly disrupted by attendees in the audience when they attempted to proceed with the agenda item to approve it. The Board's trustees voted in favour of the motion, which was met with disapproving shouts from some in the audience with chants of "save our youth."
The Pointer reached out to the Dufferin-Peel Catholic District School Board (DPCDSB) to ask for comment regarding the recent protests and whether the DPCDSB also plans to release a statement in support of its 2SLGBTQ+ students and staff in light of recent events. In an email, Bruce Campbell, General Manager, Communications & Community Relations at the DPCDSB, told The Pointer, "We are not reacting to this specific event, other than to reiterate what we say and do daily in our schools. We teach the Ontario curriculum infused with Catholic teachings and values as articulated by the Assembly of Catholic Bishops of Ontario (ACBO) and the Institute for Catholic Education (ICE). We value parents and guardians as important partners in the education of children, and we strive to create and maintain working and learning environments that are welcoming, safe, caring, and inclusive for all."

(Alexis Wright/The Pointer)
In response to reaction after the protests last Wednesday, the Muslim Association of Canada released its own statement: "By characterizing the peaceful protests of thousands of concerned parents as hateful, Canadian leaders and school boards are setting a dangerous precedent of using their position of influence to unjustly demonize families, and alienate countless students.
On Wednesday September 20th, thousands of Muslims, joined by other faith-based groups, protested to raise their concerns, calling for their rights as parents in relation to their children's education. Their intent was to be heard, not to sow division. Parents should have the absolute right to advocate for the wellbeing of their children."
Counter-protesters in Mississauga on the 20th stood firmly in solidarity with 2SLGBTQ+ communities, but the group eventually had to head home as some made the space unsafe. Some counter-protesters told The Pointer they wanted to keep their distance and simply stand in support of their cause. As more rally attendees continued to approach the group, many filmed the counter-protesters without their consent, and some even shouted at those in the much smaller gathering.
Anu Radha Verma, an organizer with QTBIPOC Sauga, told The Pointer that fear of being outed, as well as the risk of experiencing harm, were possible factors behind the small number of counter-protesters in Mississauga, compared to much larger turnouts in other cities. She talked about the challenge in having supporters turn out in a city still experiencing its own growing pains, with complex demographic dynamics that play out across Mississauga and much of Peel. "We often need to remind people… [that] queer/trans people are here, they live here, even if they aren't always the most visible."
"This is like a structural issue where people do discount the suburbs as a place where people need to show up for queer and trans and Two Spirit folks [across] age," Verma said. She pointed out that not everyone who joined the 2,000 attendees in the rally was from Mississauga and many likely came from other parts of Peel or outside the region.
About a dozen protesters, including youth, wanting to confront the counter-protesters, circled those who remained near the end, some following as they tried to leave the event. At one point, Peel Police officers had to tell a group of young people to leave one of the counter-protesters alone when they continued to follow her after she told them she was no longer looking to engage and tried to exit the space.
"Our focus over and over was to say how much we are supporting and affirming [not only] trans and non-binary youth but all 2SLGBTQIA+ people," Verma said. It was disturbing, she said, to see intolerance from the rally-goers, especially from some of the older youth in attendance. "There were a lot of teens and tweens who said some pretty awful things to some of our community members, and I'm just trying to think about what that means for their classmates who are queer and trans who noticed that they were not in class that day and noticed that they come back the next day and just [the environment] that classrooms [have] when there are very clearly students who are homophobic, biphobic, transphobic."
"There [were] some young people who talked about [how] they would not intervene if a gay person or a queer person or a trans person was being hurt or harassed, or if they were experiencing violence they would not intervene. And some people talked about believing that queer/trans people deserved to die, like young people [said] this," Verma said.
A rally protesting 2SLGBTQ+ inclusion in Canadian schools took place outside Mississauga City Hall on September 20.
(Alexis Wright/The Pointer)
Intolerance toward constitutionally protected 2SLGBTQ+ rights and inclusion has become a worsening issue in Canada in recent years. While discrimination and anti-2SLGBTQ+ rhetoric has been part of the country's modern history, the continued work to make spaces inclusive and safe for 2SLGBTQ+ communities, including schools and other educational settings, has been met with increasing resistance, much of it fueled by public institutions led by individuals whose behaviour is out of line with Canadian Charter values. In June, some Ontario schools saw empty classroom desks as parents kept their children out to protest the celebration of Pride Month in schools. The York Catholic District School Board also faced criticism recently when it voted in May not to fly the Pride Flag.
Stephen Lecce, Ontario's Education Minister, was criticized after he announced that "parents must be fully involved" if their child chooses to use different pronouns at school, which advocates have said put trans and non-binary children at risk of harm by outing them to parents who may not support their identity. Premier Doug Ford also came under fire for his comments at his Ford Fest event in Kitchener, where he said parents have the "right" to be informed about their children's identities and pronoun use. "It's not up to the teachers, it's not up to the school boards to indoctrinate our kids," he said.
The sentiments have gained traction among some parent groups, but critics have raised concern that even if some issues around parental rights are legitimate matters to be debated, many groups are being exploited by far-right elements that are trying to sow division for political reasons.
One attendee at the counter-protest in Mississauga questioned who is actually behind the rally, and what other motives might be involved.
"I think a lot of conservatives at the federal and provincial level are sort of throwing fuel on this fire right now and I think it's just a political stunt, I think it's just to distract people from real issues that actually do affect people's lives, like the Greenbelt for example."
---
Email: [email protected]
Twitter: @_hafsaahmed
---
At a time when vital public information is needed by everyone, The Pointer has taken down our paywall on all stories to ensure every resident of Brampton and Mississauga has access to the facts. For those who are able, we encourage you to consider a subscription. This will help us report on important public interest issues the community needs to know about now more than ever. You can register for a 30-day free trial HERE. Thereafter, The Pointer will charge $10 a month and you can cancel any time right on the website. Thank you
Submit a correction about this story