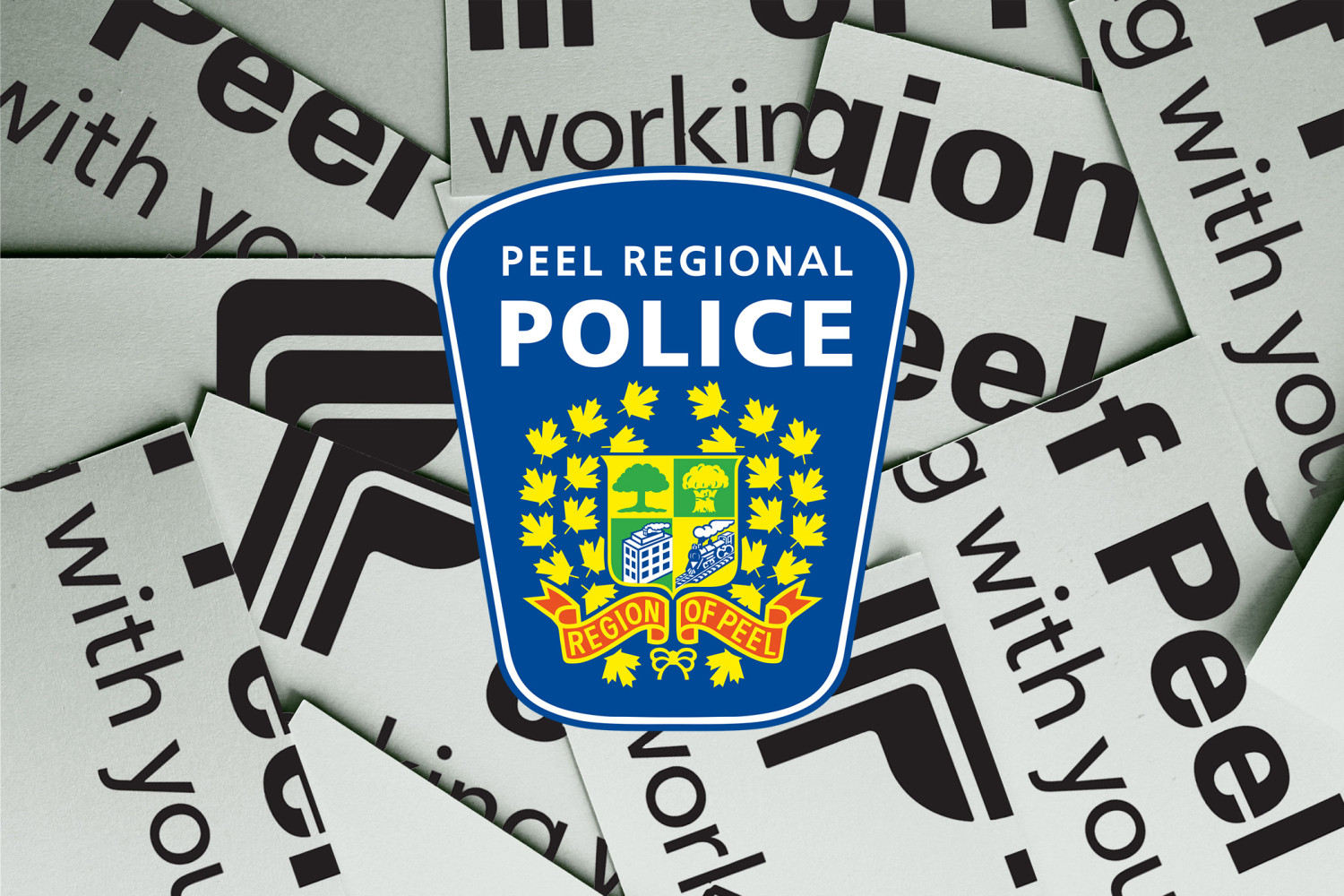 Alexis Wright/The Pointer
Peel Police wants to stay intact when the Region dissolves, but what the future protection of Mississauga & Brampton residents will look like remains unclear
As the Ford government seeks to liquidate the Region of Peel over the next two years, leaving critical service delivery at the hands of provincial decision makers, Peel Regional Police say any commitment to keeping the organization intact, instead of creating two separate municipal forces, will provide stability for the province's second largest local police department. But with decisions being made behind closed doors, unanswered questions around a possible cost sharing arrangement between Mississauga and Brampton and potential disruptions to critical service delivery that could threaten community safety, linger.
Since the PC government's decision to dismantle the Region of Peel over the next two years through Bill 112 (the Hazel McCallion Act) Regional staff have been working to maintain critical social services amid historic change triggered by the looming divorce, which staff at the upper-tier municipality have labelled the "uncertain phase," despite senior leadership promoting a "business as usual" façade. The upheaval at the hands of the province and Mississauga, whose leaders pushed the move, has left staff at the Region struggling to ensure critical services and complex projects stay afloat to avoid disruption to service delivery for Peel's 1.6 million residents.
In June, following a presentation from Peel Police Chief Nishan Duraiappah, Mississauga Councillor Carolyn Parrish moved a motion requesting the Region send a letter on behalf of council to the Province requesting the "immediate confirmation that the Peel Regional Police remain as a single entity and the Ontario Provincial Police Caledon Detachment remain as a single entity, beyond the dissolution of the Region of Peel," with the funding formula to be determined at a later date. Peel Police only patrols Mississauga and Brampton while the OPP polices Caledon.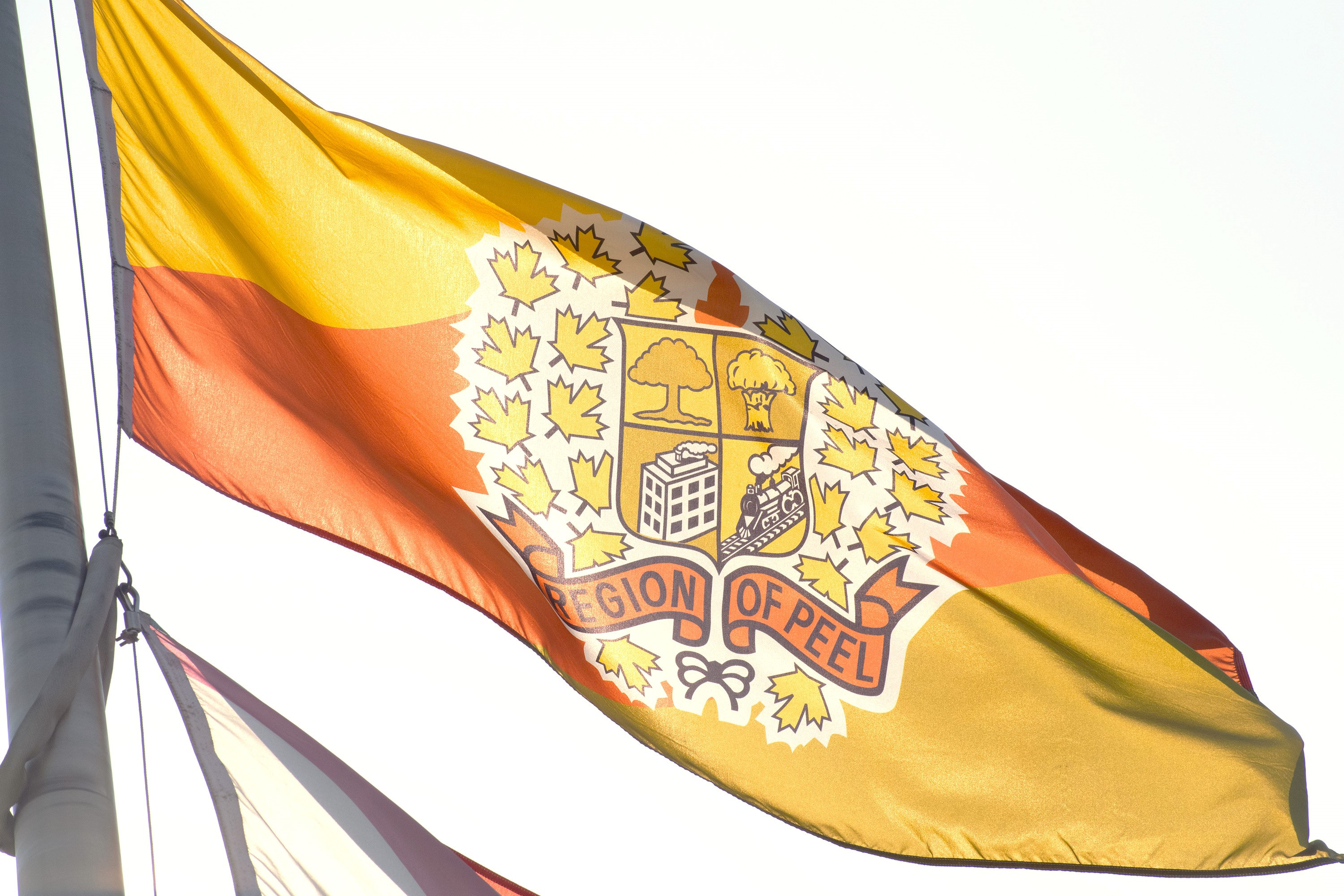 Region of Peel government will no longer exist in 2025, as Mississauga, Brampton and possibly Caledon become standalone single-tier municipalities.
(Alexis Wright/The Pointer)
"Any commitment that we will remain as an entity will allow us to continue business as usual and if that came from either the province or all of you it's an assurance for me absolutely to say that it's in the end we will be an entity and we will all have a job that's an important comment for our people for sure," Duraiappah told council. He added the current funding formula is not shared equally by taxpayers in Mississauga and Brampton, but is based on an assessment of community needs.
The motion passed 16-8, with Mayor Patrick Brown and all other Brampton council members in attendance, aside from Pat Fortini, opposed. Brampton Regional Councillors Rod Power and Harkirat Singh were not present.
As the second largest municipal police service in Ontario and the third largest in the country with more than 3,200 employees, Peel Regional Police provides frontline and investigative services to 1.5 million residents of Mississauga and Brampton, and the 36 million people who visit through Pearson International Airport annually. Peel's exponential population growth over the last three decades, combined with the lowest number of officers per capita for any police agency in Canada, has created numerous pressures for the organization, Duraiappah has repeatedly highlighted, focussing on growth since he won the job almost a half-decade ago.
Chief Nishan Duraiappah. In June, a motion from Carolyn Parrish at Regional Council requested the Province keep Peel Police whole.
(Alexis Wright/The Pointer)
Peel Regional Police reported nearly 645,000 calls — approximately 1,767 per day — to its 911 communications centre in 2022, a 76 percent increase since 2017. Yet, the organization has been operating out of four divisions scattered across Brampton and Mississauga since 1981 (this does not include the Airport division). Since then the population has grown by 221 percent and is projected to grow another 24.3 percent by 2032, according to data from Peel Police.
Since 2017, auto thefts have risen by 142 percent, homicides by 81 percent, shootings by 62 percent, motor vehicle collisions by 25 percent and fraud by 21 percent, according to Peel police data, creating greater demand for service and more complex investigations.
In order to keep up with the Region's unprecedented growth, which continues to strain officer resources, Peel police requested and received an 8.2 percent budget boost in 2023 putting the organizations budget at $524.6 million — an approximately $40 million increase compared to the previous year and a significant jump from what was previously forecast for 2023. The Region's lower-tier municipalities will now be saddled with the responsibility of funding Peel police's $524.6 million bill, however the province chooses to split it up.
The 2023 budget also included a significant debt load — $714.6 million worth — for Peel police to expand the reach of the organization by constructing a division in Brampton's north end, a budget request Chief Duraiappah told council is needed immediately to support the region's ballooning population. The big ticket item was accompanied by a request for funds to repair and maintain existing buildings, including a complete demolition and reconstruction of the Sir Robert Peel Centre at 7760 Hurontario Street, which the organization told councillors is at a "critical point." It is unclear how this debt will be divided among the municipalities once the Region dissolves.
Now, with Peel dissolving, if the Region gets its wish and Peel Regional Police stays intact under the same organization and service delivery model it currently operates under, Caledon will be removed from the funding equation, leaving Brampton and Mississauga to fill the funding gap and split the bill.
A spokesperson from the Region confirmed costs for the OPP are allocated in full to Caledon. Mississauga and Brampton's contribution to Peel Regional Police costs (including any grant costs for policing at community events) as noted in the Region's 2023 budget are 62 percent for Mississauga and 37 percent for Brampton.
To determine how the Region's offspring will be restructured, a transition board consisting of five people "across the public and private sectors" was appointed in early July. The board will be responsible for providing recommendations on a range of restructuring matters related to the dissolution including "winding down" the Region's financial operations and examining the allocation, governance, use and control of services provided by the Region, among others. It will also make recommendations on the disbursement of programs and departments to the lower-tier municipalities, and which services will continue to be shared among the three municipalities, leaving the fate of Peel Regional Police in the hands of the five appointed board members and the province.
A Regional staff report in June noted recommendations from the transition board, which the Region's CAO Gary Kent previously cautioned is not obliged to report on any of its activities to council, are expected to be submitted to the Ministry of Municpal Affairs and Housing in the summer/fall of 2024. Legislation to address restructuring matters is expected in the fall of 2024 when the Minister will make the final decision.
Should the transition board decide to break up Peel Regional Police, it raises significant questions for public safety, and what the transition plan to ensure there is still adequate policing and resources on the road, would look like during the shift to form new police forces in the three municipalities.
Peel Regional Police headquarters in Mississauga.
(The Pointer files)
A financial report completed by Ernst and Young, which analyzes the potential financial impacts to Peel and its area municipalities should the region be dissolved or amalgamated was commissioned by regional council in May 2019 after a controversial Deloitte report was discovered, through a Pointer investigation, to be tampered with by senior staff at the Region attempting to influence the external financial analysis and review process to maintain the status quo.
The report found following dissolution and one-time transition costs, Mississauga's savings could range as high as $84 million on an annual basis. The report determined Brampton and Caledon also stand to potentially see savings with estimates suggesting Brampton's savings could be as high as $45 million and more than $53 million for Caledon. Under the dissolution model the report suggests two possible scenarios for policing: separate police boards for Brampton and Mississauga, or a joint police board for Brampton and Mississauga. Both scenarios recommend an OPP contract for Caledon.
According to the Ernst and Young report, if Peel police dissolve, forcing Brampton, Caledon and Mississauga to create their own police entities, at the lower end, as noted in the report's projections, it would result in a net cost for Brampton between $170 million and $265 million. Mississauga would be looking at a cost ranging between $211 million and $311 million under the dissolution model and for Caledon, it would cost between $13 million and $14 million. If the organization were to consolidate all policing across Peel, including Caledon, the three municipalities would be saddled with a bill between $461 million and $514 million.
The report noted the range of potential impact for Peel Regional Police reflects two allocation models — one by municipal property assessment, the other by a weighted average based 50 percent on property count and 50 percent on time-weighted calls for service.
The E&Y report makes it clear the figures laid out are not definitive. It noted the largest variable in the dissolution process would be what happens with the Peel Regional Police and how any future police services board structure is created among local municipalities. It cautions the analysis was restricted to a point in time assessment and would need to be refined should any changes to government structure occur, adding that its findings are not meant to predict the future and the eventual reality could be a financial picture that does not resemble the scenarios presented in its analysis.
When Premier Doug Ford made the announcement to break up the Region and divide its lower tier municipalities into single governing systems, the province promised the process will be fair for all three municipalities and would "prioritize the preservation of frontline services and workers, respect for taxpayers and government efficiency," ensuring a "seamless and effective" transformation from regional to single-tier governments.
As the Chief has indicated, the current funding model across the Region's lower-tier municpalities is based on community needs. In an analysis of the Region's reported crimes according to data from Peel Regional Police, in 2022, Mississauga's divisions accounted for 45 percent of Peel's calls related to crimes against persons with Brampton accounting for the remaining percent across its two divisions. Of the types of calls that fall within crimes against persons, Brampton's divisions accounted for 54 percent of non sexual assaults, however Mississauga accounted for 53 percent of the Region's reported homicides.
According to the data, 51 percent of calls under crimes against property occurred in Mississauga across its three divisions in 2022, versus 47 percent in Brampton. Vehicle thefts accounted for 54 percent of calls in Mississauga compared to 45 in Brampton. In contrast, Brampton's divisions accounted for 64 percent of the Region's reported drug violations. Mississauga only accounted for 32 percent.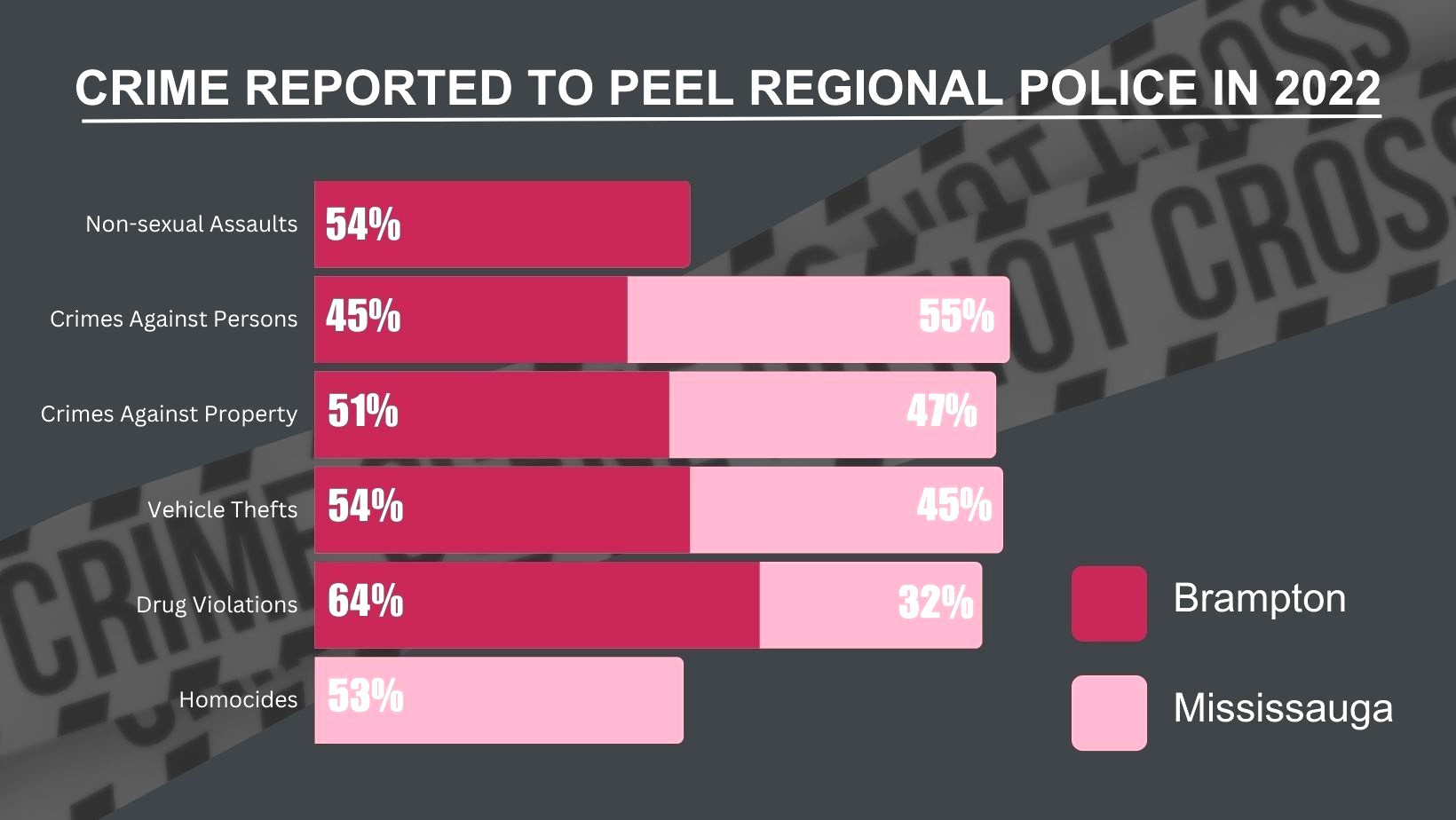 Peel Police Chief Nishan Duraiappah says the current funding model across the Region's lower-tier municipalities is based on community needs.
(Alexis Wright/The Pointer)
An important consideration when reviewing calls for service as a factor in determining a funding model is that violent crimes like homicides and assaults (sexual and non sexual), are going to be much more intensive, requiring more extensive investigations that will take more time, resources and money, than compared to driving offences or traffic enforcements. With Mississauga accounting for more crimes against property but Brampton having more crimes against persons it remains unclear how the policing will be balanced between the two municipalities. It will be up to the province to determine how it will ensure a fair and equitable cost sharing arrangement that does not overburden or abuse taxpayers among the two municipalities.
Several requests to the province to determine what the structure of Peel Regional Police could look like following dissolution, and how a funding agreement would be decided went unanswered.
It's more than likely these sorts of factors and data will be what's taken into account when the transition board examines what cost sharing agreement will be struck between Brampton and Mississauga as the future of the province's second largest police force lies in this state of limbo.
---
Email: [email protected]
Twitter: @mcpaigepeacock
---
At a time when vital public information is needed by everyone, The Pointer has taken down our paywall on all stories to ensure every resident of Brampton and Mississauga has access to the facts. For those who are able, we encourage you to consider a subscription. This will help us report on important public interest issues the community needs to know about now more than ever. You can register for a 30-day free trial HERE. Thereafter, The Pointer will charge $10 a month and you can cancel any time right on the website. Thank you
Submit a correction about this story