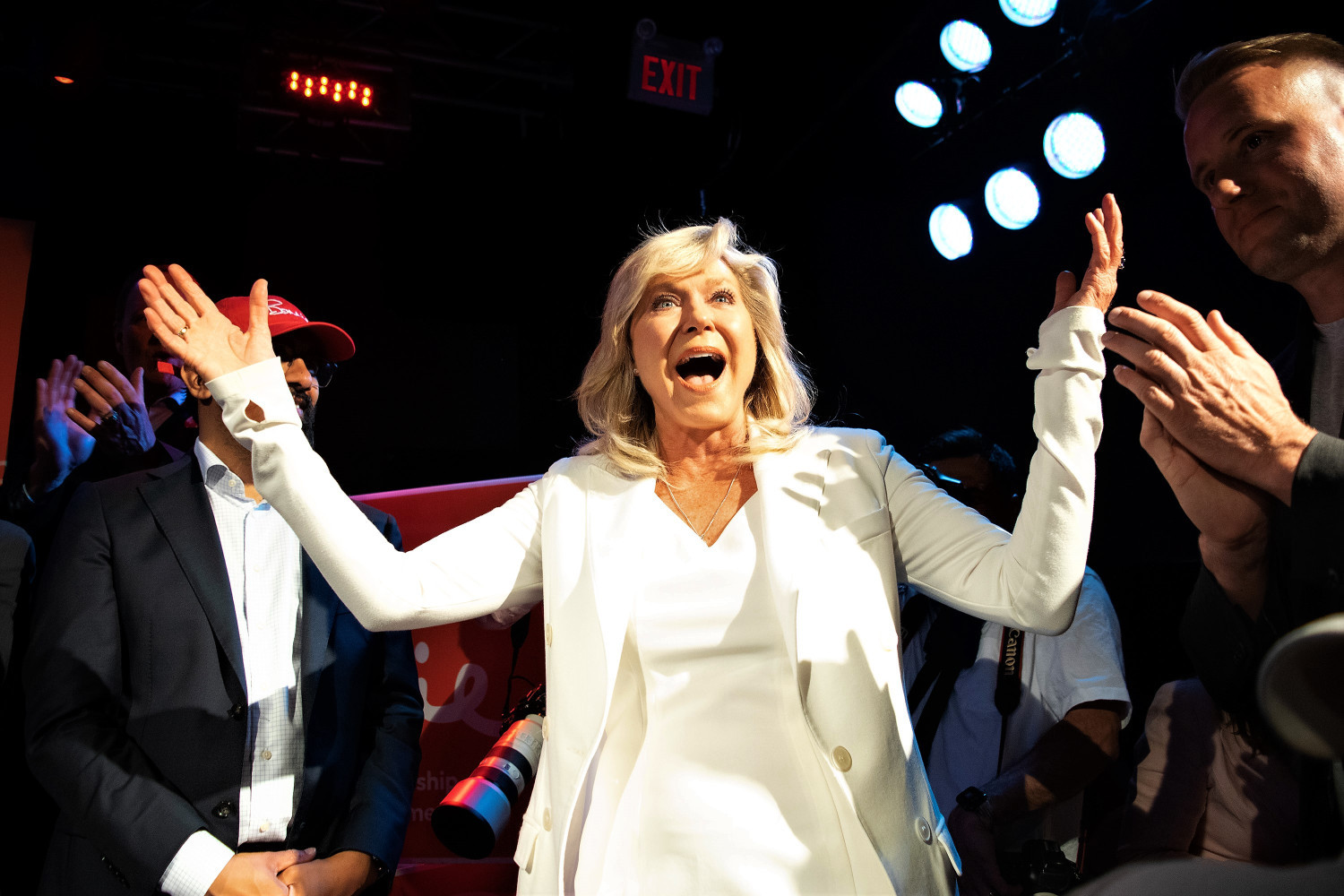 (Alexis Wright/The Pointer)
With Bonnie Crombie taking leave and no certainty around her return, who might be the next Mississauga mayor?
Mississauga Mayor Bonnie Crombie has officially confirmed she will be taking a leave of absence, a decision she says was not taken lightly, and with no certainty that she will return as mayor of Canada's seventh largest city, Mississauga voters might soon have to decide who will lead their municipality through a critical time in its growth.
"I'm excited to enter the next phase of the Ontario Liberal Leadership campaign," Crombie said in a statement Thursday. "I will be taking an unpaid leave of absence from my role as Mayor of Mississauga to give my all to Ontario Liberals."
Crombie's attempt to climb the political ladder has left Mississauga facing the unpredictable as it navigates its exit from the Region of Peel and a looming financial untangling with Brampton and Caledon, all while battling significant growth expected over the next decade.
With the possibility that the mayor's office might be up for grabs, Mississauga's future leadership hangs in the balance.
The Mayor's office confirmed Crombie informed council on Wednesday that she would be taking a leave of absence "as she undertakes her bid to become the leader of the Ontario Liberal Party," adding Crombie "will continue to keep Mississauga's priorities top of mind as she embarks on her leadership bid." Her last day at City Hall, in her official capacity, will be October 6, for now.
"The Mayor plans to spend the coming weeks working with the City Manager to review key priorities for Council in the coming months, including the 2024 City Budget while fulfilling her commitments to the community she loves dearly," the spokesperson explained. "The Mayor has all the confidence that Mississaugans are in good hands and that Council will continue to press forward on the issues that matter most to them including affordability, housing, transit and climate change."
In August, two months into her province-wide campaign for the Liberal leadership, when asked if she had an updated timeline for when she would be stepping away from her mayoral role, Crombie would not confirm when or if she planned to step aside, stating in a response to The Pointer, "I take my responsibilities as Mayor seriously and I have been able to balance my commitment to the residents of my city with the work necessary to connect with people across Ontario." She did not address any schedule for her departure, her political ambitions leaving council members and City staff questioning who would have the time and energy to lead Mississauga through one of the most challenging periods in its history. It has never been a standalone city, and the dissolution of Peel Region by 2025 means everything from public housing and waste management to policing and public health, on top of all the other responsibilities currently handled by the Region, will have to be taken over by City Hall as it transitions from its current role as a lower-tier municipality.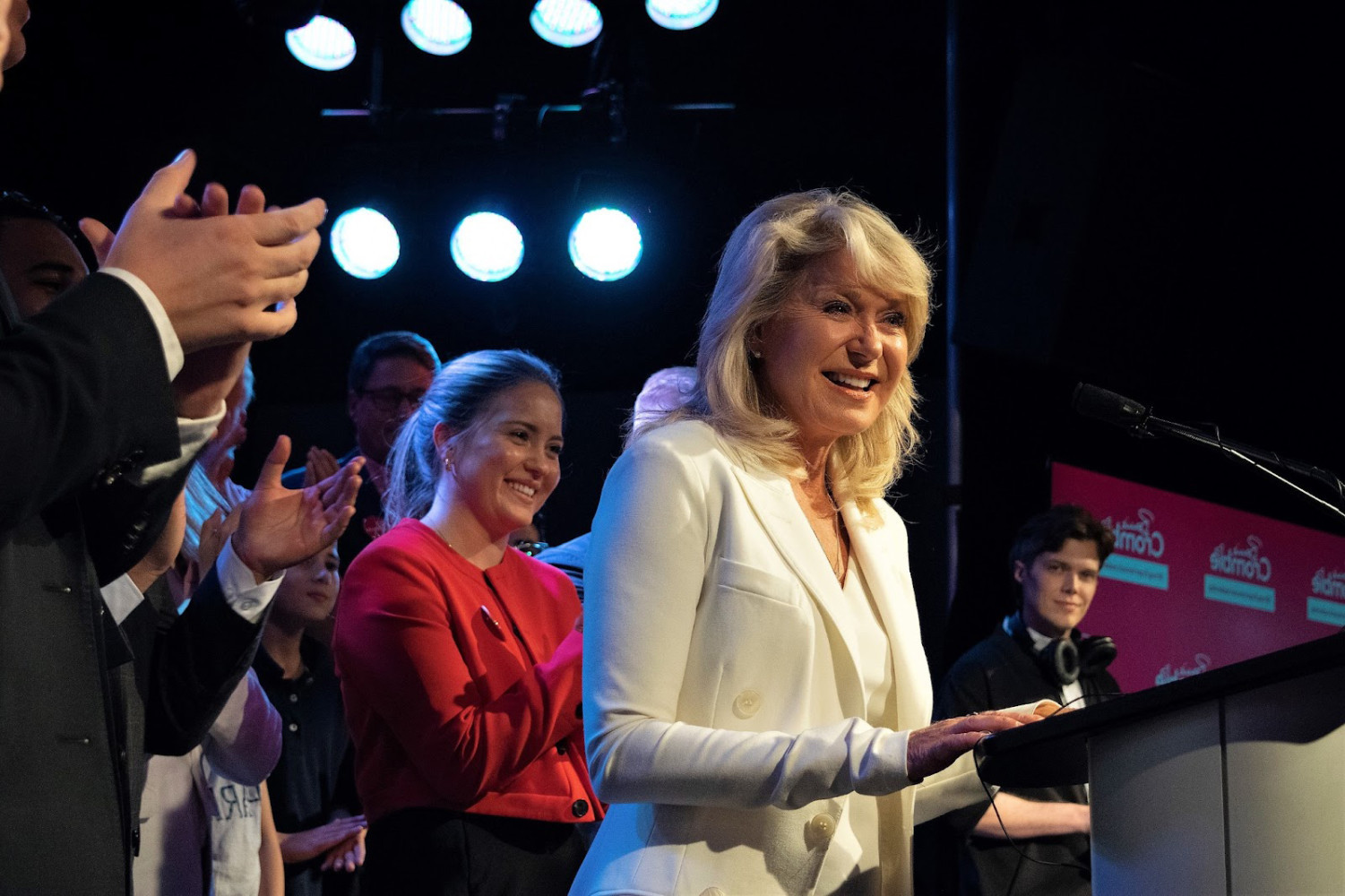 After months of remaining silent on her plans to manage her mayoral duties while campaigning for the Liberal leadership, Bonnie Crombie confirmed on Thursday she will be taking a leave of absence in October.
(Alexis Wright/The Pointer)
Crombie's announcement Thursday aligns with the wish of veteran Councillor Carolyn Parrish, who has been vocal about her concerns around the mayor's decision to seek the Liberal leadership, previously stating the city needs a "full time", "committed" mayor to lead it through a pivotal time in Mississauga's history.
Since Crombie announced her interest in the political leap to seek Ontario's premiership, Parrish has called on her to take a leave immediately, stating the "mayor cannot wear two hats much longer". The Ward 5 councillor also noted there should be a "fully democratic" byelection to allow residents to choose who will lead the city.
Parrish has since pointed out Crombie may not be required to resign as mayor even if she wins the leadership, but rather she would only have to step down from the role should she become a Member of Provincial Parliament.
A spokesperson from the City confirmed, "There are no requirements under the Municipal Act for the Mayor to resign her seat should she become leader, however, she has been clear that should she be successful in her bid, she would tender her resignation as Mayor of Mississauga."
Throughout the summer, Crombie was pictured across social media in places like Timmins, Ottawa, Sarnia and Thunder Bay, visiting roughly two-thirds of the ridings across the province — a drastic change of scenery for a mayor who, in previous years, spent most of her time criss-crossing her own city.
As of the September 11 deadline to register as an Ontario Liberal Party member, officials have said there are now 80,000 registered voters who will be eligible to cast a ballot to select the next leader (not surprisingly, the number of members certain candidates are claiming to have registered does not add up).
A City spokesperson previously explained that "if a vacancy occurs in the office of the head of council, Council has 60 days after the vacancy is declared to pass a bylaw requiring a byelection be held to fill the vacancy," which would take roughly two to three months to organize.
"If the Mayor chooses to take a temporary leave of absence of less than three months, her seat would not be deemed vacant and no by-election would be held," the spokesperson said, adding there is no time limit on a leave of absence, "however a Council seat is deemed vacant if a member is absent from Council meetings for three successive months."
Many councillors have agreed a byelection is the best move.
When Crombie begins her leave in three weeks, the spokesperson said the City will deploy the Acting Mayor bylaw, "which will see Councillors rotate as Acting Head of Council on 2-month rotations to fulfill mayoral duties such as chairing Council and Committee meetings and attending official city events on behalf of the Mayor." The City's current rotation will see councillors Chris Fonseca and John Kovac fill in for the remainder of the year.
"The rotation cannot continue indefinitely," the spokesperson cautioned.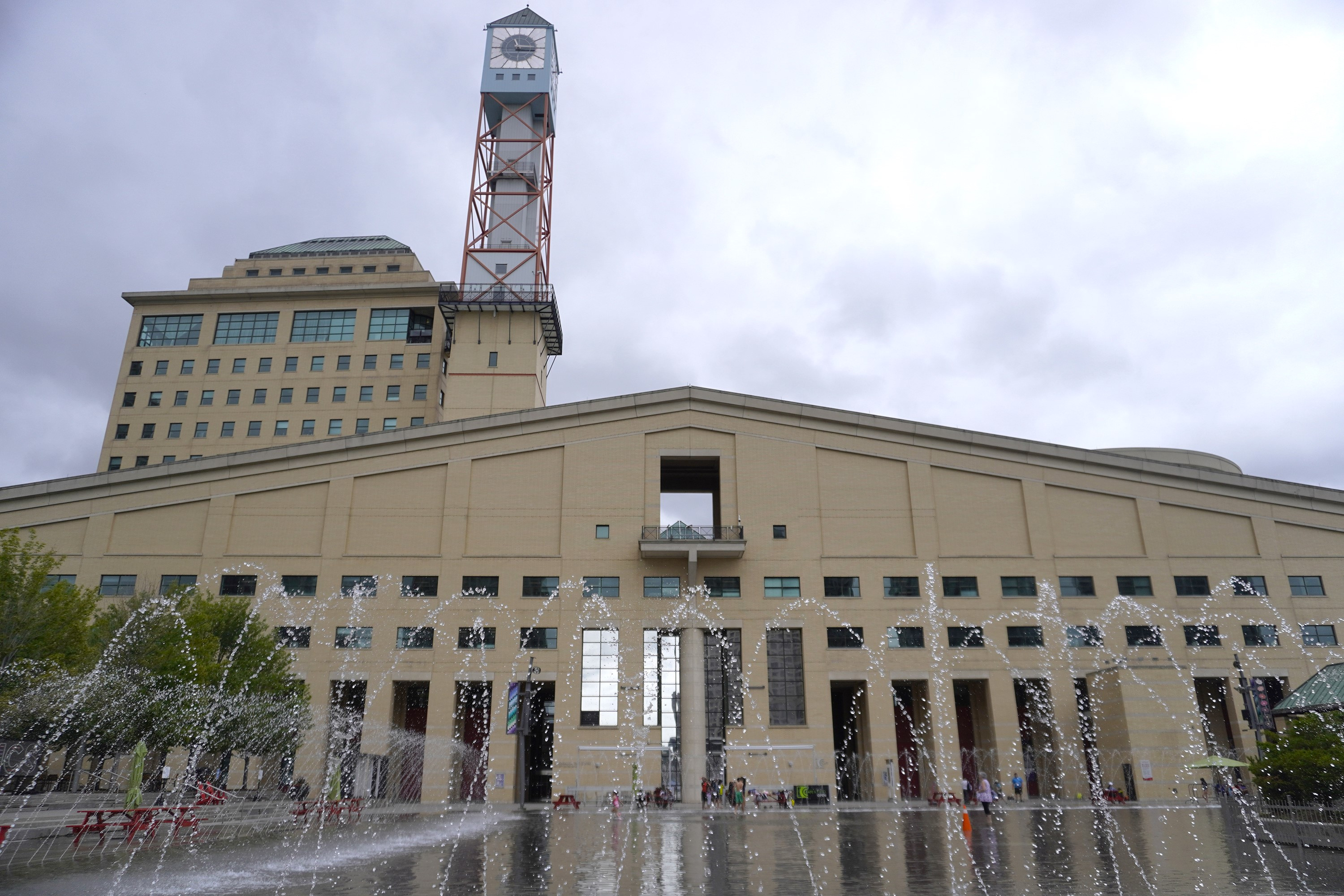 The City of Mississauga will use an acting mayor rotation until Bonnie Crombie's seat is declared vacant, if she wins the Liberal leadership.
(Alexis Wright/The Pointer)
If Crombie does not formally vacate her seat until early December, when the leadership election result will be announced, Mississauga would be looking at a byelection around early June.
In advance of any possible by-election to fill the mayor's seat, The Pointer has not contacted any potential candidates, but the following is a list of some names that might eventually be on the ballot, if Crombie has to be replaced.
Mississauga Ward 2 Councillor Alvin Tedjo
Tedjo, although relatively new on council having stepped into the role in October, could be a successor given his close relationship to Crombie. In 2022 he campaigned on three main pillars: a green future; modern leadership; and better service. He was named to Crombie's steering committee to help her decide about making a run for the Liberal leadership and she has thanked him publicly for his support during her campaign. Many of the policies and issues he's taken the lead on have aligned with Crombie's priorities, including his motion in February requesting the City implement a pilot program to promote public transit use.
Mississauga Ward 5 Councillor Carolyn Parrish
Parrish, a former Mississauga MP, and currently a veteran inside the council chamber, has taken the lead on many of the City's most critical issues, including public housing and good governance. With experience at both the municipal and federal level, where she served in Parliament for more than 13 years, and a track record of calling out those on council or in other levels of government who don't deliver what she expects for her constituents, she could help get action on major projects already underway and others that are badly needed, while steering Mississauga through the complexities of regional dissolution.
Mississauga—Lakeshore MP Charles Sousa
Sousa, currently a Liberal MP for the Mississauga—Lakeshore riding, is a well-known name across the city, especially among local political junkies. He was elected to serve at Queen's Park in 2007 and over three terms spanning more than a decade, as an MPP for Mississauga South until 2018, was a key part of the Ontario Liberal brand. He served as the province's finance minister, overseeing the second largest budget in Canada, making critical decisions impacting almost every corner of the province following a career in the banking industry. His experience could serve Mississauga well as it extricates itself from the Region of Peel.
Mississauga—Erin Mills MP Iqra Khalid
Khalid, currently the Liberal MP for Mississauga—Erin Mills, has a background in law and experience working in the City of Mississauga's legal department, giving her an inside handle on the City's key operations. Prior to launching her political career in 2015, the popular Liberal MP had been focused on public service around global disaster relief, connecting diverse student groups at York university and immigration law. During her time as MP, Khalid has been an advocate for women's issues and human rights, speaking out on human trafficking, online hate and the Rohingya Genocide.
Mississauga Ward 6 Councillor Joe Horneck
Horneck who, since joining council last year, has taken a lead on community engagement within the city, working to reignite civic participation at City Hall, seems like an obvious candidate. He's been a strong voice on council, pushing for increased traffic safety measures across the city, advocating to transform the Region's response to the ongoing housing crisis and, along with Tedjo, taking the lead on municipal climate action. His impressive work to improve civic engagement with local government has allowed him to showcase an ability to connect with residents.
Mississauga Centre MPP Natalia Kusendova
PC MPP Natalia Kusendova has been a high-profile advocate for the city since taking up public office in 2018. A nurse who speaks five languages, she has championed Mississauga's pluralism, highlighted awareness of mental health struggles faced by Ontarians, and even returned to the emergency room as a frontline nurse who worked during the pandemic. She helped lead the government to pass Bill 251, the Combating Human Trafficking Act, in 2021, and has chaired the standing committee on social policy, sat on the justice policy committee and vice-chaired the standing committee on general government.
---
Email: [email protected]
Twitter: @mcpaigepeacock
---
At a time when vital public information is needed by everyone, The Pointer has taken down our paywall on all stories to ensure every resident of Brampton and Mississauga has access to the facts. For those who are able, we encourage you to consider a subscription. This will help us report on important public interest issues the community needs to know about now more than ever. You can register for a 30-day free trial HERE. Thereafter, The Pointer will charge $10 a month and you can cancel any time right on the website. Thank you
Submit a correction about this story